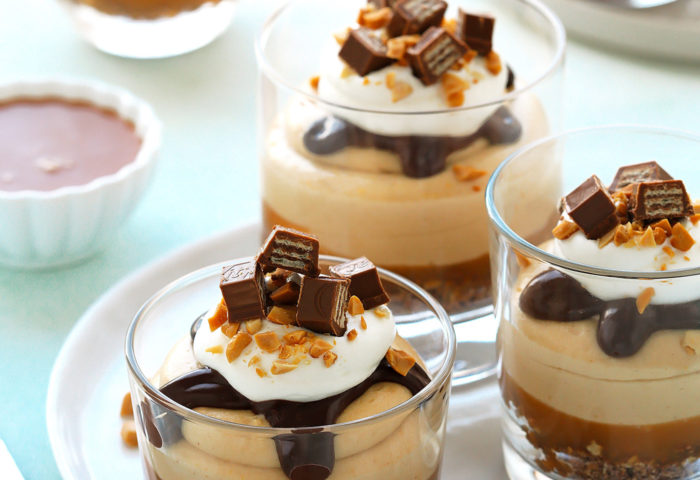 These delightful cups of decadence, feature a bottom base of crushed KitKat and roasted peanuts, salted caramel sauce, a cloud-like peanut butter filling, all topped off with a chocolate ganache sauce, whipped cream and chunks of KitKat and peanut bits. VIDEO recipe at the end of the post!
This post is sponsored by
KitKat Egypt
, but all opinions are my own. Thank you for supporting the brands that believe in me.
Welcome back to the third and last of my summer KitKat fiesta!
KitKat Egypt and I have been teaming up to bring you easy, delicious recipes that will cool you off in the hot summer days.
We started off with a scrumptious ice cream pie, followed by some ridiculous s'mores bars that require non of the camping heat, and sealing it with this…
And boy have I saved the best for the last.
If you're like me and believe that peanut butter, especially when combined with chocolate, is one of life's greatest pleasures, then these dessert cups will rock your world.
Oh and have I mentioned the salted caramel?
Why yes…because if all the peanut butter and chocolate aren't enough to make your tastebuds fly to the moon and back, a layer of salted caramel sauce running down the middle will skyrocket it to heaven.