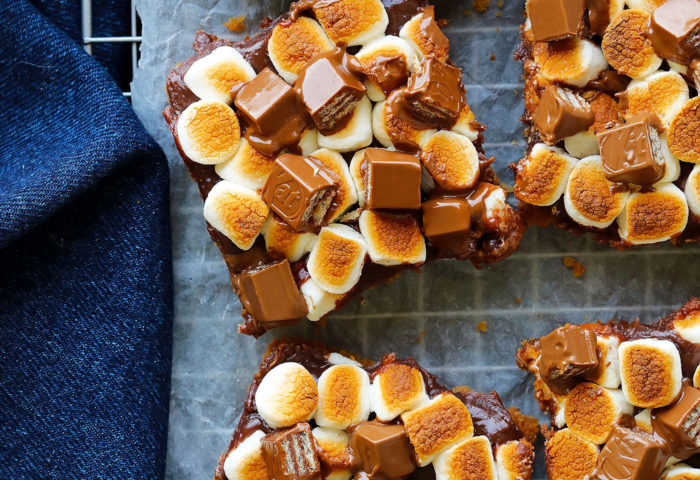 The ever-so-popular campfire treat in a delectably convenient bar-form. Made off-the-charts delicious with the addition of KitKat, these bars are sure to become an instant hit! VIDEO recipe at the end of the post!
This post is sponsored by
KitKat Egypt
, but all opinions are my own. Thank you for supporting the brands that believe in me.
Welcome back to the second of three delicious summer treats that are made extra special with the much-loved KitKat!
If you've missed the first one…be sure to check it out! It involves ice cream, salted caramel and KitKat. Need I say more?
KitKat Egypt and I are partnering together to bring you delectable dessert ideas that are as easy to make, as they as are a dream to eat.
And I couldn't think of anything more dreamy that this…
KitKat S'mores Bars.
Everyone's favorite campfire treat, barred up and brought next-level with the addition of crispy, ooey, melty, chocolate-y KitKat.
We're talking layers upon layer of heavenly deliciousness.
Starting off with a crunchy layer of wheat biscuits (be it graham crackers or digestives), followed by a silky, fudge-y, chocolate filling…
…and an avalanche of toasted marshmallows, laced with nubs of KitKats that are painfully melty on the outside, wonderfully crispy on the inside.