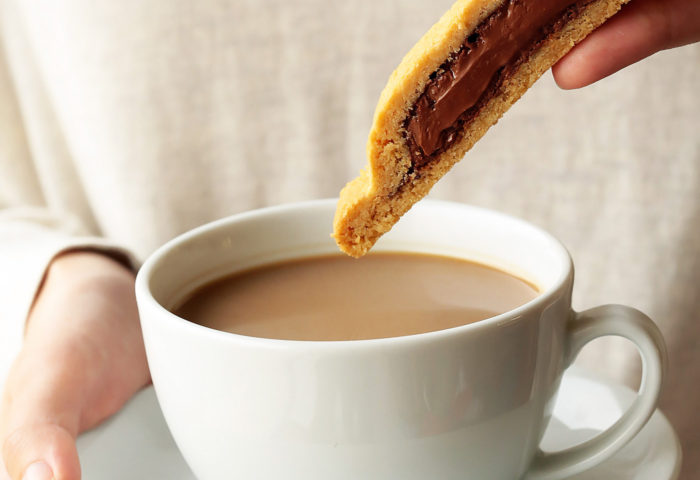 Hazelnut flavored biscotti filled with Nutella all the way through for the ultimate coffee break indulgence. These cookies will have everyone begging for more!
When two of the most amazing Italian creations collide, you know something spectacular is about to happen.
NUTELLA. BISCOTTI.
Seriously though…how can anything but wonderfulness come out of the marriage of Nutella (Italy's baby and the world's favorite chocolate spread) and Italian Biscotti (hot drink's favorite cookie)?
You know what's the worst thing that can come out it? A biscotti that will ruin all other biscottis for you. Trust me…my mom's famous anise biscotti was doing just fine until this one come along.
As claimed by my family, this Nutella biscotti is one of the best things that has come out of my oven in a long time. Apparently they have forgotten about this Honey Cake a little too soon, but I must say that I do agree.
They're just that incredibly good! But we're also Nutella fanatics, so our judgement is impaired 😁
These things disappear in no time whenever I make them. One day, I had to make a second batch a few hours later, because the first one flew off too quickly and I wasn't gonna be left alone if I hadn't made more.
They have become so popular in my house, and their popularity spread within my kids' circle of friends, that I now get asked to make them ALL the time. Just as I'm writing this, my son requested them for a bake sale. I think I'm starting to regret introducing them to this biscotti.
They have now become my kids' favorite treat along tea with milk, but my husband and I are coffee dunkers.