Classic Cream-Filled Konafa
A Middle-Eastern favorite and a month of Ramadan tradition. This variation of Konafa is made from crunchy shredded phyllo pastry, sandwiching a creamy, pudding-like filling, and soaked with a scented simple syrup.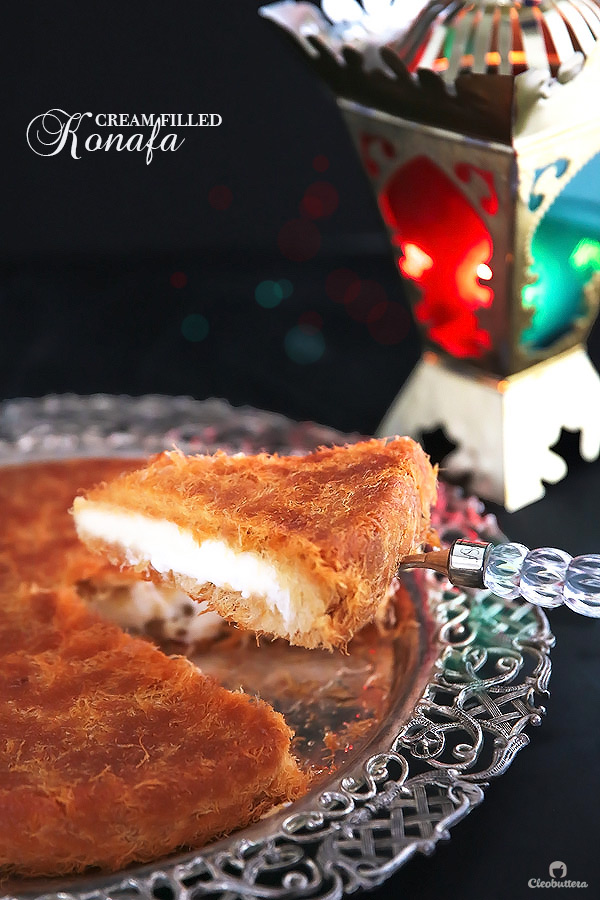 This cream-filled konafa means a lot more to me than just a ridiculously good dessert.
It's been there for EVERY first day of the month of Ramadan for as long as I remember.
It attended all the crowded family gatherings, witnessed all the festivities, the big smiles, the loud greetings, the best TV shows and new commercials, the hung decorations and the lit lanterns. But most of all, it was what awaited us after a long day of fasting.
I'm just very fond of Ramadan and everything it brings with it. The spirituality is unparalleled and the serenity is something I look forward to each year. I can't help but love the food too:) I try to keep it to a minimum though as to not defy the whole purpose of fasting. Pinky swear.
Just in case you're unfamiliar, in a nutshell, Ramadan is the holy month for Muslims. We fast from sunrise till sunset. Which means no food or drink throughout the day, and then break our fast with a meal by sunset. Ofcourse there's a lot more to it, like charity, doing good deeds and soul purification, but you're here for the konafa, so let's get to it:)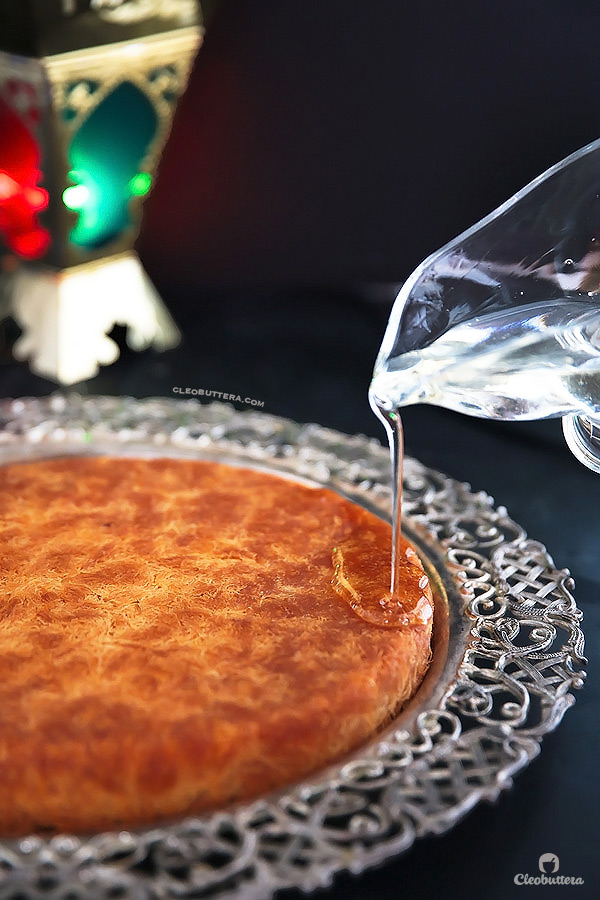 In Egypt, Middle Eastern food is the highlight of the table in Ramadan, especially when it comes to dessert. So much so that we call them "Ramadani Sweets." We rarely eat any American or European desserts, which we love year round, and if we do, then it has to have this "Ramadani" touch to it. Chocolate is not big either this time of the year…sigh.
So with today marking the first day of Ramadan, I found no better dessert to share with you then the one I grew up eating every first day of every Ramadan.
My love for konafa or kanafeh is no secret. I only made 3 Middle Eastern desserts here on the blog, all of which are konafa. Check them out here and here. So yeah…I'm quite obsessed. But I promise there's more…much much more to Middle Eastern pastries. During this month, I'm hoping to get out of my "konafa bubble" and show you a few other desserts, with some crazy twists along the way.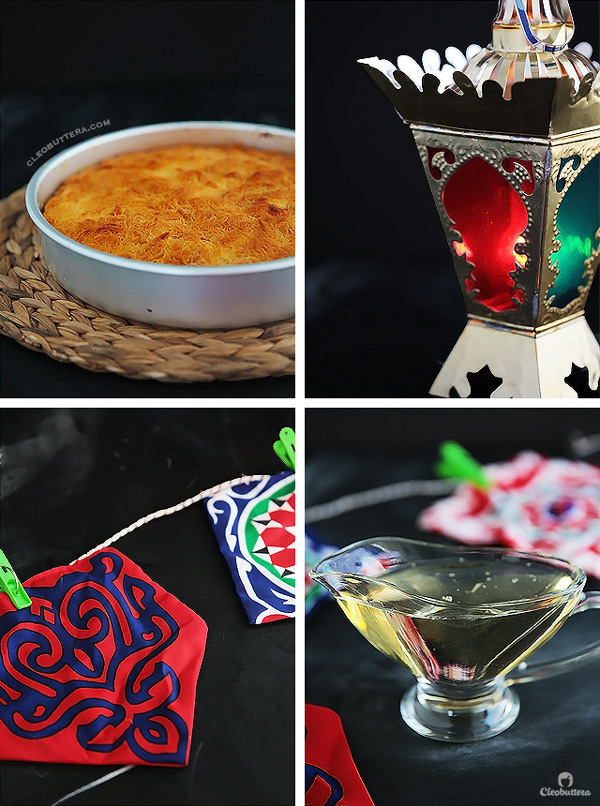 Cream-filled konafas are a staple in every household I know. So getting THE perfect recipe should be easy peasy lemon squeezy, right?
Wrong!
You see…I'm this annoyingly meticulous kind who measures grains of salt, gives exaggerated attention to oven temperatures, pan sizes and how different brands result in different outcomes. I take baking very seriously and think of my kitchen as my science lab.
So when I asked around my aunts and older relatives for the recipe, all I got was the "add some of that, stir in a little of this, eyeball a handful of that and bake until done" kind of recipe. Oh Gosh!
So I had to combine all the snippets of tips I got, along with a lot of testing, and came up with a reliable, "measured" recipe that anyone could follow and get consistent, delicious results every time. It's actually really easy too!
Just to recap, konafa (kanafeh) is a Middle-Eastern, as well as Eastern European, pastry made from shredded, vermicelli-like phyllo dough that crisps up into this beautifully golden dessert when baked. There are so many variations of it, but the cream-filled one is perhaps the most popular in Egypt. And one that gets me all nostalgic and fuzzy on the inside.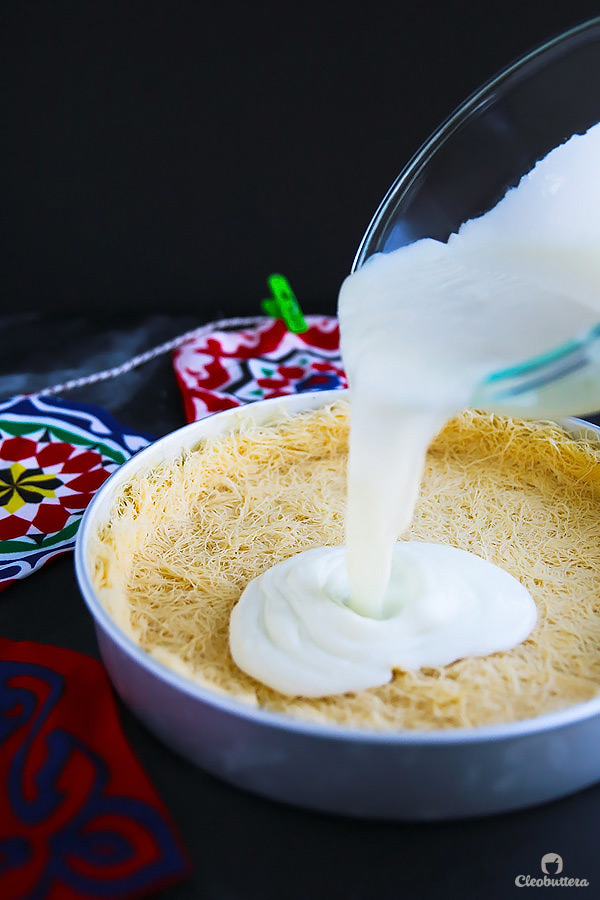 This one is super crunchy on the outside, and lusciously creamy of the inside with a pudding-like filling. As soon as it comes out of the oven, it gets drenched with a sweet vanilla-scented simple syrup.
So begin with making the syrup before anything else because you're gonna need to let it cool completely. I've been told, that hot syrup with soften the konafa, and I like to do what I'm told:)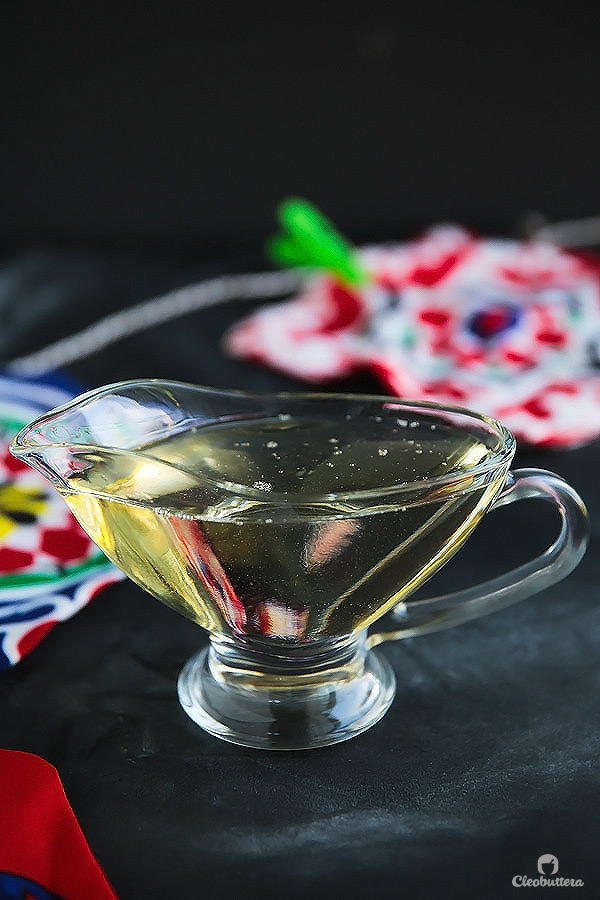 After that, you're gonna make the cream filling by boiling some milk (or 1/2 milk, 1/2 cream) with a touch of sugar, then adding a cornstarch slurry to thicken it up. I like to run my pudding through a fine mesh strainer to get rid of any lumps that may have happened, but you don't have to if it looks smooth.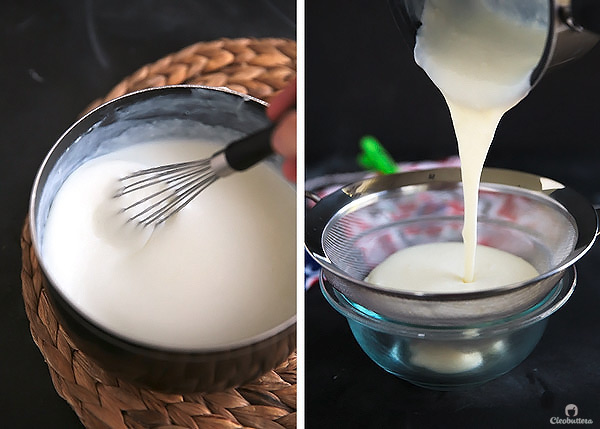 Then I let it hang around just a little while I prepare the konafa crust. The cream filling is just perfect. I went through maaaaany trials to nail down the consistency. Not too runny nor too gloppy. Just stable enough to hold its shape while the konafa gets cut, yet creamy enough that it doesn't feel like jello.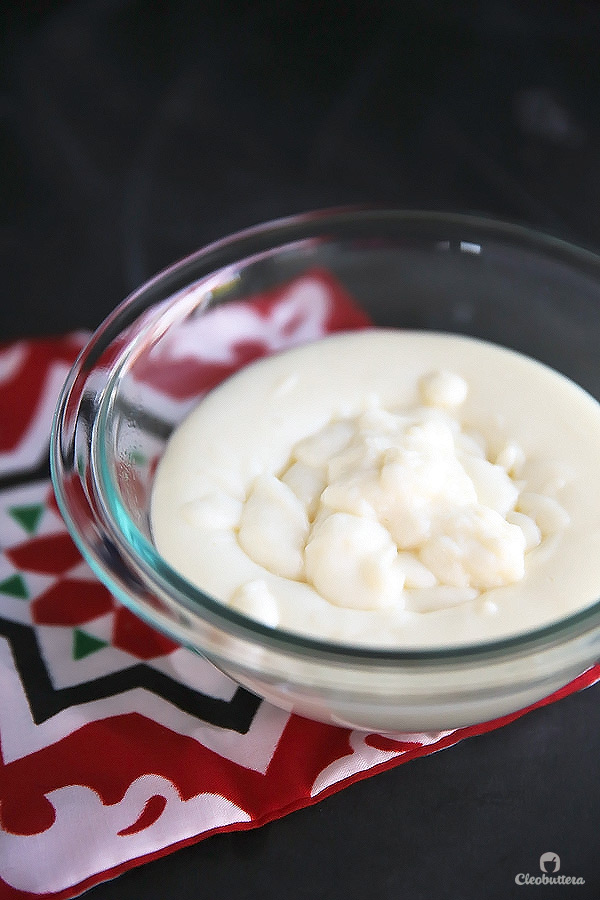 Now for the konafa itself. What do we coat it with?
Do you use ghee? butter? or clarified butter?
I tried them all!
Ghee is by far the most traditional and produces excellent results but I'm not a fan of its taste. Sorry grandmas:)
I'm a butter-girl all the way through. So here's the bottom line:
Using melted unsalted butter works really well only if using thicker, Greek-style, frozen konafa/kadaifi dough. It crisps up and browns just as good as ghee.
However, when used on fresh, extra thin konafa, I highly recommend clarifying the butter, because the milk solids and extra moisture in the butter will prevent the konafa from crisping up like it should.
How? Take a look.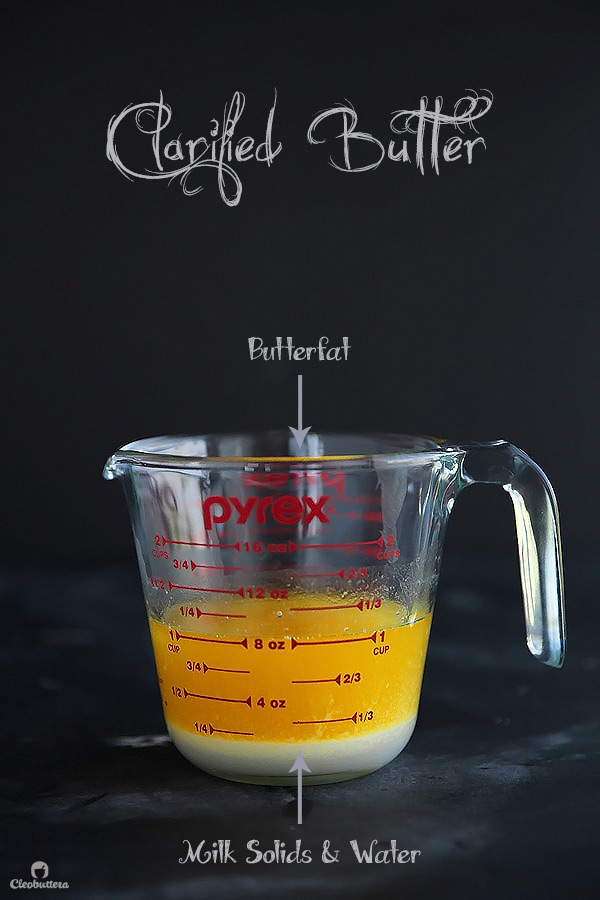 Butter is made up of 2 things: butterfat and milk solids/water. What we want here, is the butterfat (the yellow liquid). There are other ways of clarifying butter, but I use a really simple approach by melting it, then let it sit for a few minutes until it separates like this. The milk solids/water will sink down and the butterfat will float up. That's it! All you gotta do, it just use the yellow liquid and leave behind the white gunk.
While that's happening, you'll need to HEAVILY butter the bottom and sides of your pan.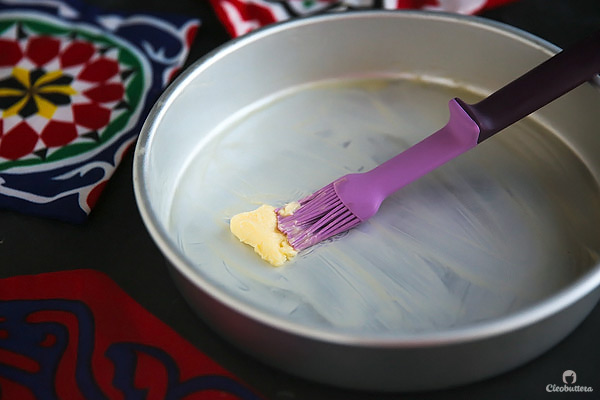 Then shred the konafa into small pieces; about (1 inch/ 2.5cm) long. I've found that cutting the konafa while semi frozen, makes for the easiest way to break it.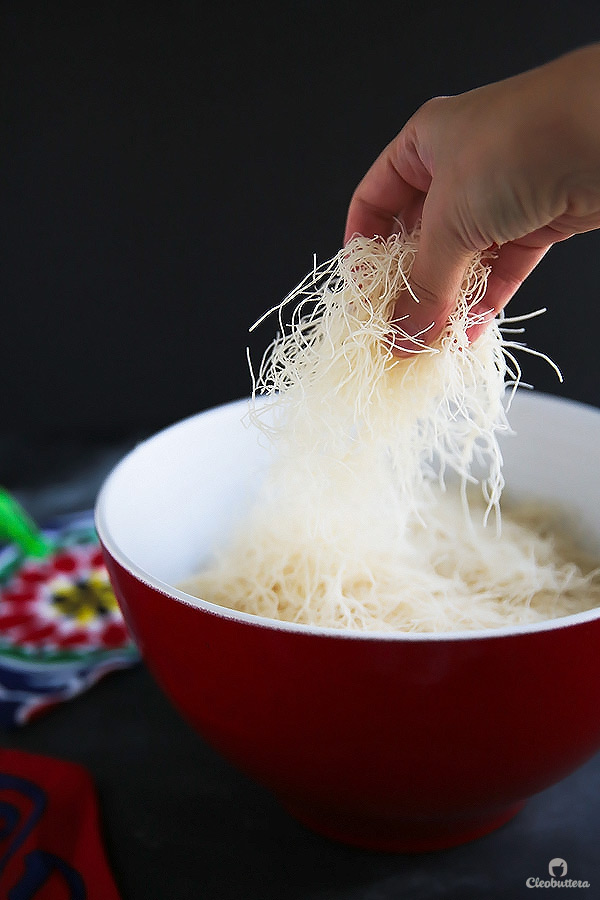 Now pour on that butterfat. Don't worry if you pour some of the milk solids in…its no biggie!
Now toss the konafa until the butter coats every strand and its all nice and glistening. Forget the tongs, go in there with your hands. I just didn't want to dirty my hands while holding the camera. You'll want the konafa to be just greasy enough, but not wet or soggy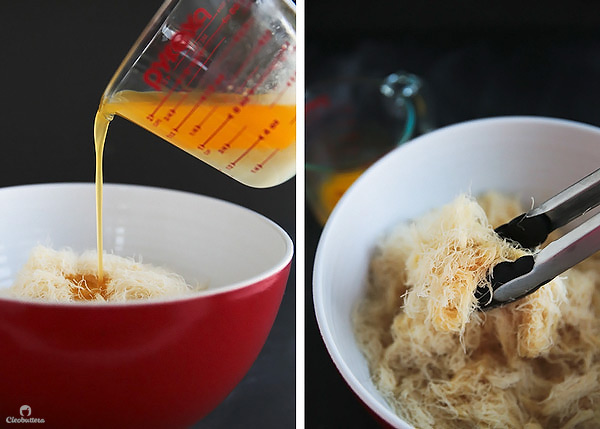 You'll then take two-thirds of the konafa, and firmly press it on the bottom and around the sides of the pan. Using a measuring cup really helps compress it and gets the konafa well up the sides.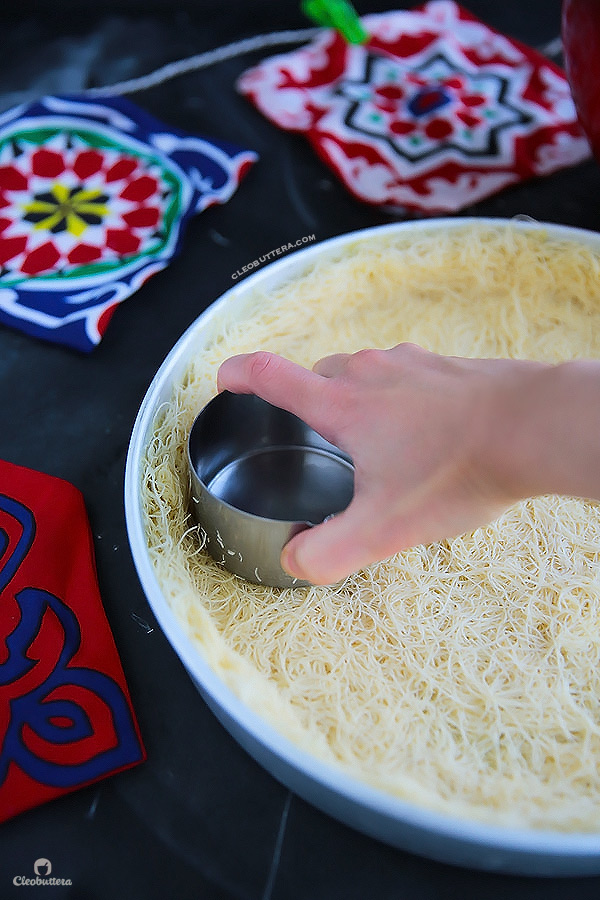 Then throw in your cream filling…or in this case, the white flubber:))
Scatter on the remaining konafa to completely cover the filling. This time, be gentle.

Lightly press it on to adhere. Then bake until deep golden brown. Crunch, crunch, crunch!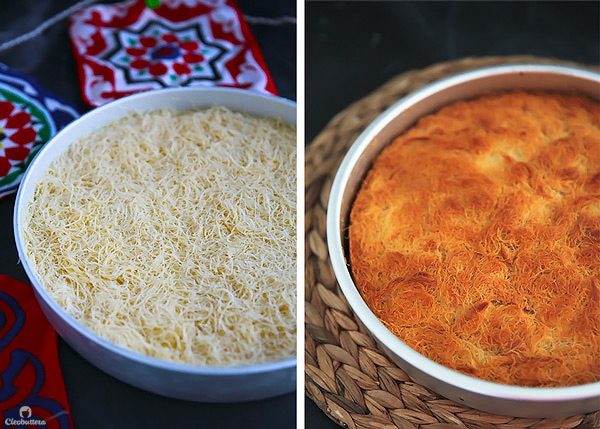 While still screaming hot, pour on the syrup, moving around in circles. Let it rest for 10 minutes, to make sure that all the syrup gets absorbed.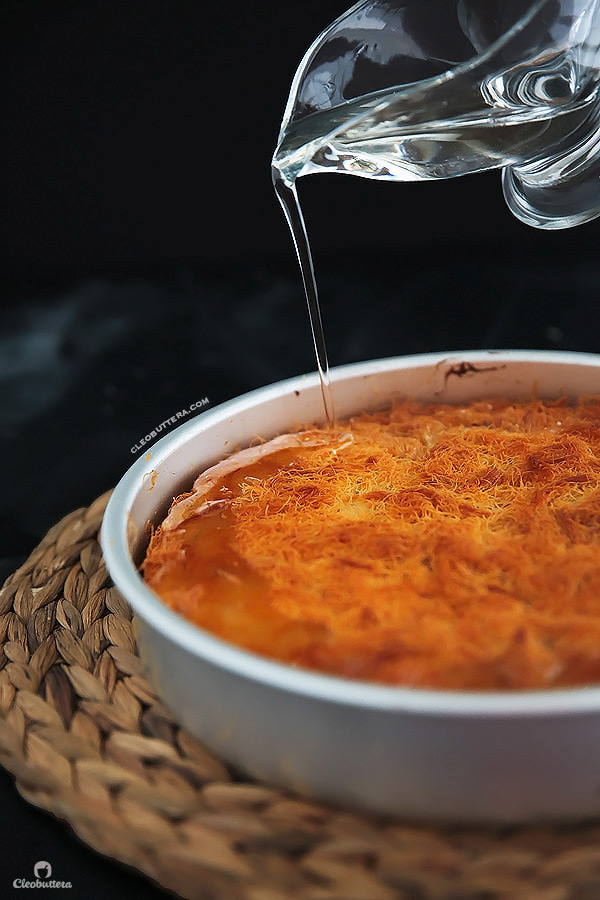 Then flip onto a gorgeous platter and swoon.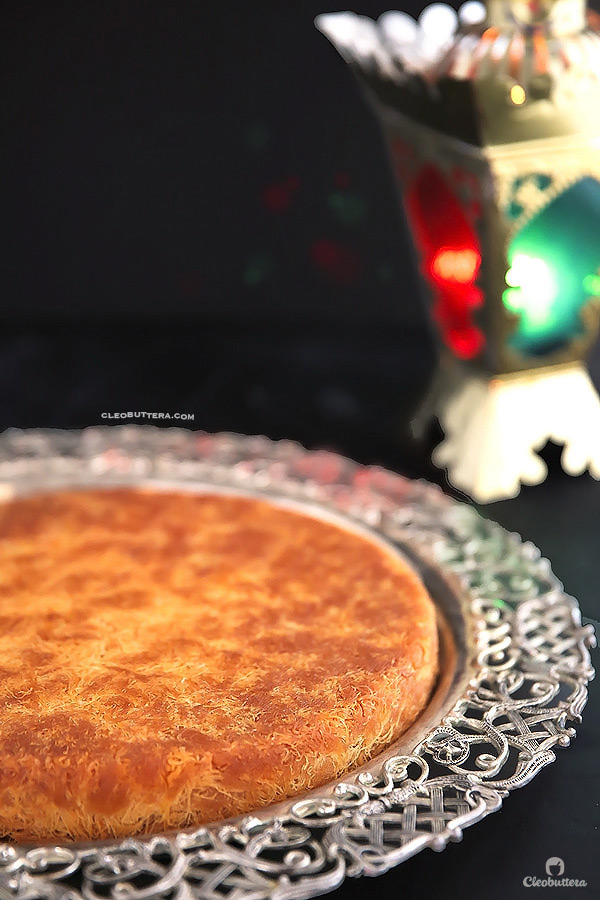 Not gonna cut it this time because I'm fasting. LOL!
Have a blessed Ramadan everyone.
For those of you who are new to the idea of Ramadan, please do stick along, as I'm so excited to show you more of the delicious food this month brings along:)
*Update:
As per the suggestion of lovely reader, Mariam Aly, I updated the filling recipe to 1 cup milk plus 1 cup heavy cream, instead of 2 cups of milk, for a more luxurious, richer texture and flavor. After trying the half and half combo, I don't think I'll ever go back to all milk, nor will my tasters allow it. However, I left the original as is, in case anyone prefers a lighter filling. They're both great, one is just richer than the other, its just a matter of preference.
I've also found that the tiniest splash of orange blossom water in the syrup adds a wonderful flavor, that goes better with the konafa than vanilla. So I added that as an option in the ingredients' list.
I've also lately started adding a piece of ground mastic in the filling and absolutely love it! So I added that as well to the ingredients' list as an optional flavoring. I highly recommend it!
Yield: 1 (26 cm/10 inch round) Konafa
Classic Cream-Filled Konafa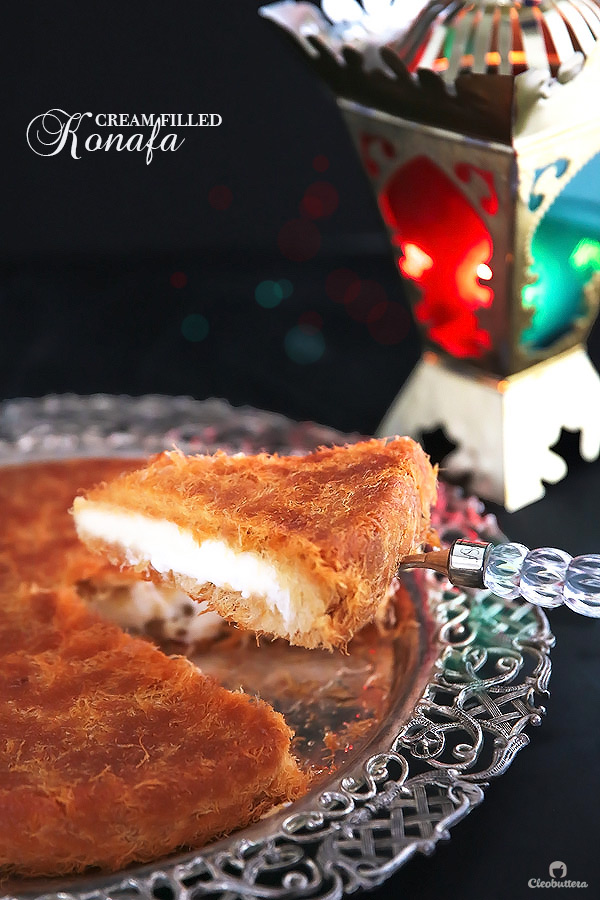 A Middle-Eastern favorite and a month of Ramadan tradition. This variation of Konafa is made from crunchy shredded phyllo pastry, sandwiching a creamy, pudding-like filling, and soaked with scented simple syrup.
Prep Time 30 minutes
Cook Time 1 hour
Additional Time 10 minutes
Total Time 1 hour 40 minutes
Ingredients
For the Scented Simple Syrup:
2 cups (400g) granulated sugar
1 cup water
Squeeze of lemon
1/2 teaspoon vanilla extract (or 2 teaspoons orange blossom water)
For the Cream-Filling: (If you prefer more filling, make 1 1/2 times the cream recipe)
2 cups whole milk (or 1 cup milk plus 1 cup heavy whipping cream for a richer filling) (*see note below)
2 tablespoons (25g) granulated sugar
4 tablespoons (28g) cornstarch (or 3 tablespoons (21g) for a looser consistency; my personal preferance)
1 medium piece of mastic (mistika), ground into fine powder (optional, but highly recommended)
For the Konafa Crust:
1 lb/ 500g konafa (aka kataifi dough), fresh or frozen. If using fresh, freeze for an hour for easier cutting. If using frozen, thaw slightly*
1 cup (227g) unsalted butter or ghee, melted and cooled
Instructions
To make the scented simple syrup: (Can be made up to a week in advance)
In a medium saucepan, combine together the sugar, water and squeeze of lemon juice. Set on the stove top over medium high heat. Try to avoid stirring it as it heats to prevent crystallization from happening, but if the sugar is not dissolving, then help it out with a few stirs. Once it comes to a boil, STOP stirring.
Bring to a boil, then immediately reduce the heat to low and let it simmer for no longer than 10 minutes. Set a timer! The syrup will thicken slightly, and have a consistency similar to pancake syrup. If it simmers for longer it could thicken too much and become candy-like and not pourable. Stir in the vanilla or orange blossom water.
Transfer to a medium bowl or gravy boat and allow to cool to room temperature before using.
To make the cream filling:
In a small saucepan, off the heat, whisk together the milk, cream (if using), sugar and cornstarch until well combined and the cornstarch has dissolved completely without any visible lumps.
Set the saucepan over medium high heat and bring to a full boil, whisking constantly. Continue to boil for a few more seconds until the mixture thickens and large bubbles form around the surface.
Remove the saucepan from the heat and whisk in the ground mastic, if using.
Set the cream-filling aside to cool slightly as you prepare the konafa crust.
To make the Konafa Crust:
Adjust the oven rack to lower-middle position and preheat the oven to 375C/200C. Heavily butter a 26cm/10inch cake pan. Set aside.
Over a large bowl, shred the konafa/kataifi dough into 1inch/ 2.5cm long pieces. I've found that cutting the konafa while semi frozen, makes for the easiest way to break it. So even if using fresh kunafa, stick it in the freezer for about an hour before cutting it.
Pour the melted ghee evenly over the konafa. If using butter instead of ghee, for fresh, extra thin konafa dough, just pour the yellow liquid (butterfat) of the melted butter, leaving behind the white layer (milk solids). If using thicker, frozen konafa/kadiafi, just pour all the butter in. Mix the butter evenly with you hands, into the konafa shreds, making sure it gets well coated and every strand is glistening.
Transfer two-thirds the amount of konafa in the prepared pan and firmly press it on the bottom and up the sides. Make a wall with the konafa around the sides of the pan; this will help contain the cream filling during the baking process and prevent it from burning. Pack the konafa as tightly as possible. Use the bottom of a cup or measuring cup, to help pack it tightly and smooth out the konafa.
Pour in the cream filling and spread with a spatula into an even layer.
Scatter on the remaining third of the konafa over the cream filling, lightly press it on to adhere.
Transfer the pan to the oven and bake for 35 to 45 minutes, or until the top and sides of the konafa are deep golden brown in color. Use a knife to push the side of the konafa, to check the color. The longer it bakes, the crunchier it gets. So bake it for less time if you prefer a softer crust.
Remove the konafa from the oven and immediately pour on the syrup, starting from the edge and moving towards the center, in a circular motion, making sure to cover the entire surface. You might not need all of it. Reserve leftover syrup for drizzling over individual servings if desired, or refrigerate for another use.
Let the konafa rest for 10 minutes to allow for the syrup to soak in, then flip on to a serving platter.
Cut into wedges and serve right away. Konafa is best enjoyed warm.
Recipe Notes
This recipe also make 2 (8-inch round) konafas, or 4 (6-inch round) konafas. In this case, I recommend making 1 1/2X the cream filling recipe.
If using fresh, extra thin, konafa dough, it is preferable to use only the butterfat in the melted butter, leaving behind the milk solids or just use ghee, to ensure a crunchy, evenly browned crust. If using thicker, Greek style frozen kadaifi/konafa, you can use the butter in its entirety; milk solids and all. Unlike thin, fresh konafa, thicker/frozen kadiafi dough can handle the extra moisture, while still crisping up. To separate the butterfat from the milk solids, let the butter sit for a few minutes after melting. The milk solids (the whiter substance) will sink to the bottom and the butterfat (the yellow liquid) will float up. You could now simply pour the butterfat, being careful to leave the white bottom layer behind. It's OK if a little of the milk solids get poured in as well.
I've lately started subbing half the amount of milk with heavy cream, for a richer, more luxurious cream filling, and I'm so in love with the results. You could stick with all milk if you prefer, or you could play around with the milk to cream ratio. If you want it super rich, then go with 1 cup milk (I used 2%) plus 1 cup cream. For less rich but still luxurious results, you could use 1 1/2 cups milk combined with 1/2 cup cream.
Konafa freezes really well before baking. Assemble the konafa in the pan, don't bake, and cover with a double layer of plastic wrap and 1 layer of foil. When ready to bake, let it thaw, then bake as normal.
This konafa has just enough filling to contrast the crunchiness of the crust. Feel free to make 1 1/2 times the cream filling recipe if you prefer a thicker filling. Use 3 cups of milk (or half & half), 3 tablespoons of sugar and 6 tablespoons cornstarch.
In non-Middle Eastern countries, Kadaifi/kataifi/konafa dough can be found in the frozen Greek section of most big supermarkets, or in Middle Eastern speciality stores.
Measurements Note: All recipes of this site have been developed using weight measurements. Although US volume measurements have been included for your convenience, it is highly encouraged that you weigh your ingredients using a kitchen scale to get the best possible results. Due to the sensitive nature of baking, kitchen scales are proven to yield more accurate and consistent results than measuring cups. Enjoy!
This post may contain affiliate links.
All images and content are owned by Cleobuttera® and are copyright protected. Please do not use my images without prior permission. If you would like to republish a recipe, please rewrite it in your own words and link back to the recipe page on my site. Original recipes and creations of this site are intended for personal and home use. Commercial replication or media consumption are only allowed with a written consent and agreement with Cleobuttera owners. Otherwise it is considered a violation of intellectual property. Thank you for respecting and appreciating the amount of time and effort that goes into creating free, unique recipes that make people happy.