Banana Caramel Kunafa Sundae
A Middle Eastern spin on an ice cream favorite! Vanilla ice cream layered with bananas, warm salted caramel sauce and caramelized cinnamon kunafa crumbs for crunch..Heavenly!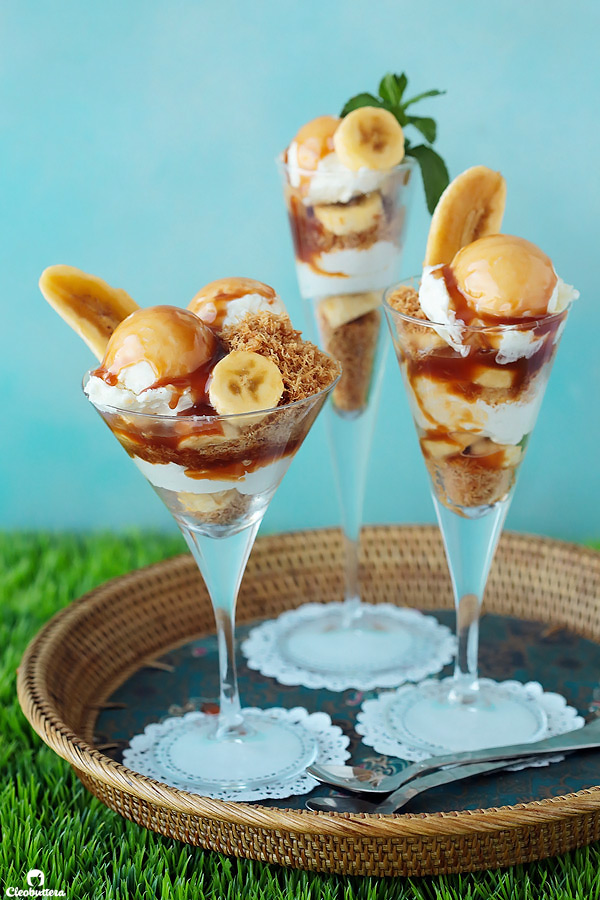 It's no secret that my family has long been my lab rat for my Middle Eastern fusion madness, but never, and I mean never, have I ever had a reaction from them as enjoyable and joyous as when I made this Banana Caramel Kunafa Sundae this Ramadan season.
The S'mores Kunafa Pie was a huge hit and had chocolate lovers' tastebuds banging up the roof, but this…this was a different story.
Literally everyone, young or old, with or without intention, slipped out either an ooooohhh or an aaaahhh or Mmmmmmmm while eating it. Everyone.
Can you blame them?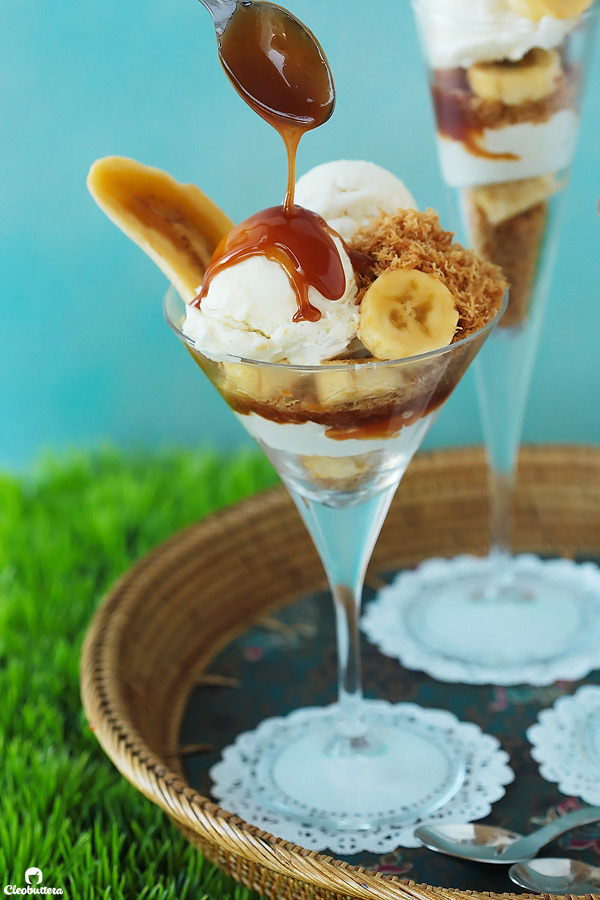 There are two types of recipes in life. Those that have vague components and ingredients that leave you wondering if the some of their parts will actually turn out as good as they sound; like cake. And then there are those that start with obviously delicious components, leaving no room for doubt for anything but an insanely delicious outcome. Like this sundae right here:
Vanilla ice cream...who doesn't love that?
Salted caramel sauce…Ummmm yum!
Banana…caramel's favorite fruit.
Caramelized cinnamon kunafa crumbs…hellooooo mega crunch and bomb flavor!
I think this itches for the cliche phrase of the century: "what's not to like?"
We all know that banana, caramel and ice cream are a dynamite trio, but add to that the delightful crunch of kunafa with a hint of cinnamon and you've got heaven in a cup.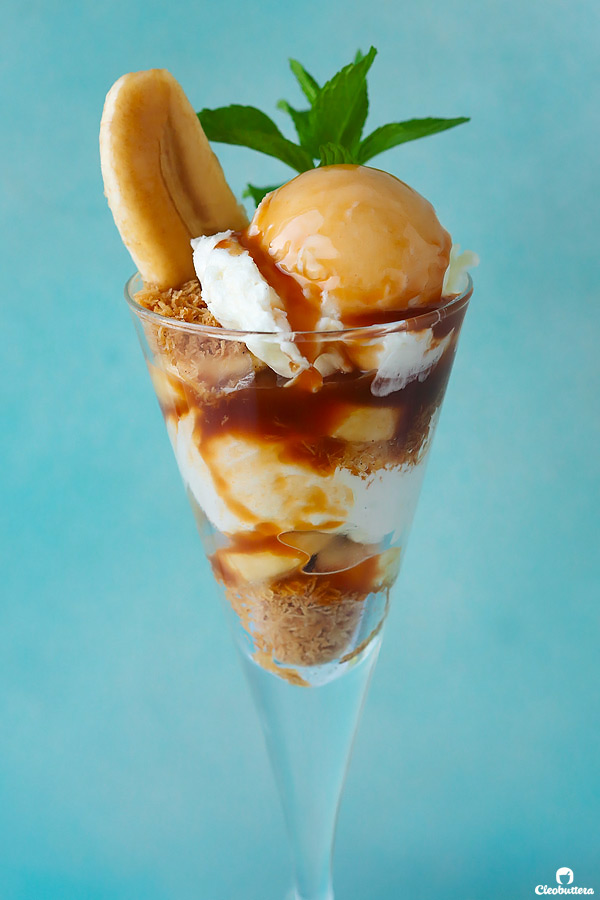 It always feels like a triumph when a recipe that is so simple to throw together turns out a BIG hit! Recipes like these are not easy to come by and are treasured when they do.
The idea for this ice cream sundae came to me when I wanted to create an easier, less involved version of the Cone-afa Ice Cream. That thing is great and all, and one of my all-time favorite creations EVER, but truth be told, it does require some crafting skills, a special type of fresh kunafa that can be hard to find, and a pinch of patience.
This one though…requires empty tummies.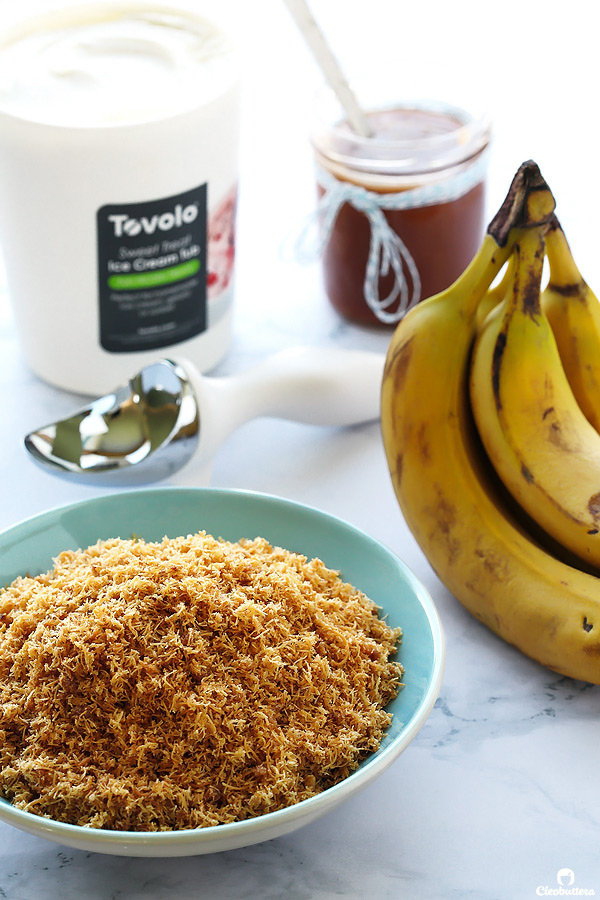 Store-bought Vanilla Ice cream…Done ✅
God-given bananas…Done ✅
Salted Caramel Sauce…well you could take a shortcut and use store-bought, but nothing beats homemade, especially when it only takes 10 minutes of your time.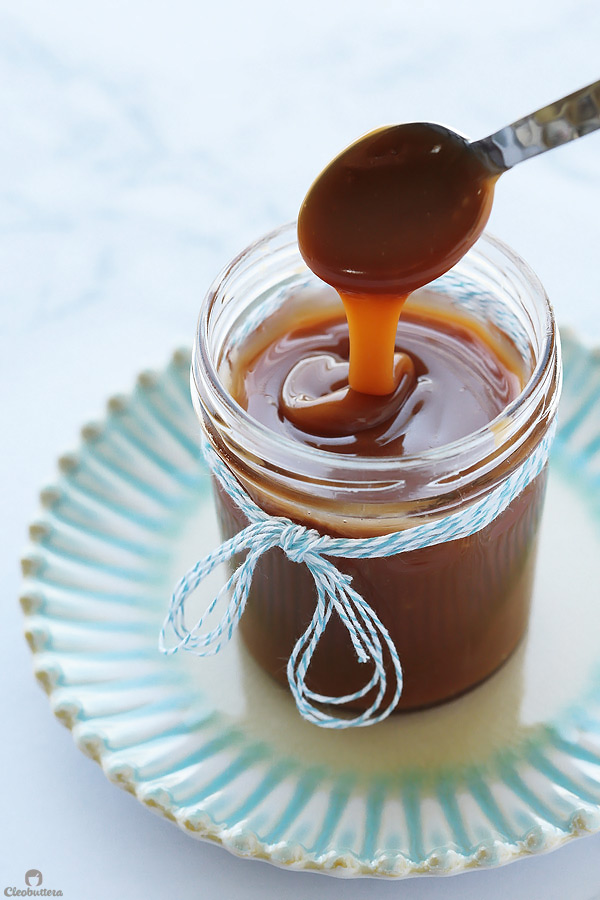 As for the caramelized cinnamon kunafa crumbs…easy peasy. Take a look!
You start with any type of kunafa/kataifi dough…nothing out of the ordinary here, and cook it with butter and sugar…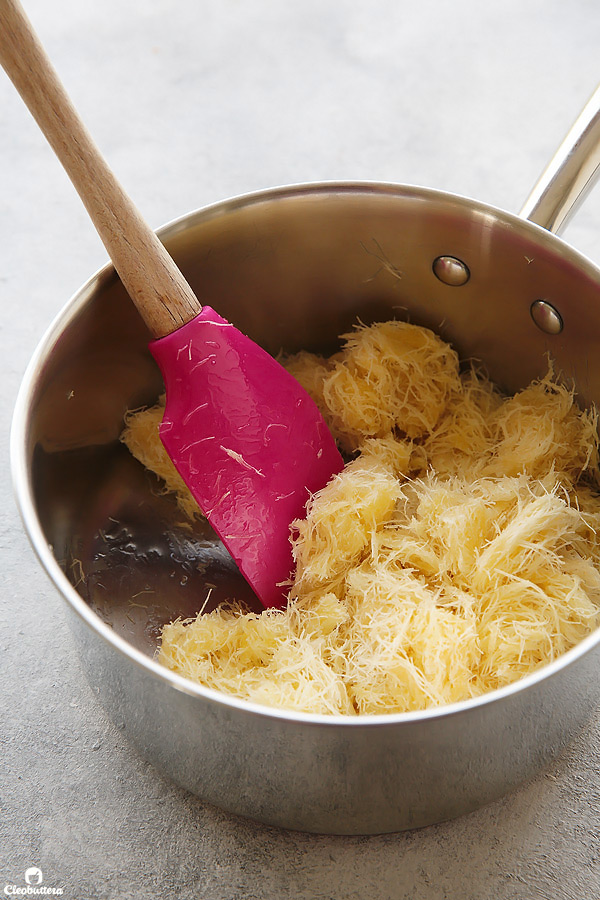 Till it has gorgeously toasted and wafting with buttery, caramelized aromas. The reason why I add the sugar during the cooking process and not after (which is the norm), is that I love how the sugar melts and coats the kunafa shreds with caramelization. This gives the kunafa even more crunch, longer shelf life and extra special flavor.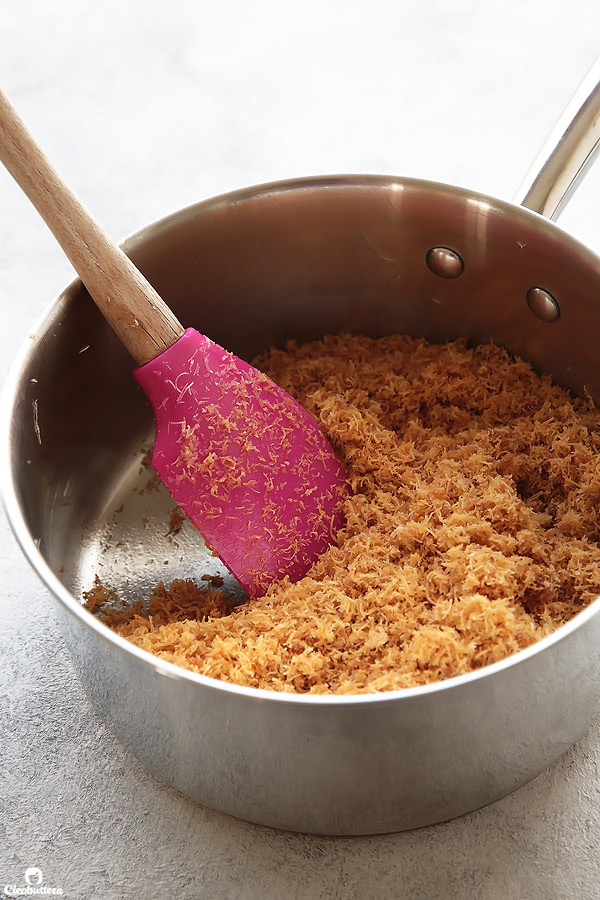 Speaking of special flavors…cinnamon in kunafa is my new favorite thing. AMAZING! Only 1/2 teaspoon takes it from delicious to ridiculous, and goes really well with caramel and banana.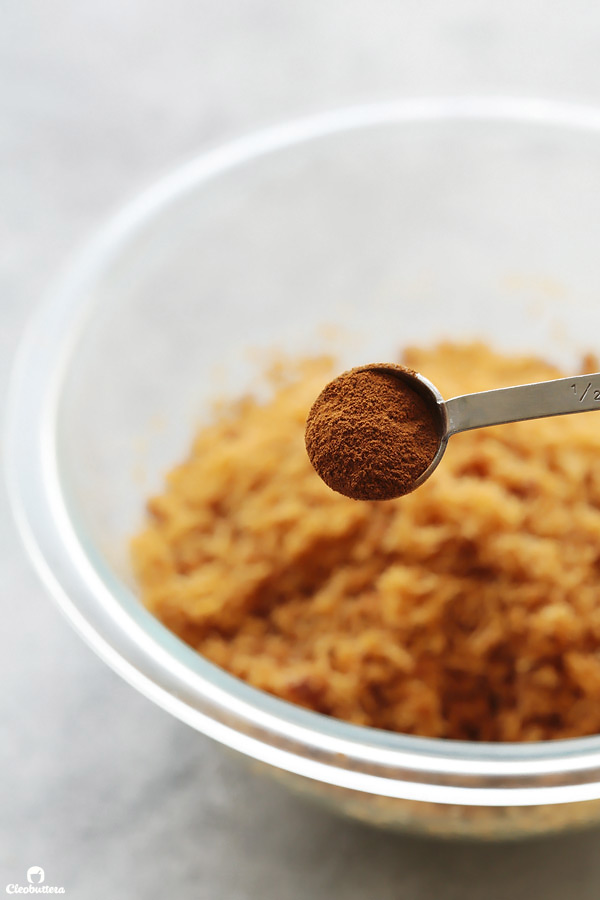 After that, it's all a matter of assembly!
Put out all the components and let your guests have fun with it, or do it for them and watch them drool.
Layer in the kunafa, followed by banana slices, then ice cream and sauce…repeat.
But wait…something's missing here….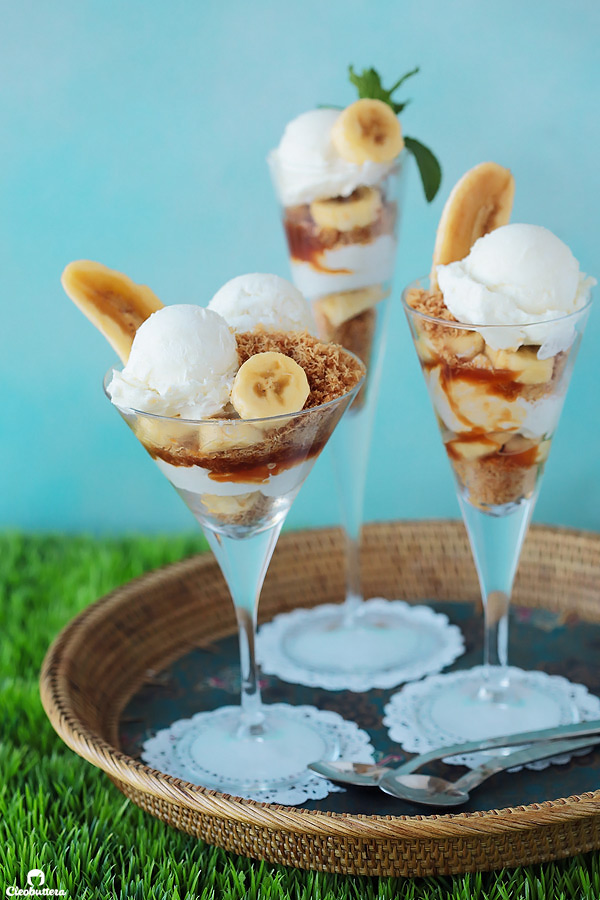 Oh yes…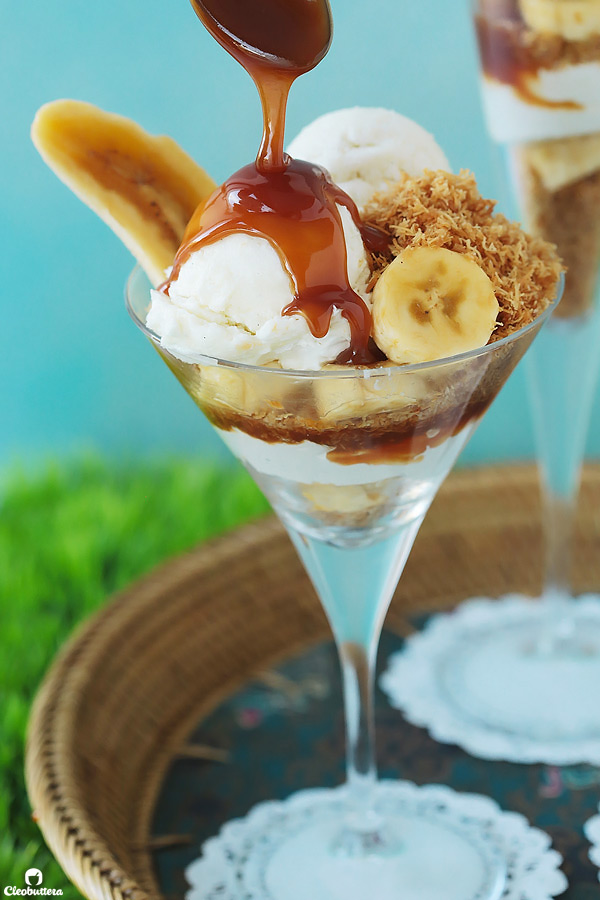 That's better!
Make this one folks. You will not regret it!
Or maybe you will when you step on the scale the next morning…but let's not get into this.
It's delish and worth every calorie. And oooooh….it has bananas!!!! Potassium people! We all need our potassium.
Yield: 6 to 8 servings
Banana Caramel Kunafa Sundae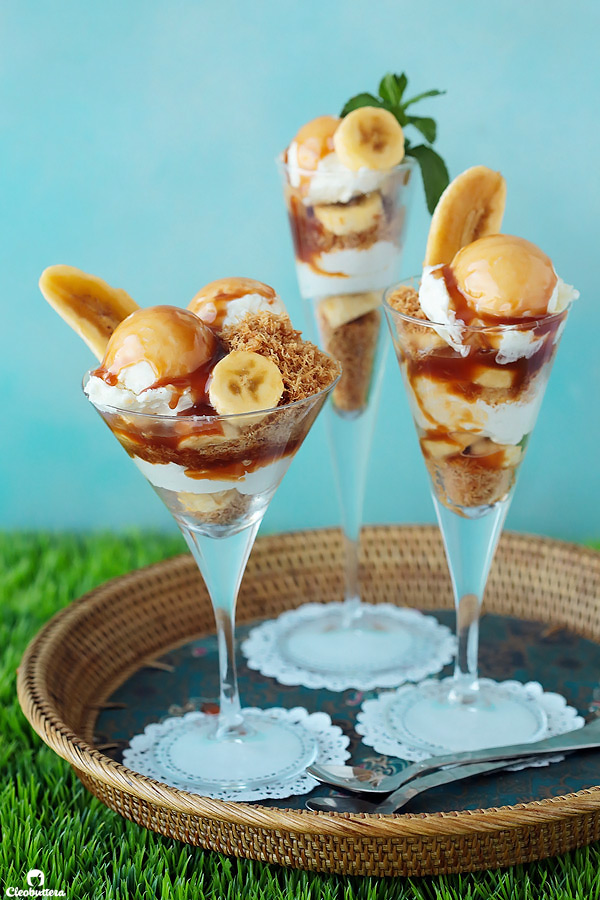 A Middle Eastern spin on a ice cream favorite!  Vanilla ice cream layered with bananas, salted caramel sauce and caramelized cinnamon kunafa crumbs for crunch..Heavenly!
Prep Time 30 minutes
Additional Time 15 minutes
Total Time 45 minutes
Ingredients
For the Caramelized Cinnamon Kunafa Crumbs:
1/3 cup plus 1 teaspoon (85g) unsalted butter
170g kunafa, or kataifi/kadaifi pastry, fresh or frozen (If using fresh, freeze for an hour for easier cutting. If using frozen, thaw slightly)
1/2 cup (100g) granulated sugar
1/2 teaspoon ground cinnamon
For the Salted Caramel Sauce: (store-bought caramel sauce may be substituted)
1 cup (200g) granulated sugar
¼ cup + 2 Tbsp water
¼ cup (57g) salted butter, diced into 1 Tbsp pieces
½ cup heavy whipping cream, warmed
½ tsp fine salt
1 liter (2 pint) vanilla ice cream
4 to 5 large bananas, sliced
Instructions
To make the Caramelized Cinnamon Kunafa Crumbs:
While the kunafa is still semi-frozen, break it between your hands to crumble into small pieces. Kunafa shreds easiest when semi-frozen.
In a large pan (the larger the better) over medium heat, melt the butter. Add in the shredded kunafa and stir well until evenly coated with the butter. Alternatively, in a large bowl (off heat), rub melted butter into the kunafa with your hands, then tranfer to the pan.
Cook the kunafa, stirring constantly until it starts to show the first signs of golden color; about 5 minutes.* Once it reaches a blonde shade, add in the sugar and stir well to coat. The sugar should start to melt and caramelize around the kunafa. Continue stirring, being careful not to get any burn marks, until the kunafa is evenly golden brown in color, and is very crunchy; about 5 more minutes.
Add in the cinnamon and stir to combine. Transfer the kunafa crumbs to a bowl and allow to cool completely before using. Cooled caramelized kunafa will keep well, covered tightly with plastic wrap for about a week. Meanwhile, make the salted caramel sauce.
To make the Salted Caramel Sauce:
Gather all your ingredients and keep them nearby for immediate use.
Bring sugar and water to a boil in medium heavy-bottomed saucepan over medium-high heat. Cover the saucepan for about 1 minute; the condensation will wash down any sugar crystals that might've gathered on the sides, which will reduce the chance of crystallization. Cook, without stirring, swirling saucepan and brushing the sides of the pan occasionally with water, until mixture is amber-colored.
Remove the saucepan from the heat and immediately whisk in the butter until melted. Carefully pour in the cream; it will bubble vigorously, then whisk well to combine. Return the saucepan to heat and continue to whisk until the mixture is completely smooth and hard caramel clumps have dissolved. Stir in the salt. Transfer caramel to a serving vessel. Use while still warm, or reheat in the microwave before using to warm through.
To assemble:
In serving glasses, spoon a layer of kunafa crumbs into the bottom, top with banana slices, then a scoop of ice cream and a drizzle of the warm caramel sauce. Repeat with another layer on top of this, if desired. Serve immediately.
Recipe Notes
You might notice that the order in which I add the sugar to the kunafa mixture is different from that of the video. In the video, the sugar is added with the butter (before the kunafa), while in the instructions, it's added (after the kunafa) has been lightly toasted. Please follow the order of the written instructions, NOT of the video, as I've lately found out that adding the sugar at a later stage, makes the cooking process much easier, and less prone to scortchinhg.
Salted Caramel Sauce recipe adapted from Cooking Classy.
Measurements Note: All recipes of this site have been developed using weight measurements. Although US volume measurements have been included for your convenience, it is highly encouraged that you weigh your ingredients using a kitchen scale to get the best possible results. Due to the sensitive nature of baking, kitchen scales are proven to yield more accurate and consistent results than measuring cups. Enjoy!
This post may contain affiliate links.
All images and content are owned by Cleobuttera® and are copyright protected. Please do not use my images without prior permission. If you would like to republish a recipe, please rewrite it in your own words and link back to the recipe page on my site. Original recipes and creations of this site are intended for personal and home use. Commercial replication or media consumption are only allowed with a written consent and agreement with Cleobuttera owners. Otherwise it is considered a violation of intellectual property. Thank you for respecting and appreciating the amount of time and effort that goes into creating free, unique recipes that make people happy.