KitKat Peanut Butter Caramel Delights
These delightful cups of decadence, feature a bottom base of crushed KitKat and roasted peanuts, salted caramel sauce, a cloud-like peanut butter filling, all topped off with a chocolate ganache sauce, whipped cream and chunks of KitKat and peanut bits. VIDEO recipe at the end of the post!
This post is sponsored by
KitKat Egypt
, but all opinions are my own. Thank you for supporting the brands that believe in me.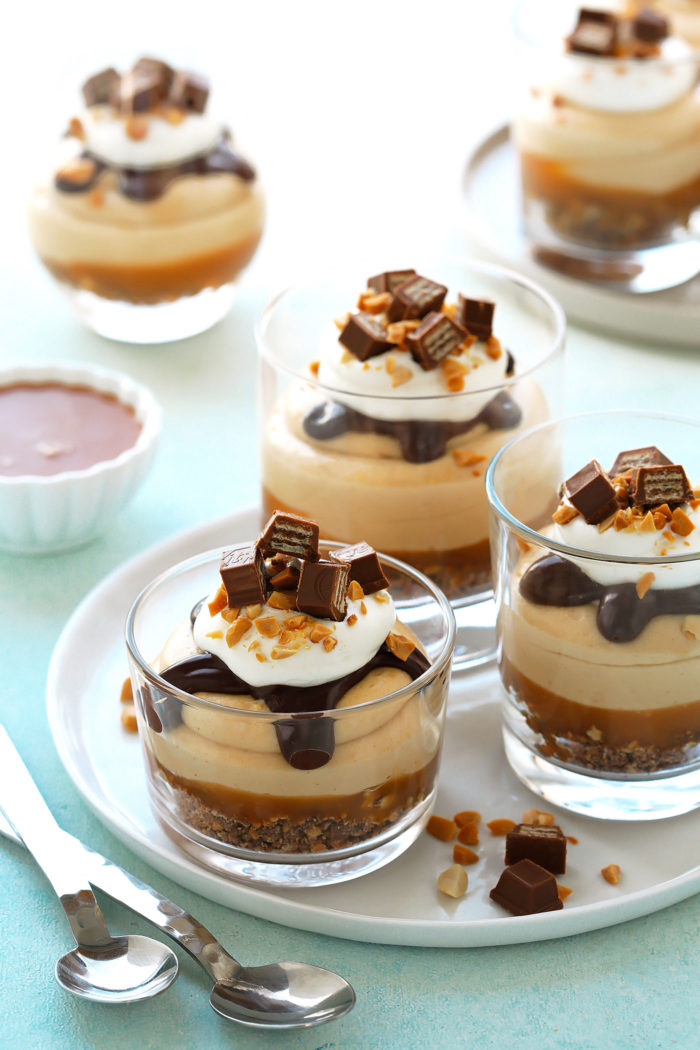 Welcome back to the third and last of my summer KitKat fiesta!
KitKat Egypt and I have been teaming up to bring you easy, delicious recipes that will cool you off in the hot summer days.
We started off with a scrumptious ice cream pie, followed by some ridiculous s'mores bars that require non of the camping heat, and sealing it with this…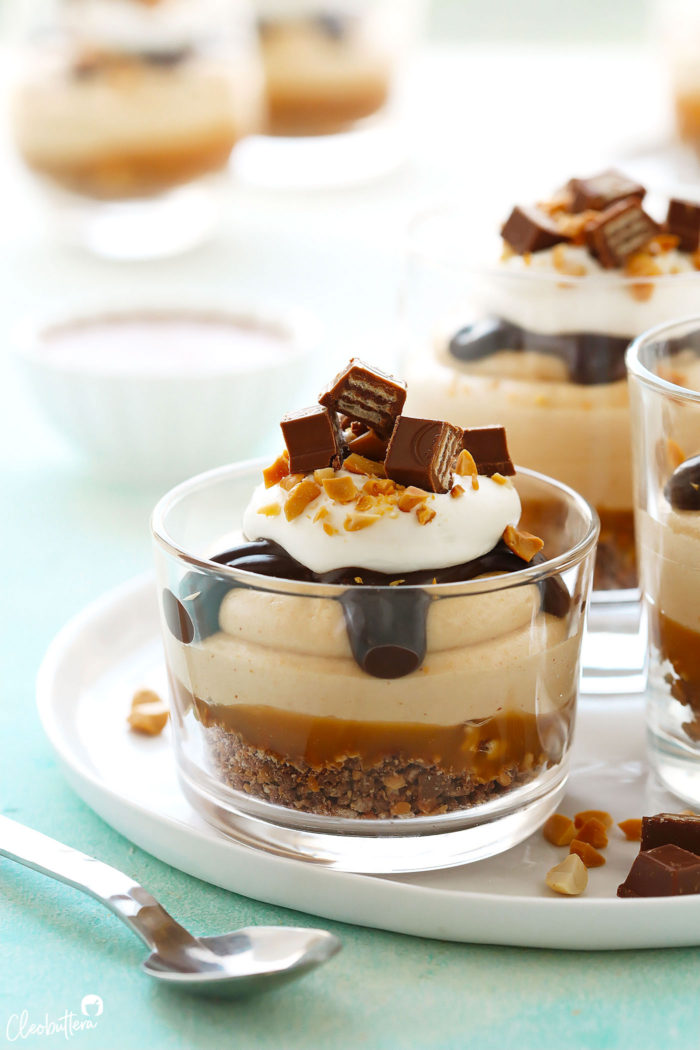 And boy have I saved the best for the last.
If you're like me and believe that peanut butter, especially when combined with chocolate, is one of life's greatest pleasures, then these dessert cups will rock your world.
Oh and have I mentioned the salted caramel?
Why yes…because if all the peanut butter and chocolate aren't enough to make your tastebuds fly to the moon and back, a layer of salted caramel sauce running down the middle will skyrocket it to heaven.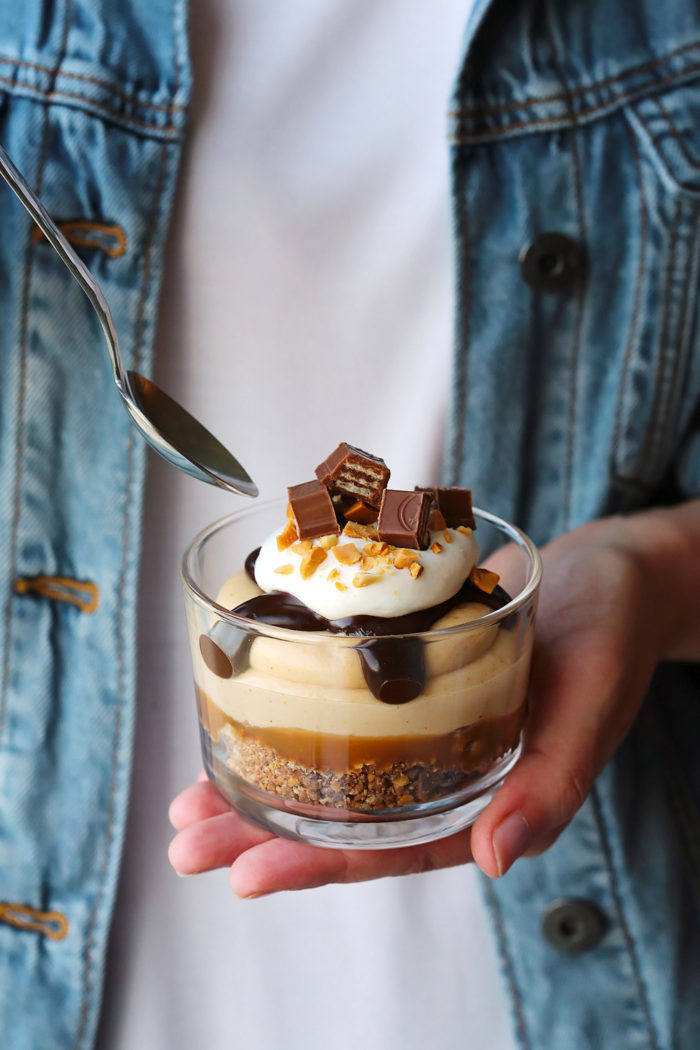 So what do we have here?
You're getting a base of crushed KitKat bars and roasted peanuts, topped with a drizzle of salted caramel sauce, and layered with a thick, creamy swirl of cloud-like peanut butter filling. The whole thing is then finished off with a semisweet chocolate ganache sauce, a dollop of freshly whipped cream and crowned with chunks of KitKat and peanut bits.
It is based off of the idea of a classic peanut butter pie…but on steroids. And in cups. Because anything served in a cup boosts the cutenesses level exponentially.
You can most certainly serve it in pie form, or any other vessel you fancy. Which is actually the reason why I named these KitKat Peanut Butter Caramel 'Delights' (and NOT cups), because not only are they an immense delight to eat, but I didn't want you to feel limited to the cup.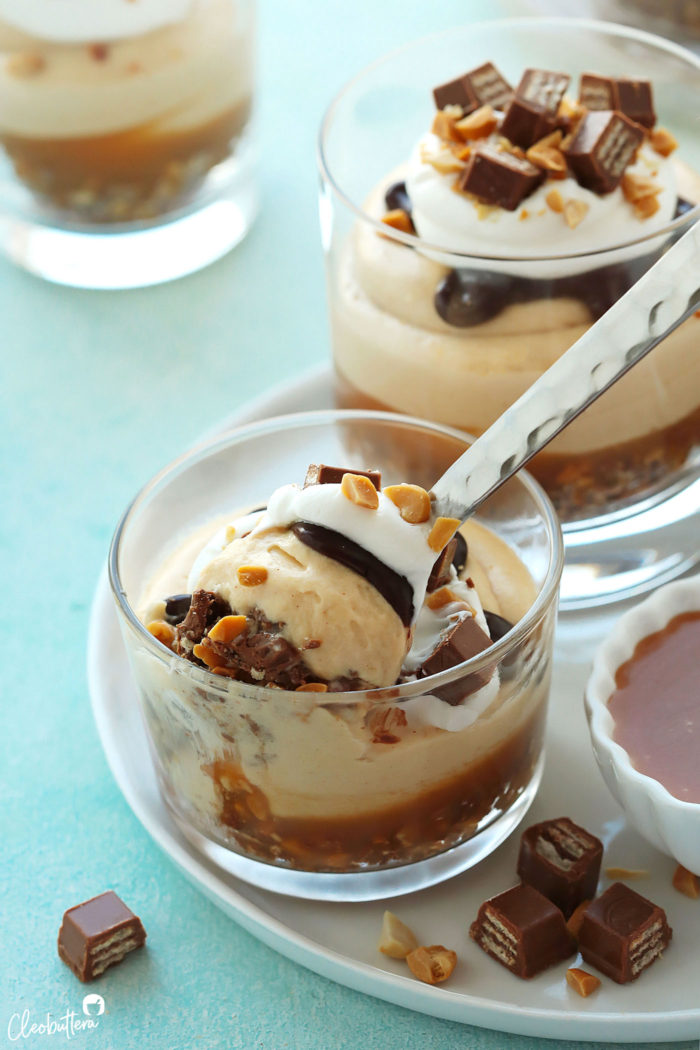 As you can imagine, these Delights are a seriously decadent dessert. They are over the top and unapologetically sinful. Definitely a treat worthy of your cheat meal.
If you're someone who dubs a lot of desserts 'rich,' you might want to consider sharing your cup, because they are Bill Gates RICH. I think next time, I might just make them in mini cups like I did here, because even I, the biggest sweet tooth, couldn't finish my cup.
They are really delectable in every way possible. I have tried them out both without the caramel sauce, and without the whipped cream and chocolate sauce, and they were still amazing. So feel free to mix and match the condiments to your liking.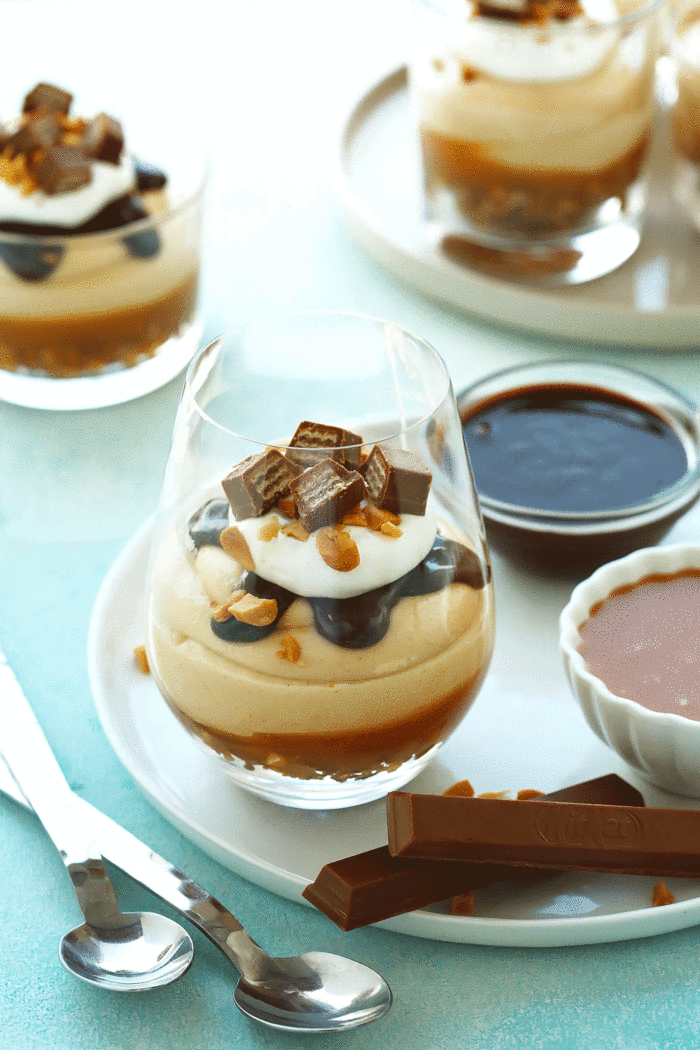 So what do we need?
Your list of ingredients includes:
KitKat Bars: Lightly crushed, these make the bottom base of the dessert. A few cut up squares add a nice decoration on top.
Peanuts: Roasted peanuts are crushed with the KitKats to accentuate the nuttiness and add even more crunch to the bottom.
Smooth Peanut Butter: As much as I love natural peanut butter for my breakfast, only commercial-style peanut butter will give the filling the body it needs.
Cream Cheese: Full fat cream cheese adds tanginess to the peanut butter filling and heightens its creaminess.
Powdered Sugar: Aka confectioners' or icing sugar, adds a balanced sweetness to the filling without the grit of the granulated variety.
Heavy whipping cream: Aerates the peanut butter filling, smoothes it out and lightens its texture. You'll need a little extra to top your dessert, if you like.
Salted Caramel Sauce: Adds sweet and salty notes to the dessert, that makes it irresistible. You can watch me make it on video here. Or you can take a shortcut and use store-bought caramel.
Chocolate Ganache Sauce: (not pictured) Totally optional, but makes the dessert look so pretty. And ofcourse adds another layer of chocolatiness. Who can say no to that? Again, feel free to use store-bought chocolate sauce instead.
How to make KitKat Peanut Butter Caramel Delights?
If you love no-bake desserts…look no further. No oven required for these babies, so let's get started!
You first start by beating the cream cheese and peanut butter together until there are no lumps. Add in the powdered sugar, then beat some more. Don't fret, the mixture will not look emulsified and smooth at this point, but it will smooth out once you fold in all of the whipped cream.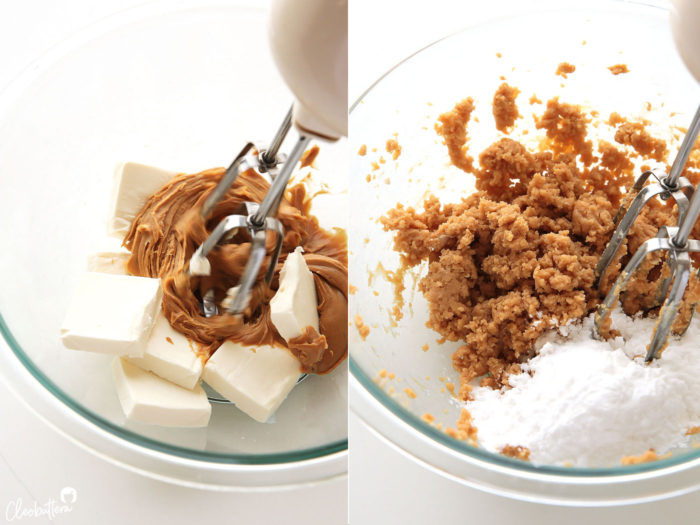 So here we go! Add in 1/3 of the whipped cream and fold gently. It's ok…it will still look like you screwed up.
So go ahead and fold in the remaining 2/3 whipped cream, in two batches, until no streaks remain. The mixture should now be super smooth and creamy and tempting to just stop right there and eat it with a spoon. But we're not. Because it's destined for greater things. Things that involve KitKat.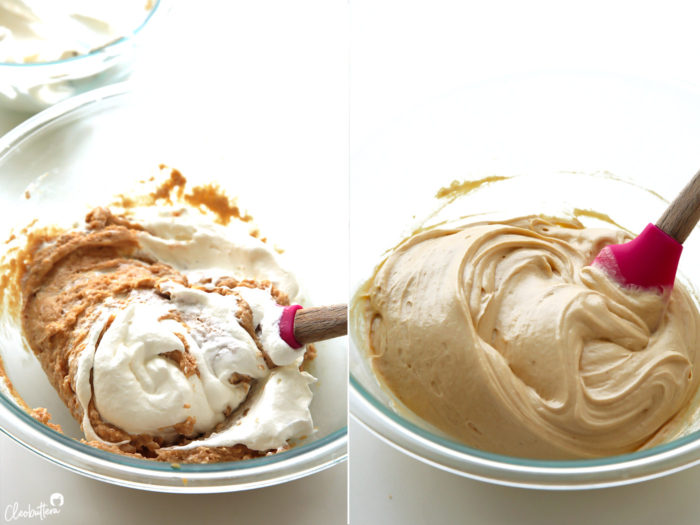 In which we'll combine with roasted peanuts in a food processor…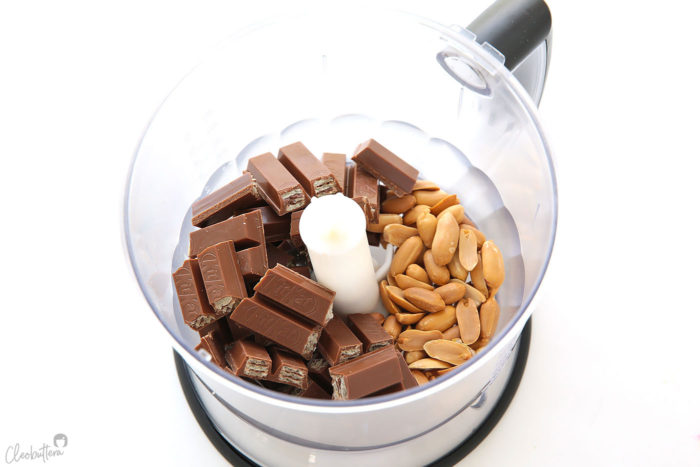 …and pulse them together, until they're crushed into coarse crumbs. Now that's gonna be your base. Your very very delicious base.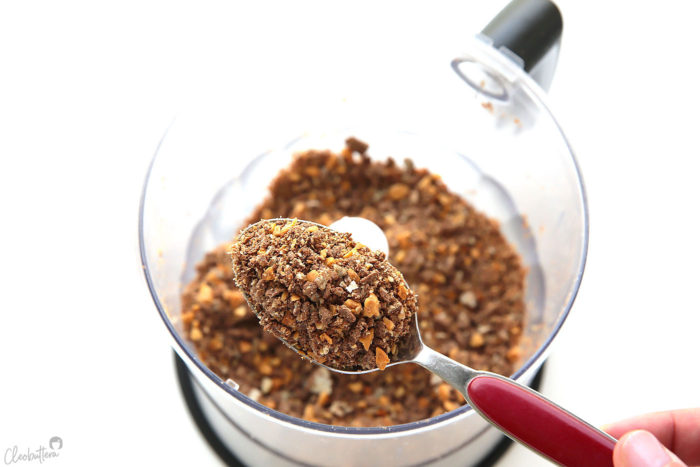 Which you're gonna spoon into cups, followed by a drizzle of salted caramel sauce, a piping of that ridonculous peanut butter filling and a squirt of luscious chocolate sauce.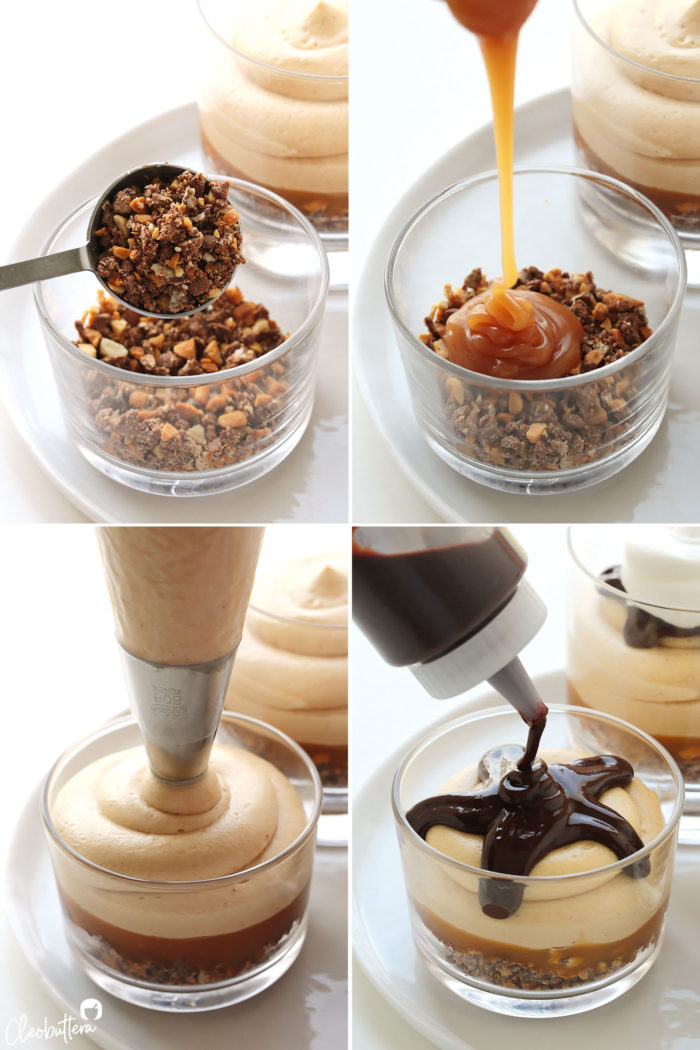 And to finish it all off…nothing better than a cloud of whipped cream and tiny bites of crispy KitKat.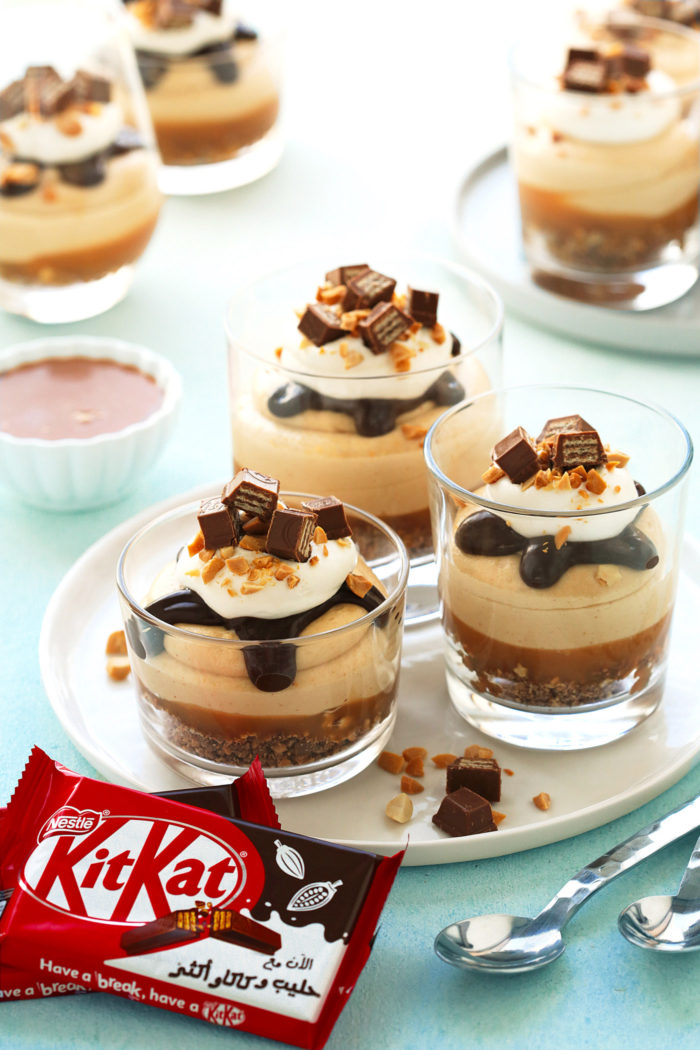 A brief chill in the fridge…
Then you're ready to dive in head first.
But first…watch this ?
Yield: 10 to 12 medium cups
KitKat Peanut Butter Caramel Delights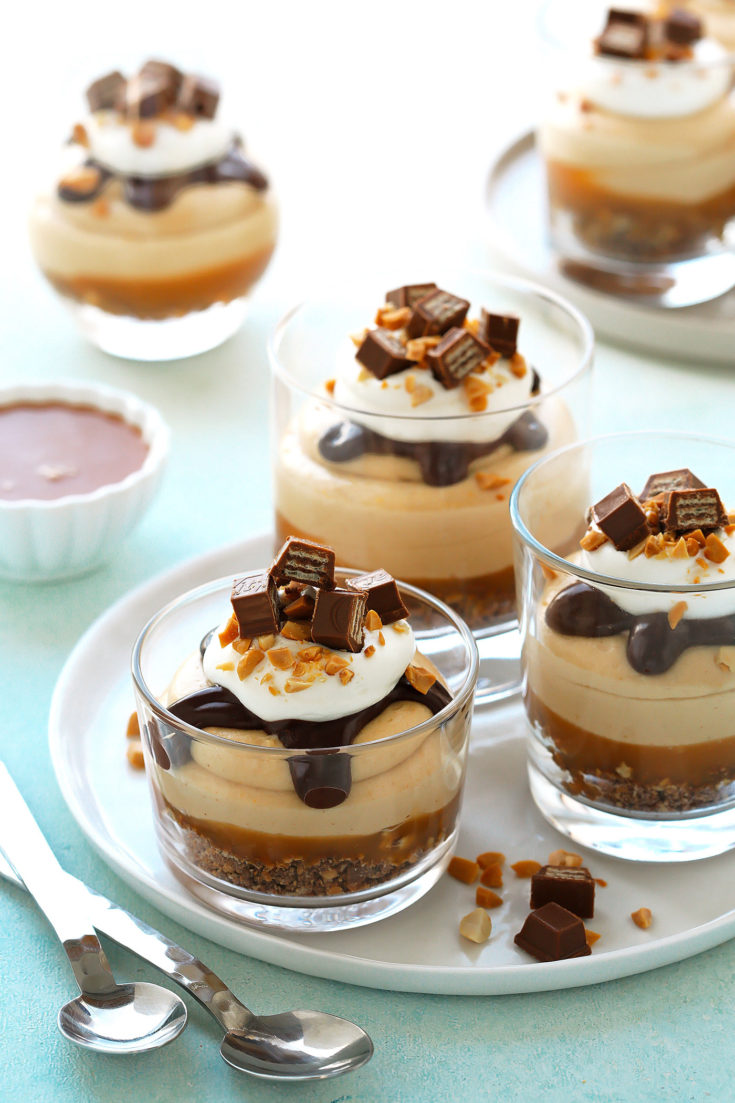 These delightful cups of decadence, feature a bottom base of crushed KitKat and roasted peanuts, salted caramel sauce, a cloud-like peanut butter filling, all topped off with a chocolate ganache sauce, whipped cream and chunks of KitKat and peanut bits.  VIDEO recipe at the end of the post!
Prep Time 45 minutes
Additional Time 2 hours
Total Time 2 hours 45 minutes
Ingredients
For the salted caramel sauce: (optional)*
1 cup (200g) granulated sugar
¼ cup + 2 Tbsp water
¼ cup (57g) unsalted butter, diced into cubes
½ cup heavy whipping cream, warmed
½ tsp fine salt
For the filling:
1 1/3 cup heavy whipping cream, very cold
227g (8oz) cream cheese, softened to room temp
1 cup (114g) powdered sugar, divided
1 cup (227g) smooth peanut butter
For the KitKat Peanut Base:
6 KitKat bars (4 fingers pack), cold
2/3 cup (85g) roasted peanut
For topping: (optional)
Chocolate sauce, store-bought or as per recipe below*
Whipped cream*
2 KitKat bars (4 fingers pack), cut into small squares
Roasted peanuts, roughly chopped
For the chocolate sauce: (optional)*
1/2 cup (85g) semisweet chocolate chips or chopped chocolate
1/4 cup heavy whipping cream
Instructions
To make the salted caramel sauce:
Start by making the caramel sauce so it has enough time to cool. Gather all your ingredients and keep them nearby for immediate use.

Bring sugar and water to a boil in medium heavy-bottomed saucepan over medium-high heat. Cover the saucepan for about 1 minute; the condensation will wash down any sugar crystals that might've gathered on the sides, which will reduce the chance of crystallization. Cook, without stirring, swirling saucepan and brushing the sides of the pan occasionally with water, until mixture is amber-colored.
Remove the saucepan from the heat and immediately whisk in the butter until melted. Carefully pour in the cream and salt; it will bubble vigorously, then whisk well to combine. Return the saucepan to the heat and continue to whisk until the mixture is completely smooth and hard caramel clumps have dissolved. Transfer caramel to a bowl and allow to cool completely, at room temperature or in the fridge, before using.

To make the peanut butter filling:

In a medium (preferably chilled) bowl, combine the heavy whipping and 1/4 cup (29g) of the powdered sugar. Using an electric mixer fitted with the whisk attachment, beat together on medium-high speed until stiff peaks form. Set the whipped cream aside.
In another large bowl, and using the same electric mixer (no need to wash the beaters), beat together the cream cheese and peanut butter on medium-high speed, until well combined.
Add in the remaining 3/4 cup (85g) powdered sugar and continue to beat until homogenous. Mixture will not look smooth and creamy at this point, but it will smooth out once you fold in all of the whipped cream.
Gently fold 1/3 of the whipped cream into the peanut butter mixture. Mixture will still look broken. Continue by folding in the remaining 2/3 whipped cream, in two batches, until no streaks remain and mixture is very smooth and creamy.
Cover the bowl and set aside in the fridge until you prepare the KitKat and peanut base.

To make the KitKat and Peanut Base:

In a food processor, pulse the KitKat fingers along with the peanuts until they resemble coarse crumbs.

To assemble:

Into glass cups the size of your choice, place 2 to 4 tablespoons of the KitKat and Peanut base.
Top with a drizzle of the cooled salted caramel sauce, enough to cover the base.
Using a piping bag fitted with a round tip, or just a spoon, pipe (or dollop) the peanut butter filling over the caramel. Repeat with the remaining cups.
Cover the cups with plastic wrap and refrigerate for at least 2 hours or up to 2 days.
When ready to serve, top with the chocolate sauce (recipe below), followed by a dollop of whipped cream, a few pieces of cut up KitKat squares and chopped peanuts.

To make the chocolate sauce:

Combine the chocolate and heavy whipping cream in a microwave safe bowl. Heat in the microwave for 1 minute, then whisk until the chocolate is melted and the mixture is smooth and shiny. If after 1 minute, the chocolate hasn't melted, place back in the microwave for a few more seconds until a saucy consistency is achieved.
Recipe Notes
As an alternative, you can prepare this dessert in a pie dish, or any serving vessel you prefer. Given the dessert's rich nature, mini cups would work beautifully here..
For a shortcut, feel free to use store-bought caramel and chocolate sauces, instead of making them from scratch. If you prefer, you can also omit them and still have one delcious-tasting dessert.
The amount of whipped cream used to top the dessert, will vary according the size and amount of cups you use. I used 1/2 cup heavy whipping cream whipped with 1 tablespoon powdered sugar for my 10 medium sized cups. If making a full pie, or more cups, I'd recommend whipping 1 cup heavy whipping cream with 2 tablespoons powdered sugar.
Measurements Note: All recipes of this site have been developed using weight measurements. Although US volume measurements have been included for your convenience, it is highly encouraged that you weigh your ingredients using a kitchen scale to get the best possible results. Due to the sensitive nature of baking, kitchen scales are proven to yield more accurate and consistent results than measuring cups. Enjoy!
This post may contain affiliate links.
All images and content are owned by Cleobuttera® and are copyright protected. Please do not use my images without prior permission. If you would like to republish a recipe, please rewrite it in your own words and link back to the recipe page on my site. Original recipes and creations of this site are intended for personal and home use. Commercial replication or media consumption are only allowed with a written consent and agreement with Cleobuttera owners. Otherwise it is considered a violation of intellectual property. Thank you for respecting and appreciating the amount of time and effort that goes into creating free, unique recipes that make people happy.