Best Ever Om Ali (Egyptian Bread Pudding)
An Egyptian classic as old as time, gets an upgrade with the use of delightfully delicious PALMIERS (lunettes) instead of regular 'ol puff pastry or roaa (Egyptian flat bread).  Oodles of crushed palmiers get mixed with nuts, sweetened hot milk, topped with whipped cream and broiled to perfection.  The result…crunchy and caramelized on top, deliciously creamy and silky in the bottom.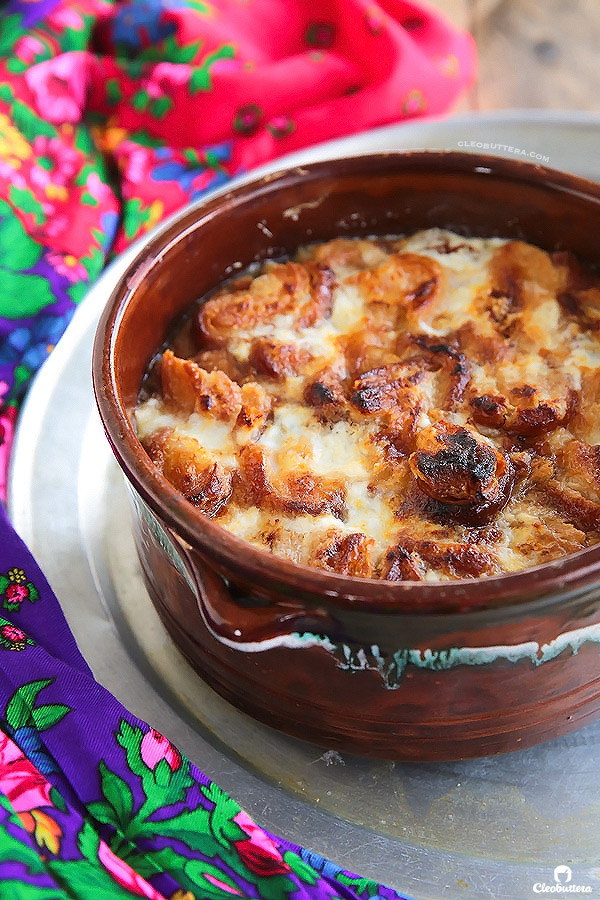 As tempting as it may be, I tend to refrain from labeling any of the recipes you see here with high status claims like "The Best," or "Best Ever," simply because the definition of what makes something "the best" differs from one person to another.
And also because I'm chicken and I'm scared that you'll hate me forever if a recipe doesn't turn out the way it should.  And then I'll lose my sleep for 3 weeks and resort to eating copious amounts of these therapy cookies to lift my spirit.  But then I'll put on so much weight, get depressed because I've turned into an Oompa Lumpa and then eat my feelings through this molten chocolate mug.  Alone! Its a vicious cycle I tell ya.  Sob sob…
And this, my friends, is why I've never titled any of my recipes with "Best Ever," even if I'm convinced that they are…like these cookies and these muffins. Until today.
Because this version of Om Ali…is worth taking my chances.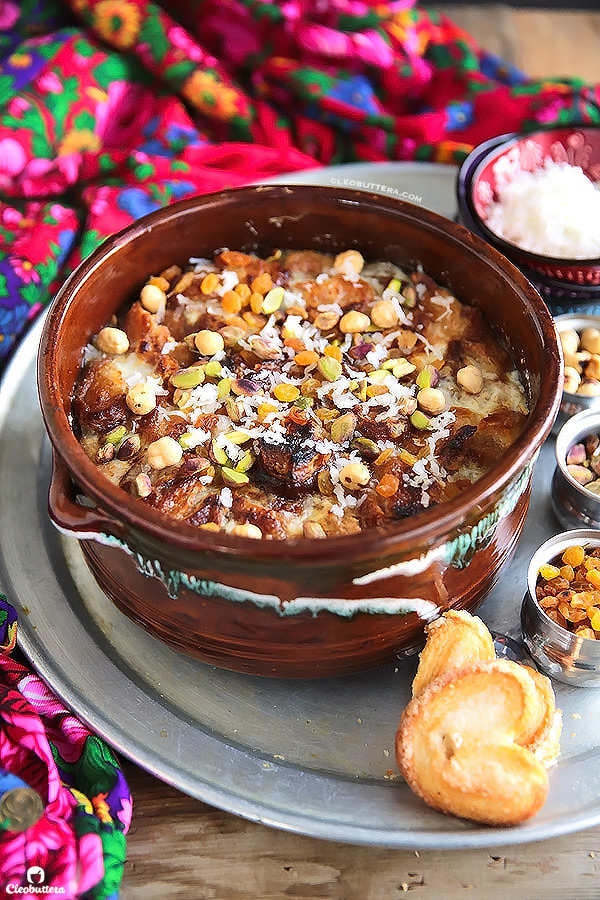 I've been eating Om Ali all my life, and this is by far the best one I've ever tasted.  And I have high hopes that you'll agree once you try it for yourself.
Before we get elbow deep into the recipe, let's just back up a little bit to explain what Om Ali is, in case you've never been acquainted.
Om Ali is…Ali's mother.  Literally.  LOL!  I know how ridiculous that sounds, but one mouthful of this delicious dessert, will make you care less what it's called; and you'll end up loving Ali, his mother, and his whole family:)  Legend has it that Om Ali is named after Sultan Ezz El Din Aybak's wife, back in the 13th century.  She made it for a victory celebration, and distributed it among the people of the land.  Her name stuck to this tasty dish ever since.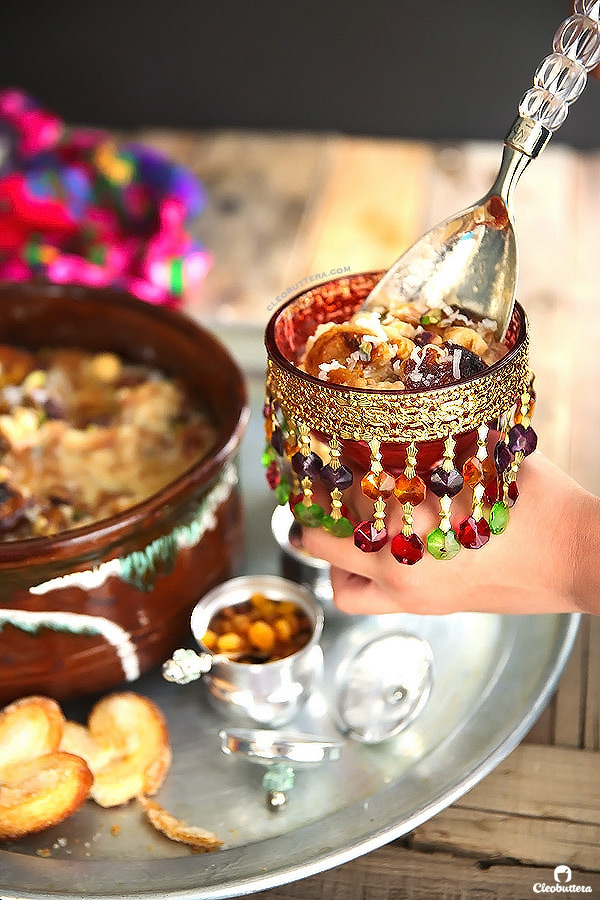 You could think of Om Ali as the Egyptian cousin of the ever-so-popular bread pudding.  Same idea of soaking some type of bready carb with dairy and sugar and baking it in the oven.  Om Ali skips the eggs though, which makes it lighter in texture, looser and milkier as opposed to custardy.   Instead of bread, it is traditionally made with baked puff pastry, phyllo or roaa (Egyptian flat bread) combined with milk and nuts.
To be honest, I've never been that much into it, because of its monotonous texture.  The bread part often gets too soggy and slurpy and one dimensional.  As delicious as it tastes, but all creamy, all the time could be boring guys!  Yes, the nuts do surprise you every other bite or so, but I'm very particular about nuts in dessert so it was't really the most pleasant surprise.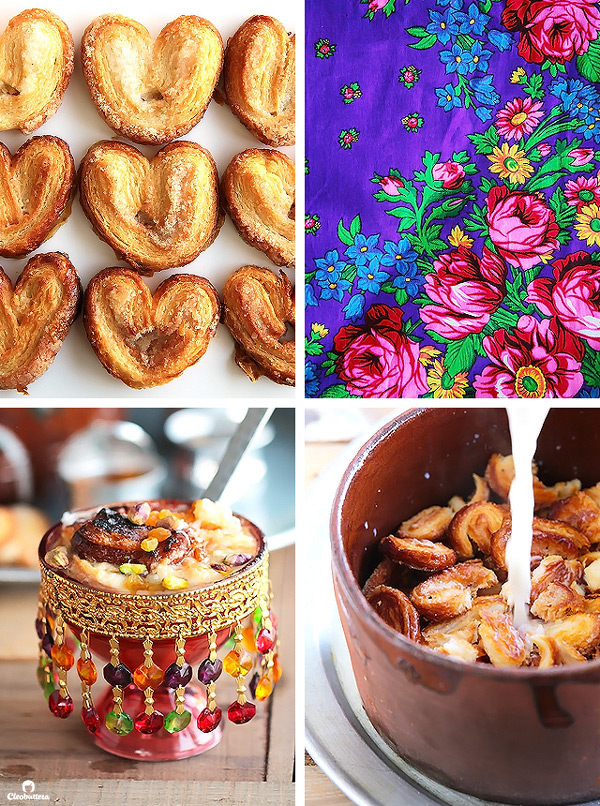 So I set myself on a mission to find a "better" Om Ali recipe.  I discovered recipes that use croissants instead, which sound promising, but there were several that use cornflakes.  Like…really?  But then when I asked around, all fingers pointed to my friend Dina.  Apparently, Dina is famous for her Om Ali and I had no idea.
A few hundred text messages between Dina & I later, I was able to get the recipe!  Kinda.  Sorta.  You see, Dina is one of those amazingly talented women who cook by sense, which is the complete opposite of obsessive compulsive, meticulous bakers like myself.  Gosh, I wish I was like her!  So eventhough she's been making this for years, she had never measured anything.  She simply senses the quantities.  She amazes me!  Long story short, after spamming her what'sapp feed with a flood of questions for 7 consecutive days, she was able to give me rounded amounts that I later measured.  I hope she still likes me.
The secret that sets her Om Ali apart from all the others is the use of quality dairy products, as she stressed, and these…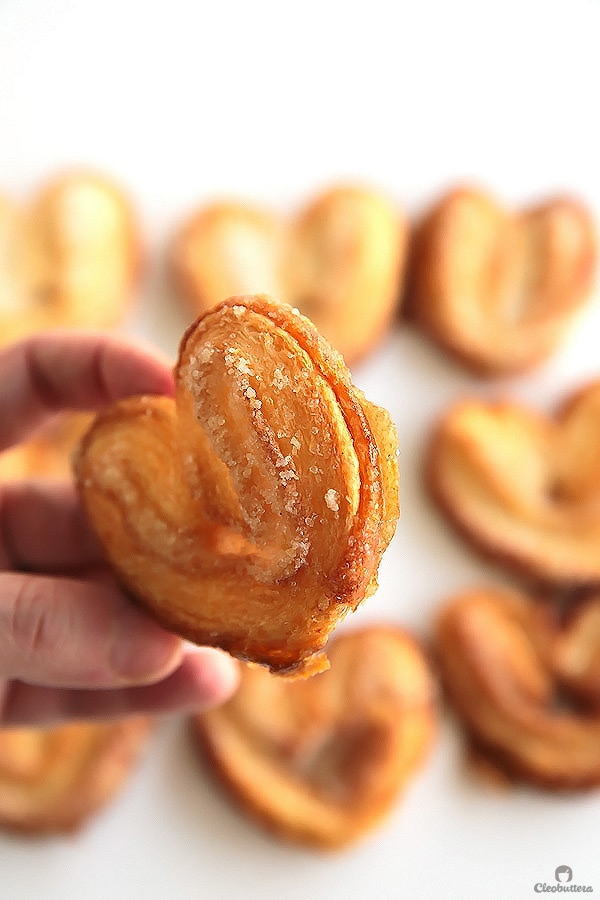 Palmiers.  Which are also known as lunettes.
I mean just by looking at its caramelized edges, you know it's oughta make a knock-your-socks-off dessert.  It's pure genius!
These heart shaped, super crunchy cookies made from puff pastry rolled with sugar are the perfect base for Om Ali.
Why?
Their firm, crunchy texture, prevents them from soaking up too much milk like the traditional "breads."  So while the bottom layer will soften, it won't disintegrate and turn into mush like the others.  It will still have some bite into it.  The top layer, on the other hand, will turn into this heavenly, caramelized, crunchy topping that beautifully contrasts the creamy bottom.
The palmiers, as they are, are so flavorful, so imagine the amount of flavor they'll add to your Om Ali, compared to bland, plain puff pastry or roaa.  The caramelized sugar around the edges will melt into the milk, giving it caramel undertones.  DELISH!
Dina uses very high quality store-bought palmiers and so did I, which makes the dessert a breeze to put together. If you can't find them or would prefer to make them at home, check out this great tutorial. Skip the cinnamon though.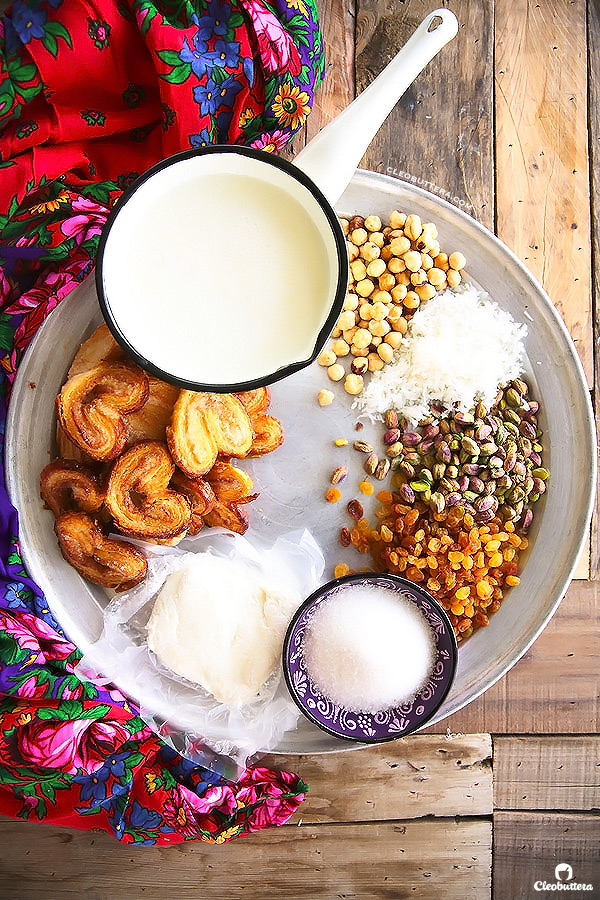 Once you get your hands on some palmiers, fresh (preferably organic buffalo) milk, eshta (or whipped cream), sugar and nuts, this dessert is easy as throwing everything in a pan.
You'll just break some palmiers in a baking dish (forget the pictures, and use a shallow rectangular dish instead of a deep one for better texture.  I was going for a country Egyptian look by using a traditional deep dish, but I found that a shallow one gives more surface area for a crunchier top).  
Then all you'll need to do, is boil the milk with some sugar, then pour it all over two-thirds the amount palmiers.  Note that I'm not adding the nuts at this stage, which is the traditional route, because some people (like someone I know) have nut issues.  But if you like them inside, go ahead and knock yourself out!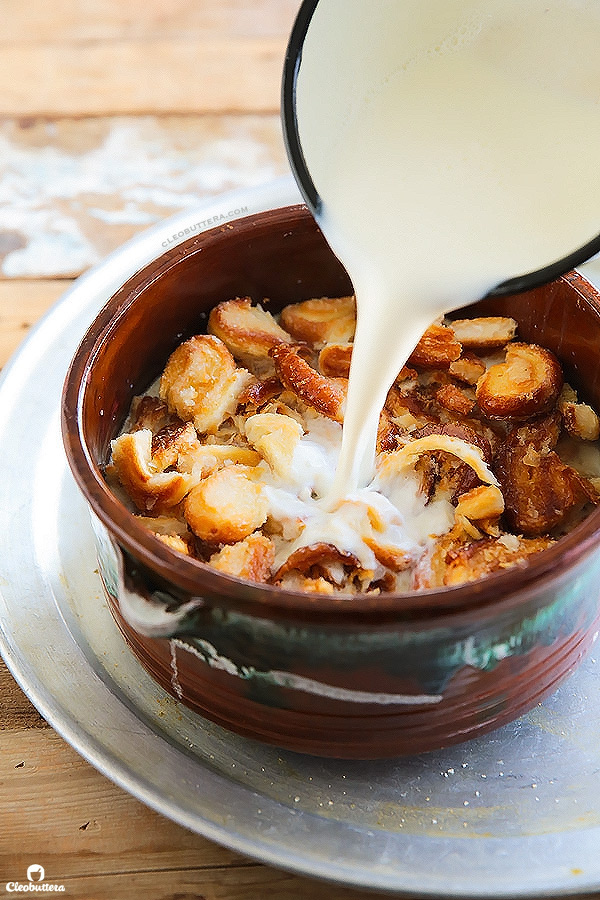 Then top with the remaining one-third of palmiers.  This will give you an extra-crunchy topping. Yum!  My favorite part.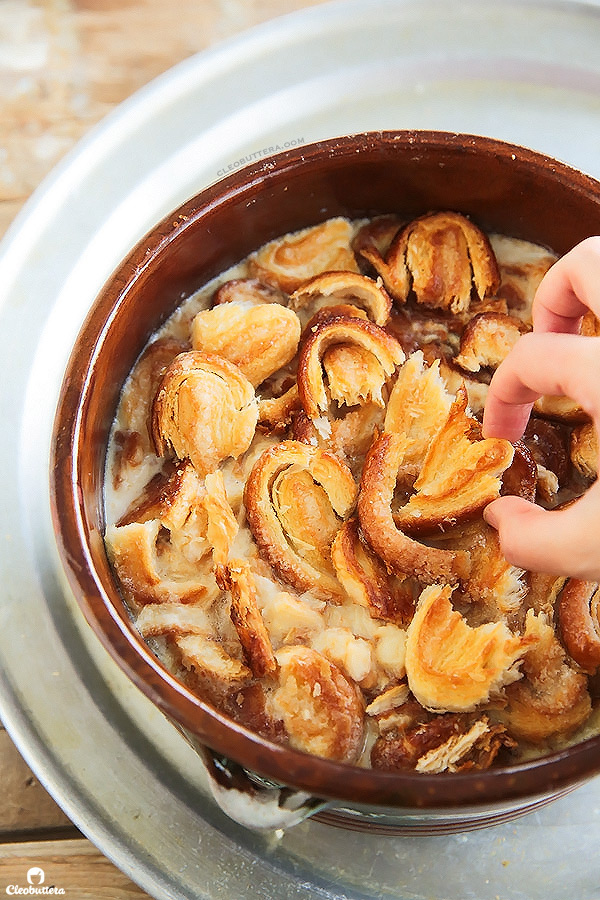 You'll then dot the surface with eshta (country-style clotted cream), no worries if you can't find it, whipped cream works just as well.  This will melt under the broiler and browns to a beautiful golden brown color like this…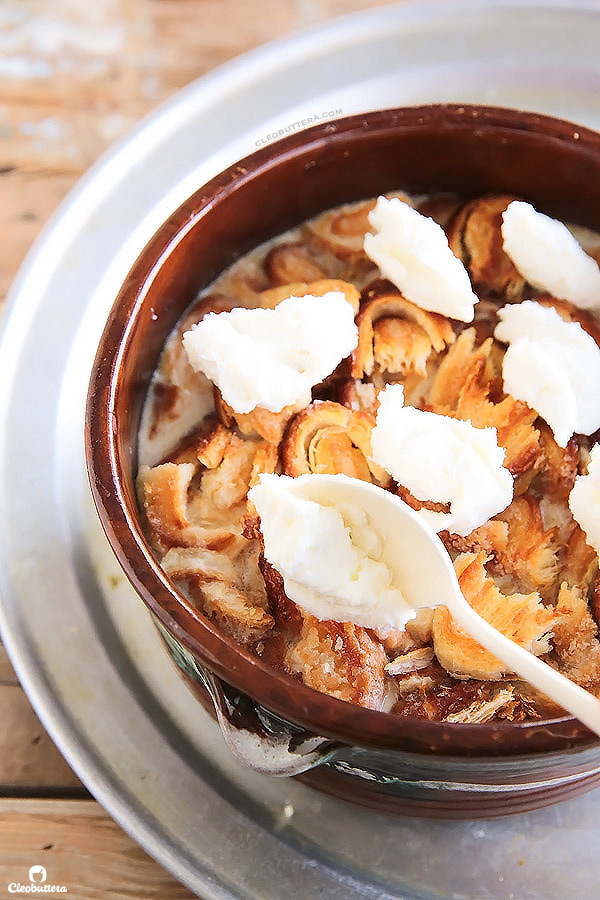 Mmmmmm…someone hand me a spoon.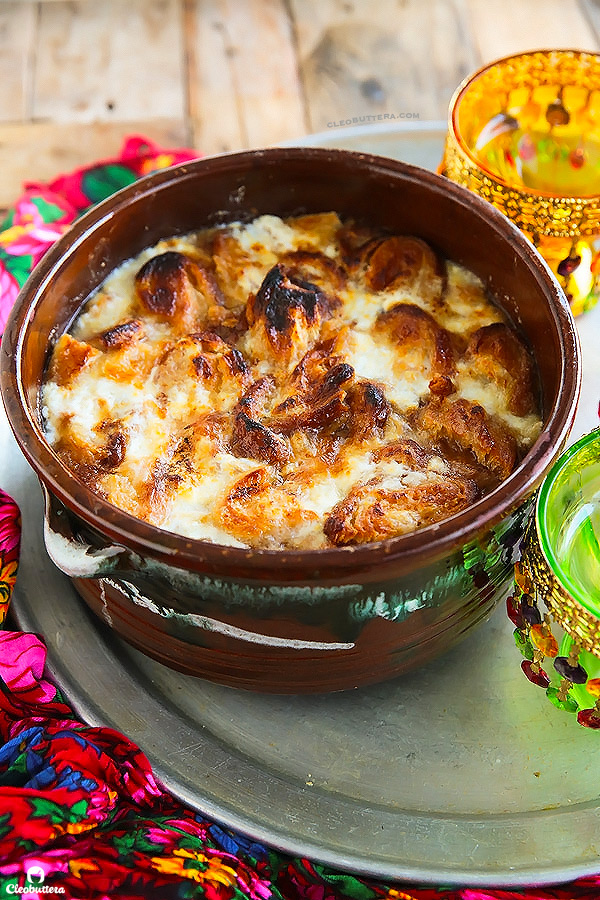 Oh and sprinkle on some nuts to garnish, if you wish, or leave it bald…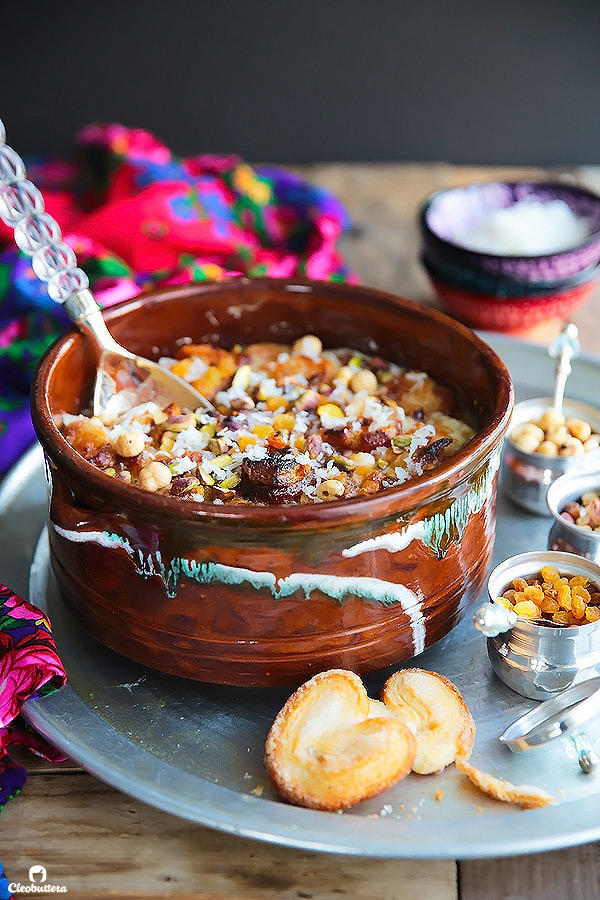 and let everyone be their own boss.
Like Tooki…she likes nail polish, funky accessories and raisins.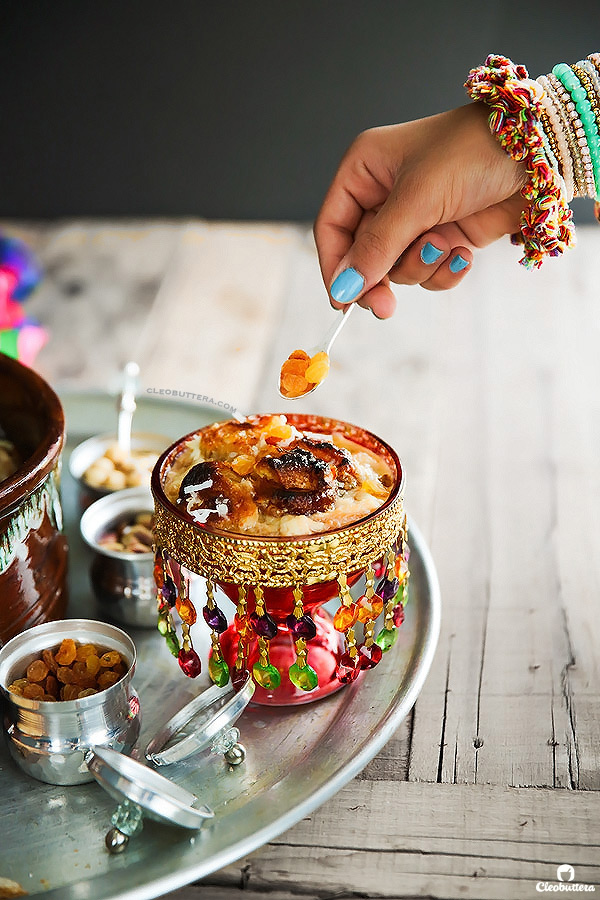 Nuts or no nuts…this Om Ali is a real game changer!
"I'm lovin' it" and so will you!
Yield: Makes a 9X13 baking dish or 2 quart deep dish
Best Ever Om Ali (Egyptian Bread Pudding)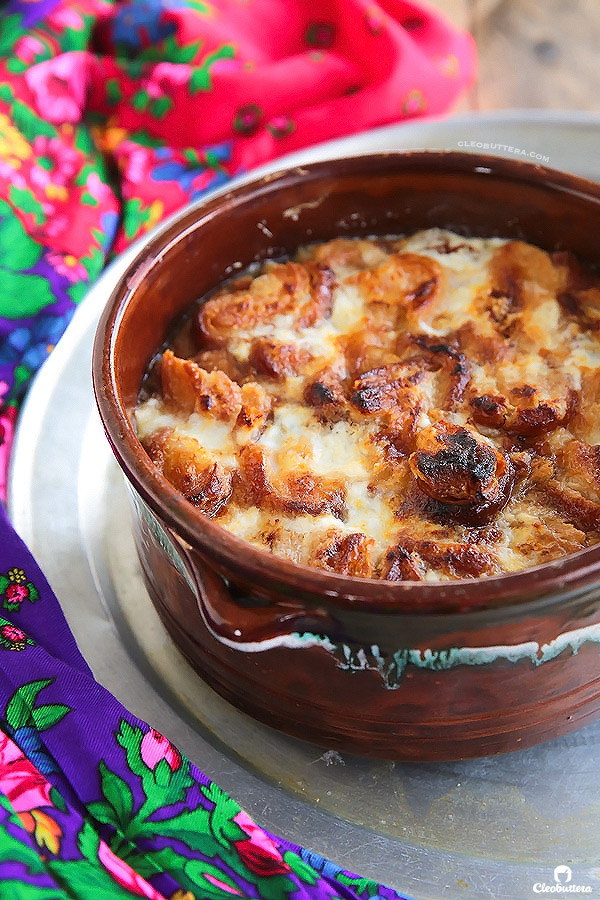 An Egyptian classic as old as time, gets an upgrade with the use of delightfully delicious PALMIERS (lunettes) instead of regular 'ol puff pastry or roaa (Egyptian flat bread). Oodles of crushed palmiers get mixed with nuts, sweetened hot milk, topped with whipped cream and broiled to perfection. The result…crunchy and caramelized on top, deliciously creamy and silky in the bottom.
Prep Time 15 minutes
Cook Time 5 minutes
Total Time 20 minutes
Ingredients
500 g/1lb palmiers (also known as lunettes), storebought or homemade*
1 liter/1 quart (4 1/4 cups) full fat milk, preferably organic buffalo*
1/2 cup (100g) granulated sugar
250g/8oz (1 cup) fresh eshta balady (country-style clotted cream) or 1 cup heavy whipping cream, (whipped to medium peaks)
Optional assorted nuts of your choice (to serve on the side or to incorporate into the dessert) l used:
1/2 cup (57g) toasted hazelnuts, coarsely chopped
1/2 cup (57g) pistachios, coarsely chopped
1/2 cup (75g) raisins
1/4 cup (20g) shredded coconut
Instructions
You could either use a baking dish around the dimensions of 9X13 inches or 2 quart deep dish (buram) for this recipe. However, I've found that unlike the deep dish used in the pictures, a shallower rectangle or oval dish produces much better texture. The larger surface area of the wide, shallow dish allows for a greater amount of browning and crunch on top, which ensures crispy, caramelized bites with every mouthful.
Adjust the oven rack to medium position and preheat the oven's broiler to 200C/390F.
In an oven safe baking dish, break in half 3/4 of the amount of palmiers, and arrange in layers. Set aside the remaining 1/4 of the palmiers. Add in the nuts, if using. I prefer to serve it on the side as not everyone likes nuts.
In a medium saucepan, over medium-hight heat, stir together the milk and sugar, until the sugar dissolves, then bring to a boil.
Pour the boiling milk mixture over the palmiers.
Use the reserved 1/4 amount of palmers to top the surface of the milk-soaked palmiers. This will create an extra crunchy topping.
Dot the surface of the dish with spoons of eshta. No need to spread it. If using whipped cream, evenly spread it all over to cover the entire surface of the dish.
Place the dish under the oven's broiler until bubbling around the edges and the top turns golden brown; about 10 minutes. Keep a close eye over it as it might brown in less time.
Serve right away, hot with assorted nuts on the side (if you haven't already added them in the dessert before baking)
Recipe Notes
For best results, use palmiers for this dish, which could be found at most bakery shops and big supermarkets. I get mine from Souffle, a bakery in New Cairo. Tel: 01002100137/ 01112100137.
If you can't find palmiers or prefer to make them at home, click here for a great quick and easy tutorial. They are so simple to make and are basically just puff pastry rolled with sugar, sliced and baked in the oven. Just leave out the cinnamon for this recipe.
As another alternative, baked puff pastry or toasted croissants could be used instead of the palmiers. Though still delicious, the results won't be same. You'll also need to up the sugar by about 2 tablespoons to accommodate for the missing sweetness of the palmiers.
Organic buffalo full-fat milk, sold at milk shops, gives this dish the best flavor and creamy texture. However, it could be substituted by using 4 cups regular full-fat cow's milk, combined with 1/4 cup heavy cream.
Feel free to leave the nuts out, increase or decrease them or substitute one or the other with almonds, walnuts or pecans
Recipe adapted from my very generous friend Dina AbdelHamid
Measurements Note: All recipes of this site have been developed using weight measurements. Although US volume measurements have been included for your convenience, it is highly encouraged that you weigh your ingredients using a kitchen scale to get the best possible results. Due to the sensitive nature of baking, kitchen scales are proven to yield more accurate and consistent results than measuring cups. Enjoy!
This post may contain affiliate links.
All images and content are owned by Cleobuttera® and are copyright protected. Please do not use my images without prior permission. If you would like to republish a recipe, please rewrite it in your own words and link back to the recipe page on my site. Original recipes and creations of this site are intended for personal and home use. Commercial replication or media consumption are only allowed with a written consent and agreement with Cleobuttera owners. Otherwise it is considered a violation of intellectual property. Thank you for respecting and appreciating the amount of time and effort that goes into creating free, unique recipes that make people happy.