Dreamy Creamy Broiled Rice Pudding
Grandma's recipe for an incredible rice pudding! Luxuriously creamy on the inside with a pleasantly blistered, broiled top on the outside.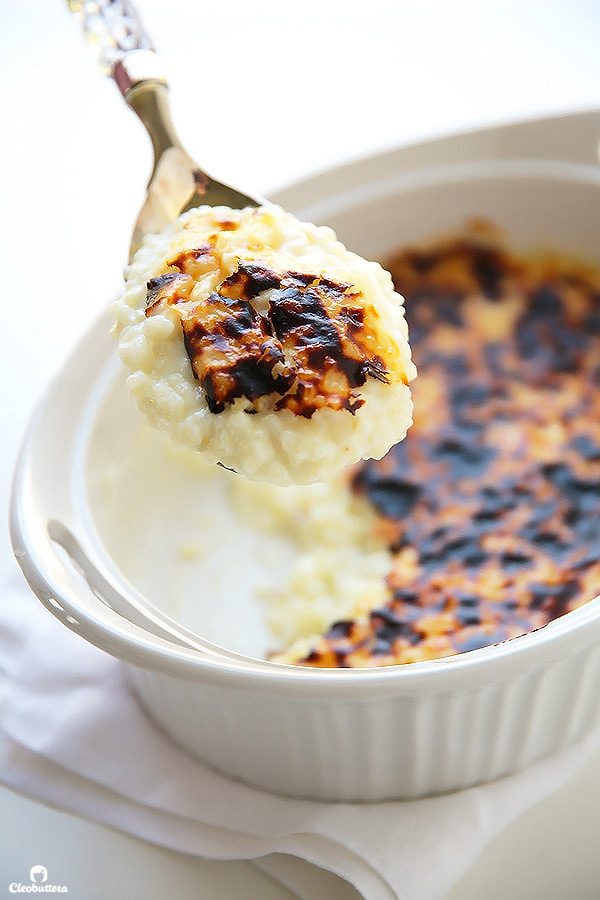 Are you tired of Middle Eastern desserts yet?
I am so not! But if you are, this recipe is the perfect palate cleanser for you.
Because there isn't a dessert the whole world agrees on quite like rice pudding. It's the most international dessert out there!
So if you're not from the Middle East, and have been totally lost with what's been going on around here the past 3 weeks, here's a recipe you could finally relate to!
It seems that every culture has their own version of rice pudding and this…is my Egyptian Moroccan Grandma's….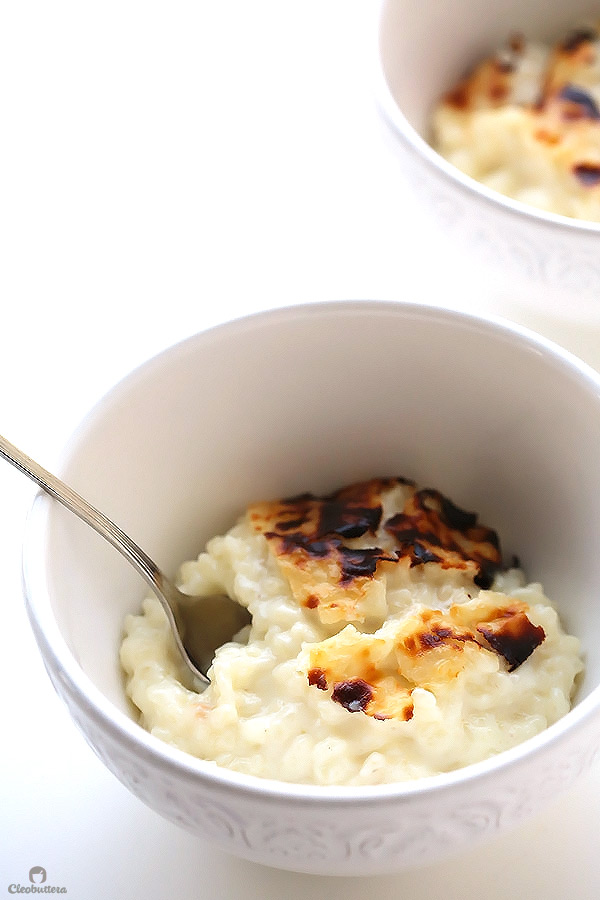 And for me…that makes it THE BEST EVER!
Call me bias (heck I am!) but I've never met a rice pudding that is as creamy or as luxurious as this one.
My Grandma (may she rest in peace) was an incredible cook and a perfectionist, so anything that came out of her kitchen was guaranteed to be the best version of anything we knew. Have you seen her fluted fritters?!
Her rice pudding has a thin layer of a wonderfully blistered surface, that might not be the best looking, but it sure gives the pudding that smokey flavor and play in texture of a comforting gratin.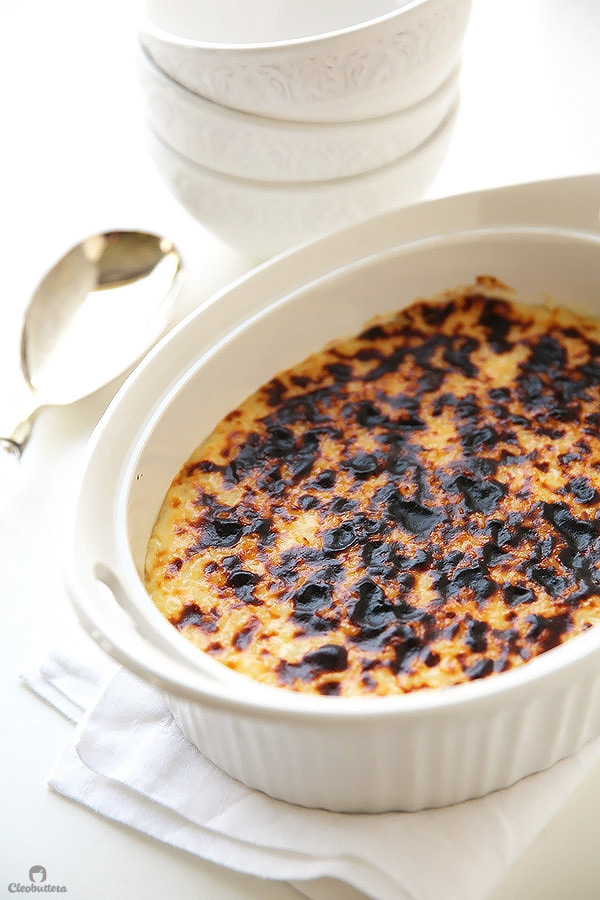 Cut into that surface, only to find the richest and silkiest interior that melts away on the tongue.
I really can decide which part I love more, the broiled top or the oh-so-creamy inside.
It just has the perfect rice to milk ratio, so its not all stiff and starchy like so many we see and yet not soupy that it can't contain itself. I'd say its the perfect compromise between the two. It has just enough rice that makes it barely hold itself together, yet still manages to be quite stable.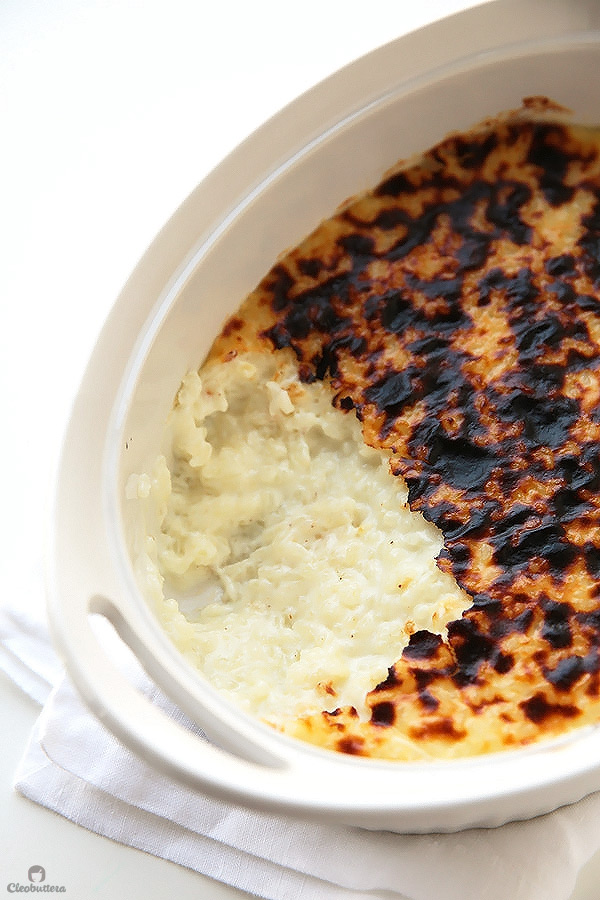 But if there's anything, Grandma's rice pudding is known for, is how ridiculously creamy and luxurious it is. Anyone who's had a taste of it, thinks it must be made with oodles of heavy cream for it to have that unbelievable texture. But I'm here to share with you the REAL secret behind its unparalleled creaminess.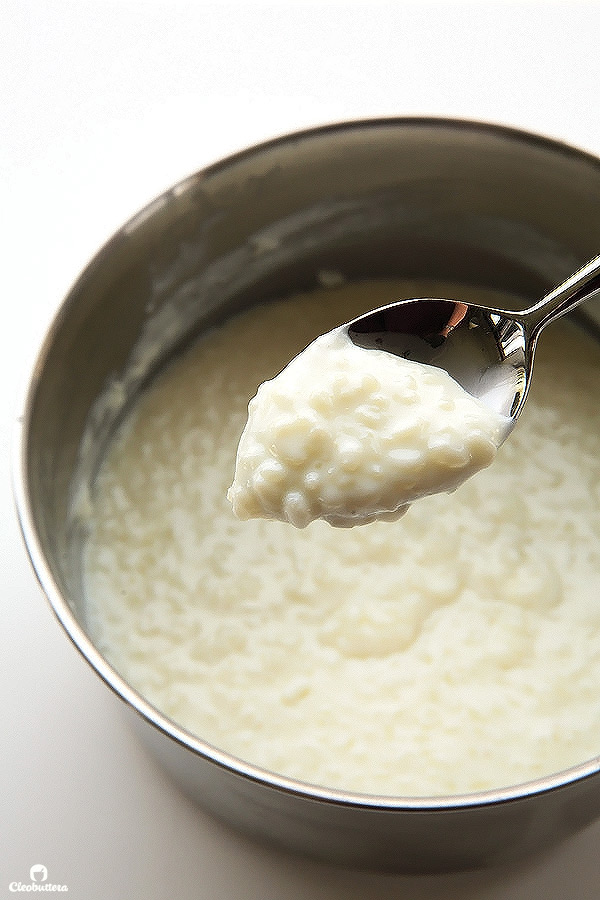 Yes it does have some heavy cream in it, but its only a tiny bit and you could leave it out if you want. (Psssst…don't!)
But the real secret is ALL in the cooking technique.
Ever wonder want makes a risotto so creamy? It's that multiple additions of stock over the rice, continuous stirring between each addition and gentle cooking that gives it that velvety consistency.
So what's that have to do with our rice pudding? It's exactly the technique we're going to use! The Risotto method.
You could think of it like we're making sweet risotto here, using milk instead of stock and sugar instead of onions?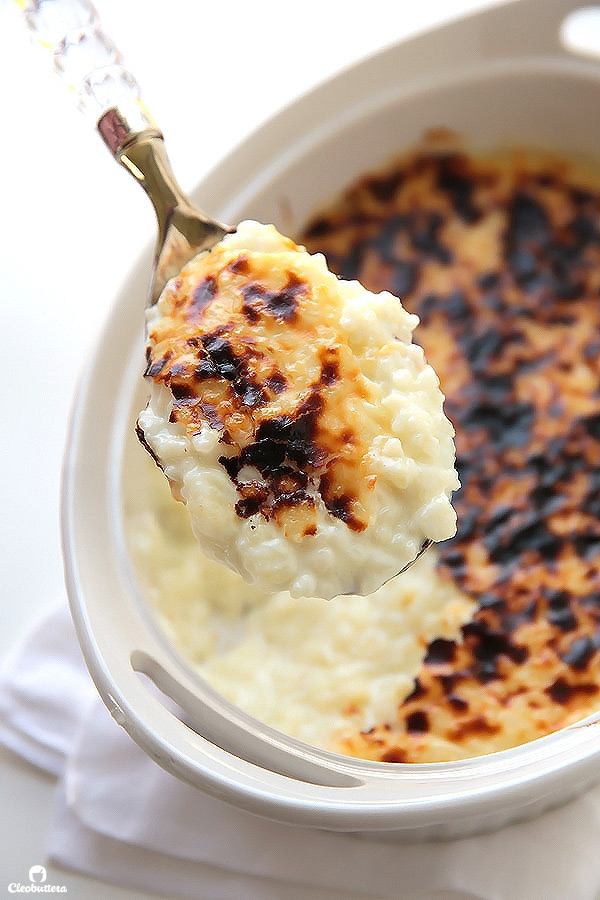 I know that risotto has a reputation for being fussy and time-intensive, but it's actually quite simple to make. This pudding is even relatively easier than risotto. While you do need to attend to the pot while making it, which is a little over 30 minutes, the results are more than worth it!
So don't rush it! Slow and steady is the name of the game!
The key to getting the best results here is to use short grain rice. In the Middle East, short grain rice is actually called Egyptian rice! How cool is that?!
Another important thing, is to give your rice a good rinse under running water to wash away the starch. Yes starch is needed for structure but it can also be too much, which could result in a stiff pudding. So to be able to control the amount we need, we're going to add it in the end in the form of cornstarch. Plus this is how my Grandma used to make it, and I'm listenin'.
So we'll first start by adding 2 ladlefuls of warm milk over the rice.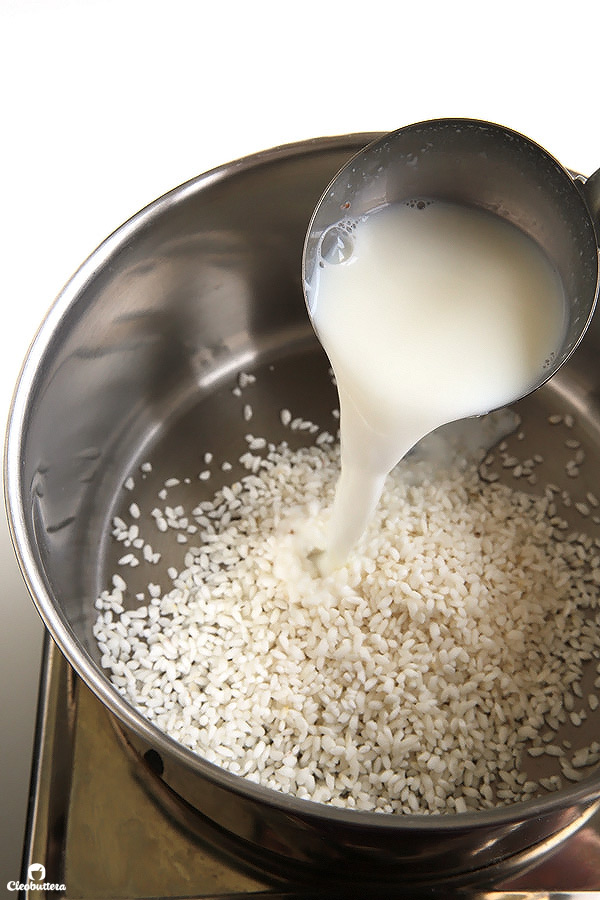 Then you're gonna oh-so-gently simmer them over medium-low heat, stirring constantly, until the milk is mostly absorbed by the rice.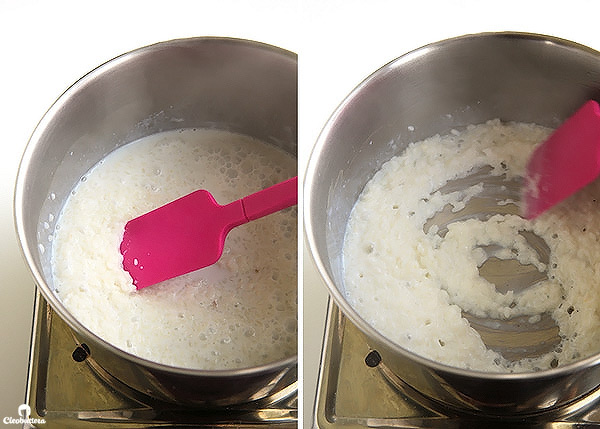 And then its just a matter of repeating. A ladleful though from now on, instead of 2. So milk goes in, stir stir stir until mostly absorbed.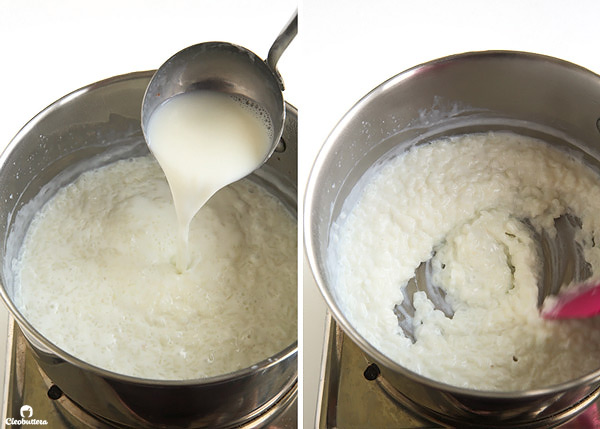 When you're done with half the amount of milk, you're going to add in the sugar. Stir it in until dissolved and the liquid it released is absorbed.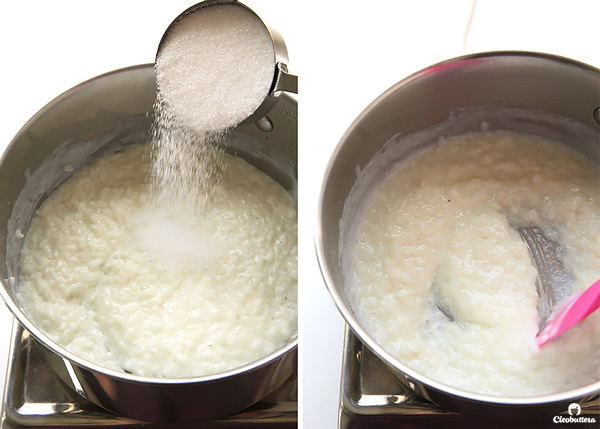 And then you're gonna go back to ladling milk, stir, absorb until all but 1/4 cup of the milk is gone. At this point, your rice should be cooked all the way through and your biceps should feel a little stronger ??. Unlike risotto, we DON'T want it al dente.
The whole process takes about 35 minutes ? but it's SO good, that you're gonna forget about it the moment you take your first bite.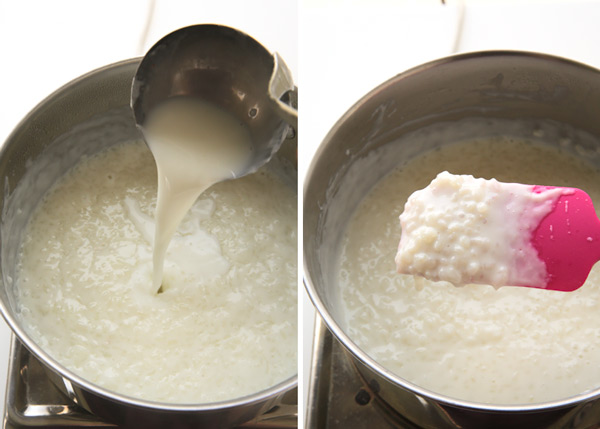 Now comes the cornstarch part I was telling you about earlier. Remember the 1/4 cup of unused milk? Stir that with some cornstarch, then add it to the rice pudding. Keep stirring until it thickens slightly; about 1 minute.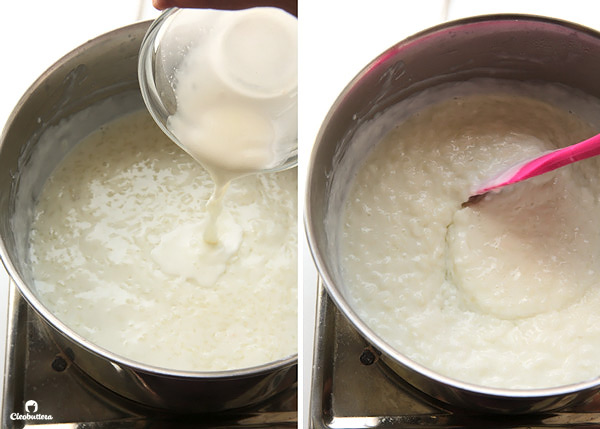 Then add in the creme de la creme for a little extra yummies and further creaminess. Heavy cream baby! Makes everything better.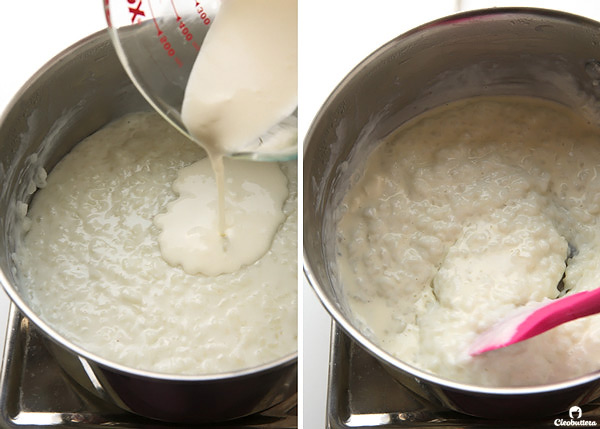 Then we're gonna add in vanilla. I used the powdered kind here just like my Grandma, but the extract is just as good!
Also (not pictured), some ground up mastic goes in. This takes the pudding from delicious to OMG BEST THING EVER!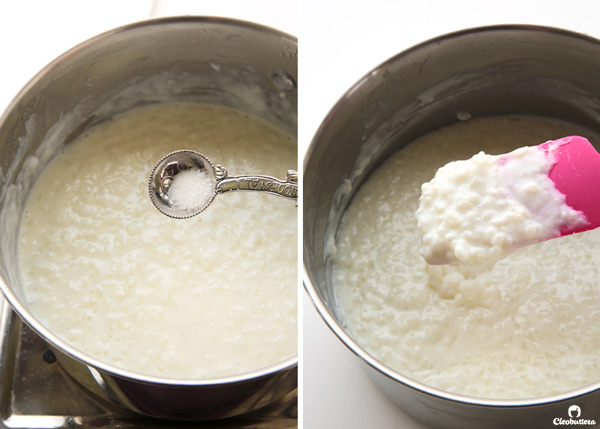 And voila! The pudding goes into a baking dish, then off to the broiler!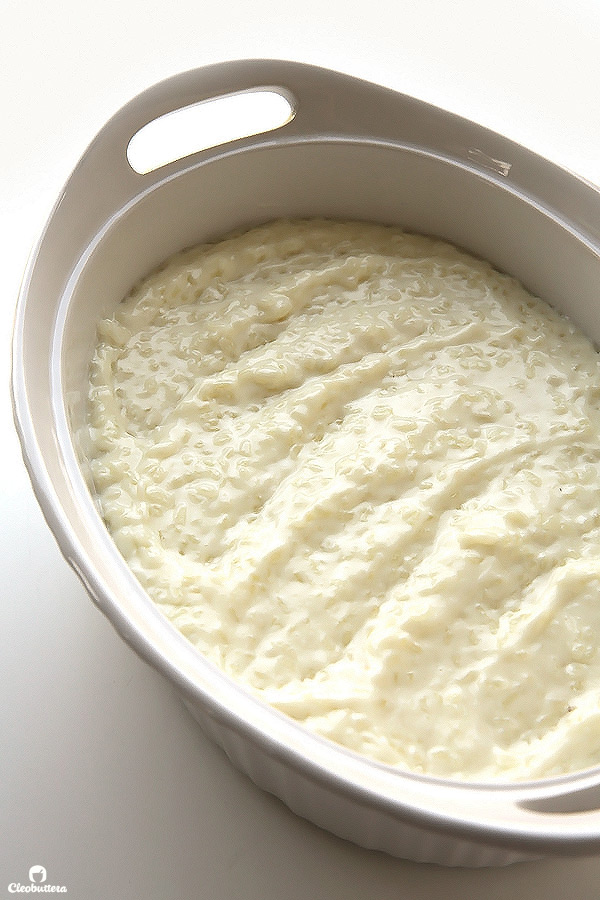 Mmmmmmmm…..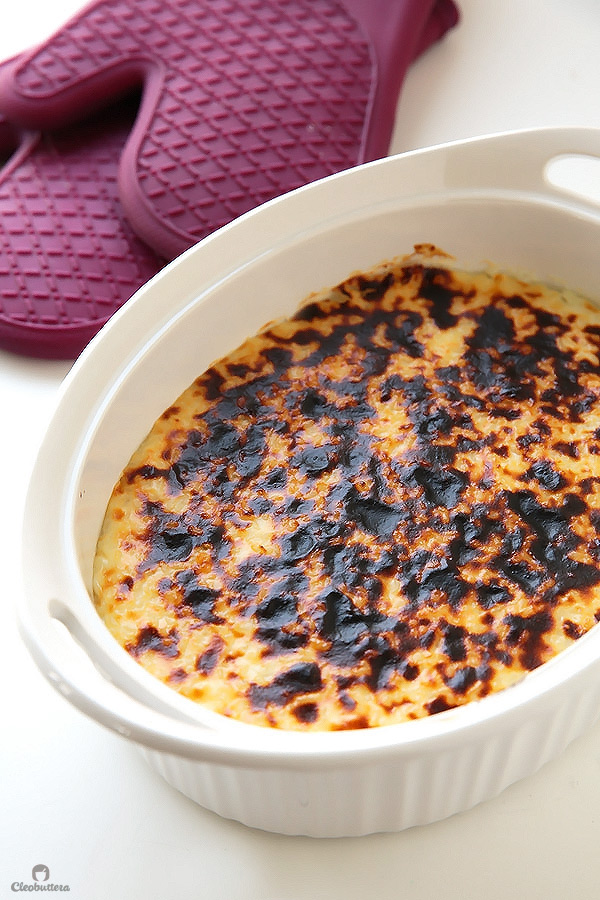 One of the best things about this pudding, is that its meant to be eaten warm, unlike a lot of the chilled Egyptian versions. So no more waiting for us! Let's dig in…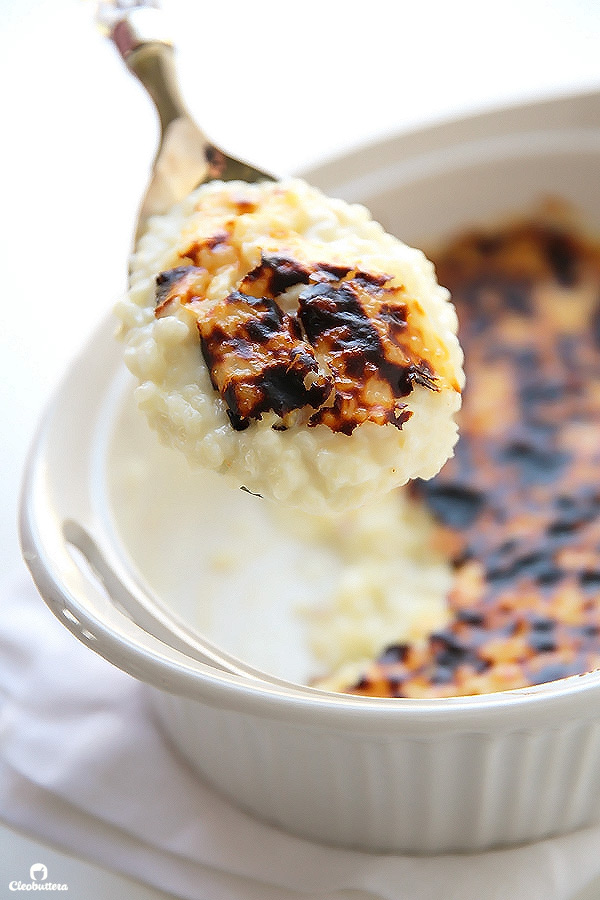 Now this, ladies and gentlemen, is what I call comfort in a bowl.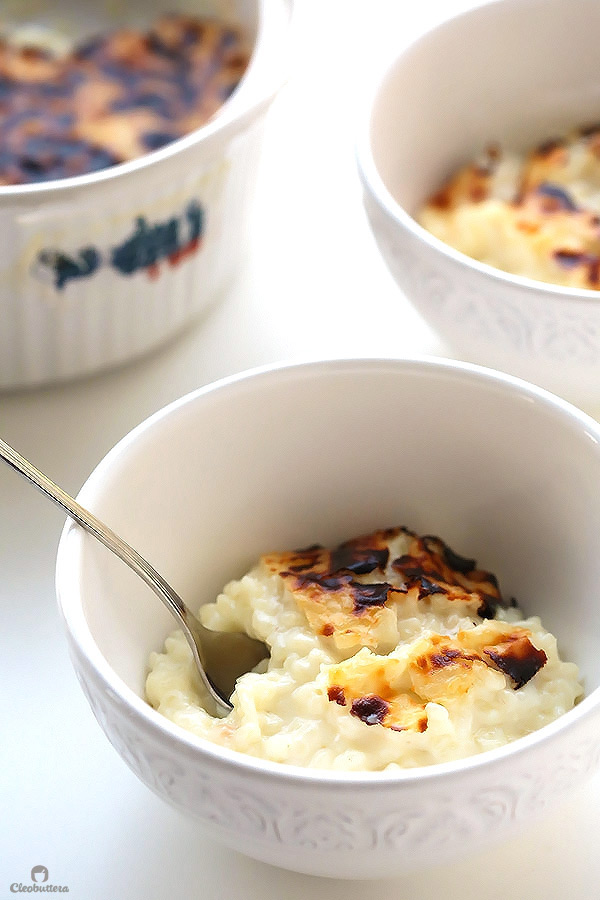 You'll just LOVE it!
Yield: serves 8 people
Dreamy Creamy Broiled Rice Pudding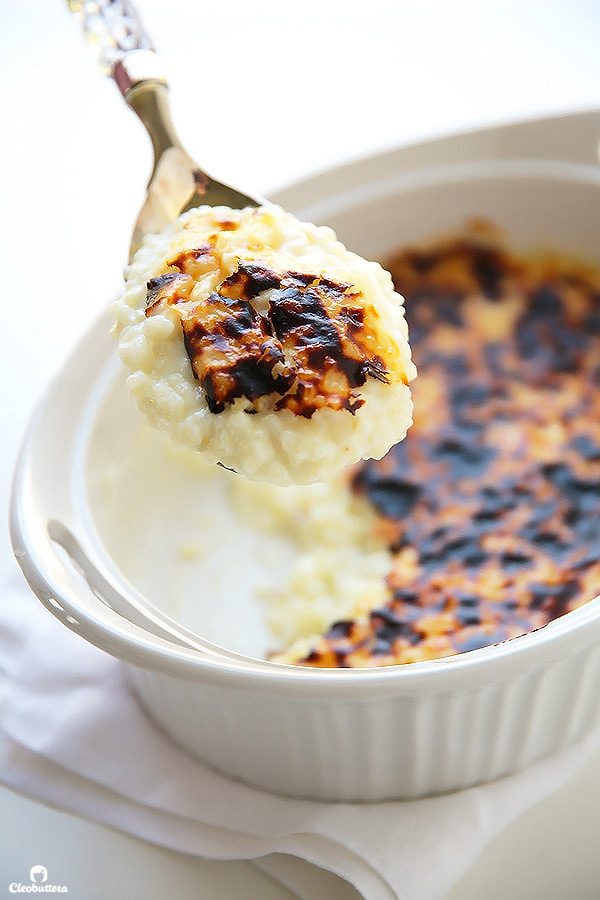 Grandma's recipe for an incredible rice pudding! Unbelievably creamy on the inside with a pleasantly blistered, broiled top on the outside.
Prep Time 15 minutes
Cook Time 45 minutes
Total Time 1 hour
Ingredients
1 cup (7oz/ 200g) uncooked short grain rice, rinsed until water runs almost clear
2 liters/ 2.1 quarts whole milk, preferably fresh buffalo
1 cup (7oz/ 200g) granulated sugar
2 teaspoons cornstarch
1/2 cup (118ml) heavy whipping cream
2 packets vanilla sugar or 1/2 teaspoon vanilla extract
2 pieces mastic, ground into fine powder (optional, but highly recommended)
Instructions
In a large saucepan, over medium-high heat, bring the milk to a rolling boil. Turn off heat and keep near. Measure out 1/4 cup of the milk and reserve aside.
In another medium saucepan, place the rice and add 2 ladlefuls of the warm milk over it. Gently simmer together over medium-low heat, stirring constantly until most of the milk is absorbed. Just like making risotto.
Add in another ladleful of the milk, stirring constantly, until mostly absorbed. Continue the process of adding the milk, one ladleful at a time, stirring constantly until each addition is mostly absorbed, until you use up half the amount of the milk quantity. Don't rush the process and be patient with its slow, gentle cooking; its the key for ultra creamy results.
At this point, add in the sugar and stir until dissolved and the rice absorbs most of the liquid.
Finish up the remaining milk, adding one ladleful at a time, stirring constantly until each addition is mostly absorbed. Cook until you use up all the milk and the rice is creamy and cooked all the way through. The cooking process should take about 35 to 40 minutes.
Combine the cornstarch with the reserved 1/4 cup milk until well blended. Pour the cornstarch mixture over the rice pudding, simmer, stirring constantly until the rice mixture thickens slightly; about 1 minute.
Add in the heavy whipping cream. Stir well until just combined.
Turn off the heat and stir in the vanilla and mastic powder (if using).
Transfer the rice pudding to a 2-quart baking dish and allow to rest, uncovered, until the steaming subsides. Meanwhile, preheat the broiler.
Place the baking dish under the broiler until the surface is spotty brown, about 5 minutes. Keep a close eye on it and be careful not to burn it.
Cool slightly before serving. Serve warm or at room temperature. Store leftovers in the refrigerator, then reheat individual servings in the microwave.
Recipe Notes
Feel free to flavor the rice pudding according to your liking. You could add cinnamon instead of the mastic and/or fold raisins or nuts in the end.
Recipe adapted from my sweet Grandma.
Measurements Note: All recipes of this site have been developed using weight measurements. Although US volume measurements have been included for your convenience, it is highly encouraged that you weigh your ingredients using a kitchen scale to get the best possible results. Due to the sensitive nature of baking, kitchen scales are proven to yield more accurate and consistent results than measuring cups. Enjoy!
This post may contain affiliate links.
All images and content are owned by Cleobuttera® and are copyright protected. Please do not use my images without prior permission. If you would like to republish a recipe, please rewrite it in your own words and link back to the recipe page on my site. Original recipes and creations of this site are intended for personal and home use. Commercial replication or media consumption are only allowed with a written consent and agreement with Cleobuttera owners. Otherwise it is considered a violation of intellectual property. Thank you for respecting and appreciating the amount of time and effort that goes into creating free, unique recipes that make people happy.