Pistachio Kunafa Ice Cream Cake
A show stopping ice cream cake with the much-loved flavors of the Middle East! Scented eshta no-churn ice cream with nibs of caramelized pistachios, swirls of pistachio butter and a crown of green pistachio kunafa on top. It is a pistachio lover dream come true and much easier to make than it seems. Plus…recipe VIDEO at the end of the post!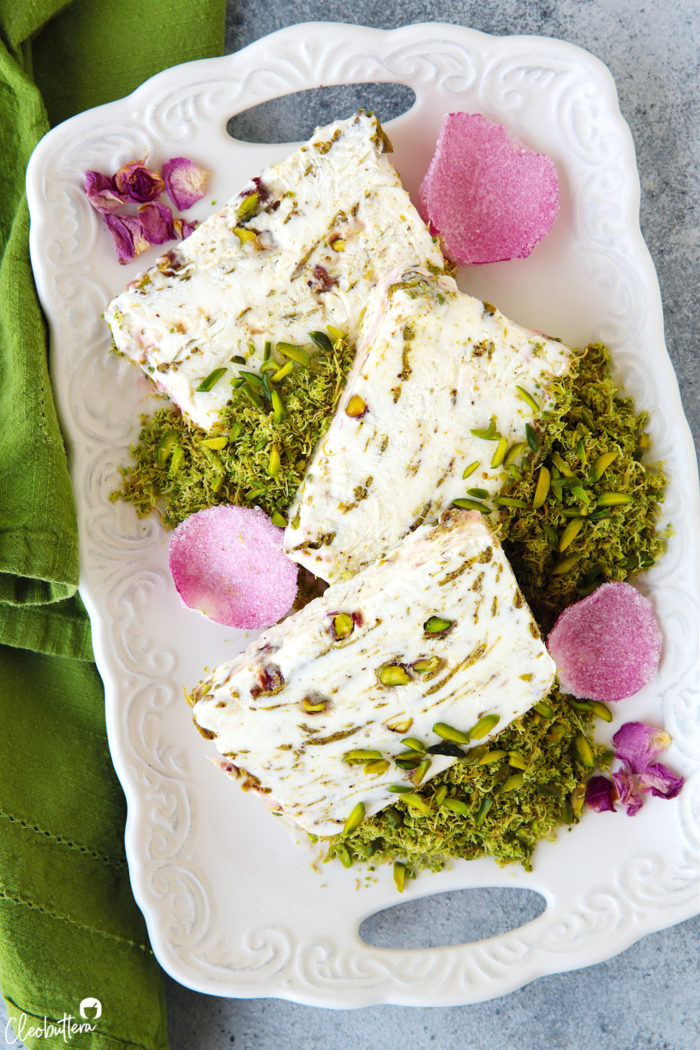 You know the saying: "Feels like I died and went to heaven"?
Yeaaaaah well that's what I felt when I had my first bite of this.
It is unbelievably good…I just have no words. But I kinda do ?
My favorite ice cream flavor in all the land with swirls of creamy pistachio butter, crunchy bits of caramelized pistachios and a mountain of vibrant green pistachio kunafa…is just the ultimate summer indulgence with a Middle Eastern flair.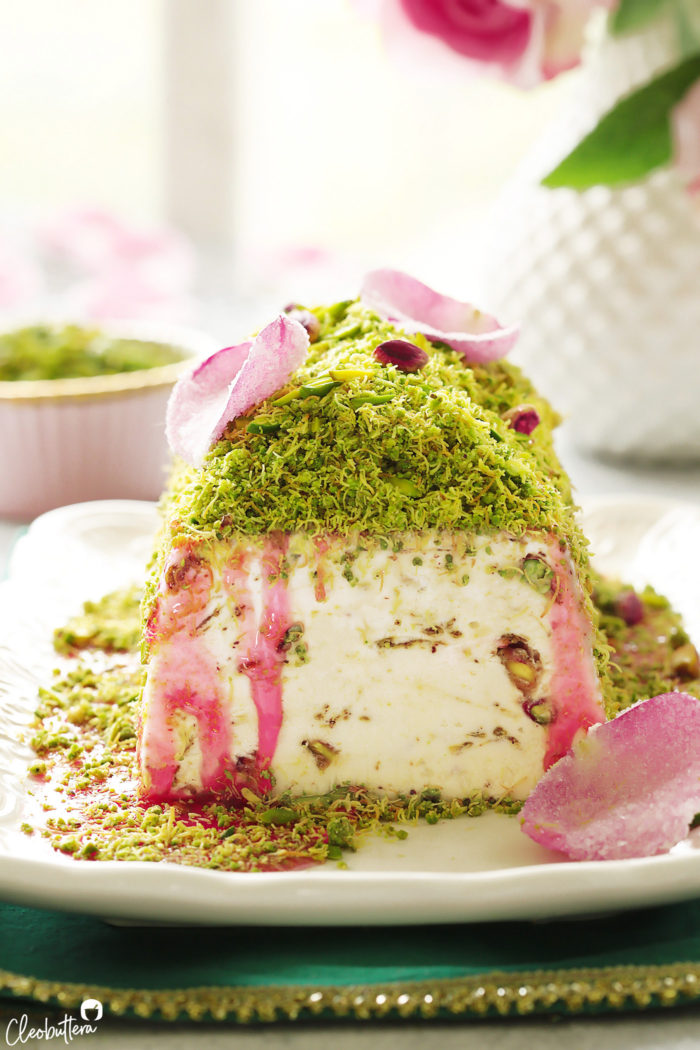 It's a triple dose of pistachios starring in one refreshing, creamy and crunchy dessert, with a party of textures and a taste that feels like pure comfort.
It is the kind of thing you hide in your freezer and keep going back to with a spoon, stealing bites over and over till you polish it all off.
My tasters (hi Fam Bam!) said that it's one of the best ice cream creations they've ever tried and I couldn't help but agree.
It is basically 3 of my most-loved Middle Eastern fusion ice cream recipes, rolled in one with a bright spotlight on pistachios!
Because aren't they pretty? I'm just a sucker for that naturally gorgeous green hue.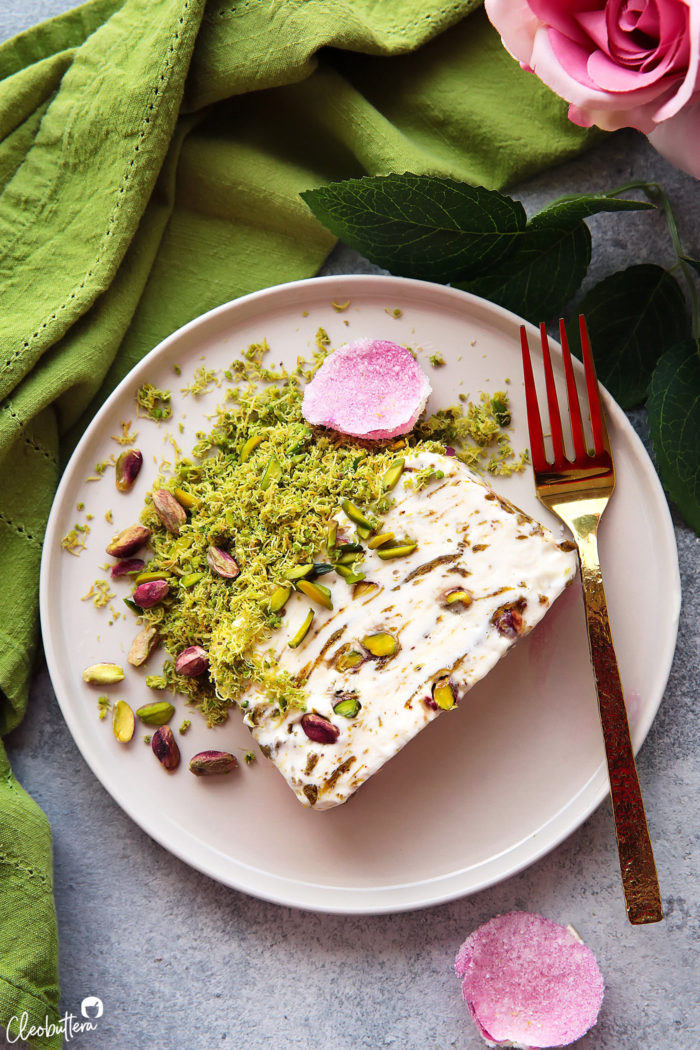 And I couldn't resist turning the leftovers into ice cream bars.
I mean…have you ever seen kunafa on a stick? Let alone…green? And stuffed with ice cream?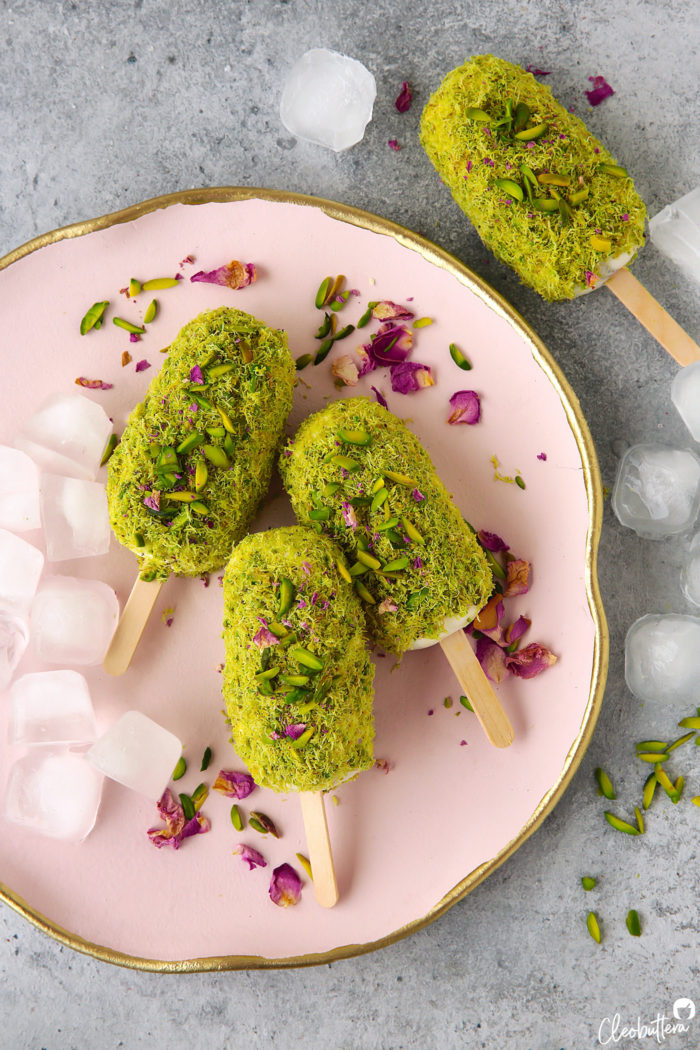 So what do we have here?
Eshta ice cream for my old hit…Cone-afa!
A creamy and velvety, no churn ice cream, that tastes exactly like the scented eshta that we top and fill Middle Eastern desserts with. Eshta (ashta) is Arabic-style clotted cream that is so rich and creamy, and is similar to mascarpone cheese without the tang. It is added into the ice cream base for heightened creaminess and richer flavor, along with rose and orange blossom water, for that floral scent Arabic pastries are known for.
I came up with this ice cream flavor years ago for some super cute kunafa cones, namely, Cone-afa, and it has taken the lead as my absolute favorite ever since. Sorry FroYo and Salted Caramel, but you've been replaced.
You'll be in disbelief at how amazing the ice cream comes out without the use an ice cream machine. The creaminess level is off the charts, and the flavor….oh my!
I was sad to see such a sensational ice cream flavor stop at the Cone-afa, so I decided to give it the special sequel it deserves. This time…bathed in pistachio!
Triple pistachio that is!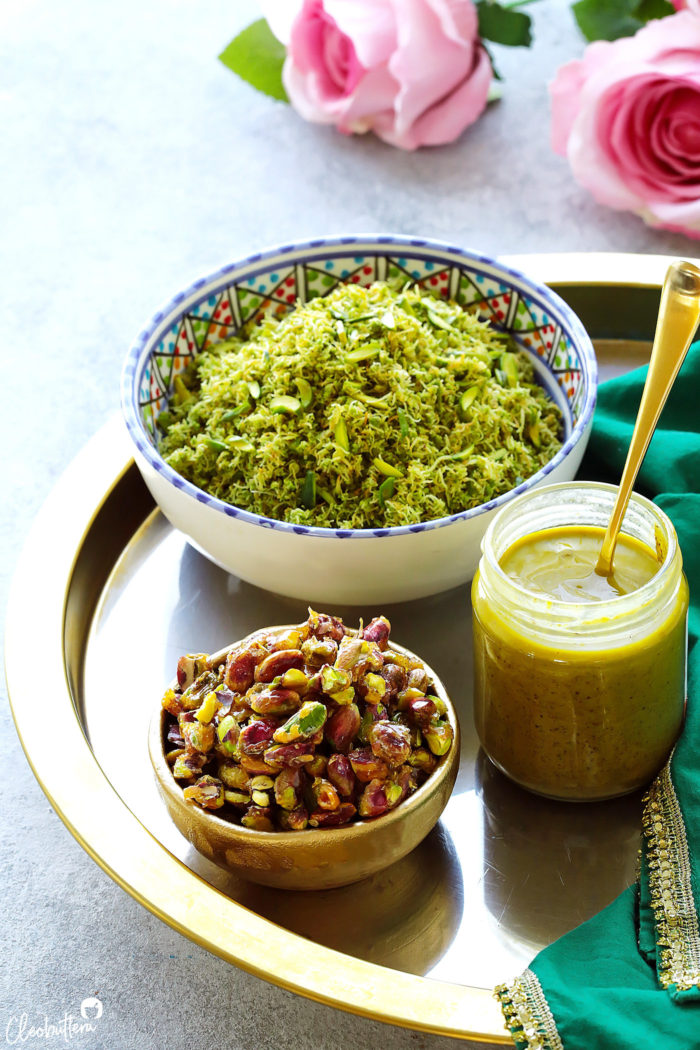 Pistachios 3 ways
You need to be a serious pistachio lover to enjoy this treat, as it will hit you in every bite. Pistachio is celebrated in 3 ways here:
1. Pistachio Kunafa.
Pistachio hit #1 comes in the form of kunafa! Green kunafa! I took the crunchy kunafa topping idea from this Banana Caramel Kunafa Sundae, and added heaps of ground pistachios to it, just like they do in Turkey, for a nutty, pistachio-y flavor and a vibrant green color. There is not a drop of green food coloring in here; it's all the magic of pistachios!
2. Caramelized Pistachios.
Pistachio hit #2 comes through in the form of caramelized pistachios peeking through the ice cream. They add yet another element of crunch and a lovely hint of caramel. I just loved what it did to the Baklava Ice Cream Sundae and knew it would do wonders here too.
3. Pistachio Butter.
Pistachio hit #3 is an irresistible ripple of pistachio butter, that just takes this whole thing over the top. Its the perfect creamy complement to all the crunch going on. Just like peanut butter, it's sold readymade in jars, but you can surely make your own at home.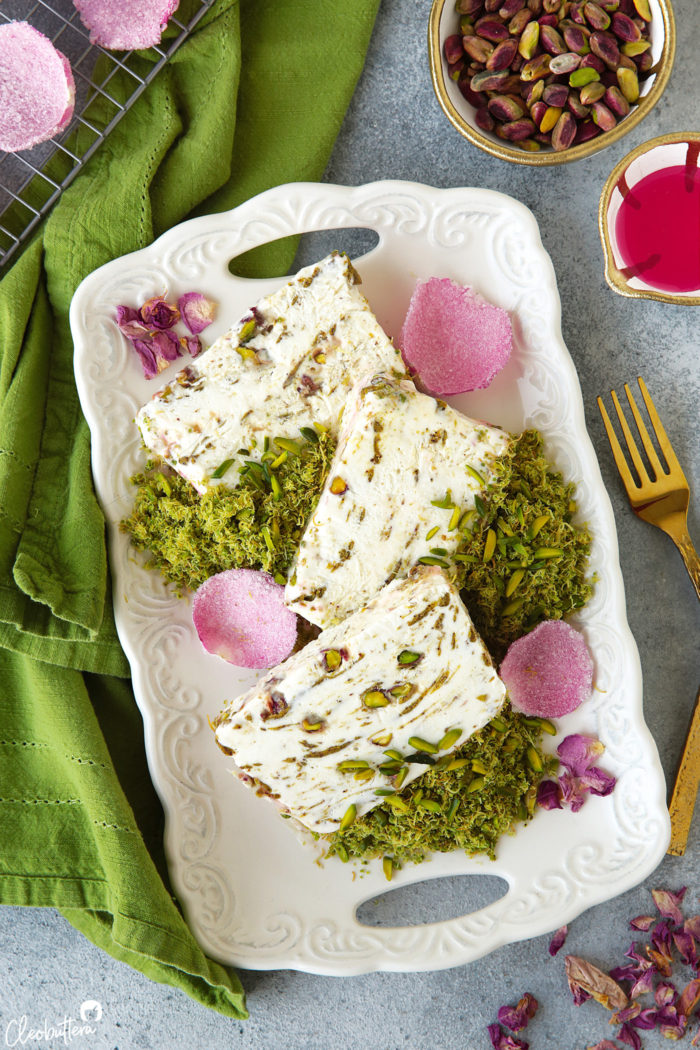 And to put it all together, sugared rose petals, add just the right blush of color. I love pink and green together…can't you tell?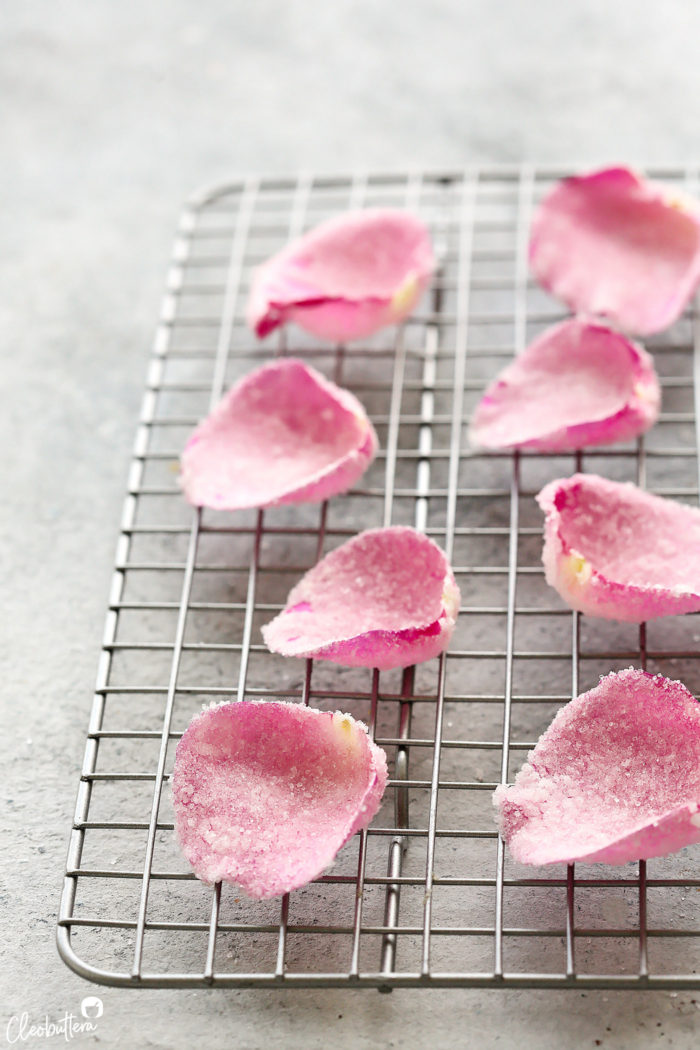 Sooooo….hungry yet?
Let's make it!
You first start by preparing the caramelized pistachios because it needs some time to cool before we can fold it into the ice cream mixture. It's basically boiling together sugar and water until it turns amber in color. This is when you fold some pistachios in to coat. You can see exactly how its done in the video below!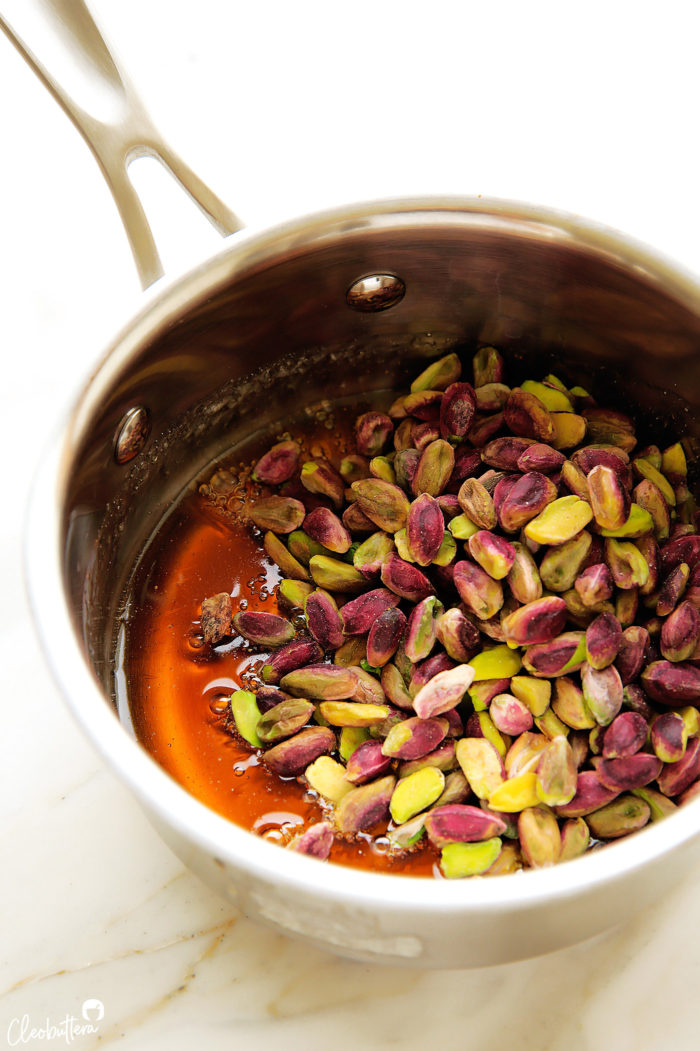 On to our ice cream base. Ugh! Love this stuff!
Also…so much easier than you think.
You just whisk together sweetened condensed milk (off to a good start already!) with fresh eshta (which you can substitute with mascarpone cheese) along with rose and orange blossom water (my soft spot).
You then fold in whipped cream gently, so you don't deflate the air that's been whipped in.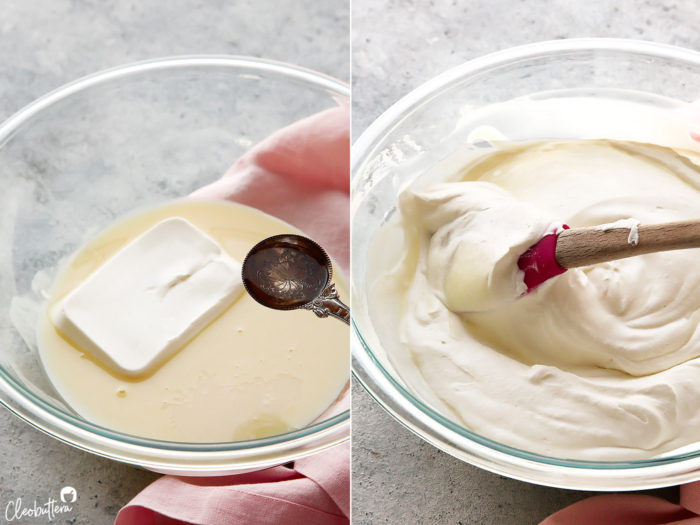 Then go in with the cooled caramelized pistachios, and fold that too.
Drizzle some of the pistachio butter over the surface of the ice cream base (as shown in the video). Then pour one-third of the ice cream into a lined loaf pan, but honestly…any pan will work. Drizzle more pistachio butter and swirl it through with a skewer. Pour another third of ice cream, more pistachio butter, then top with the remaining ice cream base.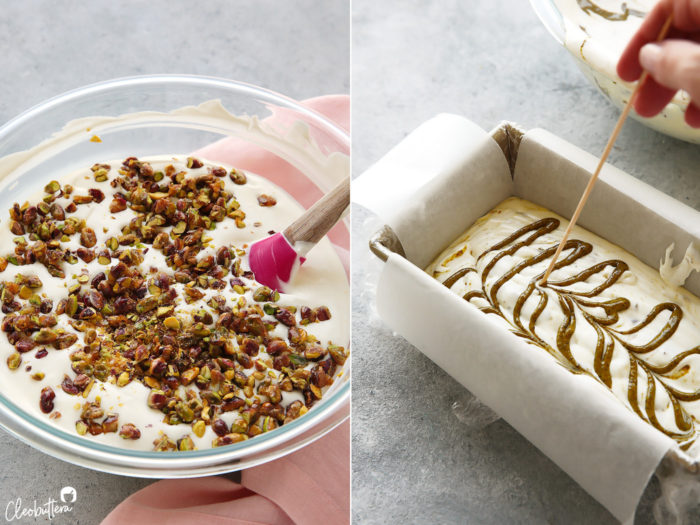 If you end up with leftover ice cream base like I did…drink it! Just kidding…but I have thought of it ?
Pour into ice cream bar molds…if you have them!
Then pop both of them in the freezer until frozen, at least 6 hours. So plan ahead folks!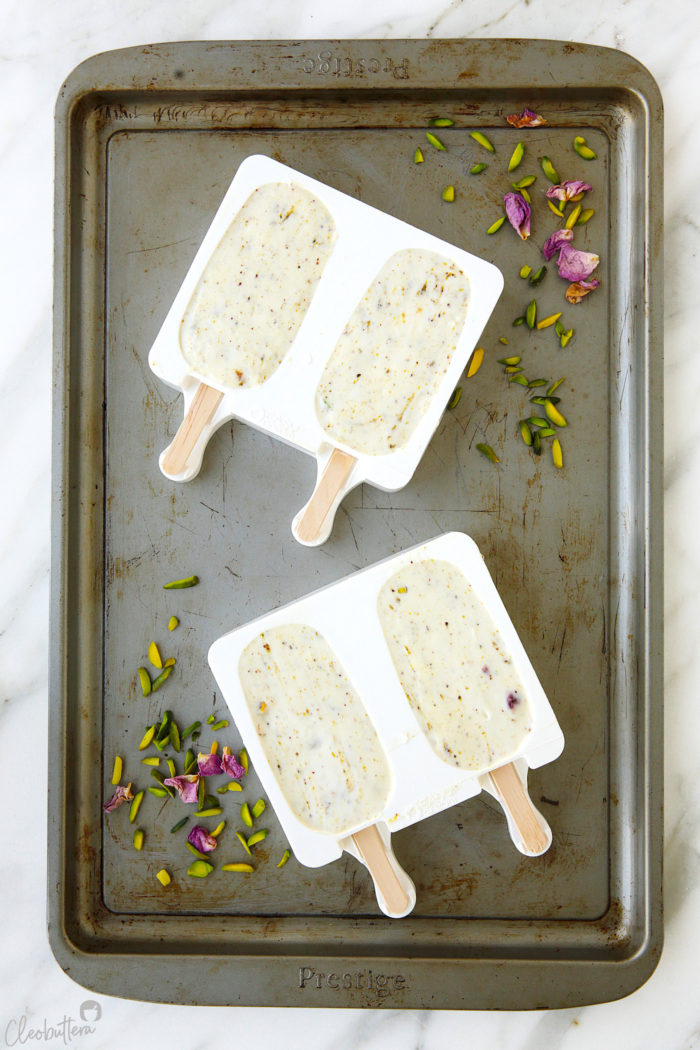 While those guys are freezing, make the kunafa topping!
Sauté the kunafa in some butter, stirring constantly, until the kunafa is lightly golden in color and very crunchy; about 5 minutes. Do not get it too dark so the green color of the pistachios can show through. You'll then stir in some powdered sugar for sweetness, and ground pistachios, for that stunning color.
I know the pistachio color might looks unrealistically green, but I promise it's not the work of Photoshop. The kind of pistachios used here is extra special and extra green and is usually found in Turkey, Iran and countries of the Arabian Gulf. I got mine from Dubai.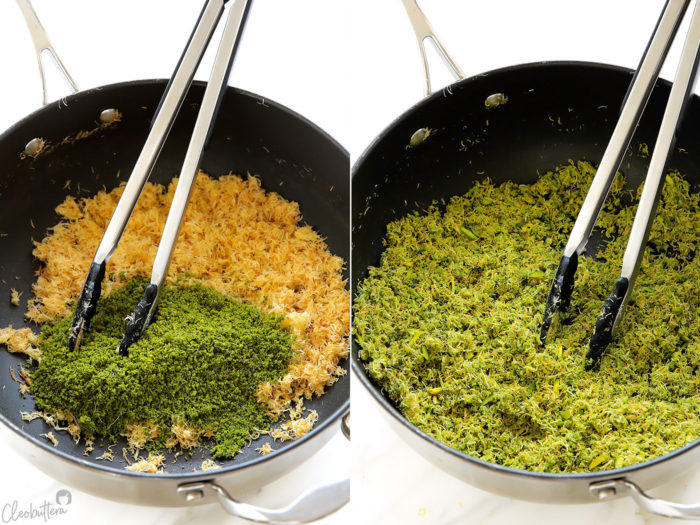 Now once the ice cream has firmed up nicely, unmold it over a serving platter, then if you want, you can drizzle it with pink tinted sugar syrup.
In all honestly, I think it made it sweeter than I would've liked, but it added a nice color to the cake. Your call here but I'd personally skip it the next time around!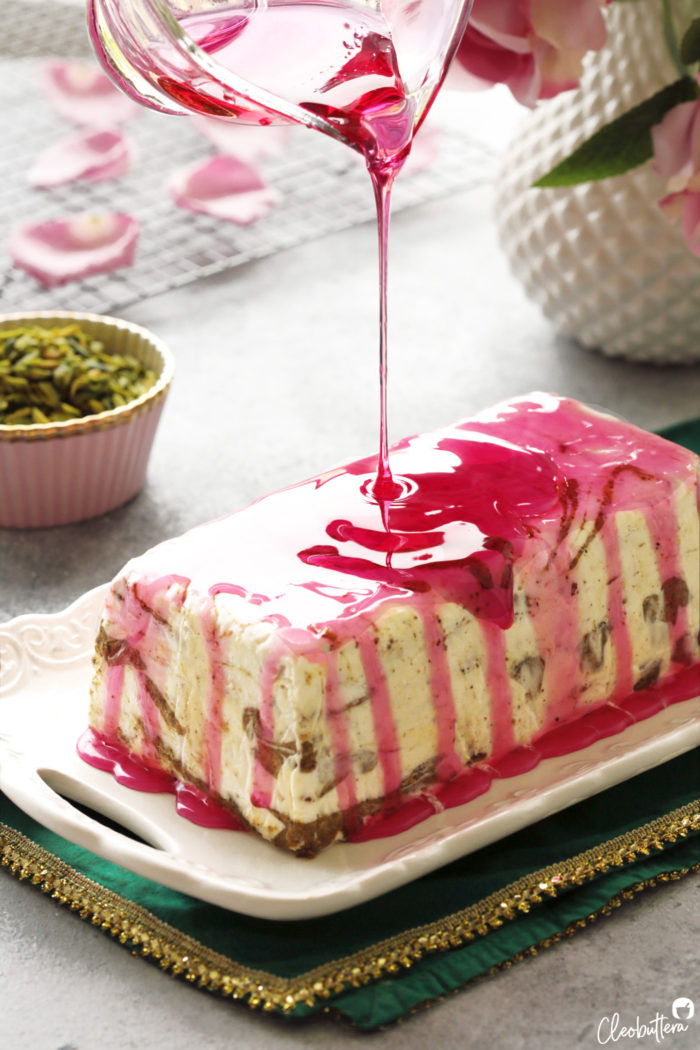 Top with that cartoonish green kunafa, a few of those sugared petals and slice away!
Yes…its going to look like a beautiful mess…but with so much going on with the texture and flavor…no one cares.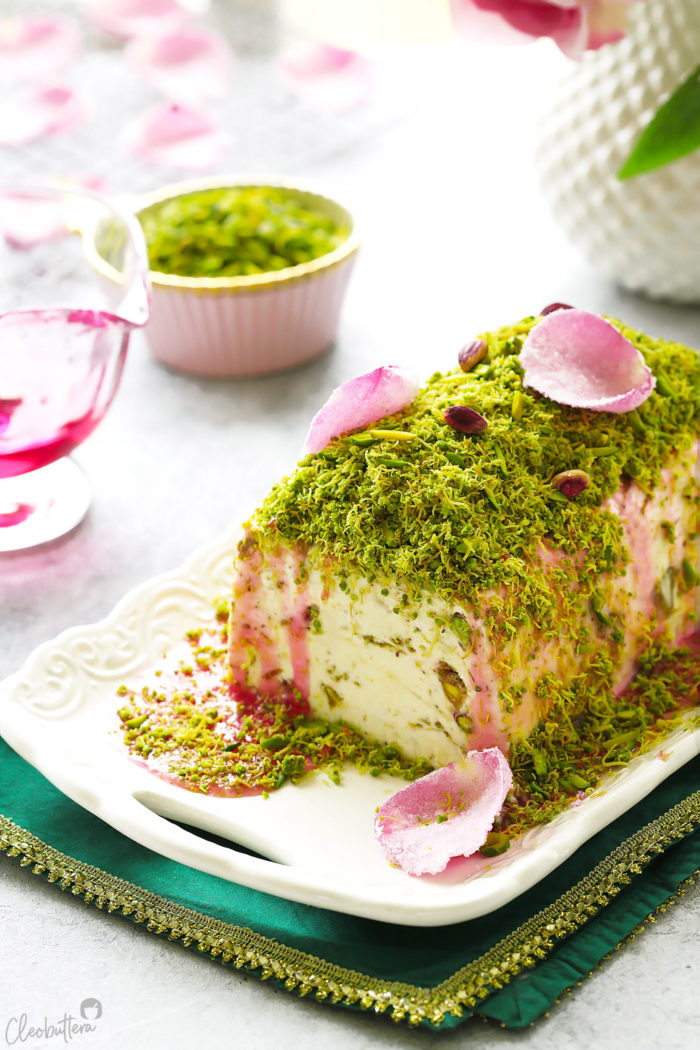 And then when you show up with those never-seen-before ice cream pops…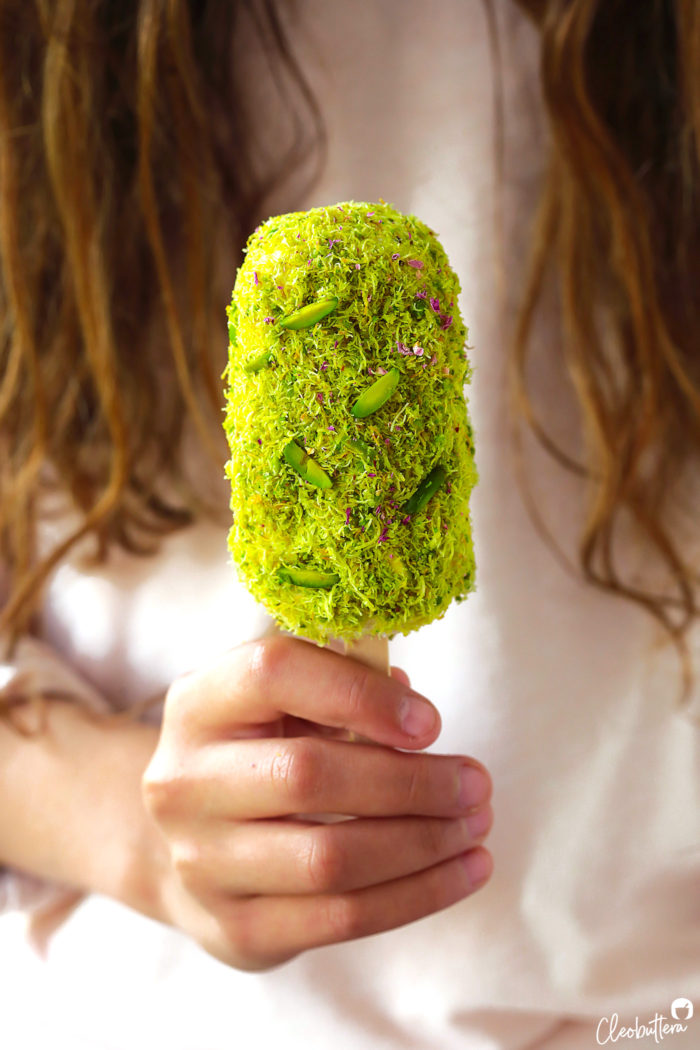 Everyone's jaw will drop!
And kids will go pistachio "nuts!" ?
Yield: One 9X5" loaf plus 4 bars
Triple Pistachio Kunafa Ice Cream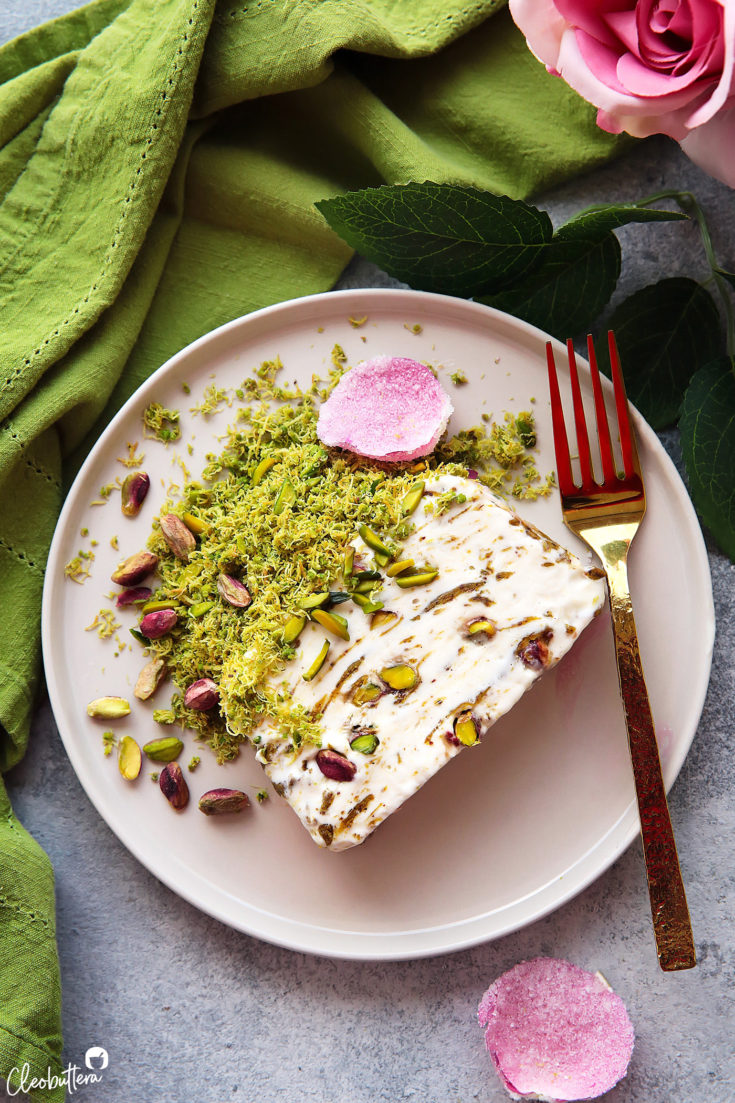 A show stopping ice cream cake with the much-loved flavors of the Middle East!  Scented eshta no-churn ice cream with nibs of caramelized pistachios, swirls of pistachio butter and a crown of green pistachio kunafa on top.  It is a pistachio lover dream come true and much easier to make than it seems.  Plus...recipe VIDEO at the end of the post!
Prep Time 50 minutes
Cook Time 10 minutes
Additional Time 6 hours
Total Time 7 hours
Ingredients
For the Caramelized Pistachios:
1/4 cup (50g) granulated sugar
1 tablespoon (15ml) water
1/2 cup (57g) pistachios, shelled
A pinch of ground cinnamon
For the Scented Eshta Ice Cream:
1 cup (227g) fresh eshta/ ashta (Arabic clotted cream)*
1 (397g) can sweetened condensed milk
1 tablespoon orange blossom water (more or less according to taste)
1 teaspoon rose water (more or less according to taste)
2 cups (473ml) heavy whipping cream, very cold
1/3 cup (85g) pistachio butter*
For the Pistachio Kunafa Topping:
125g kunafa (Kadaif/kataifi) dough, frozen or fresh
1/4 cup plus 1 teaspoon (62g) unsalted butter
5 tablespoons (72g) powdered sugar
1/3 cup (70g) pistachios, finely ground
3 tablespoons pistachios, sliced or chopped
For Garnish: (optional)
Instructions
To make the Caramelized Pistachios:
In a small light-colored saucepan, combine together the sugar and water without stirring. Bring to a simmer over medium-high, swirling the pan to dissolve the sugar (avoid stirring). Allow the mixture to come to a boil, then cover the saucepan for about 1 minute; the condensation will wash down any sugar crystals that might've gathered on the sides, which will reduce the chance of crystallization. Remove the cover, and continue to cook until it reaches an amber color.
Remove the saucepan from the heat and immediately stir in the pistachios and pinch of cinnamon until evenly coated.
Transfer the caramelized pistachios to a silicon mat or parchment paper and spread into an even layer. Allow to cool completely.
Once cooled, break up the caramelized nuts with your hands into little chunks or coarsely chop with a knife.
To make the Scented Eshta Ice Cream:
Line a loaf pan (I used a 9X5") with parchment paper or plastic wrap making sure the entire surface is covered including the corners of the pan
In a large bowl, whisk together the eshta, sweetened condensed milk, rose and orange blossom water until smooth and well combined. Set aside
In a chilled mixing bowl, and using an electric mixer fitted with the whisk attachment, beat the heavy whipping cream until stiff peaks form. Be careful not to overbeat.
With a rubber spatula, gently fold the whipped cream into the sweetened condensed milk/eshta mixture, until the color is even and no streaks remain.
Fold in the cooled caramelized nuts. Using a piping bag, pipe about quarter the amount of pistachio butter in random lines over the surface of the mixture (please refer to video). Do not mix it in.
Pour one-third of the ice cream mixture into the prepared loaf pan. Drizzle the surface with half of the pistachio butter, and use a skewer to swirl it through, then top with the second third of the ice cream. Drizzle with the remaining pistachio butter, swirling once more with the skewer, and finally top with the reaming ice cream mixture. Smooth out the top and cover with plastic wrap directly on top of the surface, then freeze until firm, at least 6 hours; better overnight. If you have leftover ice cream mixture, you can pour it into ice cream bar molds for a different variation. Meanwhile, prepare the Pistachio Kunafa.
To make the Pistachio Kunafa Topping:
While the kunafa is still frozen, break it between your hands to crumble into small pieces. Kunafa shreds easiest when frozen.
In a large pan or skillet over medium-high heat, heat the butter until melted. Add in the shredded kunafa and stir well until evenly coated with the butter. It will be difficult to stir at first, but will loosen up as the kunafa starts to toast. Continue stirring constantly, being careful not to get any burn marks, until the kunafa is evenly lightly golden in color and is very crunchy; about 5 minutes. Do not get it too dark so the green color of the pistachios can show through.
Add in the powdered sugar and stir until dissolved.
Remove the pan from the heat and add in the ground and sliced pistachios and stir until homogenous and well combined; the longer you stir the greener the color will get. Transfer the kunafa crumbs to a bowl and allow to cool completely before using. Cooled kunafa will keep well in a zipperlock bag, in the freezer for about a month.
To assemble:
Remove the ice cream pan from the freezer, peel the plastic wrap from over the surface, then invert onto a serving platter. Peel off the parchment or plastic lining and discard.
Pour on the pink sugar syrup, if using. Top with the pistachio kunafa, then garnish with sugared rose petals if desired.
Cut into slices and serve immediately. Leftovers will keep for about a month in the freezer.
For the popsicle variation: unmold the ice cream, then press on the pistachio kunafa to coat.
Recipe Notes
Alternatively, for an easier variation, you can freeze the ice cream mixture in a bowl and serve right from it. Once frozen, just top with the pistachio kunafa and you're good to go! No lining pans, no unmolding...simple.
Eshta (ashta) may be substituted with mascarpone cheese.
Pistachio butter is sold, ready-made in supermarkets, although you can make it at home. I used Abu Auf brand from Abu Auf stores in Egypt.
I found that the sugar syrup, though pretty, made the ice cream cake sweeter than I would've liked. I'd personally skip it the next time around, but it's your call.
These are the ice cream bar molds I used.
Measurements Note: All recipes of this site have been developed using weight measurements. Although US volume measurements have been included for your convenience, it is highly encouraged that you weigh your ingredients using a kitchen scale to get the best possible results. Due to the sensitive nature of baking, kitchen scales are proven to yield more accurate and consistent results than measuring cups. Enjoy!
This post may contain affiliate links.
All images and content are owned by Cleobuttera® and are copyright protected. Please do not use my images without prior permission. If you would like to republish a recipe, please rewrite it in your own words and link back to the recipe page on my site. Original recipes and creations of this site are intended for personal and home use. Commercial replication or media consumption are only allowed with a written consent and agreement with Cleobuttera owners. Otherwise it is considered a violation of intellectual property. Thank you for respecting and appreciating the amount of time and effort that goes into creating free, unique recipes that make people happy.