Halawet El Jibn (Sweet Cheese Rolls)
A delectable Arabic dessert made from rolls of soft, sweet cheese dough that gets stuffed with clotted cream, and crowned with pistachios and rose petal jam. A drizzle of syrup flavored with orange blossom and rose water puts the final seal of perfection.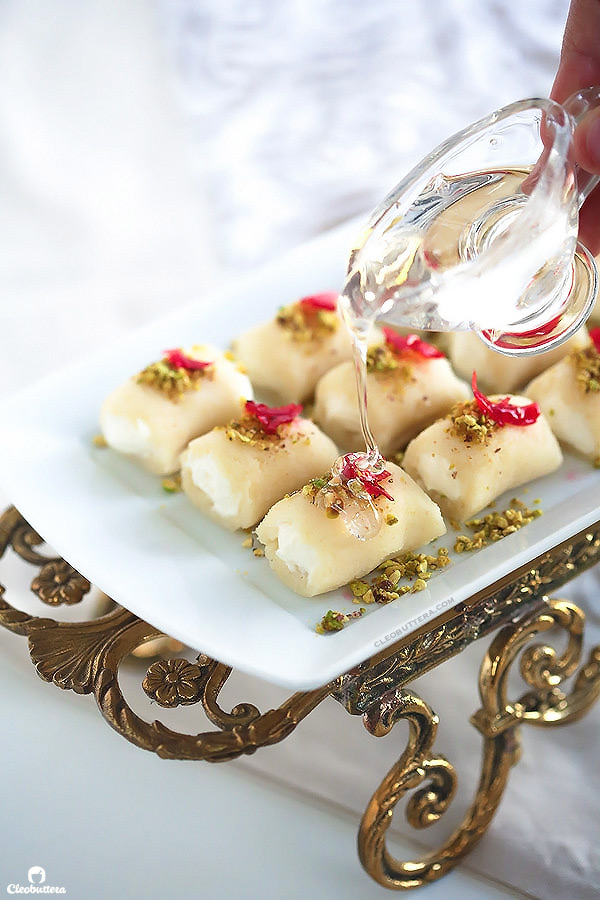 I don't know what is it about the month of Ramadan that makes us crave Arabic/Middle Eastern sweets.
Ramadan rolls around and we intuitively switch from brownie madness and cookie addiction to konafa overload and all things soaked in sticky sugar syrup.
Suddenly cupcakes aren't as appealing as they used to be only one day ago, and layer cakes get the ugly duckling treatment at Iftar (evening meal of breaking fast) gatherings.
It's no wonder why the minute Ramadan ends, we can't even look at a Middle Eastern dessert for at least another month. Which also explains the heavy storm of western desserts on the blog, up until 12 days ago.
But that's in Egypt, and probably neighboring countries. It's tradition. Culture. And it's been the same ol' every Ramadan for as long as I could remember and I wouldn't have it any other way.
Speaking of neighboring countries…Boy do I have a MAJOR crush on this Halawet El Jibn from the Levant region of our world.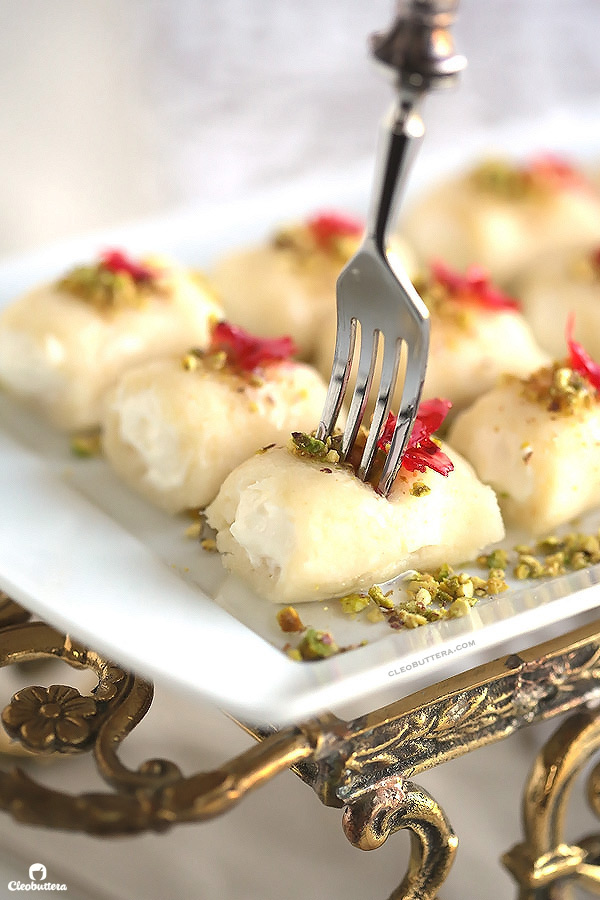 If you're familiar with this dessert, high chances are that you're just as smitten.
If you don't, then wish me luck trying to get you to imagine how delicious this exquisite, delicate dessert is.
Halawet El Jibn is a light and creamy bundle of deliciousness that packs a swimmingly beautiful combination of exotic flavors and textures. The outer layer is made out of cheese (typically Akkawi, but I use Mozzarella), fine semolina, lightly sweetened with sugar and perfumed with rose water. The cheese dough is rolled out into fine sheets, filled with Arabic-style clotted cream (eshta) and twirled up like cigars, then cut into bite-sized pieces. It's slightly bland on its own, but turns into a flavor bomb once you douse it with an orange blossom and rose water sugar syrup. A final whiff of ground pistachios and a touch of rose petal jam crown the cheese bundles of heaven.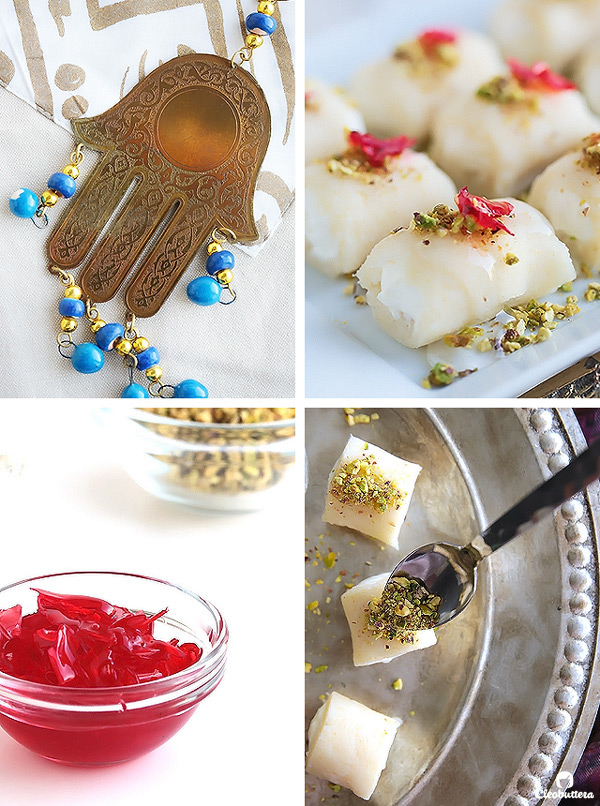 The dough is slightly chewy and pleasantly cheesy. If you think cheese is weird in dessert…Ummm cheesecake? The filling, on the other hand, is beyond creamy and perfectly rich. When you bite into it, it oozes out, and things that ooze out tend to be my favorite. The pistachios add crunch and the syrup just ties everything together.
You'd think that such an Arabic pastry shop delicacy is impossible to make at home, and I'm here to tell you that it couldn't be more doable. It's a lot easier than you might think and can be ready in less than half an hour!
Here's how…
You boil together some water and sugar, then add fine semolina to it. Stir everything together…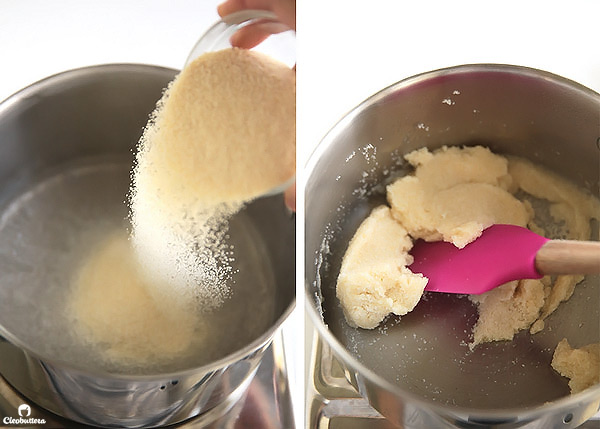 Then in goes mozzarella cheese, which I'm sure that if a Lebanese pastry chef sees me using, would probably smack my head with a rolling pin. But hey! It works beautifully, tastes just as good, accessible to everyone and doesn't need hours of soaking to remove the salt out of it (which Akkawi is guilty of). So yeah…I'll use mozzarella with no shame.
Then in goes some rose water…FLAVOR!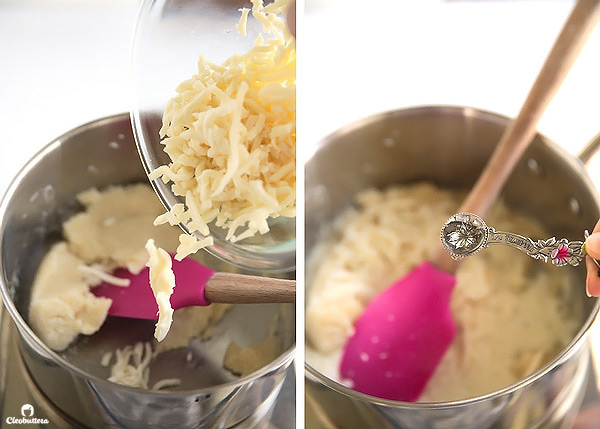 Stir everything together until the cheese melts and everything comes together in one gooey mess. This is the part where you're gonna keep stealing bites of dough in your mouth. It's delicious!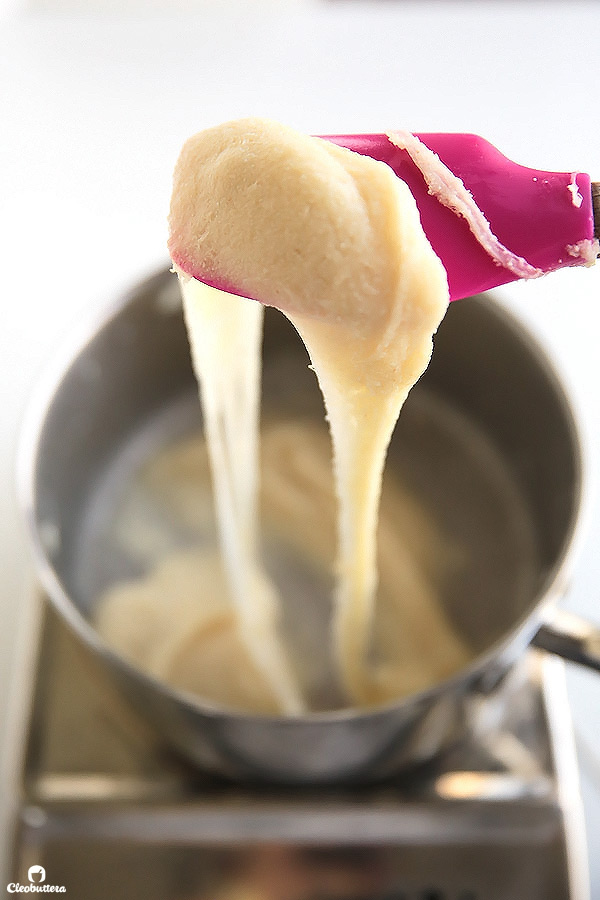 You'll let it cool a little, divide the dough in half and work with one half at a time. You'll now turn one of the halves onto some plastic wrap, cover with another layer of plastic wrap and roll away. This stick-free plastic wrap trick makes rolling out a breeze. You'll need it to be around 9X13 inches (22cmX33cm).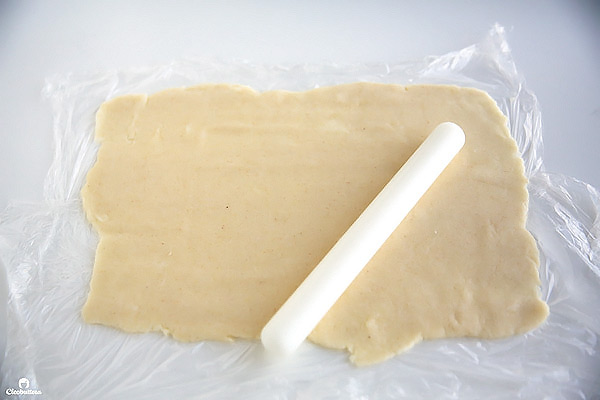 After that you'll want to make it nice and neat by trimming away all the funky sides. Then pipe on (or spoon on) a line of eshta. And no that wasn't my 7 year old piping…it's ahem…me. But can I just say how piping with one hand and taking a picture with a heavy DSLR camera with another is? Like really really hard.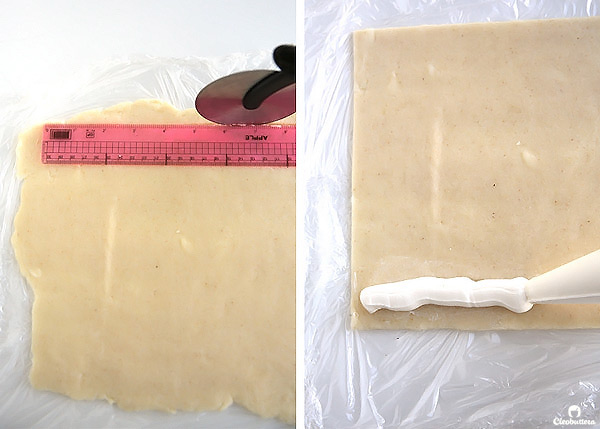 Roll up your dough around the line of Kesha like a log, or sushi, until the eshta completely sealed in. Then carefully slice off the log from the rest of the dough. You should be able to get about 6 logs from the full amount of dough.
Now cut the log into bite sized pieces, about 4cm (1 3/4 inches).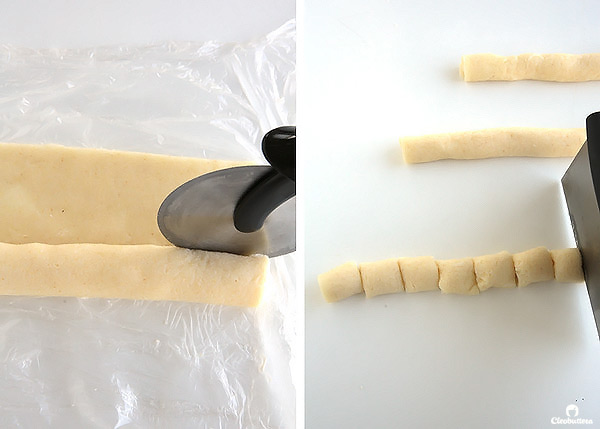 Spoon on some ground pistachios.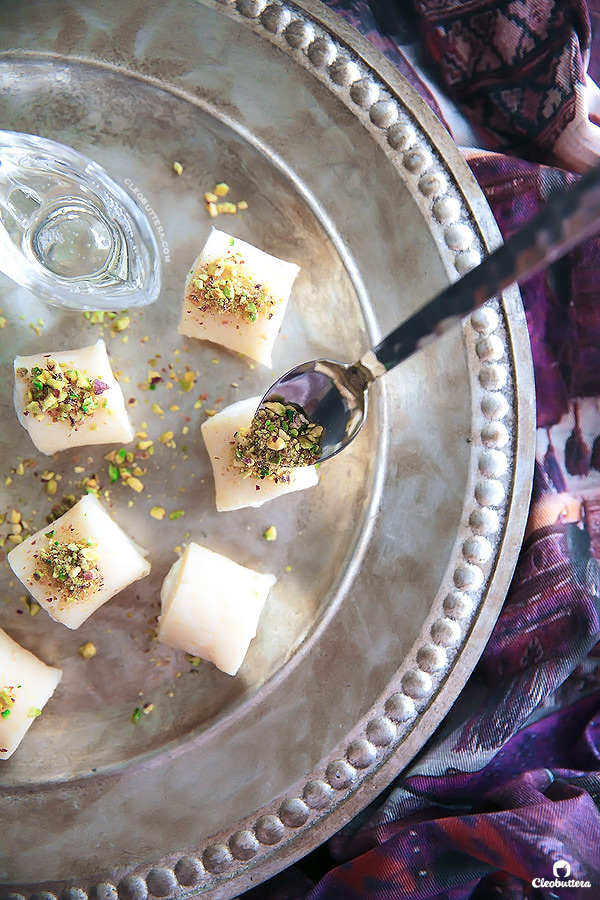 Then on with the rose petal jam. And don't worry if you can't find it. It's more of a pop of color than anything else.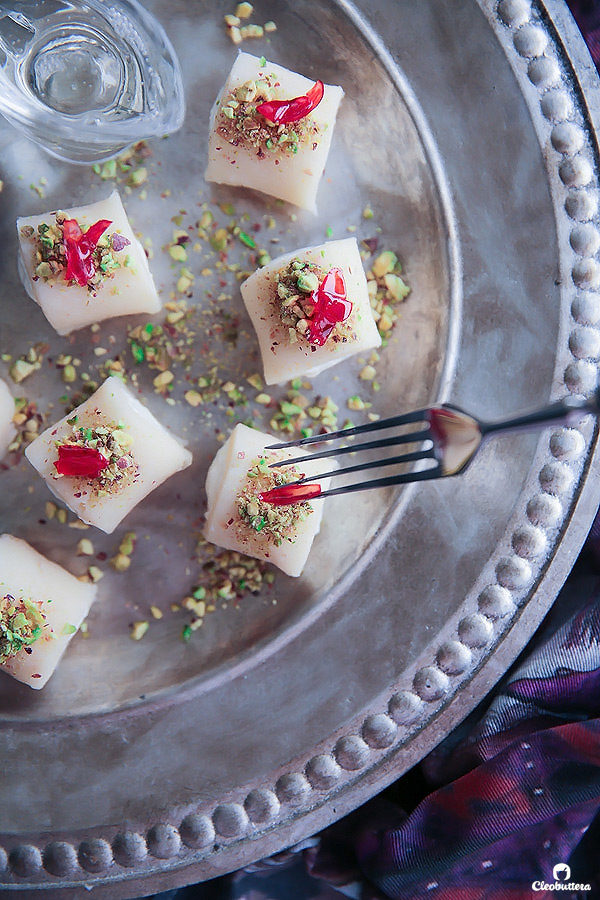 Now be impressed by yourself that you just rocked at making these rare pastry shop speciality. Get ready with your syrup aaaaannnnnnd…..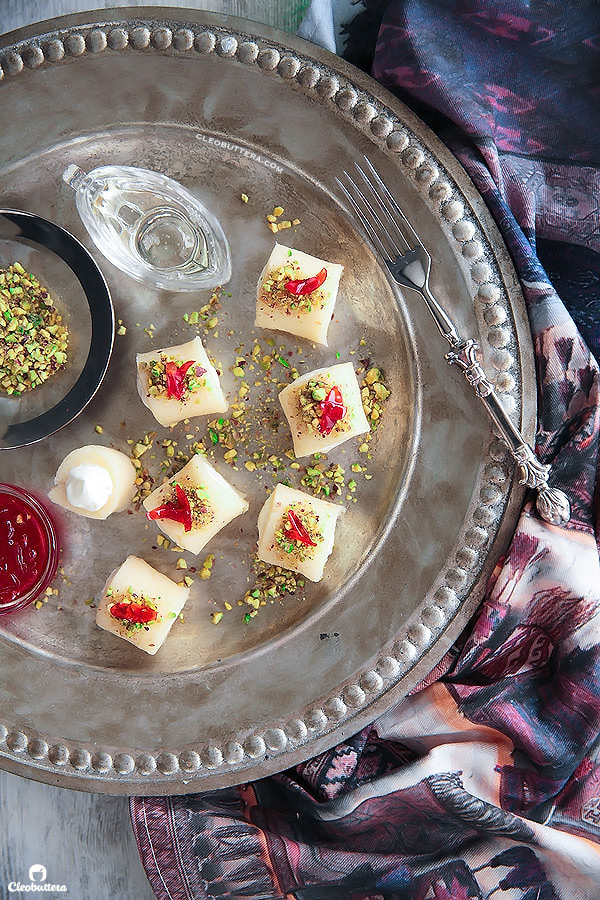 Pour it on!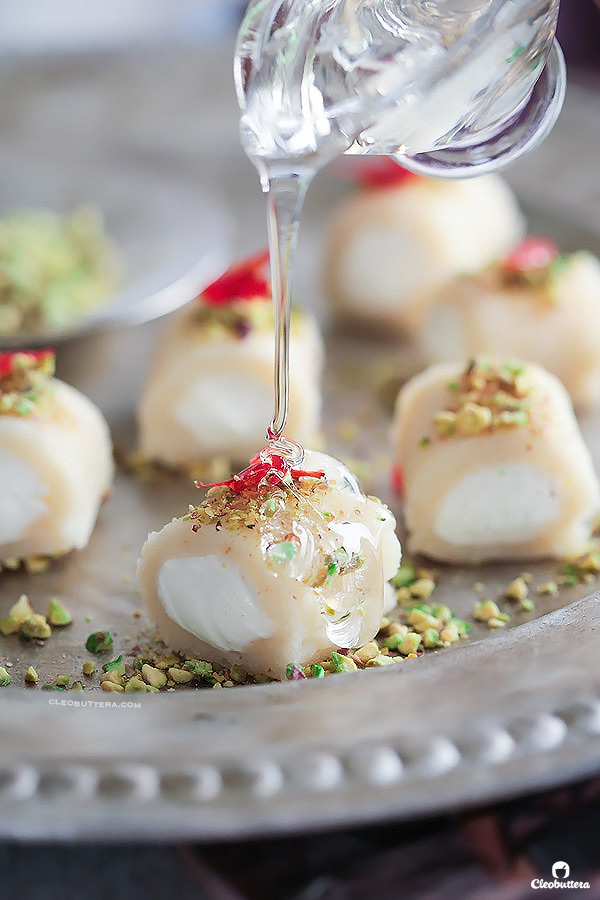 Fork it up…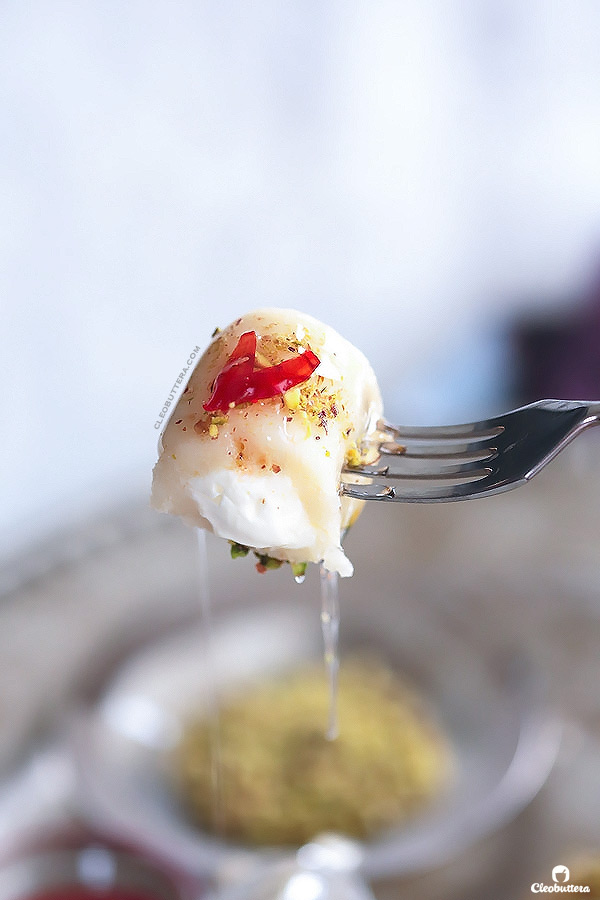 Close your eyes and say "Mmmmmm."
Yield: About 60 pieces
Halawet El Jibn (Sweet Cheese Rolls)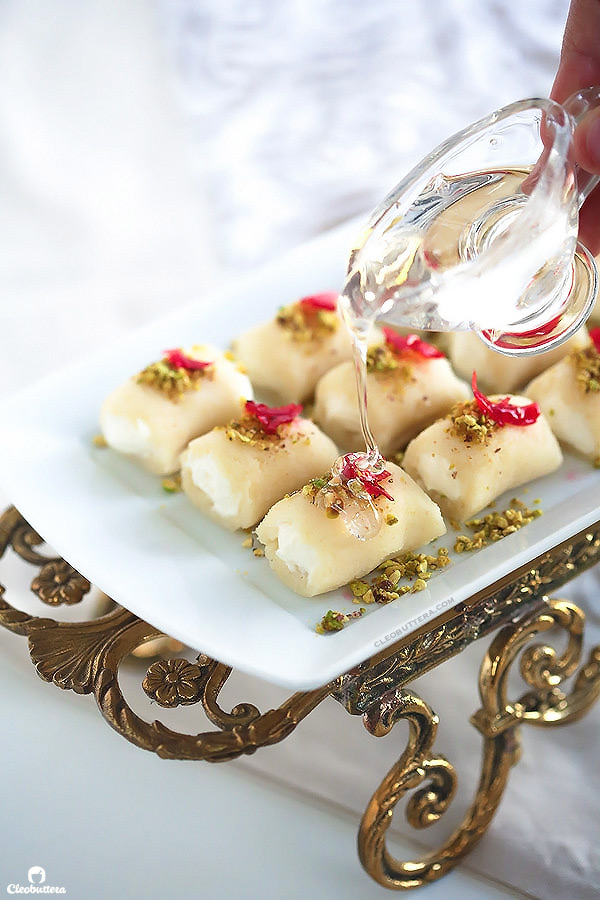 A delectable Arabic dessert made from rolls of soft, sweet cheese dough that gets stuffed with clotted cream, adorned with pistachios and rose petal jam. A drizzle of orange blossom and rose water flavored syrup puts the final seal of perfection. Recipe could be halved if you don't need that many.
Prep Time 30 minutes
Cook Time 10 minutes
Additional Time 15 minutes
Total Time 55 minutes
Ingredients
For the syrup:
2 cups (400g) granulated sugar
1 cup water
A squeeze of lemon juice (about 1/2 teaspoon)
3/4 teaspoon orange blossom water
3/4 teaspoon rose water
For the sweet cheese rolls:
1 1/2 cup water
3/4 cup (150g) sugar
1 cup (160g) fine semolina (known in Arabic as semeed naa'em)
2 cups (240g) mozzarella cheese, shredded*
1 tablespoon rose water
1 tablespoon orange blossom water
For filling the rolls:
For garnish:
Ground pistachios
Rose petal jam, for garnishing (optional)
Instructions
If using the Easy Homemade Ashta as your filling, start by making it as it needs at least one hour to set.
To make the sugar syrup:
In the small saucepan, combine together the sugar, water and squeeze of lemon juice. Set on the stove top over medium high heat.
Bring to a rolling boil, then immediately reduce the heat to low and let it simmer for no longer than 10 minutes. Set a timer! The syrup will thicken slightly, and have a consistency similar to pancake syrup. If it simmers for longer it could thicken too much and become candy-like and not pourable. Stir in the orange blossom and rose water
Transfer to a serving bowl and allow to cool to room temperature.
To make the cheese rolls:
In a saucepan over medium-high heat, heat together the water and sugar, stirring occasionally until the sugar dissolves. Bring to a boil then add in the fine semolina, stirring constantly with a spatula until well combined and slightly thickened; about 30 seconds.
Turn down the heat to medium, then add in the cheese and rose water, and stir well until the cheese melts and the mixture forms a soft, cohesive dough. Allow to cool briefly until it's warm enough to handle.
Divide the dough into 2 equal pieces; take 1 half of the dough to work with and cover the other half. Turn out the dough onto a sheet of plastic wrap and cover with another sheet. Roll out the dough between the 2 sheets of plastic wrap, into a 9X13 inch (23cmX33cm) rectangle. Remove the plastic wrap on top. Using a sharp knife or pizza cutter, trim off the irregular sides of the dough to form a clean cut rectangle. You could use a ruler or the edge of an object to help you get straight sides.
Fill a piping bag with the eshta (clotted cream) and snip off about 1 inch (2 cm) of the tip. Start piping the eshta on the long side closest to you, leaving a 1 inch (2cm) border. Alternatively, you could just spoon the eshta on the dough with a spoon.
Using the plastic wrap under the dough, lift the dough and roll it over the cream filling, until the cream filling is completely covered, the dough seals it in and looks like a thin log. Using a sharp knife or pizza cutter, make a cut along side the log to slice it off from the rest of the dough. Repeat this process to make make 2 more logs.
For cleaner cuts, place the logs in the freezer for about 15 minutes to firm them up a little; its not necessary though. Then using a sharp knife or bench scraper, divide the logs into 1 3/4inch (4cm) pieces. You should have 30 to 32 pieces.
Repeat with the other piece of dough.
Arrange the rolls on the serving platter, sprinkle each with a little ground pistachios in the center and rose petal jam.
Serve alongside the syrup, drizzling each piece with some before eating.
Store leftovers covered in the refrigerator.
Recipe Notes
Authentic recipes for Halawet El Jibn calls for Arabic cheeses like Akkawi and Majdoola instead of mozzarella. I've opted for mozzarella here, due to its worldwide accessibily, low salt content and its great results. Both Akkawi and Majdoola could be hard to find and are very salty, which require soaking in water to remove the salt. If you'd prefer to use them, just use 1 cup (50z) of each, then slice them and cover them with warm water in a bowl. Let them soak for 30 minutes, then drain. Taste, if still salty, repeat the process until all the salt has been removed. Using your hands, squeeze cheese to remove any excess moisture.
Although far from authenticity, Mascarpone cheese may be substituted for the ashta if you can't find it. It has a similar taste that would just fine here.
Update! This recipe has been updated to include an accompanying, easy homemade ashta for the filling. I've also improved on the sweet cheese dough by adding an additional 1/2 water to make for softer rolls. I've also increased that sugar by 1/4 cup (50g), which I've found has improved flavor, so you won't need as much syrup to dip in. If you've made and loved the old dough recipe and prefer to keep using it, simple use 1 cup water and 1/2 cup (100g) instead of the amounts listed, leaving everything else the same.
Measurements Note: All recipes of this site have been developed using weight measurements. Although US volume measurements have been included for your convenience, it is highly encouraged that you weigh your ingredients using a kitchen scale to get the best possible results. Due to the sensitive nature of baking, kitchen scales are proven to yield more accurate and consistent results than measuring cups. Enjoy!
This post may contain affiliate links.
All images and content are owned by Cleobuttera® and are copyright protected. Please do not use my images without prior permission. If you would like to republish a recipe, please rewrite it in your own words and link back to the recipe page on my site. Original recipes and creations of this site are intended for personal and home use. Commercial replication or media consumption are only allowed with a written consent and agreement with Cleobuttera owners. Otherwise it is considered a violation of intellectual property. Thank you for respecting and appreciating the amount of time and effort that goes into creating free, unique recipes that make people happy.