The Lemoniest Lemon Sheet Cake
If you're looking for a simple to make lemon cake with bold citrus flavor and a soft and fluffy texture, look no further! This cake is bright and refreshing with a tender crumb that melts in the mouth!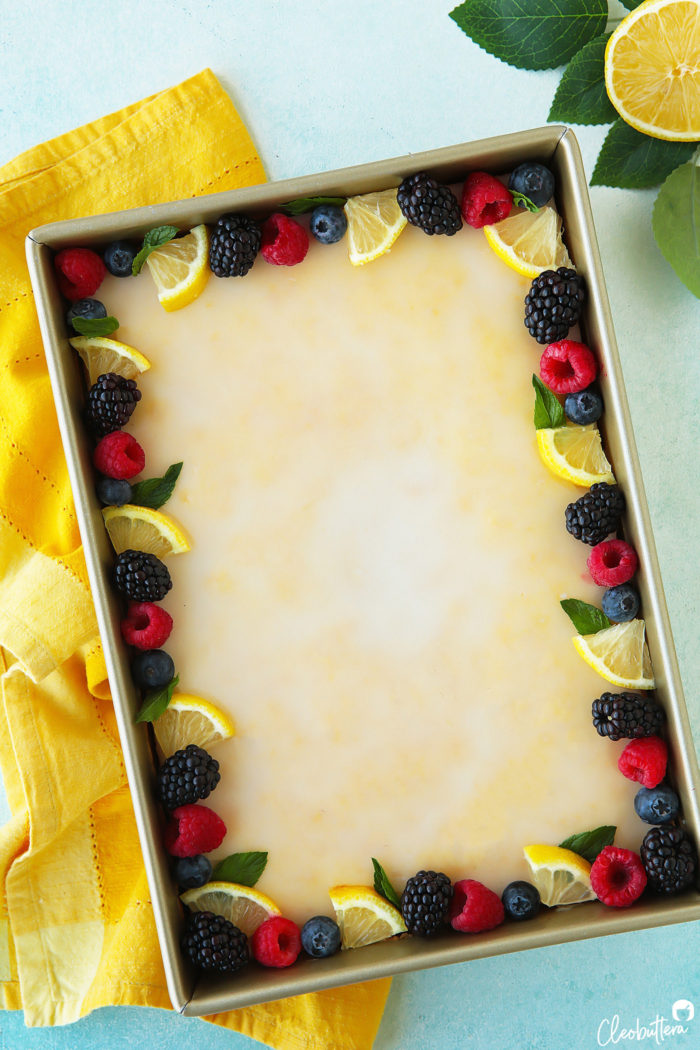 Attention all "Lemaniacs" around the world!
Listen up and look closely, for I have THE cake for you!
A super lemony, pucker-up-your-lips, tangy cake with your name written all over it.
It is the cake for serious lemon lovers who can't get enough of that refreshingly zesty flavor, and have a hankering tooth for that sweet-tart deliciousness.
Fellow Lemaniacs…I present you with sunshine in a pan.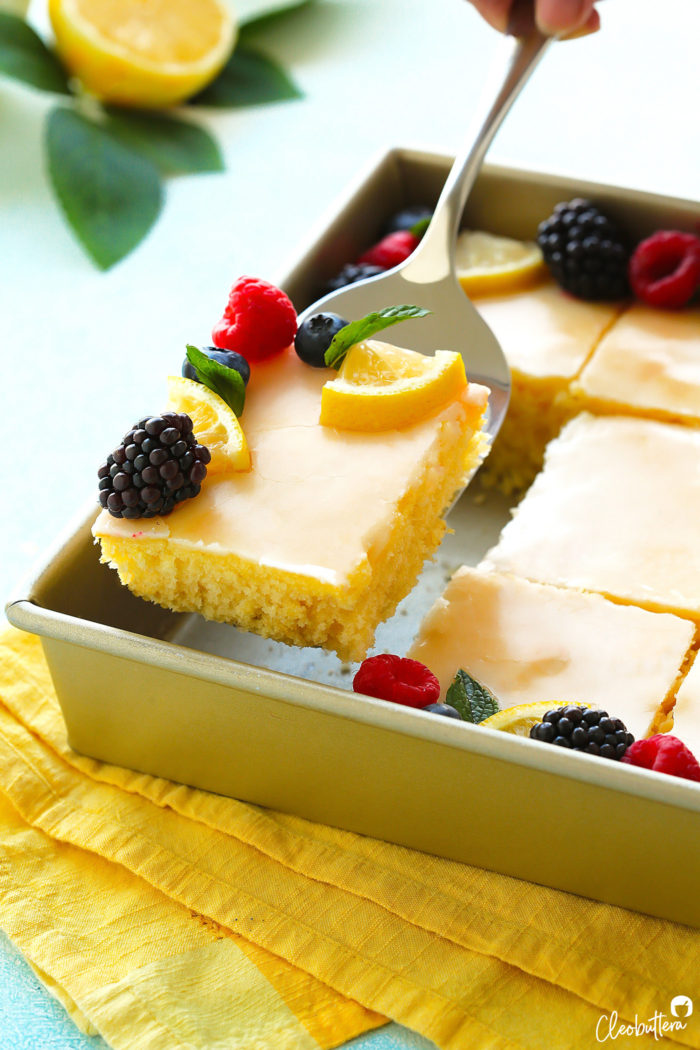 Nothing subtle or mild about this one. It is as in-your-face, loud and clear with citrus flavor as can be.
It is the lemoniest lemon cake I've ever had! Even more-so than the reader favorite, Lemony Lemon Bundt with its fancy lemon syrup and all.
Lemon Bundt…you fed our lemon cravings for the past 3 years and I thank you for never disappointing, but I guess the time to graduate to some next-level citrus-iness (if that's even a word) has come.
This simple lemon sheet cake is so bright and refreshing, and packed with a lemon punch that delivers its titled promise.
It has a soft, velvety crumb, incomparable moistness, and a light, fluffy texture that just melts in the mouth.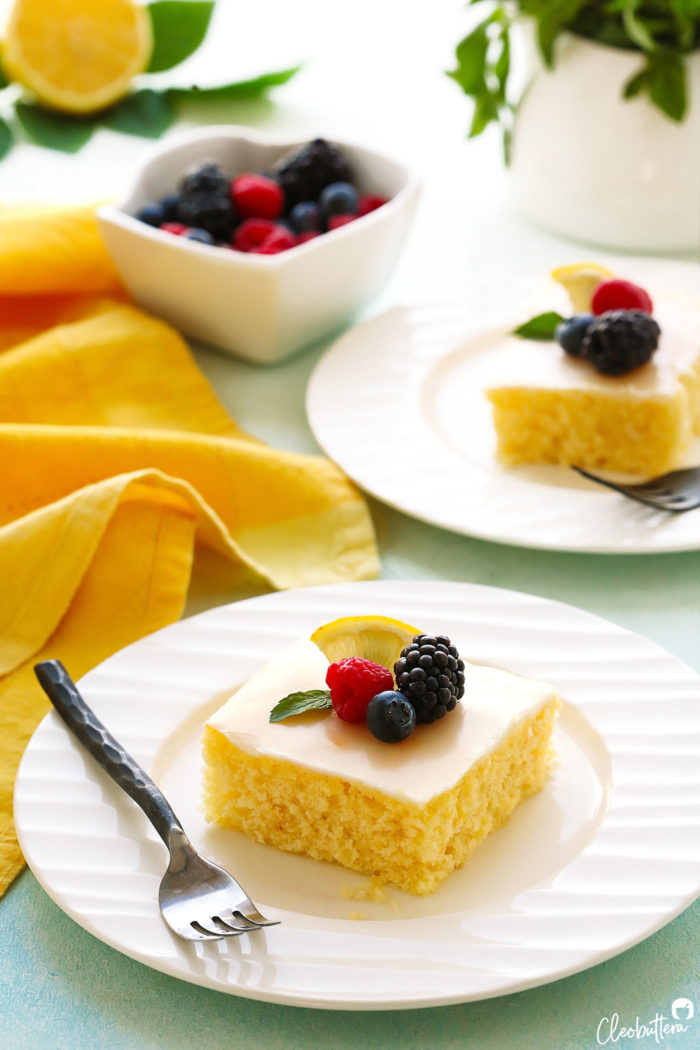 This cake is not for those who prefer dense cakes with a tight crumb. It is for those of us who have been spoiled by the fluffiness of boxed cake mixes.
The crumb on this is so light and airy…I can't even!
Fluffy cakes are my favorite kind, and this one is seriously one of the fluffiest, softest from-scratch cakes to have entered my mouth.
I really can't sing enough praises about its flawless texture and I feel like the pictures aren't doing it justice.
Wait…get closer. Maybe I can show you.
Will you take a look at this golden fluff on a fork!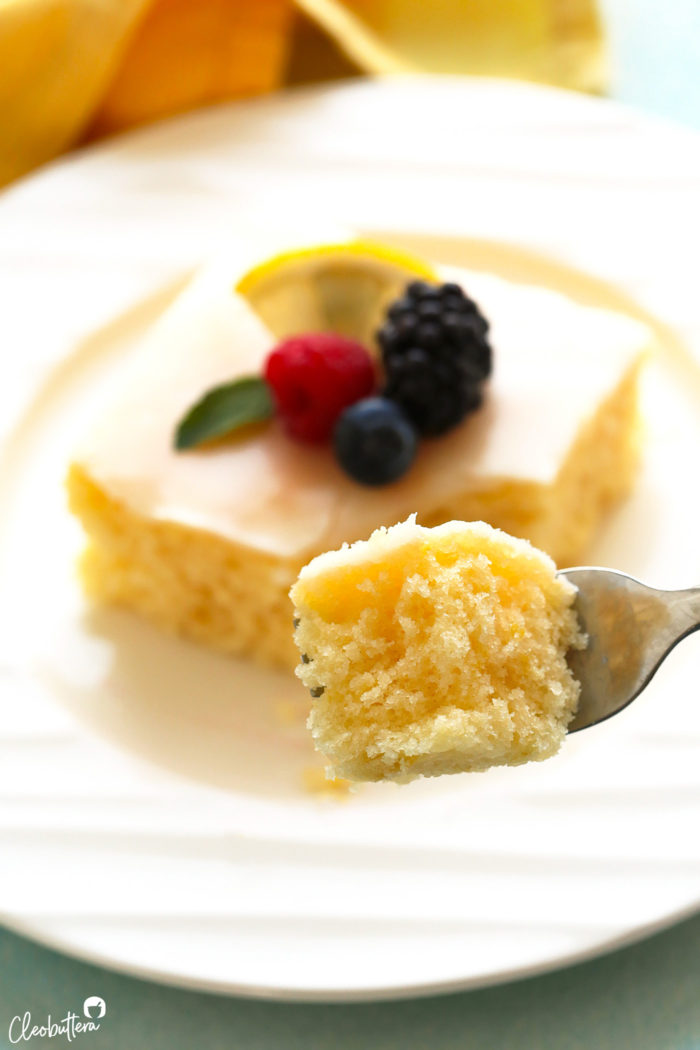 The cake makes for the perfect Spring or Summer treat. It is easy enough to make on a weekday and enjoy as an anytime snack or over tea and coffee.
It is baked in a standard 13X9-inch pan, and served straight from it. So there's no flipping, cooling, trimming, layering, frosting and all that shebang.
So low-key and simple, just the way it sometimes needs to be.
And if you want to fancy it up a bit, a border of berries will always do the trick.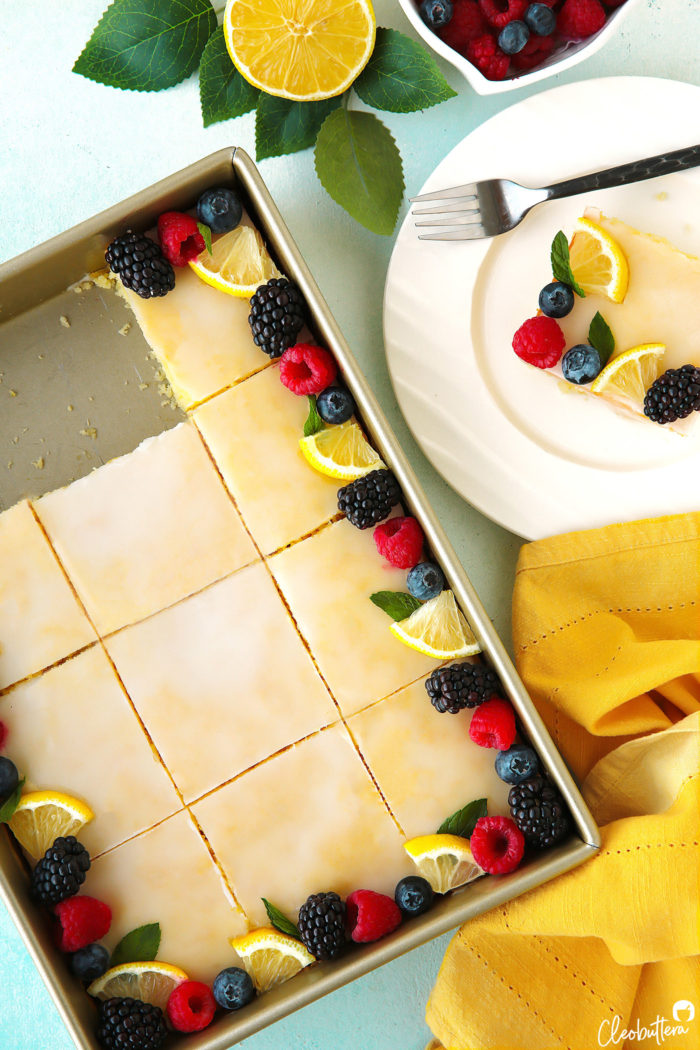 The lemony cake is topped with a crystalline-thin layer of lemon glaze, just like the one that covers donuts.
The glaze adds another hit of lemon and….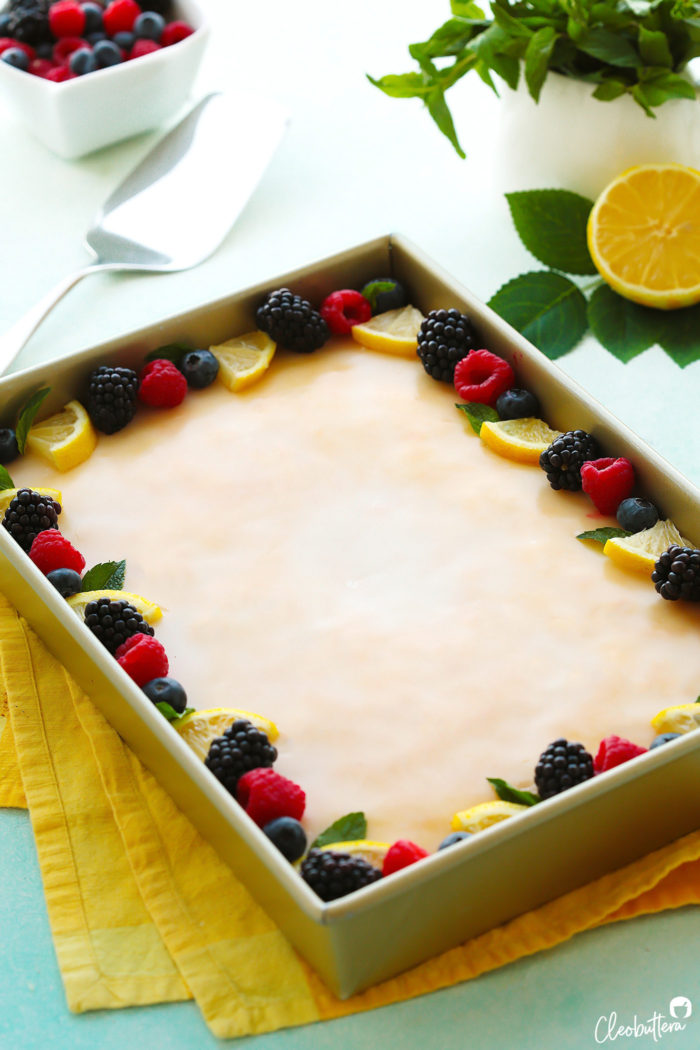 ….a welcomed crackly, crisp shell that beautifully contrasts the cakes softness.
I just love how it shatters to the touch, yet dissolves on the tongue.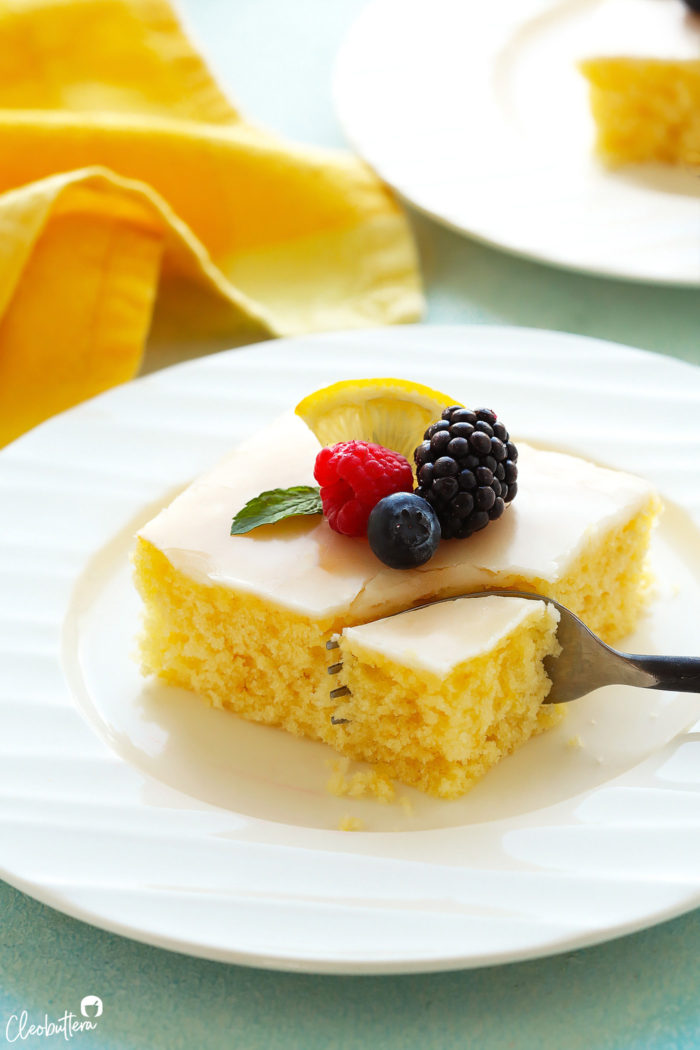 So what makes this cake so good?
A triple hit of lemon in generous amounts!
The cake gets its bold lemon taste from both grated lemon zest, and freshly squeezed lemon juice that goes into both the batter and glaze.
Nothing new I know…
But have you seen a cake that has a whopping 4 tablespoons of zest?!!
Yep…that's a lot, and your arm will get sore from all the zesting, but it's totally worth it.
It's all in the zest!
Lemon zest is where all the flavor lives. It is packed with potent flavor oils that go a long way. Unlike lemon juice which loses its brightness when exposed to heat, the zest keeps it all in. While testing the cake recipe, I found my self upping the zest amount to reach the desired level of brightness I was looking for, exceeding most recipes I've seen.
Four tablespoons proved to be the perfect amount for my lemon-loving self, but it was too strong for the kiddos. It is definitely not for lemon rookies, so feel free to scale it back to 3 tablespoons, if you prefer a milder flavor.
Just make sure you only use the thin, yellow zest layer, which contains the lemon oils, and avoid the white layer (pith) which tastes very bitter.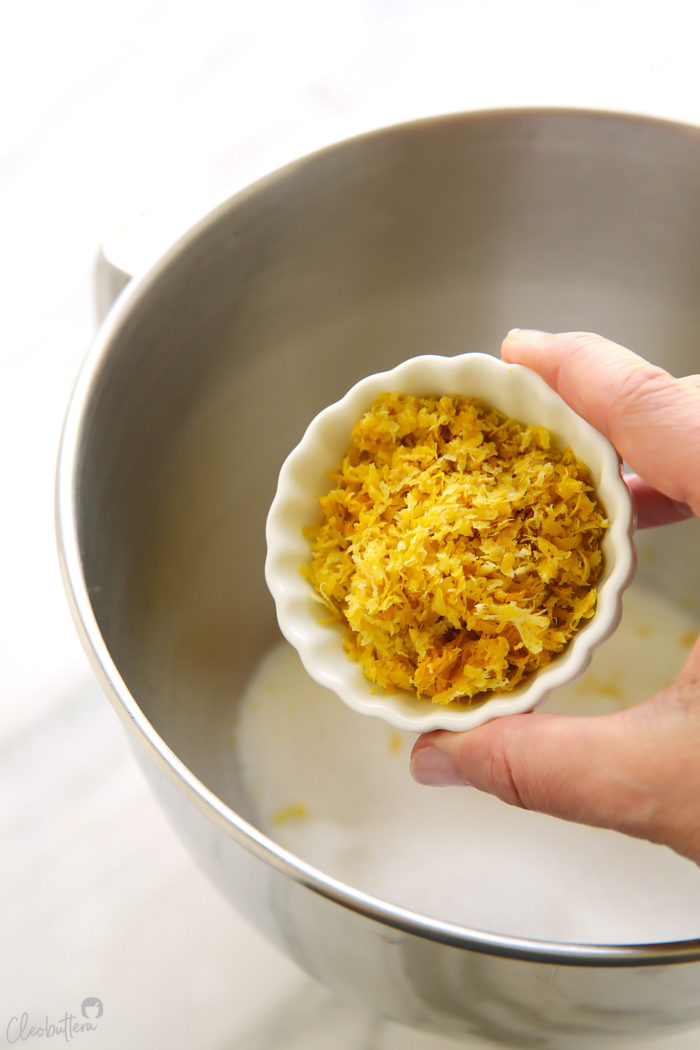 The cake process begins with rubbing the zest with the sugar using the mixer. The friction caused between them helps release the flavor oils even more, so the cake comes out even more fragrant.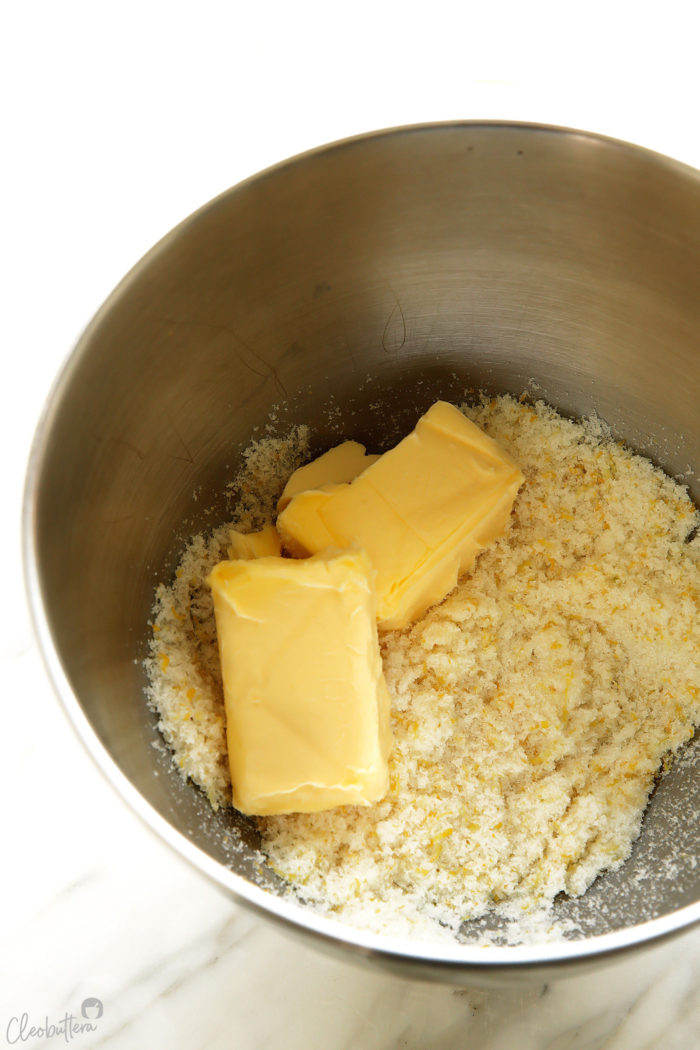 The secret's in the yogurt!
Remember when I was waxing poetic about the cake's moist softness and fluffy texture?
It's all thanks to Greek yogurt. Although buttermilk and sour cream work well here, I found that Greek yogurt gives me the best texture without weighing down the cake. Buttermilk resulted in an ever-so-slightly less moist cake, while sour cream, made it a tad denser. The difference is barely noticeable and I wouldn't pass on any of them, but Greek yogurt wins by a hairline. It also reinforces the tangy flavor brought through by the lemon juice.
The juicy details!
While the zest plays the key role in bringing out the lemon flavor, lemon juice rounds it out and creates an acidic environment in the batter, that when combined with the Greek yogurt, makes for a tender, fluffy cake.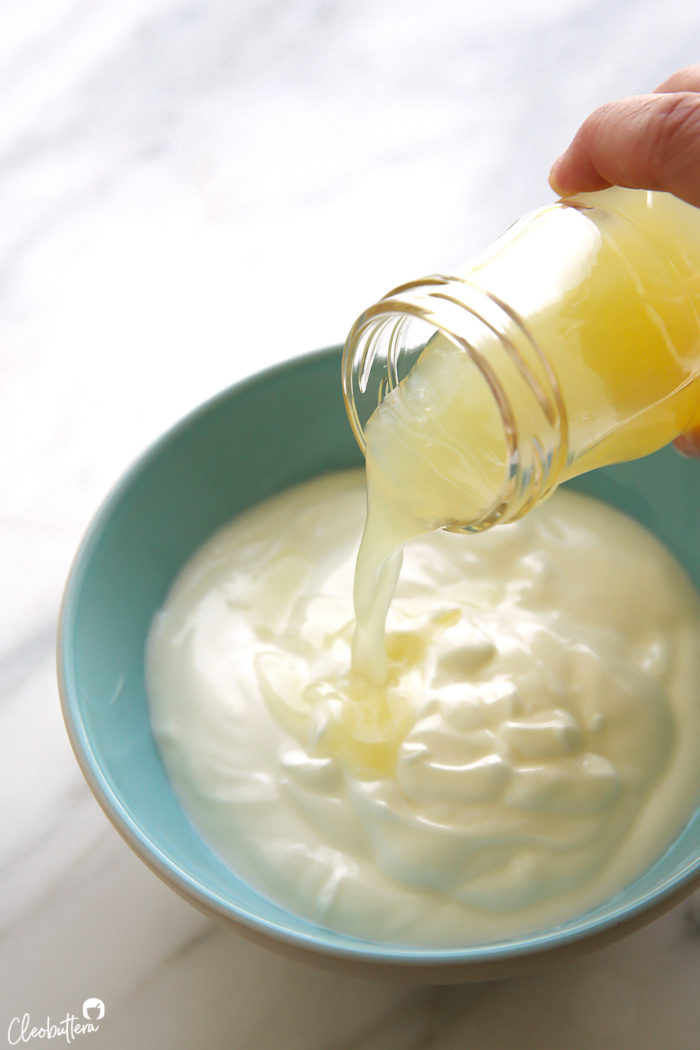 Other than that, the cake batter comes together, the traditional, good 'ol way, where you cream the sugar with the butter until light and fluffy, add eggs one at a time, then alternate between dry and wet ingredients (in that case a lemon Greek yogurt mixture).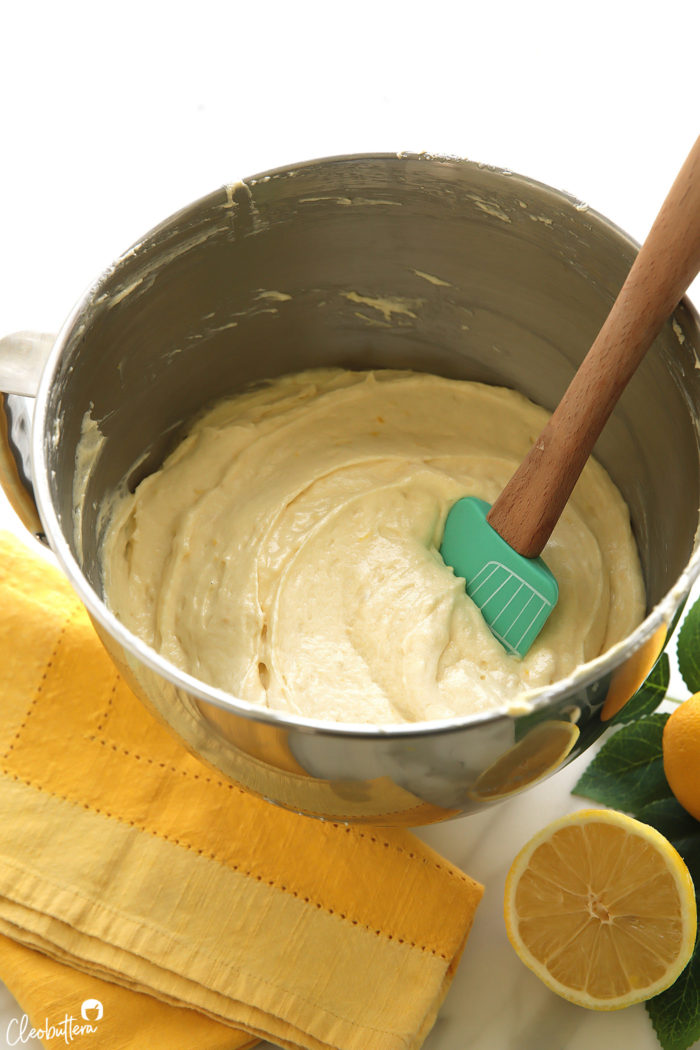 The cake is lusciously thick and you won't be able to stop licking it, but try your hardest to leave some to spread into your pan.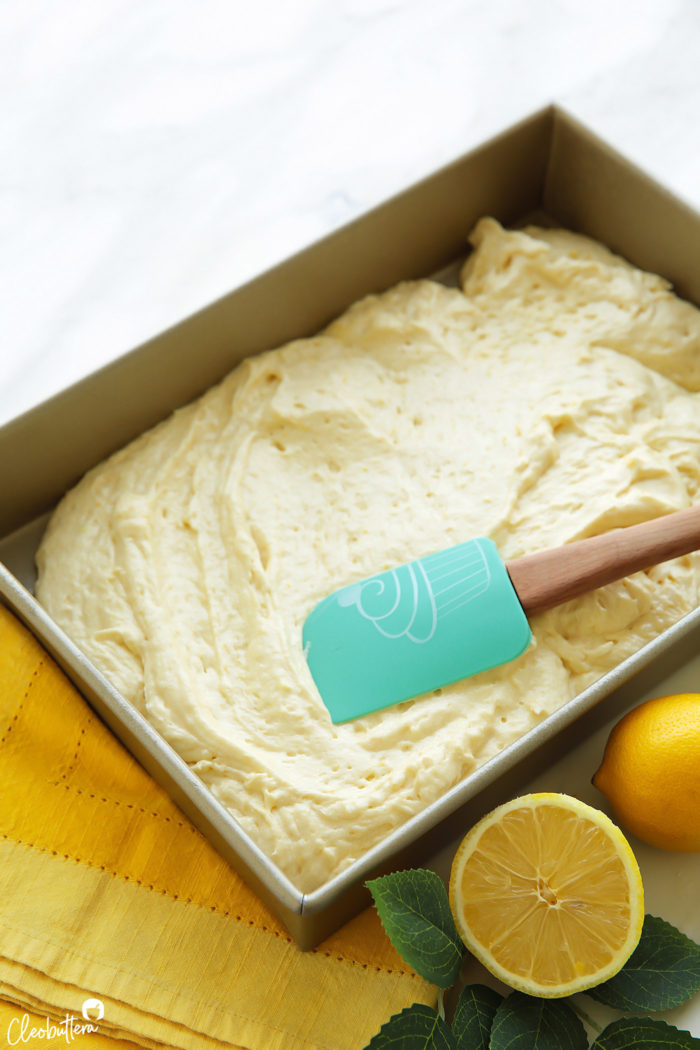 While the cake is baking, make a simple glaze by whisking together lemon juice and powdered sugar. The juice cuts through the sweetness and make the glaze taste just like lemonade. YUM!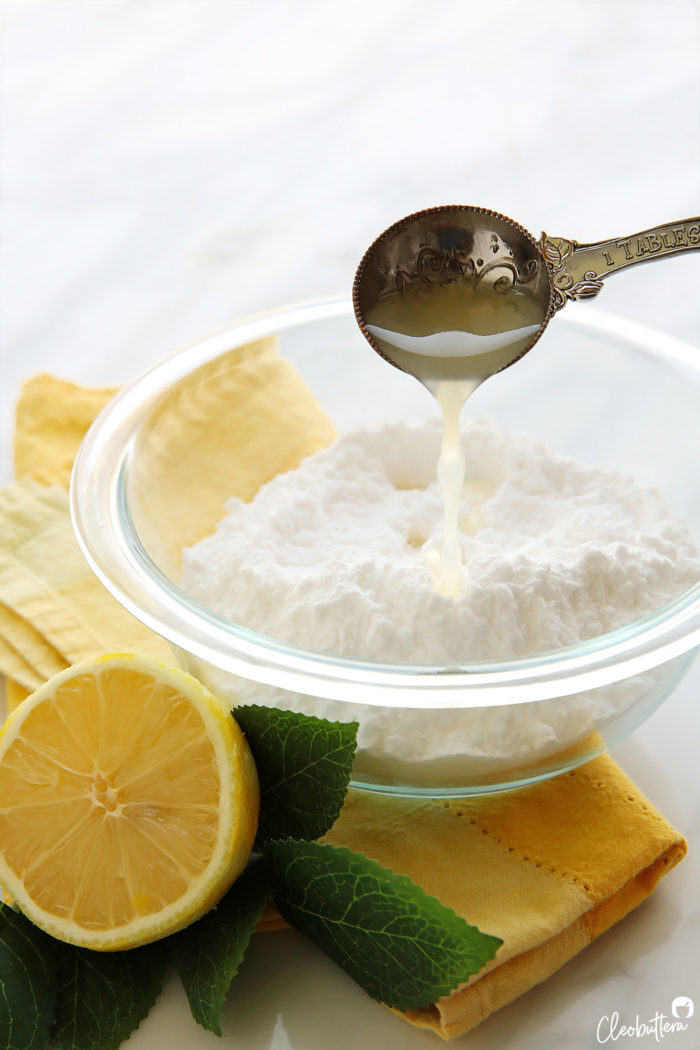 Then as soon as the cake comes out of the oven, pour it over the surface and spread it evenly to cover.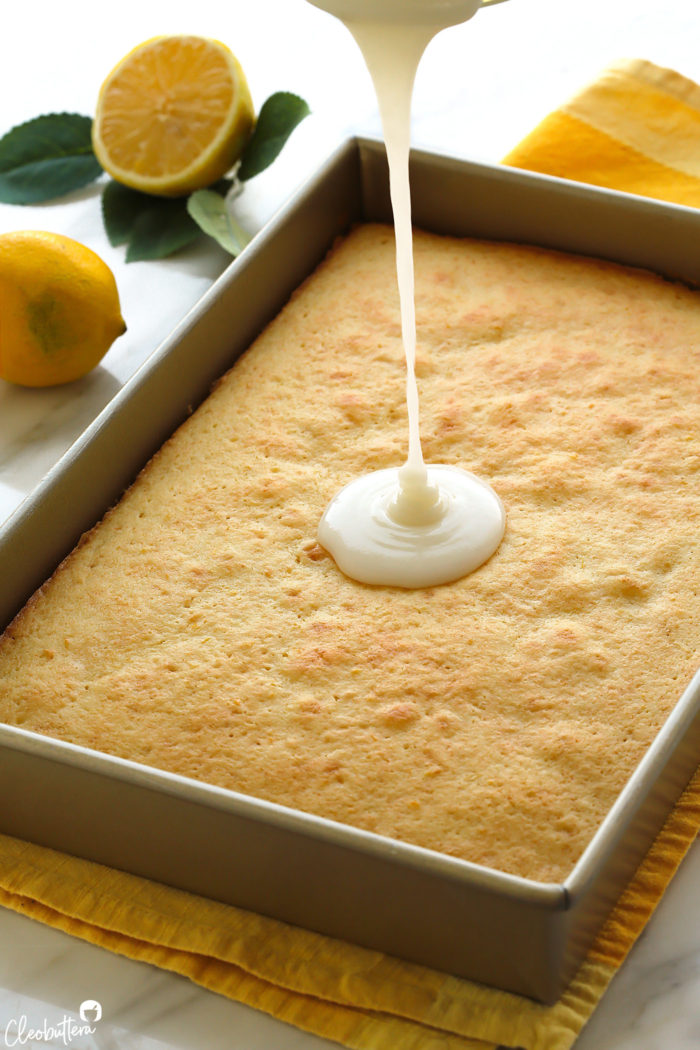 Practice some patience and let the cake cool completely, so the glaze can set and the cake doesn't fall apart as you're serving it, because yes…it's that soft.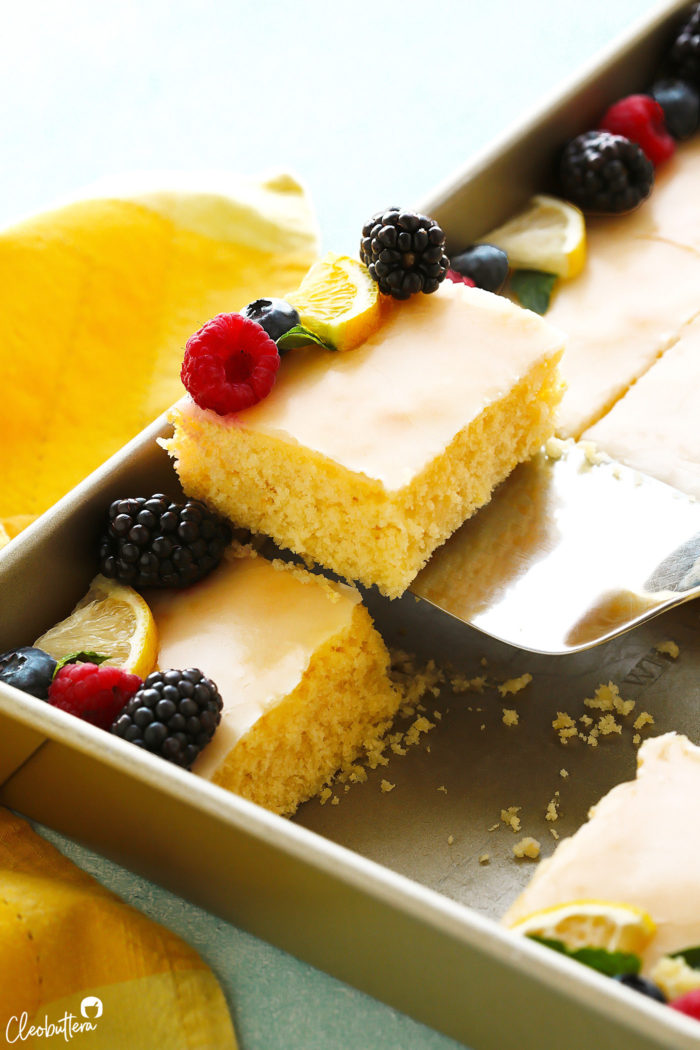 So soft, so lemony, so refreshing, so good.
I hope you love this cake as much as we do. It has now became a new favorite at my house and I have a feeling it will show up a lot at yours.
Yield: 16
The Lemoniest Lemon Sheet Cake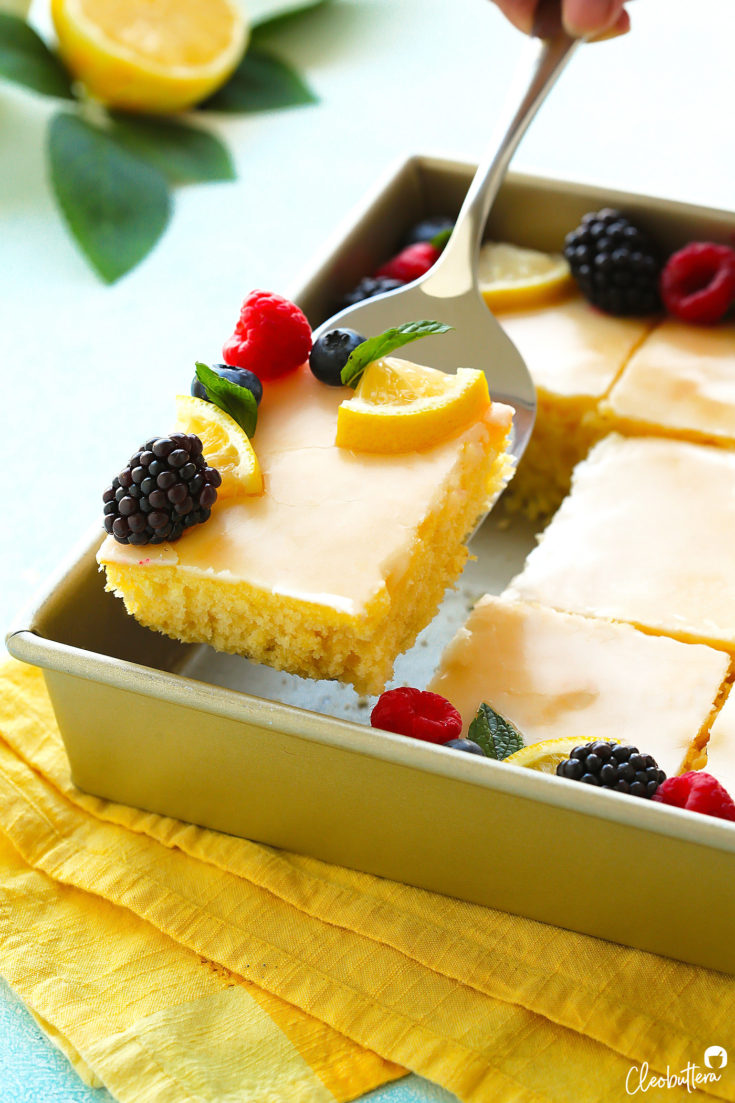 If you're looking for a simple to make lemon cake with bold lemon flavor and a soft and fluffy texture, look no further!  This cake is bright and refreshing with a tender crumb that melts in the mouth!
Prep Time 30 minutes
Cook Time 25 minutes
Additional Time 1 hour
Total Time 1 hour 55 minutes
Ingredients
For the cake:
2 cups plus 2 tablespoons (252g) all purpose flour*
1/4 cup (28g) cornstarch*
1 1/2 teaspoons baking powder
1/2 teaspoon baking soda
1/2 teaspoon salt
3/4 cup (170g) plain full-fat Greek yogurt, at room temperature*
1/4 cup (59ml) lemon juice, freshly squeezed
1/2 teaspoon vanilla extract (or 1 teaspoon if using imitation vanilla flavoring)
1 1/2 cup (300g) granulated sugar
4 tablespoons (about 20 grams) lemon zest (reduce to 3 tablespoons for a less strong lemon flavor)*
3/4 cup (170g) unsalted butter, softened to room temperature
3 large eggs, at room temperature
1 egg yolk, at room temperature (freeze egg white for later use)
For the glaze:
2 cups (227g) powdered sugar
1/4 cup (59ml) lemon juice, freshly squeezed
For Garnish (optional):
Mixed Berries
Lemon slices
Mint leaves
Instructions
To make the cake:
Adjust oven rack to middle position and preheat oven to 162C/325F.
Spray a 13X9-inch (33X23 cm) baking pan with non-stick cooking spray, or grease the bottom and sides with butter and dust with flour.
In a medium bowl, whisk together the flour, cornstarch, baking powder, baking soda and salt. Set aside.
In a liquid measuring cup (or small bowl), whisk together the Greek yogurt, lemon juice and vanilla. Set aside.
In the bowl of a stand mixer fitted with the paddle attachment (or in a large bowl and electric hand mixer), beat together the sugar and lemon zest on medium speed until the sugar has moistened and smells fragrant; about 1 minute.
Add the butter, and beat together until the mixture lightens up in both color and texture; 2 to 3 minutes. The color should turn very pale (almost white) and texture should look fluffy.
Add in the eggs and egg yolk, one at a time, beating well after each addition, until well incorporated.
On lowest speed, add in one-third of the flour mixture and mix until mostly combined. Add in half of the lemon/yogurt mixture and lightly stir until almost mixed in. Continue with adding another one-third of the flour mixture, followed by the remaining lemon/yogurt mixture and ending with the last third of flour mixture. Mix until just combined and a smooth, thick batter forms. Do not overmix. With a rubber spatula, give the batter one good, final stir to make sure that everything is well incorporated. Transfer the batter to the prepared pan and smooth the top.
Bake for 25 to 30 minutes, or until the center of the cake springs back when lightly touched, and a toothpick inserted in the middle comes out clean or with a few cooked crumbs attached. While the cake is baking, prepare the glaze (recipe below).
Take the cake out of the oven, and while still hot, immediately pour on the glaze and spread to cover the surface. Allow the cake to cool completely over a wire rack, at least 1 hour. Garnish with berries, lemon slices and mint leaves if desired.
Cut into squares and serve at room temperature. Store leftovers covered tiightly with plastic wrap or in an airtight container at room temperature for up to 3 days.
To make the glaze:
Whisk together the powdered sugar and lemon juice until smooth, and a thick but pourable consistency is achieved. Cover until ready to use.
Recipe Notes
Cornstarch is used in combination with all-purpose flour in this recipe to imitate the results of cake flour, which produces a finer and more tender crumb. Cake flour could be hard to find in some countries, so this trick works like a charm in this recipe. If you have cake flour on hand, feel free to use that instead of the all purpose flour/cornstarch combo. You will then need to use a total of 2 cups plus 6 tablespoons (280g) cake flour.
Buttermilk and sour cream may be substituted for the Greek yogurt. However, note that buttermilk will produce a slightly less moist cake and sour cream will produce a relatively denser one; still amazing though.
I have not tried natural-style yogurt in this recipe, so can't vouch for its success. I'd concern that the excess moisture will make the cake soggy. If it's all you have, I'd recommend straining it over a cheesecloth-lined sieve overnight in the fridge, to rid it of its excess liquid. Remeasure amount called for in the recipe before using.
Note that 4 tablespoons lemon zest makes for a super lemony cake, that is slightly sour but not bitter. If you prefer a milder lemon flavor, feel free to reduce the lemon zest amount to 3 tablespoons (15g). You'll need about 6 large lemons for the cake.
The cake bakes at a lower than normal temperature, to decrease the chance for doming, creating an evenly flat top.
Measurements Note: All recipes of this site have been developed using weight measurements. Although US volume measurements have been included for your convenience, it is highly encouraged that you weigh your ingredients using a kitchen scale to get the best possible results. Due to the sensitive nature of baking, kitchen scales are proven to yield more accurate and consistent results than measuring cups. Enjoy!
This post may contain affiliate links.
All images and content are owned by Cleobuttera® and are copyright protected. Please do not use my images without prior permission. If you would like to republish a recipe, please rewrite it in your own words and link back to the recipe page on my site. Original recipes and creations of this site are intended for personal and home use. Commercial replication or media consumption are only allowed with a written consent and agreement with Cleobuttera owners. Otherwise it is considered a violation of intellectual property. Thank you for respecting and appreciating the amount of time and effort that goes into creating free, unique recipes that make people happy.