Kanafeh Grilled Cheese Sandwich
If you love cheese kanafeh, you're gonna go nuts over this sandwich version of it! Crunchy kanafeh crusted bread, encasing ooey gooey mozzarella, that gets drenched in a rose and orange blossom kissed syrup. You'll be amazed at how much this easy shortcut tastes exactly like the Middle Eastern treat!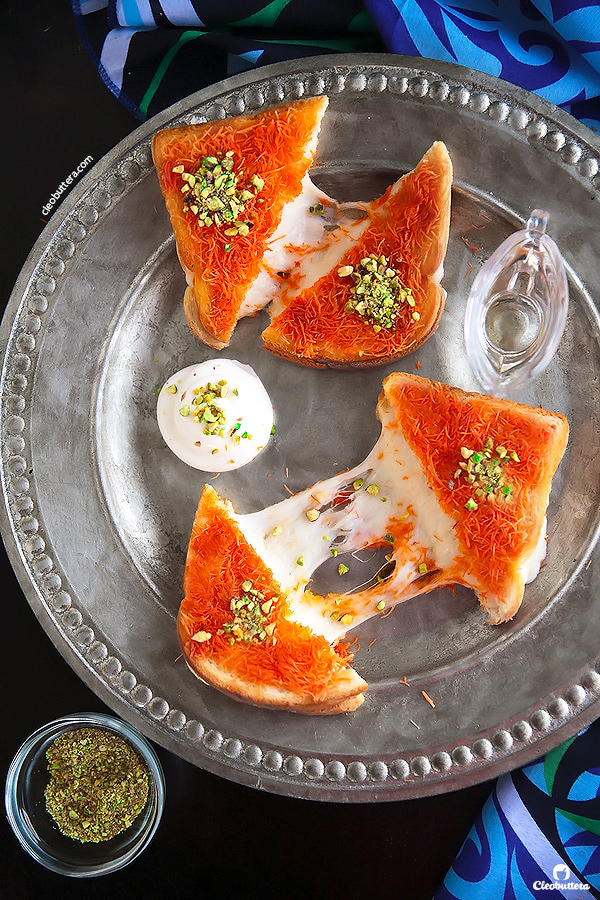 If I could eat one breakfast item, everyday, for the rest of my life, it would be Grilled Cheese Sandwich. Hands down my favorite ever!
I'll pass on those eggs and cereal never really fills me up. I'll take a muffin or pancakes from time to time, fava beans (foul) if I need to fuel up, but grilled cheese sandwiches will forever reign supreme. It's my ultimate comfort "morning" food. Yes…I'm too scared to commit to one comfort food, so I like to categorize them according to hours of day, seasons and cuisines.
Speaking of cuisines…when it comes to Middle Eastern, it's Kanafeh all the way! Be it cream filled, nut-stuffed or even cheesecake sandwiched, I love them all! However I've lately grown fond of the stringy cheese filled ones, more popular in Turkey and the Levant area of the world.
So it was only a matter of time were I'd roll these two comfort foods in one outrageous hybrid.
Ladies and gentlemens, please meet the Kanafeh Grilled Cheese Sandwich!
A sandwich twist on the gooey cheese filled Kanafeh, more commonly known as Kanafeh Nabulsia. This sandwich has all the elements of this type of kanafeh, yet prepared in a fraction of the time. You'll be blown away by how much it tastes like it!
Super crunchy kanafeh crusted bread, sandwiching an oozing layer of mozzarella cheese, sprinkled with pistachios and dosed with an aromatic rose and orange blossom water flavored simple syrup, signature of Kanafeh Nabulsia.
It's crunchy. It's gooey. It's sweet. It's savory. It's ridiculous!
One bite and I was transported to Jordan, were I was first introduced to this delicacy. It was at a wedding and I ate an embarrassing amount of it. Let's not get there. But then I tried another version of it during a trip to Beirut, Lebanon, where the slice of kanafeh was served INSIDE a round loaf of bread (ka-ak)!!! Because ONE type carb was not enough! As indulgent as this may sound, this method only strengthens my theory that a Grilled Cheese Kanafeh Sandwich is bound to make perfect sense.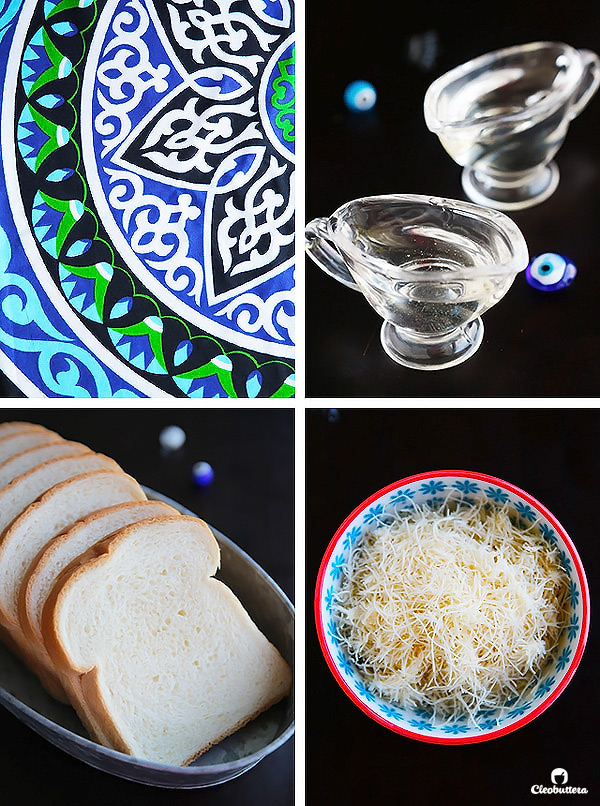 Authentic cheese Kanafeh Nabulsia is most commonly made with Arabic cheeses like Nabulsi, Akkawi or Shelella, which has a stringy pull and a mild taste similar to that of mozzarella. Some modern recipes of this version of Kanafeh have opted for mozzarella cheese due to its global accessibilty and it's low salt content. And that's what I've chosen to use here today too, but you could certainly go for whatever melty Arabic cheese accessible to you. If you do, just be sure to desalt them in water first, as they tend to be super salty. With mozzarella, no need for that step.
Another trait attributed to Kanafeh Nabulsia is it's strikingly orange color, achieved by using a special type food coloring made especially for that purpose. Regular food coloring will do too, just like I did today. Some versions refrain from coloring their kanafeh and leave au natural, which is beautifully golden, so it's really up to you. When I make this sandwich at home, I skip the food coloring, because there's really no need for it. However I used it this time around for photography purposes.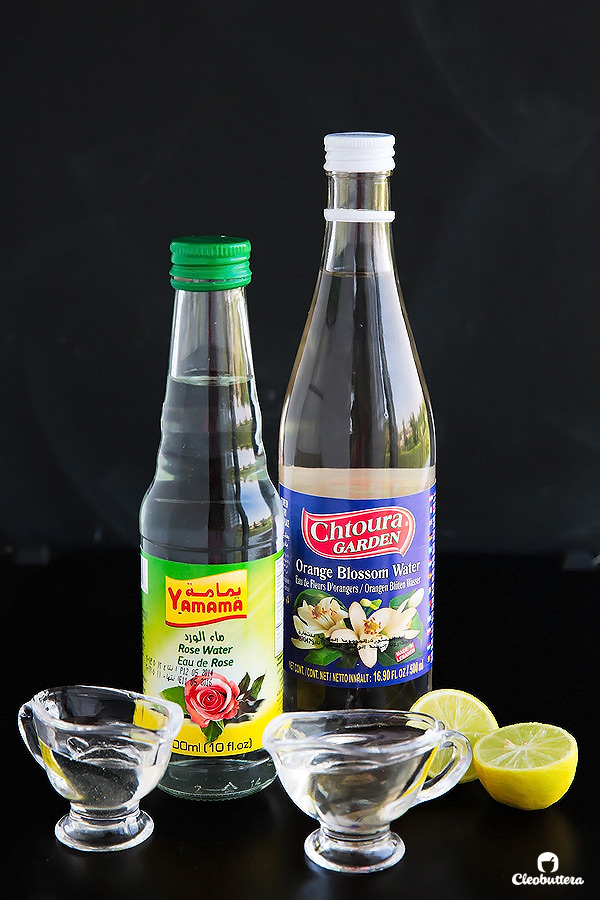 My favorite part of cheese kanafeh though, and one that it just can't do without, is its signature simple syrup. It's DRINKABLE! Rose water and orange blossom water flavors a sticky sweet simple syrup, making it lip-smacking-delicious. Drizzled on top of kanafeh, it sweetens and flavors the rather mild-tasting concoction. It just ties everything together and gives it that exotic Middle-Eastern touch. I love it and I'm liberally using it over this sandwich with no shame. It's kind of what maple syrup is to pancakes and french toast, so don't tempted to leave it out.
The syrup takes 5 minutes to make and once that's out of the way, the rest of the sandwich takes just about the same time as making a regular grilled cheese sandwich.
Now let's dive into the details…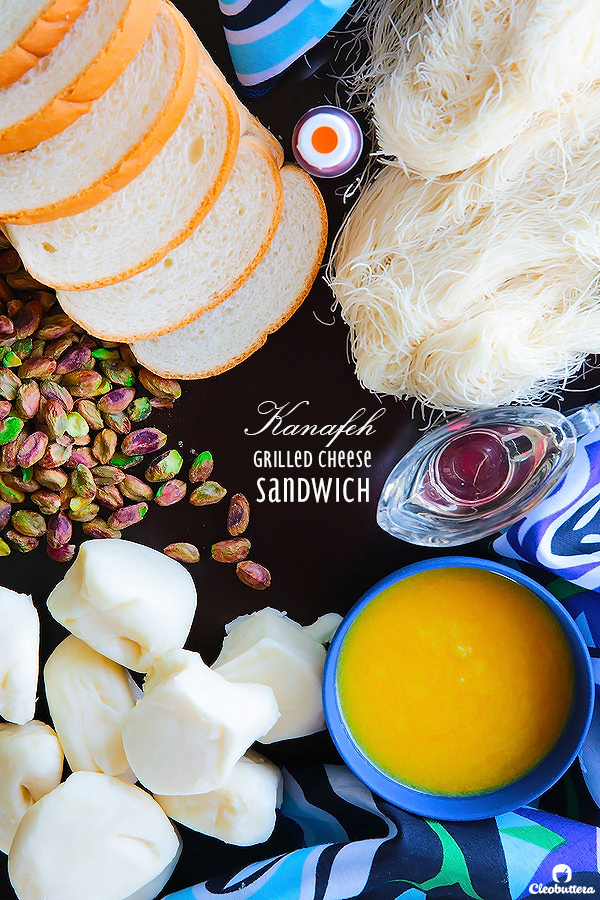 First you'll mix some melted ghee (or butter) with a drop or 2 of orange food coloring (if using), then pour that all over some shredded kanafeh.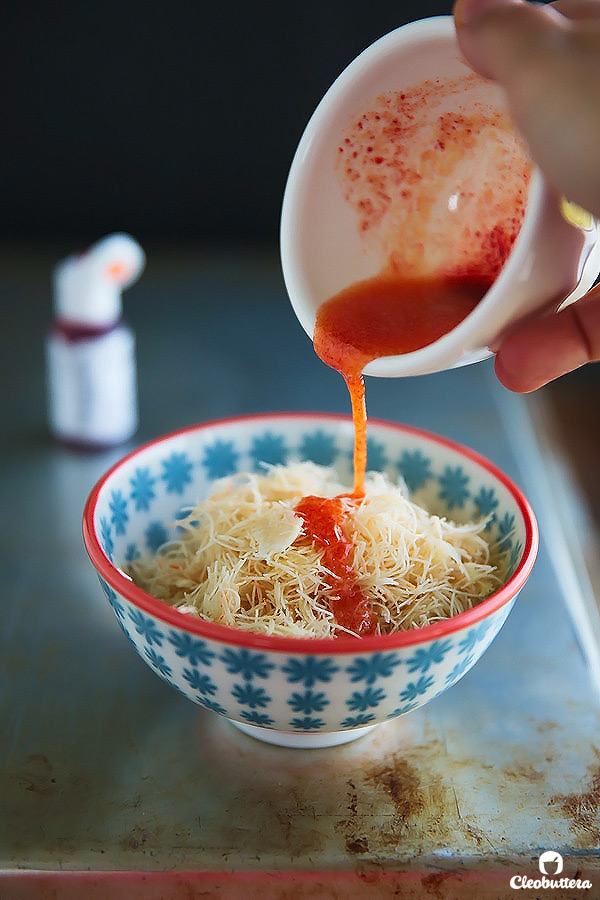 Stir it all up together until the kanafeh is evenly coated.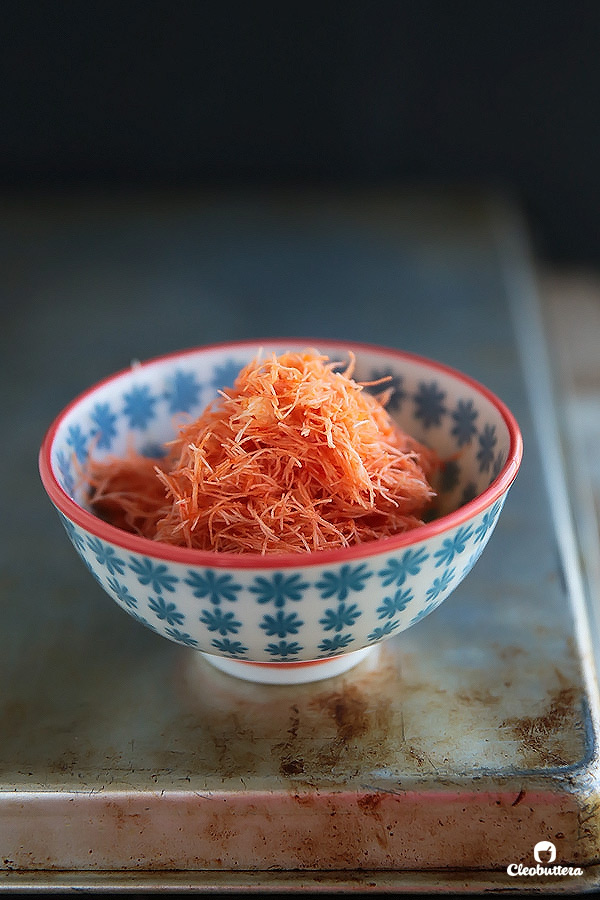 Then smear some more ghee (I know! I never claimed this to be health food) on top of one side of each slice of bread. We're leaving the other side bare because we're cutting calories here…LOL!!!!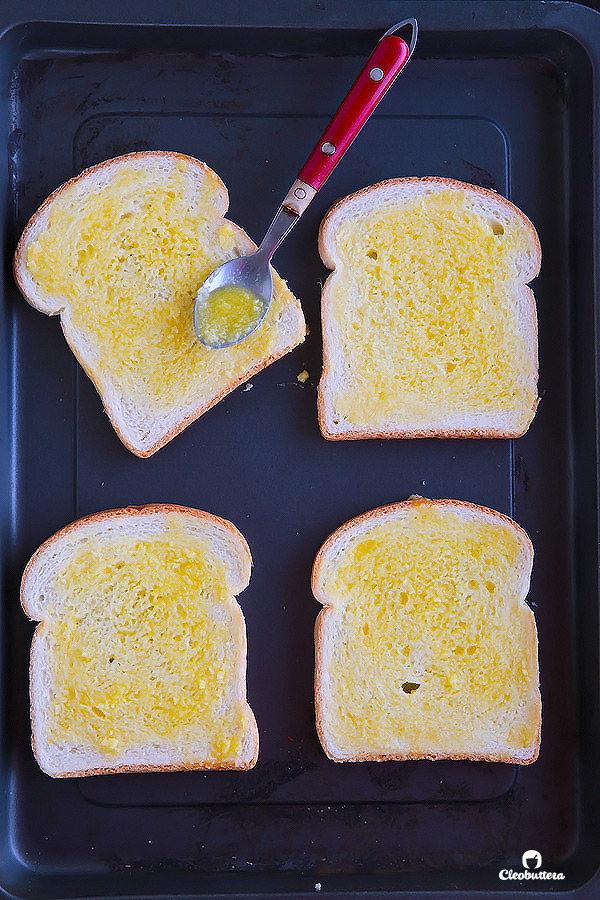 Then evenly divide your kanafeh on top of each bread slice, spread and press to adhere as much as possible.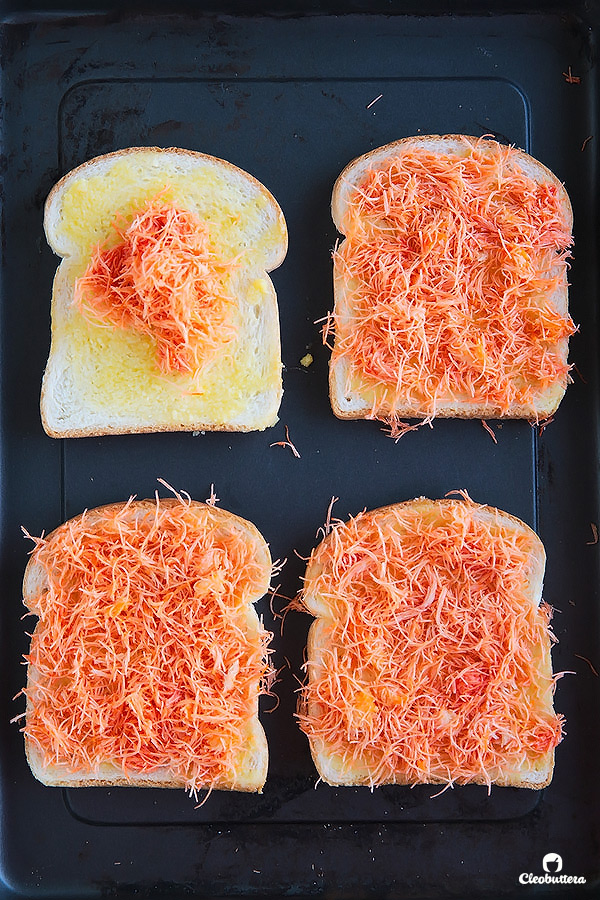 Carefully place 2 of bread slices (kanafeh side facing down) on a hot, non-stick skillet. Then top with cheese, and end with the other 2 slices of bread, this time kanafeh side facing up. Cook on the first side, until the kanafeh sticks really well to the bread, the texture turns crunchy, the color deepens and the cheese begins to melt, 3 to 5 minutes.
Turn on the other side and repeat until the cheese has completely melted. YUM!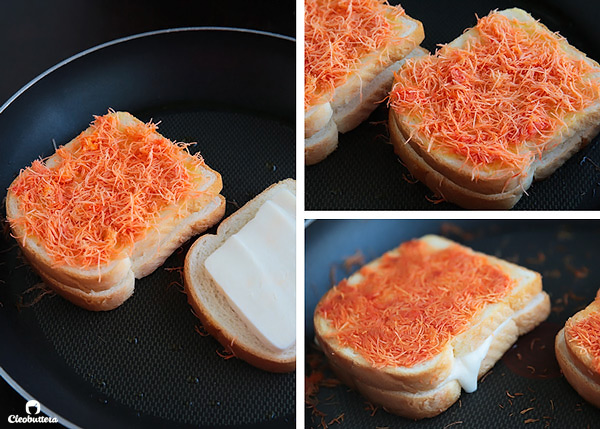 That's all folk! Just sprinkle with some pistachios, cut in half…to share…if you could resist.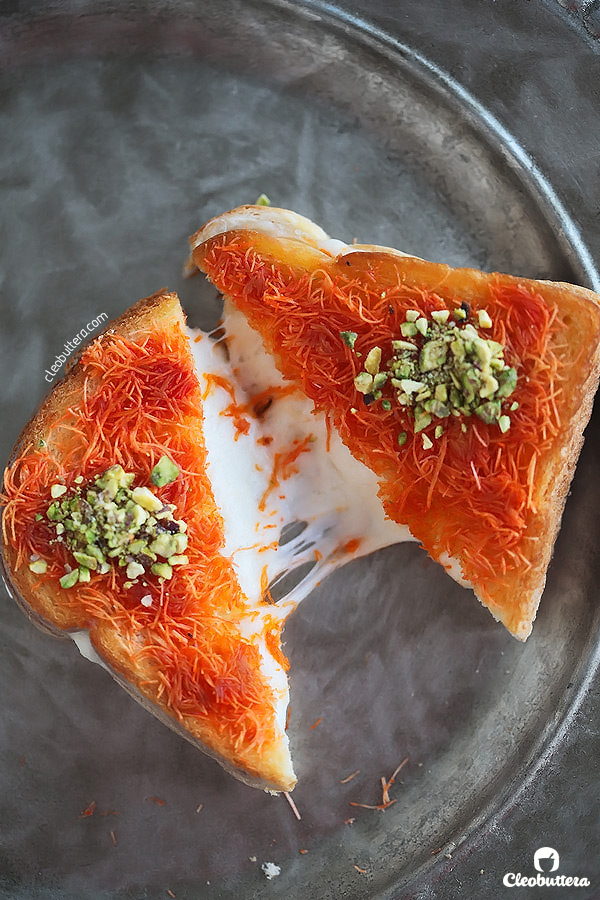 Puuuuuuuuull…Drooooooool…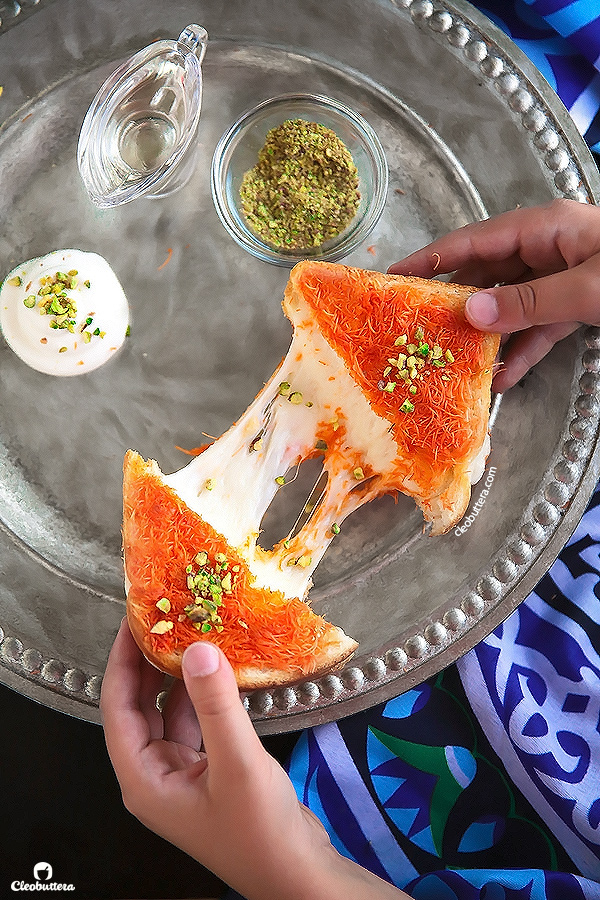 Then drench. Must must drench.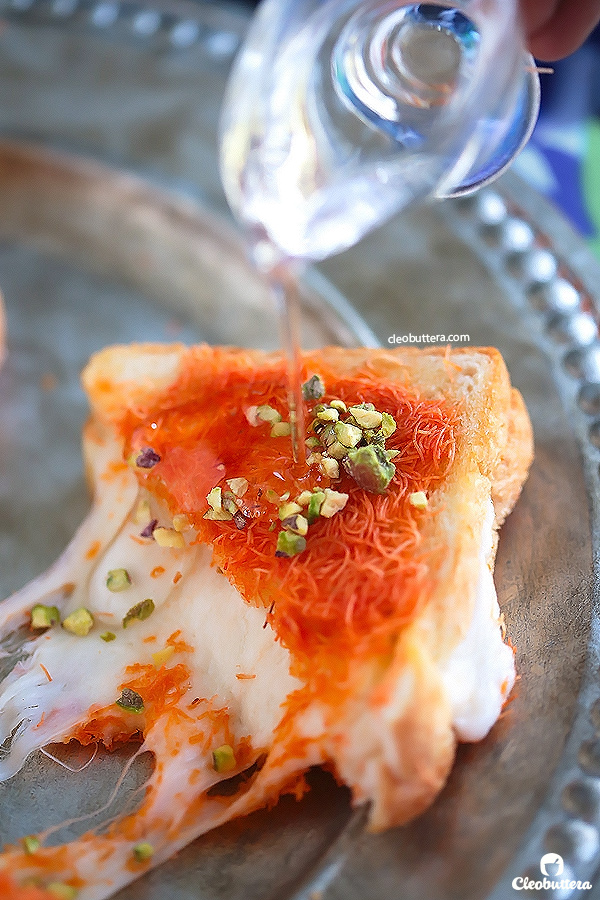 Now be prepared for your taste buds to "belly dance."
Yield: 2 sandwiches
Kanafeh Grilled Cheese Sandwich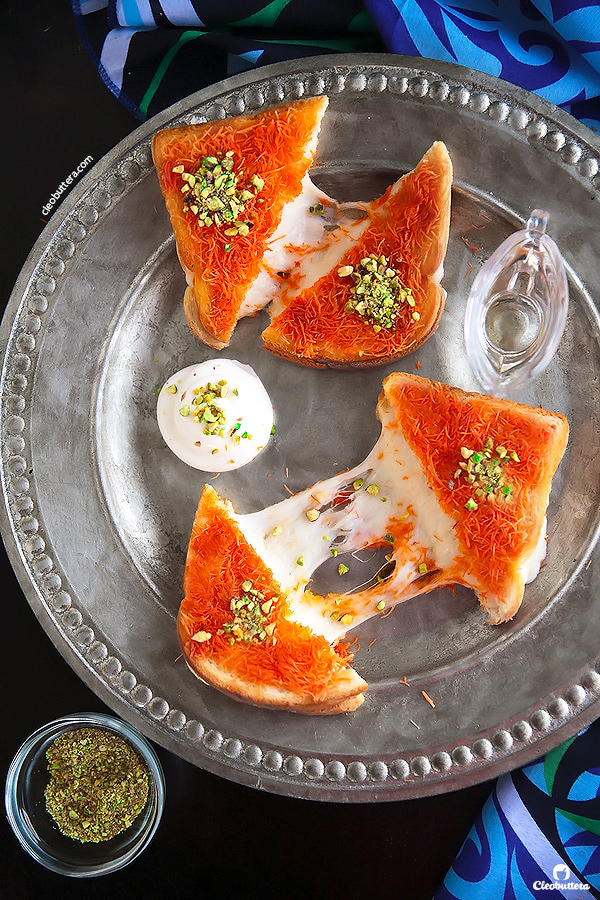 Crunchy kanafeh crusted bread, encasing ooey gooey mozzarella, that gets drenched in a rose and orange blossom kissed syrup. You'll be amazed at how much this easy shortcut tastes exactly like the Middle Eastern treat!
Prep Time 10 minutes
Cook Time 10 minutes
Total Time 20 minutes
Ingredients
For the sandwiches:
3/4 cup (45g) kanafeh/konafa or kadaifi dough, finely shredded*
4 teaspoons (17g) melted ghee or butter*
Orange food coloring, optional
4 slices bread of your choice, I used white sandwich bread
4 extra teaspoons ghee or butter (softened to room temperature), for spreading on the bread
4oz (113g) Mozzarella cheese (or desalted melty Arabic cheese like Nabulsi, Akkawi or Shelella), shredded or sliced
Finely chopped pistachios, for garnish
Rose & orange blossom water flavored simple syrup, for drizzling
For the rose & orange blossom water flavored sugar syrup:*
1/2 cup (110g) granulated sugar
1/4 cup water
A tiny squeeze of lemon juice
1/8 teaspoon rose water
1/8 teaspoon orange blossom water
Instructions
To make the rose & orange blossom flavored simple syrup: (Could be prepared up to a week in advance)
In the smallest saucepan, combine together the sugar, water and squeeze of lemon juice. Set on the stove top over medium high heat.
Bring to a boil, then immediately reduce the heat to low and let it simmer for no longer than 5 minutes. Set a timer! The syrup will thicken slightly, and have a consistency similar to pancake syrup. If it simmers for longer it could thicken too much and become candy-like and not pourable.
Transfer to a small bowl or gravy boat and put in the fridge to cool slightly while you make the sandwiches.
To make the sandwiches:
In a small bowl, stir together the ghee or butter with a few drops of orange food colouring, if using. If not using, the skip this step.
In a medium bowl, mix together the 4 teaspoons of melted ghee or butter mixture with the shredded kanafeh until evenly coated.
Cover one side of each slice of bread with a thin layer of ghee or butter, a scant teaspoon for each slice. Leave the other side bare.
Evenly divide the kanafeh mixture on the greased side of the 4 slices of bread, about 2 tablespoons per side. Press to adhere.
On a medium or large non-stick skillet, heat 1 teaspoon of ghee over medium-high heat.
Place 2 slices of bread on the skillet, kanafeh side facing down. Top each slice with mozzarella cheese, then place the other 2 slices of bread on top of the cheese, bare side facing down; kanafeh side facing up.
Cook on the first side, until the kanafeh sticks really well to the bread, the texture turns crunchy, the color deepens and the cheese begins to melt, 3 to 5 minutes. Adjust heat as necessary. If the kanafeh is browning too quickly and the cheese is melting slowly, turn the heat down so the kanafeh doesn't burn.
Using a spatula, turn the sandwich to the other side and cook until the kanafeh is sticking, feels crunchy, deeps in color and the cheese is fully melted.
Transfer to a serving plate, cut in half, sprinkle with chopped pistachios and drizzle with the flavored simple syrup. Serve right away while the cheese is still all melty and gooey, passing extra syrup alongside.
Recipe Notes
Recipe could be halved, doubled, tripled, etc to make whatever amount of sandwiches needed.
Sugar syrup can be substituted with about 1/2 cup from the Big Batch Sugar Syrup, if you have it around.
Kanafeh or kadaifi dough could be found in non-Middle Eastern countries in the Greek or Middle Eastern section of most big supermarkets, or in Middle-Eastern speciality stores. If not found, panko breadcrumbs could be used instead, as it will give a similar crunch.
Ghee is more commonly used in making kanafeh because of its authentic taste, however, clarified or even regular butter could be substituted with just as delicious results.
Measurements Note: All recipes of this site have been developed using weight measurements. Although US volume measurements have been included for your convenience, it is highly encouraged that you weigh your ingredients using a kitchen scale to get the best possible results. Due to the sensitive nature of baking, kitchen scales are proven to yield more accurate and consistent results than measuring cups. Enjoy!
This post may contain affiliate links.
All images and content are owned by Cleobuttera® and are copyright protected. Please do not use my images without prior permission. If you would like to republish a recipe, please rewrite it in your own words and link back to the recipe page on my site. Original recipes and creations of this site are intended for personal and home use. Commercial replication or media consumption are only allowed with a written consent and agreement with Cleobuttera owners. Otherwise it is considered a violation of intellectual property. Thank you for respecting and appreciating the amount of time and effort that goes into creating free, unique recipes that make people happy.