Pistachio Baklava
Thirty crisp layers of buttery phyllo and heaps of fragrant pistachios, combine to make an utterly delicious, light yet rich baklava that tastes like it came straight from a Turkish bakery. Plus…recipe VIDEO included!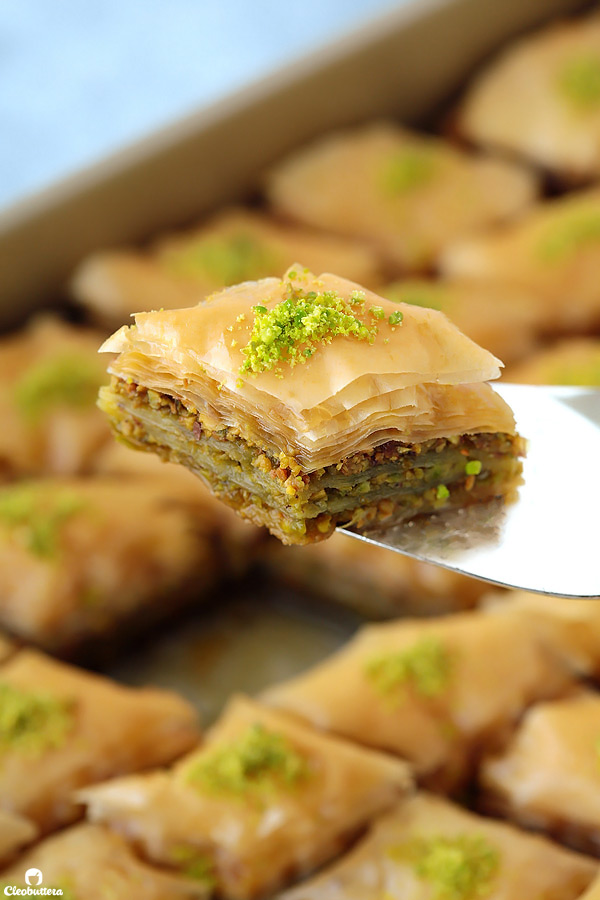 Happy first day of Ramadan to all those who celebrate! As for everyone else…enjoy the ride!
This year I'm showering the Holy Month with 14 mouthwatering Middle Eastern and Mediterranean desserts that will make your iftar a little sweeter.
As most of you know by now, I live in Egypt, where Middle Eastern desserts are a Ramadan tradition that is as old as time. Their significance precedes their obvious sweetness and beautiful nostalgia. For many of us, its the tangible marking of the month, the symbol of that long awaited moment, the gift that guests bring to their hosts, the sweet ending that gathers family and friends, and the high five for enduring a long day of fasting.
We enjoy Middle Eastern desserts year round, but in Ramadan…they're extra special.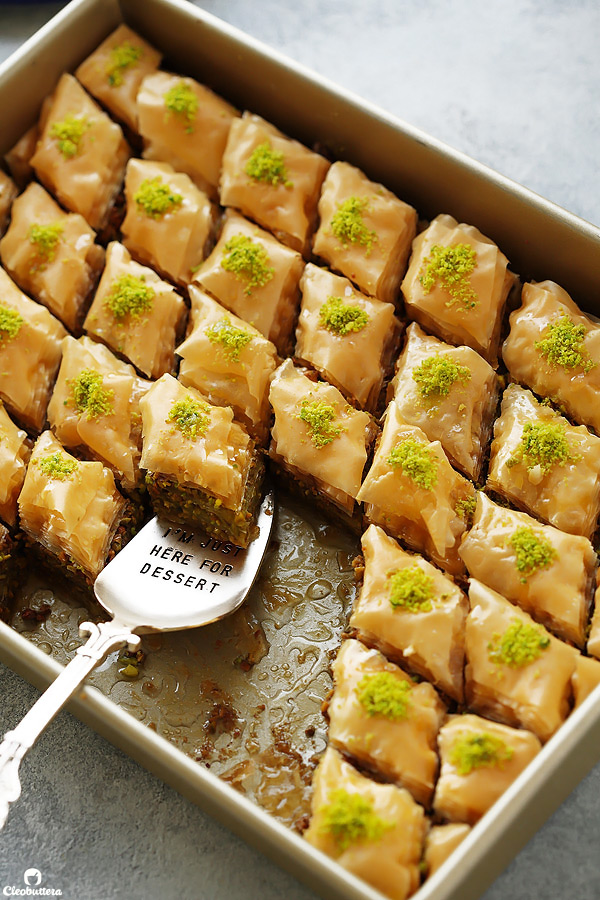 First day of Ramadan is the opening ceremony of the month, traditionally celebrated with a big family gathering over the meal of iftar (breaking fast meal), which is usually an exceptional one, worthy of the day's gloriousness. When I was scheduling the recipes I plan to share with you throughout the month, I couldn't think of an equally magnificent recipe to parallel this first day's significance.
This Pistachio Baklava is one remarkable ending to the most special meal, whether in Ramadan or any time of the year.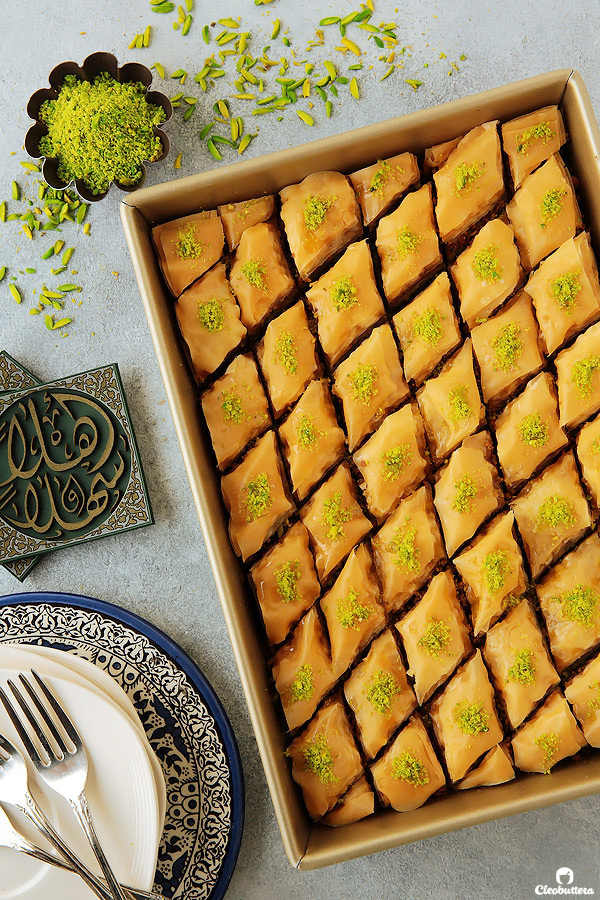 I have made baklava before in ways that stray far from tradition. One of them smothered in Nutella and the other in the form of ice cream sundaes…what can I say? I love to play with food.
But as much as food fusions will always have a special place in my heart (and tummy), it was high time I visit the timeless classics…and boy am I glad I did.
I seriously can't think of the right adjectives that would do this recipe justice. It's just a winner in every way, shape or form!
I'm not sure what I'm in love with more…
The 30 layers of buttery, crispy phyllo, the vibrantly green pistachios, or the orange blossom water perfumed syrup that squirts with every bite.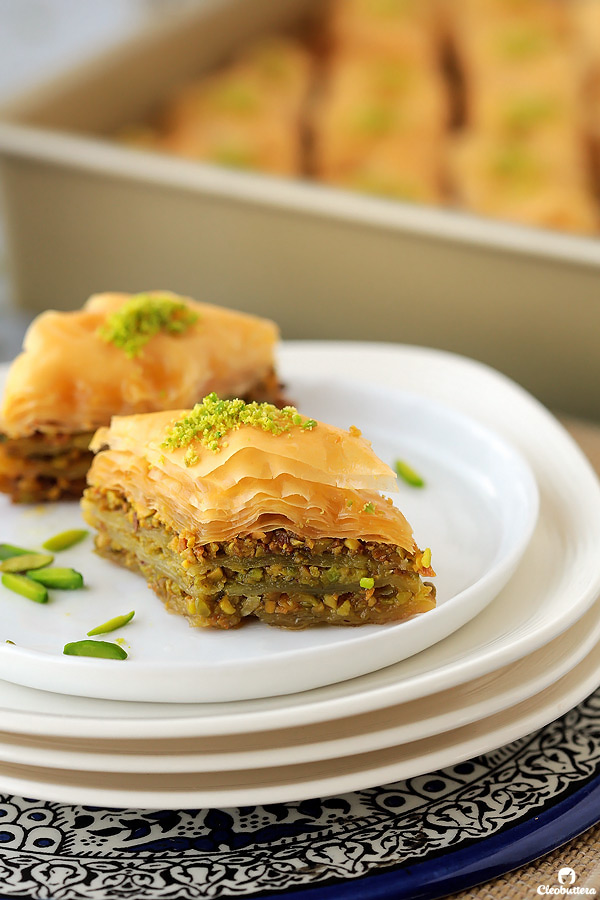 One common remark I keep getting from people who try this, is that it tastes like they've been transported to Turkey. Given that Turkey is the holy shrine of baklavas, I'm taking this as a HUGE compliment. And if that doesn't convince you to make this recipe, I don't know what will.
Maybe the fact that its delicately crispy, beautifully flaky, perfectly sweet, drippingly syrupy and fragrant with the most mesmerizing nutty flavors of pistachios and floral orange blossom water will get you to kitchen.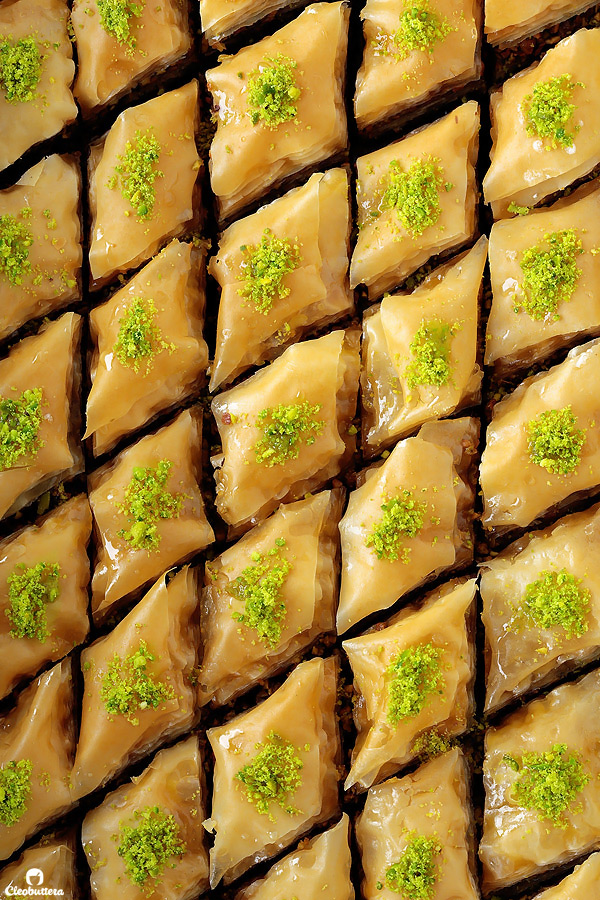 Or the fact that its packed with 3 generous cups of pistachios, and that each bite is contradictorily light in texture, yet rich in flavor. Or maybe that it will make you the the star of the crowd, or in that case, the "diamond." Get it? Lol!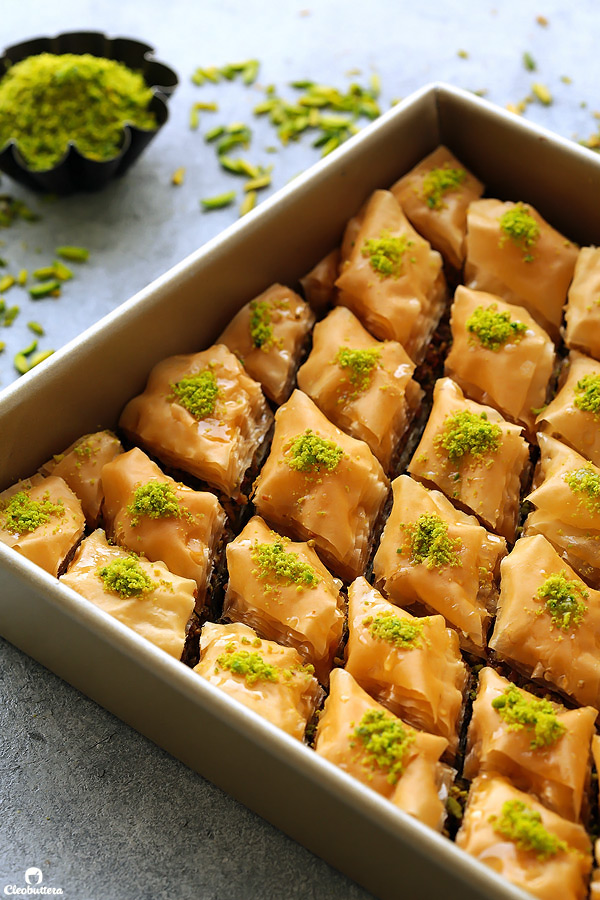 If that doesn't talk you into making this baklava for your upcoming special occasion, I know what will; the fact that it's SIMPLE to make, and that its actually best made a day in advance and will keep well for 10 days…that is if it lasts that long.
Let me prove it to you, because you're only 4 ingredients away to making the best baklava of your life!
Four? Yes four! That is if you already syrup from my Big Batch Sugar Syrup lying around. Otherwise, they're 7. Still simple enough. Basically, your list of ingredients comes to:
Sugar Syrup: I love to lightly flavor it with orange blossom water here; really compliments the pistachio flavor. I also add a tad bit of glucose to it, to prevent crystallization, but that's optional.
Phyllo Dough: A LOT of it. Two packages to be exact because you'll need 30 sheets.
Pistachios…obvi. And check out those ridiculously green ones…I got those as a gift from Dubai, but any good quality, unsalted pistachios will work just as great. In fact, I used the mainstream ones for the video below.
Melted Ghee, or clarified butter: I prefer to use ghee, because I'm too lazy to clarify butter.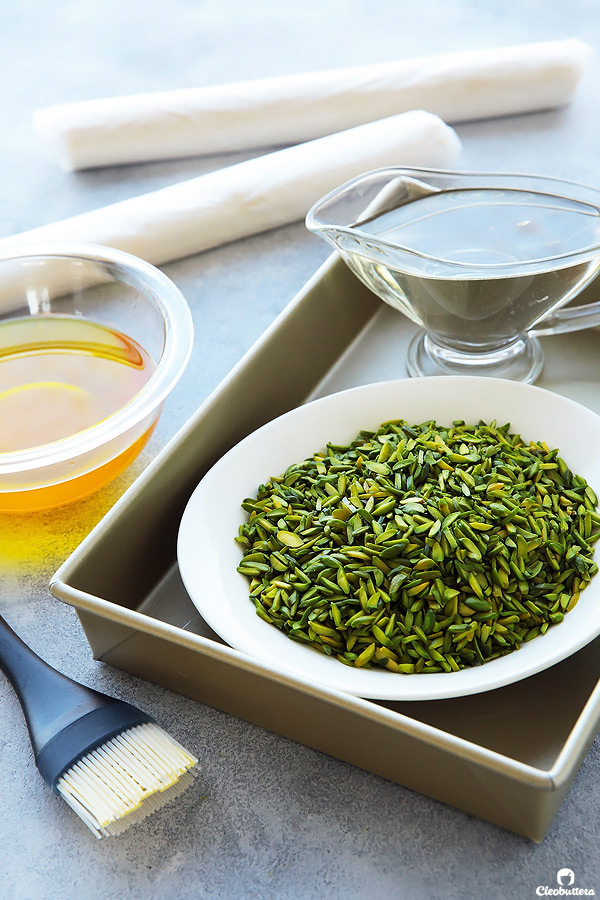 Why does butter need to be clarified here?
Butter is made up of fat, milk and water solids. Fat, is great, its what we need here. But the milk and water solids don't have a high smoking point, which can cause the baklava to bake unevenly and even worse, lend a burnt taste. So clarifying the butter, is basically the process of removing those milk and water solids, leaving behind the pure liquid fat, which is essentially what ghee is. Baklava coated with clarified butter (or ghee) will evenly brown, won't burn and better yet, will keep longer without turning rancid. Here's a great tutorial on clarifying butter.
The process of making baklava, as mentioned earlier, is pretty simple…its only a matter of assembly. So if you can stack, you can make baklava. Check it out!
You start by layering 8 sheet of phyllo dough, each sheet brushed with melted ghee (or clarified butter) then top with a cup of ground pistachios. Repeat this process, but this time around place only 6 sheets of phyllo, another cup of pistachios, 6 more phyllo, the last cup of pistachio, then top with the remaining 10 sheets of phyllo. (Make sure to always keep the phyllo you're not working with covered with a layer of plastic wrap topped with a damp towel).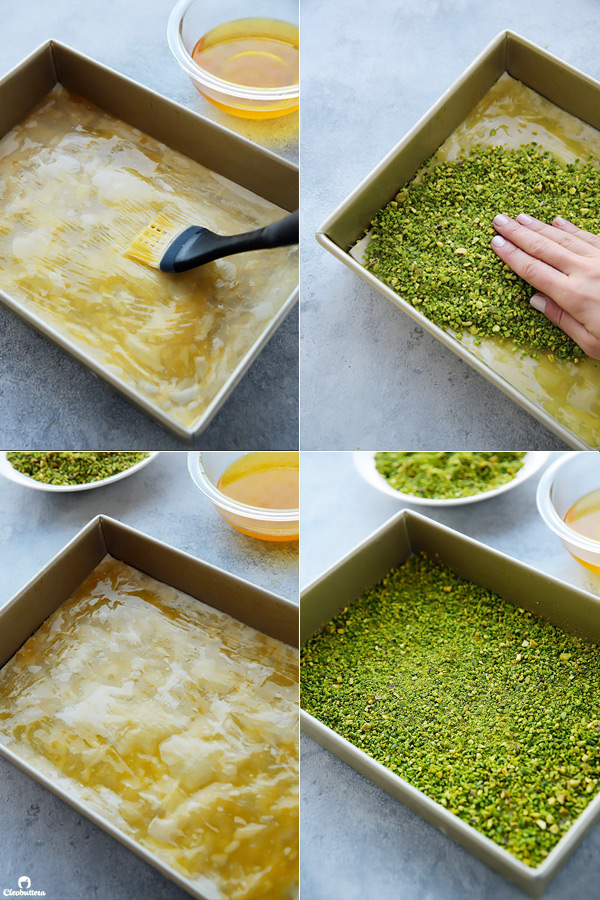 Do not brush the final layer with ghee/clarifed butter just yet, because you're gonna want to compress the layers with your hands to release any air pockets. After that you're gonna use a sharp knife to cut the baklavas into diamonds. Now's the time to brush the top layer with a good amount of ghee/clarified butter. Then into the oven it goes!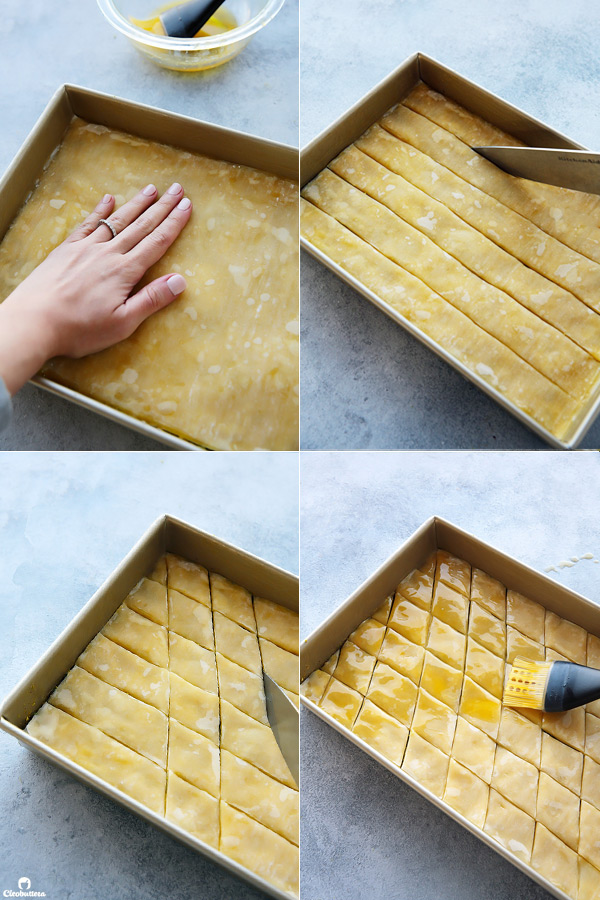 Once it reaches that golden perfection, which takes around 1 1/2 hours, take it out of the oven, and immediately pour that fragrant orange blossom syrup between the cut lines and over the top. Make sure your syrup is at room temperature when you do this.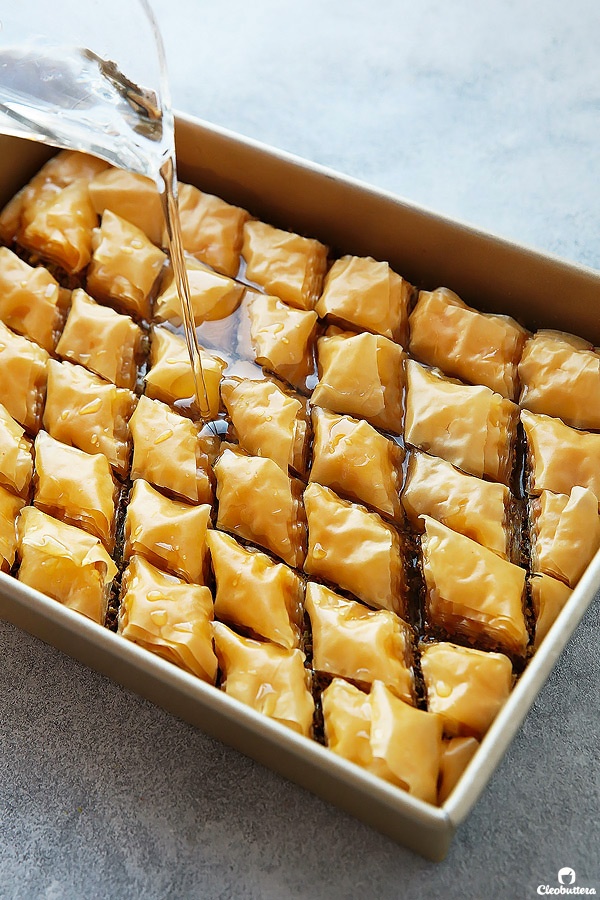 I know you're gonna want to dig in right away…but patience my friend. Patience. Good things comes to those who wait. The baklava tastes best when left to sit at least 8 hours before serving to give the flavors a chance to bond and get happy together. Trust me…its worth the wait.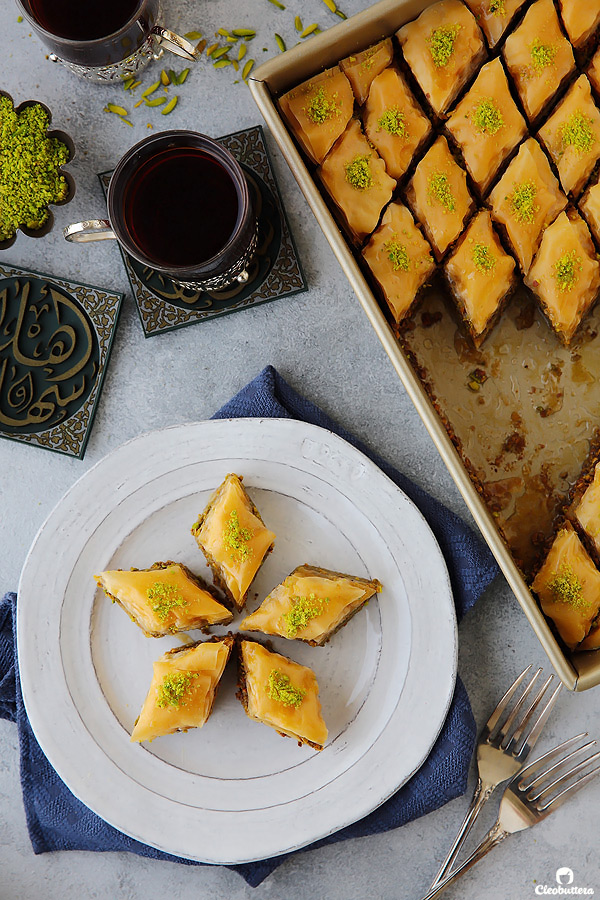 After that…go nuts! And word of the wise…try this ice cream sandwiched between it!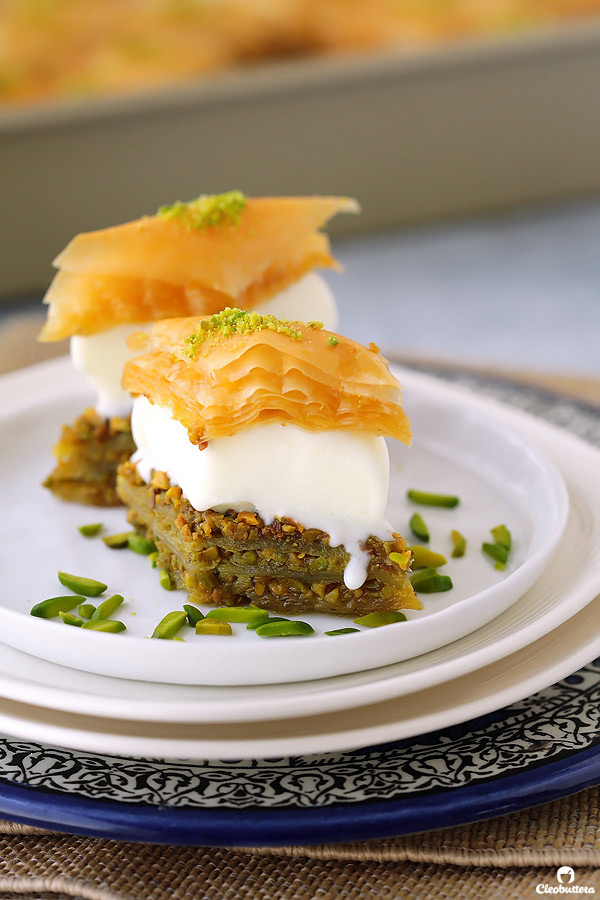 Enjoy my friends 🙂
Yield: Makes about 40 pieces
Pistachio Baklava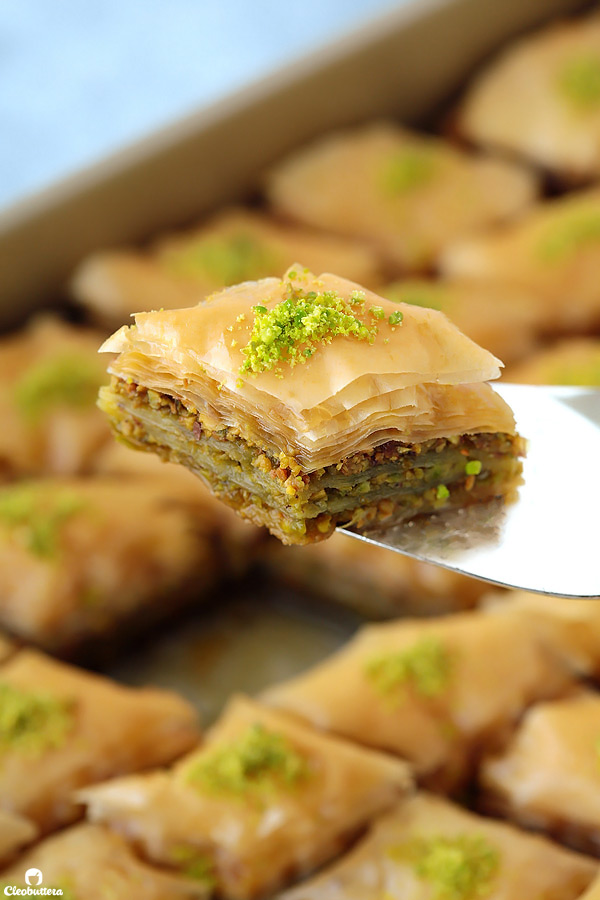 Make sure that the phyllo is fully thawed before using. Leave it in the refrigerator overnight or on the countertop for four to five hours. Do NOT microwave. Always keep the phyllo you're not working with covered with a layer of plastic wrap topped with a damp towel. When assembling, use the nicest, most intact phyllo sheets for the bottom and top layers; use sheets with tears in the middle layers, where their imperfections will go unnoticed. The baklava tastes best after it has sat for 8 hours upon cooling, so plan ahead!
Prep Time 45 minutes
Cook Time 1 hour 30 minutes
Additional Time 8 hours
Total Time 10 hours 15 minutes
Ingredients
For Sugar Syrup: (*see note)
1¾ cups (350g) granulated sugar
¾ cup water
1 1/2 tablespoons (28g/ 1oz) glucose syrup (optional, but recommended)
A squeeze of lemon
⅛ teaspoon table salt
1 tablespoons orange blossom water (more or less according to taste)
For the Nut Filling:
3 cups (340 g/ 12oz) shelled, raw unsalted pistachios, plus more for garnish
For the Pastry:
2 (500g/ 8oz each) packages phyllo dough, a total of 30 sheets thawed
1 1/8 cup (255g/ 9oz) melted ghee (or 1 ½ cups (340g/ 12oz) unsalted butter, clarified per instructions below, melted, and cooled slightly) (1 1/8 cup clarified)
Instructions
To make the Sugar Syrup:
In a small saucepan, combine the sugar, water, glucose syrup (if using), lemon and salt, and bring to a full boil over medium-high heat, stirring occasionally to ensure that the sugar dissolves. Once boiled, take off heat and stir in the orange blossom water.
Transfer to a measuring cup with a spout or gravy boat and set aside to cool completely before using. (Cooled syrup can be refrigerated in an airtight container up to 4 days; bring back to room temperature before using)
To make the Pastry:
Adjust oven rack to lower-middle position and heat oven to 150C/300F.
Pulse pistachios in food processor until very finely chopped, about fifteen 1-second pulses; transfer to a bowl.
Brush a 13X9-inch baking pan with ghee or clarified butter. Unwrap and unfold phyllo on a large cutting board and smooth out with hands to flatten. Using the pan as a guide, adjust the size of the phyllo by cutting off excess to fit perfectly into the pan. Cover phyllo with plastic wrap, then top with a damp kitchen towel to prevent drying.
Place 1 sheet of phyllo in the bottom of the prepared pan and brush with the ghee or clarified butter until completely coated. Layer 7 more sheets of phyllo into the pan, brushing each sheet with more ghee/butter. You should now have a total of 8 layers of phyllo. Top with 1 cup of the ground pistachios and spread evenly.
Layer 6 more sheets of phyllo into the pan, brushing each layer with more ghee/ clarified butter, then top with another 1 cup of pistachios. Repeat with 6 more sheets of phyllo, more ghee/butter, and the remaining cup of pistachios.
Layer the remaining 10 sheets of phyllo into the pan using the nicest, most intact sheets, brushing each layer, except the final layer, with more ghee/ clarified butter. Working from the center outward, use the palm of your hands to compress the layers and press out any air pockets. Use a sharp knife to cut the baklava into diamonds; 5 cuts vertically and about 8 cuts diagonally. Brush the remaining ghee/clarified butter (which should be around 4 tablespoons) over the surface.
Bake the baklava until golden and crisp, about 1 1/2 to 1 3/4 hours (I do 1 3/4 hours), rotating the pan halfway through baking.
Immediately after removing the baklava from oven, pour the cooled syrup over cut lines until about 2 tablespoons remain (syrup will sizzle when it hits hot pan); drizzle remaining syrup over the surface. Garnish center of each piece with pinch of ground pistachios.
Cool to room temperature on wire rack, about 3 hours, then cover with foil and let stand at least 8 hours before serving. (Once cooled, baklava can be served, but flavor and texture improve if left to stand at least 8 hours. Baklava can be wrapped tightly in foil and kept at room temperature up to 10 days.)
To Clarify the Butter (if using instead of ghee):
Melt the 1 1/2 cups (340g/ 12oz) butter slowly over medium low heat until the milk solids have separated from the butterfat. and collected on the bottom of the saucepan. Remove the pan from heat, let the butter settle for 10 minutes, then carefully skim the foam from the surface with a spoon. Slowly pour the clear butterfat into a bowl, leaving all the milk solids behind in the saucepan. You should end up with about 1 1/8 cup (255g/ 9oz) clarified butter.
Recipe Notes
If you have syrup hanging around from this Big Batch Sugar Syrup recipe, you may use 1 3/4 cups of it, instead of making the recipe above.
Glucose syrup is added to the syrup to reduce the chance of crystalizing, resulting in a baklava with a longer shelf life.
Orange blossom water adds a subtle floral note that compliments the taste of pistachios. It is highly recommended here, but may be reduced or omitted if you're not a fan.
Recipe adapted with changes from The America's Test Kitchen Family Baking Book.
Measurements Note: All recipes of this site have been developed using weight measurements. Although US volume measurements have been included for your convenience, it is highly encouraged that you weigh your ingredients using a kitchen scale to get the best possible results. Due to the sensitive nature of baking, kitchen scales are proven to yield more accurate and consistent results than measuring cups. Enjoy!
This post may contain affiliate links.
All images and content are owned by Cleobuttera® and are copyright protected. Please do not use my images without prior permission. If you would like to republish a recipe, please rewrite it in your own words and link back to the recipe page on my site. Original recipes and creations of this site are intended for personal and home use. Commercial replication or media consumption are only allowed with a written consent and agreement with Cleobuttera owners. Otherwise it is considered a violation of intellectual property. Thank you for respecting and appreciating the amount of time and effort that goes into creating free, unique recipes that make people happy.