Mozzarella Cheese Kunafa
A not-so-authenic cheese kunafa made with everyone's favorite mozzarella cheese! Crunchy shredded pastry filled with an ooey gooey mixture of mozzarella and a secret ingredient that keeps the cheese from hardening even after it cools. A rose and orange blossom water scented sugar syrup, sweetens and perfumes this scrumptious Middle Eastern favorite. Plus! Recipe VIDEO at the end of the post.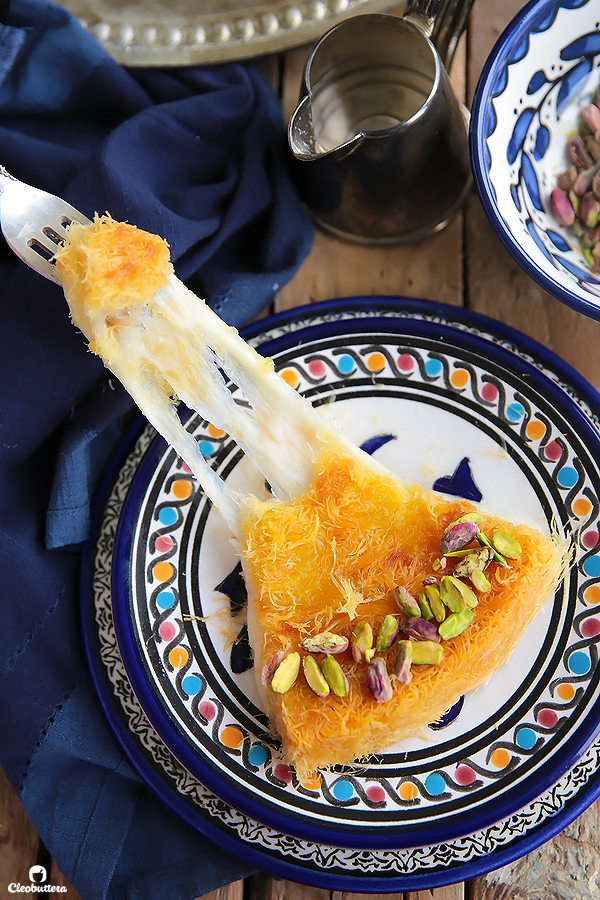 Nope! This is not pizza you're looking at!
It's dessert! The best of dessert. The second of 10 Middle Eastern desserts that I've prepared for you in spirit of the month of Ramadan. Have you seen the first? Its not to be missed!
But this…thiiiiiiis…
This is KING!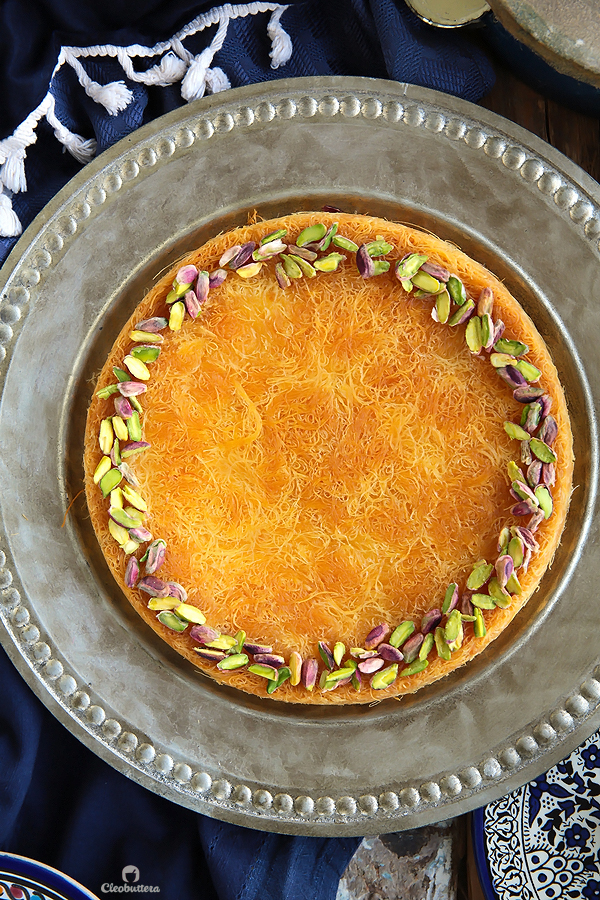 Of all the Middle Eastern desserts, Kunafa rules all. It's royalty. It's supreme.
The most loved. The most popular. The most celebrated. The most versatile and dare I say the most delicious?
With its dozens and dozens of fillings, shapes and forms, there's just nothing like it.
From bite-sized ringlets, to enormous rounds, from nut fillings, silky puddings, cloud-like creams, fruits, chocolates, and caramel, to serving it cold or piping hot, in custard bowls or inside bread, Kunafa can do it all. And it does it really well.
To recap, kunafa (or konafa, kanafeh, knafeh) is a Middle-Eastern/ Mediterranean pastry made from shredded, vermicelli-like phyllo dough that crisps up into this beautifully golden dessert when baked. It almost always, comes with a surprise filling and sweetened with simple syrup.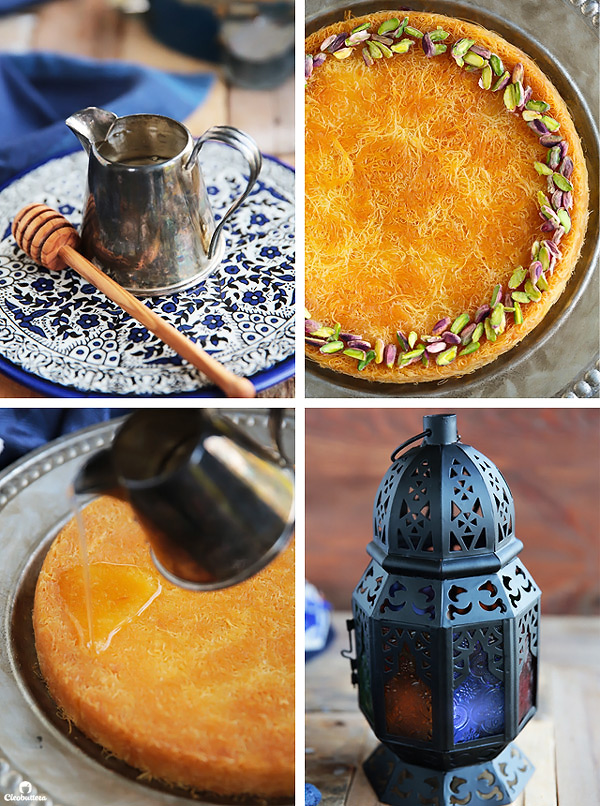 Pastry shops and home cooks have been getting really creative with kunafa innovations lately. I for one, have been guilty of some and I don't plan to stop anytime soon. Hint hint: stay tuned!
I once stuffed it with a full-fledged New York cheesecake, because why not?! And made a grilled cheese sandwich with it! YUM!
But something about the familiar classics, that makes them that much timeless and much more cozy.
So in light of that conclusion, I bring you today a classic that is not one bit classic!
Huh?! ?
Ok…what I'm trying to say is that I'm making Cheese Kunafa, one of the most classic and beloved kunafa variations, but in the least classic way possible. Wait…let me stop you right here, if you're doubting the deliciousness of gooey cheese in dessert, because gosh…its ridiculous!!!
So you still get that crunchy shredded pastry crust, oozing out with ooey gooey cheese and drenched in rose and orange blossom water scented syrup, just through an unorthodox method.
So…In terms of kunafa variations? Oh its classic.
But as far as ingredients and methods are concerned? Let's just say that I'm risking getting my Egyptian citizenship revoked.
In my defense though, I had the best of intentions of staying true to the original, but things didn't work so well. So…I had no choice but to improvise!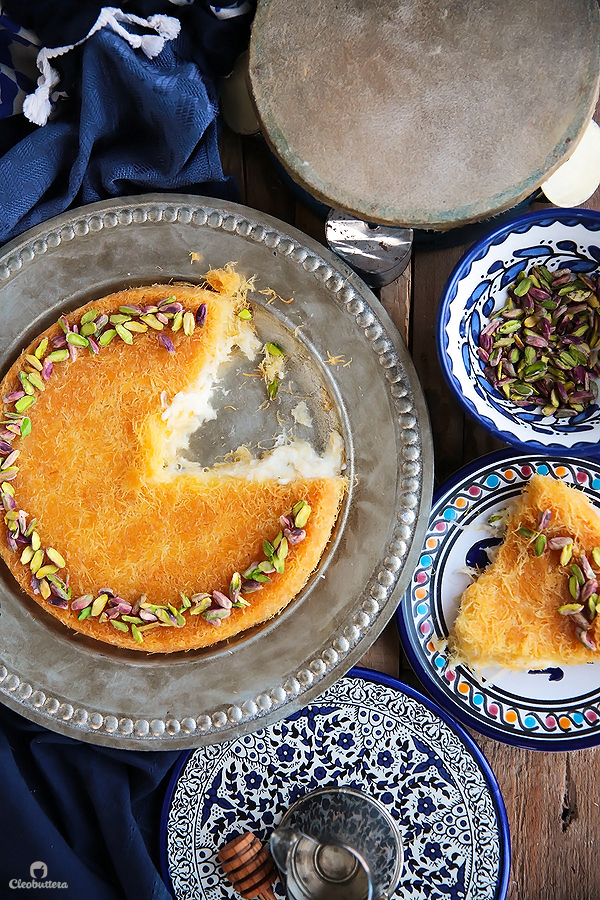 Typically, cheese kunafa, like Nabulsia or knafeh bil jibn, are filled with Arabic cheeses with melting qualities like Nabulsi or Akkawi cheese. But I'm making it with pizza's best friend, Mozzarella.
Why?
Ok I have very valid reasons:
Nabulsi and Akkawi cheese are really hard to find in a lot of countries. So BOOM! Mozzarella globalizes it!
Nabulsi and Akkawi cheese are quiet salty, so they need to be soaked in water for hours, changing the water every now and then, to get rid of the salt. So there you go lazy folks…this is the cheese kunafa for you! Although to be fair, I've heard that in the Levant, desalted Akkawi and Nabulsi are available.
Lots of people use mozzarella in their kunafas, which makes it a very common and acceptable substitute. So I'm not the first! Hear that Food Police? Go pick on someone else?
Ooze-ability (let's make that a word) is an important factor and I found that Akkawi, or at least the one I could find in Egypt, never gave me the "oozebility" and stringiness I craved. I don't know about Nabulsi though, because I could never find it here.
Akkawi stays soft for approximately 10 minutes after it gets out of the oven and then it turns into edible leather. But so does mozzarella! Think cold pizza. And here's where the secret ingredient that promises a soft filling even after the konafa cools, comes to play:
A Semolina Pudding!
Again…deviating from tradition. But seriously, when the kunafa tastes that good, who cares?!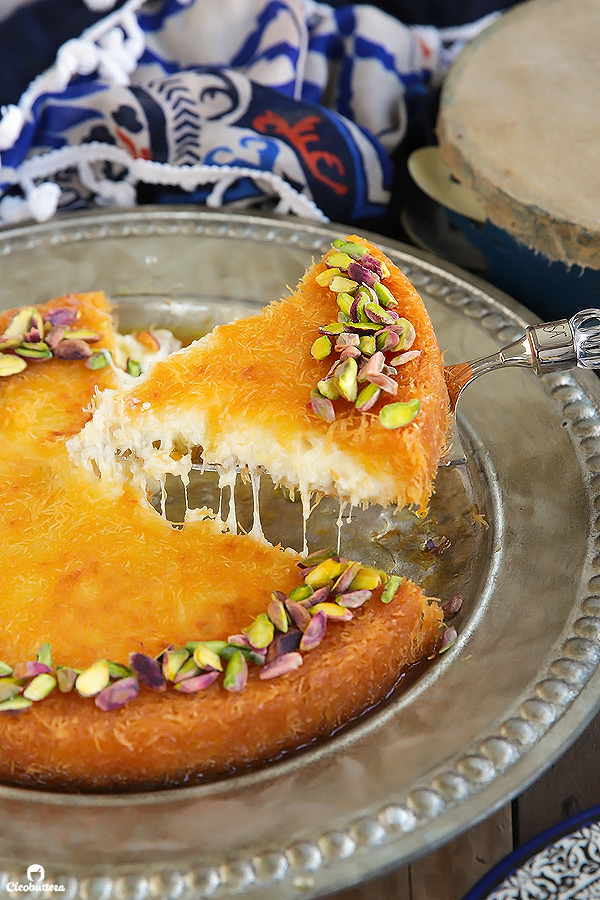 Baking Nerd Alert:
At Middle Eastern restaurants, they manage to serve you that delicious slab of kunafa, dripping with molten cheese. If I'm not wrong, I imagine they bake the whole thing, let it cool, then reheat individual slices. And its incredible to the say the least.
At home we bake the whole thing, set it on the table and allow people to help themselves with a piece whenever they feel like it. Ofcourse, the luckiest are those who get the first slices, the moment that kunafa comes out of the oven. As the kunafa sits, the cheese hardens, and all the remaining slices taste much inferior.
What does that mean?
The cheese needs to be mixed with something else (something soft in all its states), to help prevent the cheese from hardening after it cools.
Like what? You have one of 2 choices:
Another type of soft cheese. Ricotta and cottage cheese are often added to the cheese and it does help. My only concern about them, is that they tend to either have a tangy or bland flavor than masks the mozzarella cheese flavor that we love so much. If you don't mind that, you could go ahead and use it, if not then use the following great discovery.
Layer the cheese between Semolina Pudding. I ran into this genius solution while searching for cheese kunafa recipes. It's a very loose milk pudding, thickened by semolina flour and flavored with rose water. On its own, it tastes like a thinned out Layaly Lebnan, Lebanese Nights (a popular Lebanese milk pudding). Combined with the mozzarella cheese, it somehow coats it and prevents it from hardening up. The flavors go swimmingly together too. I played around with the cheese to pudding ratios suggested by the original recipe though, to get it more cheesy and less pudding-y. Straight out of the oven, the filling will be gooey and stringy, and while it won't stay exactly like that as it cools, it will still be very very soft and not one bit leathery. SUCCESS!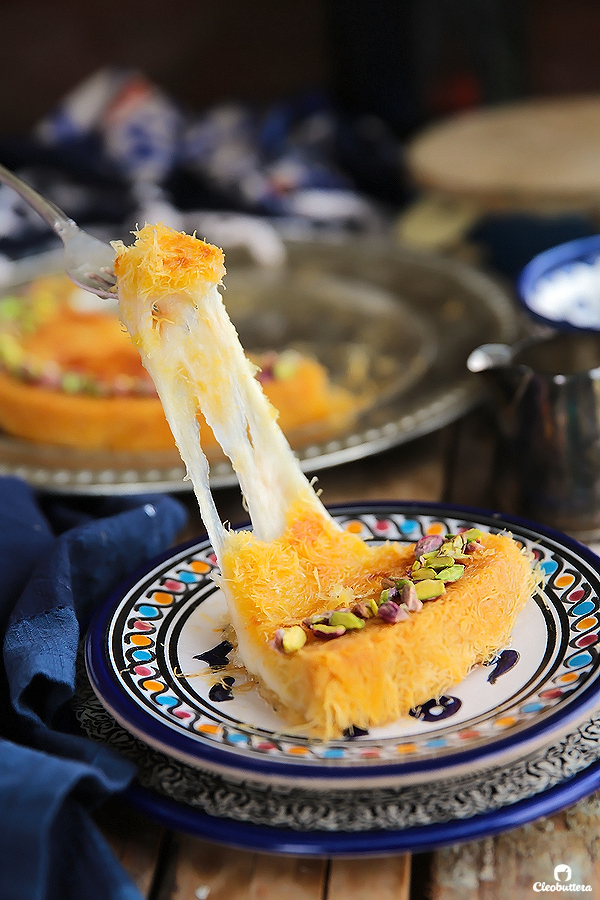 Let me show how its done.
You'll first prepare the pudding, by heating together milk, heavy cream, sugar, semolina flour and a tiny bit of cornstarch. Once it comes up to a boil, you'll continue to cook it for a few minutes longer until it thickens. You'll then flavor it with a splash of rose water, then set it aside to cool slightly.
Meanwhile, you'll prepare the kunafa crust by shredding some kunafa/kadaifi/kataifi pastry into short strands. You'll then coat it with melted ghee or clarified butter. (For more info on clarified butter, please check this post)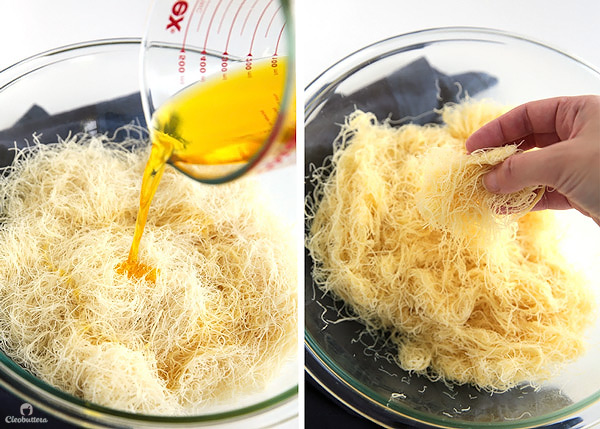 You'll then take two-thirds of the kunafa, and firmly press it on the bottom and around the sides of the pan. Using the bottom of a measuring cup will help compress it and get the kunafa well up the sides.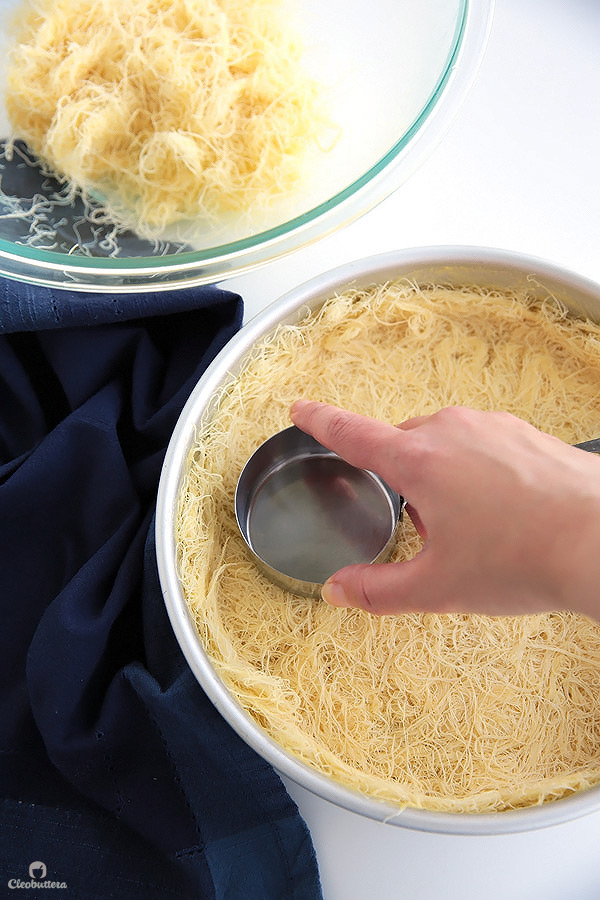 Spread 1/2 of the slightly cooled semolina pudding on the bottom of the crust, followed by mozzarella thats been lightly sweetened with some sugar and flavored with rose water. (No need to add sugar to your mozzarella if its not salty)
Fresh mozzarella is best of course if you can get it, but pre-shredded works fine.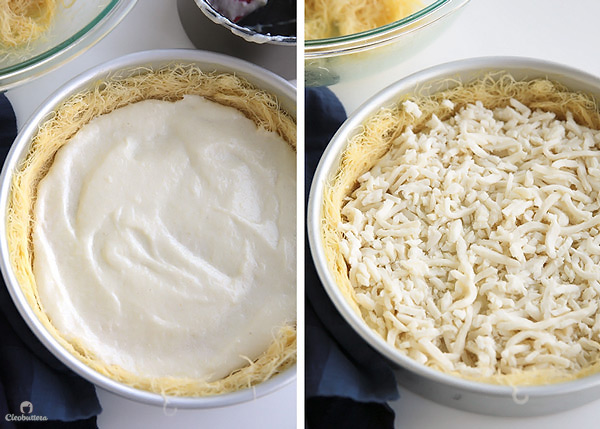 Cover the mozzarella with the remaining pudding, then scatter the rest of the kunafa on top of it. Lightly press it down to adhere. Then bake!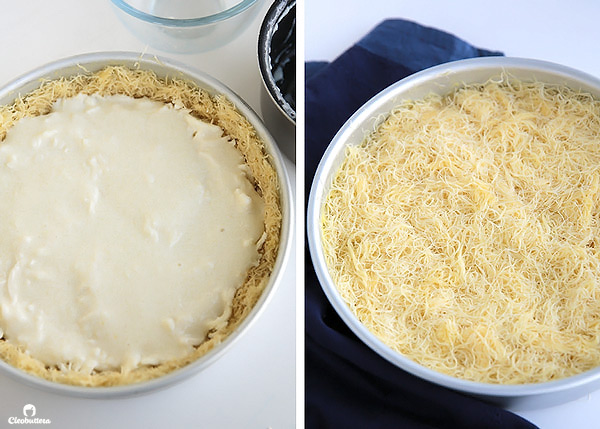 Will you look at that color? Is that gorgeous or what?!
As soon as the kunafa comes out of the oven, drizzle it all over with most of your scented syrup. Give it a few minutes to soak in.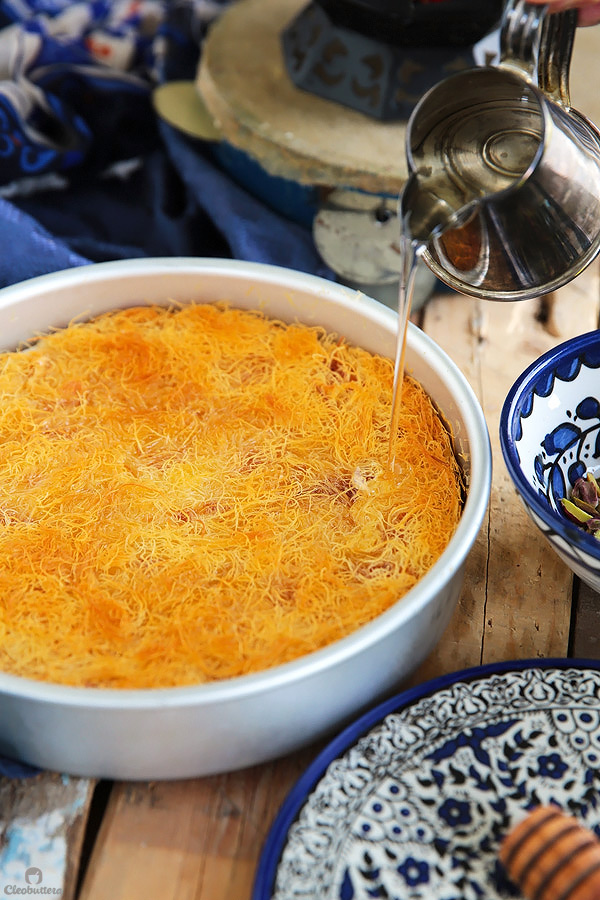 Then take a deep breath and flip!
Typically, I would grind a handful of pistachios and scatter them all over the top, but when the color is that vibrant, how could I cover it up?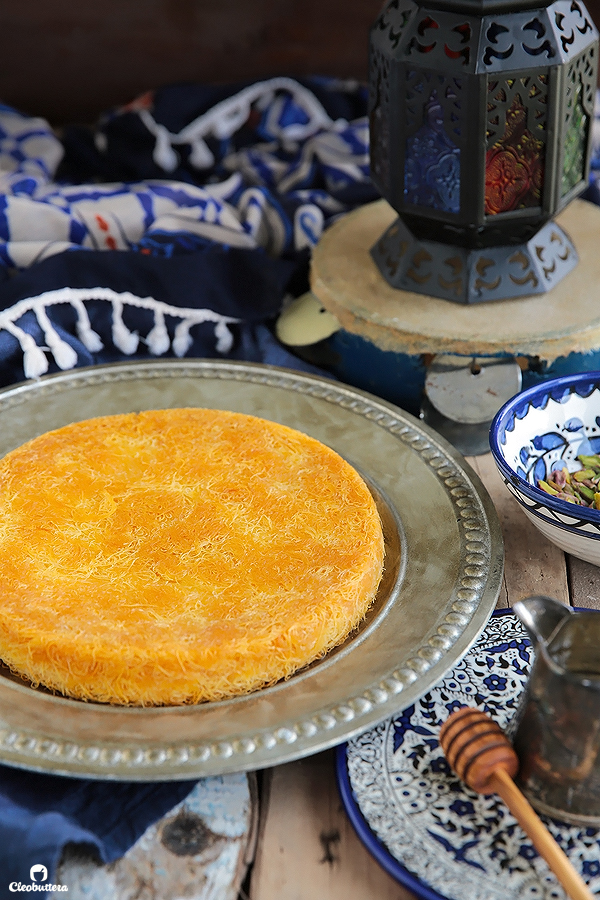 So I settled for a crown of pistachios fit for King Kunafa.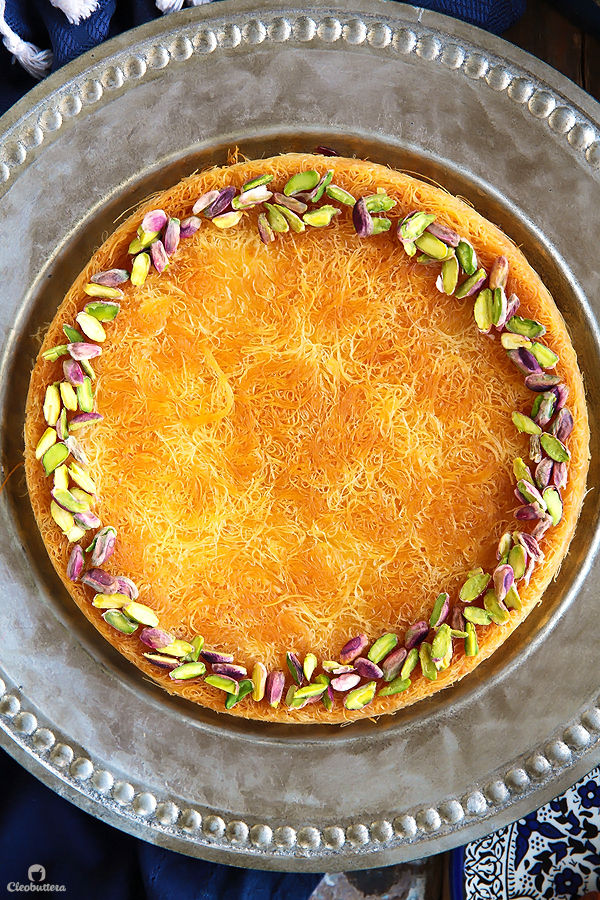 So yes, it may not be certified "authentic."
And the recipe does break several cheese kunafa-making rules, but it may just become your new favorite.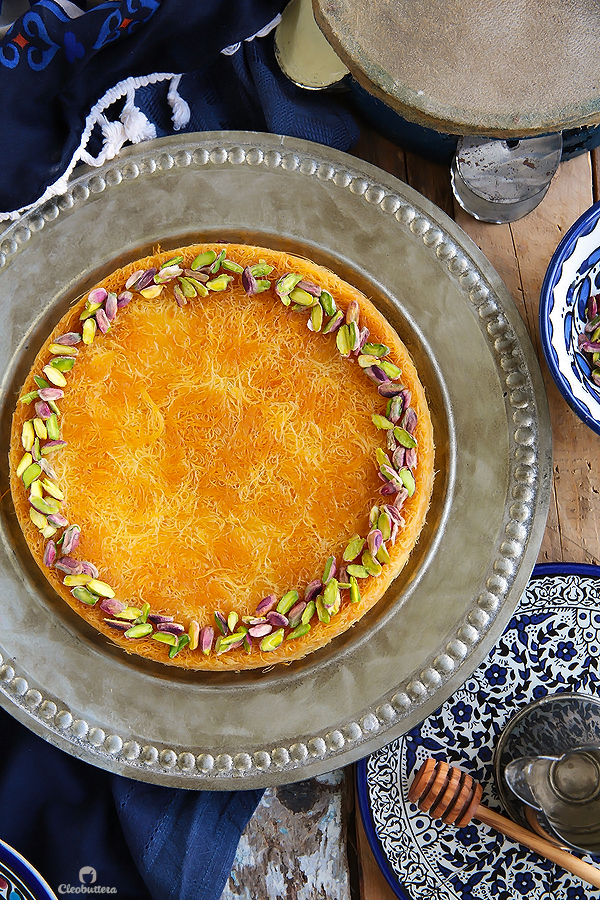 And isn't this what matters in the end?
Enjoy friends!
Yield: 1 (12"/ 30cm or up to 14"/ 35cm) round kunafa
Mozzarella Cheese Kunafa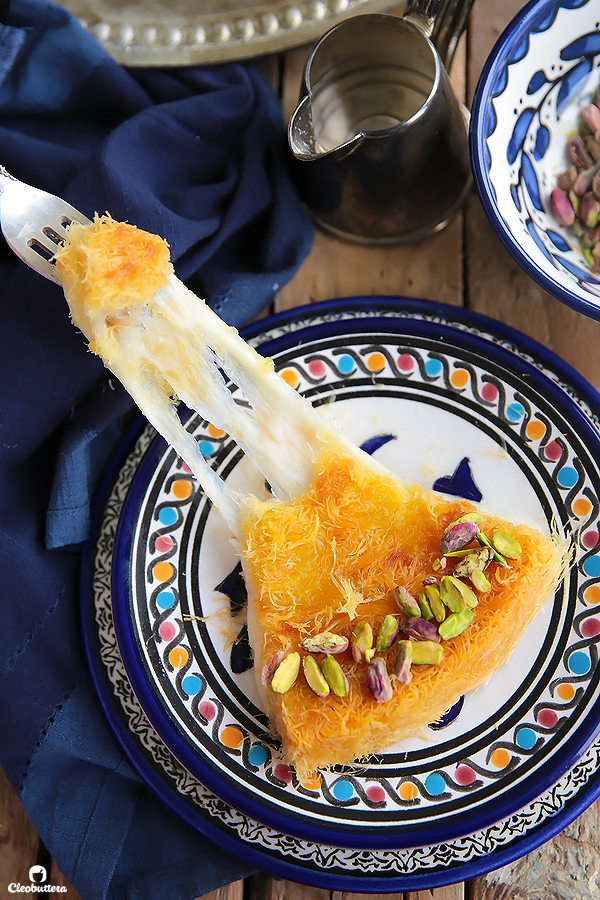 A not-so-authenic cheese kunafa made with everyone's favorite mozzarella cheese! Crunchy shredded pastry filled with an ooey gooey mixture of mozzarella and a secret ingredient that keeps the cheese from hardening even after it cools. A rose and orange blossom water scented sugar syrup, sweetens and perfumes this scrumptious Middle Eastern favorite.
Prep Time 30 minutes
Cook Time 1 hour
Additional Time 10 minutes
Total Time 1 hour 40 minutes
Ingredients
For the Scented Sugar Syrup:*
2 1/2 cups (1 lb 1oz/ 500g) granulated sugar
1 1/4 cup (300ml) water
Squeeze of fresh lemon juice (about 1 teaspoon)
1 tablespoon (15g) rose water (more or less according to taste)
1 tablespoon (15g) orange blossom water (more or less according to taste)
For the Semolina Pudding:
1 1/2 cups (350ml) milk
3/4 cup (180ml) heavy whipping cream
3 tablespoons (37g) granulated sugar
3 tablespoons (30g) semolina
1 teaspoon (3g) cornstarch
1 teaspoon (5g) orange blossom water
1 teaspoon (5g) rose water
For the Cheese Filling:
600 grams/ 1lb 3oz mozzarella cheese, shredded or cut into small pieces*
3 tablespoons (37g) granulated sugar (omit if your cheese does not taste salty)*
2 teaspoon (10g) orange blossom water
1 teaspoons (10g) rose water
For the Kunafa Crust:
1lb/ 500g kunafa or kataifi/kadaifi pastry, fresh or frozen. If using fresh, freeze for an hour for easier cutting. If using frozen, thaw slightly
1 cup (8oz/ 227g) ghee or butter, melted and slightly cooled*
For garnish:
Instructions
To make the Scented Sugar Syrup: (Can be made up to a week in advance)
In a medium saucepan, combine together the sugar, water and squeeze of lemon juice. Set on a stovetop over high heat. Try to avoid stirring it as it heats to prevent crystallization from happening, but if the sugar is not dissolving, then help it out with a few stirs. Once it comes to a boil, STOP stirring.
Bring to a rolling boil, then immediately reduce the heat to low and let it simmer for no longer than 10 minutes. Set a timer! The syrup will thicken slightly, and have a consistency similar to pancake syrup. If it simmers for longer it could thicken too much and become candy-like.
Remove from heat, then stir in the rose and orange blossom waters. Transfer to a medium bowl, liquid measuring cup or gravy boat and allow to cool to room temperature before using.
To make the Semolina Pudding:
In a small saucepan, off heat, combine together the milk, heavy cream, sugar, semolina and cornstarch.
Place over medium-high heat and cook, stirring constantly with a whisk. Bring to a boil, and continue cooking until the mixture thickens into a loose pudding-like consistency; about 3 more minutes. Remove from heat and stir in the orange blossom and rose waters. Allow to cool slightly while you prepare the kunafa.
To prepare the Cheese Filling:
In a medium bowl, stir together the mozzarella cheese, sugar (if using), orange blossom and rose waters.
To prepare the Kunafa:
Adjust oven rack to lower middle position and preheat oven to 200C/ 390F.
Heavily grease a 12"/ 30cm round cake pan with ghee or butter. A larger pan size (like a 14"/ 35cm deep dish pizza pan may be used, but note that the kunafa will turn out thinner) Alternatively, the kunafa could also be split over 2 (9"/ 23cm) or 4 (6"/ 15cm) pans. You could bake one now and freeze the other(s) for later.
Over a large bowl, shred the konafa/kataifi dough into 1inch/ 2.5cm long pieces. I've found that cutting the kunafa while semi frozen, makes for the easiest way to break it. So even if using fresh kunafa, stick it in the freezer for about an hour before cutting it.
Pour the melted ghee evenly over the kunafa. If using butter instead of ghee, for fresh, extra thin konafa dough, just pour the yellow liquid (butterfat) of the melted butter, leaving behind the white layer (milk solids). If using thicker, frozen konafa/kadiafi, just pour all the butter in. Mix the butter evenly with you hands, into the kanafeh shreds, making sure it gets well coated and every strand is glistening.
Transfer two-thirds the amount of konafa in the prepared pan and firmly press it on the bottom and up the sides. Make a wall with the konafa around the sides of the pan; this will help contain the filling during the baking process and prevent it from burning. Pack the konafa as tightly as possible. Use the bottom of a cup or measuring cup, to help pack it tightly and smooth out the konafa.
Pour in half of the cooled, semolina pudding and spread with a spatula into a thin layer. Top with the cheese mixture and pat down into an even layer. Cover with the remaining semolina pudding.
Scatter on the remaining third of the konafa over the cream filling, lightly press it on to adhere.
Transfer the pan to the oven and bake for 45 to 60 minutes, or until the top and sides of the konafa are deep golden brown in color. Use a knife to push the side of the konafa, to check the color. The longer it bakes, the crunchier it gets.
Remove the konafa from the oven and immediately pour on about 3/4 of the scented syrup, starting from the edge and moving towards the center, in a circular motion, making sure to cover the entire surface. Reserve leftover syrup for drizzling over individual servings.
Let the konafa rest for 5 to 10 minutes to allow for the syrup to soak in, then flip on to a serving platter. Decorate the edges with halved pistachios, or for a more traditional look, Cover the entire surface with ground out pistachios.
Cut into wedges and serve right away, while still hot, passing along extra syrup, as desired. Kunafa is best enjoyed warm, while the filling is still gooey, but it still tastes delicious at room temperature and the filling will still be soft but not gooey. Leftovers maybe stored in the refrigerator, then rewarmed in the oven or microwave.
Recipe Notes
Sugar syrup can be substituted with about 2 cups of the Big Batch Sugar Syrup.
This recipe will also make 2 (9"/ 23cm round) kunafas, or 4 (6"/ 15cm round) ones.
If using fresh, extra thin, Arabic-style konafa dough, it is preferable to use only the butterfat in the melted butter, leaving behind the milk solids or just use the full amount of ghee instead, to ensure a crunchy, evenly browned crust. If using thicker, Greek-style frozen kadaifi/konafa, you can use the butter in its entirety; milk solids and all. Unlike thin, fresh konafa, thicker/frozen kadiafi dough can handle the extra moisture, while still crisping up. To separate the butterfat from the milk solids, let the butter sit for a few minutes after melting. The milk solids (the whiter substance) will sink to the bottom and the butterfat (the yellow liquid) will float up. You could now simply pour the butterfat, being careful to leave the white bottom layer behind. It's OK if a little of the milk solids get poured in as well. (Get more details about clarifying butter here).
Feel free to add up to 800 grams of mozzarella for an extra cheesy kunafa. If using fresh buffalo mozzarella, be sure to squeeze out as much excess moisture as possible before filling into the kunafa.
The amount of sugar added to the mozzarella filling, depends on how salty the cheese tastes. If using fresh mozzarella, you may choose to leave out the sugar sugar because its not salty. So taste your cheese and you be the judge of how much sugar needs to be added. I use pre-shredded mozzarella, not because its the best choice, but rather because its the most easily accessible where I live. It's slightly salty, so 3 tablespoons is perfect to balance it out.
In non-Middle Eastern countries, Kadaifi/kataifi/konafa dough can be found in the frozen Greek section of most big supermarkets, or in Middle Eastern speciality stores.
Kunafa freezes really well before baking. Assemble the kunafa in the pan, don't bake, and cover with a double layer of plastic wrap and 1 layer of foil. When ready to bake, let it thaw, then bake as normal.
Semolina pudding recipe adapted from Embers Mezze Bar.
Measurements Note: All recipes of this site have been developed using weight measurements. Although US volume measurements have been included for your convenience, it is highly encouraged that you weigh your ingredients using a kitchen scale to get the best possible results. Due to the sensitive nature of baking, kitchen scales are proven to yield more accurate and consistent results than measuring cups. Enjoy!
This post may contain affiliate links.
All images and content are owned by Cleobuttera® and are copyright protected. Please do not use my images without prior permission. If you would like to republish a recipe, please rewrite it in your own words and link back to the recipe page on my site. Original recipes and creations of this site are intended for personal and home use. Commercial replication or media consumption are only allowed with a written consent and agreement with Cleobuttera owners. Otherwise it is considered a violation of intellectual property. Thank you for respecting and appreciating the amount of time and effort that goes into creating free, unique recipes that make people happy.