New York cheesecake just got a Middle Eastern makeover!  Sweet and crunchy kanafeh pastry, sandwiches rich and creamy keshta-topped cheesecake. A drizzle of a cinnamon and cardamom kissed sugar syrup ties the flavors together.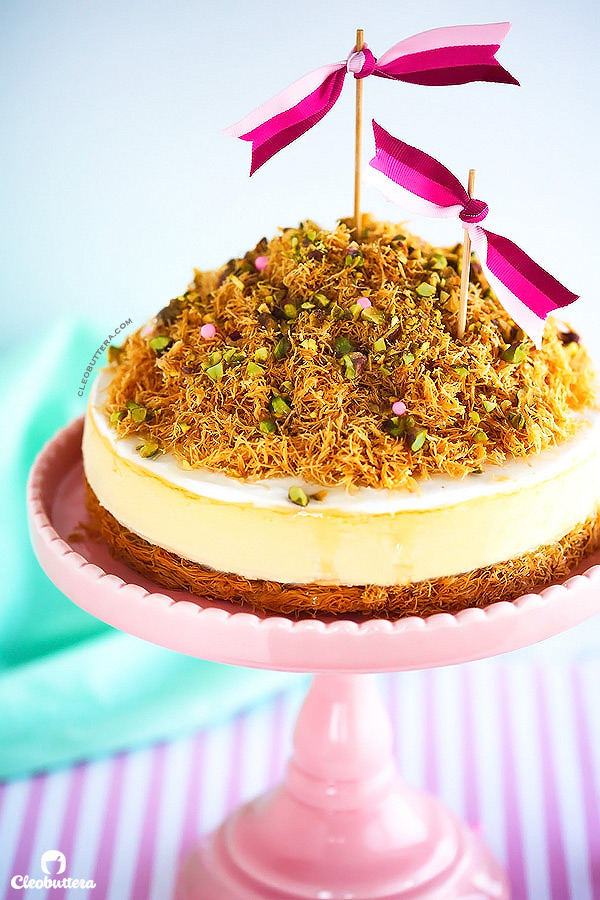 I admit it…I haven't been living up to my Egyptian…ness? Egyptianality? Egyptianism? around here.
And although my language skills just proved it, my recipes have been far from it.
I've been blogging for 4 months now and the number of Egyptian/Middle Eastern recipes I've featured, boils down to…ZERO!
It's high time I set things right and I'm starting with this, lo and behold…drumroll please…NEW YORK CHEESECAKE.  LOL!!!
For realz though…I got it all dressed up in a very Middle Eastern fashion…Kanafeh guys!
Have you ever met the gloriousness that is Kanafeh?
My oh my, if I could eat one Middle Eastern dessert for the rest of my life, kanafeh will sure be IT!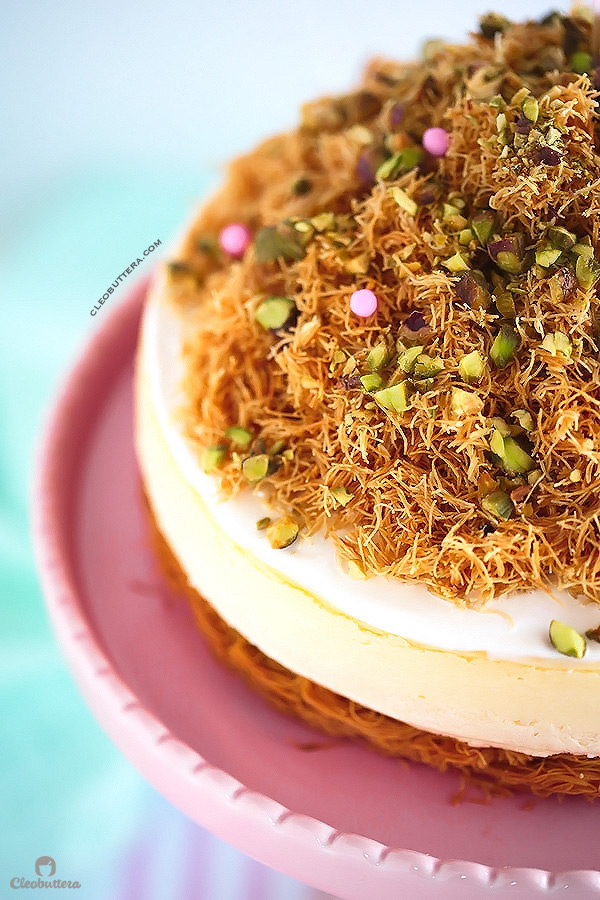 Kanafeh, kenafeh, kunāfah, künefe, knafeh, kunafeh, knafeh, konafa, with its 101 spelling and pronunciation options, is a long thin noodle-like pastry commonly made from shredded phyllo.  Unbaked and unadorned, it tastes like…well…nothing really.  But mixed with butter, or more typically ghee, then baked and drenched in sugar syrup, transforms into sweet, crunchy golden strands of heaven.
It's a specialty dessert of the Middle East, Turkey, and Greece where it's called kadaïfi or kataïfi.  Due to a big portion of the Middle East being under the Ottoman Empire rule in the past, we tend to share almost identical dishes with Turkey and Greece.  Hello Baklava and Moussaka!
There are as many different ways to make Kanafeh as there are of spelling it.  In Egypt, the most common way is to layer it with a creamy pudding-like filling in the middle and baked it off in a round cake pan.  The end result is scrumpiously sweet and crunchy on the outside, creamy and dreamy on the inside.  Nut fillings and cheese fillings are also typical, especially in neighboring countries.
Wait…Did someone say CHEESE?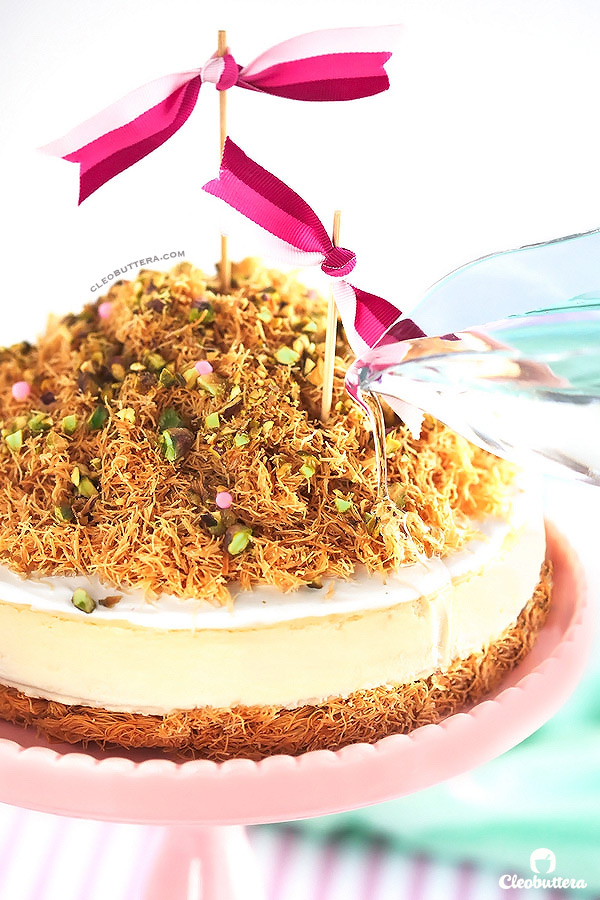 I mean, if kanafeh can be made with ricotta, mozzarella, feta, goat and akkawi cheese, then why should cream cheese ever say no?!
I was determined to find the answer to that by stuffing it with the best way possible to eat cream cheese…Cheesecake baby!  A big, fat, full sized-cheesecake, encased inside a foreign object…the kanafeh.  I brainstormed and brainstormed till my brain hurt, and this is what I came up with:
A cinnamon and cardamom scented sugar syrup soaked kanafeh bottom crust, takes place of the otherwise traditional graham cracker crust, followed by a baked New York style cheesecake, that gets slathered with Arabic cream (keshta), then topped with piles of more sugar-syrup soaked konafa shreds and a sprinkling of pistachios and pink edible pearls.
Kanafeh? Goood.  Cheesecake? Goooooood?  Was I worried?  Yeeeeees.  Why you may ask?  Individually, each component is perfect in its own right. What I was worried about is if it was gonna work together and tie the knot.
The verdict?  It worked!  The contrast between the crunchiness of the kanafeh and the creaminess of the cheesecake is so good.  I found it mandatory though, to add extra drizzles of syrup on the cheesecake layer on my plate…it just ties everything together. Adventurous eaters, foodies and those with a more refined taste palate, if you will, were delighted with the creation and kept going for seconds.  Surpisingly, my very picky eater son loved it too and he never likes anything!  For God's sake, the little guy doesn't like cookies…of any kind!  But he loved this.  Traditionalists on the other hand were more like…how about next time you make us a kanafeh and a cheesecake on separate plates?! Heartbreak aside, moral of the story: if you're planning to make this, put your audience into consideration.  It's definitely not your run-off-the-mill cheesecake, so naturally its not for everyone.
Another thing I should tell you before we make this together, is that I wasn't actually planning on sharing this on the blog just yet, because I wanted to test it out first before making the bloggable one.  But then halfway through, I decided that I'll have nothing to lose if I take photos anyway.  Therefore, you'll notice that the making of the cheesecake layer pictures are missing and that's because I baked it the night before, with no previous intentions of sharing it here.  Don't worry though, the recipe is explained in the fussiest details below.
So let's pretend that we just made a crustless cheesecake batter, baked it, cooled it then froze it till its hard.  We need the cheesecake layer to be completely frozen, so we could easily transfer it on top of the bottom kanafeh crust.  So do that step a day ahead.
Also make the sugar syrup and let it cool completely.
Ok, now some pictures to save the day.
You'll take half the amount of kanafeh dough that you're gonna be using, and shred it into really small pieces.  I started out with a serrated knife but then switched to scissors.  So much better.  We'll use this to pile on top of the cheesecake.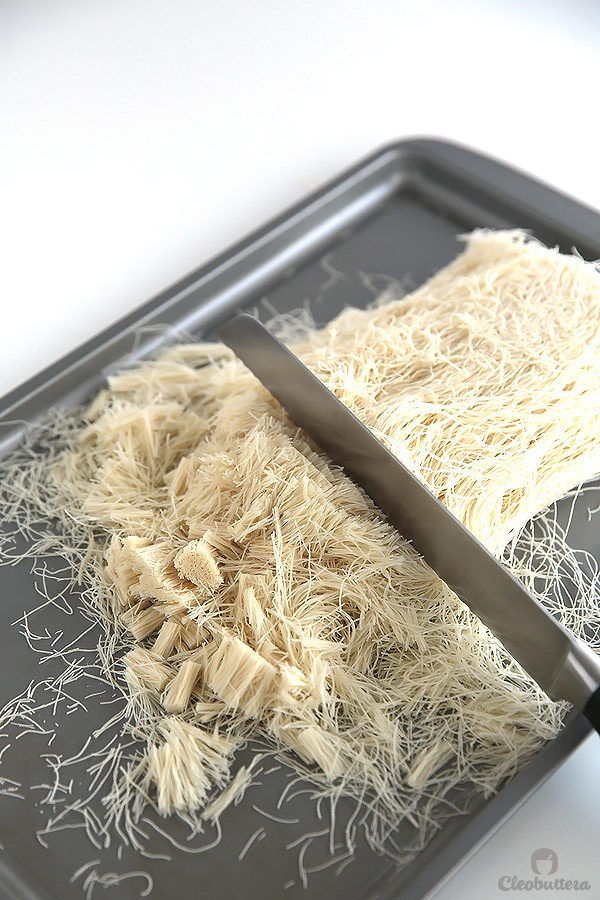 After that, you'll wanna coat your kanafeh shreds with melted butter then bake in the oven until deep golden brown, stirring it every now and then, so it cooks evenly.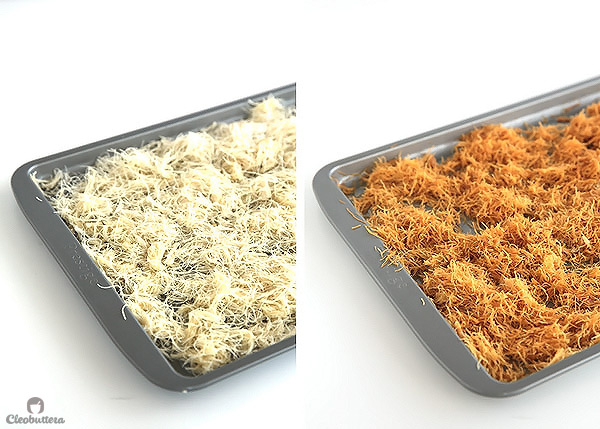 While still hot, transfer the kanafeh to a bowl, leaving any excess butter behind.  Immediately pour the cooled sugar syrup on top of it, then transfer to a sieve to allow any excess syrup to drip.  Allow to cool.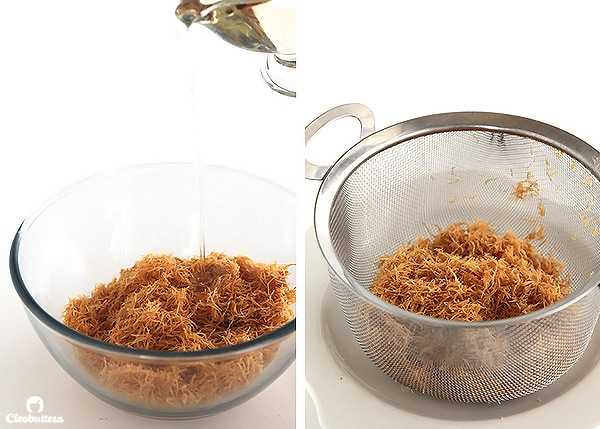 After that, you'll move on to make your kanafeh bottom crust.  This time, don't shred it, just simply loosen the strands from each other.  Then coat it well with some melted butter.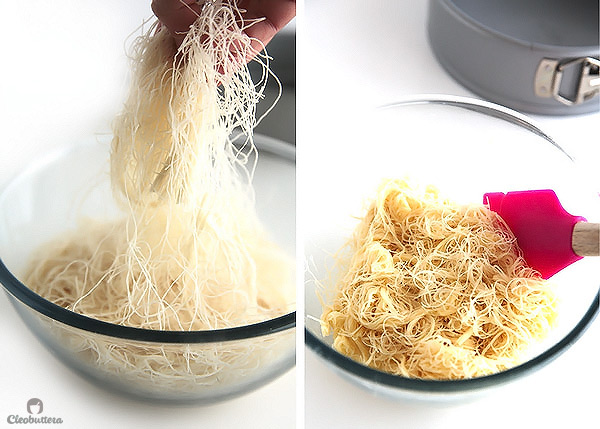 Now press it really firmly in the bottom of the springform pan.  Bake until deep golden brown and again soak with the sugar syrup right away.  Allow to cool, then get it out of the pan and slide it on to your serving platter or cake stand.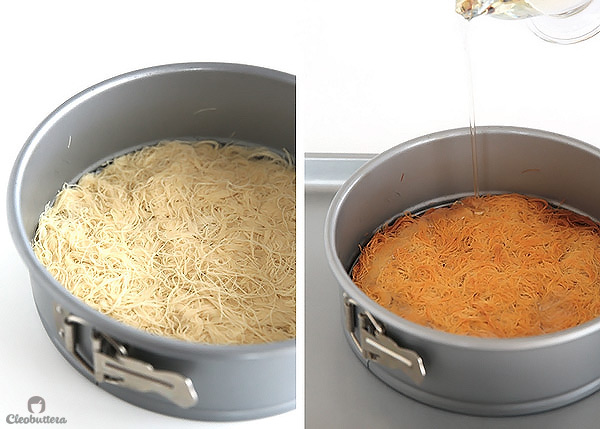 Get your frozen cheesecake from the freezer and simply place on top of the bottom kanafeh crust.  Because the cheesecake is frozen, this step should be a breeze.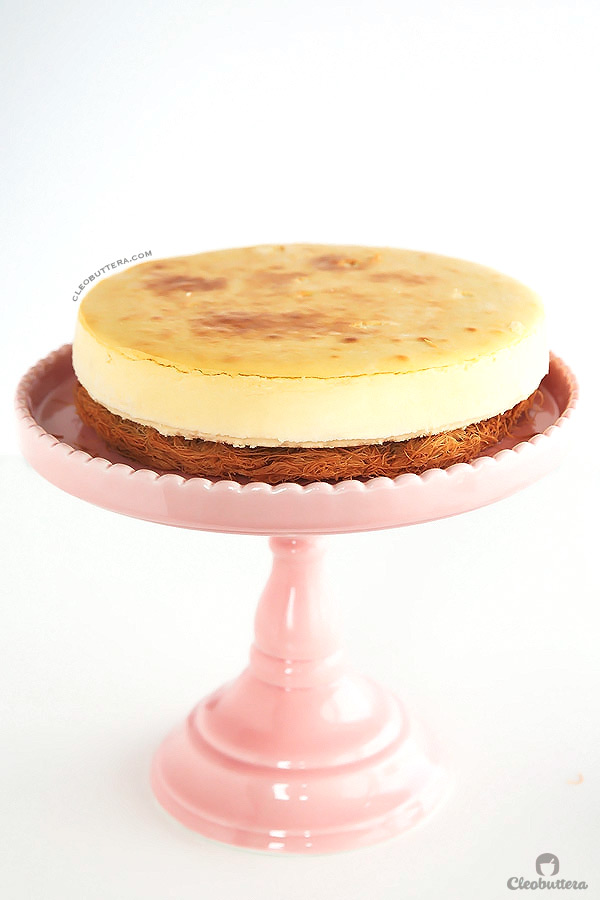 Now spread some kesha, clotted cream or creme fraiche for that authentic Arabic touch.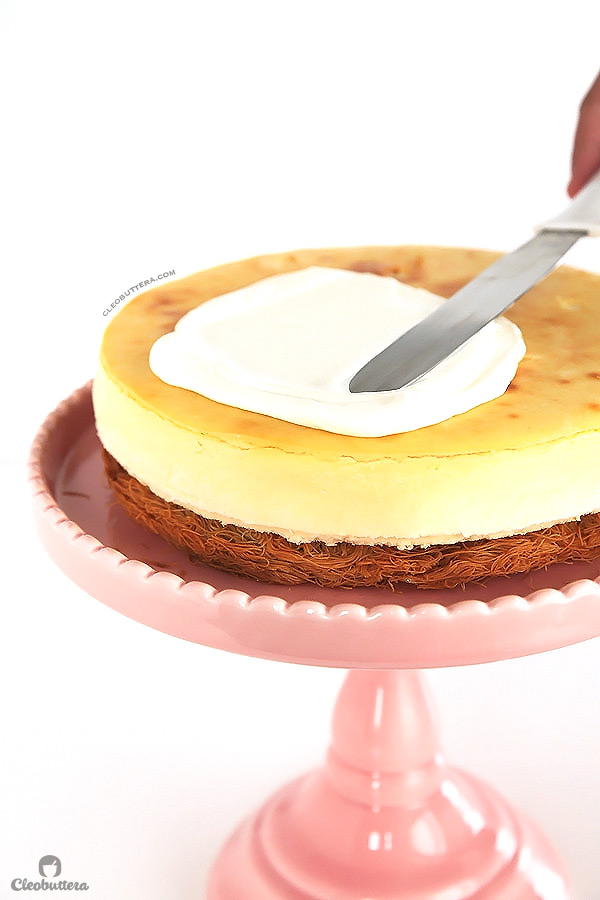 Pile on that kanafeh till your heart's content.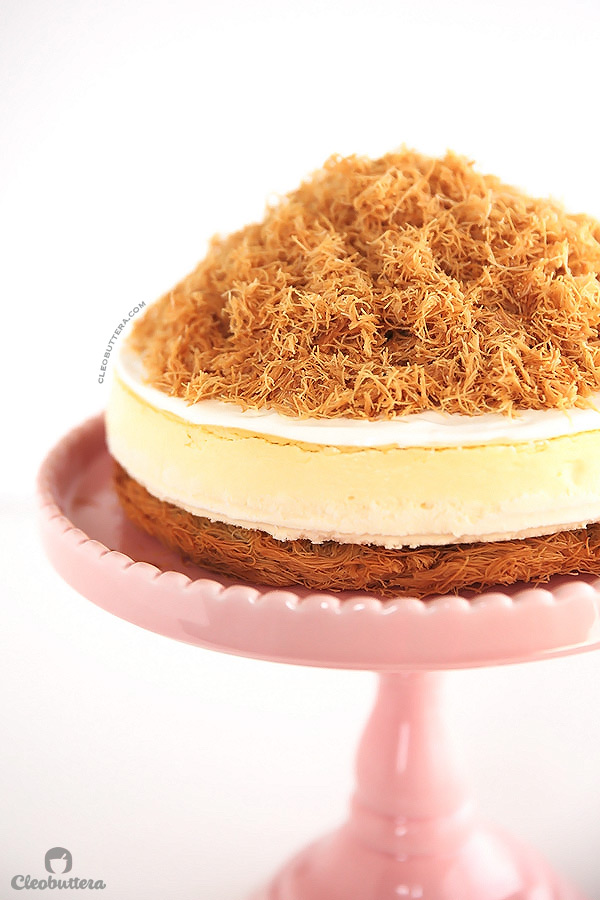 Then sprinkle it happy with some pistachios and edible pearls…or sprinkles!  Let the cheesecake layer defrost…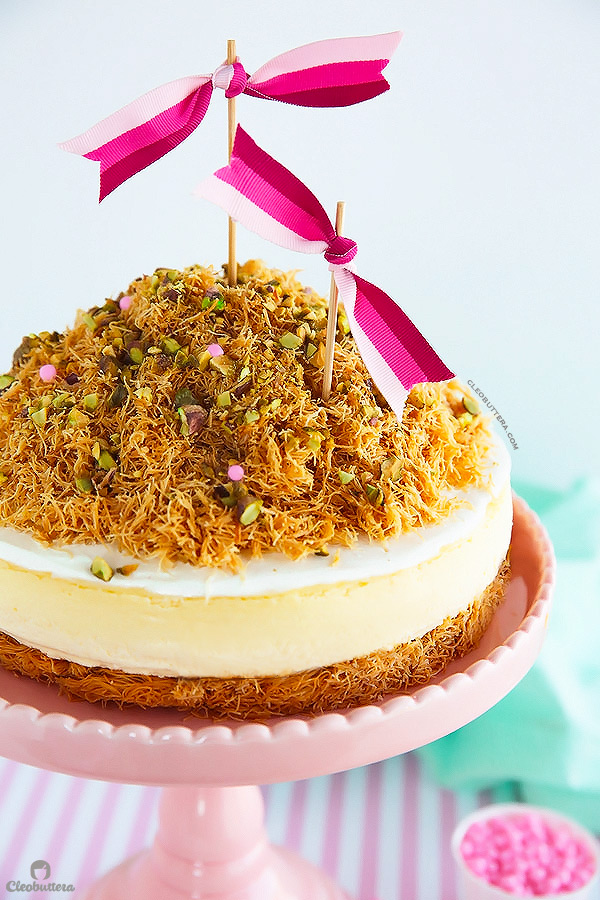 And voila…your Middle Eastern fusion dessert is now ready to be devoured.  And oh…I highly recommend adding an extra drizzle of the syrup on the cheesecake layer of your slice.   It just ties everything together.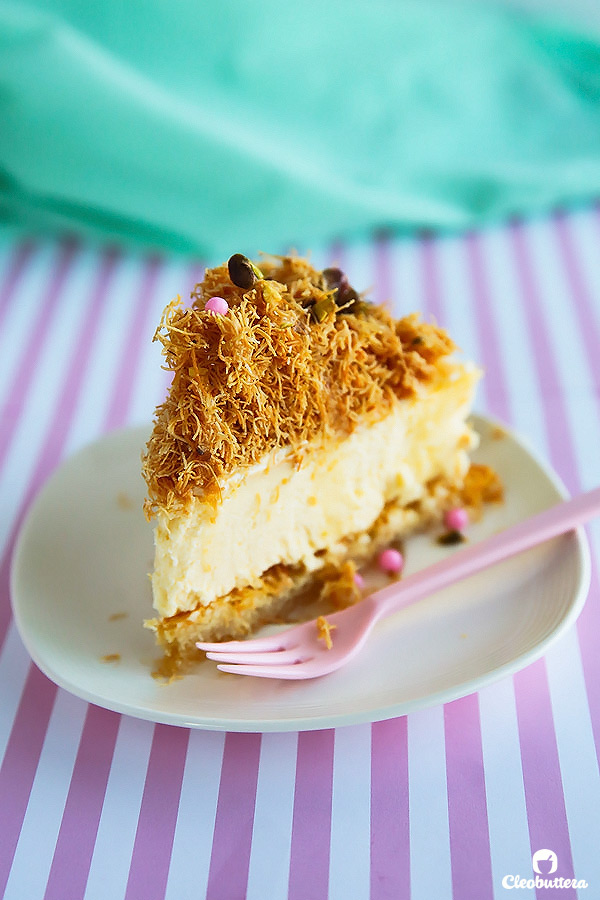 All that's left to say now is "Bel hana wel shefa"…or as they say in my country as you're served food…"with bliss and healing."  Ok that just sounded weird.
Just…Enjoy y'all!!!
Bon appétit!
Oh…also if you like anything about my blog and have a minute to spare, I would forever be grateful if you nominate Cleobuttera.com in the Saveur Blog Awards.  It takes less than a minute and would mean so much to me!  Thankyouthankyouthankyou!  Just click here.
Kanafeh Cheesecake
The cheesecake layer needs about 3 hours to bake and cool, and at least 6 hours to freeze, so plan in advance; preferably make it a day ahead. The assembled kanafeh cheesecake, needs about 4 hours to defrost before serving, so plan to assemble it about 6 hours before you plan to serve it. If you prefer a thinner layer of cheesecake, for the kanafeh to take center stage, you could halve the cheesecake recipe. Baking time will need to be reduced to about 45 minutes. The syrup amount makes enough to soak the kanafeh, plus extra for drizzling on individual servings.
Serves:
1 (9inch or 10inch) Kanafe Cheesecake
Ingredients
For the Cheesecake Layer: (see note above)
4 (8 oz/227 grams) packages cream cheese, a total of 2 lbs/907 grams (room temperature) *
1¼ cups granulated sugar
3 tablespoons flour
1 tablespoon vanilla extract
4 large eggs
1 cup sour cream or heavy whipping cream, or a combination of both**


For the Sugar Syrup:
2 cups granulated sugar
1 cup water
A squeeze of lemon
1 cinnamon stick
2 cardamom pods, cracked


Kanafeh Bottom and Topping:
¾ pound/ 375 grams kanafeh or kadaifi dough, divided
¾ cup (1½ sticks/ 6 oz/ 170 grams) unsalted butter or ghee, melted


For Topping and Garnish:
1 cup keshta (Arabic cream), clotted cream or creme fraishe
¼ pistachios or other preferred nuts, chopped
pink or any other colored edible pearls or sprinkles, optional
Instructions
For the Cheesecake Layer: (Could be prepared up to several days in advance).
Adjust oven rack to lower-middle position and heat oven to 325F/160C. Keep a roasting pan or a baking dish big enough to hold the cheesecake pan nearby to use for water bath. Bring kettle or large saucepan of water to boil.
Spray a 9 or 10-inch springform pan with a nonstick spray, then line the bottom with a round of parchment paper, then spray again. Wrap a triple layer of foil around the bottom and up the sides of the pan, to seal it well so the water from the water bath doesn't seep into the pan and ruin the cheesecake.
In the bowl of a stand mixer fitted with the paddle attachment, or in a large bowl and a handheld mixer, beat the cream cheese until smooth and creamy.
Add in the sugar, flour and vanilla and mix until well blended, scraping down sides of the bowl as needed.
Add in the eggs, one at a time, blending well after each addition.
Mix in the sour cream and/or heavy whipping cream until smooth. Scrape down the bottom and sides of the bowl with a spatula. Stir the whole batter a few times by hand, to make sure everything is well incorporated.
Pour the batter into the prepared pan. Transfer the pan into the roasting pan. Pour the boiling water into the roasting pan, taking care not to splash water into the cheesecake pan, until water reaches halfway through the height of the cheesecake batter.
Bake the cheesecake for 55 to 70 minutes until the cheesecake's outer three inches look slightly puffed and set, but the inner circle still jiggles slightly when you gently shake the pan. Cheesecakes baked in a 10-inch pan will usually cook in 50 to 55 minutes, and those in a 9-inch pan will cook in 55 to 60 minutes.
Remove the roasting pan with the cheesecake pan from the oven. Take the cheesecake pan out of the roasting pan, and unwrap the foil. Return the cheesecake pan into the turned off oven and crack the oven door open to let it cool gradually. This prevents the cheesecake from collapsing and helps avoid cracks from happening. Let the cheesecake cool slowly for one hour.
Take the cheesecake out of the oven and transfer to a wire rack. Run a thin-bladed knife around the edge of the cake to make sure it's not sticking to the sides. Let the cheesecake cool completely on the rack.
When it has cooled, wrap the cheesecake pan in plastic wrap and transfer to the freezer until well frozen, at least 6 hours, or preferably overnight.
Meanwhile prepare the rest of the cake components.
For the Sugar Syrup: (Could be prepared up to a week in advance).
In a medium saucepan, over high heat, combine together the sugar, water, squeeze of lemon, cinnamon stick, and cardamom.
Bring to a boil, then immediately reduce the heat to low and let it simmer for 10 minutes not more. Set a timer! The syrup will thicken slightly, and have a consistency similar to pancake syrup.
Transfer to a bowl or gravy boat and set aside to cool completely before using.
For the Konafa Topping:
Preheat oven to 390F/ 200C.
Take 6oz/ 170grams of the kanafeh dough and shred in ½ inch/1 cm pieces using hands, knife or scissors. Transfer to a bowl, then pour in 3oz/ 85grams of the melted butter. Mix the butter evenly into the kanafeh shreds, making sure it gets well coated.
Spread the buttered kanafeh to a rimmed baking sheet and bake, stirring often, about every five minutes, to ensure even cooking, until deep golden brown, about 20 minutes. Don't turn off the oven.
Immediately transfer the baked kunafeh into a bowl (leaving any excess butter behind) and while still hot, pour enough sugar syrup to just coat it. Taste, and add more to sweeten if desired. Turn the kanafeh into a sieve placed on top of a plate, to drip any excess syrup. Let cool completely before using.
For the Kanafeh Cheesecake Bottom:
Remove the cheesecake from the freezer, take off the sides of the pan, turn the cheesecake upside down on a plate, slide a knife under the bottom to remove. Peel parchment round to remove. Cover cheesecake with plastic wrap and keep in the freezer until needed. Wash and dry the cheesecake pan and use to make the kanafeh bottom crust.
Place the remaining 6oz/ 170grams of kanafeh dough into a bowl and loosen the strands from each other. Do NOT cut or shred. Pour in the remaining 3oz/ 85grams of the melted butter. Mix the butter evenly into the kanafeh strands, making sure it gets well coated.
Firmly press the buttered kanafeh into the cheesecake pan bottom and a little over the sides, because it will shrink as it bakes.
Bake until deep golden brown, about 20 minutes. While still hot, pour enough sugar syrup to just coat it. Let it cool completely before layering the cheesecake on top of it.
Assembling the Cake:
Take off the sides on the springform pan with the kanafeh bottom crust, then gently slide the kanafeh on to a serving platter or cake stand.
Take the cheesecake layer out of the freezer and place on top of the kanafeh bottom. This should be easily done, since the frozen cheesecake is firm enough to be carried without breakage.
Spread the keshta, clotted cream or creme fraiche on top of the cheesecake.
Top the cheesecake with the konafa shreds, piling it in a mountain-like fashion.
Garnish with the chopped pistachios and edible pearls or sprinkles, if using.
Let the cheesecake defrost to a cool room temperature for several hours before serving. This could take up to 4 hours.
Cut into wedges and serve drizzling extra sugar syrup on the cheesecake layer.
Due to the kanafeh's crunch short life span, the assembled cheesecake is best enjoyed the day its made. Leftovers will keep well in the fridge for several days, but some of the kanafeh crunch will be lost.
Notes
*I prefer Philadelphia brand cream cheese, but Kiri is a good substitute.
**Sour cream gives a pleasant tangy flavor to the cheesecake, but heavy whipping cream could be substituted for a more mellow flavor. Half the amount of both, will give you the best of both worlds.