Inside Out Red Velvet Cookies
Get your Red Velvet Cake (frosting and all) in cookie form! These irresistibly soft and chewy red velvet cookies stuffed with real deal cream cheese frosting, are pretty amazing! Plus…Recipe VIDEO at the end of the post!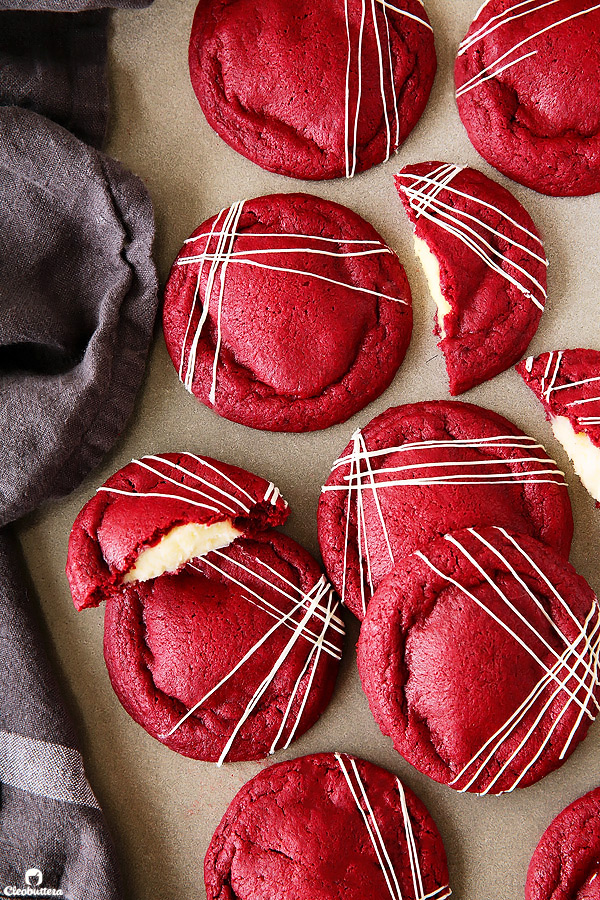 Imagine the best red velvet cupcake you've ever had, re-engineered into the softest, puffiest, chewiest cookie…
Now scrape off the mandatory cream cheese frosting from over the top, and stuff it on the inside instead.
And that's exactly what you'll get…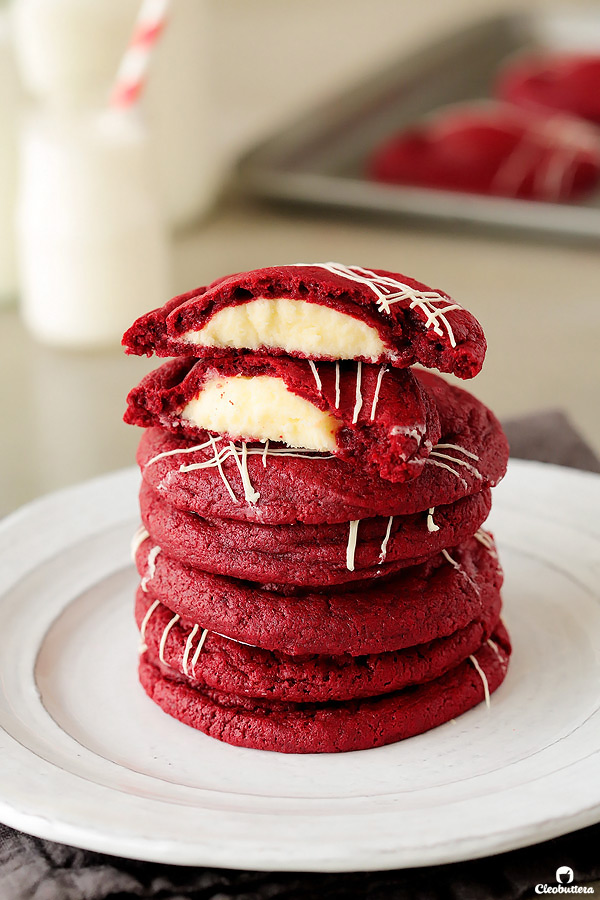 An "inside out" cookie version of the charming red cake.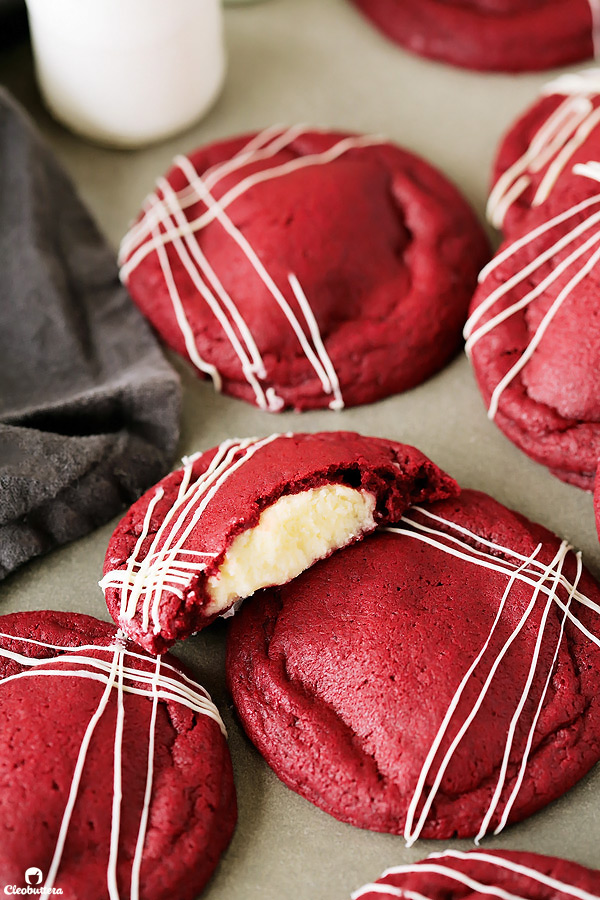 I was first inspired to make these cookies after seeing Sally's NYC Bakery Tour post last year. She made us all drool by the delicious-looking treats she sampled on the trip, but the one that stood out the most for me was City Cakes' Killer Red Velvet Half Pound Cookie.
Even though I'm not the biggest red velvet fan (unless its Sprinkle's Red Velvet Cupcake), I have a weak spot for stuffed cookies. I'm just an absolute sucker for a cookie that looks so innocent and ordinary on the outside…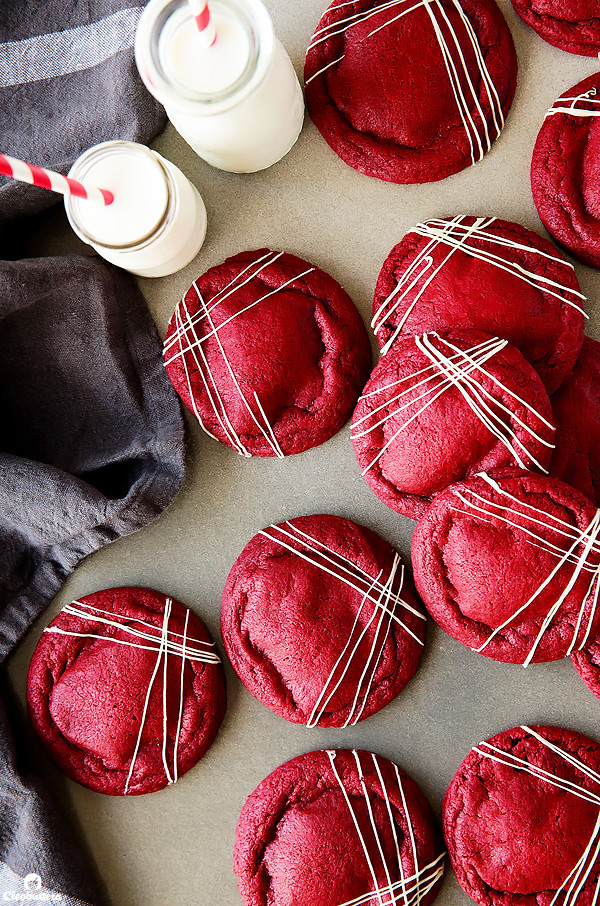 But greets you with an unexpected surprise, once you open into it.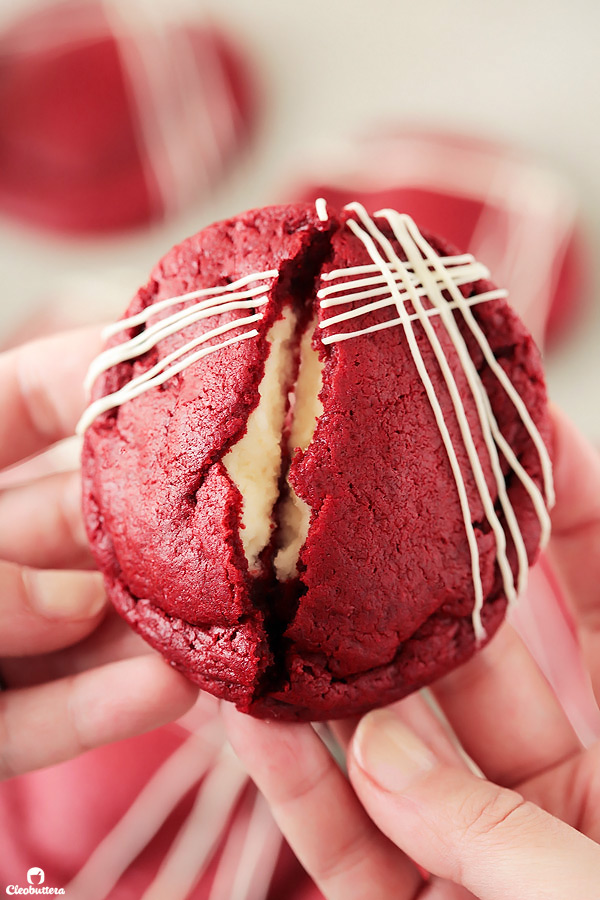 I've stuffed Nutella, Biscoff spread, salted caramel, another cookie into cookies and I couldn't wait to try it with frosting.
Ofcourse it took me several tries to get it just right, but I'm now beyond satisfied with how it turned out in the end and I'm finally ready to share.
I can't say that they taste like City Cakes' cookies, because I've never had them, and I wasn't actually trying to replicate them. However, the concept is pretty close, and I'd be hard pressed to find someone who tasted my version and hasn't flipped out from how good they are. In fact, I already have several family members who deemed them their "favorite cookie of all time" even topping everyone's favorite Chocolate Chip Cookies, which is a BIG deal in my family!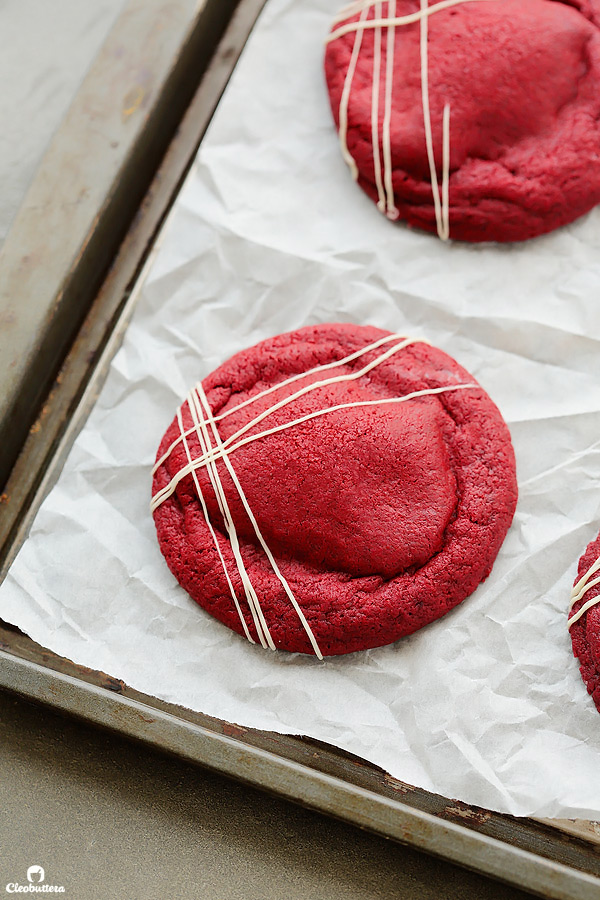 These cookies hit all the notes of a classic red velvet cake in all the right places. So if you love red velvet cake, you'll fall for these.
They're perfectly flavored with just the right amount of cocoa, to give them that signature warm taste. Balanced by that slight tanginess that the famed cake is known for.
The outside is as vibrant and festive as it should be…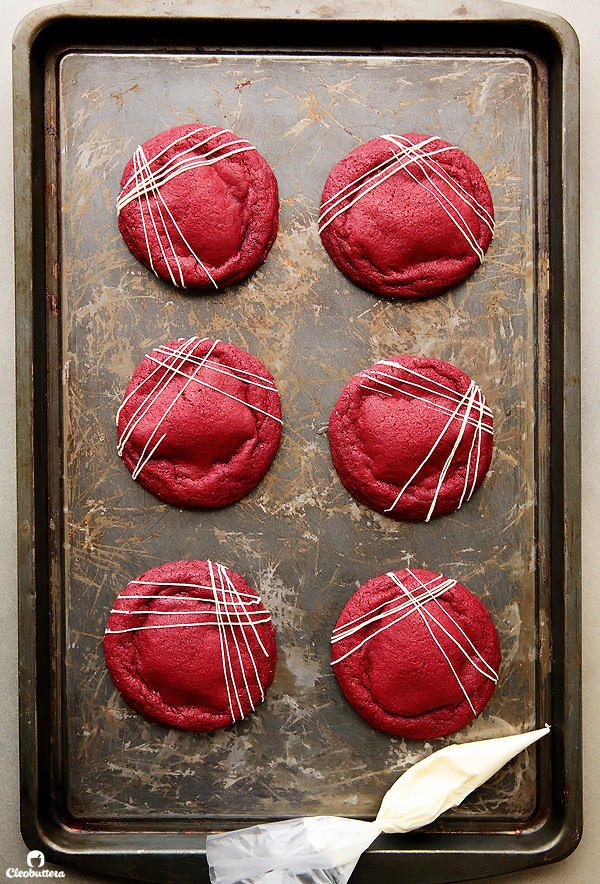 But like so many things in life…
It's what is on the inside that counts.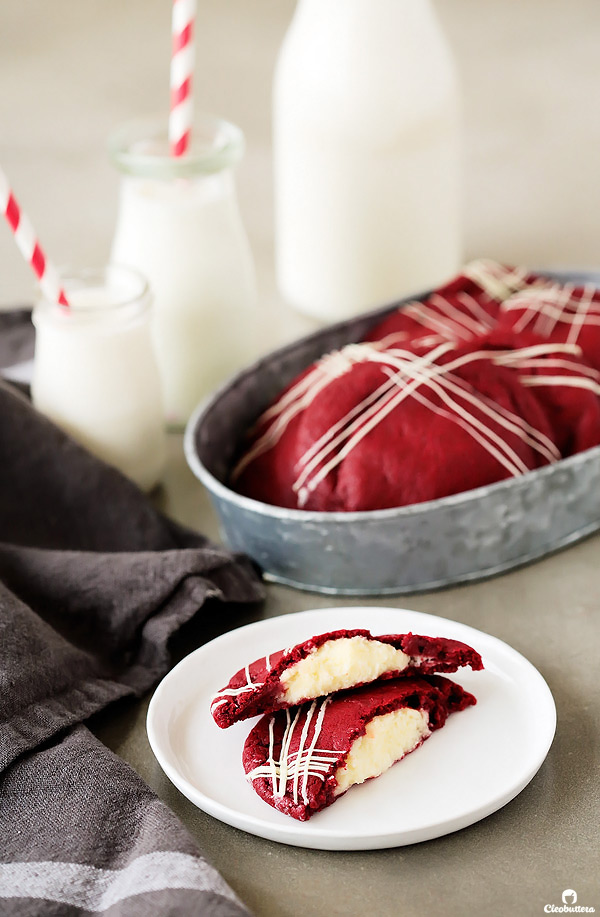 Real deal, legit cream cheese frosting plays the star role of the cookie here…because what's red velvet cake without its inseparable companion.
The frosting is perfection on its own; so creamy, stable, not too sweet and addictive enough that it risks not making it into the dough. It's finger lickin' good! Which is why I made sure it makes about an extra tablespoon for sampling. So leave the rest well alone if you please ??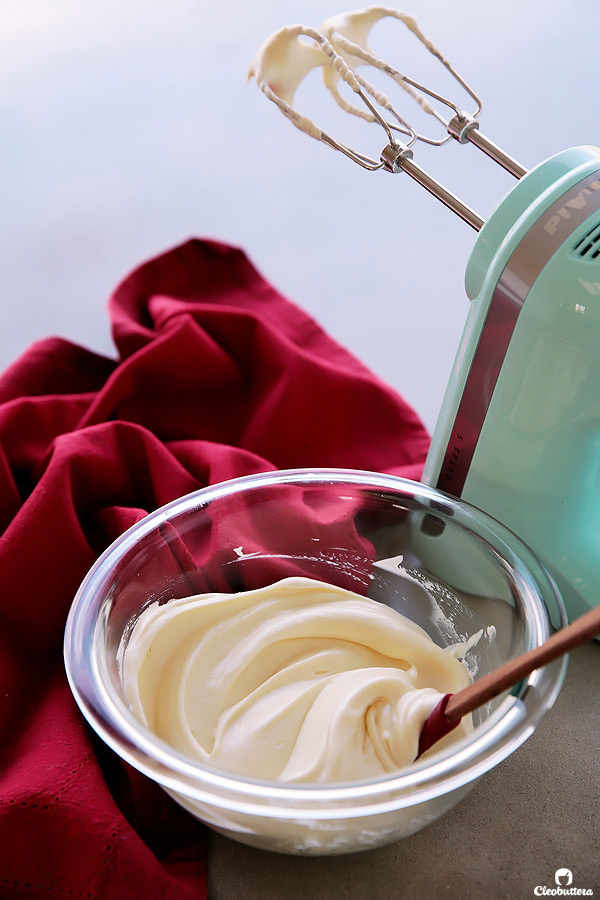 I had to play around with the butter to cream cheese to sugar proportions several times to get it firm enough to not ooze out of the cookies, yet soft enough to spread nicely.
My first trial, was all cream cheese and powdered sugar and not a smear of butter. The result: meh! The frosting scoops just stood still in the cookies and did not spread the tiniest bit. The cookies looked pregnant…for the lack of a better word. Flat around the edges, with a huge baby cheese bump smack in the middle. Tasty? Yes! Pretty? Not unless you're making them for pregnant lady's baby shower. Hmmmm…not a bad idea actually ?
For the second trial, I decided to add in some butter to get a bit of spread. I used the classic cream cheese frosting 2:1 ratio of cream cheese to butter. They spread perfectly, but tasted too "cheesy" that they overwhelmed the red velvet flavor. So I kept toning down the cream cheese until I hit the perfect amount.
The best way to stuff the cookies with the frosting, is to scoop them out into 1 tablespoon portions and freeze them until solid. Otherwise they'll be too soft to work with.
Meanwhile, you can move on to make the cookie dough. You could watch every step of the process in the recipe video at the end of the post!
I adapted several tricks here, to guarantee the softest, chewiest cookies ever. I went with melted butter instead of softened, because it's scientifically proven (not even kidding!) to produce chewier cookies. I also used a lot more brown sugar than white sugar, because it's moister and again makes cookies chewier and softer.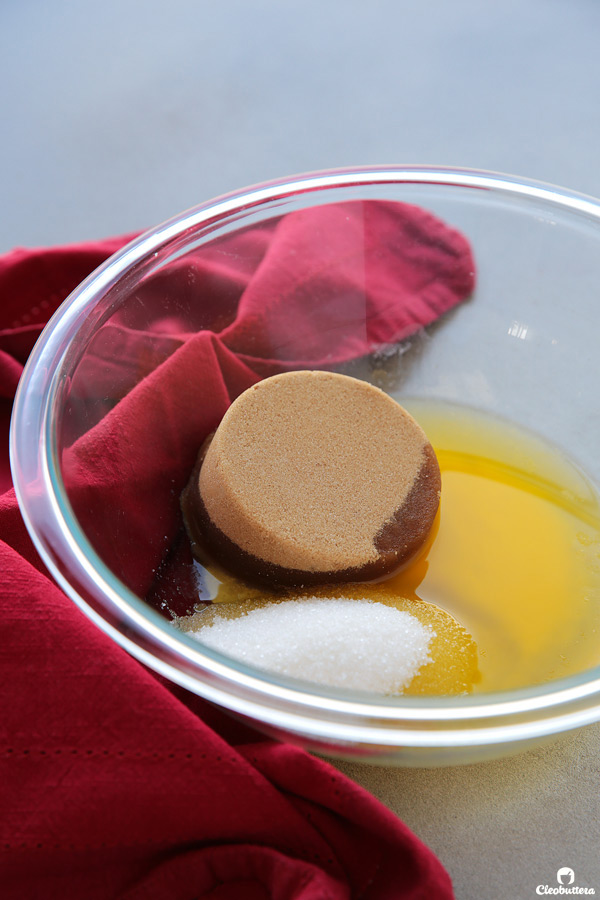 An extra egg yolk along with a whole egg, is a well known trick for adding richness to the dough, which in return heightens the chewy factor.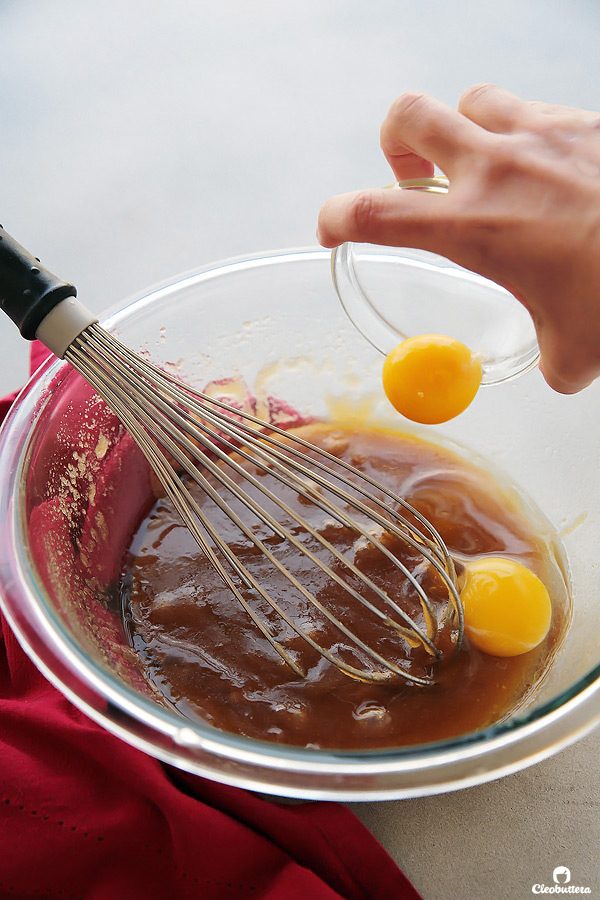 Now to give our cookies than iconic red velvet color, red food coloring is added to the dough. Gel food coloring is best here because it's so concentrated, so a little goes a long way, without thinning out the dough. Liquid food coloring will work though, but the color might turn out less vibrant.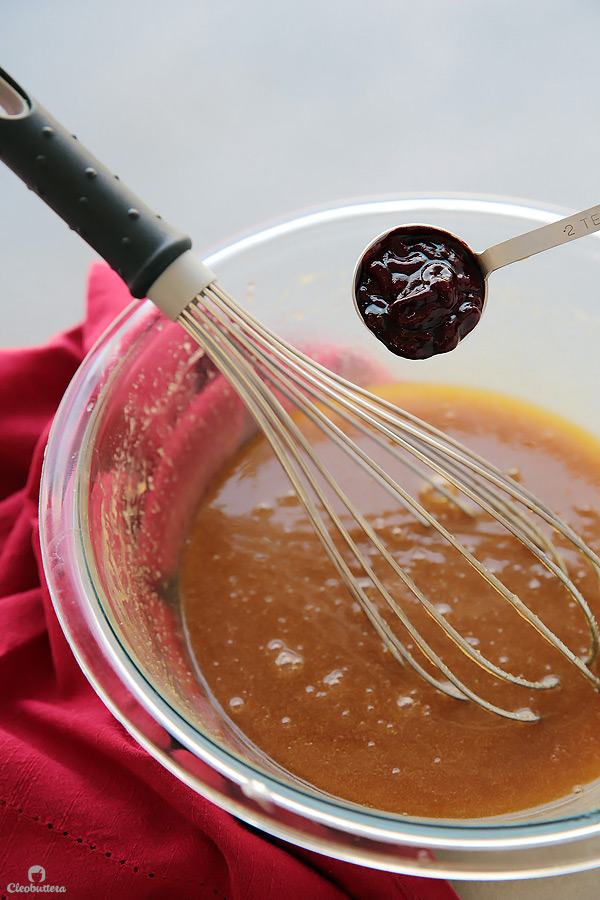 Now here's the part where a lot of people will be tempted to skip, but I urge you not to and here's why: During the testing phase of the recipe, I couldn't get the cookies to turn out as thick as I wanted to no matter what I tried. And I like BIG cookies and cannot lie, so I wasn't about to let go.
Cornstarch trick…already doing it!
Chilling the dough…also doing it!
Upping the baking soda…didn't help!
Increasing the flour= dry cookies…yuck!
And then it struck me! My Favorite Chocolate Chip Cookies recipe uses a unique mixing technique that helps thicken cookies. It involves stirring and resting the mixture several times. I had no other choice but to try it…and OMG it worked with flying colors!
Stirring the butter, sugar, egg mixture for 30 seconds, then resting for 3 minutes, then stirring again and resting, for a total of 3 rests and 4 mixes helps dissolve the sugar better, resulting in thicker, chewier cookies. So unless thinner cookies are your jam, don't skip this step.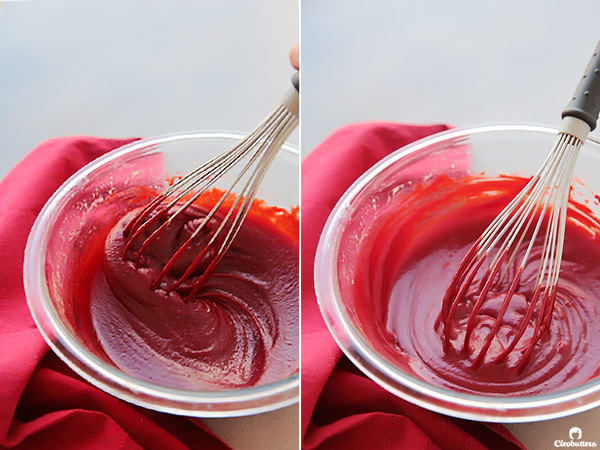 To give the dough an undeniable red velvet flavor, we add a tiny bit of white vinegar to achieve the same acidity and tanginess that buttermilk adds in the cake version. Don't worry you won't be able to taste the vinegar, even if you wanted to. And FYI, the majority of red velvet cake recipes, contain vinegar in the batter, so we're only sticking to tradition here ?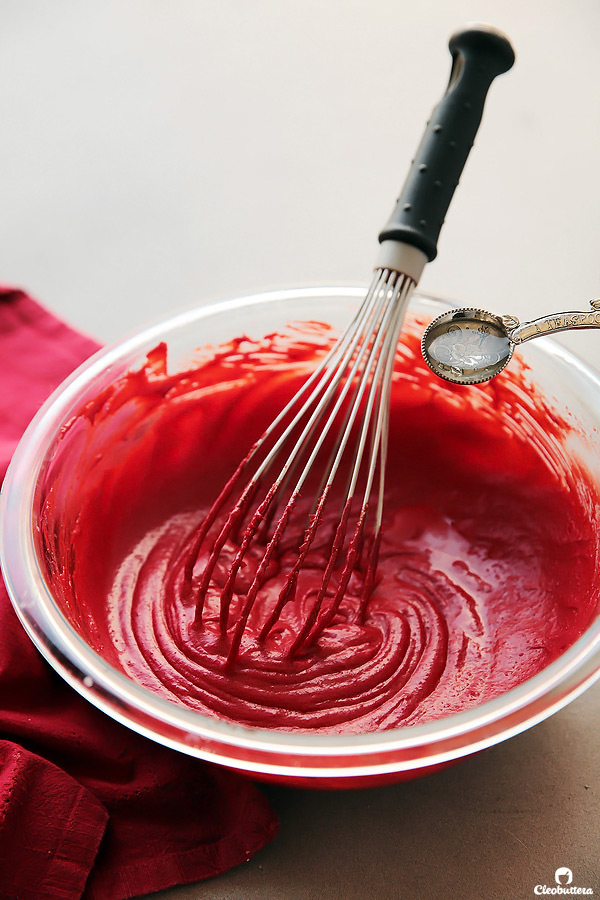 Just 2 tablespoons of cocoa powder gives the dough that whiff of chocolate flavor, that red velvet cakes are known for without tasting like chocolate cake.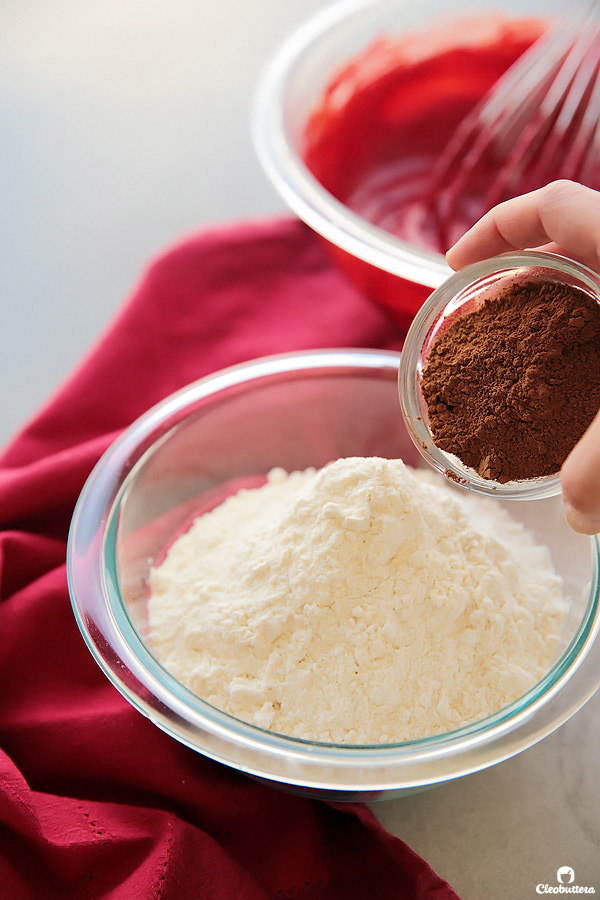 Cornstarch is also added for another assurance for fat, thick cookies, as well as a little bit of baking powder, along with the usual baking soda.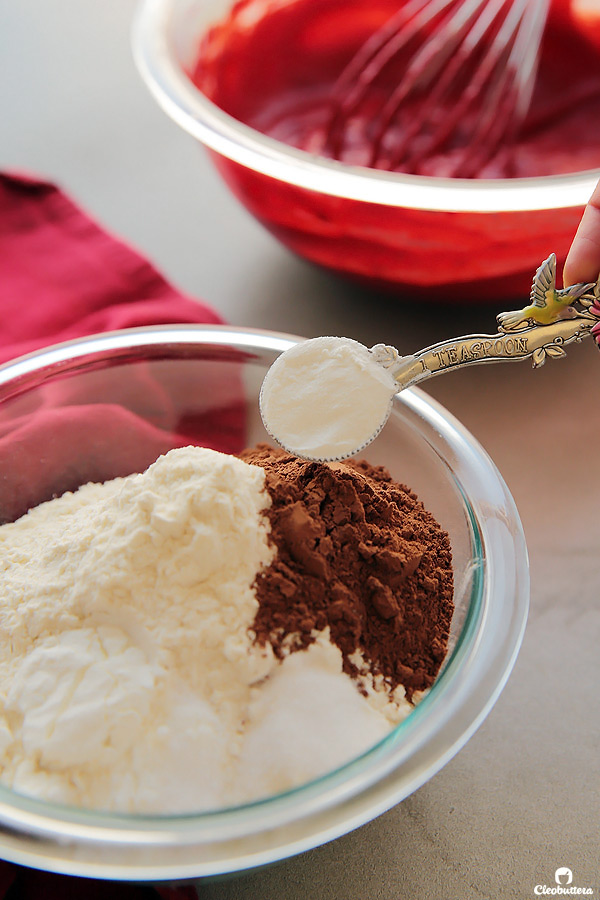 And just like that, dry ingredients get stirred into wet ingredients, and viola! Red velvet cookie dough is ready.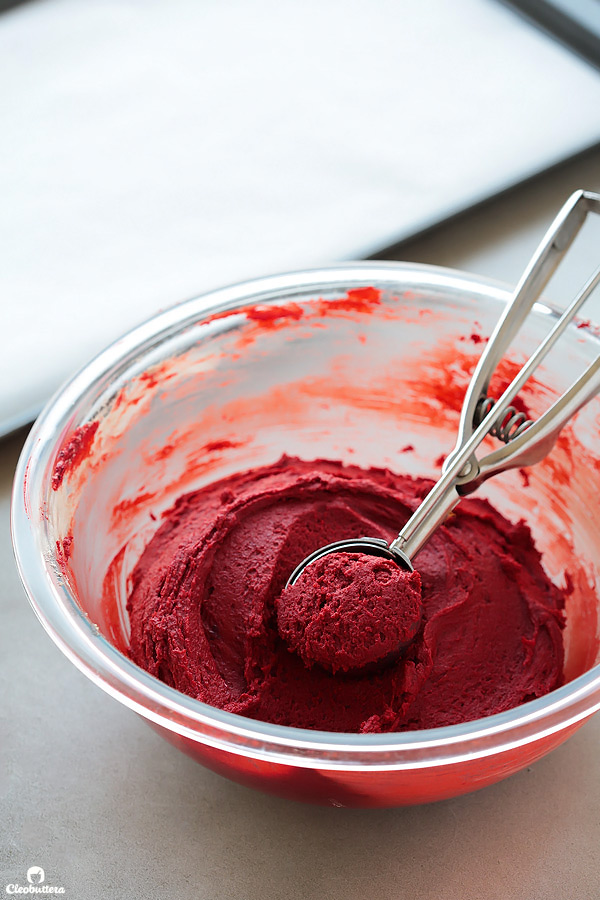 Scoop it out into 16 equal portions. Then make an indentation with your thumb in the center of each dough ball. Now as quick as you can, place the frozen cream cheese frosting scoops into the grooves. Working quickly to avoid the frosting from softening, gather up the dough over it and roll into a ball.
At this point, I like to chill the dough balls in the fridge for at least 2 hours (the longer the better) before baking them. This gives you even thicker cookies.
Ugh! The measures we take for big, fat cookies are unreal..but so worth it!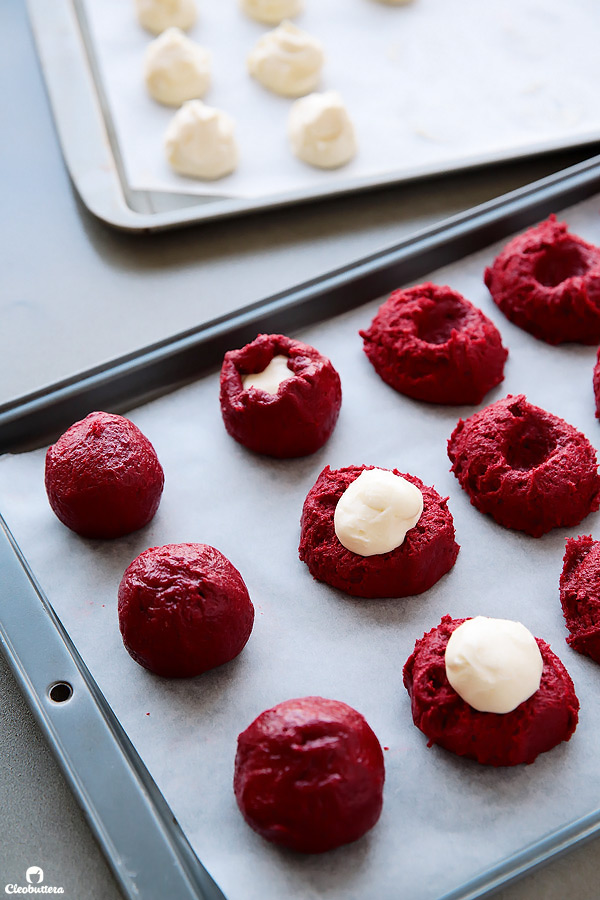 Like always, make sure not to overbake the cookies! You just want to bake them until the edges are barely set, but the centers are so so soft; borderline raw. Err on the side of underbaking if you want them super soft.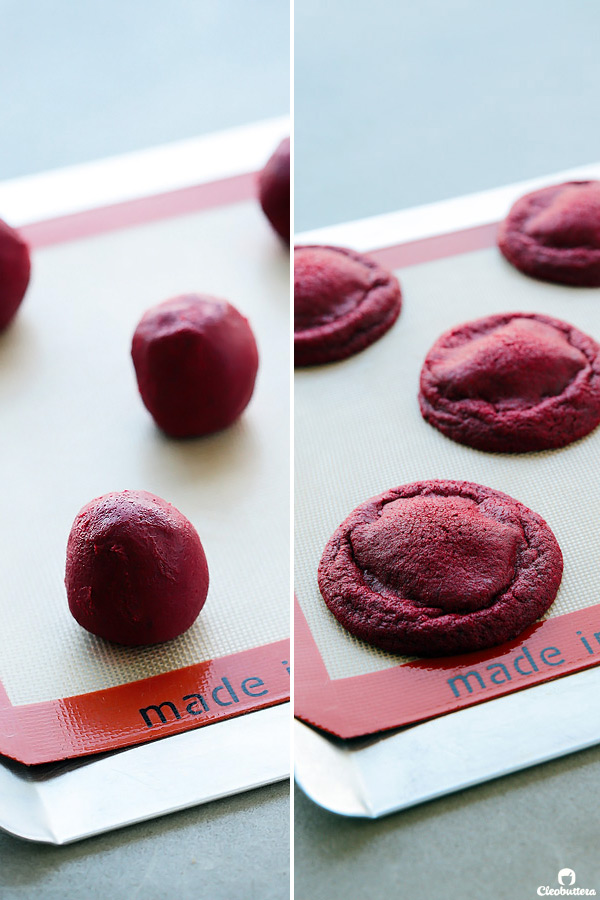 Then after they cool completely (if you could wait that long), add a few drizzles of melted white chocolate for some extra flair!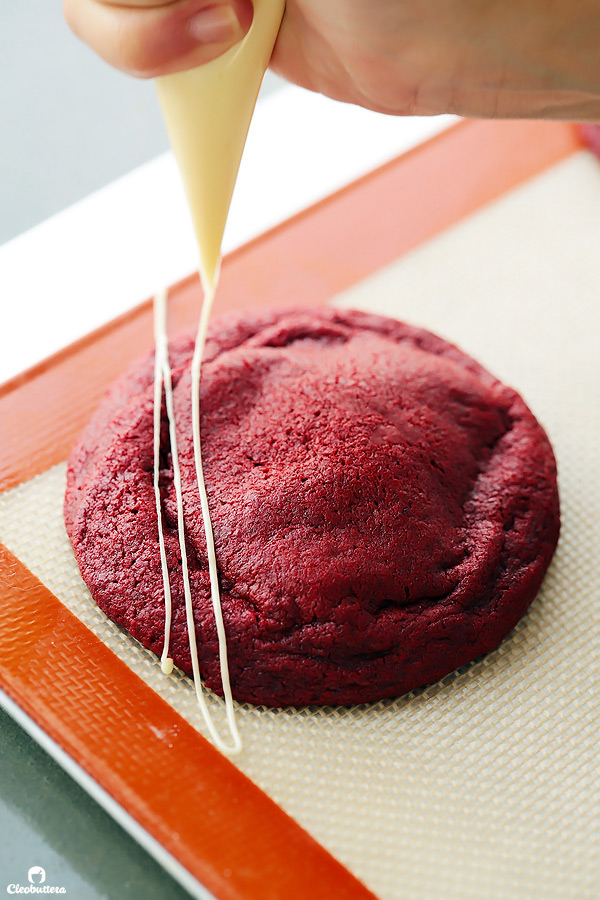 Aaaaaand SKADOOSH!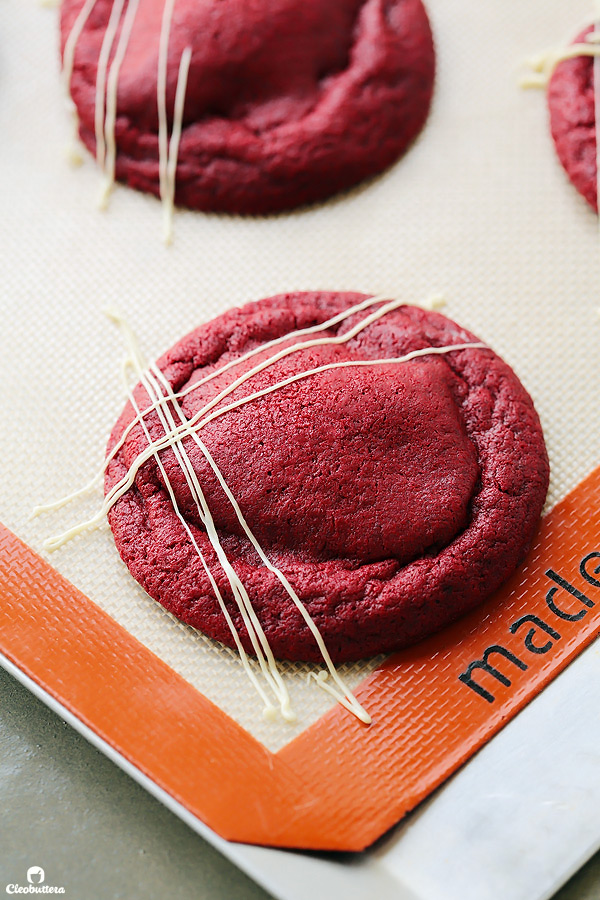 Inside Out Red Velvet Cookies are ready to WOW!
Be sure to watch the video below to see exactly how they're made!
Side note: The cookies in the video are slightly thinner than in the photos and that's because they didn't get a chance to chill long enough on video-shoot day; maybe just 30 minutes or less. Moral of the story: Chill the dough for all least 2 hours!
Enjoy☺
Yield: 16
Inside Out Red Velvet Cookies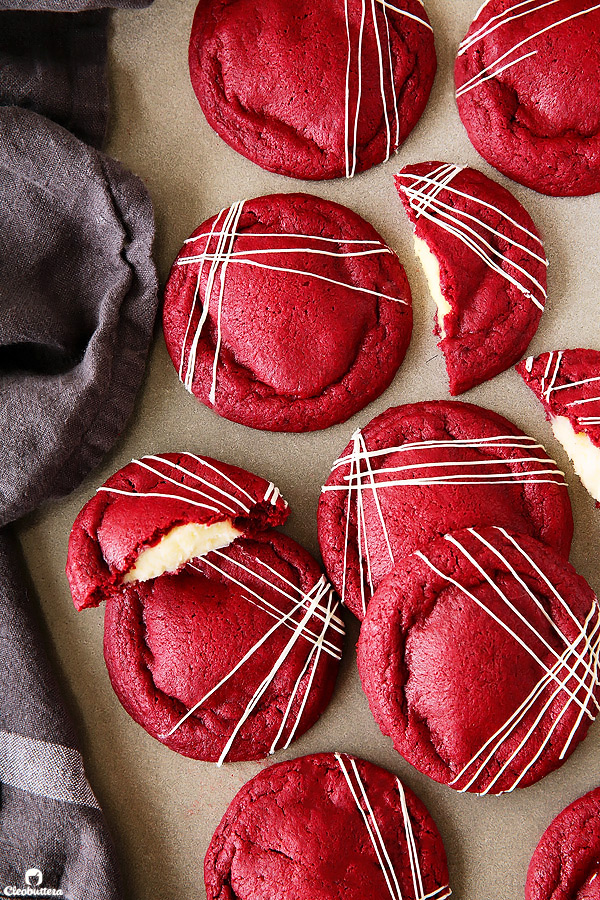 Get your Red Velvet Cake (frosting and all) in cookie form! These irresistibly soft and chewy red velvet cookies stuffed with real deal cream cheese frosting, are pretty amazing! Please note that there are several chilling and freezing steps, so plan ahead before starting.
Prep Time 30 minutes
Cook Time 10 minutes
Additional Time 4 hours
Total Time 4 hours 40 minutes
Ingredients
For the Cream Cheese Frosting Stuffing: (should be made at least 2 hours in advance)
1/4 cup (2 ounces/ 57 grams) unsalted butter, softened to room temperature
1 cup (4 ounces/ 113 grams) powdered sugar
Pinch of salt
1/8 teaspoon vanilla extract or 1/4 teaspoon imitation vanilla flavoring
3 ounces (85 grams) cream cheese, cold and cut into 1 tablespoon squares*
For the Red Velvet Cookie Dough:
2 1/3 cup (10 ounces/ 290 grams) all-purpose flour (preferably weighed for accurate results)*
2 tablespoons (10 grams) unsweetened natural cocoa powder, sift if lumpy
2 teaspoons (5 grams) cornstarch
1/2 teaspoon baking soda
1/4 teaspoon baking powder
1/2 teaspoon salt
3/4 cup (6 ounces/ 170 grams) unsalted butter, melted
1 cup (7 ounces/ 200 grams) packed soft light brown sugar
1/2 cup (3 1/2 ounces/ 100 grams) granulated sugar
1 large egg
1 egg yolk
1 teaspoon vanilla extract or 2 teaspoons imitation vanilla flavoring
1 to 2 teaspoons red food coloring, preferably gel (amount depends on strength of color & intensity desired)
2 teaspoons white distilled vinegar
For Garnish: (optional)
1 ounce (28 grams) white chocolate (not chocolate chips; they don't melt well), roughly chopped
Instructions
To make the cream cheese frosting stuffing: (should be made at least 2 hours in advance)
In the bowl of a stand mixer fitted with the paddle attachment (or in a medium bowl and using hand-held mixer) beat the butter on medium-high speed until creamy and lightened up, 1 to 2 minutes.
On low speed, gradually add in the confectioners sugar, salt and vanilla until fully incorporated. Raise the speed to medium-high, and beat until lightened in both color and texture and looks fluffier than when it started, 2 to 3 minutes.
With the mixer running on medium speed, add one piece of cream cheese at a time, one after the other, mixing well after each addition so there are no lumps. Continue adding the cream cheese until fully incorporated.
Increase the speed to medium-high and beat until the frosting is light and fluffy, and until no cream cheese lumps remain, 2 to 3 minutes.
Line a baking sheet with parchment paper or silicone mat. Using a tablespoon-size ice cream scoop or a round tablespoon measuring spoon, scoop out 16 rounded tablespoons of cream cheese frosting onto the prepared baking sheet. (You might have about a tablespoon leftover; consider this your baker's treat!) Freeze until solid, at least 2 hours and up to overnight.
To make the cookies:
Line another baking sheet with parchment paper or silicon mat.
In a medium bowl, whisk together the flour, cocoa powder cornstarch, baking soda, baking powder and salt to combine; set aside.
In the bowl of a stand mixer fitted with the paddle attachment (or in a large bowl and using a hand mixer or whisk), beat the melted butter, brown sugar, and granulated sugar on medium speed until well combined.
Add in the egg, egg yolk, vanilla, red food coloring, and mix on medium speed until mixture is smooth and emulsified with no sugar lumps remaining, about 30 seconds. Let the mixture rest for 3 minutes, then mix for another 30 seconds.
Repeat the process of resting and mixing 2 more times (a total of 3 rests and 4 mixes) until mixture is thick, smooth, and slightly lightened in color. This step helps dissolve the sugar better, resulting in a thicker, chewier cookie. So unless you prefer thinner cookies, don't skip it.
Stir in the vinegar. The mixture will separate slightly, but that's OK.
Using a rubber spatula, stir in the flour mixture until just combined. Do not overmix.
If the dough feels too soft or warm to scoop and shape into firm balls, then cover and refrigerate for about ½ an hour until scoopable. Using a 3 tablespoon-measure ice cream scoop with a release mechanism, scoop out the dough onto the lined baking sheet, forming 16 equal dough balls.
Using the back of a wooden spoon handle or your thumb, make a deep indentation into each dough ball.
Take the cream cheese frosting scoops out of the freezer and working quickly, peel the frosting scoops from the baking sheet and place one inside each indentation of every dough ball. If you're working in a warm kitchen, you might want to keep the frosting scoops in the freezer, taking only one by one as you work, to prevent them from softening.
Gather the dough up over the frosting scoops to completely cover them. Roll the dough into smooth balls, making sure the frosting is completely wrapped inside and nothing is peaking out.
Loosely cover with plastic wrap and refrigerate for at least 2 hours, then either bake immediately or transfer to a large zipper lock bag and freeze for up to 1 month.*
Preheat oven to 350F/180C and adjust oven rack to middle position.
Line 2 baking sheets with parchment paper or silicon mats. Place 8 cookie balls per sheet, spacing them at least 2 inches apart.
Bake until the cookies flatten with a slight dome, and the outer edges start to set yet centers are soft and puffy, 10 to 11 minutes. The centers will feel undone, but they shouldn't be shiny or sticky. DO NOT OVERBAKE or you'll get hard cookies. The cookies will continue to bake after they come out of the oven from the residual heat of the baking sheet.
Let the cookies cool on the baking sheet for at least 15 minutes before serving, but they taste best at room temperature when they cream cheese frosting is no longer warm. If you'd like to decorate them with the white chocolate drizzles, make sure that they've cooled down completely before doing so.
To decorate:
In a small microwave-safe bowl, microwave the white chocolate in 15 second intervals, stopping and stirring in between until mostly melted. Continue to stir the chocolate until it has completely melted and very smooth.
Allow to cool slightly until barely warm. Transfer the melted chocolate to a disposable piping bag or zipper lock bag and snip the end using scissors to expose a tiny opening. Pipe random lines over the completely cooled cookies.
Set the cookies aside to cool until the chocolate drizzles set. Store cooled cookies in an airtight container.
Recipe Notes
I use Kiri squares cream cheese here because It's what's ready available were I live; Egypt. If using Philadelphia brand, make sure it's brick style.
Weighing ingredients is highly recommended, but if you don't have a kitchen scale to weigh the flour, use the Spoon & Sweep method: Use a spoon to lightly fill measuring cup with flour until required amount is obtained, then sweep access with the back of a knife.
Use the soft kind of brown sugar that feels and looks like damp sand like Dominos brand. Avoid the coarse, granular type of brown sugar like demerara. Use fresh, moist brown sugar instead of hardened brown sugar, which will make the cookies dry.
Cookie dough balls could be chilled in the fridge for up to 4 days or frozen for up to one month in a zipper lock bag. Bake straight from frozen. You might need to add an extra 2 minutes to the baking time.
Recipe is a Cleobuttera Original.
Measurements Note: All recipes of this site have been developed using weight measurements. Although US volume measurements have been included for your convenience, it is highly encouraged that you weigh your ingredients using a kitchen scale to get the best possible results. Due to the sensitive nature of baking, kitchen scales are proven to yield more accurate and consistent results than measuring cups. Enjoy!
This post may contain affiliate links.
All images and content are owned by Cleobuttera® and are copyright protected. Please do not use my images without prior permission. If you would like to republish a recipe, please rewrite it in your own words and link back to the recipe page on my site. Original recipes and creations of this site are intended for personal and home use. Commercial replication or media consumption are only allowed with a written consent and agreement with Cleobuttera owners. Otherwise it is considered a violation of intellectual property. Thank you for respecting and appreciating the amount of time and effort that goes into creating free, unique recipes that make people happy.