Chocolate Chip Cookie Stuffed Oreos
Two all-time favorite cookies join forces to create a cookie within a cookie. Chocolate chip cookies are baked inside Double Stuf Oreos. They're delicious TIMES TWO!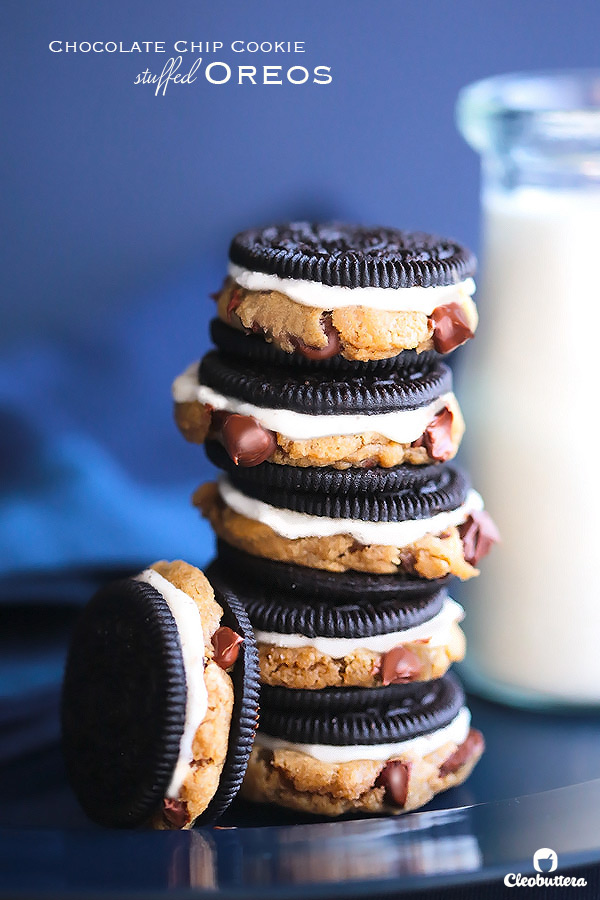 Dear Oreo-making people, ummm, Nabisco…you should totally make these! You'll be making the world a big favor and they'll be your best seller for sure. Sincerely, all Cookie Monsters out there.
C'mon…they just make a ton of sense. I mean…Oreo + chocolate chip cookie = milk slam dunk!
The beloved, classic chocolate chip cookie combined with the iconic Oreo, create the ultimate cookie fusion.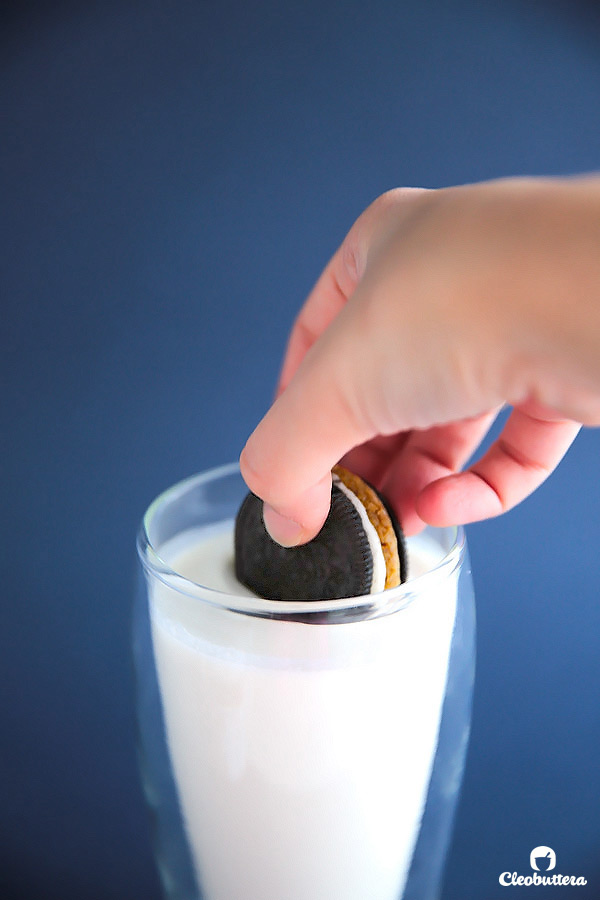 Here, "Milk's Favorite Cookie" gets stuffed with a soft and chewy chocolate chip cookie dough then gets baked. The result is one irresistible hybrid that both grown ups and kids would fall for. They'll probably never want to eat plain Oreos again.
When I first saw this creation a few years ago, over at the Oreo-loving blogger Jenny from Picky Palate, I knew that they had to be experienced. They've since become a family favorite and for a very good reason.
Warm out of the oven, the chocolate chips are all melty, the dough is supremely soft, the cream is extra creamy and the Oreo shell retains its signature crunch. Dunk that in milk and you'll get a flavor and texture explosion in your mouth.
They're so easy to make! No mixer required, no chilling of the dough involved. Just instant gratification.
You'll start by making an easy but incredible cookie dough, which you're not gonna be able to stop nibbling on. And you're gonna need to grab some Double Stuf Oreos. Regular ones will work too, but they won't be as creamy and drippy as the Double Stuf ones. They're worth fetching for.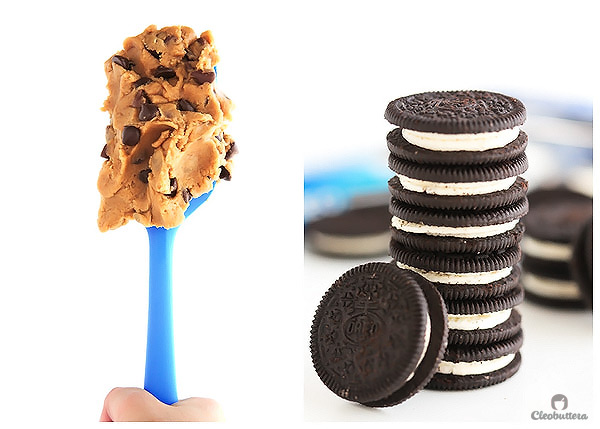 You'll twist them open and then place the NON-cream side on a baking sheet and set aside the ones with the cream on a separate plate. Don't lick them.
Place no more than ONE tablespoon of cookie dough over each Oreo cookie.
I love using ice cream scoops for portioning cookies and cupcakes, and if you bake a lot, I highly recommend getting the 1/4 cup size, as well as the 1 tablespoon size. They've already made an appearance here, here and here, and they're really an indispensable tool in my kitchen.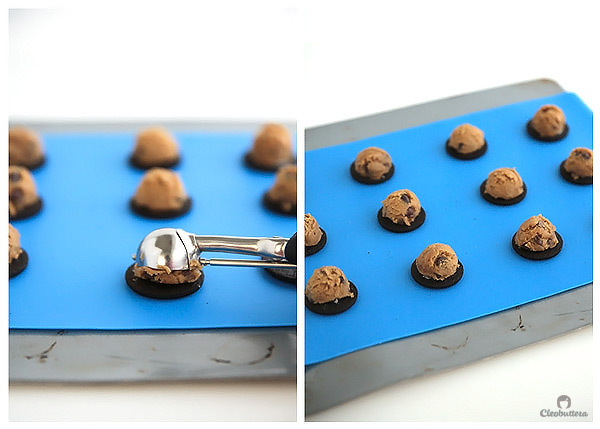 Back to the cookies. You'll bake them just until flattened with a slight dome, are no longer wet and the centers are still very soft, about 8 minutes. Don't be tempted to bake them longer or you'll end up with hockey pucks. They'll continue to bake after the came out of the oven.
While still hot, gently press the cream-side Oreos on top of the cookies and watch the cream soften and beautifully melt over the cookies.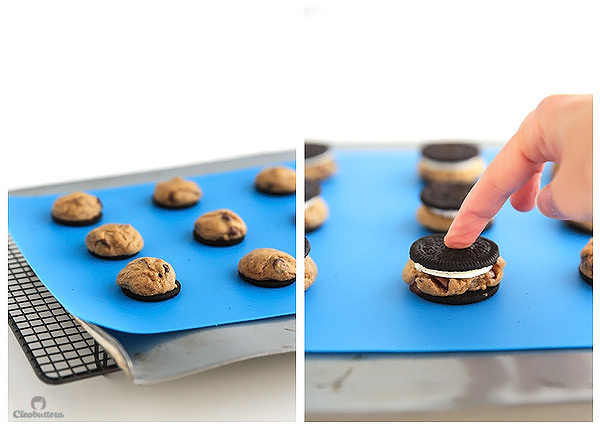 Give 'em ten minutes to cool, then admire their beauty and ponder at the fact that the Oreo company still haven't produced them.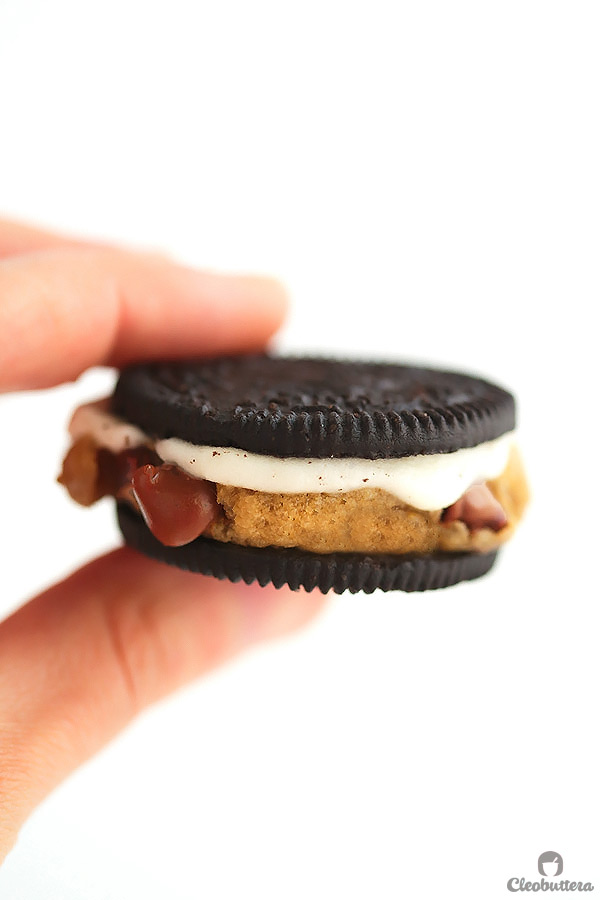 Then give them a good dive in a cold glass of milk…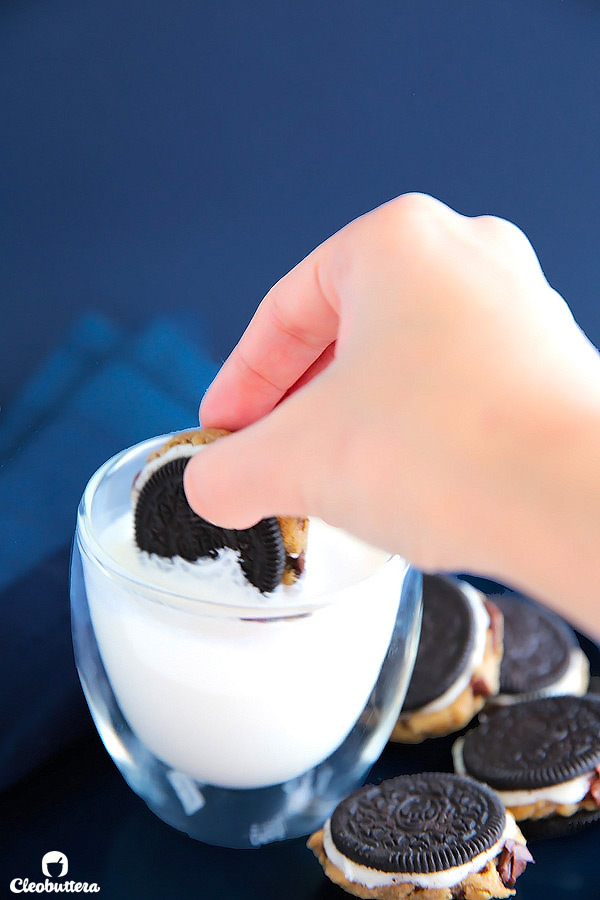 Have a BIG bite and tell me…am I the only ones who thinks that all Oreo cookies should look like that from now on?
Yield: About 32 Cookies
Chocolate Chip Cookie Stuffed Oreos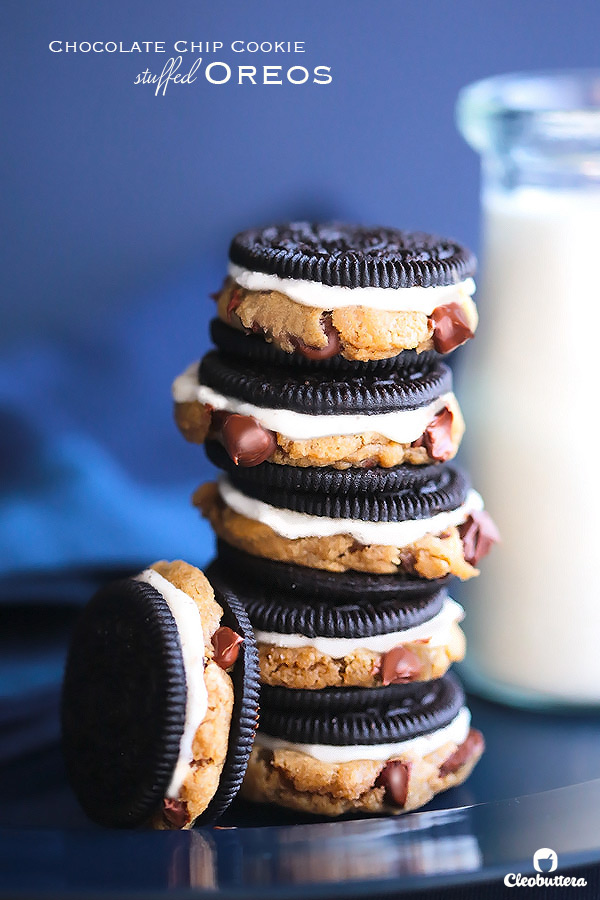 Two all-time favorite cookies join forces to create a cookie within a cookie. Chocolate chip cookies are baked inside Double Stuf Oreos. They're delicious times two!
Prep Time 15 minutes
Cook Time 8 minutes
Additional Time 10 minutes
Total Time 33 minutes
Ingredients
32 Oreos (preferably Double Stuf)
1 cup plus 1 tablespoon (5 1/3oz/ 151g) all purpose flour
1 teaspoon cornstarch
1/4 teaspoon salt
1/4 teaspoon baking soda
6 tablespoons (3oz/ 85g) unsalted butter, melted and slightly cooled
1/2 cup (3 1/2oz/ 100g) packed soft brown sugar (light or dark)
1/4 cup (1 3/4oz/ 50g) granulated sugar
1 large egg yolk
1/2 of an egg white, 1 tablespoon (whisk egg white and measure out 15g or 1 tablespoon)
1 teaspoon vanilla extract or flavoring
3/4 cups (4 1/2oz/ 132g) chocolate chip, preferably mini (semisweet or half milk chocolate and half semisweet)
Instructions
Adjust oven rack to middle position and preheat oven to 350F/180C.
In a medium bowl, whisk together the flour, cornstarch, salt and baking soda; set aside.
In another medium bowl, either by whisk or electric mixer, beat together the butter and sugar until thoroughly blended.
Mix in the egg yolk, 1/2 egg white and vanilla until well combined.
Add the dry ingredients and gently mix until just combined. Do not overmix. Stir in the chocolate chips.
Twist open the Oreo cookies and place only the NON-cream side on a baking sheet, design facing down and plain side facing up. Set aside the creamy side on a plate.
Place 1 tablespoon of cookie dough on top of each plain Oreo.
Bake until just starting to flatten with a slight dome, is no longer wet and the edges is starting to set; about 8 minutes. The center will feel very soft and undone but not sticky, you'll be tempted to bake it more. Please don't or you'll end with tough, crunchy cookies. They will continue to cook after they comes out of the oven.
While still hot, gently press the cream-side Oreo on top of each cookie. The cream will soften and ooze over the cookie.
Let cool for about 10 minutes before serving. Enjoy warm or at room temperature. Warm dunked in milk is kind of heavenly. Give it a try. Store cooled leftover cookies in an airtight container.
Recipe Notes
This recipe can be doubled. In that case use 1 egg plus 1 egg yolk.
The cookie dough could be made in advance. Scoop tablespoonfuls on a parchment lined baking sheet or plate, cover with plastic wrap then freeze completely. Place frozen cookie dough in a zipper lock bag and store in the freezer until needed. When a cookie craving hits, place the desired amount of frozen cookie dough on the same amount of non-cream side Oreos and bake straight from frozen.
Recipe idea inspired by Picky Palate.
Chocolate Chip Cookie recipe heavily adapted from Cooks Illustrated
Measurements Note: All recipes of this site have been developed using weight measurements. Although US volume measurements have been included for your convenience, it is highly encouraged that you weigh your ingredients using a kitchen scale to get the best possible results. Due to the sensitive nature of baking, kitchen scales are proven to yield more accurate and consistent results than measuring cups. Enjoy!
This post may contain affiliate links.
All images and content are owned by Cleobuttera® and are copyright protected. Please do not use my images without prior permission. If you would like to republish a recipe, please rewrite it in your own words and link back to the recipe page on my site. Original recipes and creations of this site are intended for personal and home use. Commercial replication or media consumption are only allowed with a written consent and agreement with Cleobuttera owners. Otherwise it is considered a violation of intellectual property. Thank you for respecting and appreciating the amount of time and effort that goes into creating free, unique recipes that make people happy.