This thick and decadent hot chocolate is ultra rich and creamy, its like drinking chocolate soup.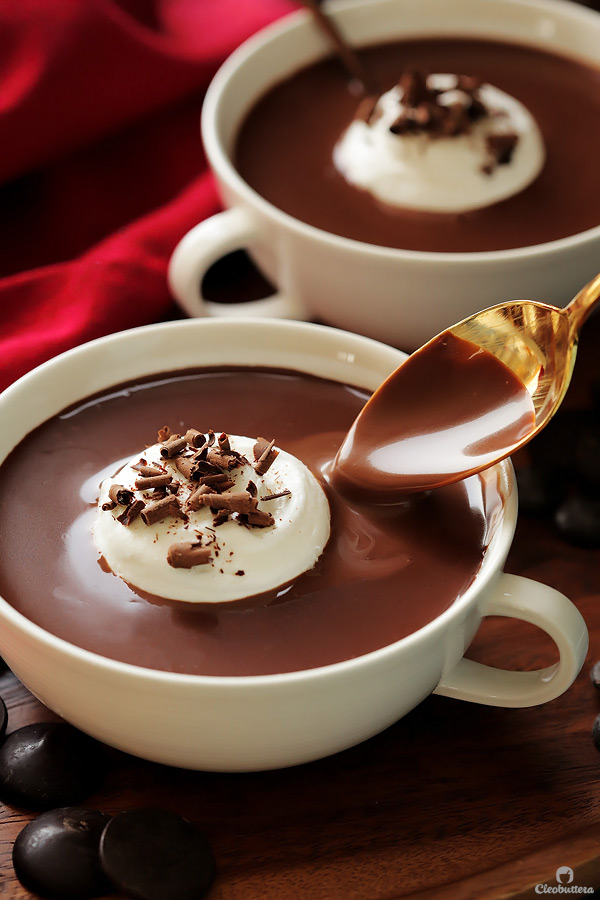 This right here is no ordinary hot chocolate.
It's the kind you drink only twice a year, because every sip feels like a sin.
But then again it's so good, you'll never want to stop.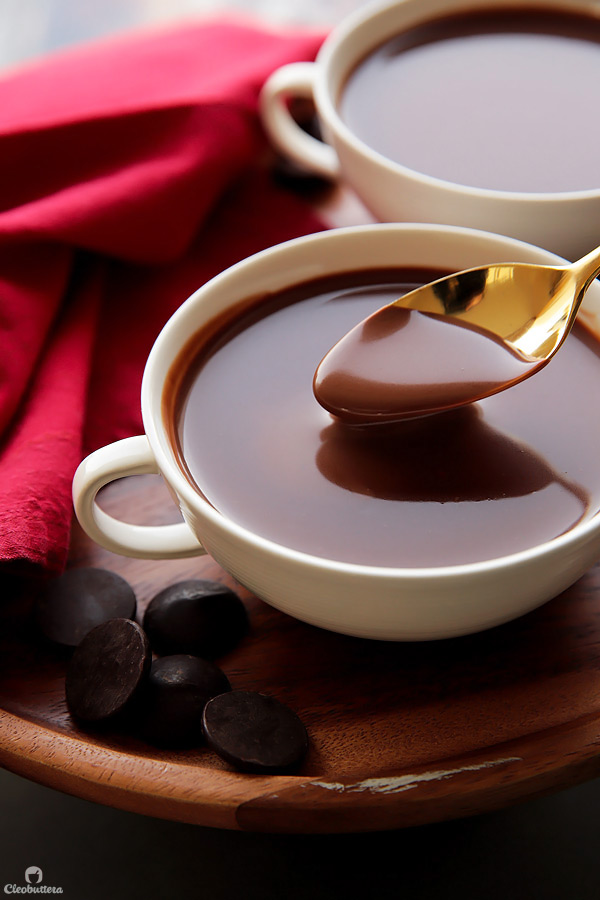 Its so thick and creamy, it totally deserves 'Drinkable Chocolate' status.
So deadly, that only serious chocoholics are allowed to trespass.
Skinny, Light, Refreshing is not in today's vocabulary, but when has it ever been around here? Oh yes!  There was this one time. Today, Comfort, Warmth and Indulgence is the name of the game!
If you find yourself licking chocolate sauce off of plates, and sneaking spoonfuls of freshly prepared pudding before it sets, then this drink is what you've been needing all your life.
I mean…can a spoon sink in a typical hot chocolate like that?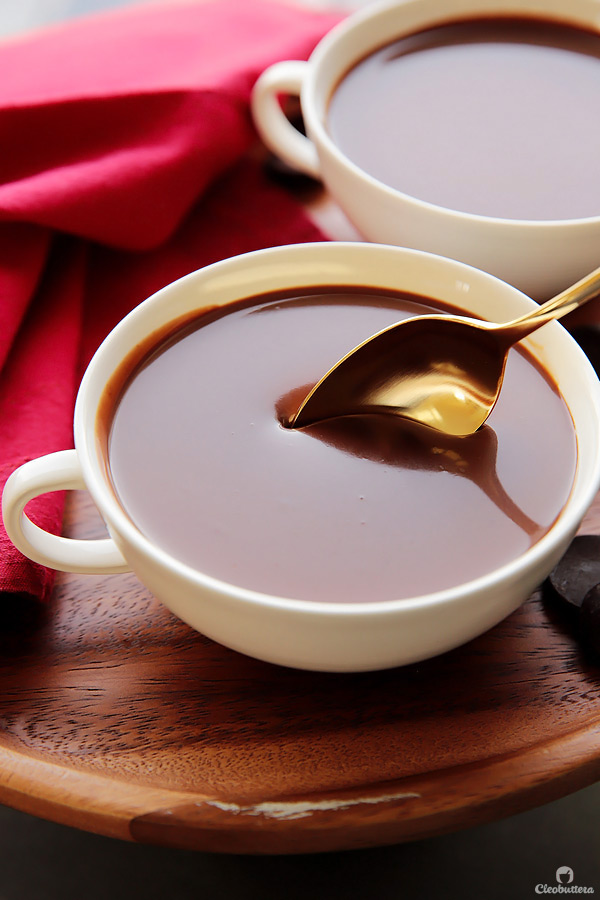 I think NOT!
This drink is a far cry from the mainstream hot chocolate.
The Italian-style hot chocolate, (known as Cioccolata Calda) is super thick, I like to pretend its chocolate soup.  So luxurious and creamy, it's like pudding…only pourable.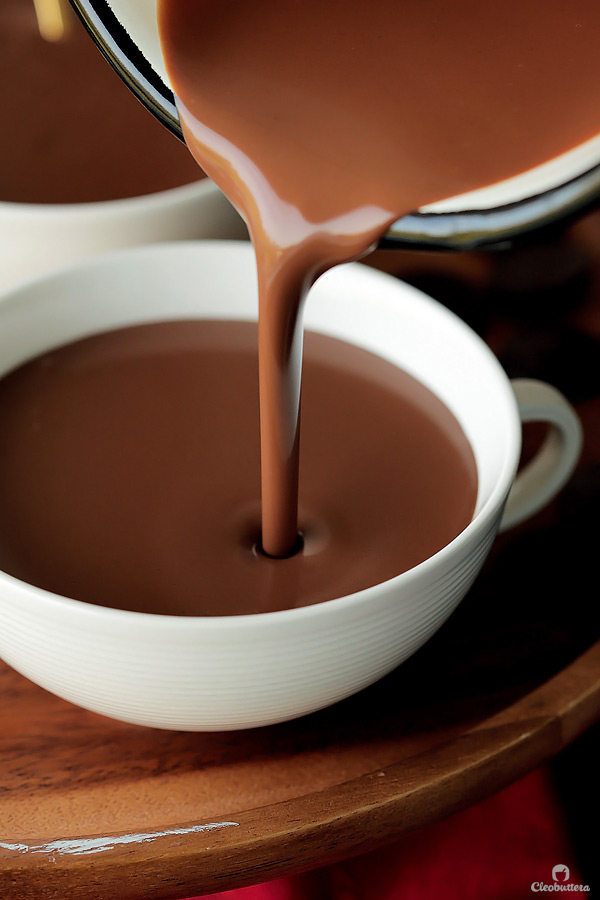 It's made from a combination of milk and (can you cover your eyes for a sec?)…heavy cream.  Yes.  Heavy cream!  Sorry…but not really.
Come on guys…we've already established that its a once-in-a-blue-moon treat, so moving alooooong…
To achieve that silky pudding-like texture, the hot chocolate is thickened with a little bit of cornstarch.  Which is derived from corn!  So there you go…there's a vegetable in your drink, if it makes you feel any better 😜
And to get that super chocolate-y, coat-the-spoon consistency, nothing but the best quality chocolate is added.  Not cocoa powder! That's no chocolate milk.  It's literally H.O.T  C.H.O.C.O.L.A.T.E.
As in chocolate, that is hot.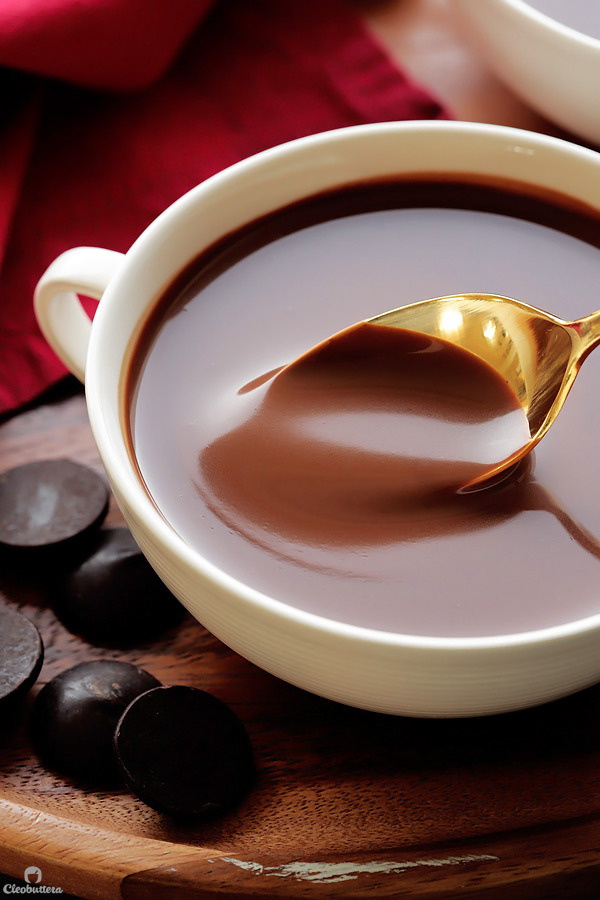 Since very little ingredients make up the drink, your hot chocolate is only as good as your chocolate is.  So choose the chocolate intensity you like the most, and the best quality you could afford.
Semisweet or dark chocolate with a cocoa content between 55%-75% is best here.  A semisweet level of intensity is my favorite; due its perfect balance between milk and dark, so I use these 55% dark chocolate callets, which makes for a perfectly sweet drink without any notes of bitterness.  If you prefer the bold intensity of dark chocolate, then go higher with the cocoa content; something around 62%-75% should hit the spot.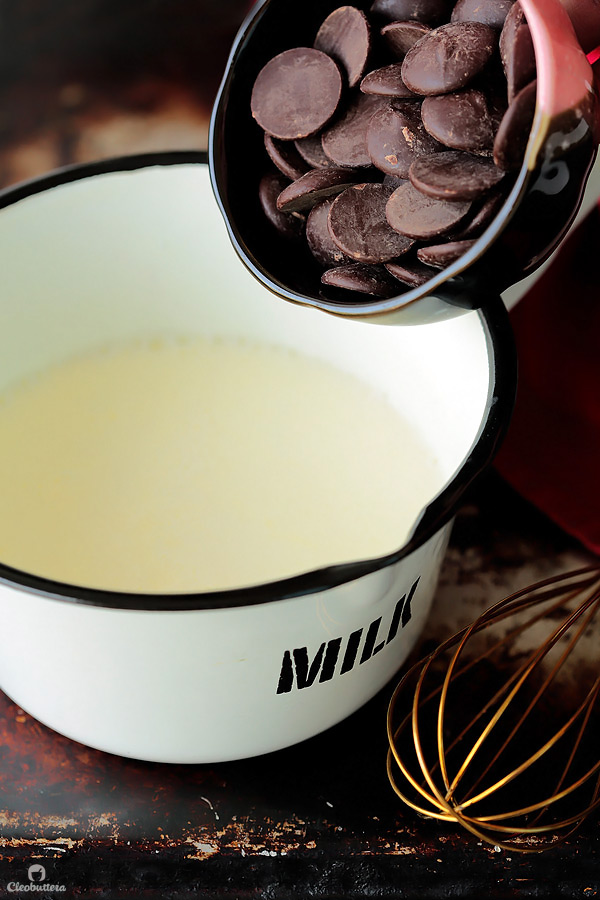 And then you're a few whisks away from chocolate bliss.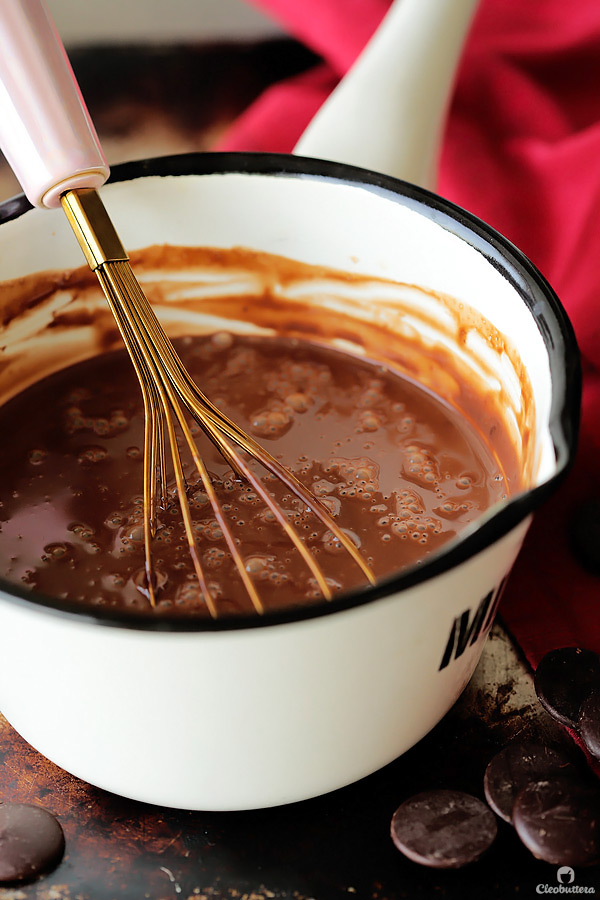 And if the drink is not rich enough for you, a dollop of whipped cream will just have to do.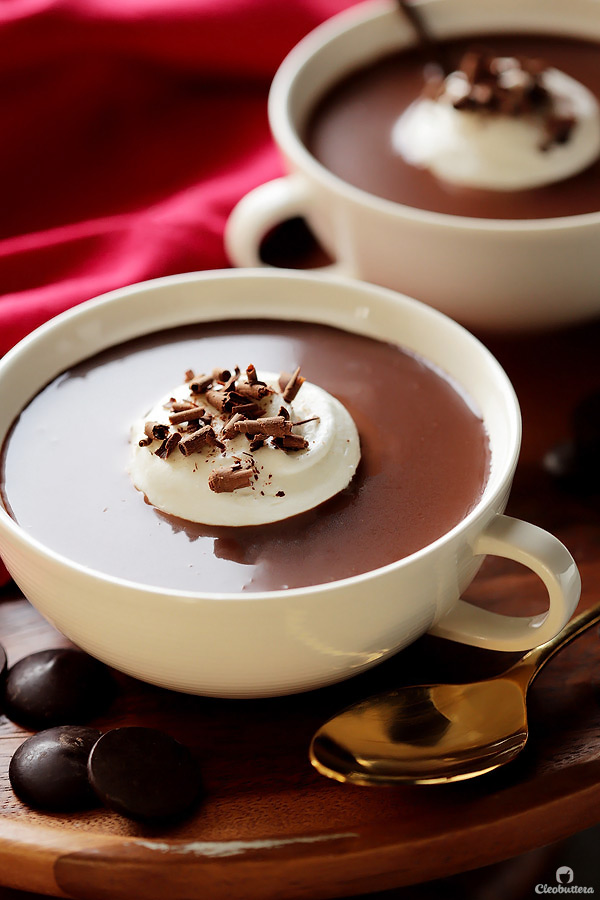 Now brace yourself, for the best hot chocolate your lips might ever touch.

Rich Italian Hot Chocolate
This thick and decadent hot chocolate is ultra rich and creamy, its like drinking chocolate soup.
Ingredients
1 cup whole milk, divided
1 cup heavy whipping cream
4 tablespoons (50g) granulated sugar
1½ teaspoons cornstarch (reduce to ¾ teaspoon if a thinner consistency is preferred)
4½ ounces/ 128 grams dark chocolate, callets or finely chopped from a bar*
Whipped cream, optional for garnish
Chocolate shavings, optional for garnish
Instructions
In a medium, heavy bottomed saucepan over medium-high heat, whisk together ¾ cup of the milk, cream and sugar. Heat, whisking occasionally, until the mixture starts to bubble around the edges.
Meanwhile, in a small bowl or liquid measuring cup with a spout, whisk together the remaining ¼ cup milk and cornstarch until well combined. As soon as the milk mixture bubbles around the edges, add in the milk and cornstarch mixture and whisk until heated through, about 1 minute.
Reduce heat to medium-low, then add in the chocolate and whisk until completely dissolved into the milk mixture, and is thick enough to coat a spoon, about 5 minutes.
Remove from heat and pour into mugs. While this recipe fills 2 average-sized mugs, keep in mind that it's super rich, so you might want to consider serving 4 half cupfuls instead. Garnish with a dollop of whipped cream and top with chocolate shavings if desired. Serve immediately as the drink will continue to thicken as it cools.
Notes
*Chocolate with at least 55% cocoa and up to 75% is recommended in this recipe. Dark semisweet chocolate around 55% (my personal preference) will produce a sweeter drink that is more suitable for milk/semisweet chocolate lovers. I use
this one
. If you're a dark chocolate fan, then go with 62%-75% cocoa chocolate, as it for will make a less sweet, intensely chocolate-y drink.
* This recipe produces a super thick hot chocolate in the best way possible. The consistency is similar to a thin chocolate sauce and the texture is that of a lighter pudding, and it will continue to thicken as it cools. If a thinner, less rich hot chocolate is desired, feel free to reduce the cornstarch amount by half.
Recipe adapted from
Brown Eyed Baker
.