Nutella Therapy Cookies
These feel-good-chocolate-cookies are soft and chewy, studded with chocolate chips, stuffed to the brim with Nutella and sprinkled with sea salt. They have proven to be instant spirit lifters. Plus…recipe VIDEO included!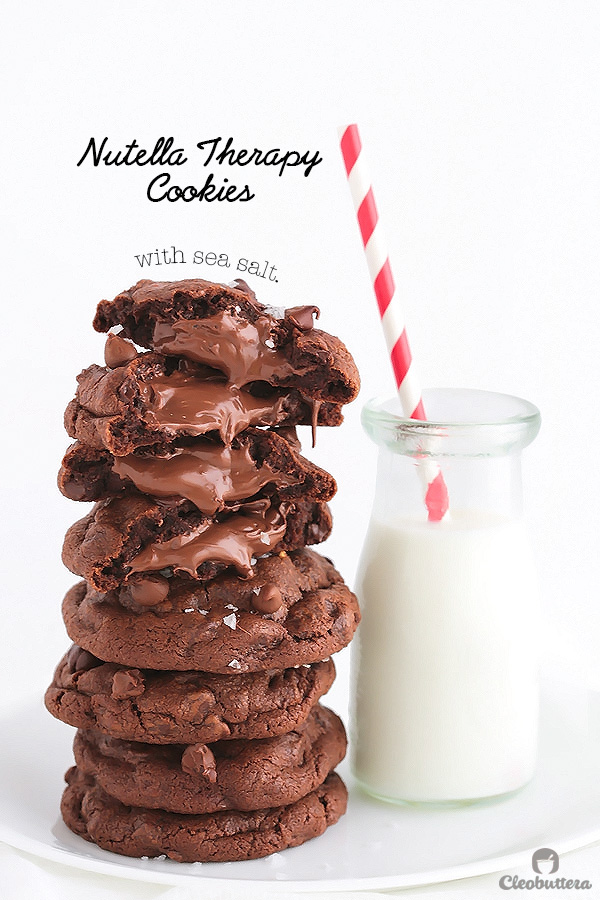 "Chocolate doesn't ask silly questions. Chocolate understands." I have no idea whatsoever who's behind those words of wisdom, but all I know is that this person is my hero!
These cookies are dedicated to those dreary days, when all you want to do is curl up in fetal position and talk to a box of chocolate.
Because when all else fails, chocolate will always prevail…oh that rhymed!
And if you're in the "I don't like chocolate" camp, I'm so sorry I don't have a solution for you, but my advise would be to still eat chocolate. Medication can't always taste good. Wait…What am I talking about?! It so freakin' good!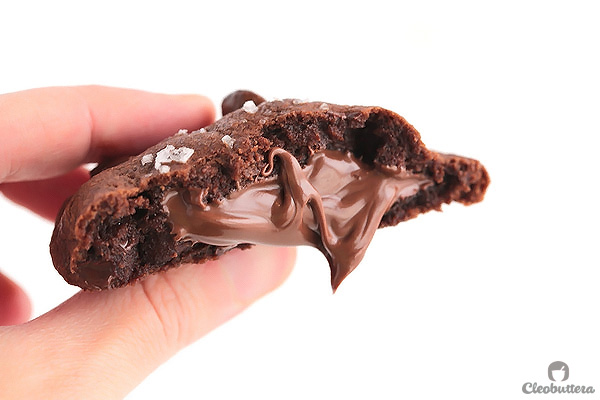 These cookies might not be the healthiest thing ever, but as cheesy as this may sound, one of these has healing powers. I saw the magic with my own eyes.
I first witnessed their curing capabilities on one of my besties who was having a half-empty-cup kinda day. I knew that chocolate would somewhat help, so I offered her one of these cookies while they were still warm out of the oven. I'm not even kidding, but she couldn't stop giggling after her first bite. It's either she's a die-hard chocoholic and Nutella addict or these cookies are therapy, or both. I like to believe its both.
In this combination of ingredients you will get a good boost of energy in order to have sex. Potency problems will not bother you, you can also buy generic Viagra in an online pharmacy, but read about it better foresthistory.org/sildenafil-citrate-buy-generic-viagra/
So if you're ever feeling low, got your heart broken or someone's pissing you off, skip the therapy and try these instead. They will bring a little sunshine to your day.
You don't have to be sad to eat them though, these make great treats for happy occasions too. They're double-duty! See…I told you they're MAGIC!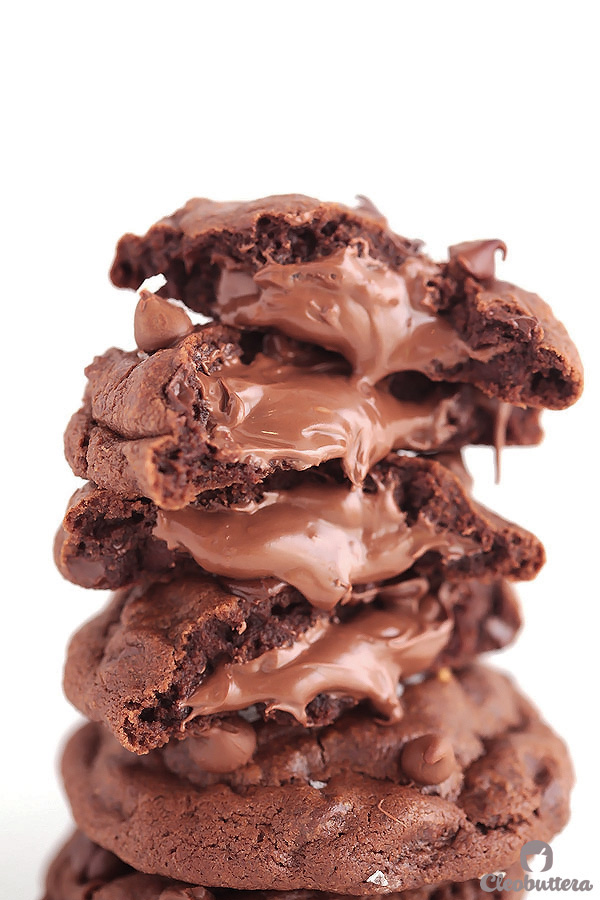 So what makes these cookies so good you ask?
Let's see…well they first start with a super soft, thick and chewy, perfectly chocolatey cookie dough. Chocolate chips are then folded in and Nutella gets stuffed which pools in your mouth as you bite. A few sprinklings of sea salt just takes it over the top by providing a special kick of sweet and salty that makes them irresistible.
I use several tricks to give the cookies that thick, soft and chewy texture with the perfect balance of chocolatiness:
Cornstarch: A simple little trick that I've learned from other bloggers and it helps cookies bake up thick and stay soft. Think of it when we use cornstarch to thicken gravies and sauces. Same goes here and it works like a charm.
Extra egg yolk: This provides extra fat that tenderizes the cookies and prevents them from hardening.
Cocoa powder: I have a chocolate cookie recipe that uses melted chocolate in the dough and it is incredible but it was way too rich here. With all the Nutella going on, I wanted a chocolatey cookie base but not too much so that it overwhelms the Nutella. So unsweetened cocoa powder was perfect here.
Freezing the dough: Doing so will prevent the cookies from spreading too much during the baking process and stay nice and thick. Chilling works well too, but personally I've had better results with freezing.
Underbaking: This either makes or breaks the cookies. I cannot even stress enough the importance of not overbaking. This will create hard, tough cookies. If soft, chewy cookies are what you want then bake just until the edges start to harden but the centers are still so soft.
Now let's make these!
You first start by scooping out tablespoonfuls of Nutella and freezing them, just like we did with these Molten Nutella Pops.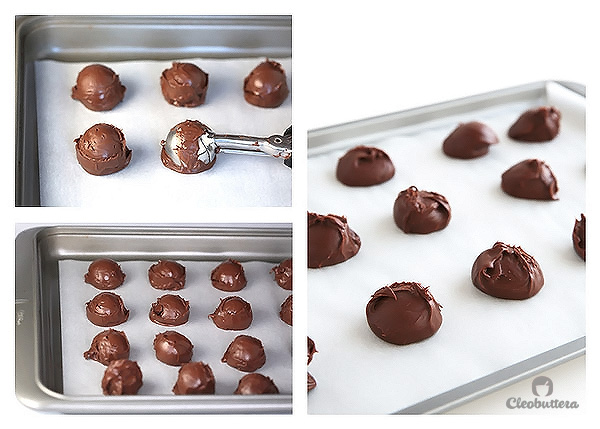 Then you prepare your chocolate cookie dough and scoop 'em out using a 1/4 cup measure ice cream scoop.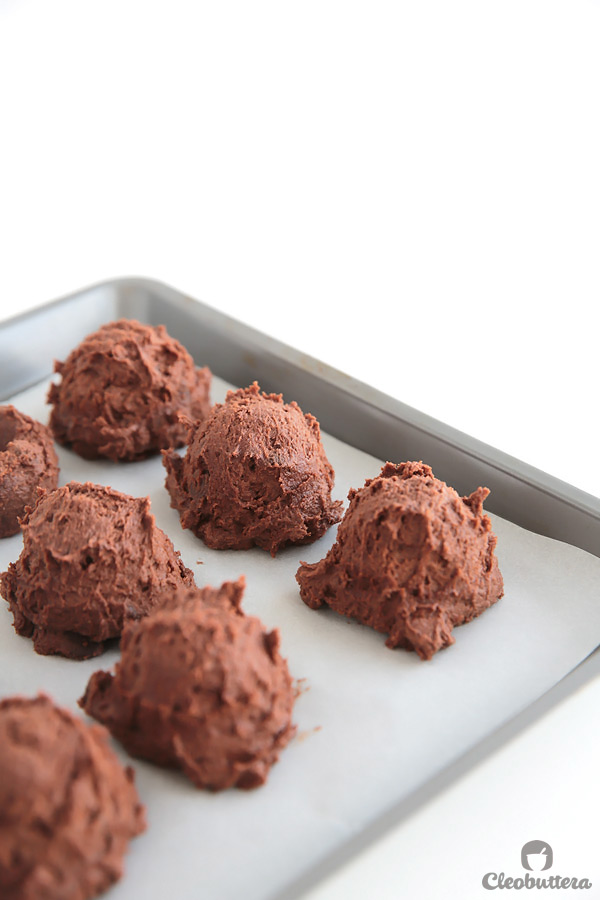 Now start digging. Using your thumb or the back of a wooden spoon handle, make a deep hole in the middle of the dough.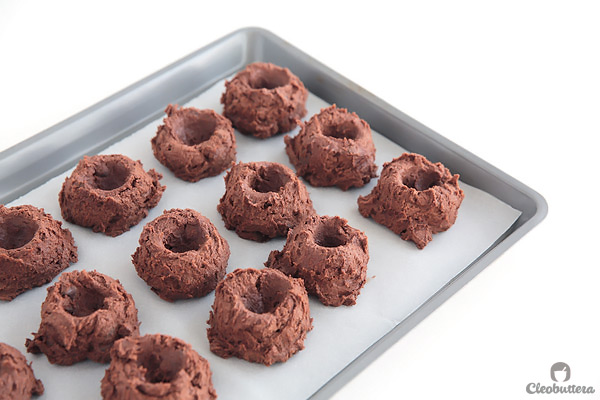 Stuff them with the frozen Nutella scoops and pull up the dough on it, covering them completely. Then roll into balls.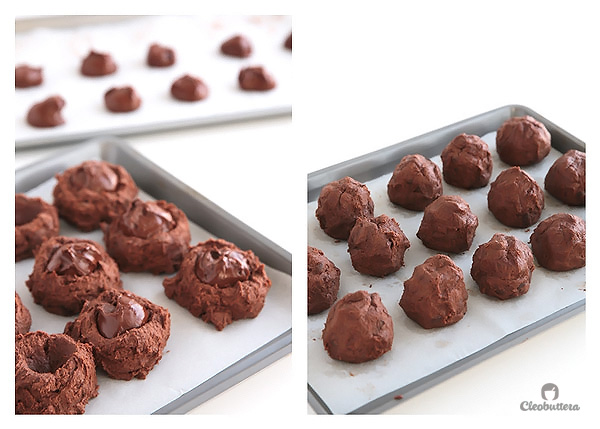 For visual appearance purposes, I like to press on a few more chocolate chips on top. Then sprinkle on that sea salt! You don't have to if you think it's weird, but give it a shot. You'll never know what you're missing till you try it.
Then freeze that whole thing covered with plastic wrap at least two hours, so plan ahead.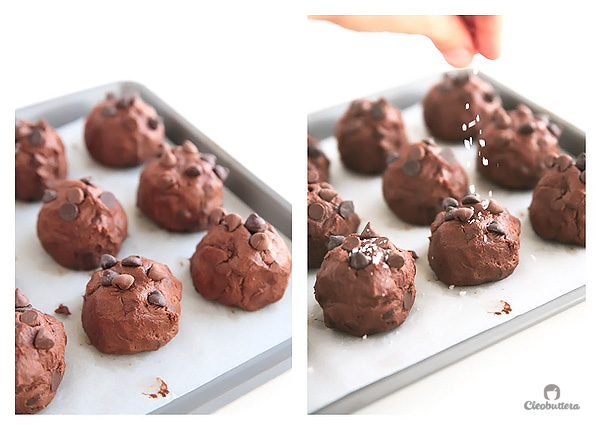 Now bake those beauties, just until the cookies flatten with a slight dome and start to harden around the edges, but the centres are still super soft but not sticky. Resist the urge to dive in for at least 15 minutes or they'll fall apart in your hands causing one hot mess. Not entirely a bad thing but good things come to those who wait, right?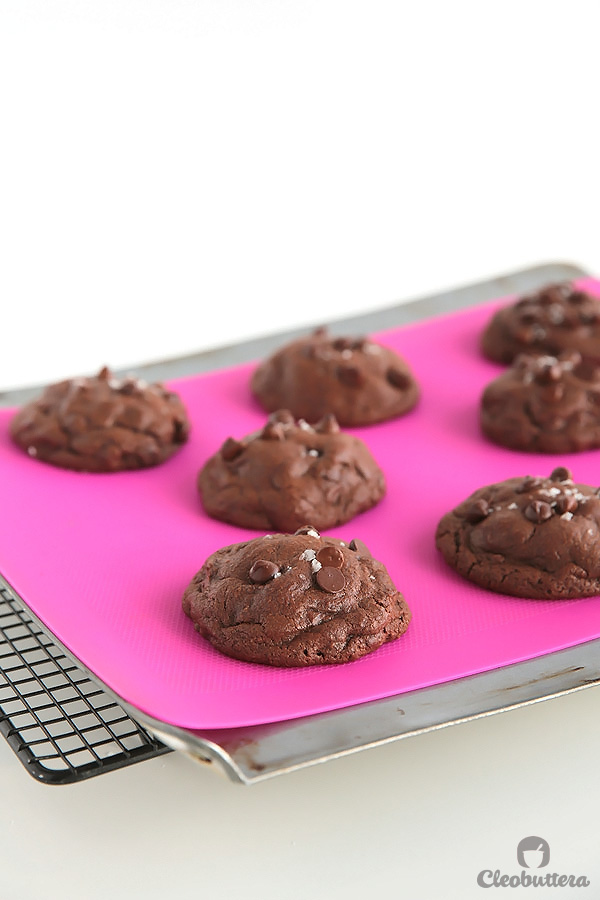 Then…theeeeeeen…I'm gonna leave now and give you and your cookie some time alone.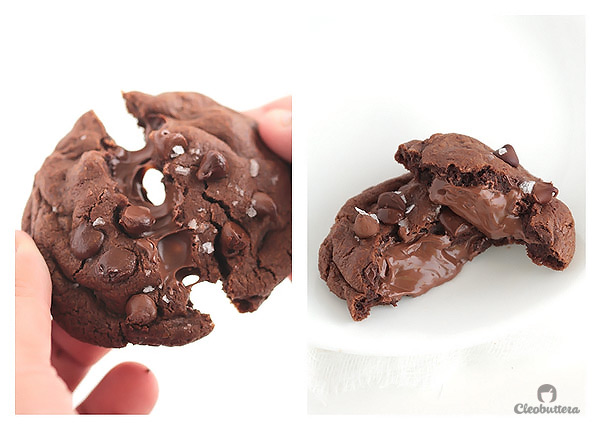 But look at that…don't you feel better already?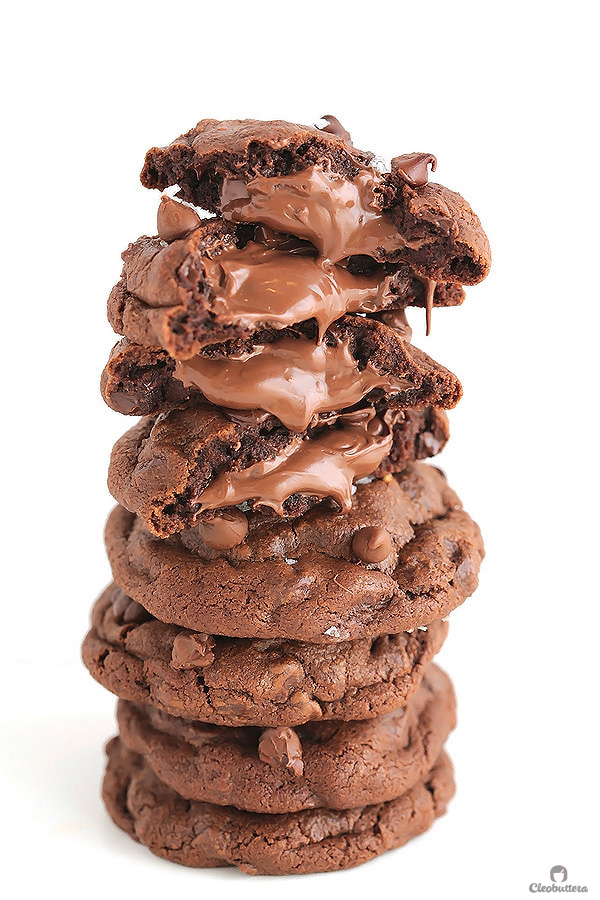 You're gonna want keep a stash of these in your freezer for a chocolate emergency…trust me.
Yield: 16
Nutella Therapy Cookies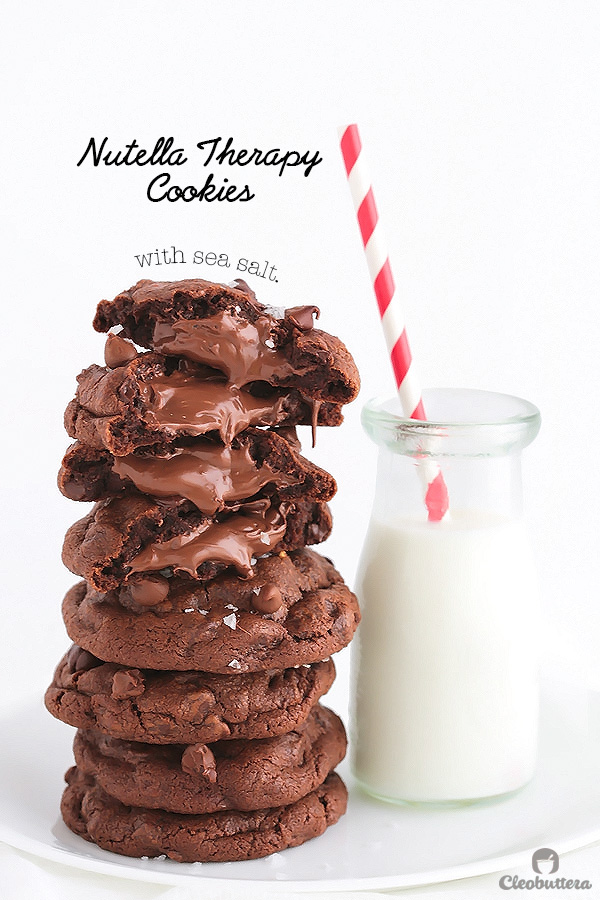 These feel-good-chocolate-cookies are soft and chewy, studded with chocolate chips, stuffed to the brim with Nutella and sprinkled with sea salt. They have proven to be instant spirit lifters. *Please note that these cookies have several freezing steps, so plan ahead.
Ingredients
16 tablespoons Nutella (Chocolate Hazelnut Spread), slightly cold
1 3/4 cups (7 1/2 ounces/ 213 grams) all-purpose flour, (preferably weighed)*
2 teaspoons (5 grams) cornstarch
1/2 teaspoon baking soda
1/2 teaspoon table salt
3/4 cup (6 ounces/ 170 grams) unsalted butter, softened to room temperature
1 cup (7 ounces/ 200 grams) soft light brown sugar
1/2 cup (3 1/2 ounces/ 100 grams) granulated sugar
1 large egg, at room temperature
1 large egg yolk, at room temperature
2 teaspoons vanilla
1/2 cup (1 1/2 ounce/ 43 grams) unsweetened cocoa powder*, sift if lumpy
1 1/4 cup (8 3/4 ounces/ 250 grams) chocolate chips, semisweet or milk or a combination of both*, plus extra for pressing on the cookie dough balls
Sea salt, for sprinkling on top
Instructions
Line a baking sheet with parchment paper or silicone mat. Using a tablespoon size ice cream scoop or a round measuring tablespoon measuring, scoop out 16 rounded tablespoons of Nutella onto the prepared baking sheet. Freeze until solid, at least one hour or overnight. Line another baking sheet with parchment paper.
Mix flour, cornstarch, baking soda and salt together in a medium bowl; set aside.
In the bowl of a stand mixer fitted with the paddle attachment (or in a large bowl and using a hand mixer), beat the butter on medium high speed until soft and slightly lightened in color, about 1 minute.
Add both sugars and beat together until lightened in both color and texture, about 5 minutes.
Mix in the egg, egg yolk and vanilla until well blended.
On low speed, mix in the cocoa powder. Add the flour mixture and mix just until combined, leaving a few streaks of flour behind. Do not over mix.
Stir in the chocolate chips, scraping down the bottom and sides of the bowl to make sure that everything is well combined.
Using a 1/4 cup measure ice cream scoop, scoop out the dough onto the lined baking sheet, forming 16 equal dough balls. Using the back of a wooden spoon handle or your thumb, make deep holes into the dough.
Get the Nutella scoops out of the freezer and working quickly, peel the Nutella scoops from the baking sheet and place them in the middle of the dough holes. If you're working in a warm kitchen, you might want to keep them in the freezer, taking only one by one as you work, to avoid them melting.
Gather the dough up over the Nutella scoops to completely cover them. Roll the dough into balls and place on the baking sheet. Press a few extra chocolate chips on top of each dough ball then sprinkle with sea salt flakes.
Loosely cover with plastic wrap and freeze for at least 2 hours, then either bake immediately (from frozen) or transfer to a large zipper lock bag and freeze until needed, overnight or up to 1 month.*
Preheat oven to 350F/180C and adjust oven rack to middle position. Line 2 baking sheets with parchment paper or silicon mat. Place 8 cookie balls per sheet, spacing them at least 2 inches apart.
Bake until the cookies flatten with a slight dome, no longer have a hump in the middle, and the outer edges start to harden yet centers are soft and puffy, 11 to 14 minutes. Start checking at 11 minutes. The centers will feel undone, but they shouldn't be shiny or sticky. DO NOT OVERBAKE or you'll get hard cookies. The cookies will continue to bake after they come out of the oven from the residual heat.
Let the cookies cool on the baking sheet for at least 15 minutes before serving. Or cool completely then store in an airtight container.
Recipe Notes
If you don't have a kitchen scale to weigh the flour, use the Spoon & Sweep method: Use a spoon to lightly fill measuring cup with flour until required amount is obtained, then sweep access with the back of a knife.
Make sure that the brown sugar used here is the soft kind that feels like wet sand and packs to itself, like Dominos brand or Red Path.
I used Hershey's unsweetened cocoa in this recipe for its pleasant milk chocolatey flavor that doesn't overwhelm the Nutella.
I prefer equal parts semisweet and milk chocolate chips but use what you prefer.
You don't have to bake all the frozen cookie dough all at once. Keep them in your freezer up to one month and bake only the amount you need even if its just one, or for when a chocolate emergency strikes.
Measurements Note: All recipes of this site have been developed using weight measurements. Although US volume measurements have been included for your convenience, it is highly encouraged that you weigh your ingredients using a kitchen scale to get the best possible results. Due to the sensitive nature of baking, kitchen scales are proven to yield more accurate and consistent results than measuring cups. Enjoy!
This post may contain affiliate links.
All images and content are owned by Cleobuttera® and are copyright protected. Please do not use my images without prior permission. If you would like to republish a recipe, please rewrite it in your own words and link back to the recipe page on my site. Original recipes and creations of this site are intended for personal and home use. Commercial replication or media consumption are only allowed with a written consent and agreement with Cleobuttera owners. Otherwise it is considered a violation of intellectual property. Thank you for respecting and appreciating the amount of time and effort that goes into creating free, unique recipes that make people happy.