Biscoff Explosion Cookies
With a dough made from Biscoff cookie crumbs and stuffed with a scoop of creamy Biscoff spread …these soft and chewy cookies with a lava-like center are exploding with cookie butter flavor!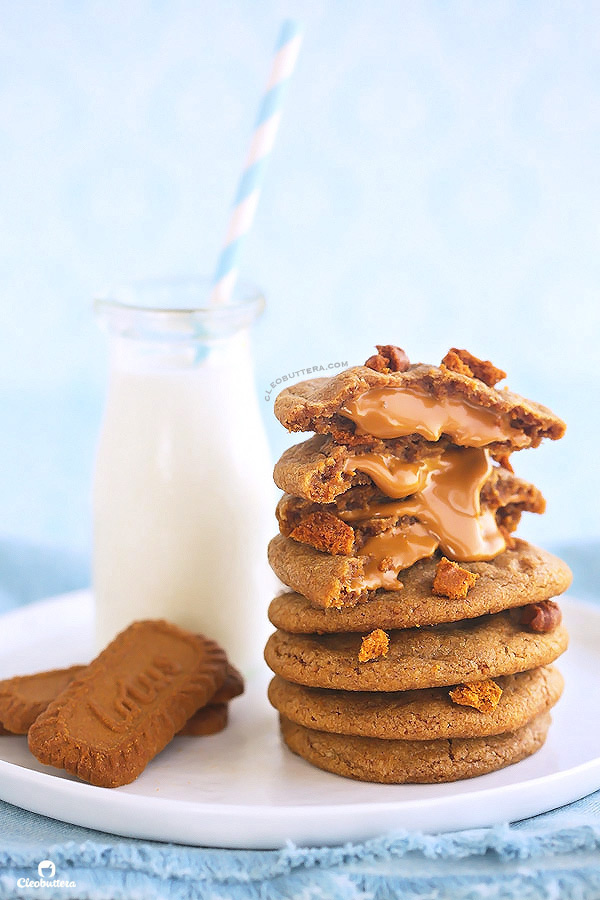 Current condition: Fingers standing still on keyboard (FOR AN HOUR NOW!), eyeballs fixated at the Biscoff ooze in the photo above, mind empty, tummy rumbling and mouth drooling.
How could I even write you a post when these cookies are staring me in the eye?! (Heavy breathing)
Wait…I'll scroll down a bit so I can't see it.
.
.
.
.
.
.
.
.
Much better.
So…where were we?
Cookieeeeeeeeeeees! And not just any cookies baby…these are a double-dose, hit-you-in-the-face, explode-in-the-mouth, tickle-your-tastebuds cookies starring the much-loved, must-have, highly addictive Biscoff cookie spread! If you like cookie butter, you will go gaga over these.
I actually like to call them 'The Biscoff-iest Biscoff Cookies EVER!'
They are the brainchild of the ever so popular Nutella Therapy Cookies from last year, and the recent uncontrollable habit of doing this…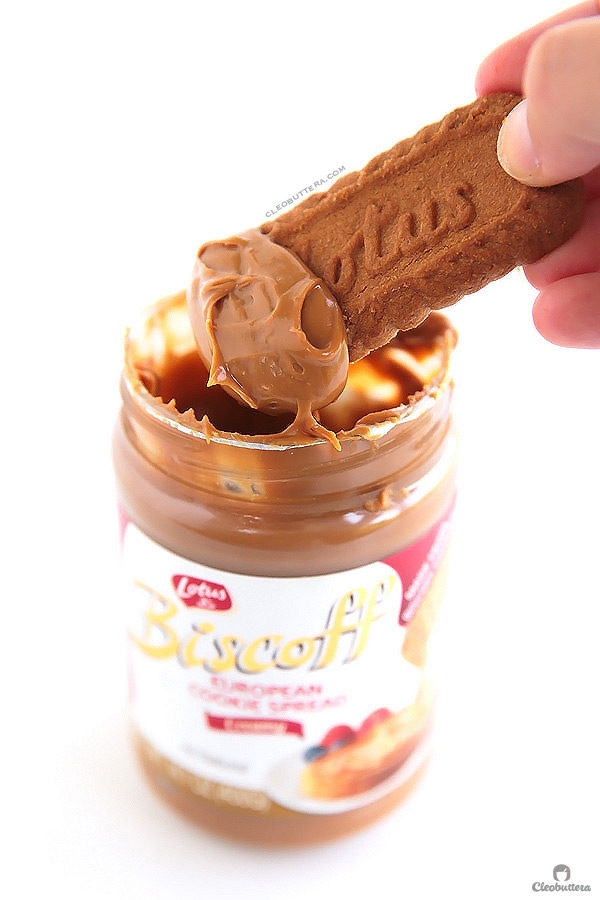 Yaaaaaaaaaaas!
Let's back up for a bit.
You know what Biscoff cookie butter is right?
Well if you're reading this from Europe or North America, this is probably old news to you. Lucky YOU, you have been dwelling in the irresistible creaminess of cookie butter for a few years now, while we just recently started celebrating it hitting the stores in Egypt. Not jealous or anything?
For those of you who are unfamiliar, please allow me to apologize first, as I'm about to introduce you to a very dangerous thing that comes in a jar.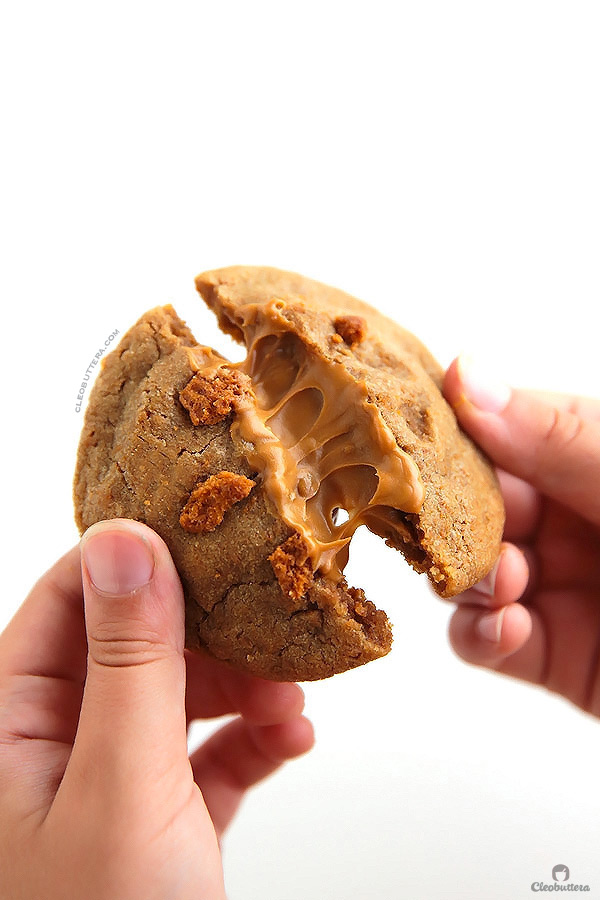 Biscoff cookie butter and its siblings like Lotus and Trader Joe's Speculoos cookie butter are what you get if you imagine eating the famous Lotus/Biscoff/Speculoos cookie in a creamy, heavenly spreadable form. As a matter of fact, it is actually made from ground up Biscoff cookies! It has the consistency of peanut butter but tastes like a cross between graham crackers and gingersnaps. YUM! Actually, it tastes exactly like the original cookie; lightly spiced and warm…but better because you could spread it on or use it as dip for almost EVERYTHING (including spoons and fingers) and you can't do that with the little cookie.
But best of all, is that you could create with it stuff like this…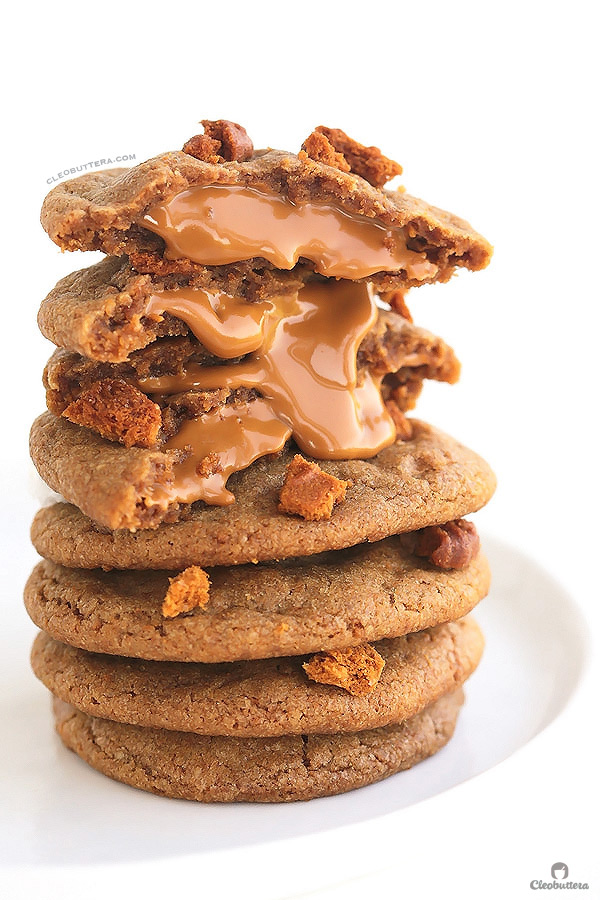 I KNOW!!!
Not only are these guys filled to the brim with a scoop of Biscoff cookie butter, the cookie base itself tastes unmistakingly of the original crunchy Biscoff cookie but in a soft and chewy form! So its a double hit of Biscoff flavor!
With the Biscoff overload going on, they surely are rich and sweet, but in a balanced way because I made sure to add enough salt in the dough to counter the sweetness. So it's nothing your sweet tooth can't handle ?
The idea for these Biscoff stuffed Biscoff cookies hit me as I was dipping the classic Biscoff/Lotus cookie in the jar of its creamy counterpart. As much as I enjoyed it, I still thought to myself how this heavenly combo experience could be taken to the next level if the cookie is soft and chewy like my favorite chocolate chip cookies. Because I'll take a soft cookie over a crunchy one any day.
Then I remembered the Nutella Therapy Cookies and knew that this is exactly the best way to approach it. You could think of these as their blonde cousin.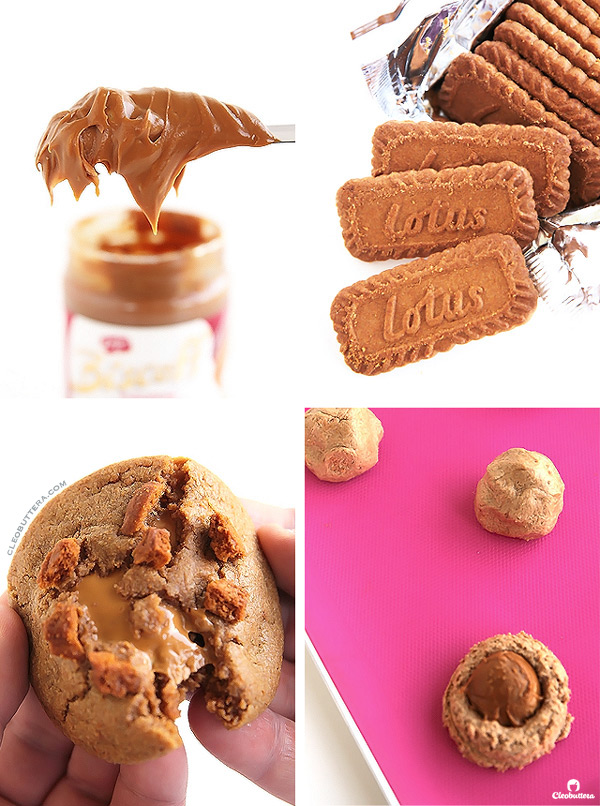 If I want maximum Biscoff flavor, then its gotta be generously stuffed with some of the pure stuff.
So the way to do that is to scoop…TABLESPOONFULS!!! of the cookie butter on a baking sheet and freeze them until solid. That makes them so much easier to stuff into the cookies without any mess.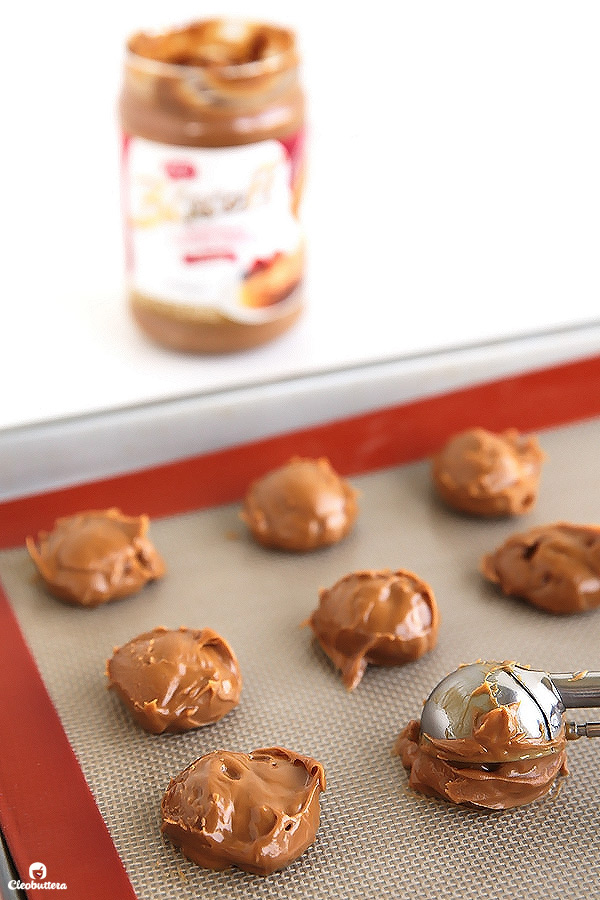 But the only way I could get the cookies to taste like the original Biscoff cookies is to grind some up and use it to make the dough. Simply adding some cookie butter alone into the dough wasn't enough to produce that smack-in-the-face Biscoff flavor I was going after. I took a cue from these S'mores Cookies were we add ground graham crackers to make it taste like a graham cracker. Clever right?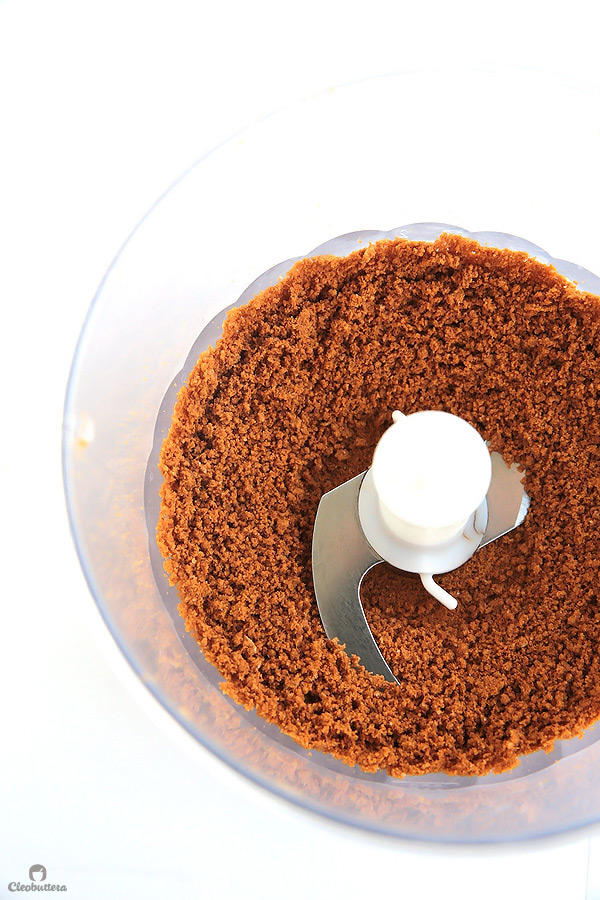 The Biscoff crumbs is added along with the dry ingredients, making up for some of the flour. Then some cinnamon gets added too to give it an extra kick of spice just like the original cookie.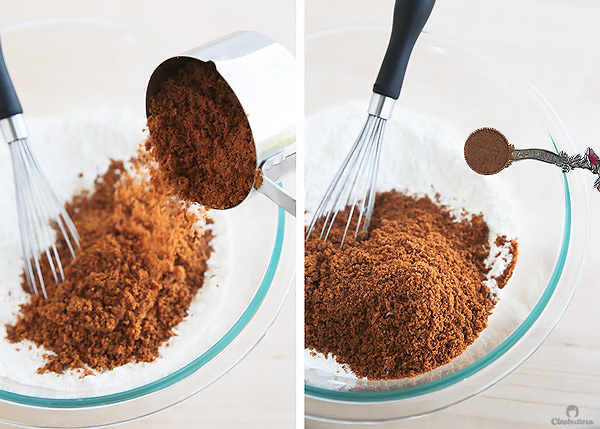 And if these flavor boosters aren't enough to nail the Biscoff favor, we are also adding a 1/4 cup of the spread along with the butter! That actually makes them Triple Threat Biscoff Cookies!!! Didn't I tell you that these are the Biscoff-iest Biscoff Cookies EVER?!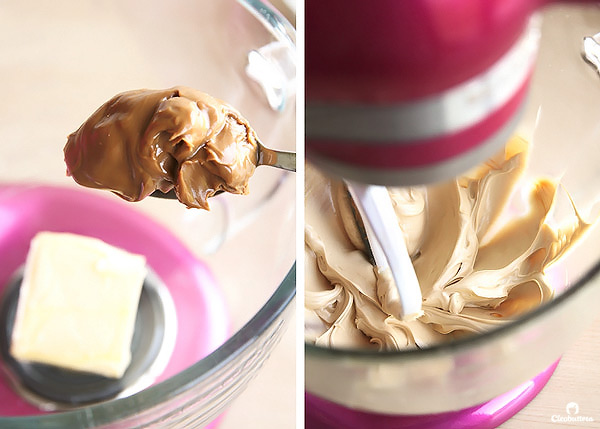 After the butter and cookie butter get well creamed together, we then add some light brown sugar (for chewiness and unbeatable flavor) and a little granulated sugar.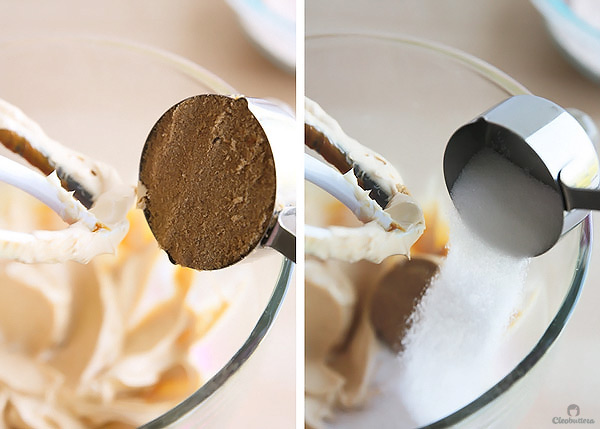 Beat, beat, beat until lightened up in color and looks fluffier like the picture on the right.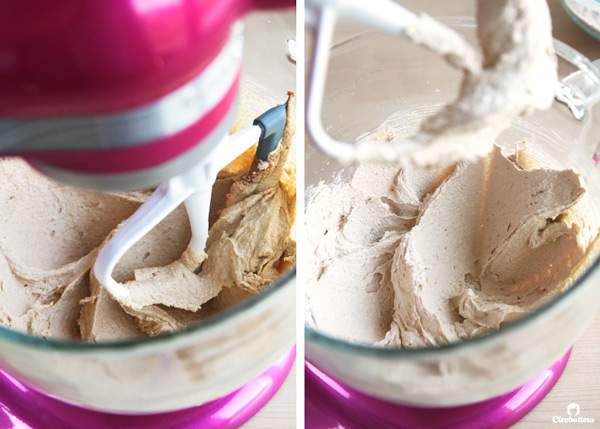 An egg and some vanilla go in.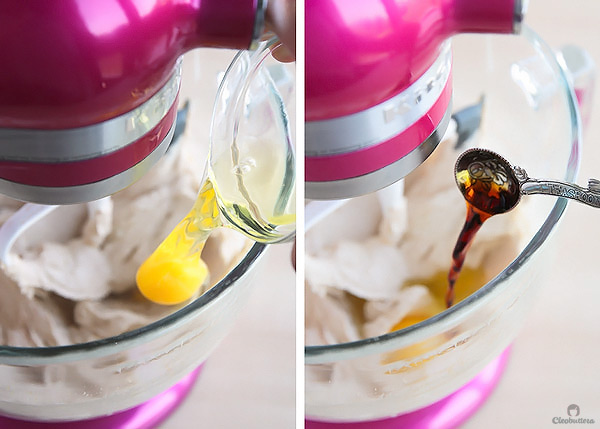 Followed by the flour/Biscoff crumb mixture. Now practice some self restraint and don't lick the dough off the beater. Well maybe just a little ?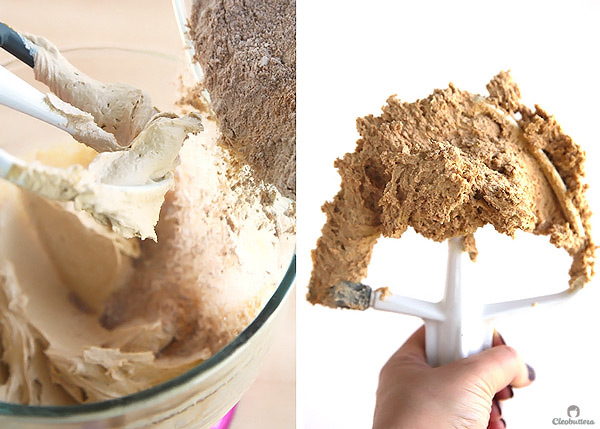 So then you'll scoop the cookie dough onto your baking sheet, make an indentation with your good ol' thumb, take the frozen Biscoff spread scoops out of the freezer, and working quickly (so they don't thaw) add one frozen Biscoff into each hallow. Gather up the dough over the scoops and roll it tightly so the scoops are completely covered. For added texture and looks, add a few broken chunks of Biscoff cookies.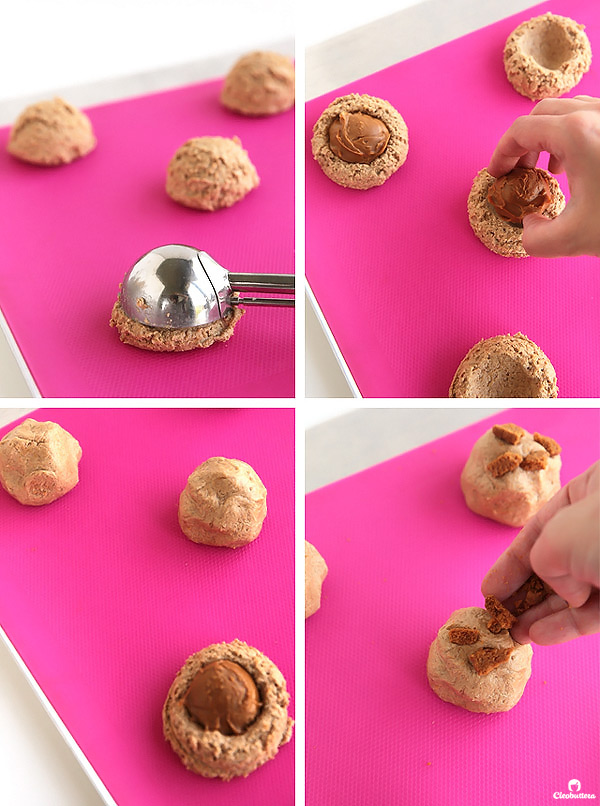 If you have the patience, freeze the cookie dough balls for about 2 hours or up to a month (will produce thicker cookies that way), if not then bake straight away, as the freezing step is not necessary for this recipe, yet preferable.
As with all soft and chewy cookies, be very careful not to overbake. They should feel so soft that you'll think they're still raw. As long as they've flatten enough and are not wet on top, then they're ready to take out of the oven. They will finish baking from the residual heat of the baking sheet. Pinky promise.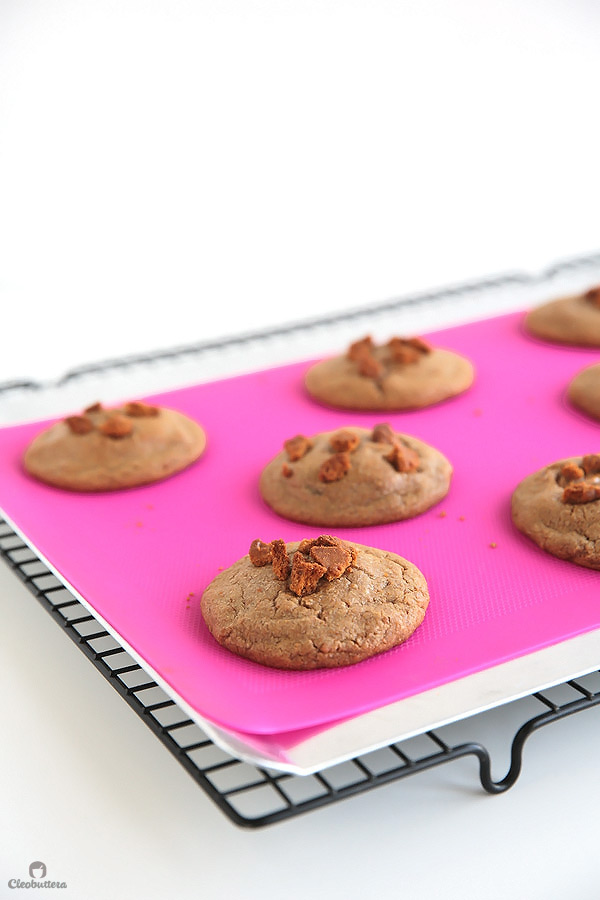 Give them a few minutes to finish baking and cool off, then open one up and see it pool exactly like that…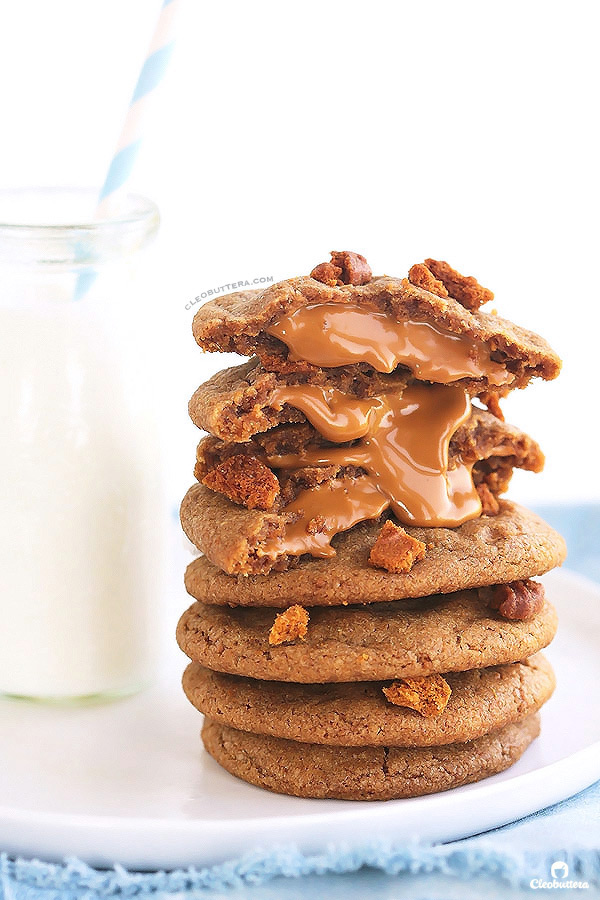 To die for!
The cookie butter center will retain its oozing quality if eaten within an hour of baking, after that it will set and not ooze out, but will remain soft, just as delicious and with a smackin' Biscoff flavor.
I mean after all what we've done to it, it better be!
Check out the recipe video created by my friends, Food Dolls! Try not to drool!
Yield: 14 cookies
Biscoff Explosion Cookies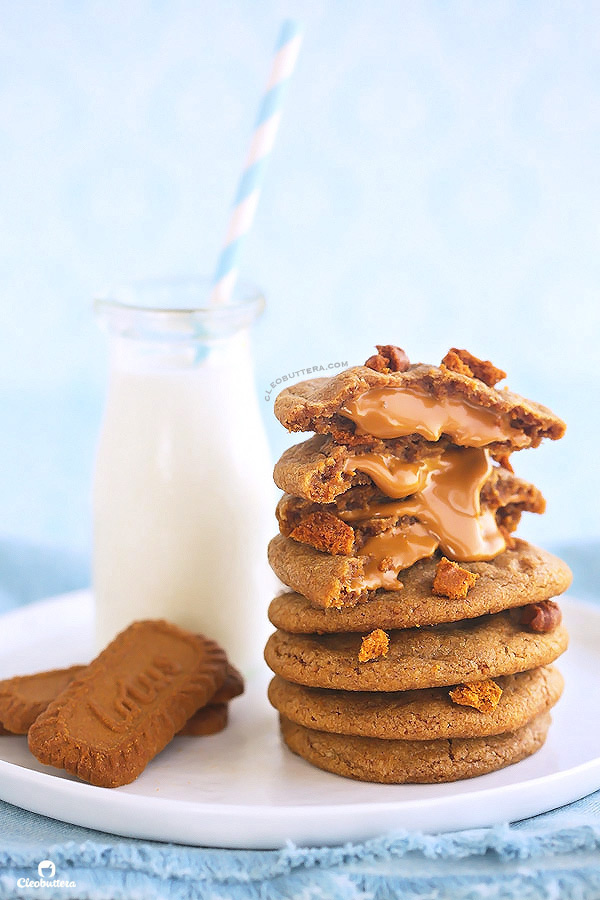 With a dough made from Biscoff cookie crumbs and stuffed with a scoop of creamy Biscoff spread …these soft and chewy cookies with a lava-like center are exploding with cookie butter flavor!
Prep Time 30 minutes
Cook Time 10 minutes
Additional Time 1 hour 15 minutes
Total Time 1 hour 55 minutes
Ingredients
For the dough:
14 Biscoff/Lotus cookies, ground into fine crumbs (makes 1 cup, 4oz, 113g)
1 1/4 cups (5 1/4oz, 148g) all-purpose flour
1/2 teaspoon baking soda
3/4 teaspoon salt
1/2 teaspoon ground cinnamon
1/2 cup (4oz, 113g) unsalted butter, softened at room temperature
1/4 cup (2oz, 57g) creamy Biscoff cookie butter (or your favorite brand like Trader Joes Speculoos cookie butter)
1/2 cup (3 1/2oz, 100g) packed light brown sugar
1/3 cup (2 1/2oz, 73g) granulated sugar
1 large egg, at room temperature
1 teaspoon vanilla extract
For the biscoff center:
14 tablespoons creamy Biscoff cookie butter
For garnish: (optional)
4 Biscoff/Lotus cookies, broken into small chunks
Instructions
To prepare the biscoff center:
Line a baking sheet or a large plate with parchment paper or silicone mat. Using a tablespoon size ice cream scoop or a round measuring tablespoon, scoop out 14 tablespoons of Biscoff cookie butter onto the prepared baking sheet. Freeze until solid, at least one hour or overnight.
To make the dough:
Adjust oven rack to middle position and preheat oven to 350F/180C. Line 2 other baking sheets with silicon baking mats or parchment paper; set aside.
In a large bowl, whisk together the Biscoff/Lotus cookie crumbs, flour, baking soda, salt, and cinnamon; set aside.
In the bowl of a stand mixer fitted with the paddle attachment (or a large bowl and an electric hand mixer), beat the butter and Biscoff cookie butter together until smooth, creamy and ribbon-like; about 1 minute.
Add both sugars and beat together until lightened up in both texture and color and looks fluffy, 3 to 5 minutes.
Add in the egg and vanilla extract and mix until well combined.
With the mixer running of lowest speed, gradually add in the flour mixture and mix until just incorporated. DO NOT OVERMIX.
To assemble and bake the cookies:
Using a (3 tablespoon capacity) ice cream scoop or spoon, divide the cookie dough into 14 equal balls. Arrange dough balls, 2 inches apart on the prepared baking sheets, 7 dough balls per sheet.
Using the back of a wooden spoon handle or your thumb, make a deep indentation into each dough ball.
Get the Biscoff scoops out of the freezer and working quickly, peel the frozen Biscoff scoops from the baking sheet and place them in the middle of the dough hallow. If you're working in a warm kitchen, you might want to keep them in the freezer, taking only one by one as you work, to avoid them melting.
Gather the dough up over the Biscoff scoops to completely cover them, then roll them into balls.
Press a few broken chunks of Biscoff/Lotus cookies onto the top of the dough for looks and an added pop of crunch.
If desired, freeze the cookies for 2 hours or up to 1 month, as this will produce thicker cookies or bake right away; they'll still turn just fine.
Bake cookies 1 sheet at a time until cookies are golden brown, flattened but still puffy, and edges have begun to set but centers are still very soft (you'll think they're still raw) but no longer wet, 10 to 11 minutes. Set the timer to 9 minutes to check for doneness, then add 1 minute at a time if needed. Do NOT bake them until they feel done or they'll end up hard instead of soft and chewy. The cookies will continue to cook from the residual heat of the baking sheets as they cool.
Transfer baking sheet to wire rack and let the cookies cool on the baking sheets, at least 15 minutes. Resist the urge to eat them right away or they'll taste raw and undone. The cookies' Biscoff center will be lava-like and irresistibly ooze out exactly like the pictures above if eaten within an hour after baking. After they've cooled to room temperature, the Biscoff center will set and not ooze out, but will remain soft. Store in an airtight container to maintain their softness.
Recipe Notes
Make sure you use the soft kind of brown sugar that feels and looks like damp sand like Dominos brand. Avoid the coarse, granular type of brown sugar like demerara. Use fresh, moist brown sugar instead of hardened brown sugar, which will make the cookies dry.
Cookie dough balls could be chilled in the fridge for up to 3 days or frozen for up to one month in a zipper lock bag. Bake straight from frozen. You might need to add an extra 2 minutes to the baking time.
Recipe source: A Cleobuttera Original.
Measurements Note: All recipes of this site have been developed using weight measurements. Although US volume measurements have been included for your convenience, it is highly encouraged that you weigh your ingredients using a kitchen scale to get the best possible results. Due to the sensitive nature of baking, kitchen scales are proven to yield more accurate and consistent results than measuring cups. Enjoy!
This post may contain affiliate links.
All images and content are owned by Cleobuttera® and are copyright protected. Please do not use my images without prior permission. If you would like to republish a recipe, please rewrite it in your own words and link back to the recipe page on my site. Original recipes and creations of this site are intended for personal and home use. Commercial replication or media consumption are only allowed with a written consent and agreement with Cleobuttera owners. Otherwise it is considered a violation of intellectual property. Thank you for respecting and appreciating the amount of time and effort that goes into creating free, unique recipes that make people happy.