Caramel Buns Ice Cream Burger
Burger for dessert? Yes please! Sweet "buns" of vanilla bean cake filled and glazed with caramel sauce, waffle cookie for the "cheese" and a "burger" patty of chocolate/nut covered vanilla ice cream, that pools over everything once you break into it. These sweet burgers are as delicious as they are fun to eat!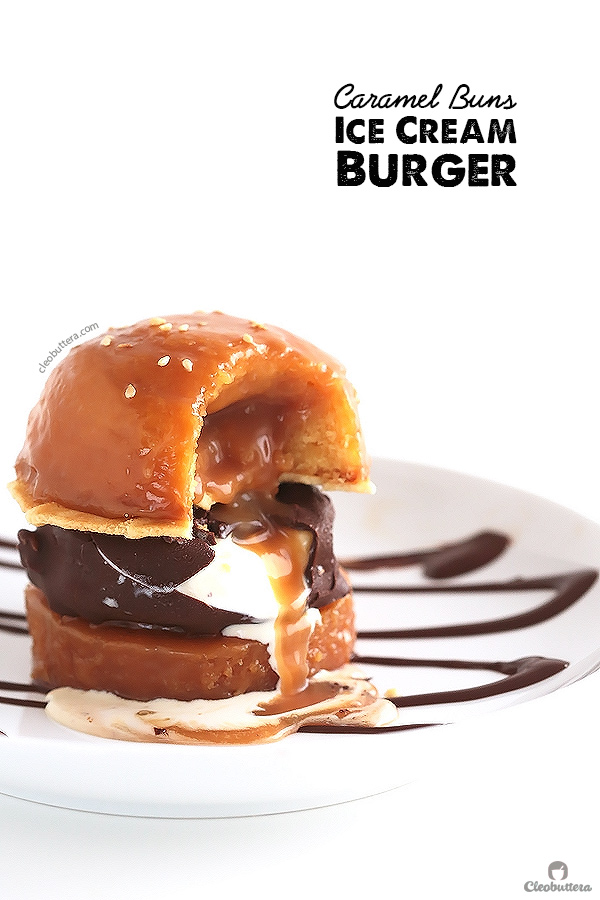 Boy oh boy am I thrilled to be back here in this little sweet spot of the internet, where dessert-talking knows no bounds!
I know!!! It's been over a month since I last shared a recipe with you. Life, guys…it just keeps coming in the way.
I'm terribly sorry though:( Or should I be? I mean, this place is not exactly figure-friendly. So if you've been following along for any length of time, then you've probably benefited from the time off, without my diet-shattering vibes haunting you. I bet you lost some weight…Yeah?
Good! Not for long though because I'm making up for the lost time with this beast of a dessert! Dessert? Yes! Burger dessert…or dessert burger…I dunno…it's just good stuff. Insanely good stuff!
Let me tell you how this thing came to be.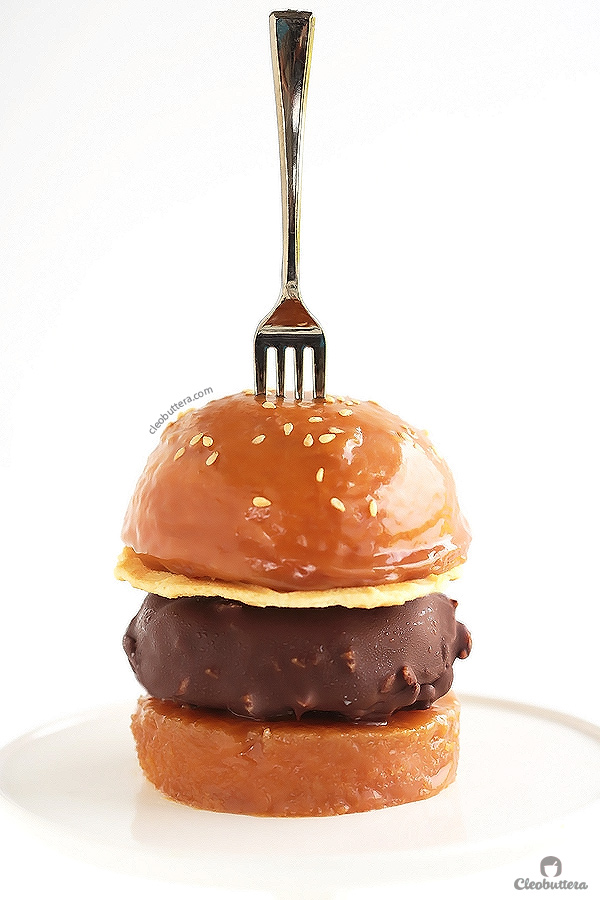 I was sitting at home, minding my own business, pretending to be all healthy and munching on a salad, when my sister-in-law texted me a picture of a dessert burger, almost identical in looks (if not prettier) to the one you see above. She captioned it: "Caramel Burger ya Bito!!!" Yeah…I have a funny nickname. Anyway, Bito's jaw dropped and mind. Blown!!!
My reply was obviously: OMG!!! Looks amazing! Give me details!!!
Her very disappointing reply was: "I don't know…it was on Sophia's Garden's menu, but we didn't order it and we already left."
WHAAAAT?! What is she trying to do to me leaving me hanging like that?! And how could she not order it?! Isn't she technically family?! How we're still on good terms after this incident is beyond me.
Anywhooooo…I couldn't get this Caramel Burger out of my head. I was dying to know what it's made off. So I zoomed in the picture, I googled the restaurant, I asked around…but nothing. So I put my imagination and common sense to good use and assumed the following: Cake "buns" glazed with a thick caramel sauce, and chocolate/nut covered vanilla ice cream for the "burger" patty.
Wrong!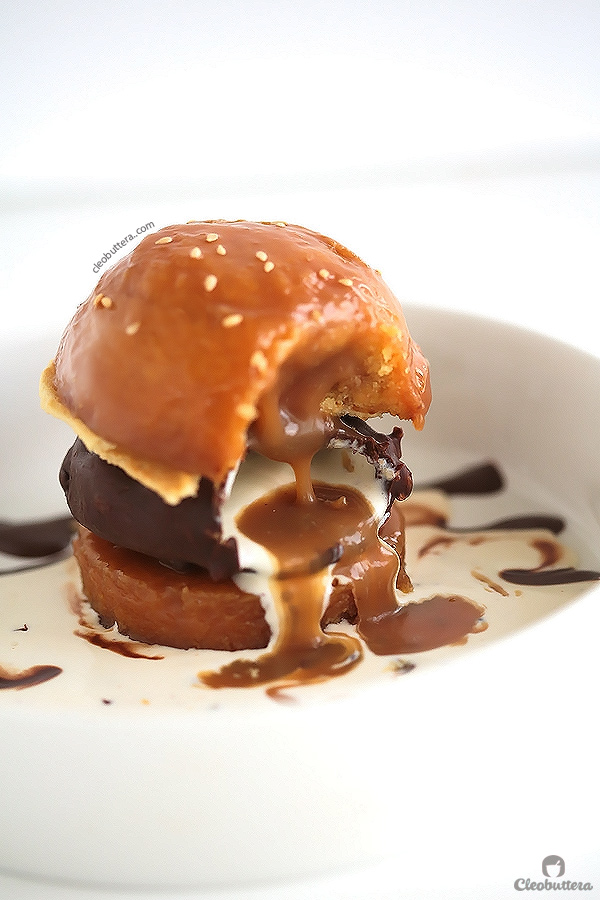 Fast forward a week later, I went to the much anticipated Sophia's Garden restaurant myself with a group of family and friends. Sophia's Garden is one of Egypt's newest and trendiest places in Cairo's dining scene. With an exquisite, out-of-the-box menu, quality food, and a very bright and friendly environment, I could see why it's always crammed. I kept it low on the calories by ordering the sea bass (YUM! btw), so I could splurge on dessert. Isn't it all about the balance?
When it was time for dessert, I pulled up my sleeves and got ready to order the Caramel Burger that I've been obsessing over the whole past week. Guess what? It's NOT.OUT.YET.for ordering!!! Sob sob sob:((( I quickly turned to what was left from my husband ink squid pasta for grief, and asked the waiter to at least fill me up with what the burger is made of. I got a vague description of it, but all I learned was that it's nothing like I had imagined. The components have something to do with caramel mousse (Gosh!), peanut butter (Oh my!) and apple something. Torture!
I couldn't take it any longer and decided that this burger needed to happen in my life asap! So I set out to make my own twist on it. I kept it the way I had imagined it to be, because after a week of that image lingering in my head, I was already too attached with the idea of an ice cream burger patty. Because who could resist that ooze?!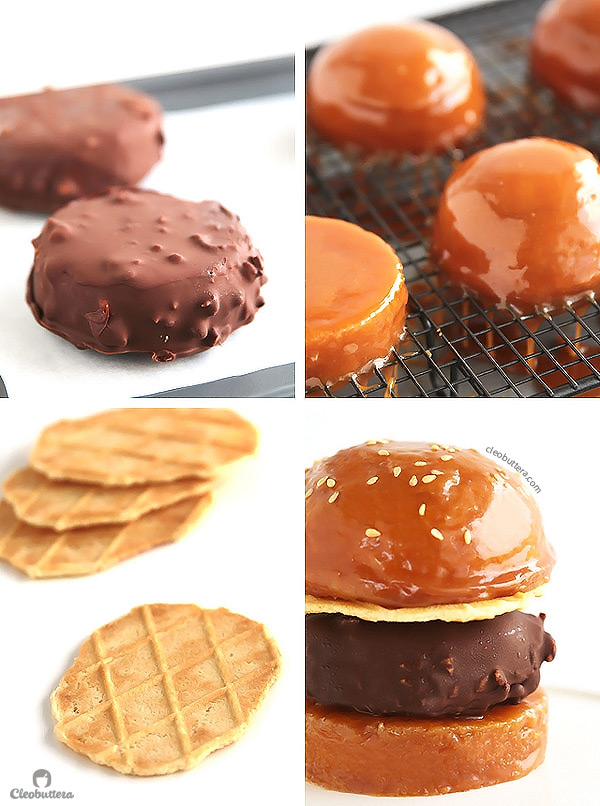 So for my take, I decided to make the "buns" out vanilla bean cake, fill the top bun with a thin, drippy caramel sauce, so it oozes out like molten lava when cut into. The "buns" then get glazed with a thick caramel sauce so it sets on the cakes. The "burger patty" is made from vanilla ice cream rounds that get dipped in almond studded chocolate Magic Shell sauce. The "cheese" is a store-bought waffle cookie that tastes exactly like a waffle ice cream cone. I mean…if I'm gonna eat ice cream, then a waffle cone better show up with it; so it made perfect sense here.
Enough with the chatter and let's get down to the sweet details. Now if scroll down to the recipe, you will probably be daunted by how long the recipe is and by its many components. Let me be completely honest here, this is not a dessert you could whip on a whim. The steps are actually quiet simple and completely doable, but they do require some planning ahead. If you're looking for a dessert you could make in 5 minutes, head here, but if you're the kind of person who takes pleasure in occasional multi-step projects like I do, then look no further. They are completely worth it! And the fun factor (and taste) are off the charts here!
We'll begin with preparing the ice cream patties, because it needs a lot of time in the freezer. I prefer to make it at least a day ahead, so I could get it out of the way. This is where you need to get splurge on some good quality, dense ice cream…non of that airy, wimpy ice cream, because it won't hold up to all the shaping and dipping.
I saw this trick on Pinterest, where the ice cream gets sliced while still in its container, to get these perfectly round disks, ideal for sandwiching between cookies. Genius! It worked perfectly. However, I did have go back with a round cutter and cut out the excess ice cream from around the wider disks so they're all the same size.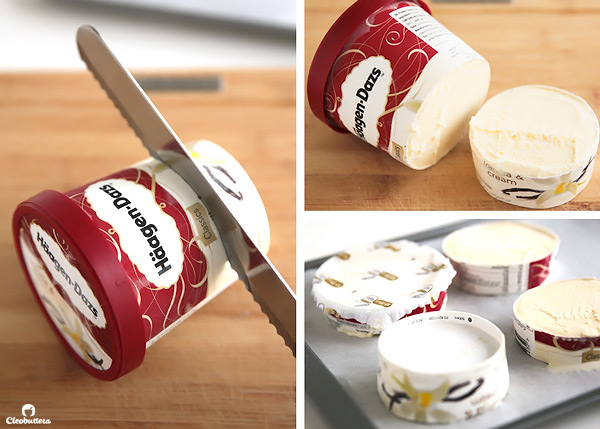 After cutting 4 disks, peel the container paper and freeze till its rock solid. If during any step, the ice cream starts softening on you, immediately return it to the freezer to firm up. If the ice cream you're using does not come in a round container, don't worry, I got you covered. You'll find all the details below in the recipe box.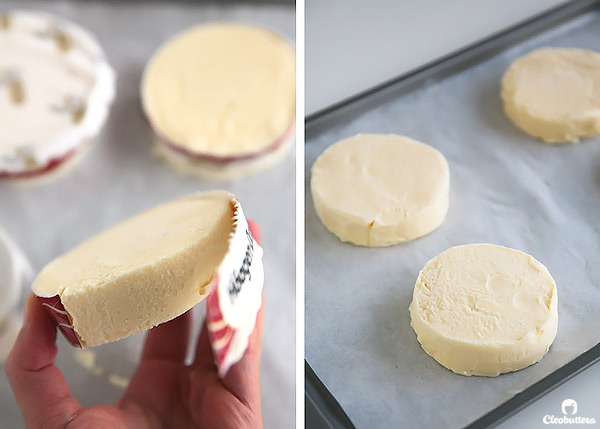 So while the ice cream is hanging out in the freezer, make the Magic Shell sauce. You could make this a week in advance! What I love about this sauce, is that it harden like a "shell" almost as soon as it touches the ice cream just like melted chocolate will. Unlike melted chocolate though, the sauce it the bowl will stay liquid and not harden at all due to the cold temperature of the ice-cream go in. It's also very thin, which makes the dipping process a whole lot easier than if you were to use melted chocolate.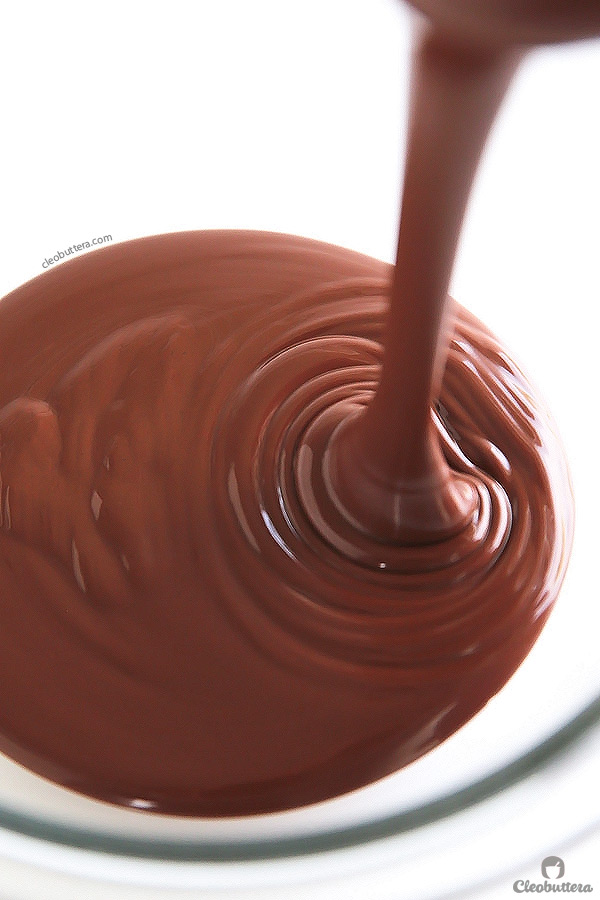 Mix in some toasted chopped nuts of your choice, for the crackly texture on the surface of the "burger." I used almonds, but peanuts or hazelnuts would be awesome here.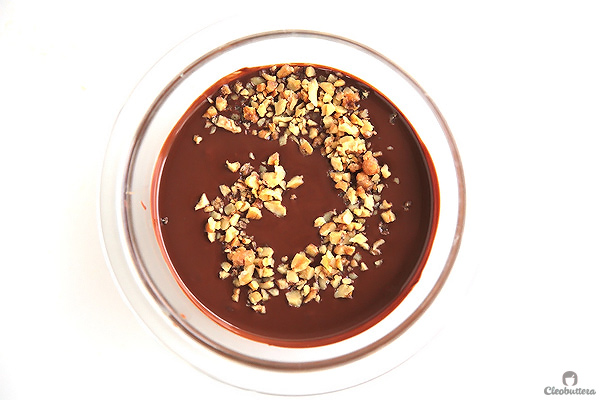 When the ice cream is firm, as in super duper rock-hard firm, time to give it a dive in the Magic Shell. Forget the spatula I'm using here in the picture…bad idea. It was my first try and I didn't know what I was doing. Inserting a skewer into the top of the ice cream and using that as a handle to dip with, worked out the best for me. But feel free to use your favorite dipping technique.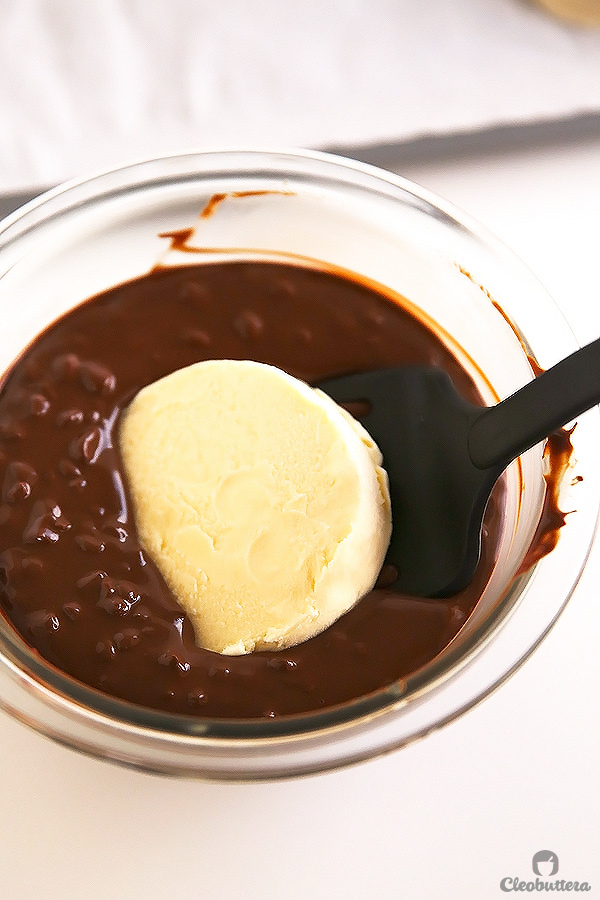 You'll then shake the "patties" gently, to let any excess drip back into bowl, then place it on to a clean parchment lined baking sheet , and back into the freezer it goes.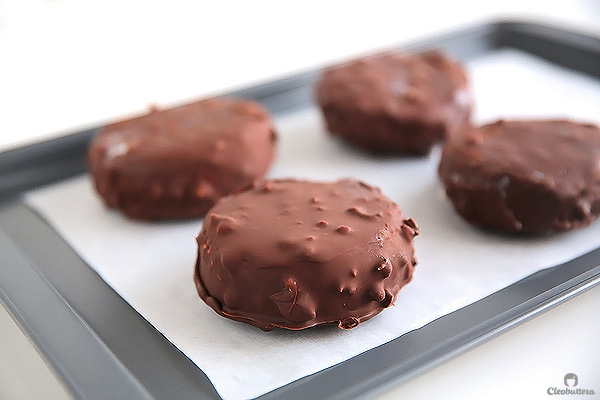 Now moving on to the buns…you'll need to make some caramel to both glaze and fill the cake "buns" with. Here's the thing…you need a thicker consistency caramel to glaze the cake "buns" with, so it sets and doesn't slide anywhere. For the filling though, you'll want a looser caramel-type sauce, so super soft and oozes out of the cakes. Instead of making two different batches of caramel, we'll just make the thicker version, then take some of that and thin it out with some heavy cream to achieve the loose consistency. Clever ha?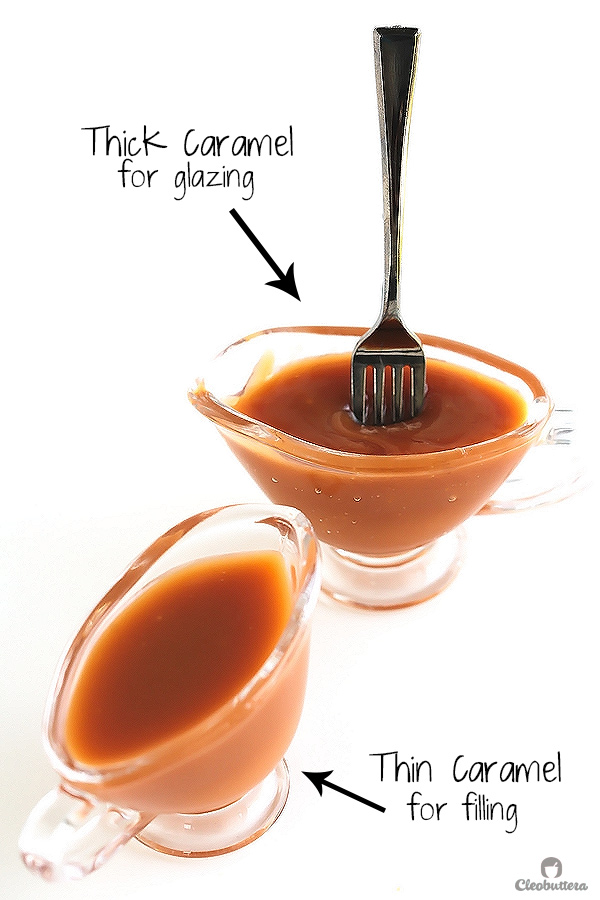 To make the "buns," you'll whip up a vanilla bean cake batter that bakes up into this moist, melt-in-the-mouth mini cakes. You'll divide the cake batter between an 8-inch square pan and 4 cavity hemisphere mold, like the one I used here but you could use small oven-safe bowls instead. The cake is adapted from my absolute favorite bundt recipe here and I chose it because it's so tender, yet sturdy enough to handle all the weight of the ice cream "burger" patty.
Let these guys cool.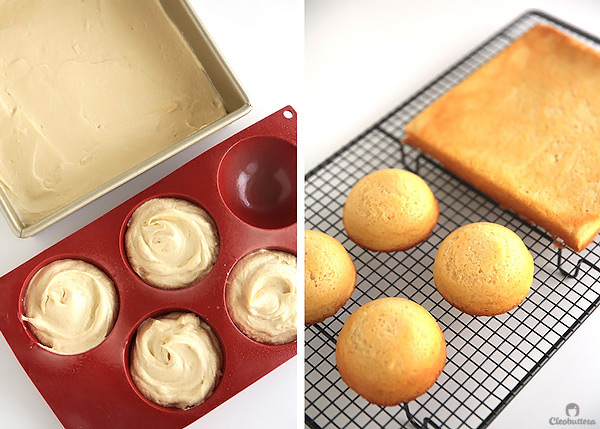 Then using a 3-inch/7cm cookie cutter, cut out 4 cake disks from the square cake. These are gonna be the bottom buns.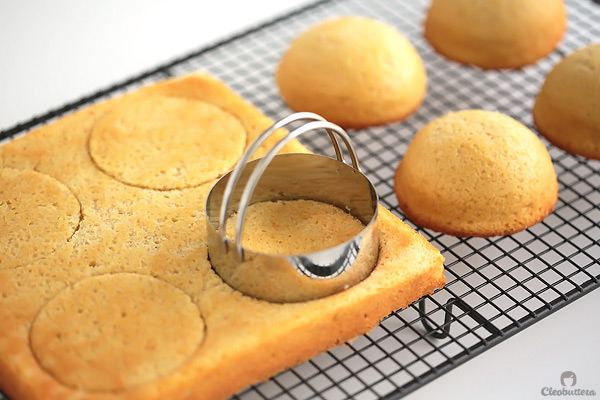 For the top buns, we'll use the domed cakes. We'll first cut out a cake cone from the top, then hallow the center out a bit like so, to make space for the yummy 'thin' caramel sauce to sit in. Then you cut the bottom tip of the cone and place it back where it belongs.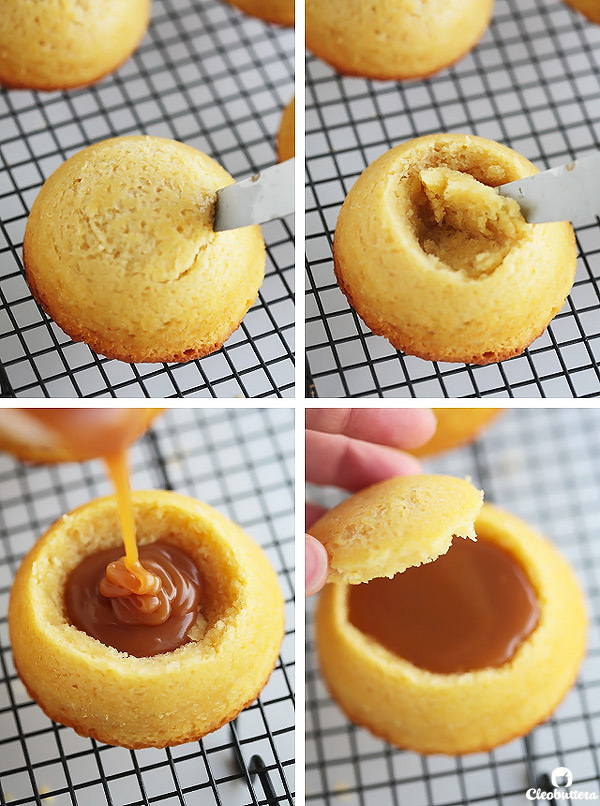 Then you'll grab the 'thick' caramel sauce, warm it a little to make it pourable. Then…..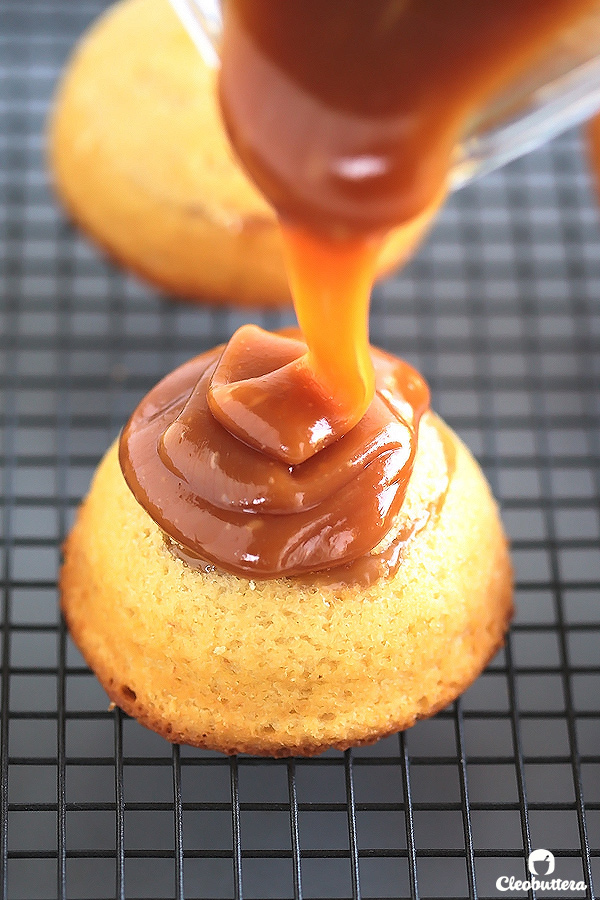 No words. I have no words here.
Cover all the cakes with the 'thick' caramel sauce and let all the excess drip on the baking sheet. Use the extra dripping to give the cakes a second coating.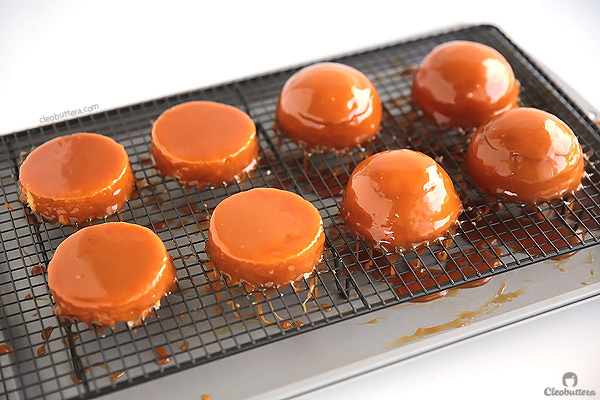 Sprinkle a little sesame seeds. Ooooh…or sea salt!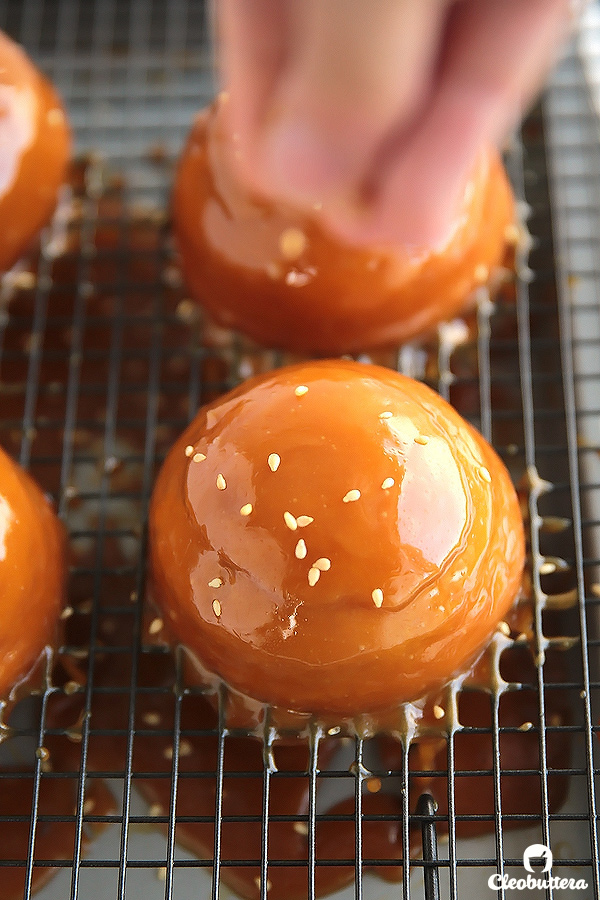 Assemble.
Bottom bun, ice cream patty, waffle cookie, then end with the top patty.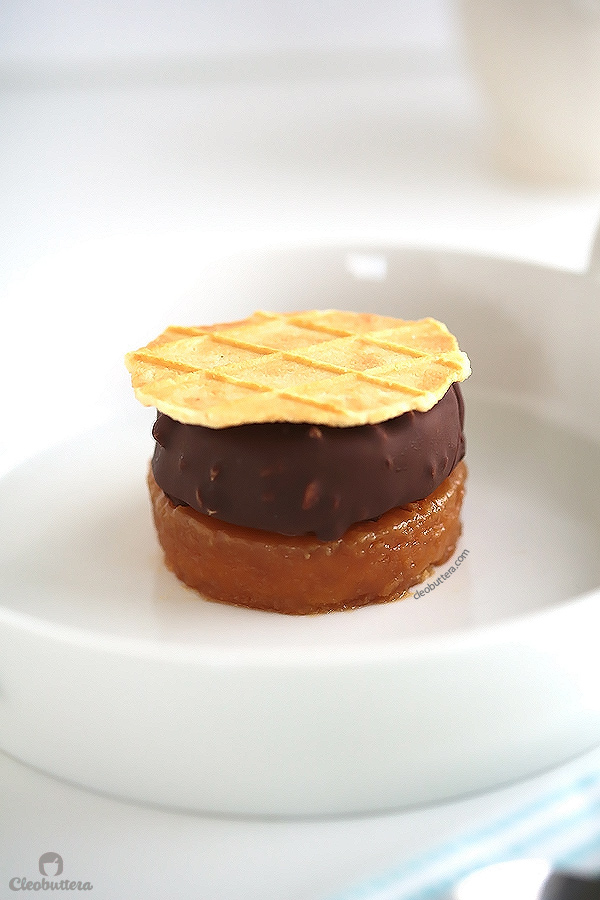 Now if you're a burger and ice cream fanatic like my husband, this is how you'll attack the poor thing.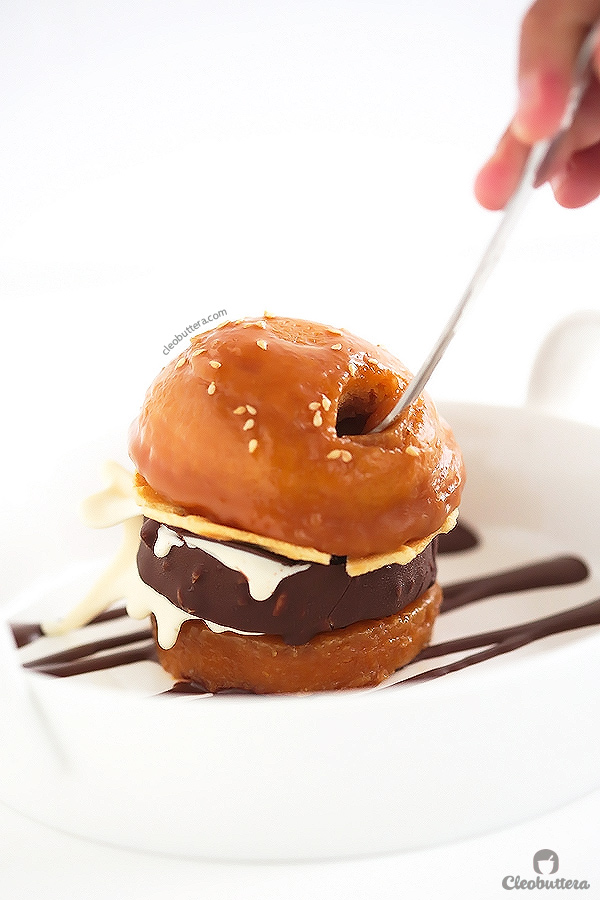 Nom nom nom nom.
Enjoy:)
Yield: Makes 4 medium burgers
Caramel Buns Ice Cream Burger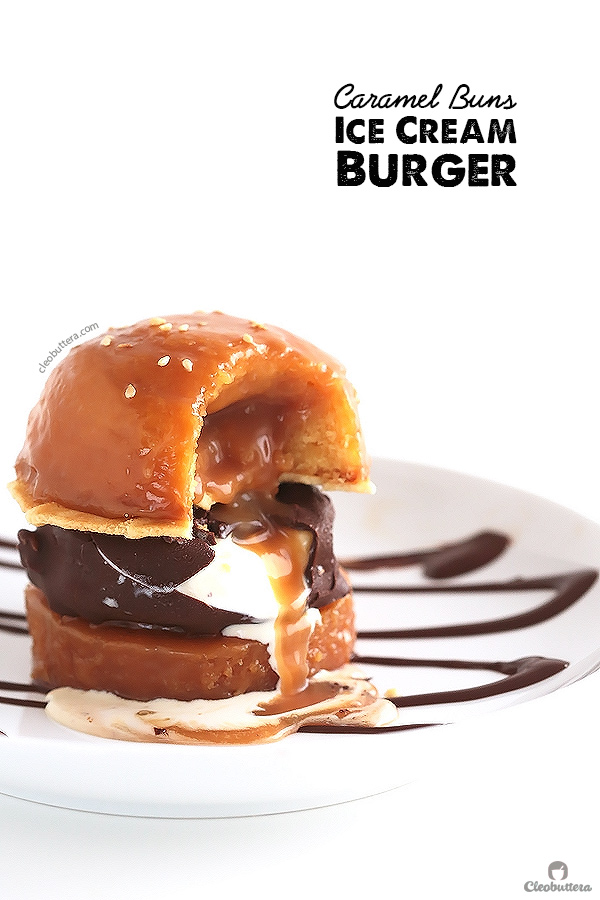 The components and steps required to make these dessert burgers may look seemingly daunting. Don't let this scare you from making them! Each step is actually quiet simple to make, however, some planning ahead is required. Since all components could be prepared in advance, I recommend spacing the preparation over the course of several days, so assembling the final dessert will be a breeze.
Prep Time 1 hour 30 minutes
Cook Time 45 minutes
Additional Time 1 hour
Total Time 3 hours 15 minutes
Ingredients
For the Ice Cream Burger Patties: (enough to make six 3 inch/7cm in diameter burgers)
1 (500ml/1 pint) tub good quality vanilla ice cream, preferably in a round container (I used Haagen Dazs)
For the Chocolate Magic Shell:
2 cups (340g) chocolate chips, I used Hershey's semisweet
6 tablespoons (85g) coconut oil
1/4 cup (28g) (or more for chunkier texture) coarsely chopped toasted nuts, I used almonds but peanuts & hazelnuts would be perfect here
For the Thick Caramel Sauce for Glazing:
1 cup (200g) sugar
1/4 cup water
1 teaspoon white vinegar
1/4 teaspoon salt
1/2 cup (113 grams) unsalted butter, softened to room temperature
1/4 cup heavy whipping cream, warmed
For the Thin Caramel Sauce for Filling:
1/4 cup of the prepared 'Thick' caramel sauce
1 tablespoon heavy whipping cream, warmed
For the Vanilla Bean Cake Buns:
You'll need a hemisphere mold with 4 cavities, each cavity is about 3"/7cm in diameter, 1 1/2"/4cm in depth (I used silicon)* (see note)
1 teaspoon vanilla extract (or 2 teaspoons if using imitation vanilla flavoring)*
1 vanilla bean or 2 teaspoons vanilla bean paste*
1 1/2 cups (180g) all purpose flour
2 teaspoons baking powder
1/4 teaspoon salt
1/2 cup plus 6 tablespoons unsalted butter (7 oz/ 198g), softened to room temperature
3/4 cup (150g) granulated sugar
1/4 cup (50g) light brown sugar, packed
2 large eggs, at room temperature
1 large egg yolk, room temperature
1/2 cup buttermilk, at room temperature
For Assembling:
4 waffle or thin sugar cookies, for assembling as the cheese
Toasted sesame seeds, for sprinkling
Instructions
To make the Ice Cream Burger Patties: (can be prepared several days in advance)
If using ice cream in a round container, make sure it is very well frozen before proceeding and NOT soft at all. Line a baking sheet with parchment paper and keep well chilled in the freezer until needed.
Working in a cool place, take the ice cream out of the freezer and cut into 4 equal disks, each about 1-inch/2cm thick. To do so, you'll need to keep the ice cream in its container, and using a serrated knife, carefully slice through the container and into the ice cream using a gentle sawing motion. If the disks are still well frozen, then quickly peel the container pieces from around them and place on the chilled baking sheet. (If at any point, the ice cream is softening up, return to the freezer to firm up as needed). Using a 3-inch/7cm circle cookie cutter, cut out the extra ice cream from the wider disks so they're all the same size. Save the scrapes in a container and refreeze for another use or make 2 more patties by pressing the scraps into the cookie cutter to form a circular shape. Loosely cover the ice cream disks with plastic wrap and freeze until very firm, at least 2 hours, preferably overnight, or up to several days. If using ice cream from a rectangular container, let it soft up to a scoopable consistency. Scoop up all the ice cream an 8 or 9 inch baking pan that has been lined with plastic wrap. Cover the top with more plastic wrap and return to the freezer until very firm. Using the plastic wrap as a handle, lift the ice cream from the pan and set onto a counter. Peel off the plastic wrap and using a 3-inch/7cm circle cookie cutter, cut out at least 4 disks of ice cream. Save the scrapes in a container and refreeze for another use or cut out more patties, if desired. Transfer the disks to a parchment lined baking sheet, cover loosely with plastic wrap and freeze until firm enough to use, at least 2 hours, preferably overnight, or up to several days.
To make the Chocolate Magic Shell: (Can be prepared up to a week in advance)
In a medium, microwave-safe bowl, combine the chocolate chips and coconut oil. Heat in the microwave for about 1 1/2 minutes, stopping the microwave every 30 seconds and giving it a stir until the chocolate is almost melted. Keep stirring until the residual heat melts the reaming chocolate. Stir well until well combined and smooth.
Allow to cool completely before using. Either store in an airtight container at room temperature, if using after several days (DO NOT REFRIGERATE), or transfer to bowl deep enough for dipping the ice cream disks in if using immediately.
Covering the Ice Cream Patties: (can be prepared up to a week in advance)
When the ice cream is firm enough to use and the chocolate magic shell is cool, it's time to start dipping. Make sure you work in a cool place.
Stir the chopped nuts into the chocolate magic shell.
Line another baking sheet with parchment paper and keep nearby. Keeping the baking sheet with the firmly frozen ice cream disks in the freezer, take one disk at a time to work with.
Using a wooden skewer, pierce on of the ice cream disks from the top, making sure the ice cream hangs well on it. Using the skewer as a handle, lift the ice cream disk and dip into the magic shell. Use a spoon to help pour on the magic shell into places that are hard to cover through dipping. Lift the ice cream patty, and gently shake of any excess magic shell back in the bowl. The magic shell will harden almost immediately around of the ice cream.
Place the covered patty on to the clean baking sheet and gently pull out the skewer. Using a spoon, place a tiny drop of magic shell on the pierced area to cover the hole the skewer had made. Transfer the baking sheet to the freezer. Continue dipping and covering the remaining ice cream disks, one at at time.
To make the Thick Caramel Sauce for Glazing: (can be prepared 1 day ahead)
In a medium saucepan, combine the sugar, water, vinegar and salt and cook over medium high heat, without stirring, only swirling the pan if needed. Brush down the sides of the pan with water to lessen the chance for crystallization. The mixture will melt and become translucent in about 3 minutes.
Continue cooking about 6 minutes until the mixture turns honey colored. Watch the caramel carefully from hereon as it will caramelize in no time.
It will then quickly change into an amber, caramel color. As soon as this happens, take it off the heat and add in the butter, (which will bubble vigorously) and whisk until melted and well combined. Return it to the heat if its not melting well.
Add in the cream, return to heat and continue whisking until fully incorporated.
Measure out a 1/4 cup of the caramel sauce and set aside to use in making the 'Thin' caramel sauce. Allow the remaining thick caramel sauce to cool down until slightly warm before using.
To make the Thin Caramel Sauce:
Combine the reserved 1/4 cup of 'Thick' caramel sauce with the warm 1 tablespoon of heavy cream until thinned out and smooth.
Allow to cool until slightly warm before using.
To make the Vanilla Bean Cake Buns: (can be baked a day in advance)
Position rack in the lower center of the oven and preheat to 325F/163C.
Spray 4 cavities of the hemisphere mold* (or bowls, if using) with nonstick cooking spray, or butter it thoroughly, dust it with flour, and knock out the excess.
Line an 8-inch square pan with parchment paper and spray with a nonstick cooking spray, or butter it thoroughly, dust it with flour, and knock out the excess.
Pour the vanilla extract in a small bowl. Cut the vanilla bean in half lengthwise and using the tip of a knife, scrape down the seeds into the vanilla; stir to blend well. Set aside. (Discard the scraped vanilla bean pod or reserve for another use; like putting it in your sugar canister to make vanilla sugar)
In a medium bowl, whisk the flour, baking powder, and salt. Set aside.
In the bowl of a stand mixer fitted with a paddle attachment (or using a handheld electric mixer), beat the butter until creamy, about 1 minute. Add both sugar and beat together until lightened in both color and texture, about 5 minutes.
Add in the eggs and egg yolk, one at a time, until well blended after each addition. Scrape down the sides and bottom of the bowl, then beat again for 15 seconds.
Add the vanilla mixture and beat until well blended, about 20 seconds.
Turn the mixer on lowest speed, then add in half of the flour mixture, blend lightly, then stream in the buttermilk, followed by the rest of the flour mixture. Beat just until combined; do not overmix. Batter will be very thick and might look slightly separated and that's perfectly fine.
Divide the batter into two. Transfer the first half amount of batter into the prepared mold and then second half into the prepared square pan. Smooth out the top.
Bake for 20 to 25 minutes or until a toothpick inserted in the center comes out clean or with a few cooked crumbs attached.
Transfer the cakes to a wire rack and let cool in the pan on a wire rack for 15 minutes. Carefully invert the cakes on the wire rack to cool completely before proceeding. Store in an airtight container if not using right away.
Filling and Glazing the Cake Buns: (preferably made the day of)
Using a 3-inch/7cm circle cookie cutter, cut out 4 disks of cake from the square cake. Store the scraps in an airtight container or zipper lock bag for snacking or another use.
Transfer the 4 cake disks on the wire rack beside the cake hemispheres. Place a baking sheet under the wire rack to catch any drips of caramel.
To prepare the hemispheres for filling, with the dome side up, using a paring knife, insert the tip at a 45-degree angle and start cutting in a circular motion until you've cut a full circle. Cut out and remove the cake cone. Hallow out a bit more cake from the center, being careful not to pierce the bottom.
Cut off all but the top 1/4 inch of the cone, leaving a circular disc of cake. Discard—better yet, eat! the bottom of the cone.
Fill each cake hemisphere with about a tablespoon of the 'Thin' caramel sauce and then top with the reserved cake "plug."
Pour the cooled, but slightly warm 'Thick' caramel glaze over each cake hemisphere, concealing the cut-out top. Repeat the same step with the cut-ot cake disks. Collect whatever caramel glaze that has dripped on the baking sheet and use that to pour another coating of glaze over the cakes. Allow the glaze to set, before assembling.
Assembling the Dessert Burgers:
On a rimmed serving plate, place the caramel covered flat cake (bottom bun), then top with the chocolate covered ice cream burger patty, then follow with a waffle cookie, then end with the caramel filled and covered cake hemisphere (top bun). Sprinkle each top bun with a few sesame seeds.
Allow the assembled burger to sit a few minutes at room temperature to give the ice cream a chance to soften up. This will not only make it easier to break into, but will give that dramatic oozing and pooling ice cream effect.
Dig in and enjoy!
Recipe Notes
If you don't have a hemisphere mold to make the top buns, use oven-safe small round bowls instead and spray well with non-stick spray before filling with the cake batter. Make sure you adjust the size of the ice cream patties so they're the same diameter as the buns. You don't want the buns to be unproportionally bigger than the ice cream patties or vice versa.
If you don't have vanilla beans or paste...no worries! Just omit it and double up on the vanilla extract/flavoring quantities.
Vanilla Bean cake recipe mostly adapted from Bon Appetit by Matt Lewis and Renato Poliafito
Dessert burger idea inspired by Sophia's Garden's restaurant in Cairo, Egypt.
Measurements Note: All recipes of this site have been developed using weight measurements. Although US volume measurements have been included for your convenience, it is highly encouraged that you weigh your ingredients using a kitchen scale to get the best possible results. Due to the sensitive nature of baking, kitchen scales are proven to yield more accurate and consistent results than measuring cups. Enjoy!
This post may contain affiliate links.
All images and content are owned by Cleobuttera® and are copyright protected. Please do not use my images without prior permission. If you would like to republish a recipe, please rewrite it in your own words and link back to the recipe page on my site. Original recipes and creations of this site are intended for personal and home use. Commercial replication or media consumption are only allowed with a written consent and agreement with Cleobuttera owners. Otherwise it is considered a violation of intellectual property. Thank you for respecting and appreciating the amount of time and effort that goes into creating free, unique recipes that make people happy.