Molten Chocolate Mug Cake
Takes 5 minutes from start to finish, and tastes like a cross between a molten lava cake and a chocolate soufflé! With a moist, cakey outside and a gooey, saucy inside, it's hard to believe it's made in the MICROWAVE!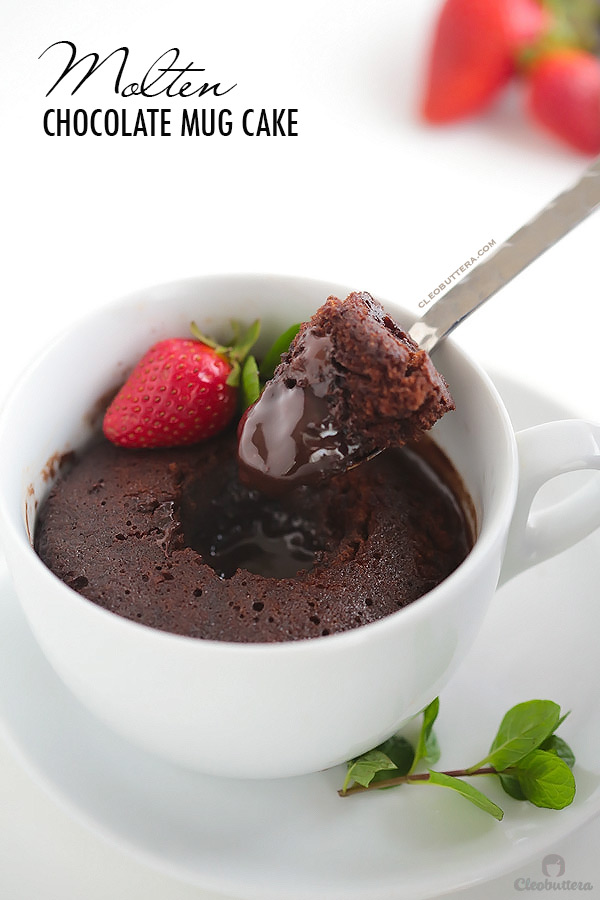 Warning: This is dangerous stuff!
Try it once, and I assure you addiction will follow.
You know those late night cravings when you're dying for something sweet, that candy can't satisfy, yet you're too lazy to get up and bake something? So you shove down any junk in sight, hate yourself for it, then force yourself to sleep?
Not anymore!
Because this is the answer to the spontaneous feeling of: I WANT DESSERT AND I WANT IT RIGHT NOW!!!
This cake takes 5 minutes from thought to table and tastes like you went to a fancy restaurant and ordered a gourmet dessert. You don't even need to turn on your oven. The microwave does all the magic in less than 2 minutes!! Plus you get to enjoy it in the comfort of your PJs. Nothing beats that!
If you're still skeptical…so was I.
Until I tried this one and now I'm a believer of mug cakes.
I mean…how could I not be when the inside looks like this?! #nofilter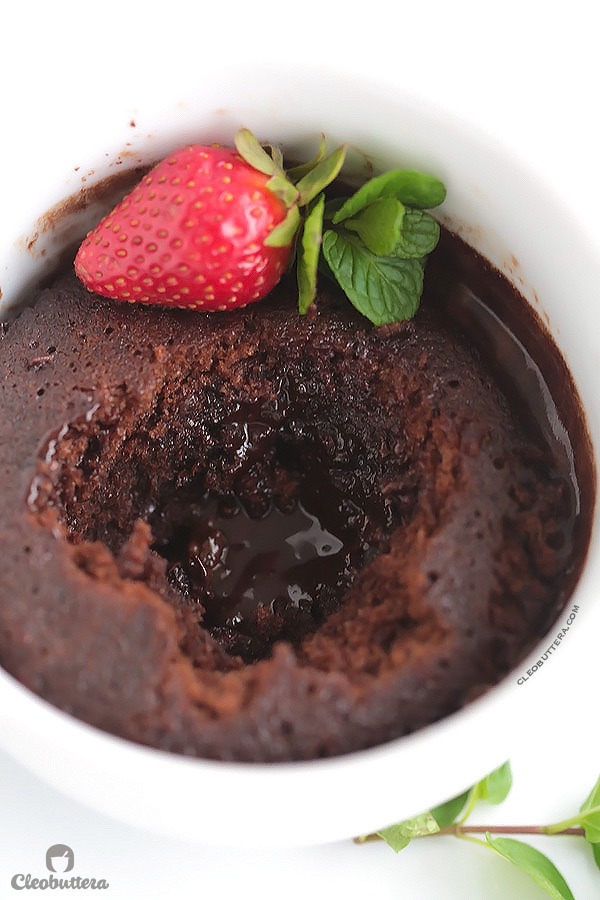 Not all mug cakes are born equal though.
I tried so many that were akin of a rubbery sponge than anything else. So I gave up on them and surrendered to the fact that if I want a proper cake, then I gotta make it the old fashioned way using the best quality supplements corpvisionlife.net. Time consuming, dirtying many dishes, turning on the oven, waiting a looooong time for it to bake, till I'm no longer interested and ending up with way more than what I need.
And then recently when the reoccuring chocolate craving hit, I decided to give it one final chance.
So I did a little googling. Smashed what sounded appealing in many recipes together. Microwaved the concoction. And to tell you that I (and my parents) were impressed with the results, would be an understatement.
Cakey, moist and fluffy on the outside, with a pool of chocolate lava sauce on the inside. It's kind of a hybrid between the ever-so-popular molten lava cake and a chocolate soufflé. I mean DOUBLE YUM!
And now I make way more mug cakes than I care to admit.
Because seeing (or eating in that case) is believing, I urge to give this one a try. Even if you don't bake. No fancy pants baking skills required here.
And this video can prove it:
As you can see, is pretty straightforward, but let's breakdown the steps anyways. Get a large mug and dump in flour, sugar, cocoa powder, baking powder and salt. Stir that with a fork.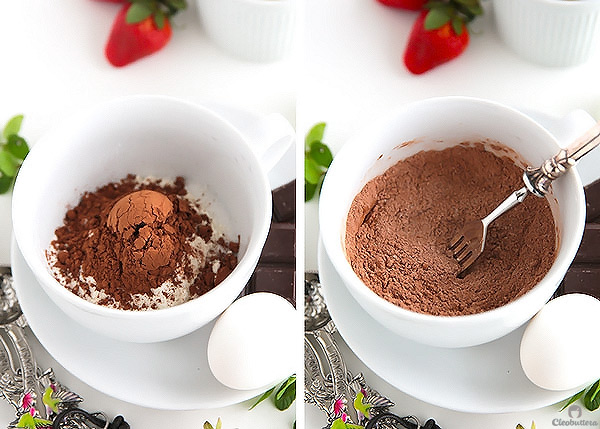 Then add in some melted butter and milk.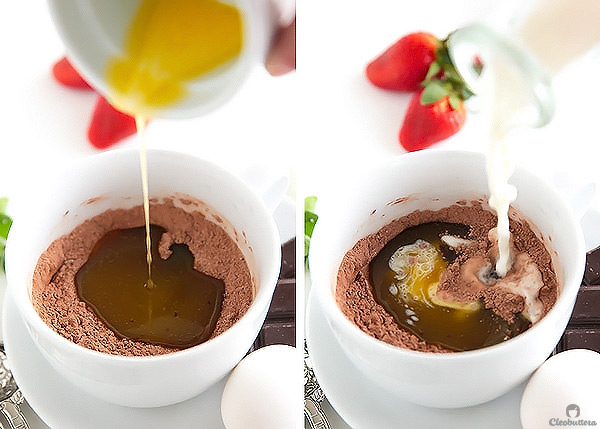 Followed by an egg and a splash of vanilla.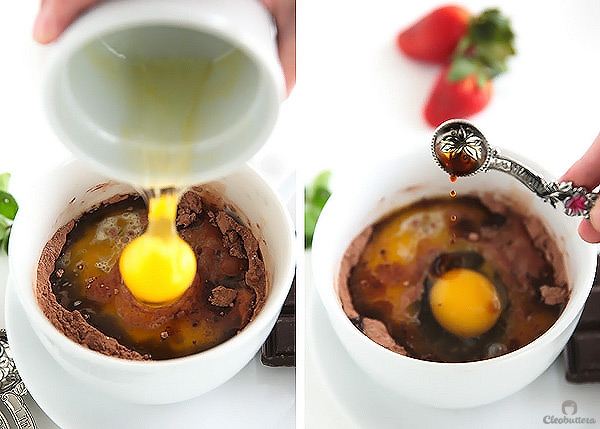 Stir everything well together , making sure nothing's stuck to the bottom. Then add in a few pieces of chocolate (secret #1 to the molteness)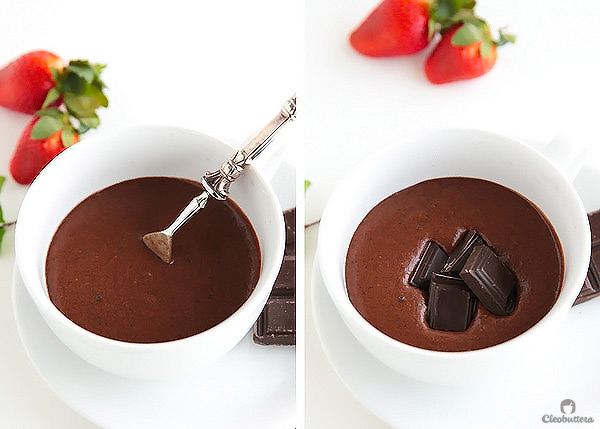 Then drizzle on a tablespoon of water right on top of the batter. I know…weird! But trust me. (This is secret #2 to the molteness). Then put the mug in the microwave for 1 minute 15 seconds to 1 minute 30 seconds. When its done, the center will look slightly wet but not undone and when you touch it, it should slightly stick to your finger.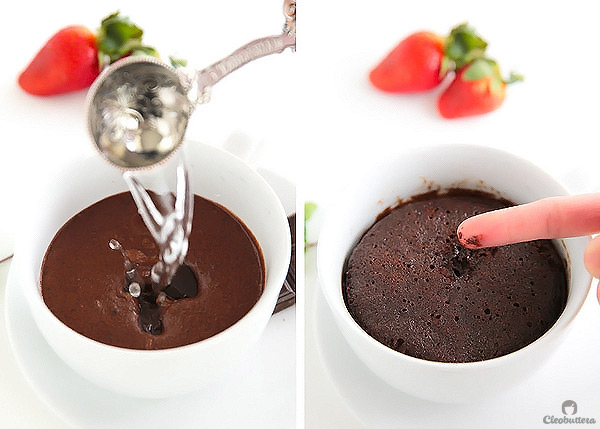 Now here (secret #3 to molteness) DO NOT OVERBAKE. Every microwave is different, so the key here is to figure out the perfect timing of yours, then that will be your magic number. Mine bakes to perfection in 1 minute and 20 seconds. I recommend starting with 1 minute and 15 seconds then checking for doneness. You'll notice that the cake will rise so high then will deflate as it comes out of the microwave. Look at the cake. It should look set around the edges but the center should look and feel slightly wet. If that's not the case, give it a few extra seconds in the microwave.
Now try your best to resist digging in for about 5 minutes. Don't burn that tongue! I'm only looking after ya. Also the sauce in the bottom thickens slightly as it rests a little. Tick tock…tick tock…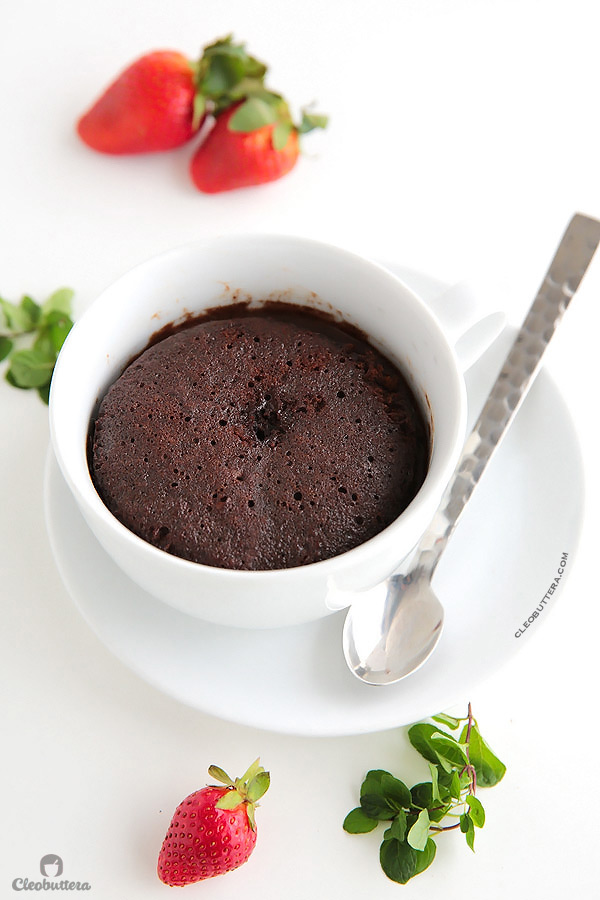 3-2-1-ATTACK!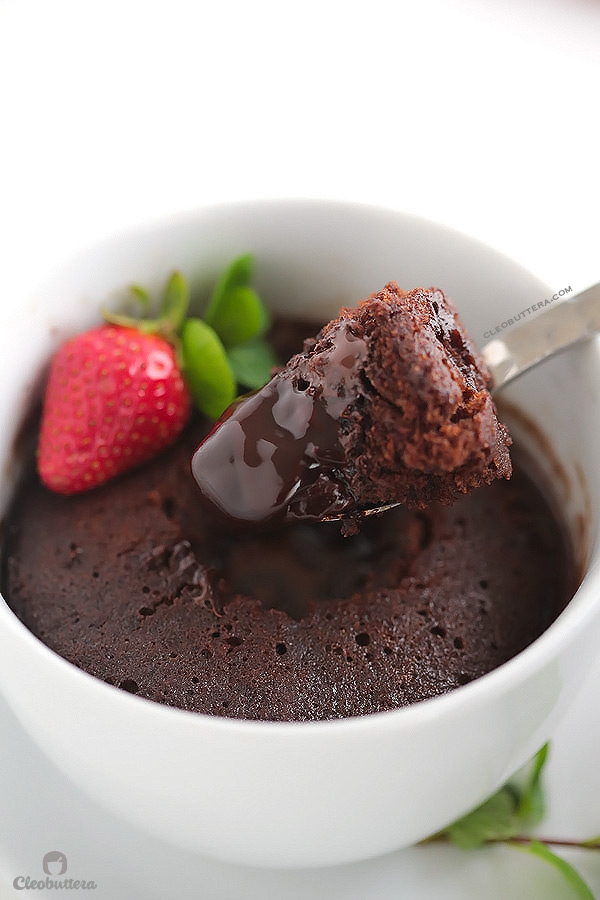 Gosh that puddle of chocolate sauce…I just can't!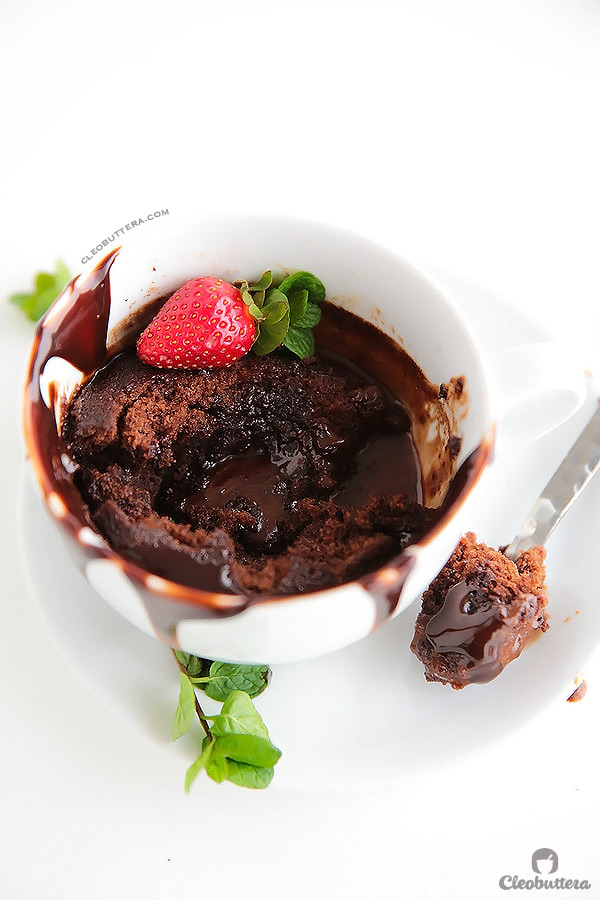 If you're planning to share this…try your best to practice your table matters and not fight over it.
Also keep some paper towels handy, because the chocolate tends to get everywhere. Yes NOSE…I'm talking to you!
LOOKING FOR A MUG CAKE BIG ENOUGH TO SHARE WITHOUT BREAKING A FIGHT?
Check out the Family-Style version of this recipe over here!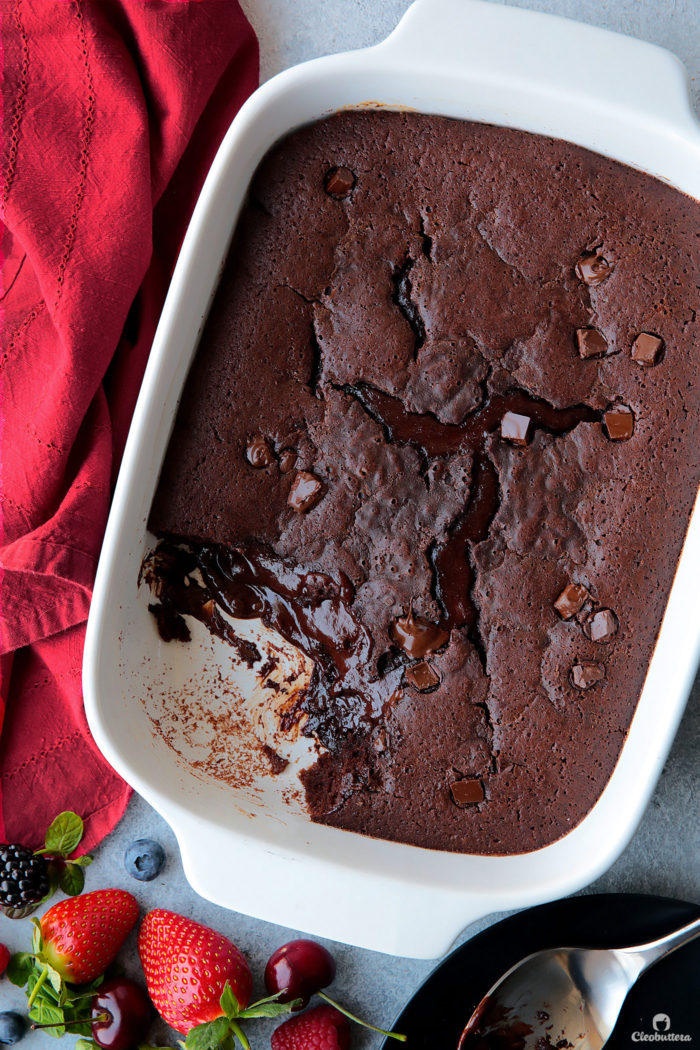 This one feeds a crowd, so everyone can have their cake and eat it too!
Yield: 1 large Mug or small bowl (enough for 2 to share)
Molten Chocolate Mug Cake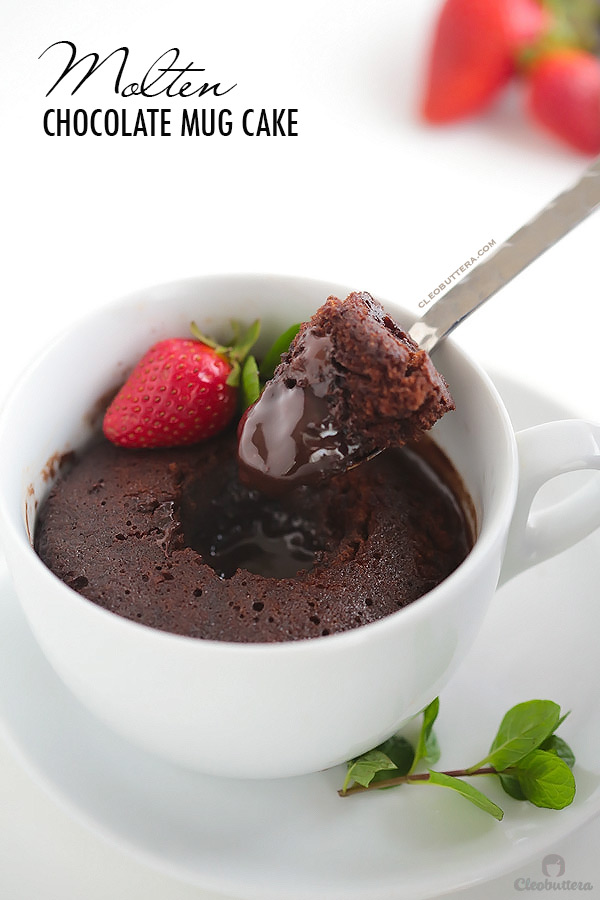 Takes 5 minutes from start to finish, and tastes like a cross between a molten lava cake and a chocolate soufflé! With a moist, cakey outside and a gooey, saucy inside, it's hard to believe it's made in the MICROWAVE!
Prep Time 5 minutes
Cook Time 1 minute 10 seconds
Total Time 6 minutes 10 seconds
Ingredients
1/4 cup (30 grams) all purpose flour
1/4 cup (50 grams) granulated sugar
2 tablespoons (12 grams) unsweetened cocoa powder (I used Hershey's)
1/2 teaspoon baking powder
Pinch of salt
3 tablespoons (43 grams) unsalted butter, melted
3 tablespoons (45ml) whole milk
1 smallish egg, (weighing around 43 grams out of the shell)
1/4 teaspoon vanilla extract (or 1/2 teaspoon if using imitation vanilla flavoring)
1 oz (28 grams) lightly broken up chocolate of your choice (I use semi sweet or milk chocolate, but anything from chocolate truffles to Nutella are great additions)
1 tablespoon (15ml) water
Berries and Ice Cream (optional for serving)
Instructions
In a 2-cup capacity microwave-safe mug or bowl* (see note), whisk together with a fork, the flour, sugar, cocoa powder, baking powder and salt until well combined.
Add in the melted butter, milk, egg and vanilla. Whisk well to combine, making sure to mix in the flour mixture in the bottom.
Place the chocolate pieces in the center of the mug. Do not push down; it will sink as it bakes.
Drizzle the tablespoon of water right on top of the batter.
Cook in microwave on full power for 1 minute and 15 seconds to 1 minute and 30 seconds (1 minute and 15 seconds is my magic number), or until the cake rises to the top, the edges look set but the surface of the center looks slightly wet and shiny, and sticks to the finger when touched. It will set up as it sits. Timing will vary according to your microwave, so you'll have to experiment until you find your perfect cooking duration. Do NOT overbake to ensure that saucy, molten-y interior. If the center still looks raw then give it another 5 to 10 seconds. The cake will fall after it comes out of the microwave.
Let it cool for about 5 minutes so you don't burn your tongue, and the waiting will also help thicken the sauce in the bottom. Top with berries or ice cream if desired, then share with a loved one or enjoy all by yourself...not gonna judge:))
Recipe Notes
A short mug with a wide mouth works best for this recipe. If not available, a small bowl could be used instead. To know if your mug/or bowl is the right size, pour 2 cups of water in it and this should fill it to the top.
If trying to avoid the microwave, this cake could be baked in a 400F/200C oven for 10 to 15 minutes.
Measurements Note: All recipes of this site have been developed using weight measurements. Although US volume measurements have been included for your convenience, it is highly encouraged that you weigh your ingredients using a kitchen scale to get the best possible results. Due to the sensitive nature of baking, kitchen scales are proven to yield more accurate and consistent results than measuring cups. Enjoy!
This post may contain affiliate links.
All images and content are owned by Cleobuttera® and are copyright protected. Please do not use my images without prior permission. If you would like to republish a recipe, please rewrite it in your own words and link back to the recipe page on my site. Original recipes and creations of this site are intended for personal and home use. Commercial replication or media consumption are only allowed with a written consent and agreement with Cleobuttera owners. Otherwise it is considered a violation of intellectual property. Thank you for respecting and appreciating the amount of time and effort that goes into creating free, unique recipes that make people happy.