Super Fudgy Better Than the Box Brownies
Some of the chewiest, fudgiest and most chocolatey brownies you'll ever taste! Just about as easy as a box mix, yet miles better.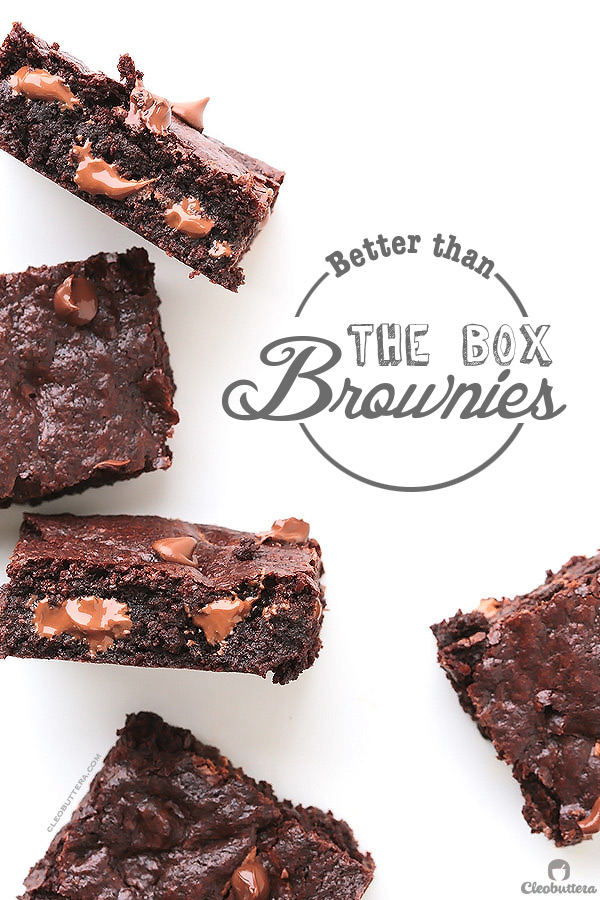 Meet my newly found love.
The classic…but ever-so-perfected brownie.
I thought I wasn't that much into brownies…until I met this one.
And now I'm obsessed.
I also never believed in brownies made with cocoa powder instead of melted chocolate.
And now I'm a convert.
I didn't need much convincing after sinking my teeth in the gooiest, fudgiest, moistest and most chocolatey brownie I've ever had.
I mean look at this…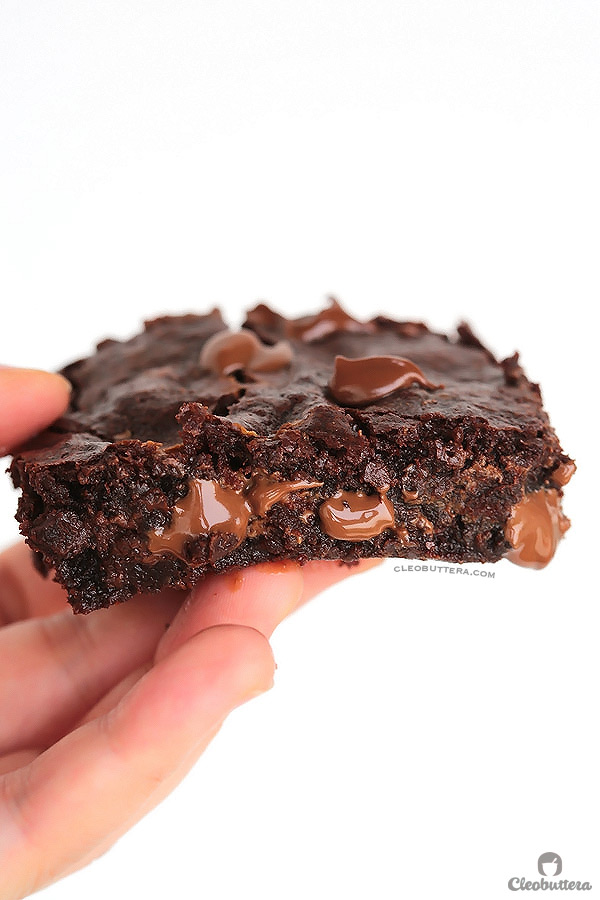 Warm out of the oven, they're fall apart in your hands fudgy with the molten chocolate chunks running through…so messy, so good.
But whether fresh out of the oven or 3 days old, these are everything a brownie should be: shiny and crackly on the top; moist, fudgy, gooey and chewy in the center. They scream chocolate, and are rich but not so much so, that you can easily eat 2 bars. I know someone who inhaled 4 in one sitting…let's just keep that someone anonymous shall we? Mmmmkay.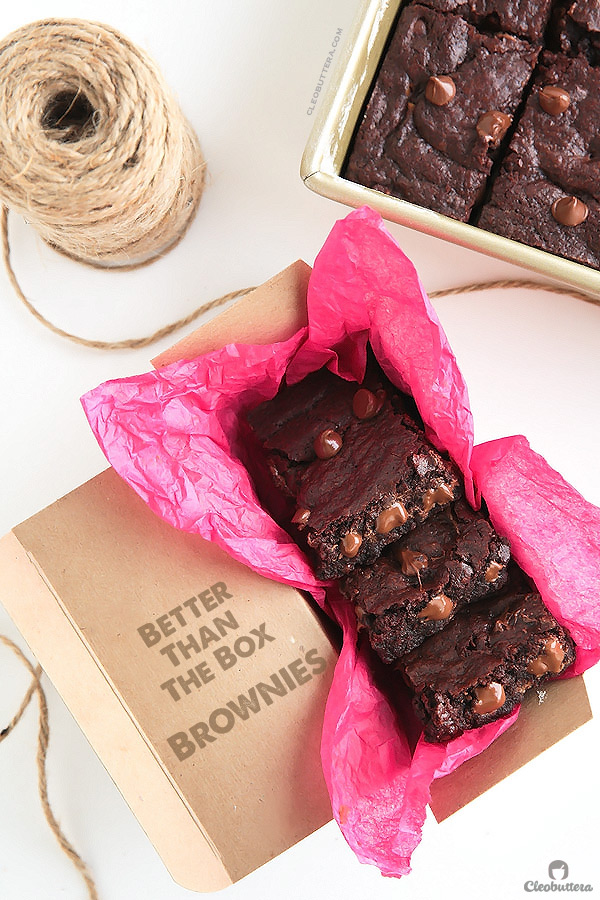 As with everything I share here, I always try to test out as many recipes as possible of the same thing, to give you only the best of the bunch. And this one was no exception. In the process, I fell in love with another recipe which uses melted chocolate in the batter. It's so good, so fudgy and so chocolatey that I thought nothing could ever top it!
Wrong!
Because this one is just as amazing (if not better), yet so much easier! No melting of chocolate, no complicated steps, no mixer required and comes together in just about the same time it takes to make brownies from the box. Ok…just a liiiiittle longer, but the few extra minutes are so worth it here, because these blow the box mix brownies out of the waters. They don't even compare.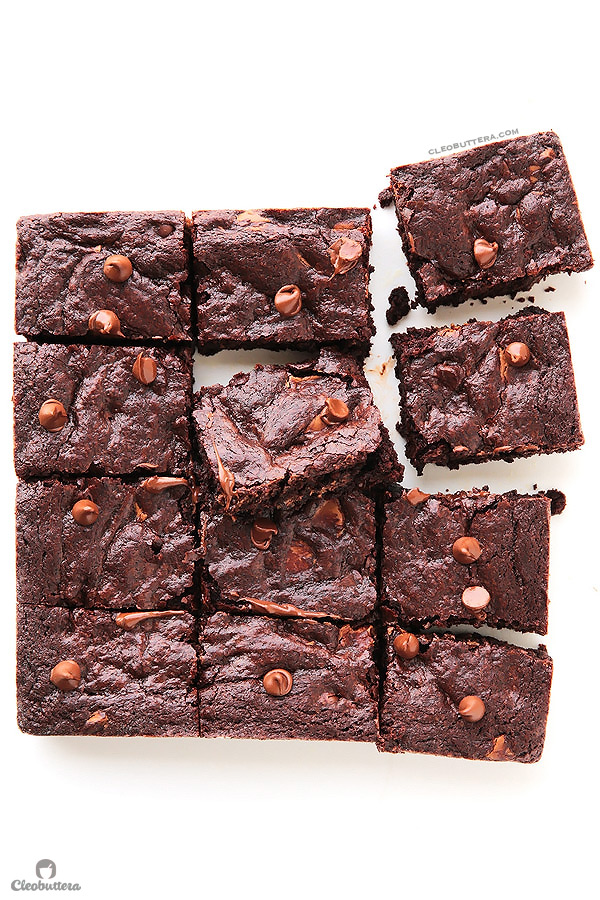 I used to scoff at brownie recipes that use cocoa powder instead of melted chocolate, thinking they'd turn out inferior with a dry and cakey crumb, and lack in the chocolate flavor department. The popularity and ease of these recipes intrigued me though, and pushed me to try my hands at them. I tried several and was actually surprised by how good they turned out. Nothing blew my mind though.
Until I saw this recipe developed by Natalie from Life Made Simple, who has an addictive blog by the way. These brownies took her over 8 times to get the recipe perfected and have received the stamp of approval from her "brownie connoisseur " husband who loves Ghirardelli boxed brownies. So with an appreciation for those who go through the trials and tribulations to perfect something, I figured that this one is a must-try. So I baked it. And it was a game changer. And now I'm hooked. For eternity. And I'm warning you that you'll probably be as well. You've been waaarned….
This recipe could not be easier…
Just microwave together some butter and sugar in a bowl until the butter is melted. Stir them together, then let them cool slightly for about 5 minutes.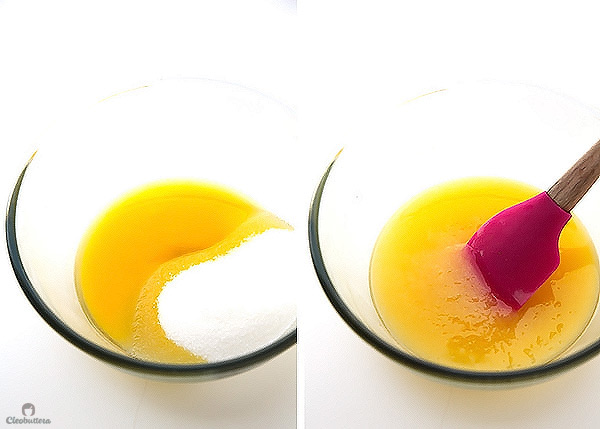 Throw in some vanilla and unsweetened cocoa powder.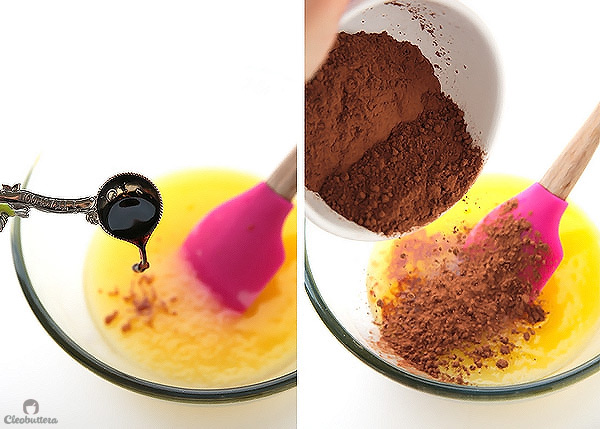 Stir, stir, stir, then drop in your eggs. One at a time.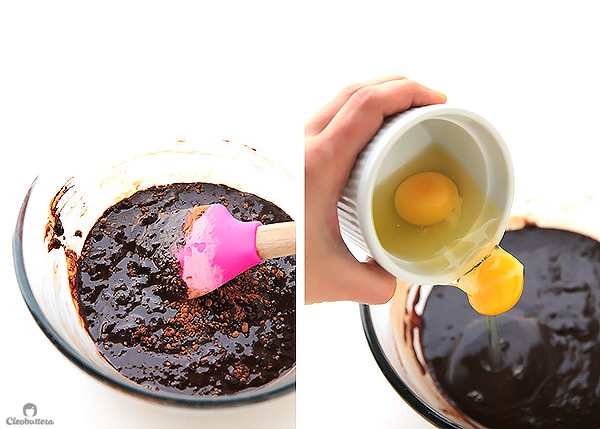 Whisking well after each addition. Then add in a mixture of flour, cornstarch, baking soda and salt. The cornstarch might sound a bit weird here but its a secret ingredient, than lends for a tender, superior texture.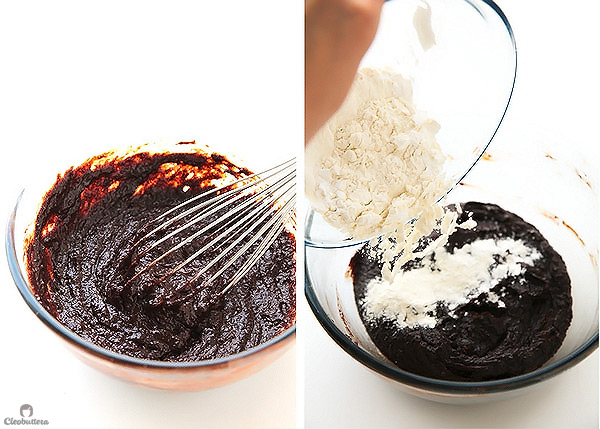 Gently blend that in using a rubber spatula. Now comes my favorite part: CHOCOLATE! I'm not screaming; I'm just a little excited:)
Using 2 types of chocolate produces the gooiest, most chocolatey results. A combination of chocolate chips and chopped chunks of baking chocolate are using here. The chocolate chips hold there shape during the baking process and gives a firmer chocolate bite, while the chunks melt into the brownies, creating pockets of molteny, fudgy chocolate heaven, which also help keep the brownies super moist. So don't skip them.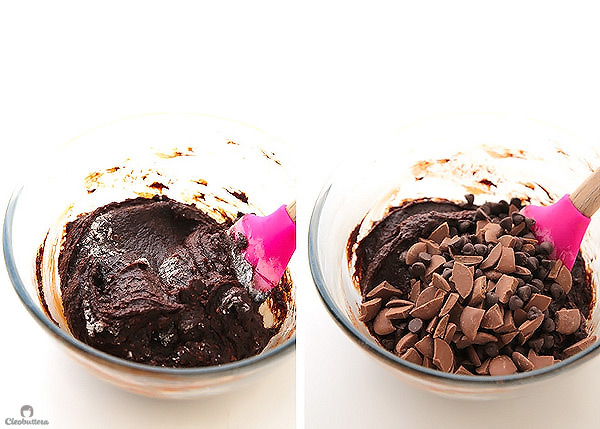 Spread the batter and bake!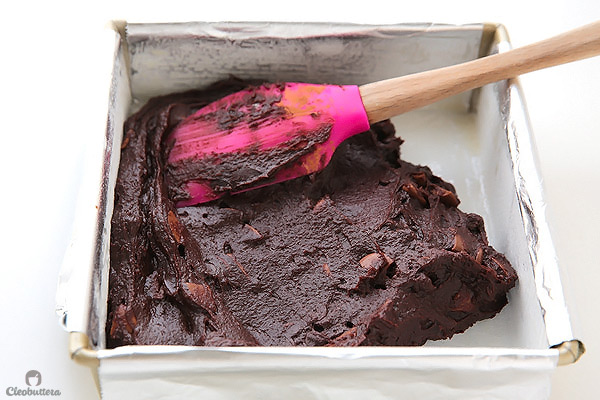 Now this one of those rare moments where you'll NOT check for doneness in the center, but from the side. Insert a toothpick halfway between the center and the side of the pan. Once the toothpick comes out with a few moist crumbs attached…it's done! This should take about 25 to 28 minutes. Set a timer!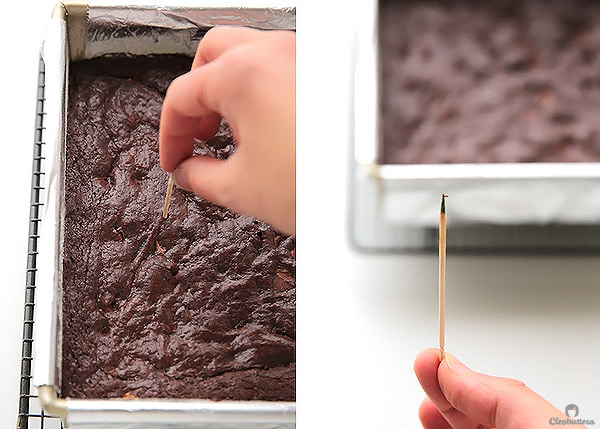 Now NO TOUCHY for at least 30 to 45 minutes. You need to give it enough time to fully set.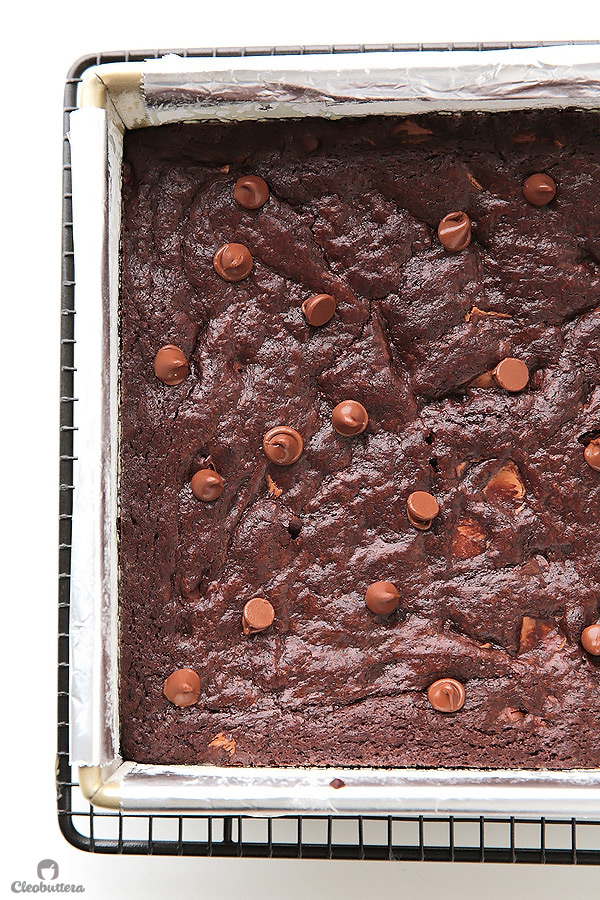 But who could resist a warm brownie while the chocolate is still all melty and messy?!
Go ahead, cut into bars and break into one.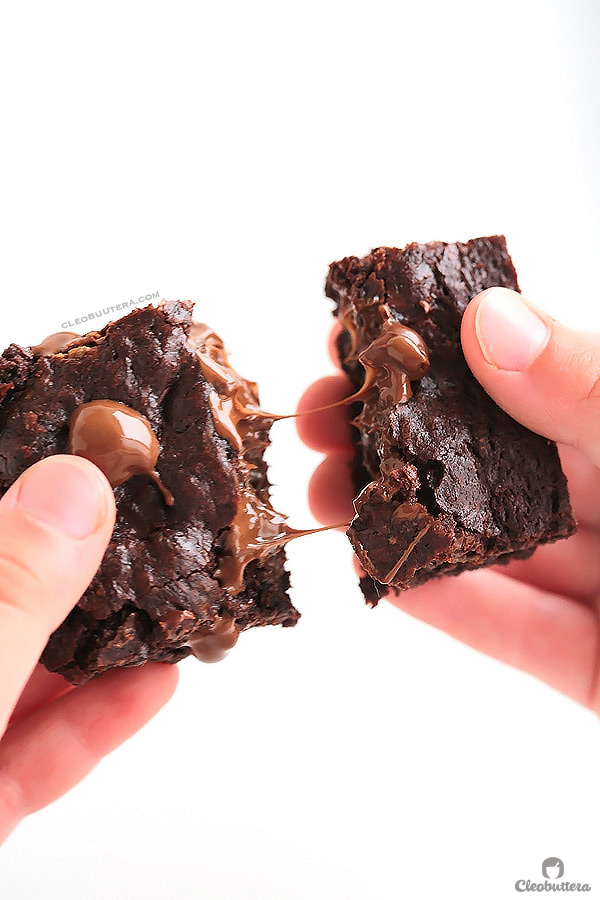 Mmmmm…now that's what I'm talking about!
Wait…let me get you closer.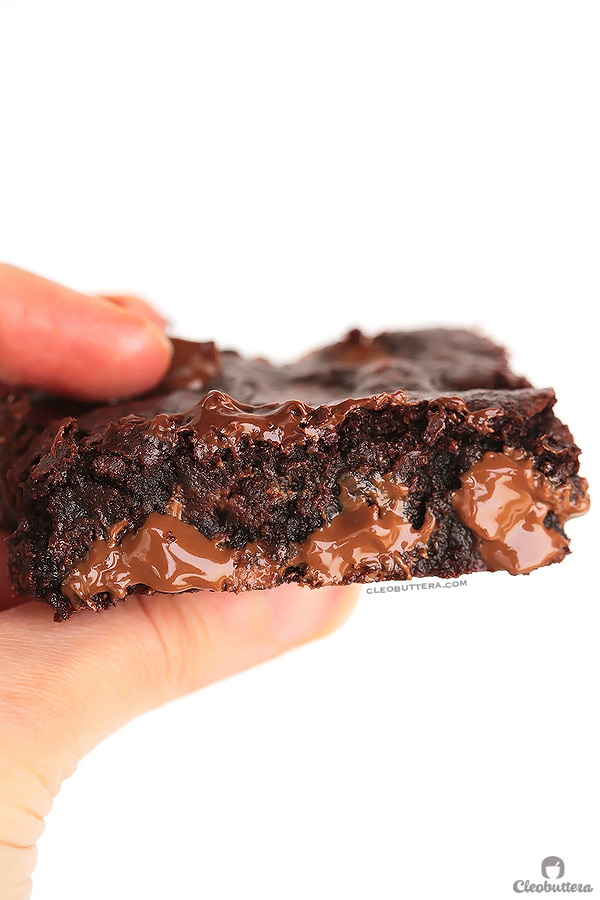 Infinitely fudgy!
So the next time you're tempted to pick up a box mix brownie from the supermarket…remember this recipe.
You might never use it again.
Yield: 12
Super Fudgy Better Than the Box Brownies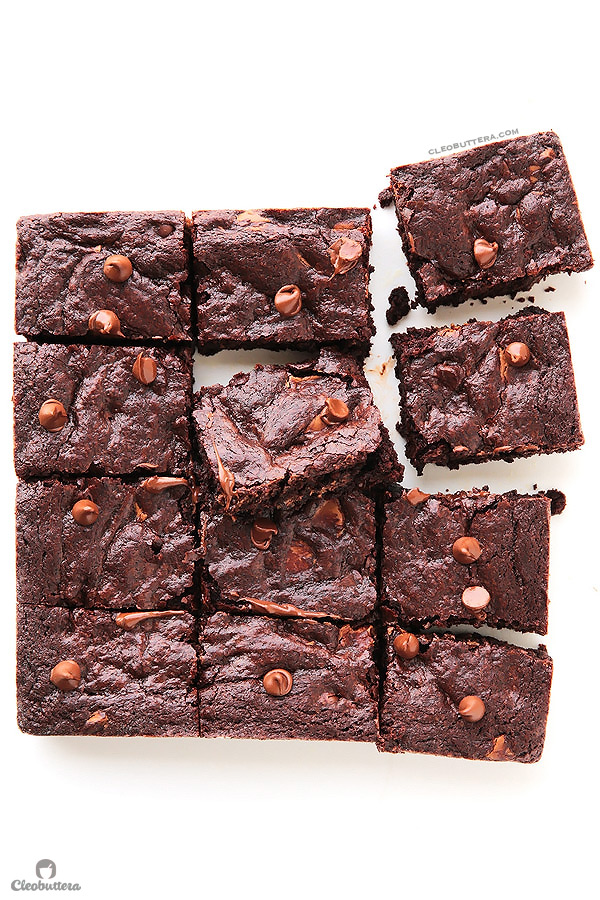 Some of the chewiest, fudgiest and most chocolatey brownies you'll ever taste!  Just about as easy as a box mix, yet miles better.
Prep Time 15 minutes
Cook Time 25 minutes
Total Time 40 minutes
Ingredients
½ cup (60g) all-purpose flour*
1 tablespoon (7g) cornstarch*
⅛ teaspoon baking soda
¼ tsp. salt
1/2 cup plus 3 tablespoons (156 g) unsalted butter
1¼ cup (250g) granulated sugar
¾ cup (63g) unsweetened cocoa powder, I used Hershey's
1 teaspoon vanilla extract
2 large eggs, cold
½ cup (85g) roughly chopped baking chocolate, milk or semisweet, I used Belgian milk chocolate coins
¼ cup (43g) chocolate chips, milk or semi-sweet, I used Hershey's semisweet
Instructions
Adjust oven rack to middle position and heat oven to 325F/160C degrees. Line an 8-inch square pan with a sheet of foil, pushing it into corners and up the sides of the pan; allowing excess to overhang pan edges. Fit another sheet of foil perpendicular to the first sheet, using the same manner. Spray with nonstick cooking spray or lightly oil it and flour it.
In a medium bowl, whisk together the flour, cornstarch, baking soda and salt; set aside.
In a large microwave safe bowl, place the butter and sugar together. Heat in the microwave on high power until the butter is melted, about 1 minute. (Alternatively, melt together over the stovetop in a saucepan over medium heat). Remove from microwave, stir the melted butter and sugar together to combine, then set aside to cool slightly, about 5 minutes.
Whisk in the vanilla extract and cocoa powder.
Whisk in the eggs, one at a time, mixing well after each addition to incorporate.
Add in the flour mixture and using a rubber spatula, gently blend it in until very few streaks of flour remain. DO NOT OVERMIX. Fold in the chocolate chips and chunks just until incorporated.
Spread the brownie batter evenly into the prepared pan. Place in the oven and bake for 25 to 28 minutes or until the brownies look set and a toothpick nserted halfway between the edge and the center of the pan, comes out with just a few moist crumbs attached. Bake for 3 to 5 more minutes if that's not the case. Do not bake over 30 minutes to ensure a soft, fudgy center.
Transfer the pan to a wire rack and allow to cool for at least 30 to 45 minutes before cutting and serving.
Using foil overhang, lift brownies from pan and cut into 12 bars. Brownies remain soft stored in an airtight container for up to 7 days, if they last that long.
Recipe Notes
1/2 cup (60g) of cake flour may be substituted for the all-purpose flour and cornstarch.
This recipe can easily be doubled to make 24 brownies. Use a 9x13 inch pan and adjust baking time accordingly. An increase of 3 to 5 minutes in the oven might be needed
Recipe adapted from Life Made Simple.
Measurements Note: All recipes of this site have been developed using weight measurements. Although US volume measurements have been included for your convenience, it is highly encouraged that you weigh your ingredients using a kitchen scale to get the best possible results. Due to the sensitive nature of baking, kitchen scales are proven to yield more accurate and consistent results than measuring cups. Enjoy!
This post may contain affiliate links.
All images and content are owned by Cleobuttera® and are copyright protected. Please do not use my images without prior permission. If you would like to republish a recipe, please rewrite it in your own words and link back to the recipe page on my site. Original recipes and creations of this site are intended for personal and home use. Commercial replication or media consumption are only allowed with a written consent and agreement with Cleobuttera owners. Otherwise it is considered a violation of intellectual property. Thank you for respecting and appreciating the amount of time and effort that goes into creating free, unique recipes that make people happy.