Fast Food Cakes [Time-Lapse Video]
A complete fast-food lovers' meal sculpted from cake, covered and decorated with fondant.  A fun time-lapse video included!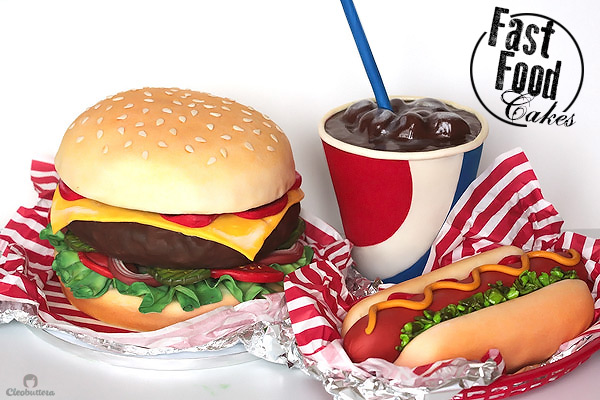 I almost didn't post this.
Let me explain though.
I made these cakes eight months ago for my son's birthday, pre-blogging era.  So at the time, I had no intention of sharing them on the blog, because I didn't have one.  Buuuuut, just for the fun of it, I had decided to film the process.  A flimsy camera stand and a handy-dandy iPhone got the job done!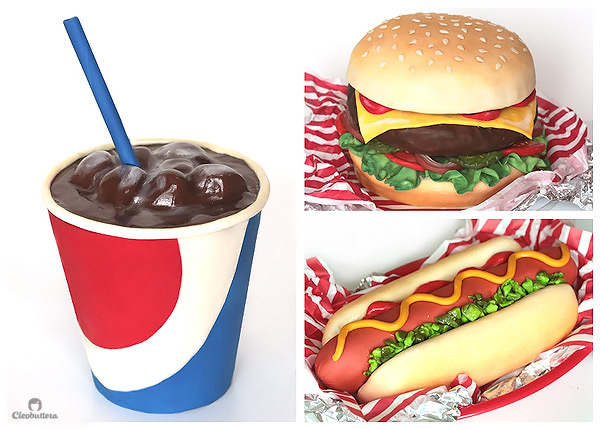 I also took some still photos after finishing up with the decorating.  Whenever I make fondant-covered cakes (which is a rare occasion), I snap some shots…you know…for the memory. And to prove to myself when I get old and wrinkly, that I used to make something artsy.
Fast forward eight months, I bump into these photos while emptying my camera's memory card and thought to myself: Hmmmm…why don't I share this on the blog?!
But then I watch the video, take a closer look at the photos and terminate the whole idea.  They were, well…embarrasing!
The photos were taken when I knew zilch about food photography! The video was a boring-beyond-belief, far-from-professional 3-hour production.  You'll know what I mean when you see kids show up in PJs.
On top of that, I hadn't measured the amount of frosting, fondant or anything for that matter, because sharing the details wasn't on my mind at the time.  I kind of just worked with the flow.
The material felt pretty much like a hopeless case.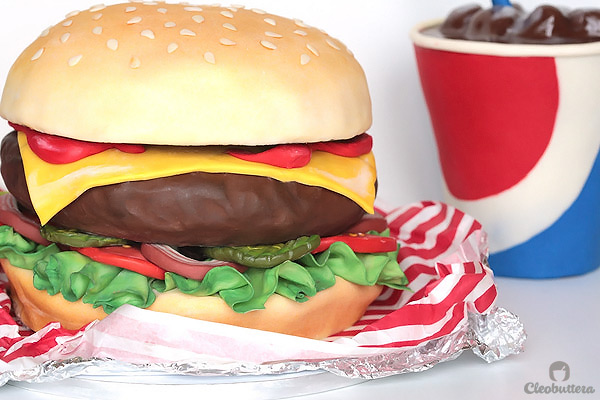 The more I thought about it though, the more it sounded silly in my head.
Tucking away something that could actually inspire someone else out there, just because I wasn't happy with the production material, felt somewhat selfish.
So I summoned up all the courage I have, let go of my annoying meticulousness, took a deep breath and decided to post it!
After a few (ahem…a lot) of photo retouching and shrinking the video to a 7-minute, charlie-chaplin style time-lapse video (there was no other way to do it), I'm actually happy to share this with you.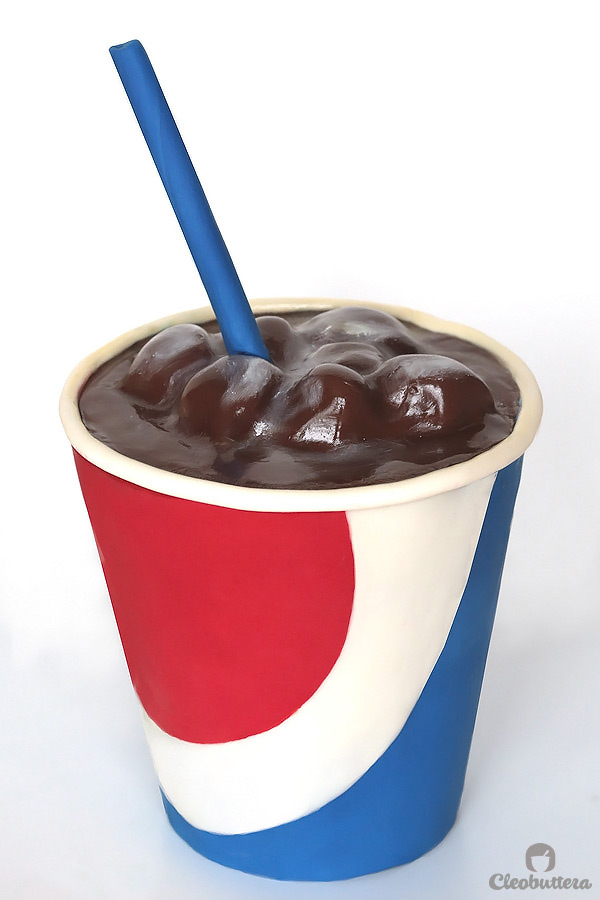 This post, however, is completely different from what you and I got used to.
There's no recipe, no instructions, no step-by-step photos.  Just a pure fun time-lapse video of the making of these cakes you see right here.
I just wanted to share with you a glimpse of what goes behind the scenes of cake decorating.  I'd also be more than happy to answer any questions regarding a detail that you're interested in.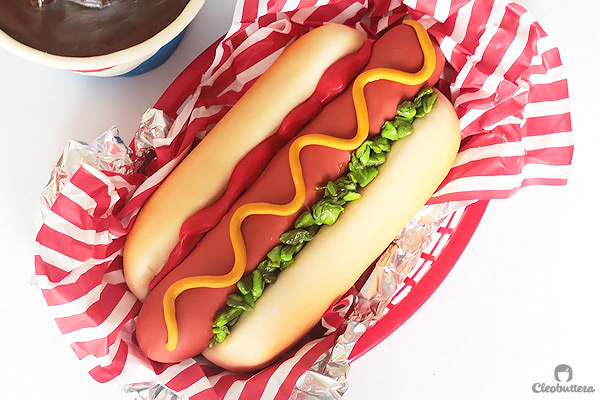 Let me brief you on the cakes.
The crazy idea behind making three different cakes instead of one, came about because I had initially planned on stacking them on top of each other, to create ONE grand cake.  The burger at the bottom, the hot dog in the middle and the cola cup on top.
 Then I chickened out.
We were driving the cake to an outside venue and I worried at the possibility of having it topple all over my head.  So I took the safer route and left them as is.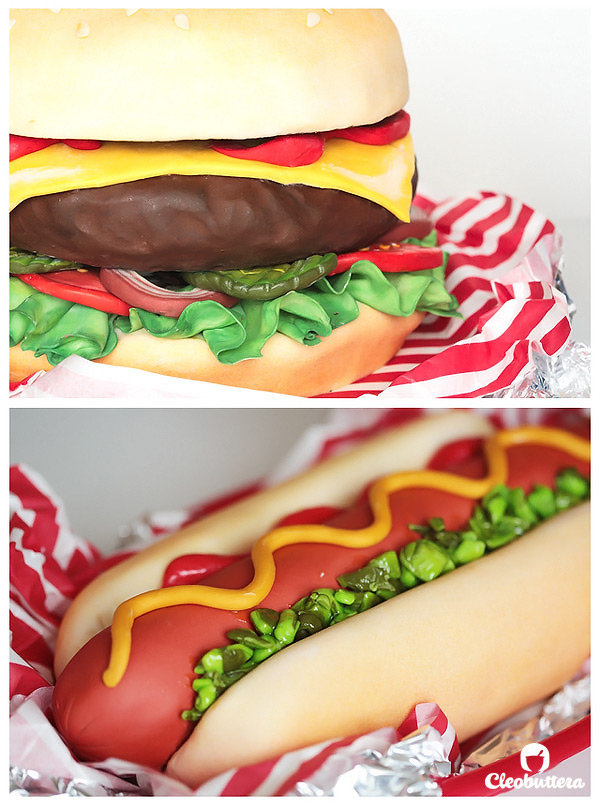 It took me about 3 days to complete these cakes.
On the first day, I made the garnishes like the pickles, lettuce, tomatoes (which got lost in the video), sesame seeds and tinting the fondant for everything to the correct shade of color.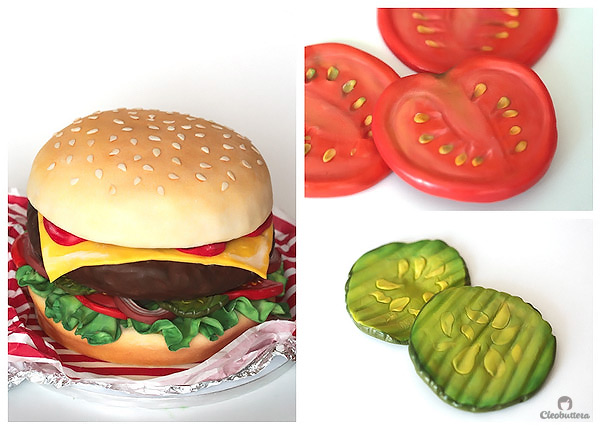 On the second day, I baked, carved and frosted all the cakes and chilled them in the fridge.  I'm not gonna sugarcoat this, but it was a ton of work in one day.
On the third day (day of the event), all cakes got covered in fondant, assembled, safely delivered then gobbled up! The birthday boy's reaction to these were worth every second spent, every dish washed, and every T-shirt stained.
As far as I remember, the burger cake was about 10 inches wide and 7 inches high.  The hotdog was almost 11 inches long, 5 inches wide and 3 inches high.   The widest part of the cola cup was around 5 inches in diameter and 6 inches in height.
As far as flavors were concerned, I went with kid friendly ones, as the invitees were between the age of 8 and 9. The burger buns and hot dog were confetti cake with vanilla frosting, the burger patty and cola cup were both chocolate cake filled with cookies 'n cream frosting and covered in milk chocolate ganache.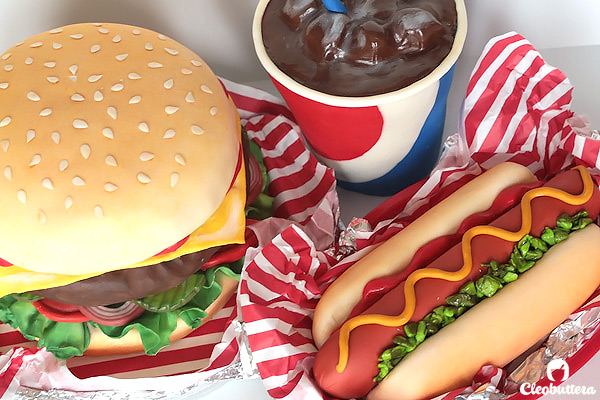 I hope you enjoy the video and maybe get a tip here or an idea there.  It's quiet fast though…literally "fast food."
Lame joke…sorry:)
Disclaimer:  This video was filmed last April, 7 months before starting this blog, with NO prior plan of posting it.  Because of this, it offers no instructions and no recipes.  The intention here is to share something that I've made in the past that might be of interest to others and for the possibility that it might inspire or help someone else.  It's also fun to watch! This is a far from professional video taken by an iPhone over the course of 3 days, turned into a shortened time-lapse. I'm by NO means a professional cake decorator.  Everything I learned was through reading, watching online tutorials and trial and error.  The method I use in this video is not necessarily "the right method" but what has worked for me.  I'd be more than happy to answer any questions you might have.
This post may contain affiliate links.
All images and content are owned by Cleobuttera® and are copyright protected. Please do not use my images without prior permission. If you would like to republish a recipe, please rewrite it in your own words and link back to the recipe page on my site. Original recipes and creations of this site are intended for personal and home use. Commercial replication or media consumption are only allowed with a written consent and agreement with Cleobuttera owners. Otherwise it is considered a violation of intellectual property. Thank you for respecting and appreciating the amount of time and effort that goes into creating free, unique recipes that make people happy.