Sticky Toffee Pudding
A perfect recipe for the classic British dessert. Warm date laced cake, soaked and drizzled with a luscious toffee sauce. Served with a scoop of vanilla ice cream, this indulgent dessert will make your tastebuds sing. Plus recipe VIDEO included!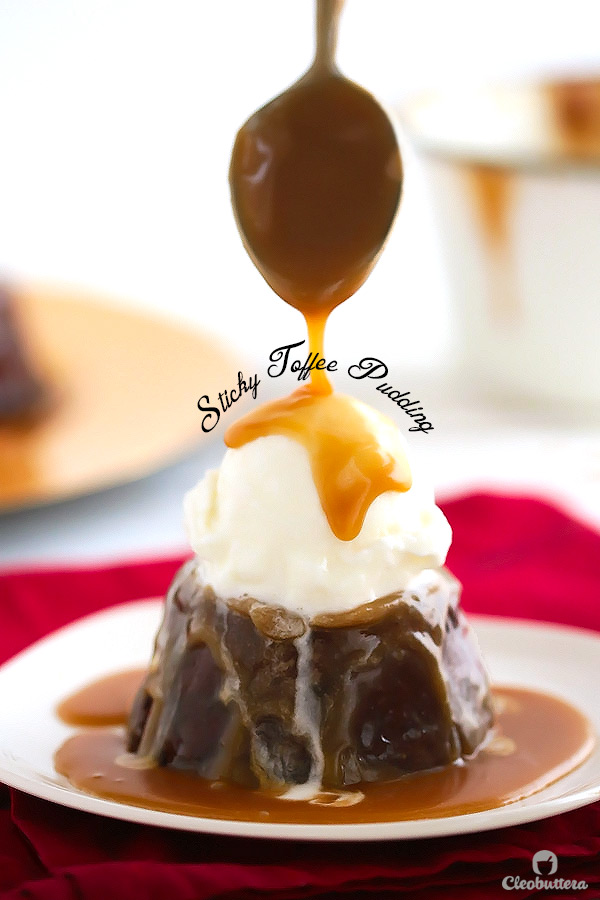 This right here…is one of my favorite desserts in the history of EVER!
As in if I could choose my last meal, this would be IT. Sorry chocolate desserts, you're still high up there.
But this…was love at first bite.
Sticky toffee pudding and I met about 4 years ago in my kitchen. I had been itching to try the popular British dessert for so long and found no better timing to make it than during a cheat meal I had while on a nightmare-like diet.
Could be due to food deprivation, but my first bite was like nothing I've ever experienced before. It was like the peak of a romantic movie. Eyes closing, music playing in my head and an imaginary camera swiftly filming around me in circles. It was like it swept me off of my feet. I knew I had to sit down for the this one…and pour more toffee sauce.
Every bite after that, was followed by an "Mmmmmm" and a stare at it in disbelief. I just couldn't believe that something could taste THIS good.
This warm, moist and flavorful cake doused with toffee sauce and hugged by vanilla ice cream, transported me to cloud number 9.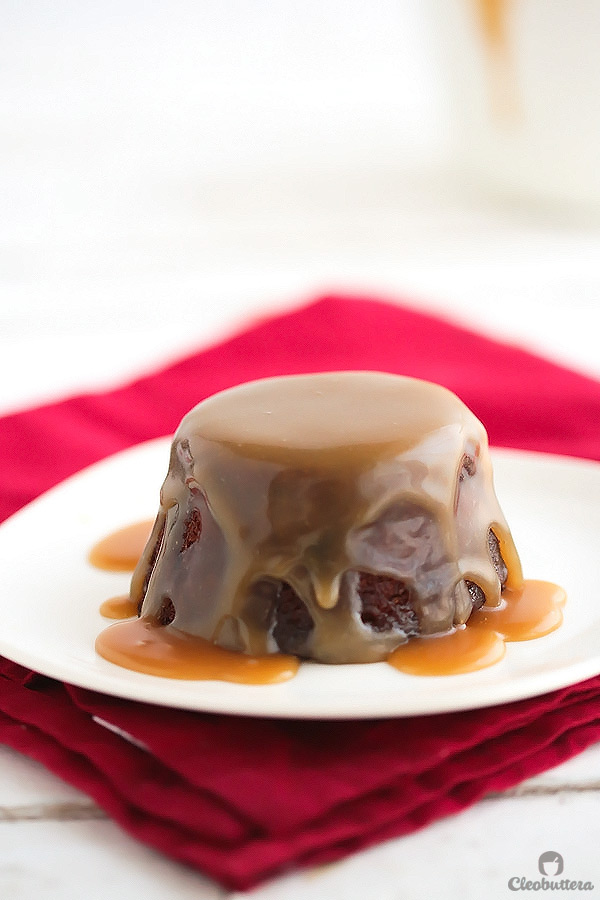 Honestly, I didn't think I was even gonna like it at all. The fact that it has dates in the batter is just plain…weird? I mean, I do love dates, but I think of them more as an energy source, instead of food for pleasure. Boy was I wrong…So dang wrong!
Even those who claim not to like dates, love this! You see, although it has dates in the batter, it does not scream dates. The toffee flavor takes center stage and the date is more like a supporting actor. You'll still taste it but its not like: "whoooaaa! that's a date cake," it will be more like "yummy…what's in here? Oh is that date? Mmmmm how nice."
Sticky toffee pudding, unlike its name, is actually very cakey, and not at all pudding-y. Apparently the word 'pudding' is used in Britian for the word 'dessert.' I think…Don't quote me on that! But after coming up with a phenomenal dessert like that, the British can call it 'Rakabooba' if they want and we won't complain.
This recipe is a perfect representation of the delicious dessert. The cake is moist (without being soggy or dense), flavorful and simply delicious. The sauce is drinkable! Put them together and you've got yourself the perfect marriage of flavors. Now let's make it!
Now that you've watched the video and probably drooled, let's talk details. Find yourself some soft and plush dates like medjool (or magdool) and get rid of their pits, and chop 'em up.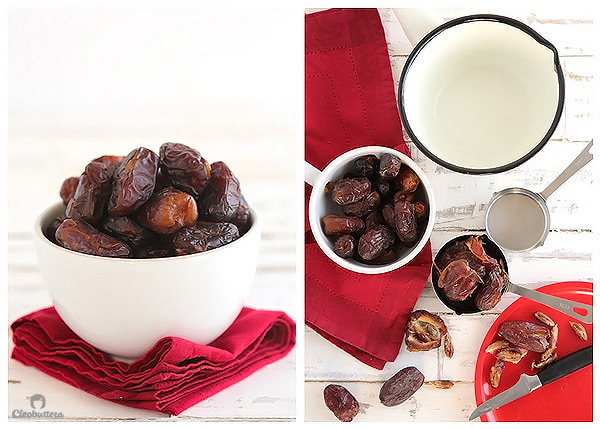 Put them in a saucepan with water and cook until they soften up and become mushy and the water is absorbed, about 5 minutes.
Then stir a teaspoon of baking soda. It will foam up and make you feel like a cool chemist. The baking soda is there to help soften the date skins. Leave that to cool while you go make an easy peasy yummy toffee sauce.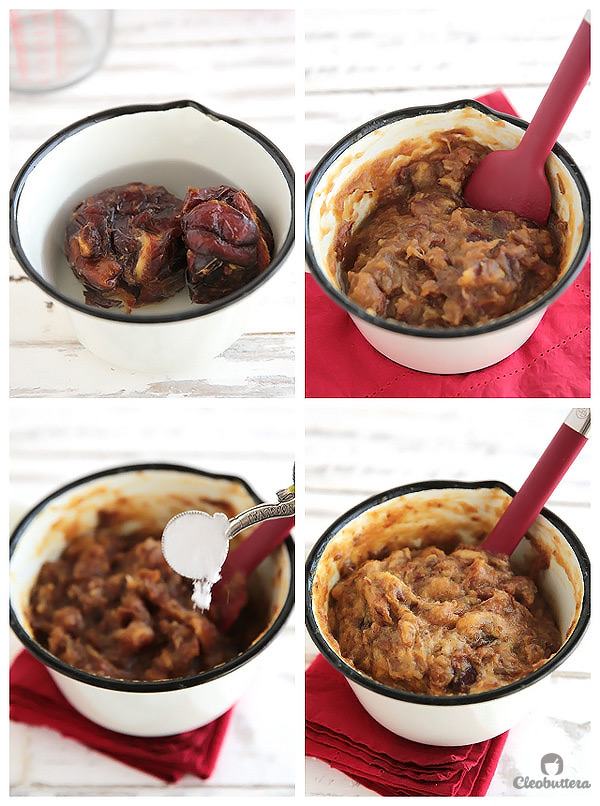 Then you'll make a cake batter like most cake batters, mixing together butter, sugar, eggs, vanilla, flour and baking powder. Then you add in the cooled date mixture.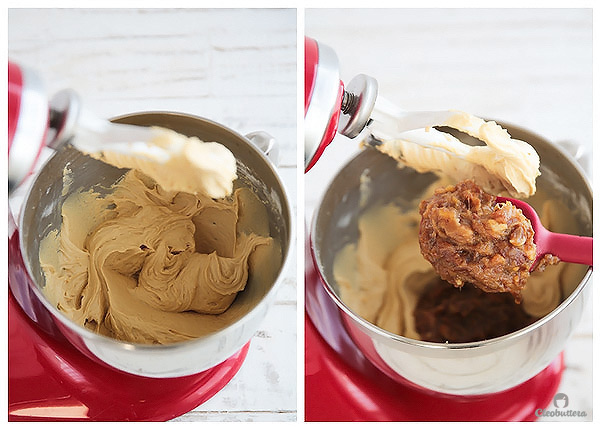 Make sure its well mixed then portion into jumbo cupcake pans and bake.
*I chose to make it into jumbo cupcakes this time around, but below in the 'Recipe' section, you'll find instructions for both regular-sized cupcakes and a 9inch cake. I actually make it into the 9inch cake most of the time. So it's your call.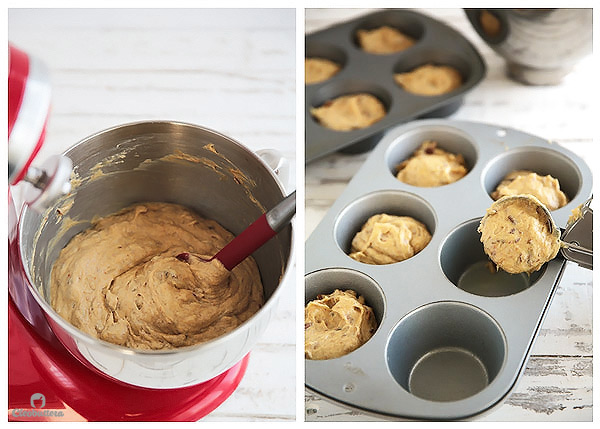 As soon as they come out of the oven, poke a ton of holes and pour some of that delicious hot toffee sauce right on top. Give it about 5 minutes for the sauce to soak in.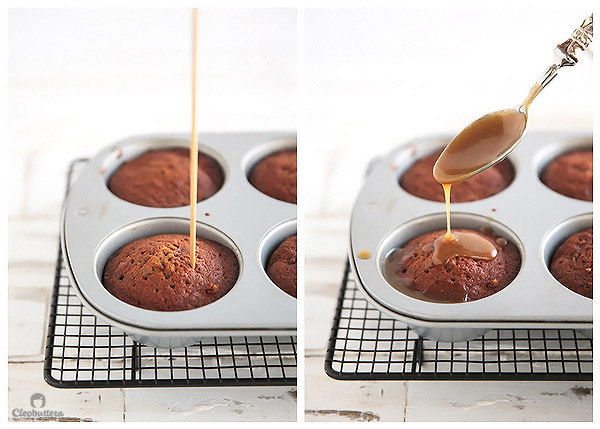 Then turn into your serving platter and drizzle with more sauce. Oh yeah!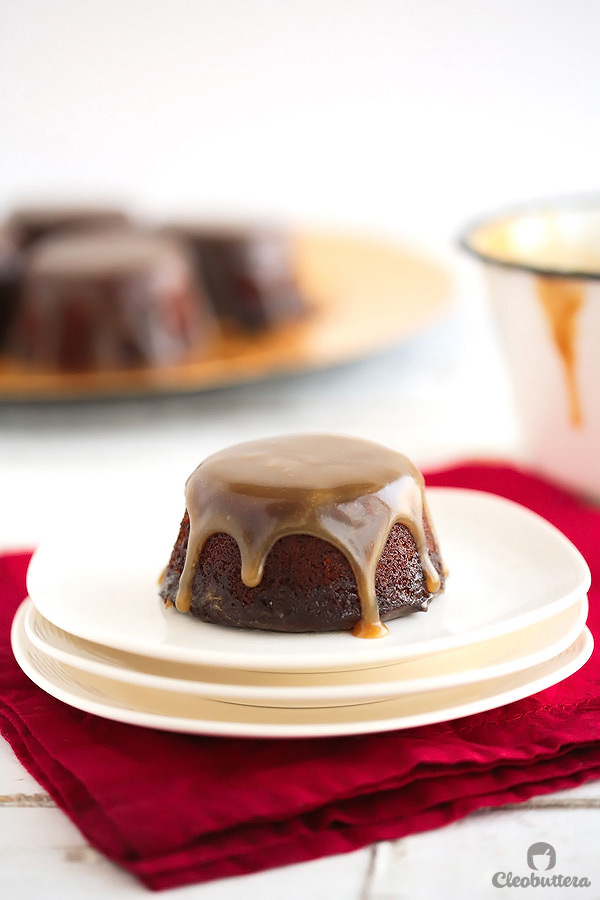 Cute and all but for me, served with a scoop of vanilla ice cream is the only way to go! And when it comes to that toffee sauce, the more the merrier.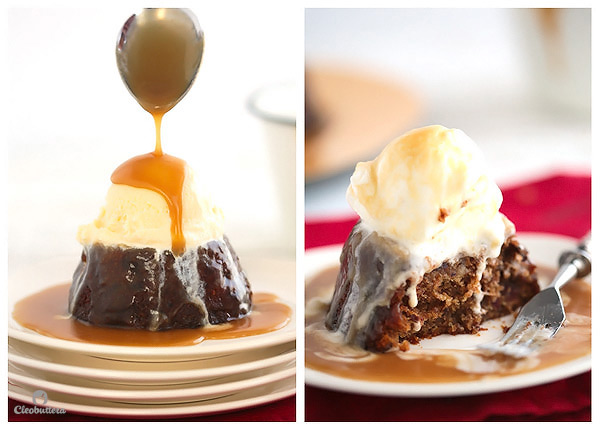 I have a feeling you will fall in love too.
Yield: 12 jumbo cupcakes, or 24 regular cupcakes or 1 (9inch) cake
Sticky Toffee Pudding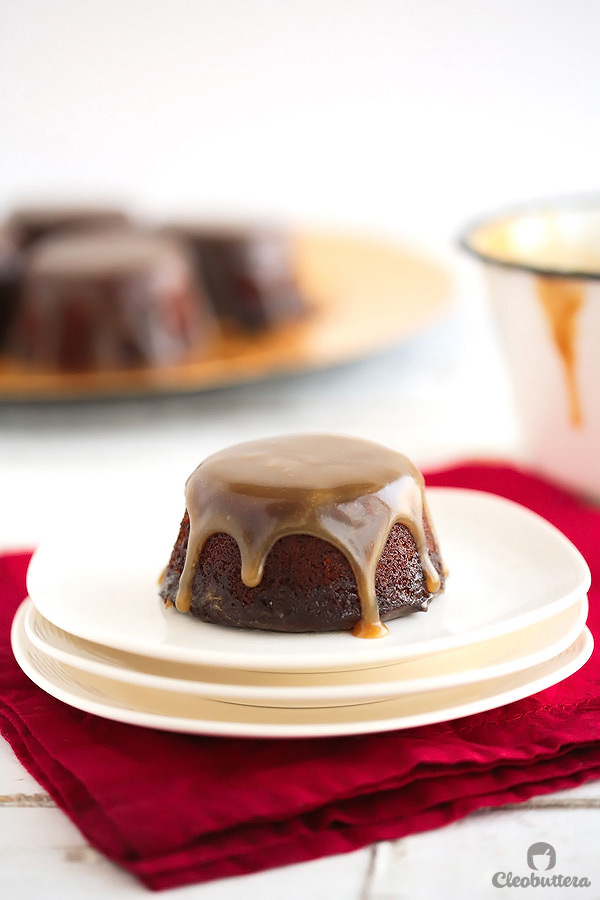 A perfect recipe for the classic British dessert. Warm date laced cake, soaked and drizzled with a luscious toffee sauce. Served with a scoop of vanilla ice cream, this indulgent dessert will make your tastebuds sing.
Ingredients
For the Cake:
1 1/2 cups (10 ounces/ 284 grams) pitted and chopped medjool or magdool dates*
1 1/2 cups water
1 teaspoon baking soda
2 cups (8.8 ounces/ 250 grams) all purpose flour (preferably weighed)*
1 1/2 teaspoons baking powder
1/4 teaspoon salt
1/2 cup (4oz/ 114 grams) unsalted butter, softened to room temperature
1 cup (7 ounces/ 200 grams) packed soft light brown sugar
1/4 cup (1 3/4 ounce/ 50 grams) granulated sugar
3 large eggs, at room temperature
1 1/2 teaspoons pure vanilla extract or 1 tablespoon imitation vanilla flavoring
For the Toffee Sauce:
3/4 cups (6oz/ 170 grams) unsalted butter
1 1/2 cups (10 1/2 ounces/ 300 grams) packed soft light brown sugar
1 cup heavy whipping cream
1/4 teaspoon salt
Vanilla ice cream, for serving
Instructions
For the cake:
In a medium saucepan, put the dates and water together and cook over medium heat. Simmer together, stirring constantly until the dates are soft and mushy, and the water is absorbed, about 5 minutes. Remove from heat and stir in the baking soda. The mixture will foam. Transfer to a large plate, cover and set aside to cool completely, slightly warm is ok. Or put in the freezer to speed things up.
Meanwhile make the toffee sauce (instructions below)
Then adjust the oven rack to lower middle position and preheat the oven to 350F/180C.
If making jumbo or regular cupcakes, grease and flour or non-stick spray the cupcake pans. If making one large cake, then grease or spray the bottom of a 9inch pan, line with parchment paper or foil round, then grease and flour or spray over the rounds and on the sides of the pan.
In a medium bowl, whisk together the flour, baking powder and salt. Set aside.
In the bowl of a stand mixer fitted with the paddle attachment, or a regular large bowl and a handmixer, beat the butter with both sugars until lightened in both texture and color, about 5 minutes, scarping down the bowl as needed.
Add the eggs, one at a time, mixing well after each addition. Mix in the vanilla.
On lowest speed, gradually add the flour mixture, just until combined. Do not overmix.
Add the dates and mix gently on low speed just until well combined. Scrape down the bottom and sides of the bowl, to make sure that everything is well mixed together.
Fill the regular-sized cupcake pans with 1 scoop of batter in each cavity or 2 scoops for regular-sized cupcakes, filling them 2/3 of the way. For the large 9inch pan, pour all of the batter in the prepared pan.
Bake for (17 to 20 minutes for regular-sized cupcakes), (22 to 25 minutes for jumbo cupcakes) or (50 to 60 minutes for the large cake). Because different ovens vary in temperature, the best way to test for doneness is to make sure that a toothpick inserted in the center of the cake comes out with a few cooked crumbs attached, the sides starts to pull away from the pan and the center springs back to the touch.
Take out of the oven then reheat the toffee sauce until very hot. Poke holes all over the cake using a tooth pick or wooden skewer, then pour (1 tablespoon of sauce on top of each regular sized cupcake), or (2 tablespoons for each jumbo cupcake), or (1/3 of the sauce over the large cake).
Leave the sauce to soak in for about 5 minutes, then turn the cake(s) on to a serving platter.
Pour (1 more tablespoon of sauce on top of each regular sized cupcake), or (2 tablespoons for each jumbo cupcake), or (1/3 of the sauce over the large cake). The remaining sauce is for serving on the side. Serve warm, topped with a scoop of vanilla ice cream (optional) and more toffee sauce if desired. Store leftovers in an a airtight container, then heat individual servings in the microwave until warm.
To make the Toffee Sauce:
In a saucepan, melt the butter, brown sugar, cream and salt over medium heat, stirring constantly with a whisk or heatproof rubber spatula.
Bring to boil and simmer for about 1 minute, stirring constantly.
Remove from the heat and use according to the recipe.
Recipe Notes
Weight of the dates may vary from one type of dates to another. Although 1 1/2 cups of medjool dates always comes out 10oz/ 284g with me, I've found that other kinds of dates tend to be heavier or lighter. Although I'm a huge proponent of the scale, this is probably the only time I'll recommend measuring anything by volume (cups) to get a more accurate measurement. To measure the dates, remove the seeds, and pack it in the cup. If you only have a scale, then go with the suggested weight of 10oz/284g; and try to stick to medjool.
If you don't have a kitchen scale to weigh the flour, use the Spoon & Sweep method: Use a spoon to lightly fill measuring cup with flour until required amount is obtained, then sweep access with the back of a knife.
Make sure that the brown sugar used here is the soft kind that feels like wet sand and packs and sticks to itself, like Domino's brand and Red Path.
Cake recipe mostly adapted from A Passion for Baking by Marcy Goldman
Toffee Sauce adapted from Cooks Illustrated
Measurements Note: All recipes of this site have been developed using weight measurements. Although US volume measurements have been included for your convenience, it is highly encouraged that you weigh your ingredients using a kitchen scale to get the best possible results. Due to the sensitive nature of baking, kitchen scales are proven to yield more accurate and consistent results than measuring cups. Enjoy!
This post may contain affiliate links.
All images and content are owned by Cleobuttera® and are copyright protected. Please do not use my images without prior permission. If you would like to republish a recipe, please rewrite it in your own words and link back to the recipe page on my site. Original recipes and creations of this site are intended for personal and home use. Commercial replication or media consumption are only allowed with a written consent and agreement with Cleobuttera owners. Otherwise it is considered a violation of intellectual property. Thank you for respecting and appreciating the amount of time and effort that goes into creating free, unique recipes that make people happy.