Molten Nutella Pops (First Blog Post)
The classiest and most elegant alternative to eating spoonfuls of Nutella straight from the jar. Scoops of Nutella popped on sticks, dipped in chocolate and sprinkled with hazelnut praline are a fancy way to serve up Nutella on special occasions.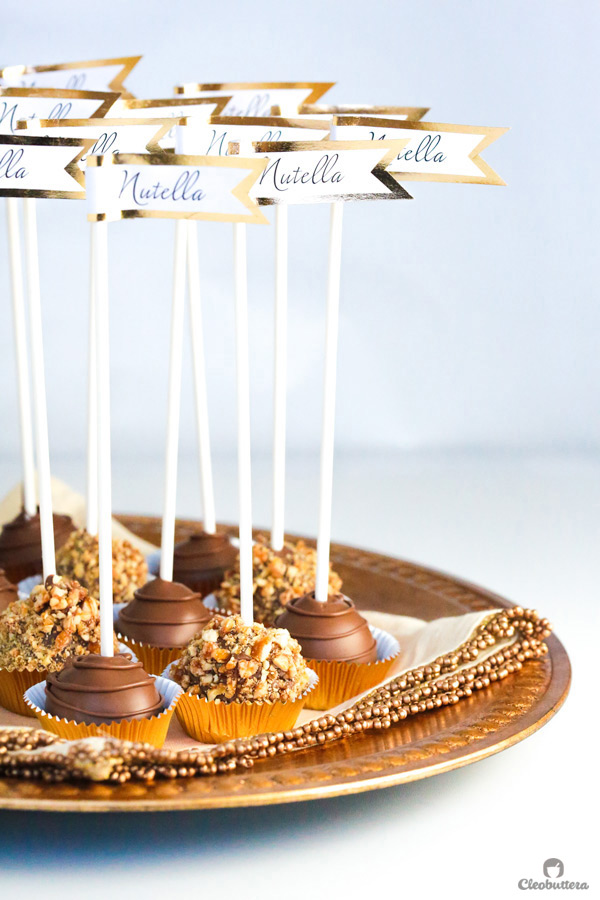 Ummm…Ok…deep breath…inhale, exhale…pheeeeeeeew!
So..here goes…my first blog post (insert monkey-covering-eyes-emoji here)
Let's pretend I'm all calm and keeping it all together here and not at all freaking over the fact that I'm actually typing words that anyone with internet access could read and posting photos that I took of my food for anyone to see. Or that I just wrote a run-on sentence.
My fingers are not shivering over the keyboard or anything. I'm cool.
So…Hey there! I'm your new food blogger on the web. An Egyptian baking enthusiast who has a lot to say about food and that's why I'm here! Food is my favorite topic and I can't wait to pour it all out on the blog. Trigger my food talk button and good luck trying to make me stop! You could hop over to the About Me page to learn more about the obsession.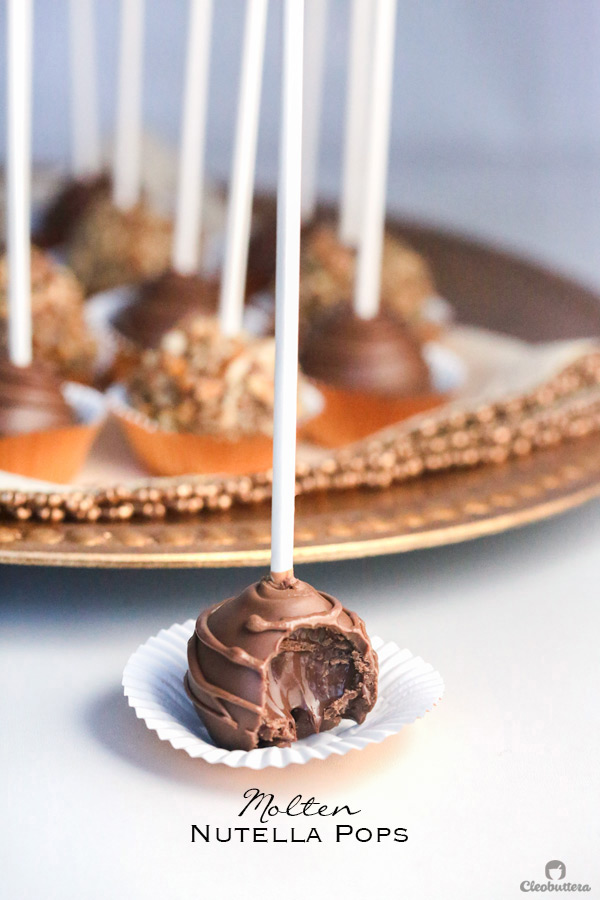 But for now could we talk about these Molten Nutella Pops?
Because admit it…we've all done it before. And by before, I mean more times than we could count.
Sneaking in that spoon into that jar of Nutella, while talking yourself into thinking that you'll stop after just this one.
But who are you kidding?
You make mental excuses to give in to just one more spoonful, and make a promise to yourself that that will indeed be your last…Yeah right!
Then you convince yourself that the insides of the jar needs a little cleaning up via your spoon. Good luck with that!
And before you know it…your "tidying up" of its interior had resulted into a half empty jar. Or half full, depending on how you look at it.
Stress, headaches, pregnancy cravings, exams…you name it, all got the blame. Make excuses all you want, but we all know very well that its just the addictive deliciousness of Nutella that is to blame.
If you've never experienced such an incident, first of all: seriously?! But then hats off to you my friend, and my advise to you would be to stay away…stay away from that jar; you don't want to inflict addiction upon yourself.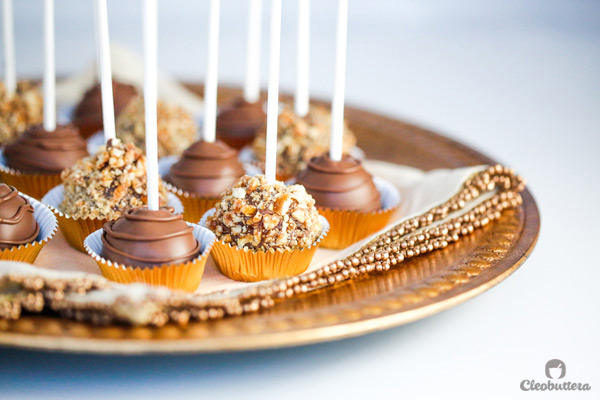 So these pops are simply just that! An ode to those times when only spoonfuls of Nutella straight from the jar can do it.
Pure unadeltrated Nutella camouflaged under a cute wrapping, to look like you're eating an elegant dessert instead of the usual inhale-off-the-spoon habit. They are just more socially acceptable this way.
Scoops of Nutella are popped on lollipop sticks and dipped in chocolate just to keep them from oozing all over. For texture lovers, a sprinkle of homemade hazelnut praline can be added for a pleasant crunch, that contrasts beautifully with the creaminess of the Nutella and chocolate shell. But hey, you could sprinkle them with anything you want like toasted nuts of your choice or even sprinkles. You're the boss of your own pops!
And if you're wondering why there's the word 'Molten' in the title…
Its because when you bite into it…stuff like this happens…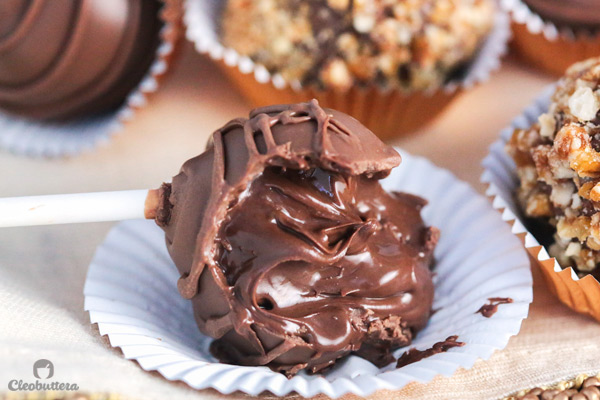 Mmmmmmmmmmm……
These pops require only 2 ingredients to make, 4 if you're adding the hazelnut crunch.
First you'll begin by scooping out rounded spoonfuls of chilled Nutella onto a baking sheet and freeze until solid.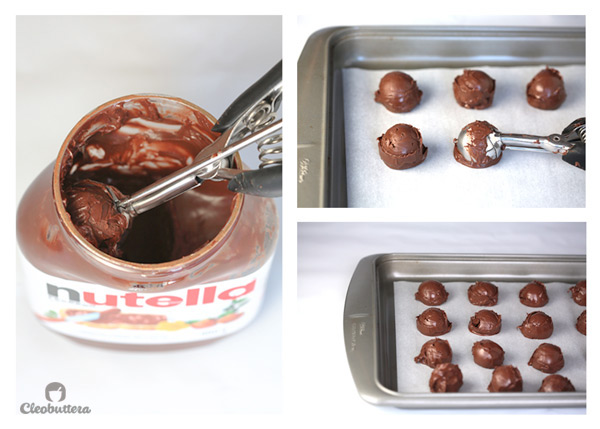 Then you'll melt some chocolate, then add more chopped chocolate to it and stir together until evenly melted. This is just a quick way of getting the chocolate to the right temperature ideal for covering, aka tempering.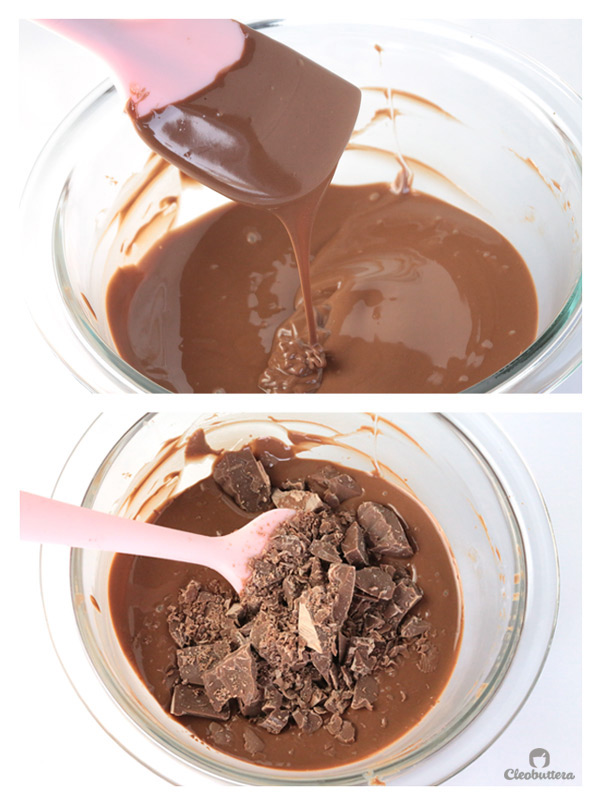 Now get those lollipop sticks and dip them into the chocolate, then into the frozen Nutella balls. This helps them stick better to the sticks. You could refreeze them again at this point, if you feel that the Nutella is softening up.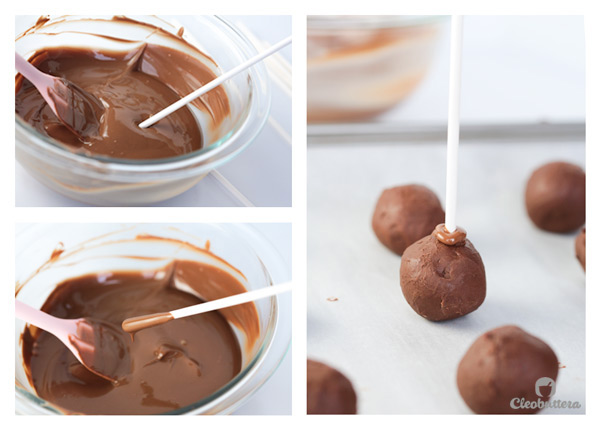 Holding them from the sticks, give the Nutella balls a good dive into the melted chocolate and lightly shake off any access. Place them on the baking sheet and chill in the fridge until the chocolate sets. You could then drizzle or pipe decorations on them using the remaining melted chocolate.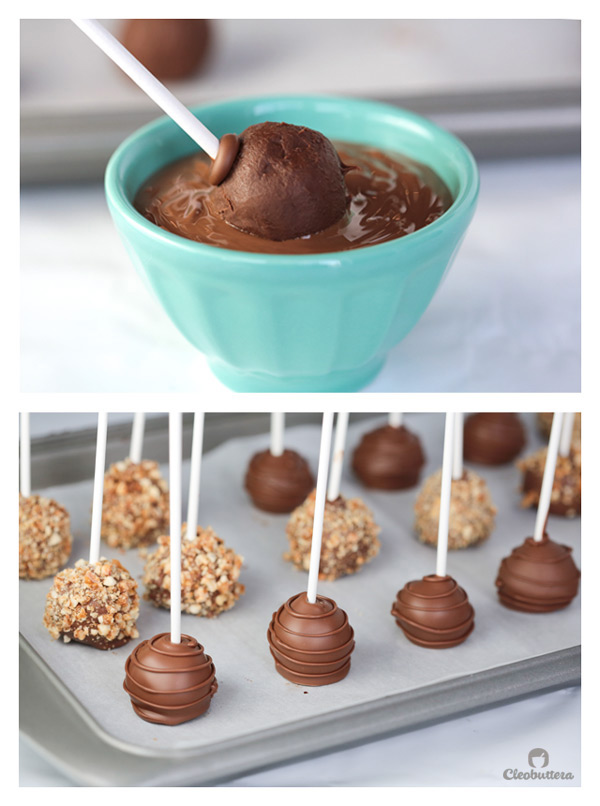 For the ones with that golden crunch, you could make some easy hazelnut praline, crush it up then press it onto the pops shortly after they've been dipped into the chocolate.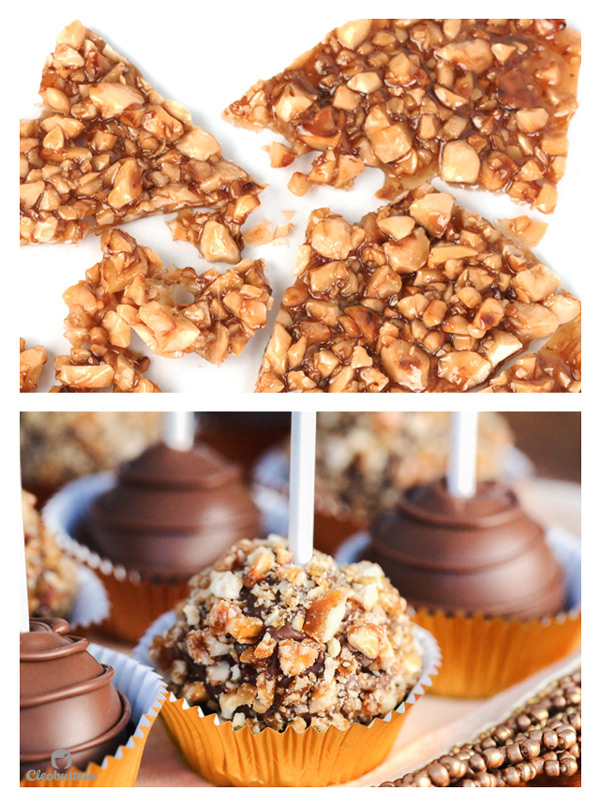 To jazz them up, tuck them in mini cupcake liners and if you wish you could add labels that say 'Nutella' so people know what's inside. You can download the ones I used here (Nutella Labels), and I've included 2 different fonts to choose from. I glued mine on a gold wrapping paper that I had but any kind of paper will work.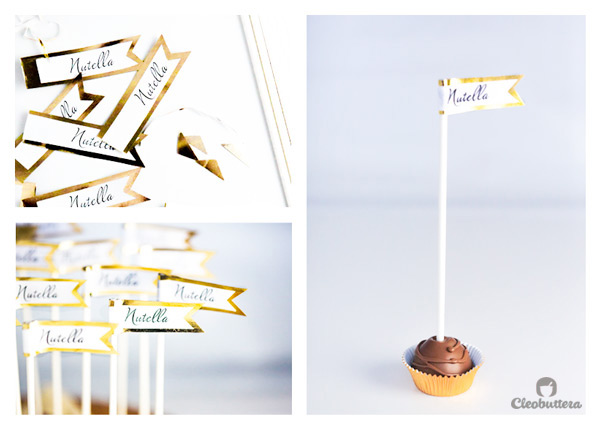 So there you have it…one of the world's most beloved flavors turned into an elegant, portable dessert that is guaranteed to impress at any occasion.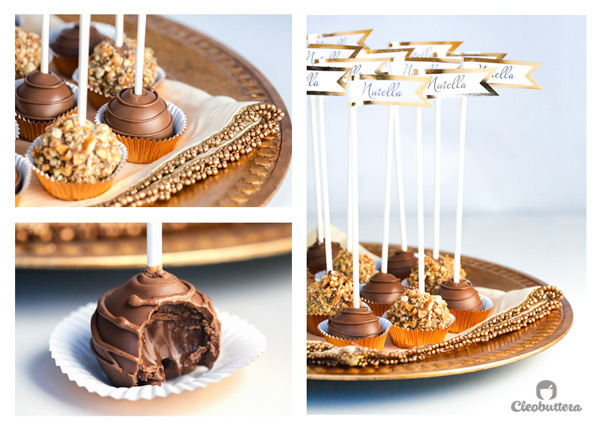 Nutella lovers will flip over these!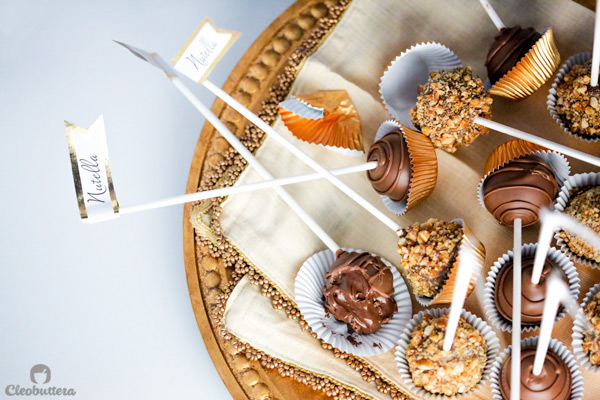 Phew! First blog post…done!
Turns out that writing about chocolate and having chocolate in the mouth, infinitely eases the anxiety.
Now proofread 162.5 times….
Aaaaaaaaaaand….PUBLISH!
Yield: 15 pops
Molten Nutella Pops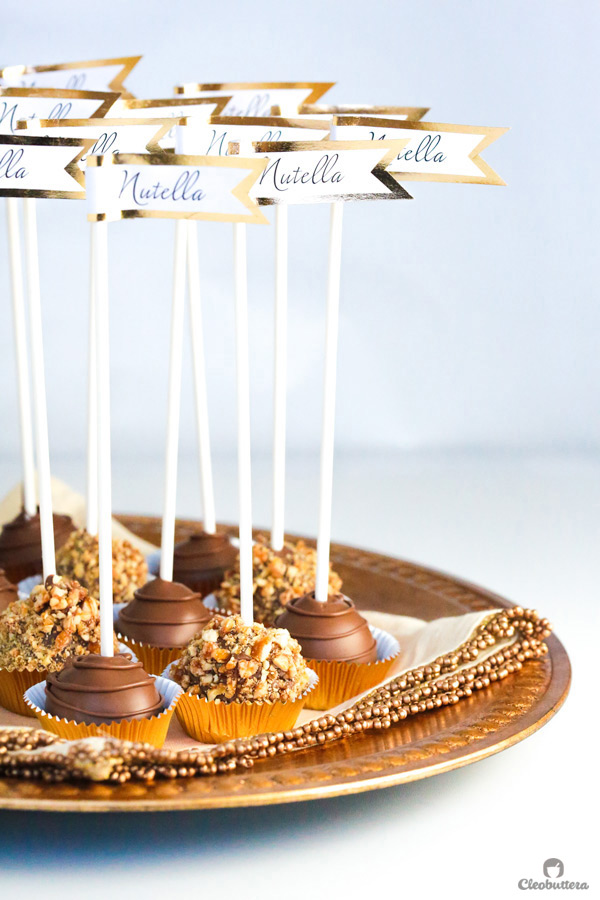 The classiest and most elegant alternative to eating spoonfuls of Nutella straight from the jar. Scoops of Nutella popped on sticks, dipped in chocolate and sprinkled with hazelnut praline are a fancy way to serve up Nutella on special occasions.
Prep Time 1 hour
Additional Time 1 hour
Total Time 2 hours
Ingredients
For the Nutella Pops:
15 tablespoons Nutella (chocolate hazelnut spread)
8 oz (226g) milk chocolate, finely chopped*
15 lollipop or popsicle sticks
For the Hazelnut Praline: (optional, enough to cover 8 pops)
1/2 cup (50g) skinned, roughly chopped hazelnuts
1/2 cup plus 2 tablespoons (125g) granulated sugar
4 tablespoons water
Instructions
Prepare hazelnut praline (recipe below), if using (recipe below) up to 2 days in advance, and set aside until ready to use.
Chill a jar of Nutella in the fridge for at least 2 hours or overnight. Chilling is key, so that the Nutella maintains a round shape and doesn't spread out when scooped.
Line a baking sheet with parchment paper or silicone mat. This will make the frozen Nutella balls peel easily from the baking sheet.
Using a tablespoon size ice cream scoop or a melon baller, scoop out 15 rounded tablespoons of Nutella onto the prepared baking sheet. Freeze until solid, at least one hour or overnight. For a perfectly round shape, you might want to lightly roll the balls between cold hands after about 30 minutes of freezing.
Keeping the Nutella balls in the freezer, microwave 6 ounces of the chocolate, stirring every 30 seconds until about two-thirds melted, about 1 to 2 minutes. Remove from microwave and add remaining 2 ounces of chocolate, and stir until melted. If necessary, zap it back in the microwave for no more than 5 seconds to complete the melting. Transfer melted chocolate in a deep bowl or large cup.
Take the Nutella balls out of the freezer. Dip about 1/2 an inch of each lollipop stick in the melted chocolate, then insert it upright into the Nutella balls. Repeat with all the rest.
If the Nutella balls start to soften up, return back to the freezer for a few minutes until firm again.
Holding by the stick, start dipping the balls in the melted chocolate, one at a time.
At this point, you could start pressing on the crushed hazelnut praline, if using, before the chocolate starts to harden up.
Place the pops on the lined baking sheet, with the balls facing down.
Let cool at room temperature or in the fridge until the chocolate shell sets.
If desired, transfer any remaining melted chocolate to a piping bag or zipper lock bag and snip its end with scissors to start decorating. Add swirls, drizzles or any design of your choice. Alternatively, a fork can be used to create more random but equally pretty drizzles.
Let the decorations set, then place in mini cupcake liners to serve. Enjoy immediately or store in the fridge, covered, for a week.
For the molten effect, let the pops come to room temperature before serving. The pops also taste great cold straight from the fridge; they won't ooze out though.
To make the Hazelnut Praline:
Line a baking sheet with a silicon mat or generously buttered foil. Keep nearby.
Place the sugar and water into a saucepan over medium high heat, swirling the pan until sugar is dissolved.
Boil rapidly until the syrup turns a rich golden brown.
Remove the saucepan from the heat and stir in the hazelnuts.
Pour over the prepared baking sheet.
Let cool completely until it firms up into a brittle like caramel.
Place the praline in a zipper lock bag and seal. Using a meat tenderiser, hammer or rolling pin, crush the praline into small pieces but not powder. Set aside until ready to use.
Recipe Notes
This recipe makes 15 pops but you could make as little or many as you need, by cutting the recipe or doubling or more.
I used milk chocolate for dipping because I find it marries perfectly with the milk chocolatey flavor of Nutella, but you could use the chocolate of your preference. Dark, semi-sweet or white chocolate and candy melts will all work, but I don't recommend using chocolate chips because they are too thick for dipping.
Simple chocolate tempering technique adapted from Cooks Illustrated
Measurements Note: All recipes of this site have been developed using weight measurements. Although US volume measurements have been included for your convenience, it is highly encouraged that you weigh your ingredients using a kitchen scale to get the best possible results. Due to the sensitive nature of baking, kitchen scales are proven to yield more accurate and consistent results than measuring cups. Enjoy!
This post may contain affiliate links.
All images and content are owned by Cleobuttera® and are copyright protected. Please do not use my images without prior permission. If you would like to republish a recipe, please rewrite it in your own words and link back to the recipe page on my site. Original recipes and creations of this site are intended for personal and home use. Commercial replication or media consumption are only allowed with a written consent and agreement with Cleobuttera owners. Otherwise it is considered a violation of intellectual property. Thank you for respecting and appreciating the amount of time and effort that goes into creating free, unique recipes that make people happy.