Blueberries 'n Cream Cookies
These cookies are reminiscent of blueberry muffin tops in the best way possible. They are incredibly soft, chewy and so thick, with dried blueberries and milk crumbs flavoring every bite. Delish!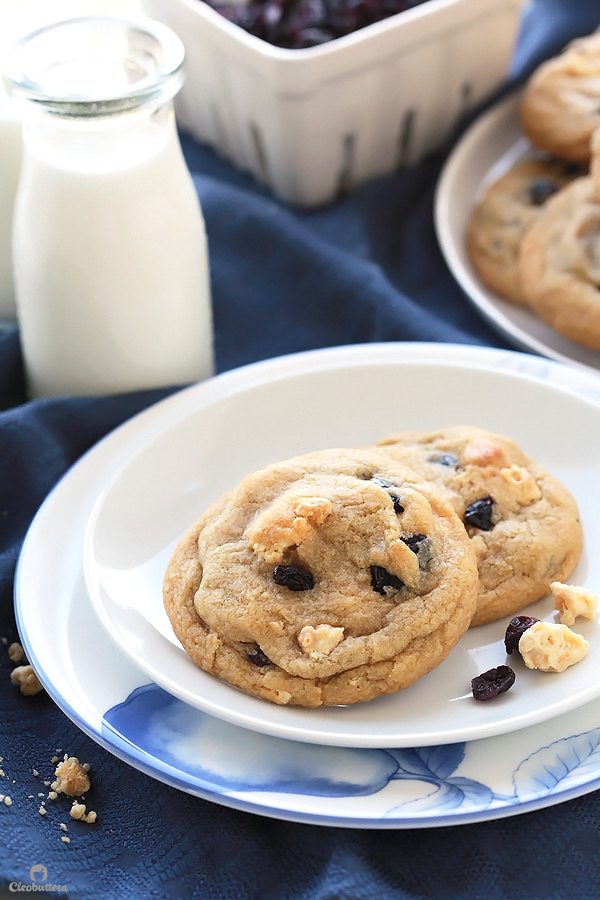 If blueberry muffins are your thing, then please allow me to introduce you to your new favorite cookie.
And if blueberry muffins aren't your thing, then please allow me to introduce you to the cookie that will change your mind about blueberry muffins.
As a chocolate addict in recovery, I kid you not when I say that these might just be my favorite cookies in the history of ever! Yes! I'll take it over these Nutella Therapies and yes! I'll ditch a S'more cookie in favor of one of these. I might need a little arm twisting to have to choose though.
I'm IN.LOVE with these blue speckled, innocent-looking, chewy nuggets of buttery heaven ?
They're truly a food fusion at its finest. They might look ordinary, but they taste anything but.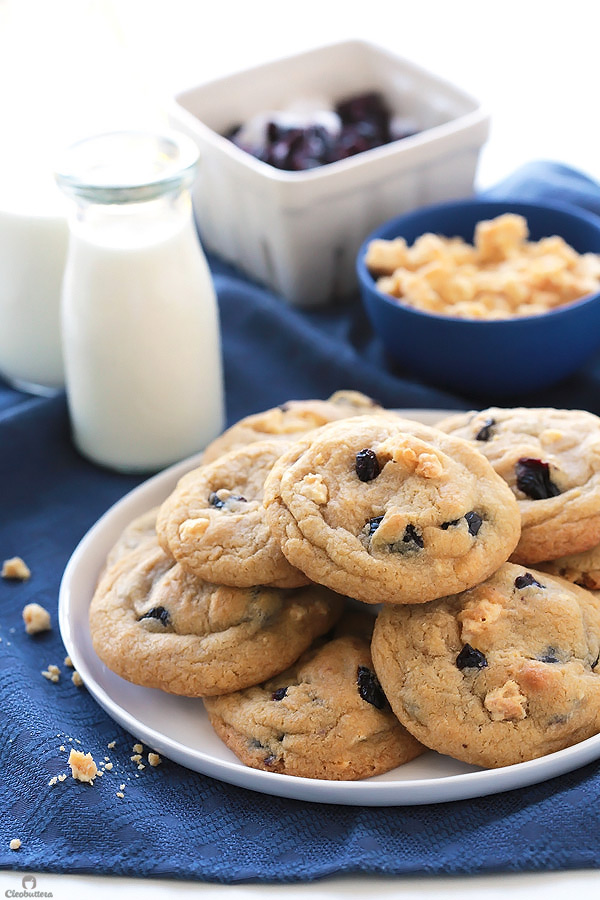 Something about that refreshing fruitiness, contrasted by the creamy milkiness and supreme chewiness that makes these cookies so irresistible and keeps you longing for more.
Once you sink your teeth into one of these super soft and puffy cookies, you'll understand why.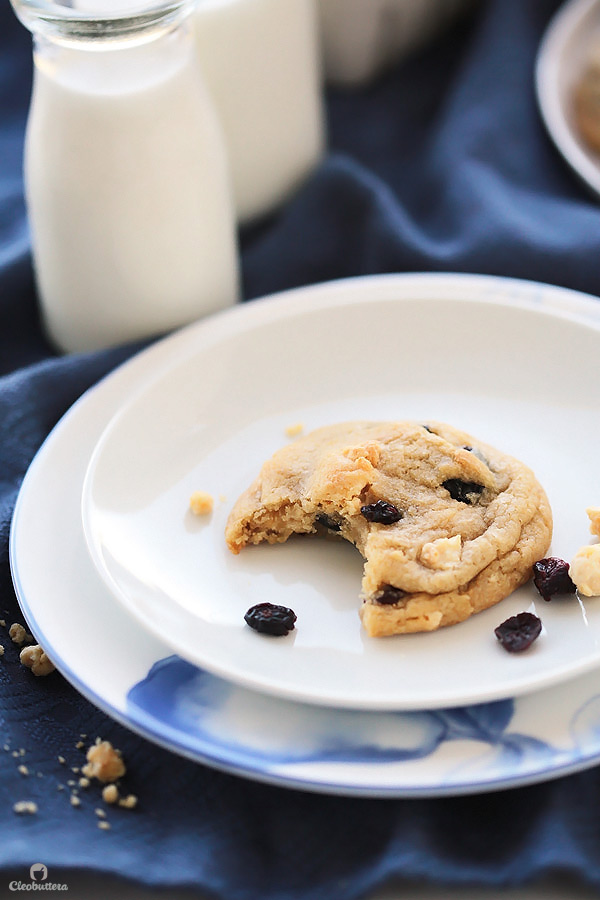 If what you love most about blueberry muffins are that burst of berry flavor in every bite, then these babies got you covered.
And if what you hate most about blueberry muffins is that mushy texture of cooked fruit, I get where you're coming from, but I'm happy to tell you that these cookies has NONE of it.
How come?
Because they're made with soft and chewy dried blueberries or in my case, blueberry-flavored Craisins (it's what I had on hand?).
So you get all the intense fruity flavor of the berries without any of the discerning soggy texture. SCORE!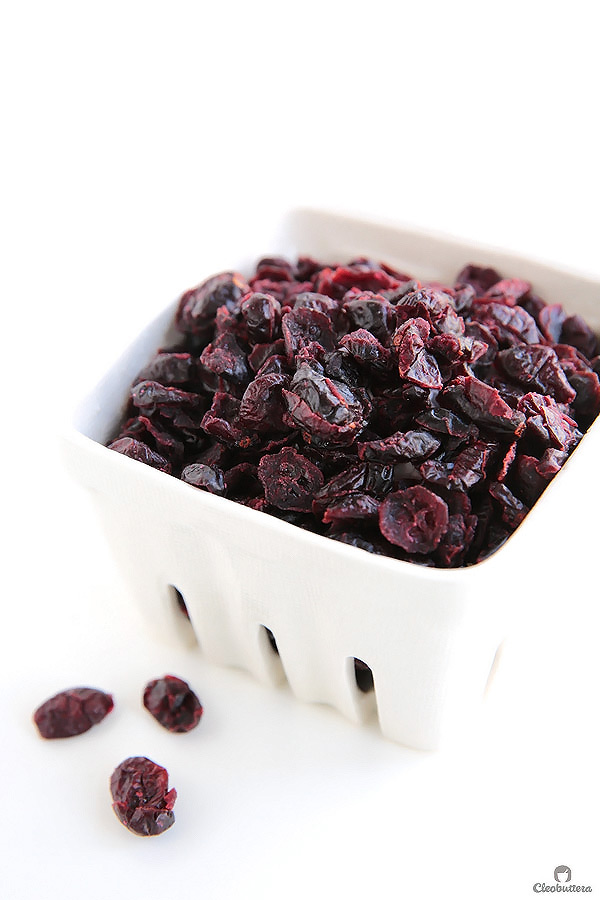 My favorite part of the cookies though, is the 'cream' portion of it, made possible with glorious Milk Crumbs.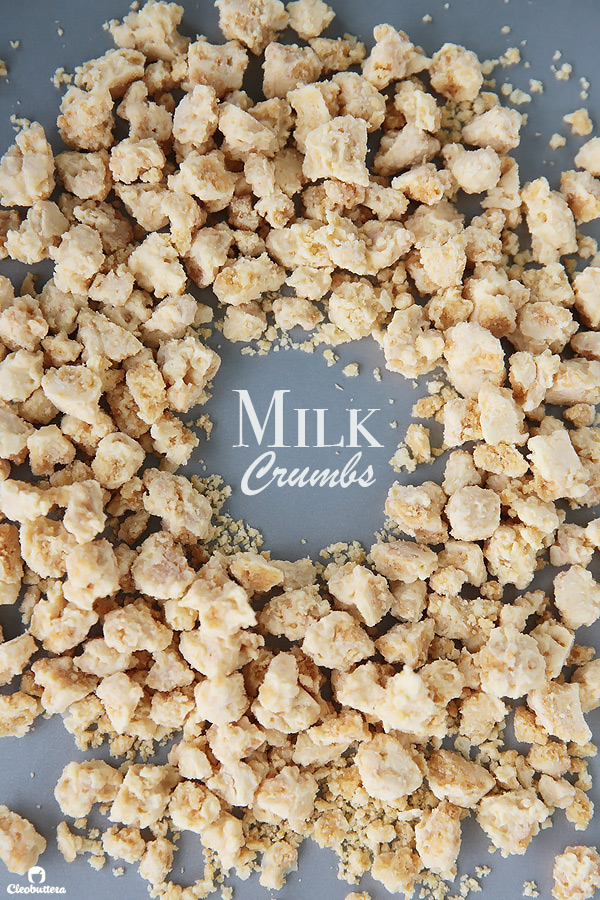 These buttery, crumbly, sandy bits of flavor is what takes an already amazing cookie to higher levels of deliciousness. They taste like a cross between shortbread and pie crust that's taken a dunk in sweetened cream. Once baked into the cookie, they melt slightly into these little ribbons of cream pockets.
They have an undeniable creamy milkiness to them, that will turn any milk hater to a lover. They're rich, buttery, sweet with a balanced hint of saltiness. They are so good on their own and once you get a taste of a crumb, you're not gonna be able to stop. In fact, I always double the milk crumb recipe, so half of it goes into the dough and the other half we enjoy as a snack. I recommend you do the same; otherwise I guarantee it they won't make it to the cookie dough!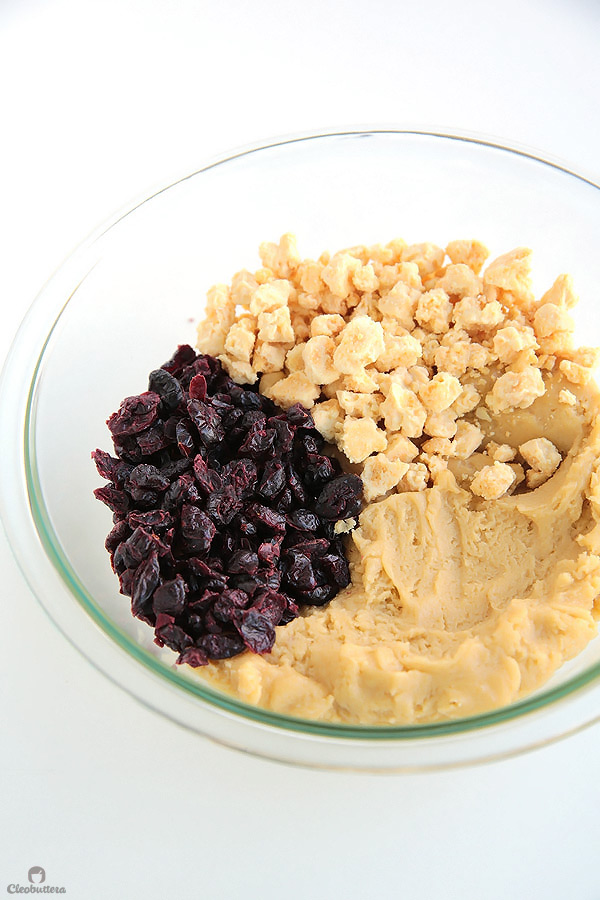 I know the milk crumbs may sound like an unnecessary step to a seemingly simple cookie, but trust me, they're 100% worth it! Do not even think of skipping them. My brother-in-law calls them "those magical white stuff" and he couldn't be more accurate. They transform the cookies into something extra special that will be lacking otherwise. They are actually so easy to make and you could even prepare them up to a month in advance!
They come together by simply tossing some milk powder, sugar, flour, cornstarch and salt with melted butter until clusters form. They then get baked until dried. Once cooled, they get tossed in some more milk powder, then enrobed in melted white chocolate. Now even if you don't like white chocolate, I don't, you will still love these. So don't let the white chocolate scare you. It's just there to elevate the creamy milkiness and bind the whole thing together.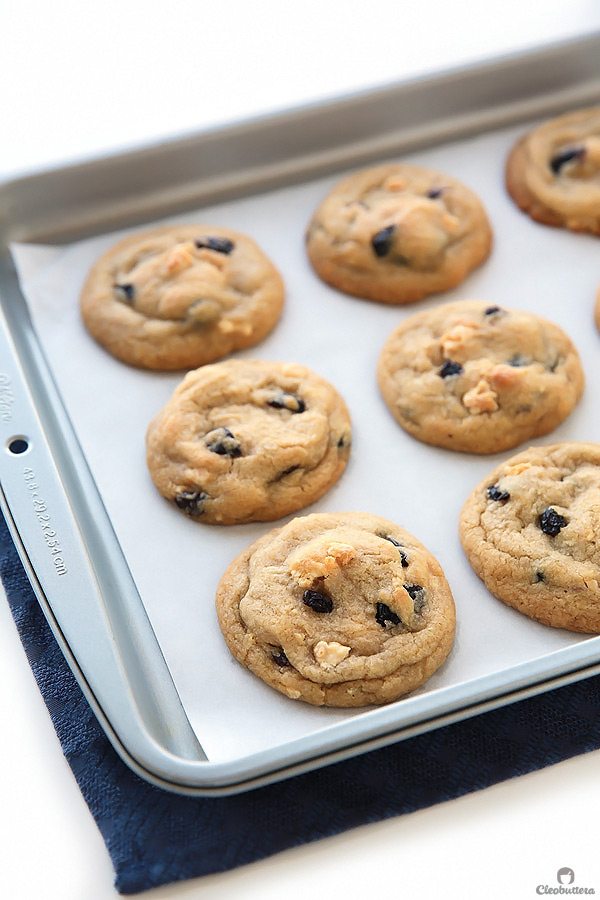 The Milk Crumb phenomenon is the pure creation of Christina Tosi, the pastry genius behind Momofuku Milk Bar, author of two cookbooks and MasterChef judge. In fact, this entire blueberry cookie concept is inspired straight by ones she sells at her bakery; I simply subbed in my own cookie dough recipe (but more on that later).
Now if you're even remotely familiar with the pastry world, high chances are that you've heard of the highly acclaimed, super-cool dessert diva. This multiple award winner is now, without a doubt, a celebrity idolized by foodies. Now what does this mini biography lesson has to do with all this?
I met Christina Tosi IN REAL LIFE (or shall I say IRL if I wanna be cool?) and took a photo with her way before she became a MEGA STAR!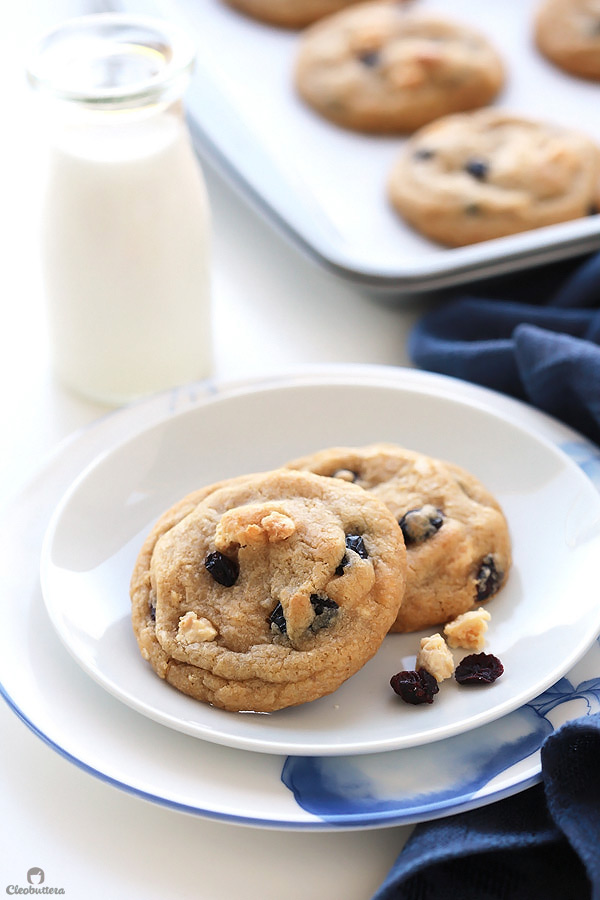 It's actually a funny story. It was 2009 and my husband and I happened to be in New York City to attend a convention related to his scope of work. Ofcourse like any good foodie, I compiled a Bakery Tour list. Magnolia, Baked, Levain, Amy's Bread, you name it, it was on the list. Momofuku Milk Bar wasn't as popular at the time, but I had just watched this segment on Martha Stewart about Tosi and her bakery that made me want to go so much.
And I did, and there she was Christina Tosi, in all her simple glory, so humbly standing in front of the ovens, baking off sheet after sheet of her Blueberry and Cream Cookies. I tried to play it cool and had an inner squeal as I saw her, but couldn't hide my excitement from my husband. He just couldn't understand what the fuss is all about and even made a little fun of me, even after I told him that she was on Martha Stewart's show! I told him that she might not be that famous now, but I have no doubt that she will be very soon. Only then did he encourage me to go take a photo with her because who knows.
When I went to ask her for a photo, she was like…Really?! You wanna take a photo with me? Ok. It was like she had no idea how good she was. And that made me love her even more.
My husband couldn't help but crack a few giggles for taking a photo with someone who doesn't know she's famous and that she probably thinks I'm crazy. Fast forward a few years, 2 Best-Selling Books, numerous TV appearance and a reputation that is rocking the pastry world, look who's laughing now?! HA!
I wish I could post the photo here, but God knows where its buried within the thousands of photos I have. Look who's laughing now? ?
I promise to update the post with the photo, if I ever find it.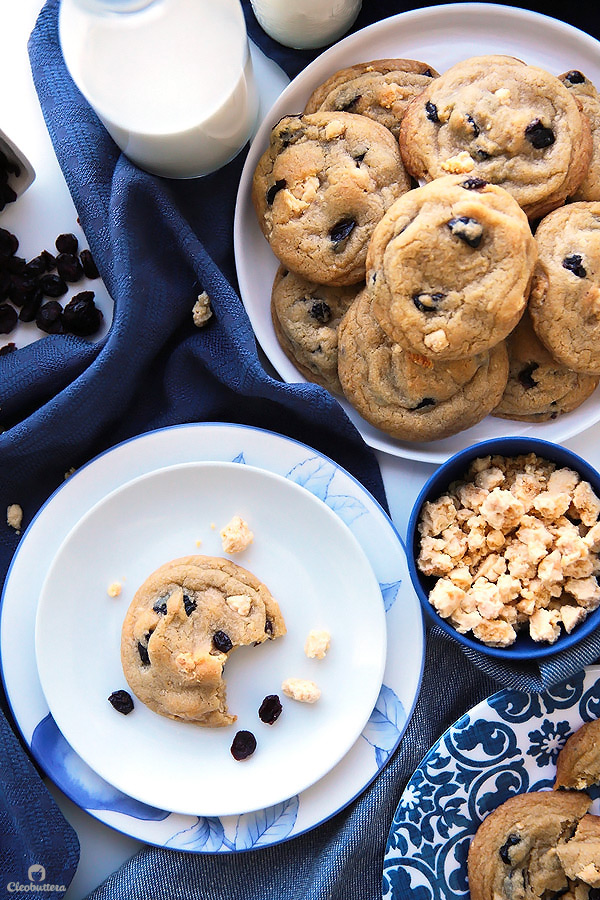 So back to the cookies (gosh I'm such chit chatter). Once I tasted Tosi's own freshly baked, warm Blueberry and Cream cookies, and got transported to Cloud number 9, I knew I had to make them at home. And I did, first using this recipe that she shared with Martha, then the new version from her book.
While Martha's tasted just like what I remembered, I had issues with the edges spreading too much and getting overly browned while the centers remained puffy. It also somehow baked into irregular shapes. I think it has to do with Tosi using a high protein flour at the bakery, which I could never find where I live. As for the new recipe from the book, they baked very thin as they are actually intended to be.
When it comes to cookies, I fall into the soft, thick and chewy camp, so the thin ones didn't do it for me. So I set out to improvise by creating my own cookie dough that meets the fat and chewy criteria, while keeping the same flavor profile of Momofuku's.
So that's exactly what you're getting here. A super soft, thick and chewy sugar cookie dough, flavored with dried blueberries and milk crumbs in every bite. To keep the finished cookies ultra chewy, I add a little corn syrup in my dough, a trick I learned from Tosi, who adds glucose to hers. Using melted butter instead of softened, also ensures a further chewy texture, as well as adding an extra egg yolk.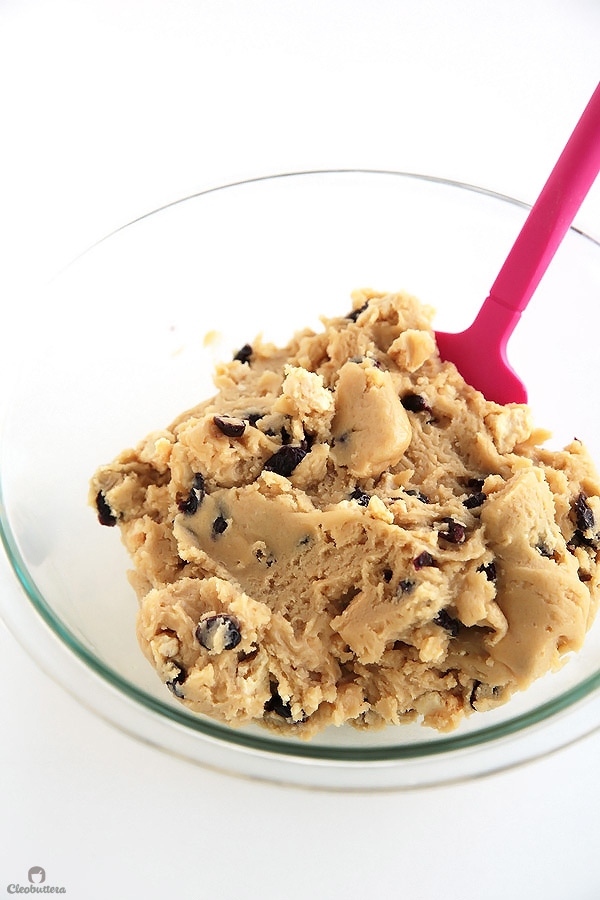 What I love about this dough, is that its super simple too make, that an electric mixer is not even required. It doesn't even need to be chilled before baking; usually a must for achieving thick and chewy cookies. Feel free to chill or freeze them though to bake at your own convenience.
One word of advise though, is that I urge you to please please please weigh your ingredients if you have a scale, as opposed to measuring them by cups. Flour is by far the most mismeasured ingredient, so a little extra that goes into your cup could result in hard cookies, while a little less could result in excessive spreading. So while I write my recipe in both volume and weight, I always develop them by weight to ensure maximum accuracy, and I encourage you do the same.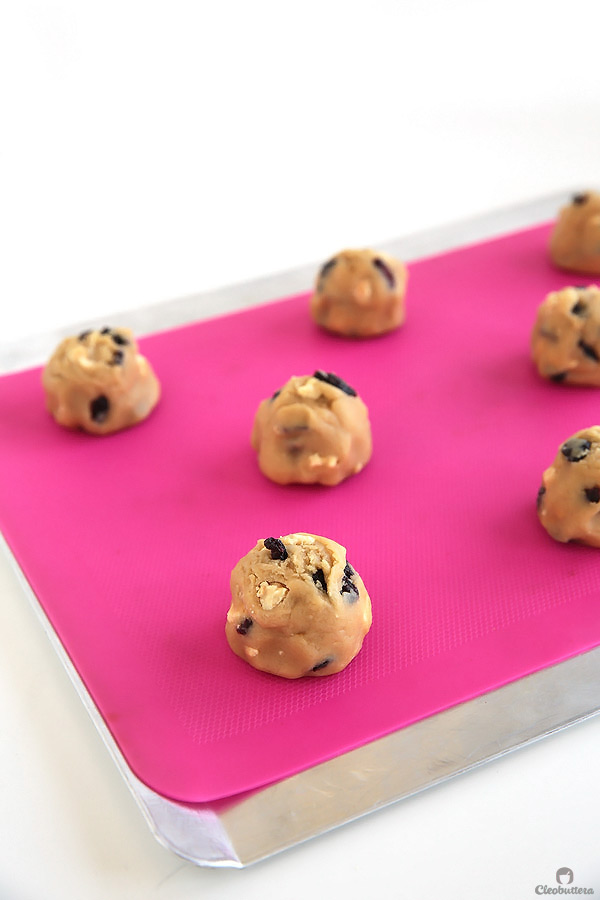 To bake the cookies, you'll scoop out the dough into balls and bake them juuuuuuuust until the edges begin to brown and set, but the centers will remain very soft and puffy. About 10 minutes.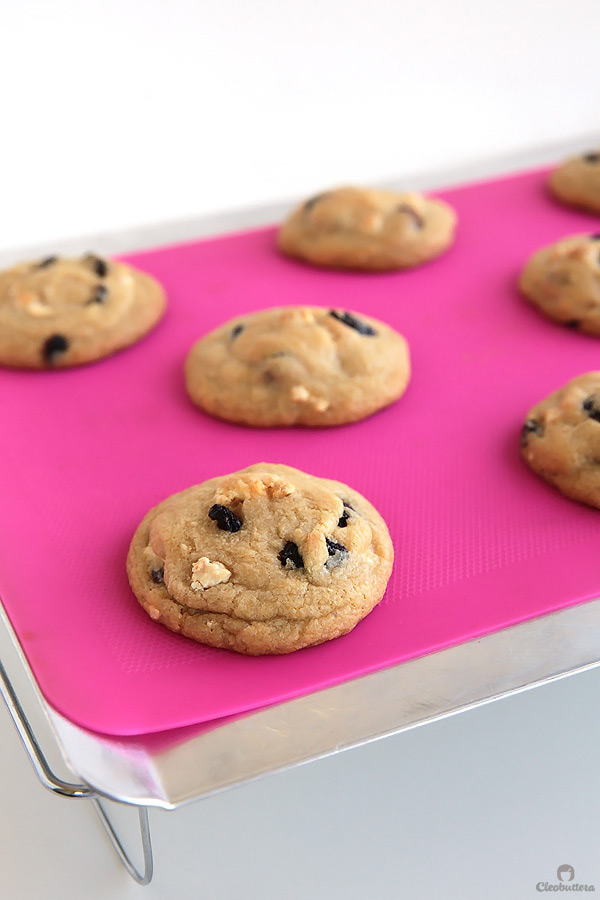 A good trick of knowing when cookies are done, is when they reach to the point where you could barely lift the edge with the tip of your finger. The center will still be wobbly and undercooked. They will continue to cook through from the residual heat of the baking sheet, so don't be tempted to bake them any longer. Allow them to cool completely on the baking sheet.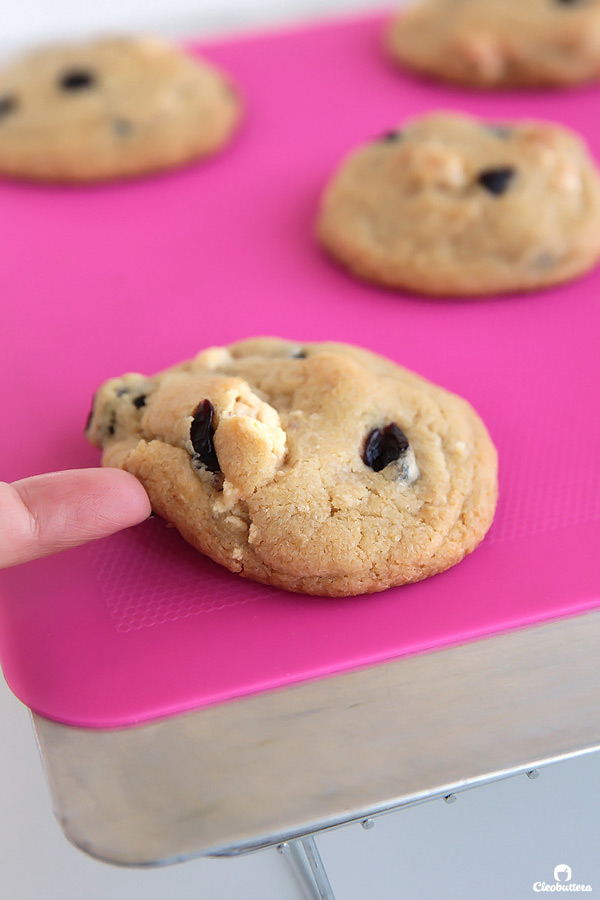 Then grab as much as you can, and run away. Run away and never come back.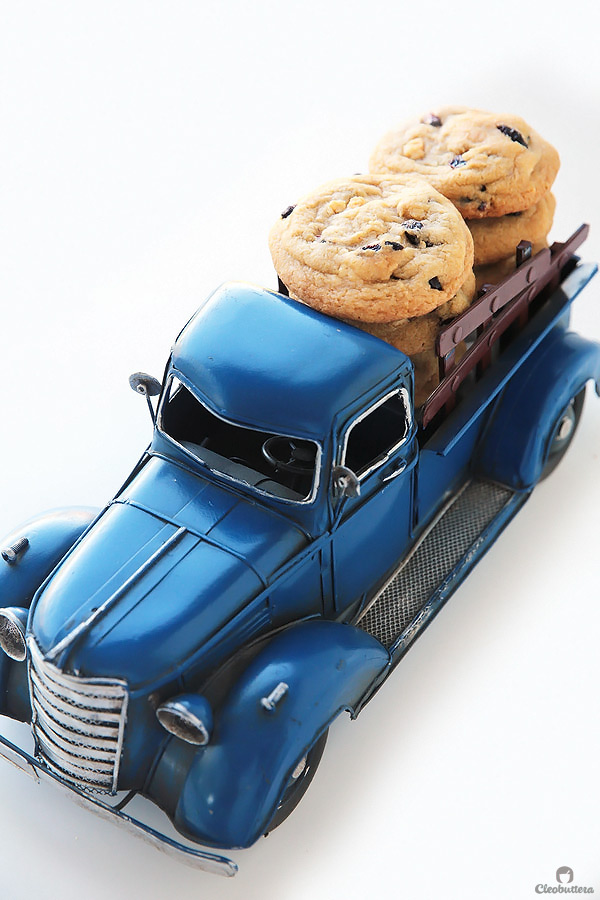 Ok you could come back, but after you've hid your cookies in a safe place.
Yield: 16
Blueberries 'n Cream Cookies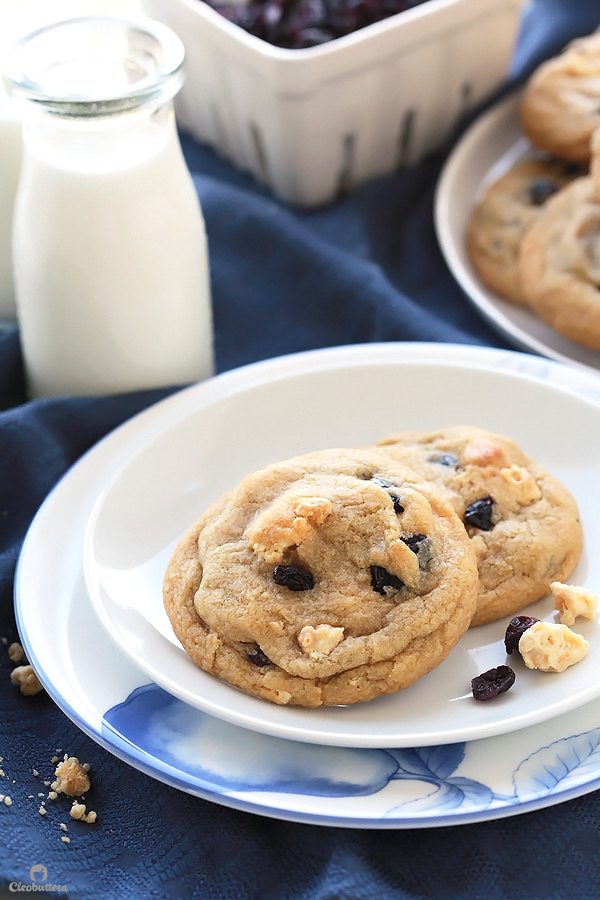 These cookies are reminiscent of blueberry muffin tops in the best way possible. They are incredibly soft, chewy and so thick, with dried blueberries and milk crumbs flavoring every bite. Delish!
Prep Time 40 minutes
Cook Time 30 minutes
Additional Time 30 minutes
Total Time 1 hour 40 minutes
Ingredients
For the Milk Crumbs: (Makes about 1 cup plus 2 tablespoons/ 130g) Will keep in an airtight container in the fridge or freezer for up to 1 month. (*see note below)
1/4 cup (20g) plus 2 tablespoons (10g) milk powder, divided
2 tablespoons (20g) all purpose flour
1 tablespoon (6g) cornstarch
1 tablespoon (12g) granulated sugar
1/4 teaspoon salt
2 tablespoons (27g) butter, melted
45g/ 1 1/2oz white chocolate, melted
For the Cookies:
2 1/4 cups plus 2 tablespoons (10 5/8oz/ 300g) all purpose flour (spooned and leveled, but preferably weighed using a kitchen scale)
1/2 teaspoon baking soda
2 teaspoons cornstarch
1/2 teaspoon salt
3/4 cup butter (6oz/ 170g), melted and slightly cooled
1/2 cup plus 2 tablespoons (4 3/8oz/ 124g) soft light brown sugar, packed
1/2 cup plus 2 tablespoons (4 3/8oz/ 124g) granulated sugar
2 tablespoons (1 1/4oz/ 35g) light corn syrup
1 egg, at room temperature
1 egg yolk, at room temperature (discard white or freeze for later use)
3/4 cup (4.6oz/ 130g) dried blueberries (or blueberry flavored Craisins)
1 recipe milk crumbs (ingredients above)
Instructions
To make the Milk Crumbs:
Adjust oven rack to middle position and preheat oven to 250F/ 120C. Line a baking sheet with parchment paper or a silicon mat; set aside.
In a medium bowl, whisk together the 20g (1/4 cup) milk powder, flour, cornstarch, sugar and salt until well combined.
Add the melted butter and stir, using a spatula, until the mixture starts to come together and form small clusters.
Spread the clusters on the prepared baking sheet and bake for 20 minutes. The crumbs will set a little and dry but still feel sandy and fragile at this point and will take on a golden, cream-colored hue and smell like buttery heaven Allow the crumbs to cool completely on the baking sheet.
Crumble any milk crumb clusters that are larger than 1/2 inch (1.2cm) in diameter and transfer to a medium bowl. Add the 10g (2 tablespoons) milk powder and toss together until it evenly coats the crumbs.
Pour the melted white chocolate over the crumbs and toss, using a spatula, until the clusters are mostly covered by it. Spread the milk crumbs back onto the baking sheet and refrigerate for a few minutes until the clusters are no longer sticky. Use immediately as directed in the recipe or store in an airtight container in the fridge or freezer for up to 1 month until ready to use.
To make the Cookies:
Adjust oven rack to lower-middle position and heat oven to 325F/ 160C. Line 2 baking sheets with parchment paper or silicon mat; set aside.
In a medium bowl whisk together the flour, baking soda, cornstarch and salt. Set aside.
In a large bowl, combine together the melted butter, brown sugar, granulated sugar and corn syrup. Using a hand whisk, mix well until thoroughly blended.
Add in the egg and egg yolk and beat until well combined.
Add in the flour mixture and fold well using a rubber spatula, until just combined. Stir in the dried blueberries and milk crumbs until well distributed throughout the dough.
Using a 1/4 cup ice cream scoop with a release mechanism, scoop out 16 dough balls and space them 2 inches apart on the prepared sheets. (Refrigerate or freeze for later use or bake right away). *See note below for details on refrigerating or freezing cookie dough.
Bake cookies, 1 sheet at a time, until the edges are set and beginning to brown, but the centers are still soft and puffy, 10 to 12 minutes. Start checking at 10 minutes. (Chilled or frozen dough requires an extra 1 to 2 minutes of baking time.) The cookies will look very soft and underbaked, but don't be tempted to bake for longer or you'll end up with rock hard cookies. They will continue to bake from the residual heat of the baking sheet. A good way of knowing that they're done is if you could barely lift the edge using the tip of your finger.
Allow cookies to cool completely, at least 20 minutes, on the baking sheets before eating to allow the centers to fully bake through. Enjoy fresh and store leftover in an airtight container to maintain their softness.
Recipe Notes
The milk crumb recipe is just enough for the cookies, so if you think you might be tempted to sneak some in your mouth, which will happen...take my word for it, then double the recipe. Save 1 cup plus 2 tablespoons (4 1/2oz/ 130g) of the crumbs for the cookie dough and enjoy the rest 🙂
Cookie dough balls could be chilled in the fridge for up to 3 days or frozen for up to one month in a zipper lock bag. Bake straight from frozen. You will need to add an extra 1-2 minutes to the baking time.
Recipe inspired by Momofuku Milk Bar's Blueberry and Cream Cookies.
Milk Crumbs recipe adapted from Momofuku Milk Bar Book.
Measurements Note: All recipes of this site have been developed using weight measurements. Although US volume measurements have been included for your convenience, it is highly encouraged that you weigh your ingredients using a kitchen scale to get the best possible results. Due to the sensitive nature of baking, kitchen scales are proven to yield more accurate and consistent results than measuring cups. Enjoy!
This post may contain affiliate links.
All images and content are owned by Cleobuttera® and are copyright protected. Please do not use my images without prior permission. If you would like to republish a recipe, please rewrite it in your own words and link back to the recipe page on my site. Original recipes and creations of this site are intended for personal and home use. Commercial replication or media consumption are only allowed with a written consent and agreement with Cleobuttera owners. Otherwise it is considered a violation of intellectual property. Thank you for respecting and appreciating the amount of time and effort that goes into creating free, unique recipes that make people happy.