Chocolate Cloud Cupcakes
Soft and fluffy chocolate cupcake, topped with a cloud-like Italian meringue chocolate buttercream and dipped in French chocolate sprinkles. The whole experience is like biting into a chocolate cloud. (Inspired by Kara's Cupcakes famous Chocolate Velvet Cupcake)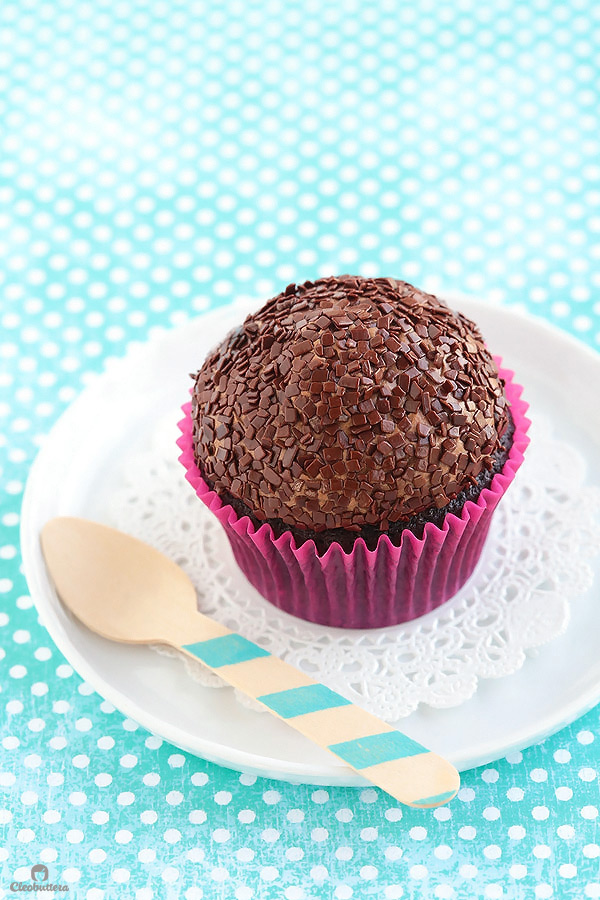 Welcome to Part 2 of the Chocolate Cloud Experience!
If you've missed yesterday's post (Part 1), here's a recap:
So last year, I was lucky enough to get the opportunity to visit San Francisco. LOVE by the way? So while most people would spend their vacations relaxing on the beach, sightseeing and shopping, mine always end up revolving around food. An intricately picked list of the best reviewed restaurants and bakeries of the destination is as important to my trip as my passport.
Since we all know that calories don't count on vacations (yeah right!), I like to do, what I'd prefer to call, Food Tourism. So basically I'm a non-foodie's worst nightmare to travel with.
On top of my San Francisco's Bakeries-to-Visit List was Kara's Cupcakes.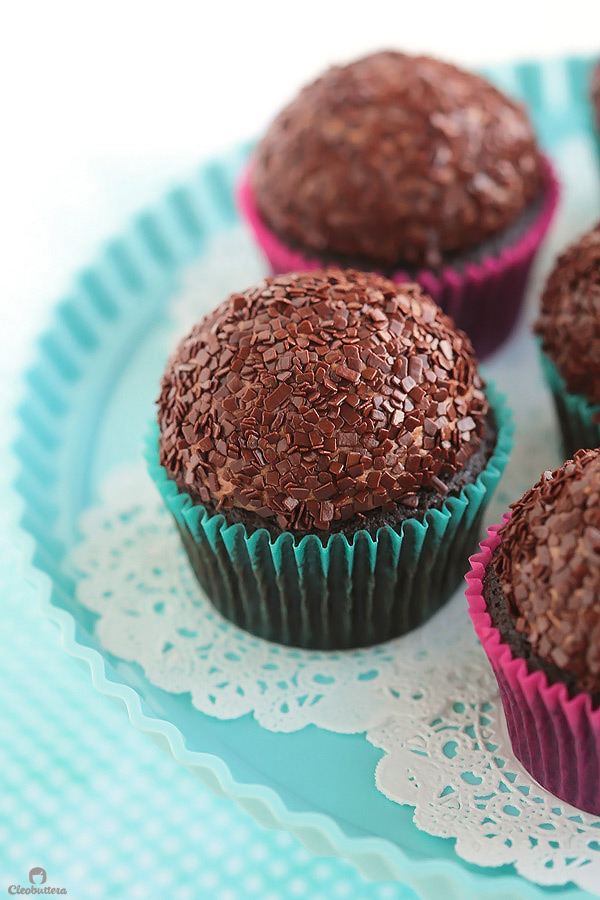 Before going, I had read rave reviews of the bakery and watched YouTube videos, waxing poetic of especially the Chocolate Velvet Cupcake; their best seller. I think its this video of the guy shoving up more cupcakes than I could count in his mouth that got me. Hilarious!
Can't make fun of him though, because I might or might've not did the same thing when I went there. Because YES! It's worth the hype! And NOPE! One is not enough. It's the best double chocolate cupcake I've ever tasted!
The cupcake is incredibly moist and fluffy, that it was practically falling off the paper liner. The frosting is like nothing I had ever tasted before. It was so airy and creamy, yet chocolatey and sweet enough without being cloying. What I loved most about the cupcake, is how light it was. The whole experience was like biting into a chocolate cloud.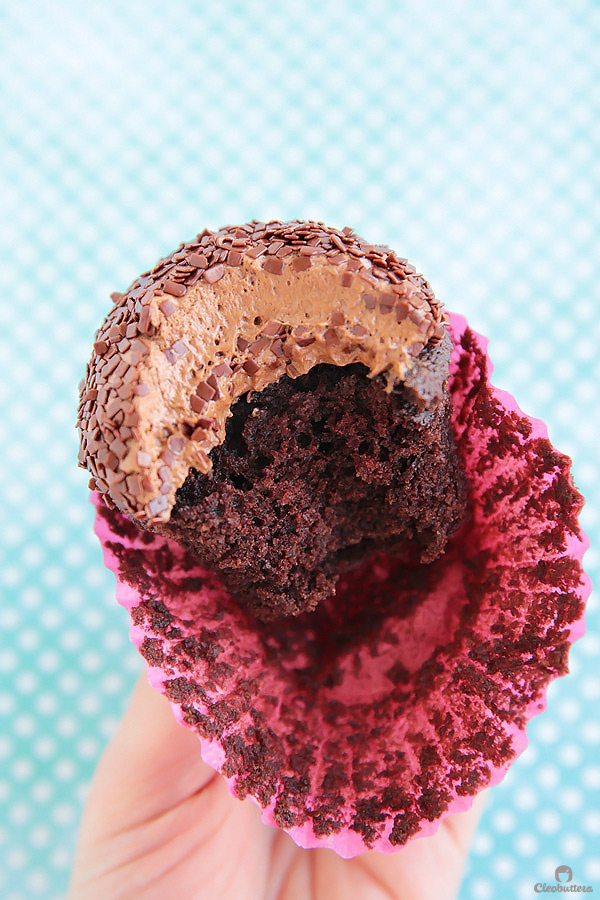 I instantly got hooked from the first bite and couldn't get it out of head. That springy dark chocolate cake, balanced out by an ethereal and billowy buttercream, and given texture by a generous cap of melt-in-the mouth French chocolate sprinkles. Chocolate Velvet indeed.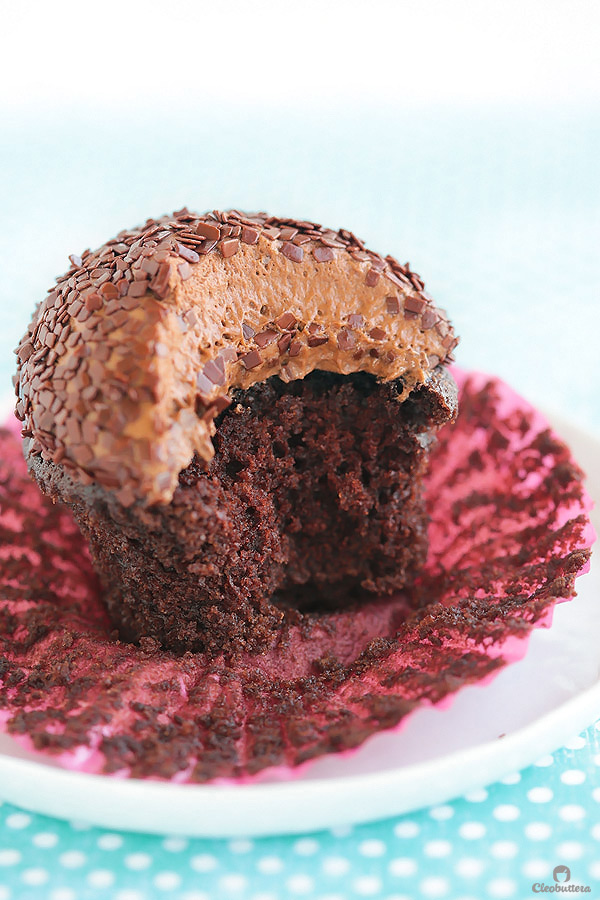 Lucky you San Francisco residents, especially those in the Bay Area, you could get a Kara's Cupcake whenever a chocolate craving hits. As for the rest of us, Kara-less citizens of the globe, we have to make our own. And for that, I got you covered!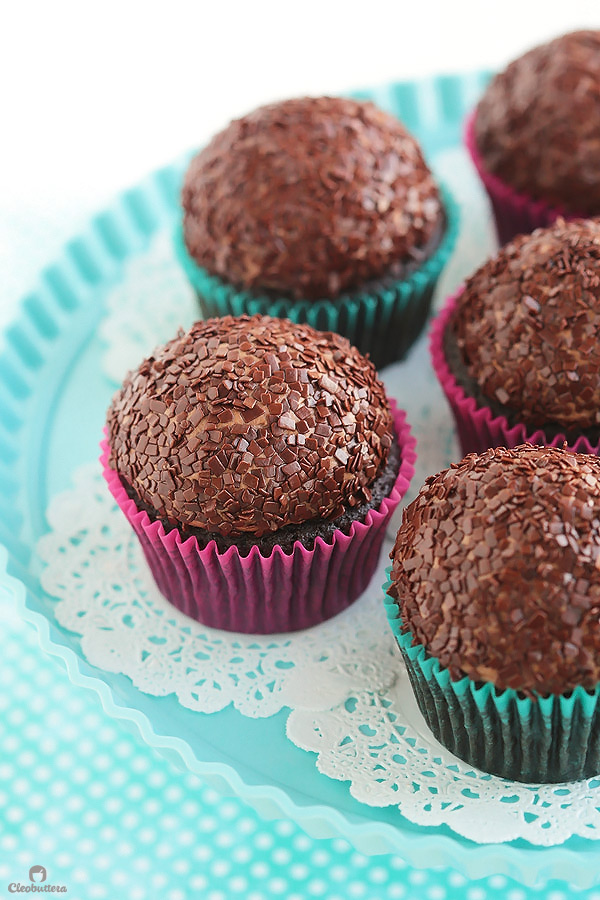 Immediately after taking my first bite of the famed cupcake, I knew in the back of my head, that a homemade version needs to happen. So I took a picture of it, posted it on my Instagram and promised to work on it. So here I am, one year later and after multiple experiments in the kitchen and very content taste testers, I'm happy to report that I did it!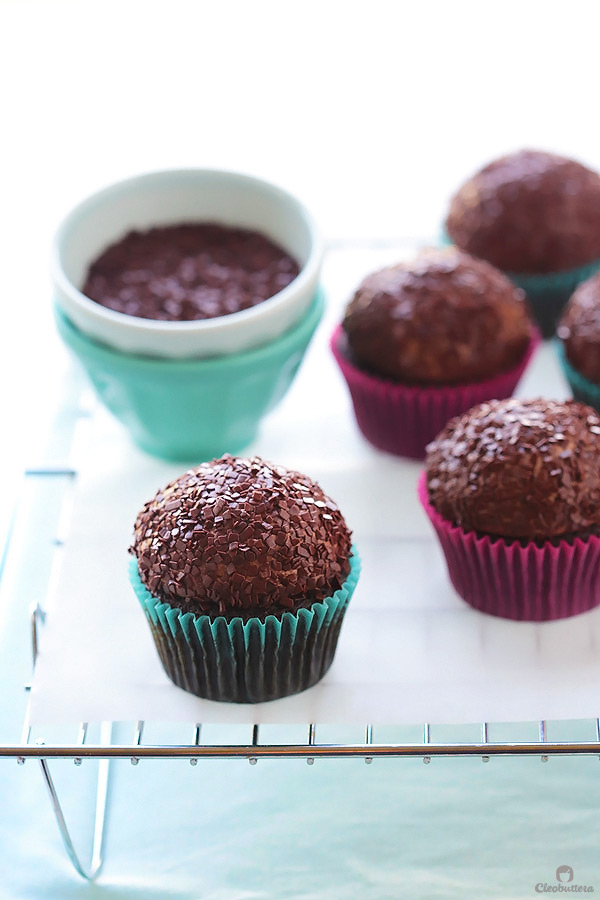 Now, I'm not here to claim that I've created a "copycat" or "clone" of the recipe, but yet one that is greatly inspired by it and conjures the same pleasurable feelings of chocolate euphoria and cloud-like effect.
One that promises a fall-off-the-liner moist and chocolatey cupcake and a buttercream that is so light and pillowy that will make you want to go for more.
Just because it might not be identical to Kara's, means that its any less delicious. I truly love both equally.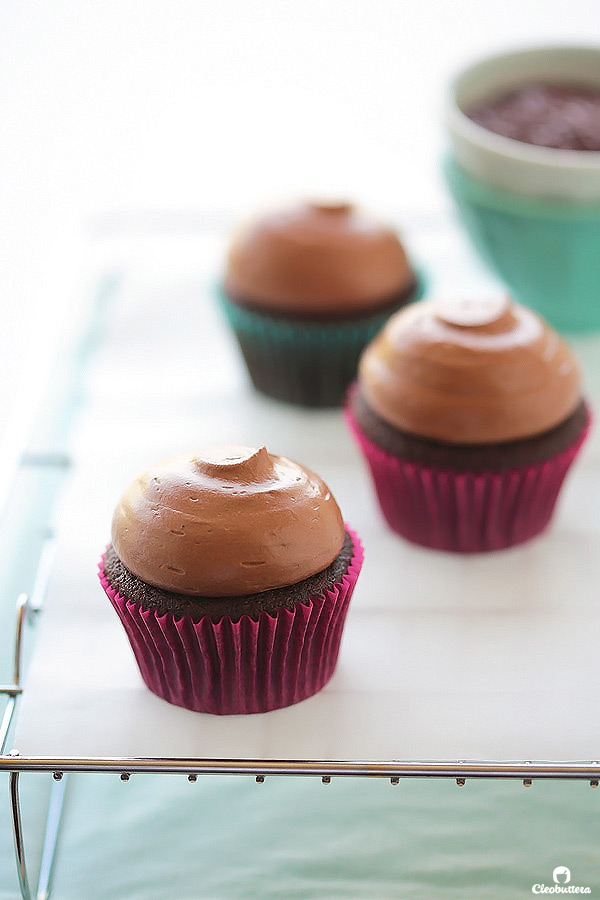 The frosting, which I've talked about in great detail and sung praises over in the previous post, is a Chocolate Cloud Italian Meringue Buttercream. I found out through this video, that Kara uses an Italian meringue buttercream base to make her Chocolate Velvet Cupcake and so this is the route I took. I played around with the proportions a bit, until I was able to achieve an airy and creamy yet still chocolatey frosting that will remind of chocolate mousse. So head to this post right here to see a step-by-step tutorial on how to make it.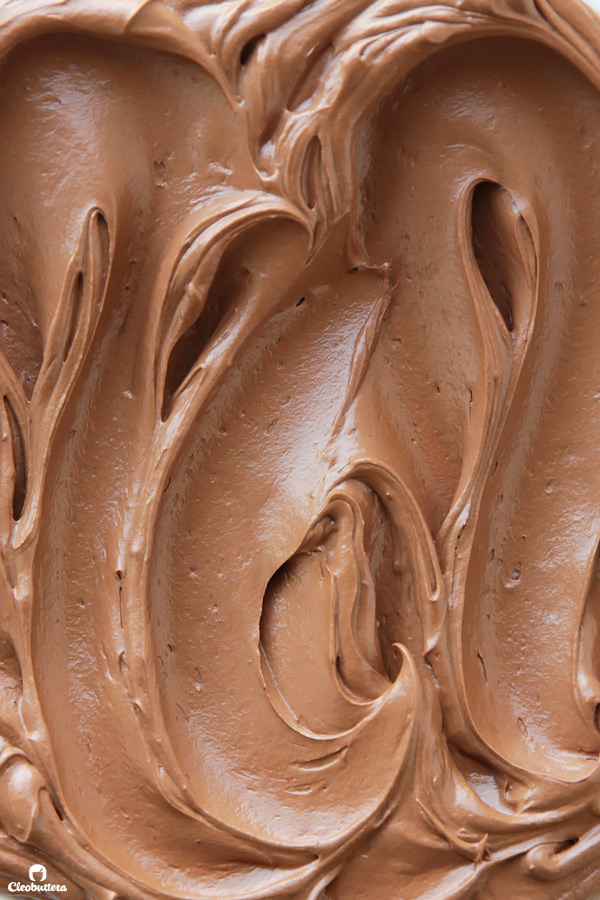 Today's post on the other hand, is dedicated to the cake portion of the cupcake.
Well I'm a little embarrassed to say that I cheated on my favorite chocolate cupcake recipe. I have a great go-to recipe that I've been using for years, and is the base for the Nutella Lava Cupcakes, as well as the Peanut Lava Fudge Cupcakes, but I think that might just change. In fact, I might just bake them both one day and compare them side by side, and if my tasters like this one better then I'll update the others with this recipe.
The reason I deviated from my standby recipe is that by the looks and shine of Kara's, I felt that it could very well be oil-based, while mine is all butter. With that in mind, I tried so many variations of cupcakes that use oil instead of butter, but they were a let down. Until I ran into this fabulous recipe developed by Jackyln of Cooking Classy. She uses a combination of oil and butter, which results into the best of both worlds. The moistness and fluffiness of oil, along with the incomparable flavor and richness of butter.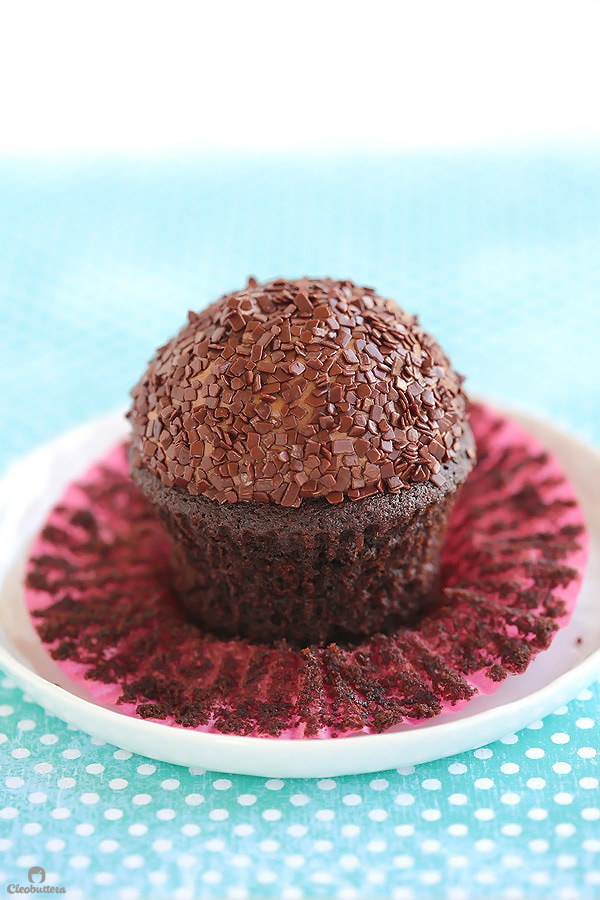 The recipe also uses heavy cream for the dairy, so you know it's gonna be amazing. Makes it so moist with a velvety crumb. The recipe, as stated by Jackyln is perfection, but I did make a few changes to it to achieve a fluffier, less dense crumb, which I think suits this type of frosting better. I omitted the egg yolk and added a little baking powder for an extra lift.
What I love so much about this recipe, is that it has the same soft texture as my old one and tastes very similar, but is slightly more chocolatey, which is always a plus. Also the fact that its so simple to make and comes together in no time using a bowl and a whisk, makes it a winner for me. No need to bust out the heavy machinery here!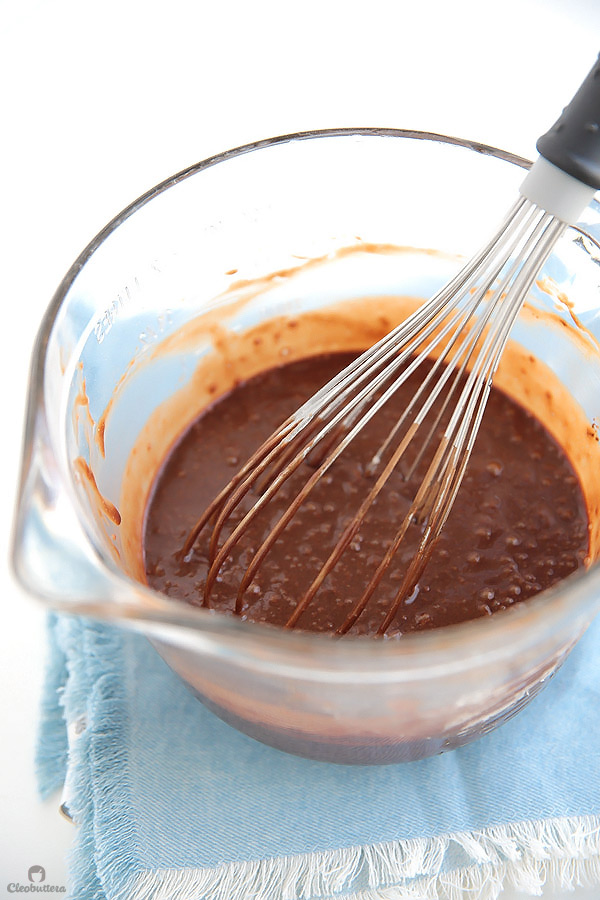 I really enjoyed the taste and texture of my Chocolate Cloud Cupcakes covered in French chocolate sprinkles. Unlike regular sprinkles, that are hard, brittle and taste of nothing but sugar, these are semi-soft and taste like pure chocolate. I splurged and ordered some from Amazon, but after paying a fortune over them at the customs, I foresee substituting fine chocolate shavings in the future. I'm thinking Flake!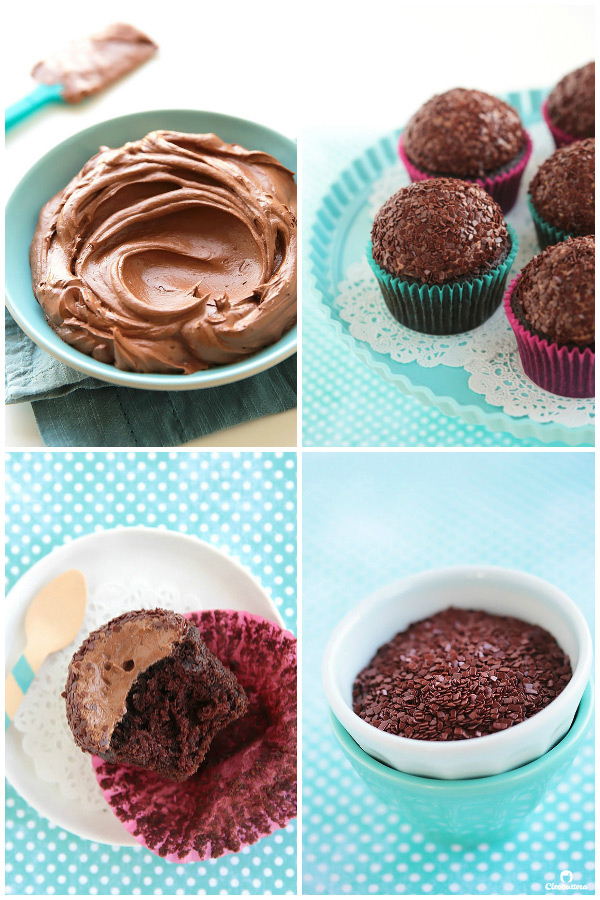 You'll notice that the cake batter is very thin, but nothing my handy dandy ice cream scoop can't handle.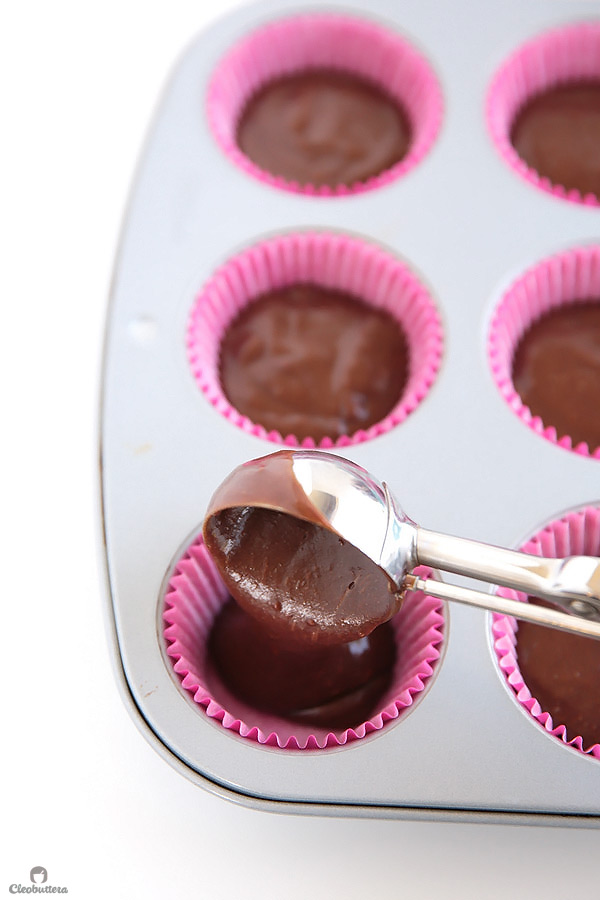 The batter will make 12 perfectly sized cupcakes.
I wasn't sure which color of cupcake liner to pick for the photoshoot, pink or teal, so I used both!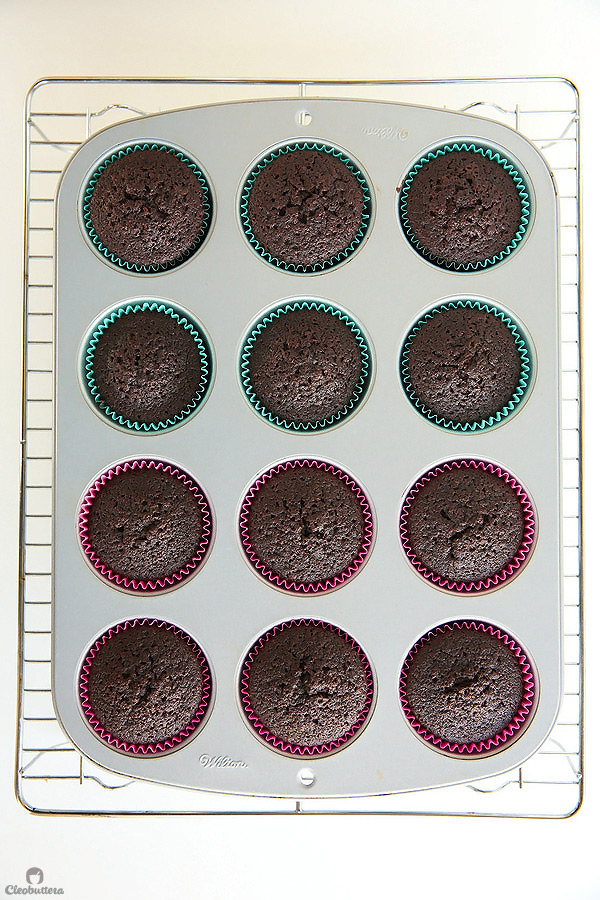 While the cupcakes are cooling, you can go ahead and make that dreamy buttercream.
Then frost away the blues…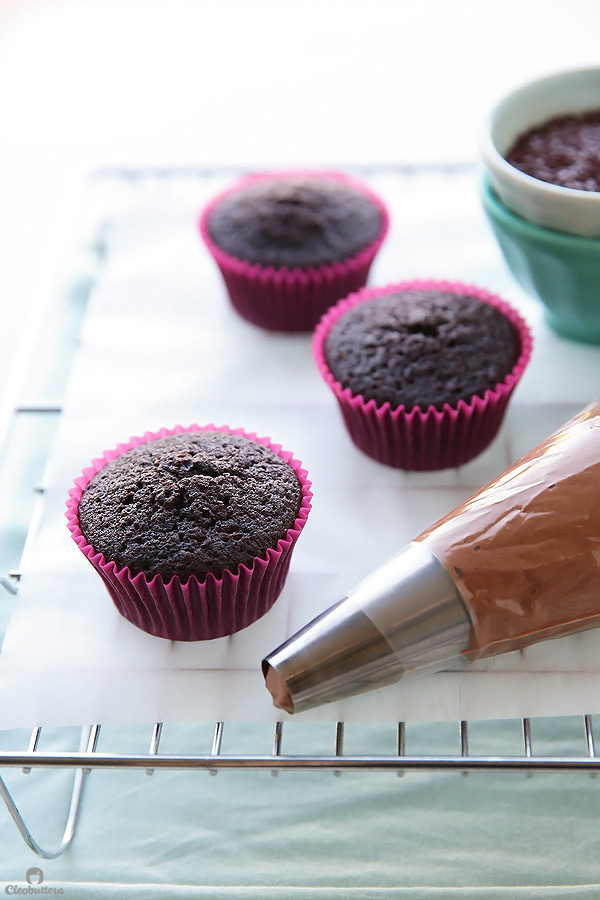 Check out my video on Instagram, to see exactly how I frost the cupcakes with these round blobs of buttercream. Alternatively, you could use an ice cream scoop to apply it. It's gonna get covered in sprinkles anyway so no need to worry too much about the look.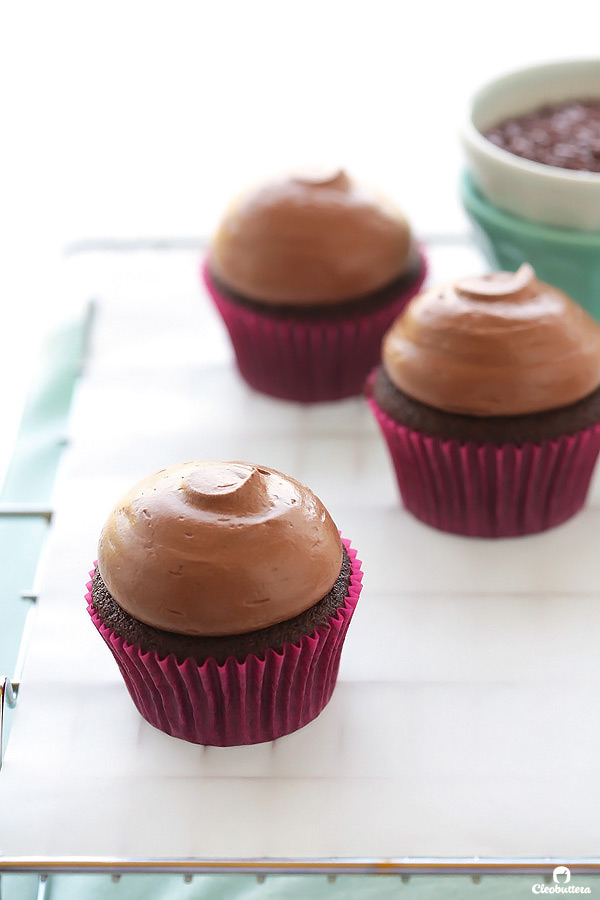 Now here's the part were you're going to hold your breath in, take a leap faith and dive your cupcake head first into the sprinkles. I found that chilling the cupcakes in the fridge for a few minutes to harden the buttercream just a bit, helps make this process a breeze.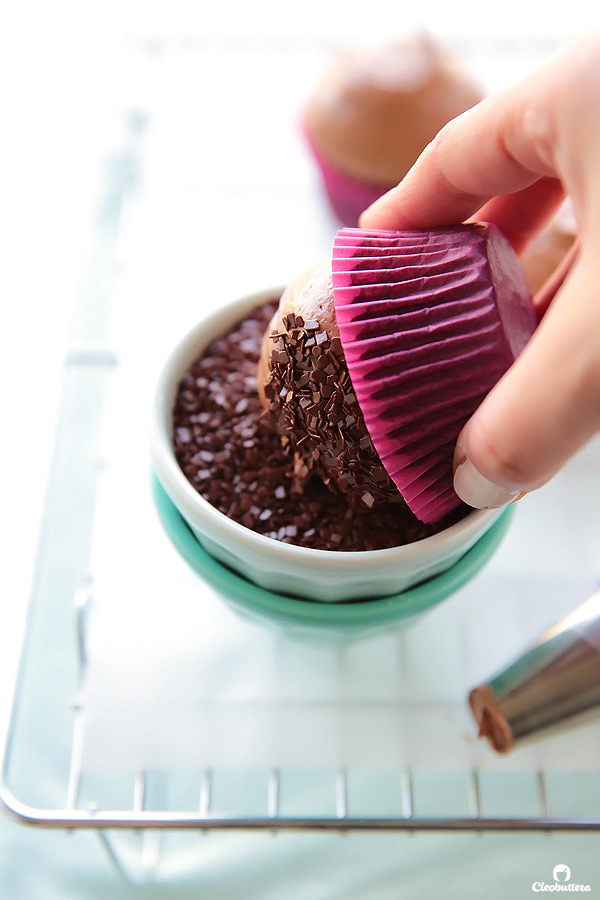 And there you have it! Light and fluffy cupcakes with a cap of chocolate jewels. The best kind of jewels if you ask me.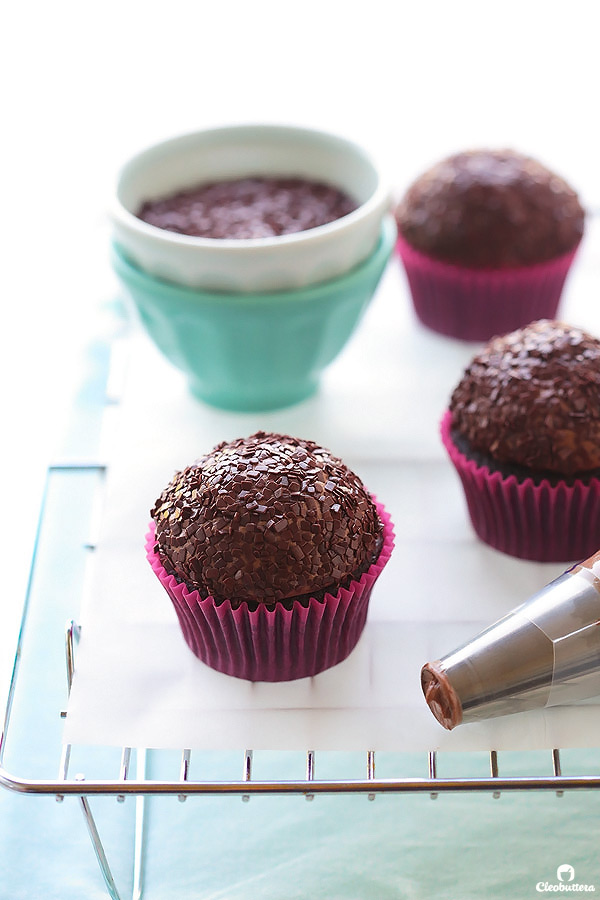 Now take a big bite and enjoy the whipped airiness of the frosting, contrasted by the soft crumb of the cake and the slight bite of the sprinkles. Mmmmmmmm…My kids were crazy over these! And I made the funniest sounds eating it.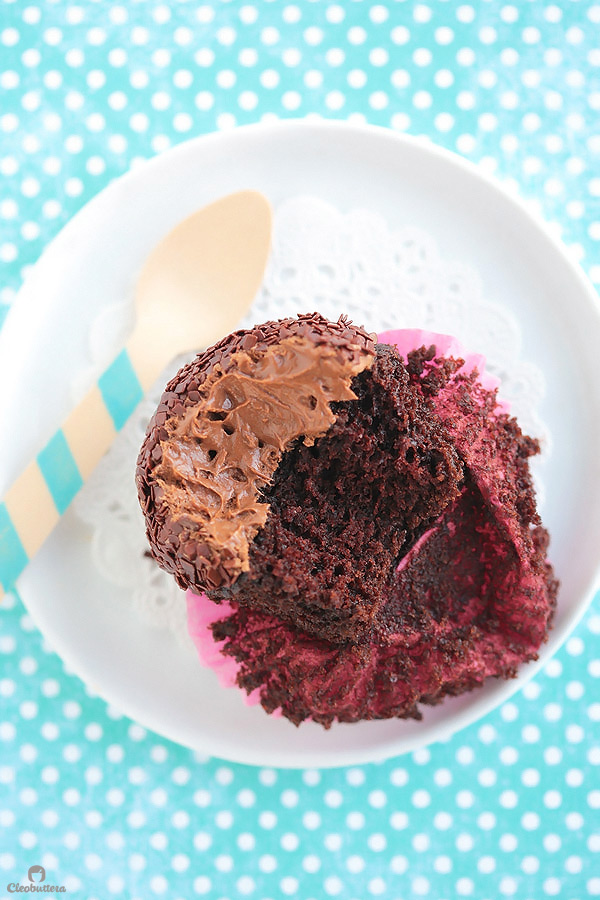 If clouds were made of chocolate, I'm pretty sure that that is what they're gonna taste like.
I wouldn't say no to another trip to San Francisco, but for now, I'm so satisfied knowing that I could whip cupcakes similar theirs in the comfort of my own home. And so can you.
Yield: 12
Chocolate Cloud Cupcakes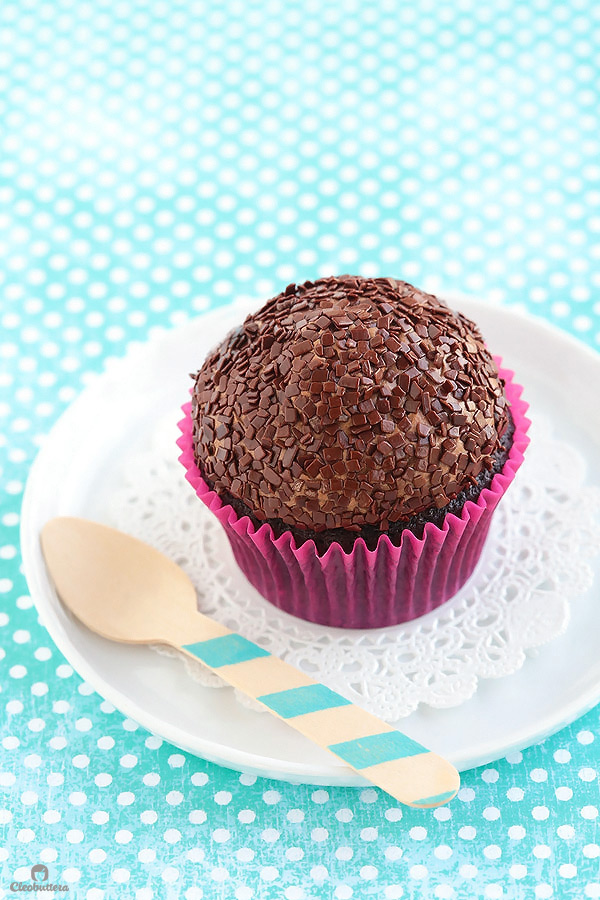 Soft and fluffy chocolate cupcake, topped with a cloud-like Italian meringue chocolate buttercream and dipped in French chocolate sprinkles. The whole experience is like biting into a chocolate cloud. (Inspired by Kara's Cupcakes famous Chocolate Velvet Cupcake)
Prep Time 40 minutes
Cook Time 20 minutes
Additional Time 30 minutes
Total Time 1 hour 30 minutes
Ingredients
For the Cupcakes:
1/3 cup (1oz/ 30g) unsweetened cocoa powder
1/2 teaspoon baking soda
1/2 cup (118 ml) boiling water (or hot coffee, if you don't mind the caffeine)
1/4 cup (2oz/ 57g) unsalted butter, melted
2 1/2 tablespoons neutral tasting oil, like vegetable or sunflower
3/4 cup plus 2 tablespoons (6.2oz/ 175g) granulated sugar
3/4 teaspoon vanilla extract
1/4 teaspoon salt
1 large egg, at room temperature
1/4 cup (59ml) heavy (or whipping) cream
3/4 cup plus 2 tablespoons (3 3/4oz/ 105g) all-purpose flour
1/2 teaspoon baking powder
For the Frosting:
For topping:
French chocolate sprinkles (fine chocolate shavings or crumbled Flake chocolate bar may be substituted)
Instructions
Adjust oven rack to middle position and preheat oven to 350F/180C. Line a standard muffin pan with 12 cupcake liners. Set aside.
In a medium, heat proof bowl, place together the cocoa powder and baking soda. Carefully pour in the boiling water (or coffee) and whisk until the mixture is well combined and foaming subsides. Mixture will foam up at first then calm down as it sits. Set aside to cool slightly while preparing the remaining ingredients.
Meanwhile, in a separate large mixing bowl, whisk together the melted butter, oil, granulated sugar, vanilla and salt until well blended. Whisk in the egg until combined.
Add in the lukewarm cocoa mixture and whisk to combine. Blend in the heavy cream until the mixture is uniform in color.
In a separate medium bowl, whisk together the flour and baking powder to combine, then add to the cocoa mixture. Gently whisk it in until well blended. Batter will be very thin.
Preferably using a 1/4 cup measure ice cream scoop with a release mechanism, divide the batter evenly among the prepared cupcake liners until 2/3 full.
Bake until the center springs back to the touch and a toothpick inserted into center comes out clean or with a few moist crumbs attached; 19 - 21 minutes. Do not overbake
Allow the cupcakes to cool in the pan for about 5 minutes before transfering them to a wire rack to cool completely before frosting.
To frost, fill a piping bag fitted with a large round tip, with the Chocolate Cloud Italian Buttercream. With the tip facing the center of the cupcake at a 90 degree angle, squeeze the piping bag to release a round dollop of buttercream. Alternatively, an ice cream scoop with a release mechanism may be used to apply the buttercream over the cupcakes.
Transfer the cupcakes to the refrigerator and chill for about 10 minutes to firm up the buttercream a bit so its easier to roll in the sprinkles. Do not get too cold.
Place the sprinkles (or shaved chocolate) in a bowl, then holding the cupcake upside down, carefully dip the buttercream round in the sprinkles and roll to cover.
Allow to come back to room temperature before serving. The cupcakes will keep well for several days stored in an airtight container.
Recipe Notes
Chocolate cupcake base recipe mostly adapted from Cooking Classy, omitting the egg yolk for a less dense crumb and adding baking powder for extra lift and fluffiness.
Measurements Note: All recipes of this site have been developed using weight measurements. Although US volume measurements have been included for your convenience, it is highly encouraged that you weigh your ingredients using a kitchen scale to get the best possible results. Due to the sensitive nature of baking, kitchen scales are proven to yield more accurate and consistent results than measuring cups. Enjoy!
This post may contain affiliate links.
All images and content are owned by Cleobuttera® and are copyright protected. Please do not use my images without prior permission. If you would like to republish a recipe, please rewrite it in your own words and link back to the recipe page on my site. Original recipes and creations of this site are intended for personal and home use. Commercial replication or media consumption are only allowed with a written consent and agreement with Cleobuttera owners. Otherwise it is considered a violation of intellectual property. Thank you for respecting and appreciating the amount of time and effort that goes into creating free, unique recipes that make people happy.