With a dough made from graham cracker crumbs, milk chocolate chips, mini marshmallows and a square of Hershey's chocolate bar on top…these soft, chewy, gooey cookies scream S'MORES!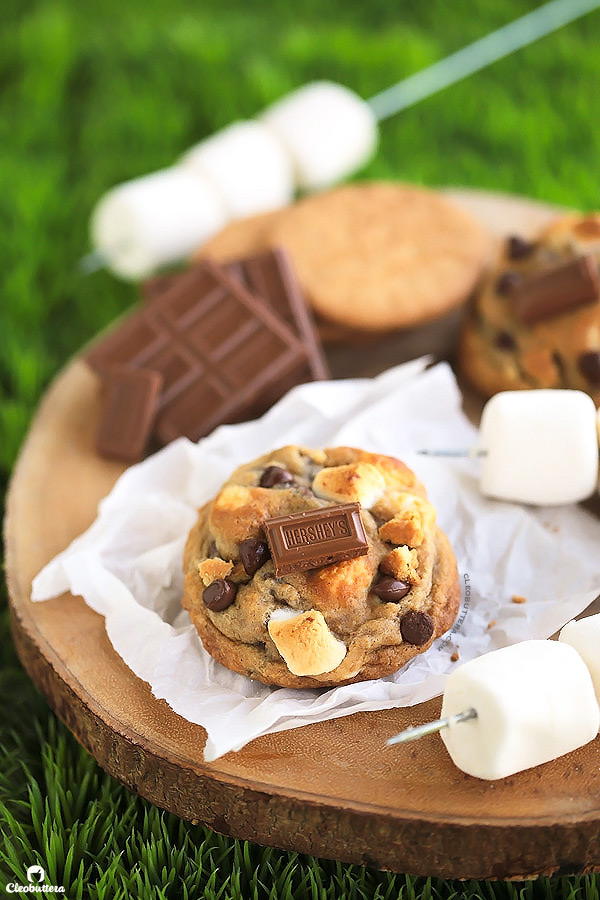 I've never grown up eating s'mores, nor have I even been to camp to experience the ritual of making them.
So nope…not a speck of nostalgia do these treats strike.
As a matter of fact, I've only learned about their existence about a year after becoming a mother.  Thanks to Barney (the purple dinosaur of our imagination) for introducing me through a song my then toddler daughter loved.  Mmmm…S'mores!  Which quickly turned this simple creation into one of my all-time favorite flavor combinations.
You could read more about this eye-opening discovery of mine by clicking here, and while you're at it make sure you give these Grilled S'more Sandwiches a go.  You'll thank me later (wink!).
If you're clueless about S'mores as I was, or you're just from Egypt like I am, you need to get to know one another.
Let me do you the honors.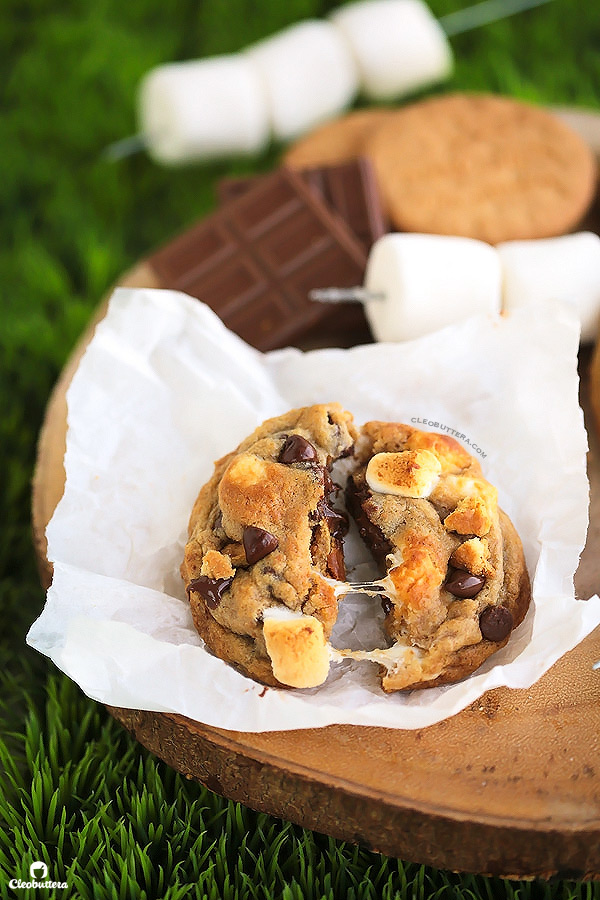 S'mores are a crunchy, ooey, gooey, deliciously messy treat made by sandwiching a roasted marshmallow (typically in a campfire), between two squares of graham crackers and a generous slab of chocolate (traditionally Hershey's Milk Chocolate).
The heat of the roasted marshmallow, melts the chocolate, resulting in a dripping-ly chocolatey, crackly cracker-y, delightfully marshmallow-y goodness, that brings out the child in any of us.
But far behind are the days, that S'mores are limited to just graham crackers, milk chocolate and marshmallows.  Nowadays people go as creative with S'mores as far as there imagination would take them.  Combinations are endless and dessert inspiration…even more so.
Like these COOKIEEEEEEEEEEEES….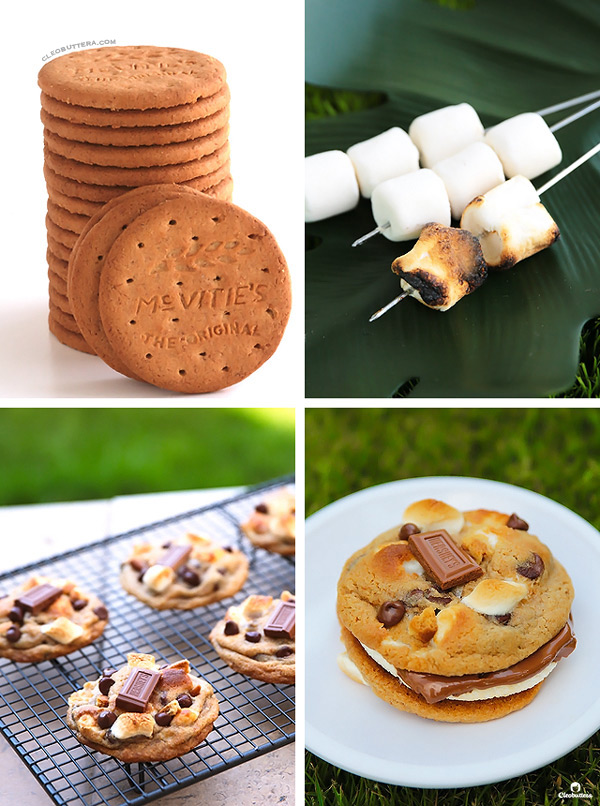 The dough itself tastes unmistakingly of graham crackers, or in my case…digestive biscuits (because graham crackers are alien in Egypt and digestives taste almost the same, if not better)  The cracker-y flavor comes through by grinding some graham crackers/digestive biscuits into fine crumbs and making a dough out of that.  A touch of honey and the tiniest pinch of cinnamon also help alleviate the graham cracker punch.  The can't-stop-won't-stop-eating-the-raw-cookie-dough gets a hefty dose of mini marshmallows and milk chocolate chips, which as the cookies bake, they melt creating pockets of marshmallowy goo and molten chocolate into super soft and chewy cookies.  Helloooooooo yumminess! 
And if that's not enough, you could go the extra heavenly mile and make some S'mores S'mores Cookie Sandwich!!!  Ok I just said S'mores twice.  Let's make that a Double S'mores Sandwich!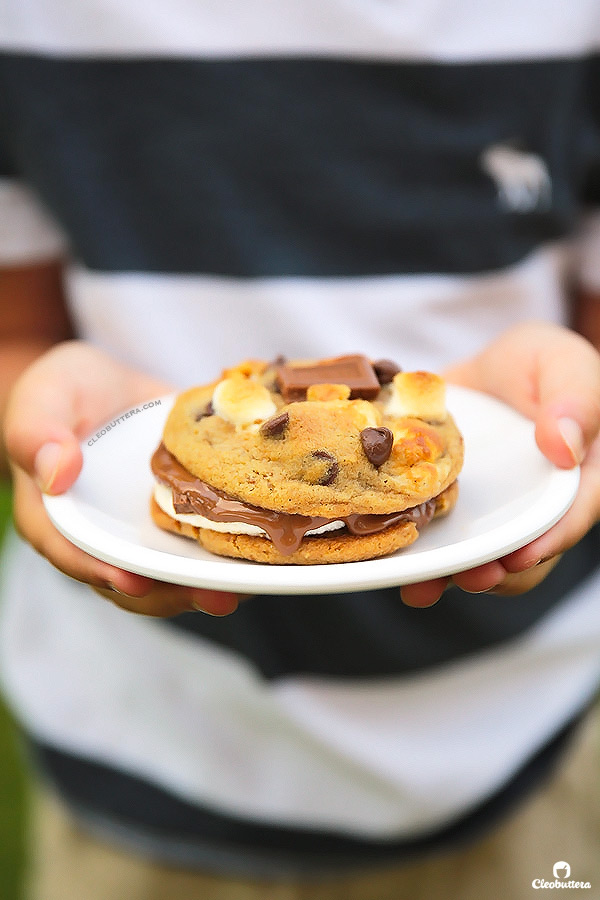 I really wish I had the guts to say that these cookies are even better than actual s'mores, but I won't because I just can't hurt S'mores' feelings.  But they are.  Really really (double wink!!)  
Try them for yourself and you'll see what I mean.
After eating a cookie's worth of raw dough (because it's that good), you're gonna scoop 'em out on a silicon mat or parchment paper lined baking sheet.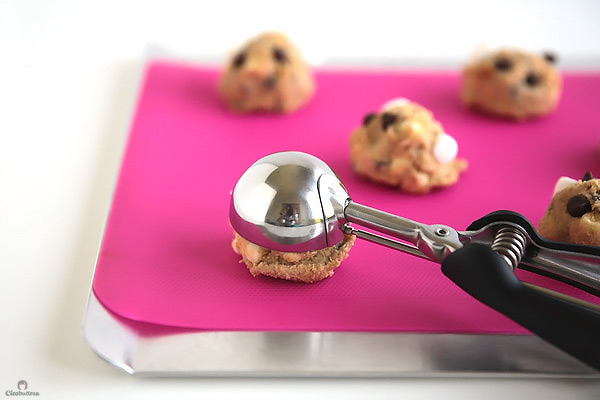 Then crown them with a few jewels mini marshmallows, broken pieces of crackers and the 'cherry on the top'…a square of Hershey's.  The toppings not only labels these cookies 'S'mores' but adds extra crunch and texture.  While the marshmallows on the inside will get all gooey, the ones on the top will get all toasty and crunchy!
Bake these darlings only until they've turned golden in color, and the edges are just set, while the centers still feel soft, almost raw but not wet.  At this point, I like to press on a few extra chocolate chips for looks.
I've said it before and I will always continue saying it…DO NOT overbake the cookies…PAAAAALEEEEEEEEEZ!  Overbaking, is a cookie's worst enemy.  If you bake them until they feel firm and baked all the way through, you'll end up with S'more flavored hockey pucks after they've cooled.  Take them out of the oven while the centers are still soft and jiggly (but not wet and shiny) and they WILL continue to bake through from the residual heat of the baking sheet.  I promise.  That's the the only way you'll end up with soft cookies, that are still crisp around the edges.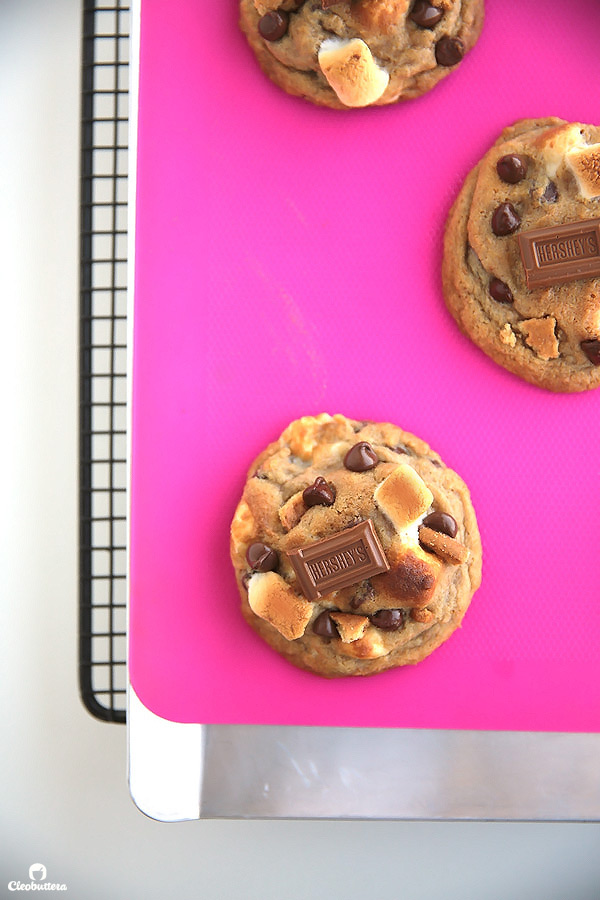 After they've had some time to cool, feel free to take them outdoors and pretend you're camping:)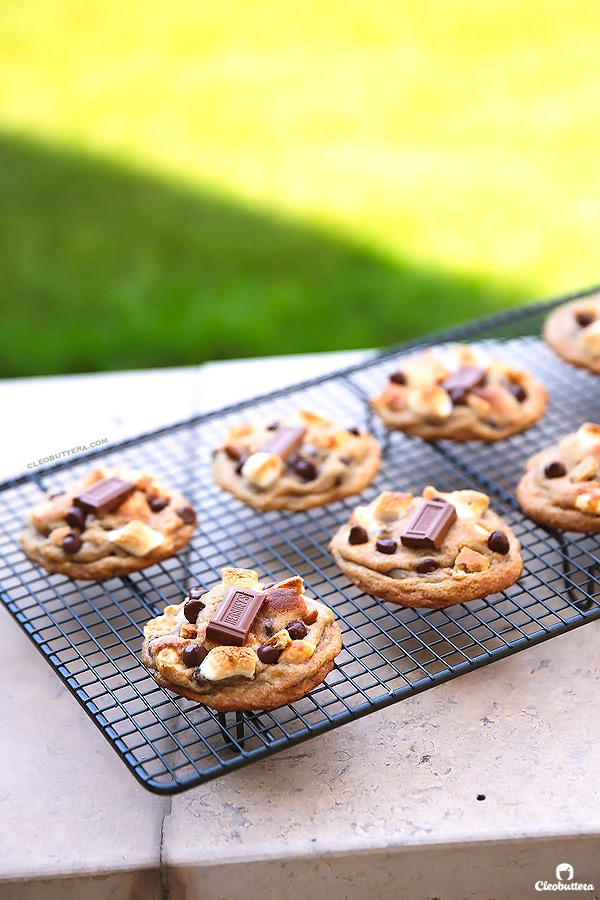 Look at all the textures go on.  Crunchy exterior from the cracker bits and toasted marshmallows, creaminess from all the chocolate…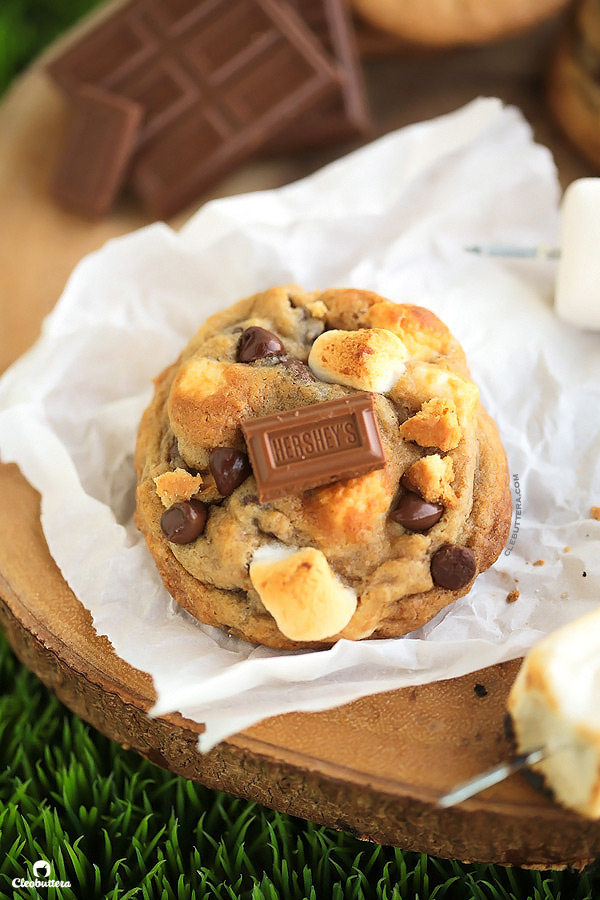 and an interior that looks like this….
Ummm hmmmmmm. (I have no better caption).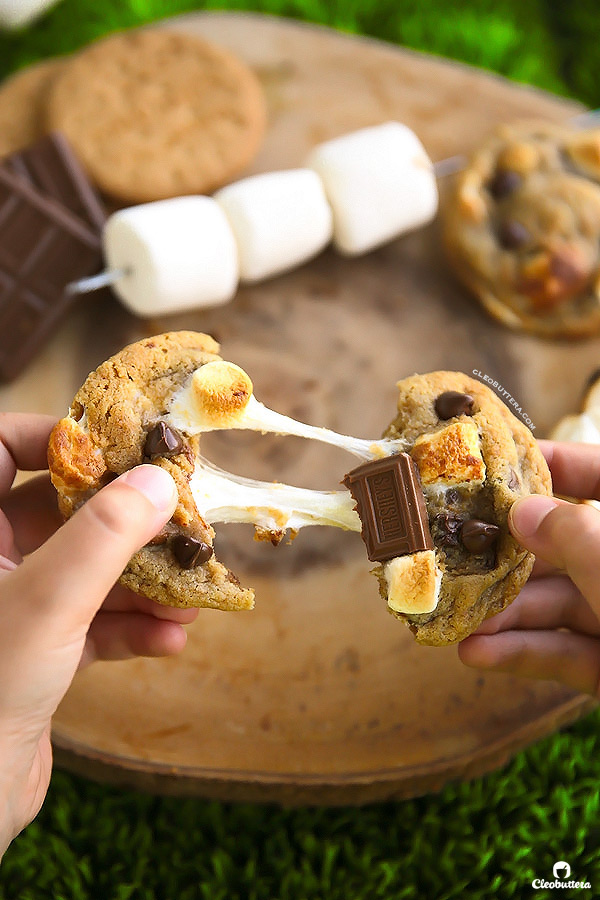 And while they're perfectly amazing just the way they are, it's completely understandable if you wanna do this…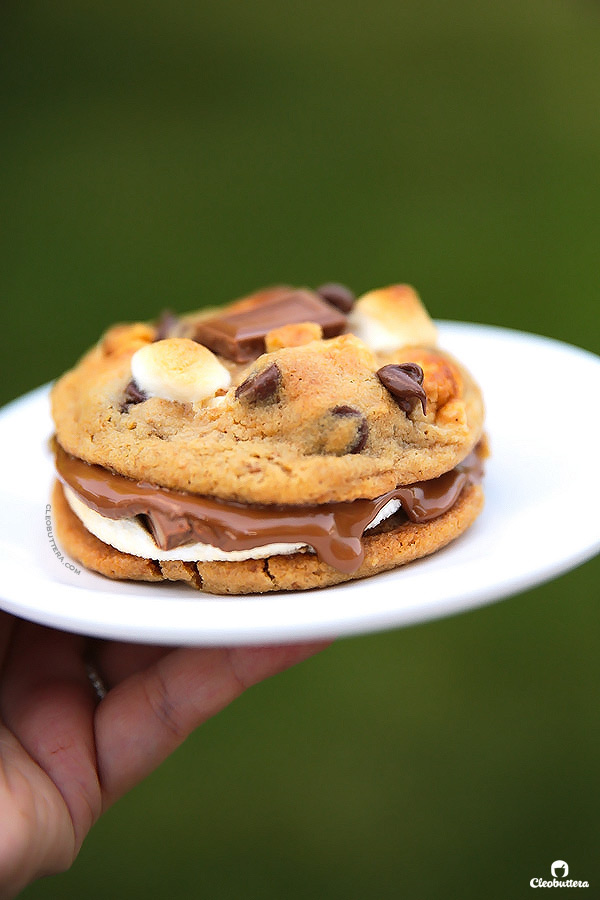 Double the S'mores…Double the fun!
Dessert is served my friends.  Enjoy:)

S'mores Cookies
With a dough made from graham cracker crumbs, milk chocolate chips, mini marshmallows and a square of Hershey's chocolate bar on top...these soft, chewy, gooey cookies scream S'MORES!
Ingredients
1 cup tightly packed graham cracker or digestive biscuit crumbs (I used 8 Digestive Biscuits ground into fine crumbs)
1¼ cups all-purpose flour
½ teaspoon baking soda
½ teaspoon salt
A pinch of cinnamon (less than ⅛ teaspoon)
½ cup plus 1 tablespoon (4½oz/ 128g) unsalted butter, softened at room temperature
½ cup soft light brown sugar, packed
⅓ cup granulated sugar
1 teaspoon honey
1 large egg
1 teaspoon vanilla extract
1 cup chocolate chips, I used Hershey's milk chocolate chips
1 cup mini marshamallows, I used Campfire brand (*see note)
2 regular size (1.55 oz) Hershey's Milk Chocolate Bars, plus extra if making cookie sandwiches
Extra graham cracker pieces & mini marshmallows (optional)
Large marshmallows, optional (if making s'mores cookie sandwiches)
Instructions
Adjust oven rack to middle position and preheat oven to 350F/180C. Line 2 baking sheets with silicon baking mats or parchment paper; set aside.
In a large bowl, whisk together graham cracker (or digestive biscuit) crumbs, flour, baking soda, salt, and cinnamon; set aside.
In the bowl of a stand mixer fitted with the paddle attachment (or a large bowl and an electric hand mixer), beat the butter until smooth and creamy; about 1 minute.
Add both sugars and beat together until lightened up in both texture and color and looks fluffy, 3 to 5 minutes. Mix in the honey until incorporated.
Add in the egg and vanilla extract and mix until well combined.
With the mixer running of lowest speed, gradually add in the flour mixture and mix until just incorporated. DO NOT OVERMIX.
Add in the mini marshmallows and chocolate chips and lightly mix until just combined.
Using an ice cream scoop or spoon, divide the cookie dough into 16 equal balls. Arrange dough balls, 2 inches apart on the prepared baking sheets, 8 dough balls per sheet.
Press a Hershey's chocolate square on top of each cookie ball and gently press down. Optionally, add a few broken graham cracker (or digestive biscuit) pieces and mini marshmallows onto the top of the dough for looks and a toasty marshmallow surface.
Bake cookies 1 sheet at a time until cookies are golden brown, flattened but still puffy, and edges have begun to set but centers are still soft but no longer wet, 10 to 12 minutes. Set the timer to 10 minutes to check for doneness, then add 1 minute at a time if needed. Do NOT overbake or they'll end up hard instead of soft and chewy. A trick to know that they're done, is to lift the edge of the cookie with your finger, if it lifts, then they're done, if its still too soft to lift then give it another minute or so. The cookies will continue to cook from the residual heat of the baking sheets as they cool.
Transfer baking sheet to wire rack and let the cookies cool on the baking sheets, at least 15 minutes. Resist the urge to eat them right away or they'll taste raw and undone.
Store in an airtight container to maintain their softness.
To make a S'more Cookie Sandwich: Roast a large marshamallow over a fire pit or over the stove burner rotating occasionally until golden brown or under the oven's broiler placed in a pan. Transfer the roasted marshmallow (or two), on top of the flat side of a cookie and top with half of a Hershey's milk chocolate bar (4 squares or more) or any other chocolate of your choice or NUTELLA. The heat of the marshmallow should be enough to melt the chocolate, if it doesn't melt as desired then place the whole thing back in the oven for less than a minute or give it a quick spin in the microwave. Alternatively, you could melt the chocolate separately in the microwave and dollop it over the cookie before placing the toasted marshmallow. Place another cookie, right-side-up, on top of the chocolate. Gently press and enjoy right away.
Notes
*I've found that the brand of marshmallows makes a difference in this recipe. I wouldn't recommend Jet Puffed brand as they melt too much causing flatter, unevenly shaped cookies. Campfire brand works great here as the marshmallows hold their shape really well.
*Make sure you use the soft kind of brown sugar that feels and looks like damp sand like Dominos brand. Avoid the coarse, granular type of brown sugar like demerara. Use fresh, moist brown sugar instead of hardened brown sugar, which will make the cookies dry.
*Cookie dough balls could be chilled in the fridge for up to 3 days or frozen for up to one month in a zipper lock bag. Bake straight from frozen. You might need to add an extra 2 minutes to the baking time.
Recipe slightly adapted from
Two Peas and their Pod