XL Serious Craving Chocolate Chip Cookie
Quick and easy recipe for ONE extra large, thick and chewy chocolate chip cookie! Perfect for those moments when a cookie craving strikes, but don't want to bake up a whole batch. (Can also make 2 regular sized cookies or mini skillet cookies a la mode!)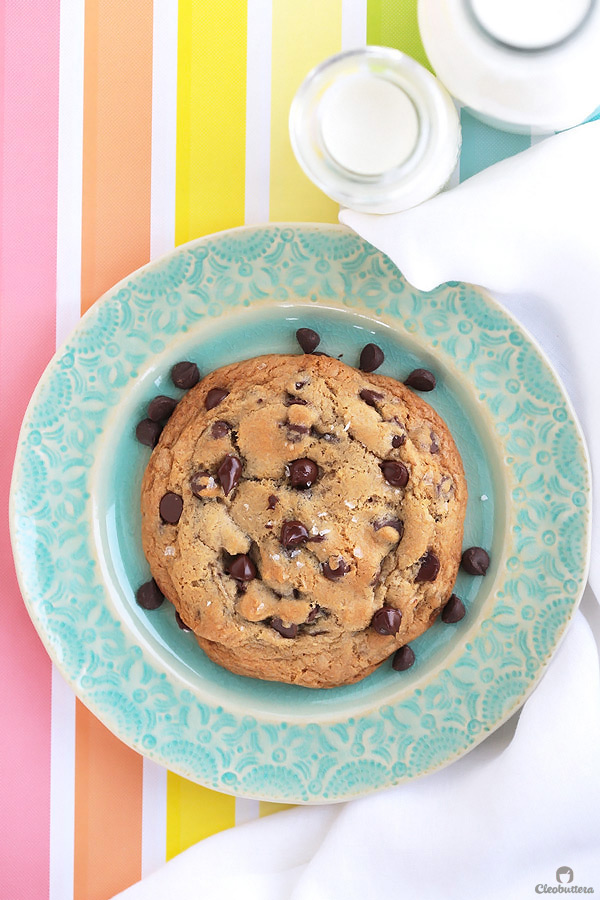 Is it just me, or does everyone else have those "I NEED A CHOCOLATE CHIP COOKIE RIGHT NOW!" moments?
You know…those "NO a chocolate bar won't do, an Oreo doesn't count, ice cream is too cold, and there's nothing sweet in the house I want more that a warm, freshly baked cookie, loaded with gooey chocolate, but I'm too lazy to make some" situations?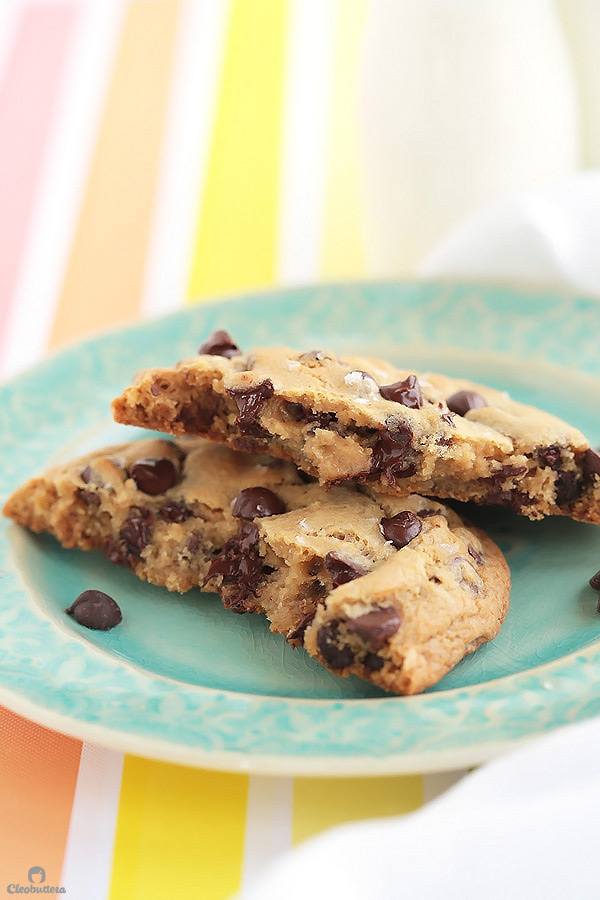 Sounds familiar? Can you relate?
Judging by the fact that I get called up at the most inconvenient times by my brothers, sisters-in-law, their children, best friends and their families to rescue their aching sweet tooth, by making them a batch of these cookies, I don't think I'm alone on this one.
Now as much as I enjoy baking, sometimes laziness (but let's call it tiredness ?), is stronger than my passion.
I absolutely LOVE my favorite chocolate chip recipe; its THE BEST! But the mere thought of bringing eggs to room temperature, browning butter, chilling the dough, scooping out 16 balls, then chilling again, then baking one sheet a time, sounds just plain daunting when all you need is A SINGLE cookie to tame a monstrous craving…STAT!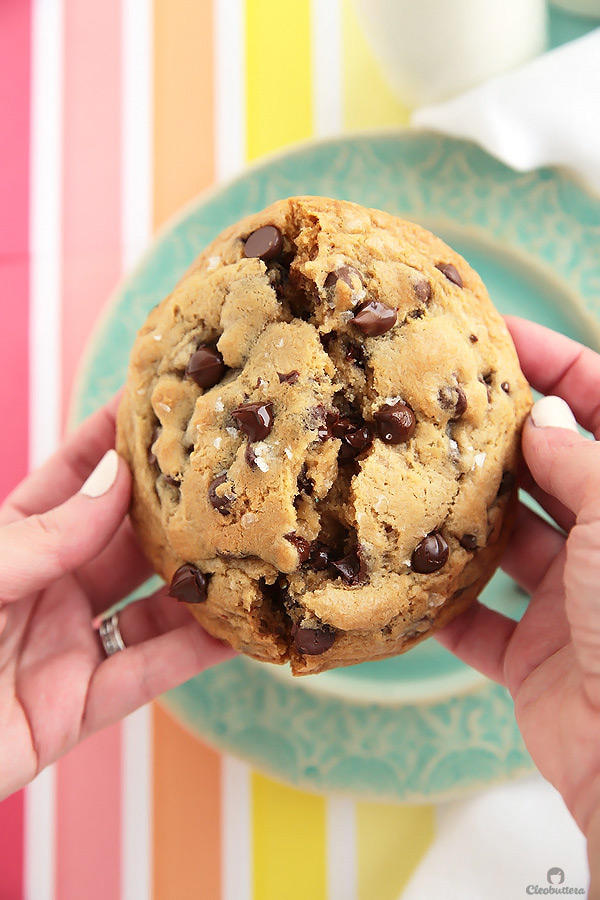 The rest of the scenario usually ends up taking one of two routes: 1) Eating a regretful amount of chocolate bars, Oreos and ice cream, then hating myself for it or 2) forcing myself to sleep.
That is until I found the perfect solution.
A super quick and easy recipe that makes exactly ONE oversized chocolate chip cookie, to satisfy the sweet tooth emergency.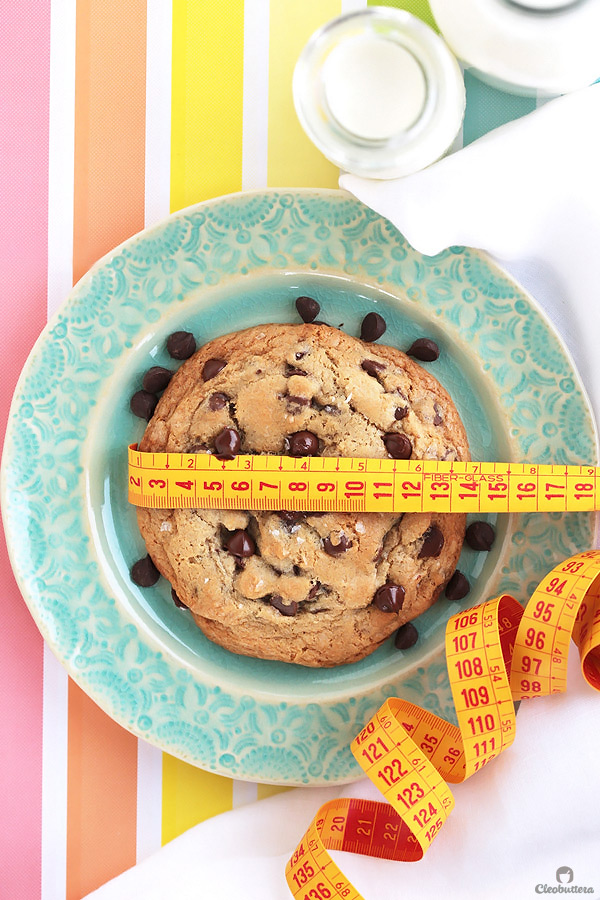 This rescue cookie is big enough to share with a fellow cookie lover, or eat all by yourself if you're pregnant, going through that time of the month, overly stressed, having a cheat meal, or just really really hungry. I'm the last one to judge.
It's about 5 inches/13 cm in diameter and double the size of an average cookie.
It whips up in a cereal bowl in a matter of 5 minutes and bakes up in 16. The most difficult part of the process is leaving it to cool after baking so the inside sets up. That is ofcourse unless you like raw cookie dough. In that case, it is immediate satisfaction for you my friend!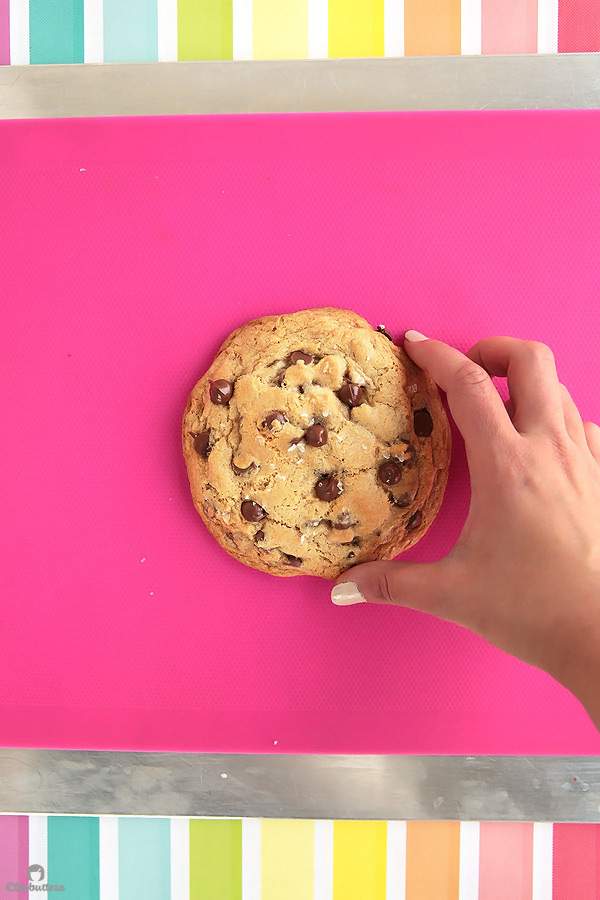 Judging by the popularity of the microwave Molten Chocolate Mug Cake, its obvious that you guys LOVE a quick chocolate fix! Who doesn't?! They cater to our psychological wellbeing and overall stability in the littlest time possible with minimal amount of effort #ChocolateAddictProblems. So for those same reasons, I have no doubt that this cookie will become your new go-to dessert in times of need.
Cookie dozens have their time and place in life, but this one right here will be your cushion. Your saviour. Your rescuer. Your confidant. Your Bae❤️
In short, if you're the kind who often gets some serious cookie cravings, but don't always feel like whipping up a whole batch, then you need this recipe in your life!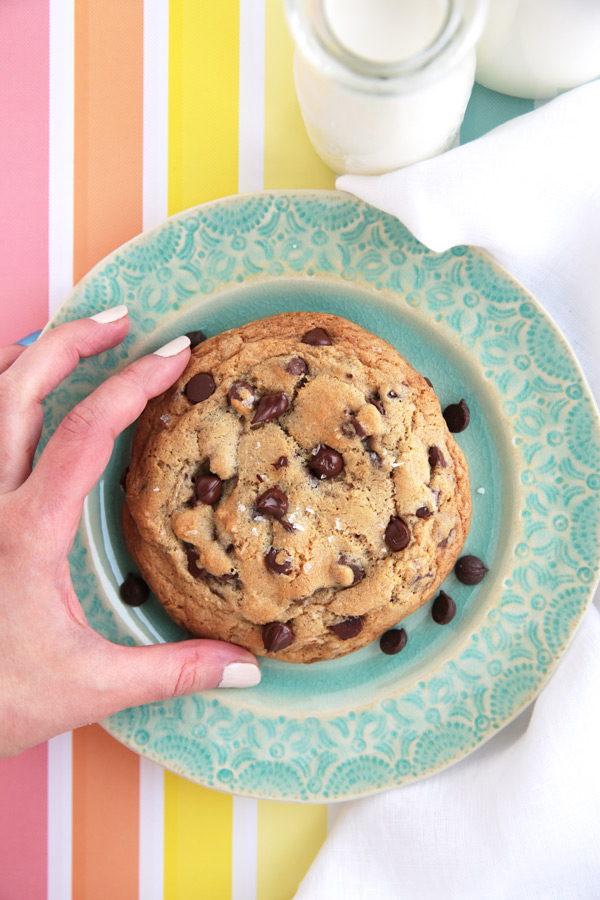 It is exceptionally thick, perfectly soft in the middle, slightly crisp around the edges, with layers of gooey chocolate chips in every bite. A touch of sea salt flakes on top, tickles the tastebuds with the perfect balance of sweet and salty. Feel free to leave it out though, if you're not into that combo.
The secret to making these cookies so thick, is a little cornstarch mixed in with the flour. We use cornstarch to thicken gravies and sauces, and it has been proved to work wonders into thickening up cookies too.
I added a little more than the usual amount of salt here, to cut down the sweetness, but you won't taste it in the final product. Baking soda is also added for just the right amount of lift.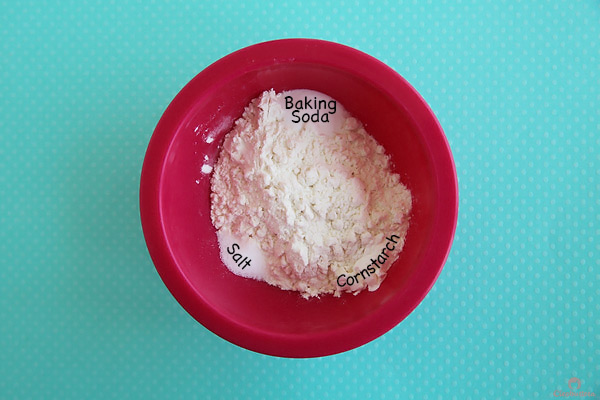 All that gets whisked together. I happen to have the cutest little whisk, but a fork will do the job just as well.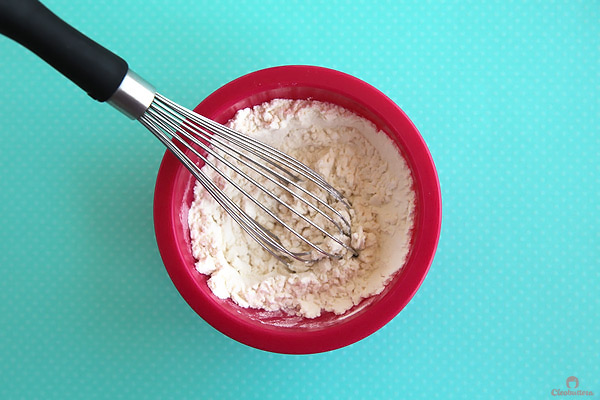 In a microwave safe bowl (cereal bowl size is perfect), you'll heat the butter until almost melted, but not all the way through. The reason for that, is that you don't want to get the butter too hot, or it could cook the egg and melt the chocolate chips.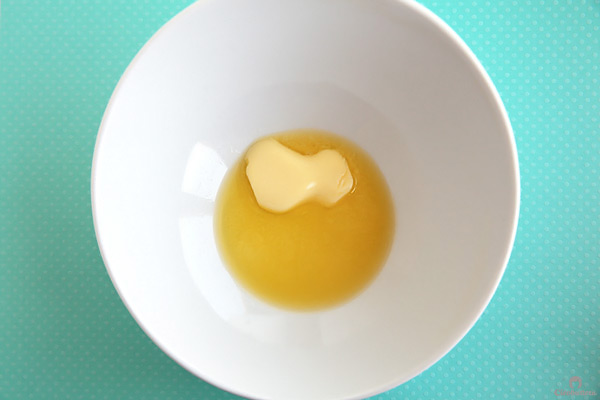 A few more whisks is all you need to fully melt it.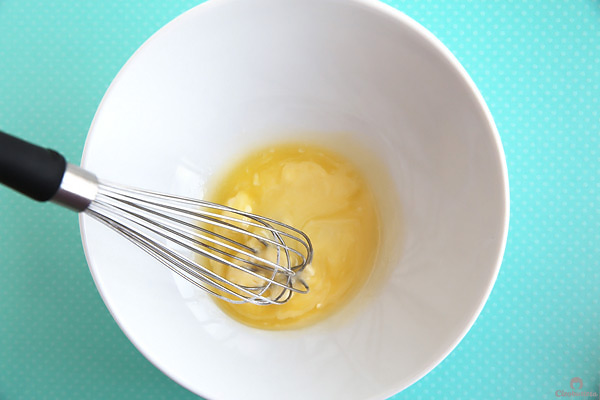 Then in goes soft brown sugar and granulated sugar.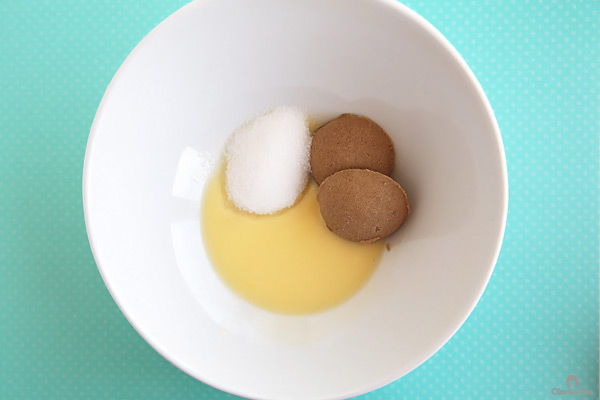 A quick mix to blend.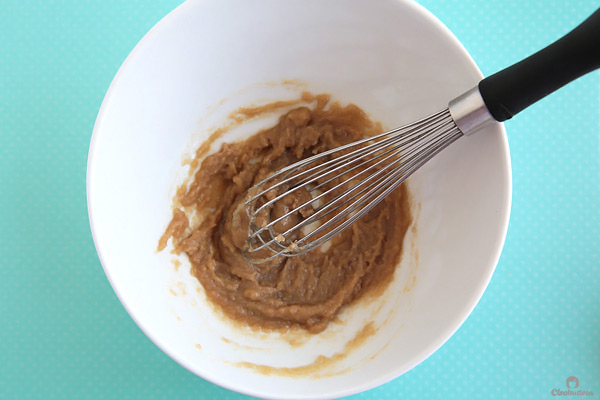 Then 2 teaspoons of whisked egg get added. I know! But remember, we're only making one cookie here, so a full egg will result in more like a cookie flavored omelet?. A single yolk is too much for that amount of dough too. So how on earth do you measure out 2 teaspoons of egg you ask? Simple…In a small bowl, whisk a full egg really well, then measure out 2 teaspoons. Cover the rest and store in the fridge for later use, like for making a real omelet the next morning. Or another one of these cookies the following night.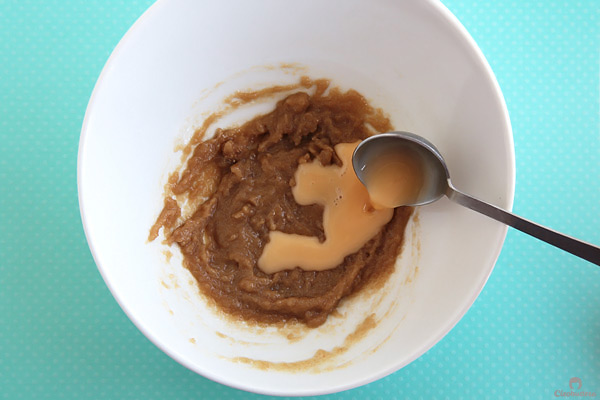 A fragrant splash of vanilla goes next.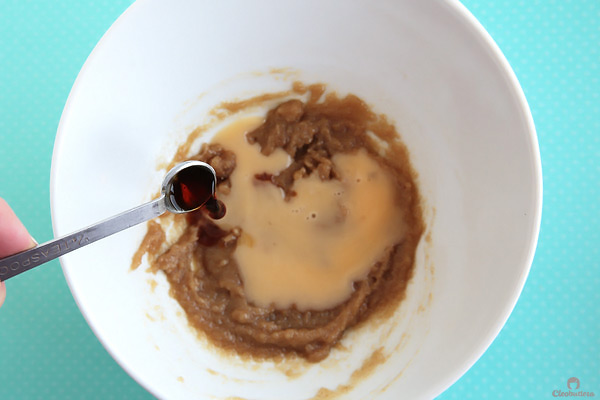 Whisk again until smooth.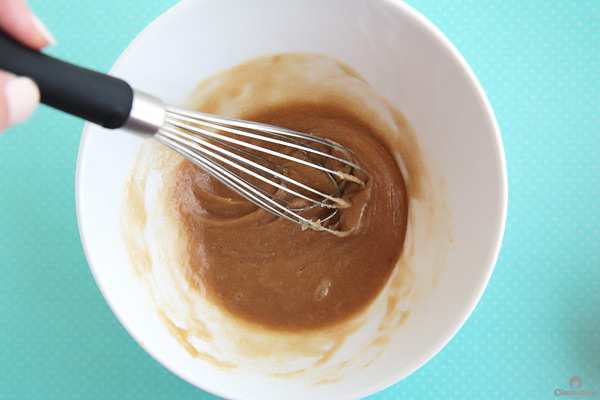 Then drop in your flour mixture.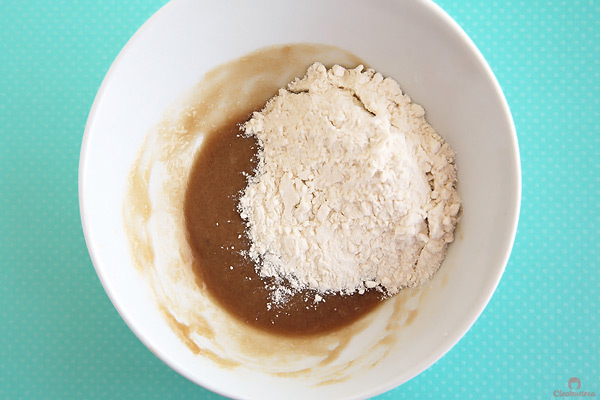 Stir it in until a dough form, then throw in your chocolate chips.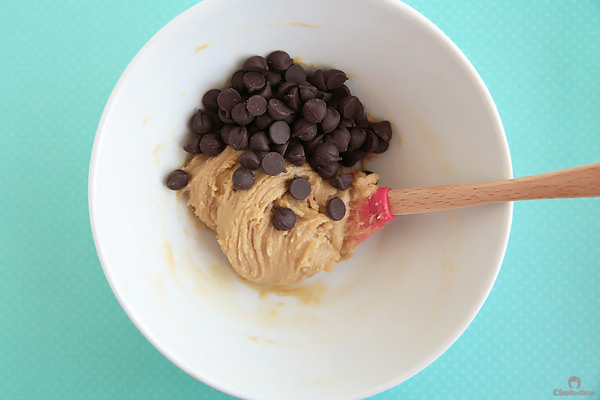 Fold those in and voila! your dough is ready.
At this point, if you feel that the dough is too soft from the warmth of the melted butter, just stick it in the freezer for about 5 minutes, until you clean up a little.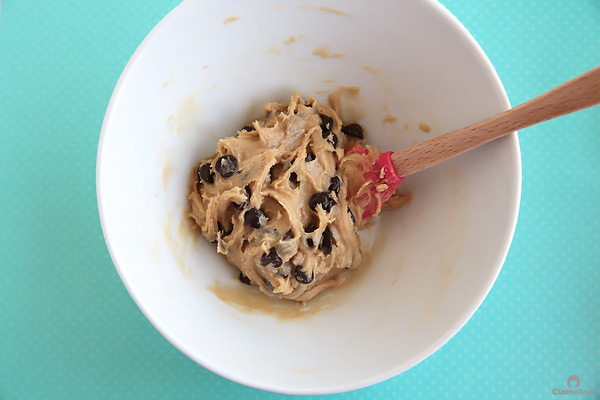 If not, then just drop it on your baking sheet and shape it into a shaggy ball. Stick on a few more chocolate chips on top for looks, then a sprinkle of sea salt if your heart desires. Then off to the oven it goes.
Now because this is a fairly large cookie, you want to make sure that you've oven is set at 338F/170C, which is lower than average. This relatively low heat will ensure that your cookie gets enough time to cook through on the inside by the time it bakes on the outside. When I tried a higher temperature, the cookie baked in less time, but the exterior was fully baked, while the interior remained on the raw side. And when I flattened the dough into a disk instead of a ball for more even baking, I ended up with a thin cookie, which I've never a fan of. So round dough at 338F/ 170C for 16 to 17 minutes until golden and set around the edges, proved to be the winning method.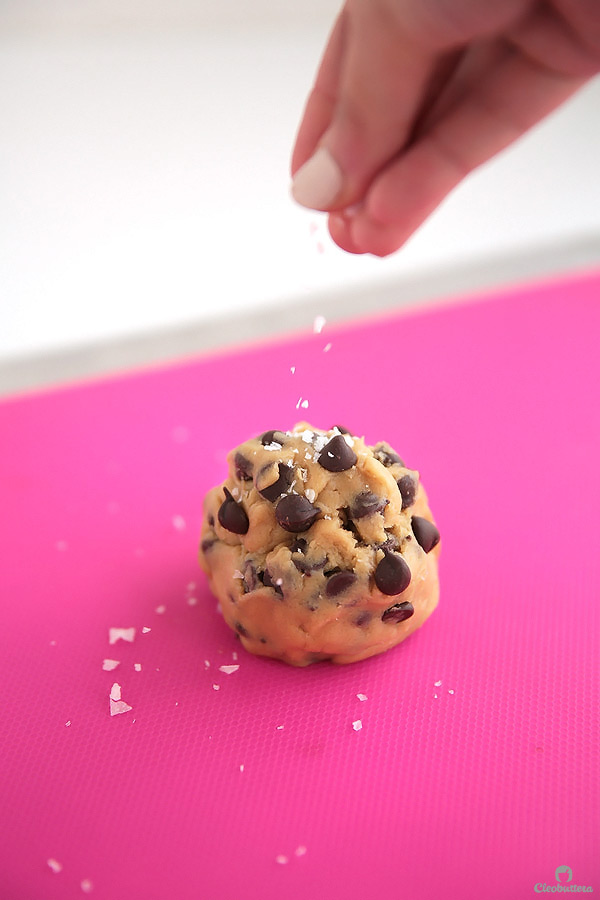 All baked! Now ready for the torture?
Set your timer for at least 20 minutes, more if you can resist and don't touch the cookie till the timer goes off. You can stare and smell if you want, but don't sneak a bite.
Here's why: The secret to achieving soft and chewy cookies, in general, is baking them just until the edges set, but the center is still undercooked. So if you lose your patience and break open the cookie as soon as it comes out of the oven, you'll be greeted with a raw inside. You absolutely need to leave it to cool on the hot baking sheet, as it is the residual heat of the baking sheet that gently bakes it through without hardening it.
Did I convince you?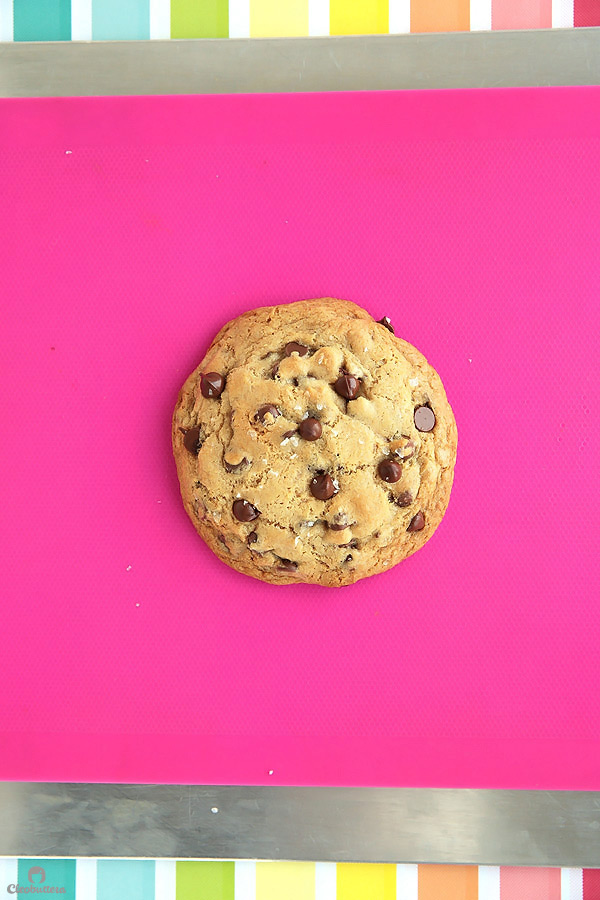 See? Worth the wait.
Perfectly cooked through, yet still super soft and gooey on the inside. Now break it in half, pour some cold milk, call your partner in crime, and share the yumminess.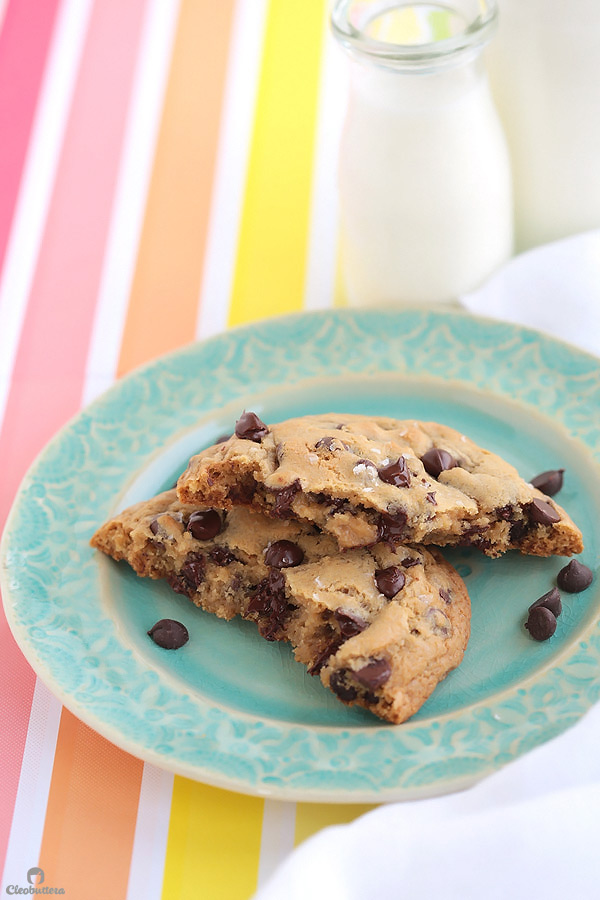 "Joey doesn't share food?" No problem!
Make 2 average size cookies instead. No need to fight over food guys.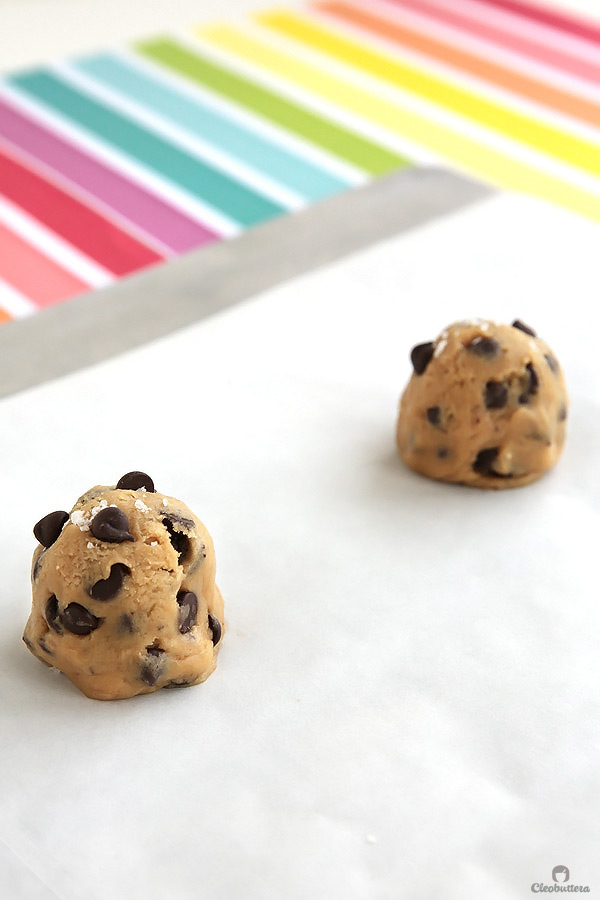 Now you both get a cookie of your own.
Or…OR…
OMG OOOOOORRRR….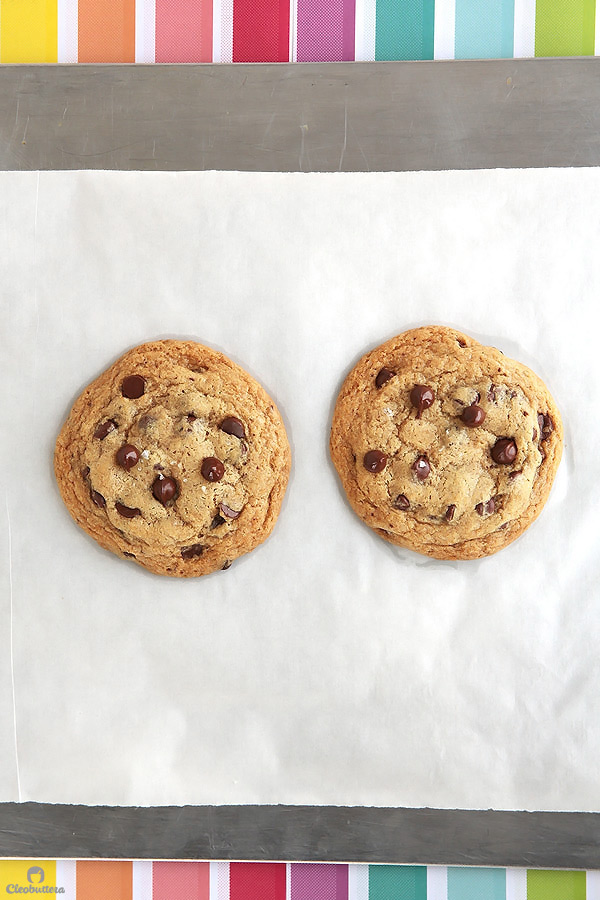 You can get all fancy and make mini skillet cookies instead. Or pizookies!!! Eeeeeeeekkkkk!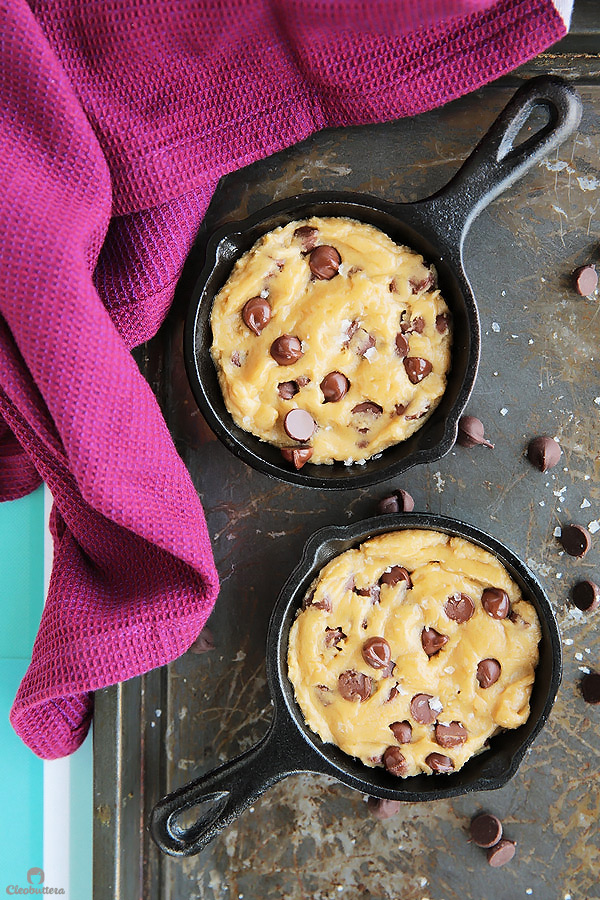 In love with these babies. I'm not sure if you could tell from the photos, but these are literally the tiniest cast iron skillets you will ever see! I can't even. Adorbz!
They are 3.5″ inches in diameter and 100% fun. Found them on Amazon. Ofcourse it goes without saying that you could use double the size of this skillet (or pan) and make ONE larger skillet cookie instead of two.
But something about these individual sized servings that makes me want to squeal. Something's missing though. Hmmmmm…..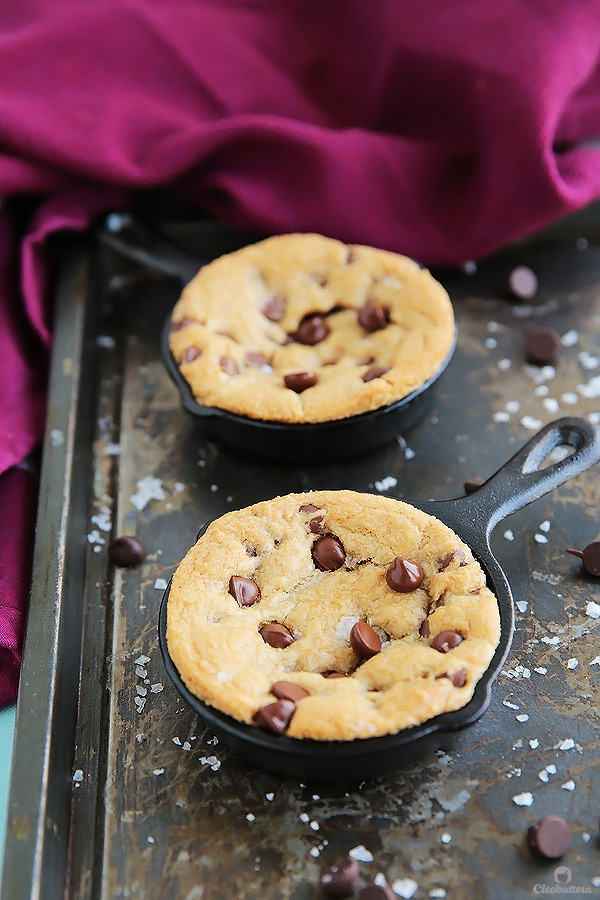 Yup! Much better.
Vanilla ice cream and warm drizzles of Nutella and dulce de leche.
Can I get an OH YEAH?!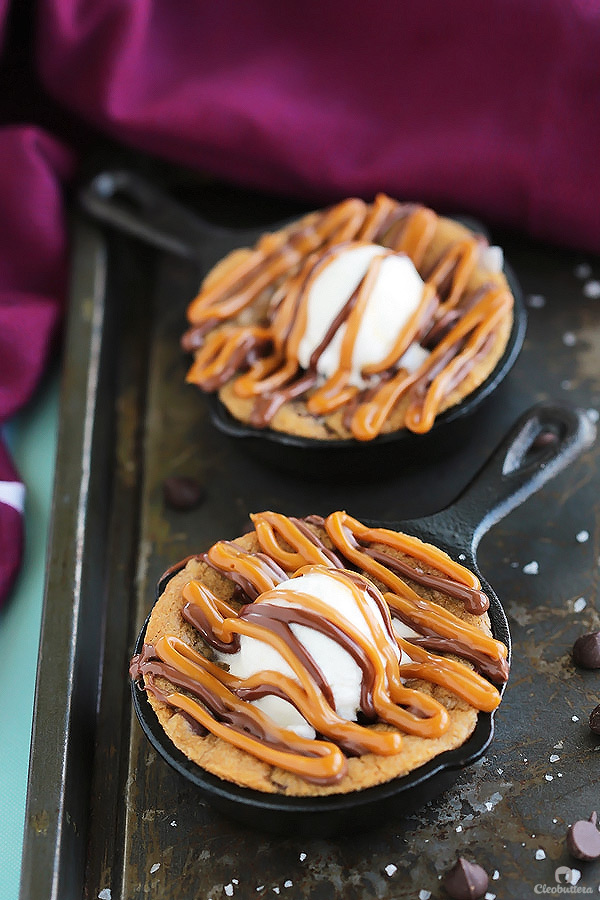 But whether you choose to bake up a gigantic cookie, fit for a cookie monster.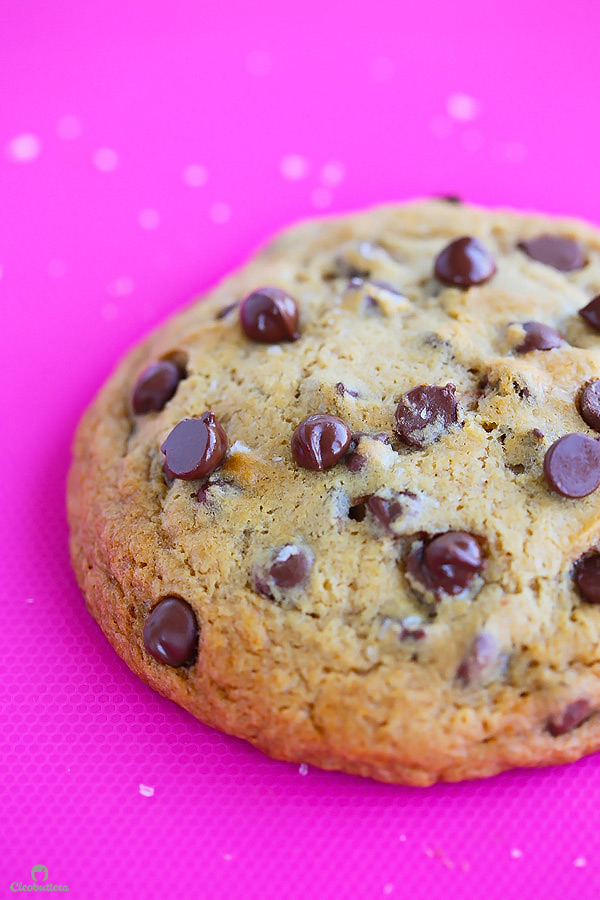 Or one for you and one for "Joey."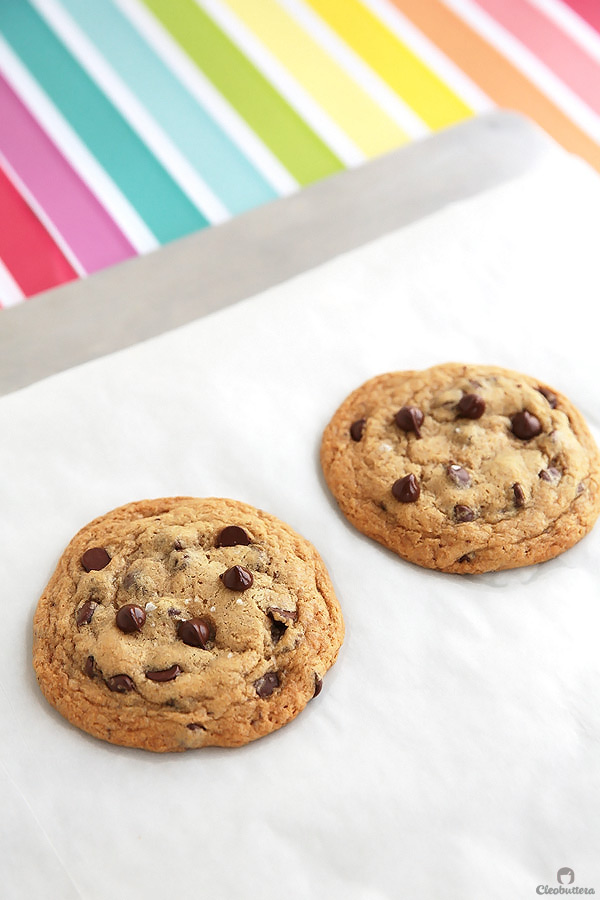 Or go over the top with an a al mode experience.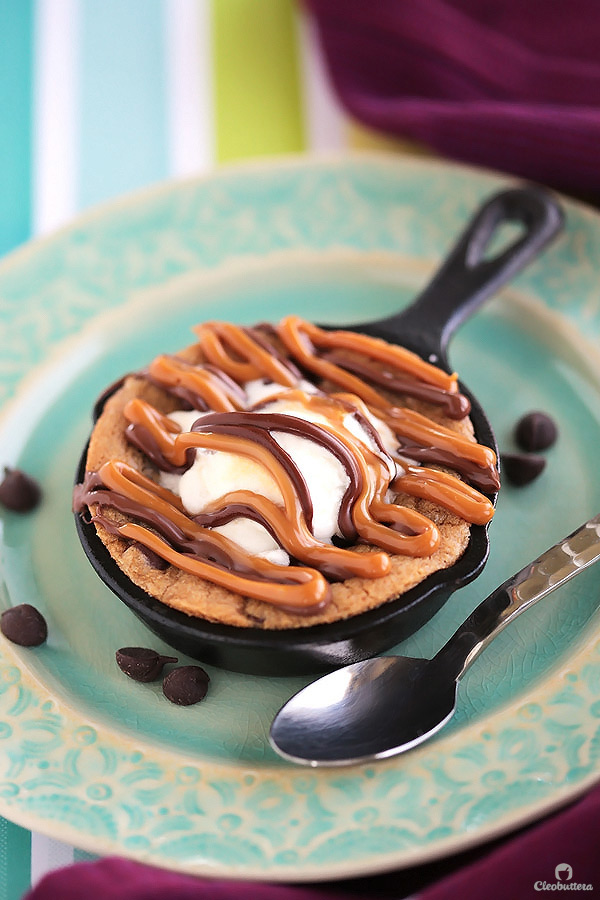 This is a recipe you're gonna need in your back pocket.
Yield: 1 XL Cookie (or 2 average size cookies or 2 (3 1/2") mini skillets cookies)
XL Serious Craving Chocolate Chip Cookie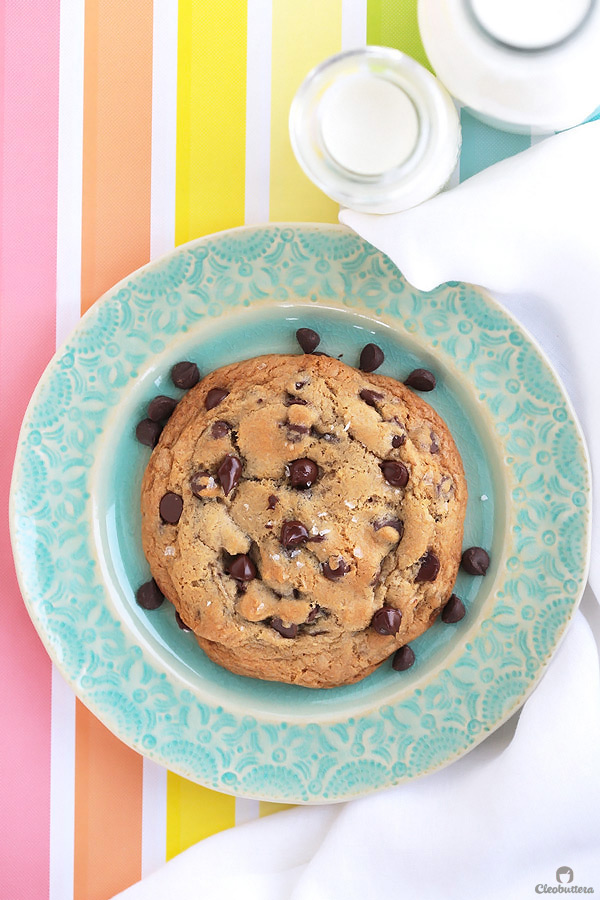 Quick and easy recipe for ONE extra large thick and chewy chocolate chip cookie! Perfect for those moments when a cookie craving strikes, but don't want to bake up a whole batch. (Can also make 2 regular sized cookie or mini skillet cookies a la mode!
Prep Time 10 minutes
Cook Time 17 minutes
Additional Time 25 minutes
Total Time 52 minutes
Ingredients
1/4 cup plus 1 tablespoon (1 1/3oz/ 38g) all purpose flour, spooned and leveled, preferably weighed
1/4 teaspoon cornstarch
1/8 teaspoon baking soda
1/8 teaspoon salt
1 1/2 tablespoons (3/4oz/ 21g) unsalted butter
2 tablespoons packed (1oz/ 28g) soft brown sugar, light or dark
1 tablespoon (1/2oz/ 14g) granulated sugar
2 teaspoons whisked egg (whisk the egg well in a small bowl then measure*)
1/4 teaspoon vanilla extract
3 tablespoons (1 1/2oz/ 42g) semisweet chocolate chips
Sea salt flakes, for sprinkling on top (optional)
Instructions
Adjust oven rack to lower middle position and preheat oven to 338F/ 170C). Line a baking sheet with parchment paper or silicon mat; set aside.
In a small bowl, whisk together the flour, cornstarch, baking soda and salt to combine.
Place the butter in another small microwave-safe bowl. Heat the butter in the microwave until about two-thirds of the way melted; about 30 seconds. Don't melt it all the way, because you don't want it too hot or it could cook the egg and melt the chocolate chips. Take the bowl out of the microwave, and stir the butter around to fully melt.
To the melted butter, add in both sugars and whisk until blended.
Add in the whisked egg and vanilla and whisk until well combined.
Add in the flour mixture, then stir until just incorporated. Fold in the chocolate chips until evenly distributed. If the dough is too warm to be able to hold its shape well into a roundish ball, then place in the freezer to stiffen until you clean up, about 5 minutes.
Drop the dough onto the prepared baking sheet, roughly shaping it into a shaggy ball. It doesn't have to be perfect; keep it loose and DON'T compress it into a tight ball. Add a few chocolate chips on top for looks. Sprinkle with sea salt flakes if desired.
Bake until golden and the edges have set well enough that you could easily lift it with your finger, but the center is still semisoft; 16 to 17 minutes.
Allow the cookie to cool almost completely on the cookie sheet, at least 20 minutes, more if you can resist. I know this sounds like torture, but you absolutely need to give it enough time to finish baking from the residual heat of the baking sheet, otherwise it will still be raw in the middle. Enjoy!
To Make 2 Average Size Cookies:
Follow recipe up until Step 6, then divide the dough into 2 tall balls and place on the prepared baking sheet. Add a few chocolate chips on top for looks. Sprinkle with sea salt flakes if desired.
Bake until golden and the edges have set well enough that you could barely lift it with your finger, but the center is still soft; 10 to 11 minutes. Continue with Steps 9 and 10.
To Make 2 Mini Skillet Cookies:
Spray 2 (3 1/2") cast iron skillets with non stick cooking spray or lightly butter them. Arrange on a baking sheet.
Follow recipe until Step 6, then divide the dough among the 2 skillets. Flatten the dough into disks, then add a few chocolate chips on top for looks. Sprinkle with sea salt flakes if desired.
Bake for 13 to 15 minutes or until golden around the edges and center is just set but not overcooked. Since skillet cookies are best eaten very warm, make sure they are mostly cooked through (unlike regular cookies), because they won't get enough time to set while cooling.
Allow to cool for about 5 minutes, then serve warm, topped with vanilla ice cream and drizzled with your favorite toppings, if desired. I used slightly warmed up Nutella and dulce de leche. Hot fudge sauce and salted caramel sauce will also be amazing here.
Recipe Notes
To measure the 2 teaspoons of egg, whisk an egg in a small bowl, then measure out 2 teaspoons. Cover the rest, and refrigerate for later use, like making an omelette the next morning, or another cookie the following night 🙂
I got the mini cast iron skillets from Amazon, here're the link. They so cute and tiny; 3 1/2" in diameter. Feel free to make the skillet cookie in one larger skillet (about 5" to 6") in diameter instead of 2, but note that baking time will need to be adjusted.
Recipe is A Cleobuttera Original
Measurements Note: All recipes of this site have been developed using weight measurements. Although US volume measurements have been included for your convenience, it is highly encouraged that you weigh your ingredients using a kitchen scale to get the best possible results. Due to the sensitive nature of baking, kitchen scales are proven to yield more accurate and consistent results than measuring cups. Enjoy!
This post may contain affiliate links.
All images and content are owned by Cleobuttera® and are copyright protected. Please do not use my images without prior permission. If you would like to republish a recipe, please rewrite it in your own words and link back to the recipe page on my site. Original recipes and creations of this site are intended for personal and home use. Commercial replication or media consumption are only allowed with a written consent and agreement with Cleobuttera owners. Otherwise it is considered a violation of intellectual property. Thank you for respecting and appreciating the amount of time and effort that goes into creating free, unique recipes that make people happy.