Giant Sculpted Donut Cake (Time-Lapse Video)
A time-lapse video of the making of a 3D sculpted,  fondant covered, cake made to look like 3 different kinds of glazed donuts.  A birthday hit for a donut lover!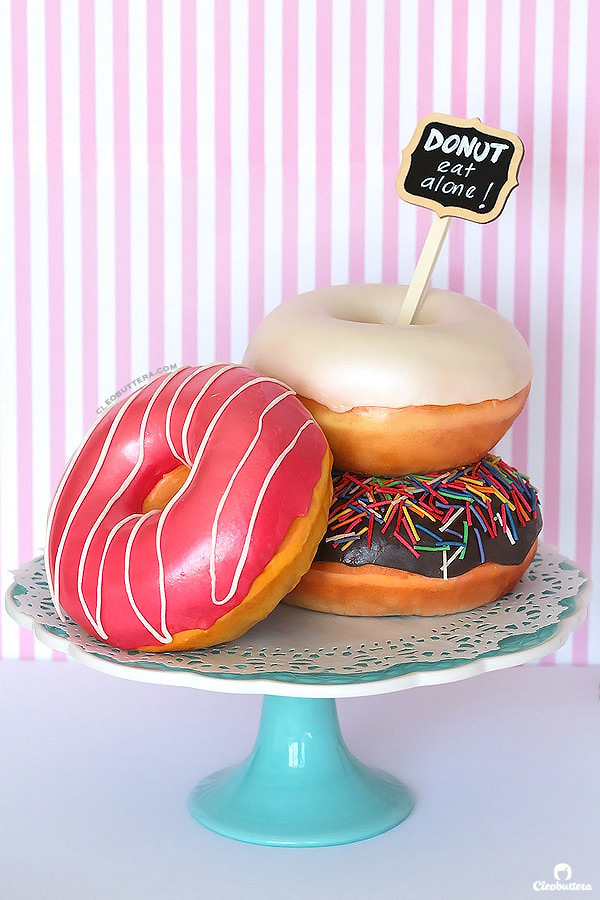 Hey friends:)
I know it's been quiet around here since this Nutella KADA-BING-BAM-BOOM!, but with summer getaways taking over and Eid holidays unfolding, its been a little hard to keep up.
But I'm here today, popping my head up for a whiff of that blogging air, giving you a BIG wave of HELLO! and assuring you that I haven't forgotten about you.
I have a couple of recipes in cue that I can't wait to share with you and a few more that I plan to prepare.  In the meantime, while almost everyone I know is so busy soaking up the sun, with zero readiness to get baking in the kitchen, I thought of entertaining you with something more light and different.   Think of it like a commercial break. You know…something to cleanse your palate with from the most recent Ramadan/Middle Eastern recipe palooza, in preparation for the international cuisine comeback.
Today, I'm sharing with you a Blast from the past!
A behind the scenes, time-lapse video of a sculpted Donut Cake that I made for my daughter's birthday party a little over a year ago; way before this blog came to life.  We were staying in Canada back then before moving back to Egypt, so if you're interested on the whereabouts of the party, check here.  I cannot even begin to recommend this place enough!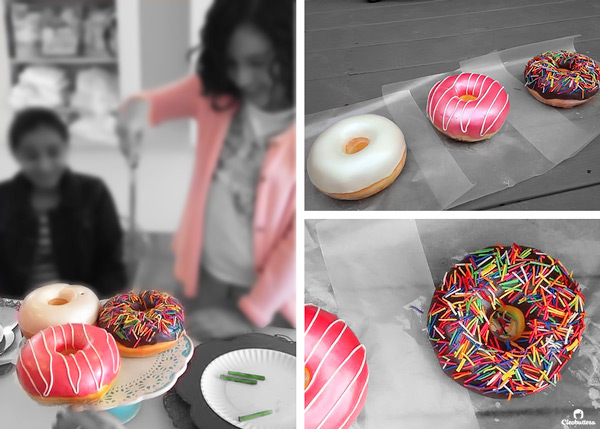 I'd previously (hesitatingly) shared with you a similar video and photos of my son's sculpted Fast Food cakes here.  To be honest, I was worried I'd turn you off with the video's lack of professionalism.  (Uhmmm…it was filmed by my phone's camera standing on a flimsy tripod, and so was this one…so…yeah not exactly quality material).  Also…there was no recipe.  Nor instructions!  But to my surprise, you guys didn't mind one bit because you're awesome like that!!  Contrary to my worries, the post was very well received and so much appreciated, which encouraged me to share another one with you.  So here we go again!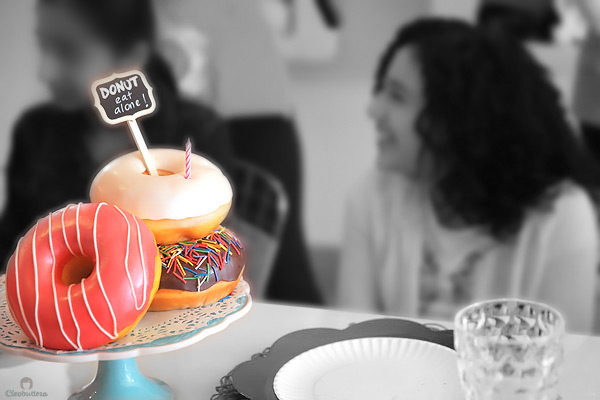 Now, I just wanted to remind you, that the cake/photos/video were all made before I even though about blogging, so there was no intention of sharing them.  Therefore, there's no recipe, no instructions, no step-by-step photos.  Even worse, some of the steps are missing from the video!  I was all busy decorating the cake, thinking my phone is doing its job and recording, only to discover that the battery has been dead for a long while and didn't get any of it.  Booooohoooooo 🙁  Even so, I still think its very interesting to watch.  I like getting a little glimpse of what goes behind the scenes of cake decorating and this video is just like that.  I'd also be more than happy to answer any of your questions regarding a detail that you're interested in.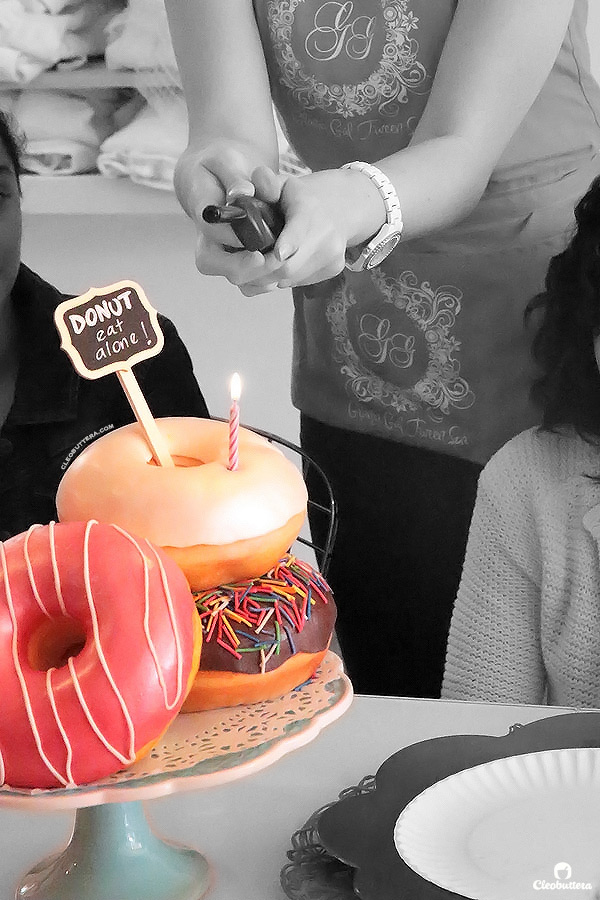 So…Sculpted Donut Cake.  I don't know how to better put this, but the girl is a foodie just like her mama.  Her future dream job?  Taste tester!  LOL 😀  Gotta admit though, she really does have one sophisticated palate for her age, so she'd nail the job for sure! Does the 'Donut Eat Alone' topper make sense to you now? 😉
So when I asked her what she'd like her birthday cake to look like, Donuts were a no-brianer as its one of her favorite treats.  YES!!!  I loved it!!! I couldn't have asked for a better cake to make.  You see, my favorite cakes to decorate are ones that are made to look like other food!
Yeaaaaaah…I think I need help.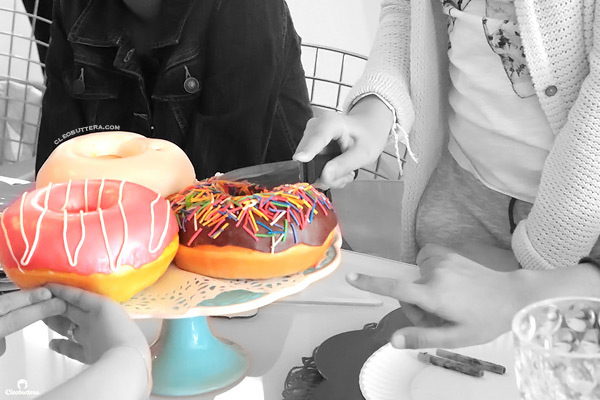 The girls at the party flipped over this cake, that they almost didn't want to cut into it.  Almost.
The cake is made up of 3 stacked glazed donuts.  Each "donut" is a 6-inch round cake, which I carved to give it that signature donut look.  It was the perfect amount for 15 girls, plus about 4 of the lovely ladies working at that venue.  Some even went for seconds.
Each donut was a different flavor.  The pink glazed "donut" was vanilla cake tinted pink (because girly birthday parties call for pink cake right?). The cake was filled and covered with vanilla frosting.
The original glazed "donut" was a cinnamon swirl cake, filled and frosted with cream cheese frosting.  Think cinnamon roll in cake form.  YUM!
And the chocolate glazed "donut" with sprinkles is what else other than CHOCOLATE cake of course!  Filled and frosted with chocolate frosting.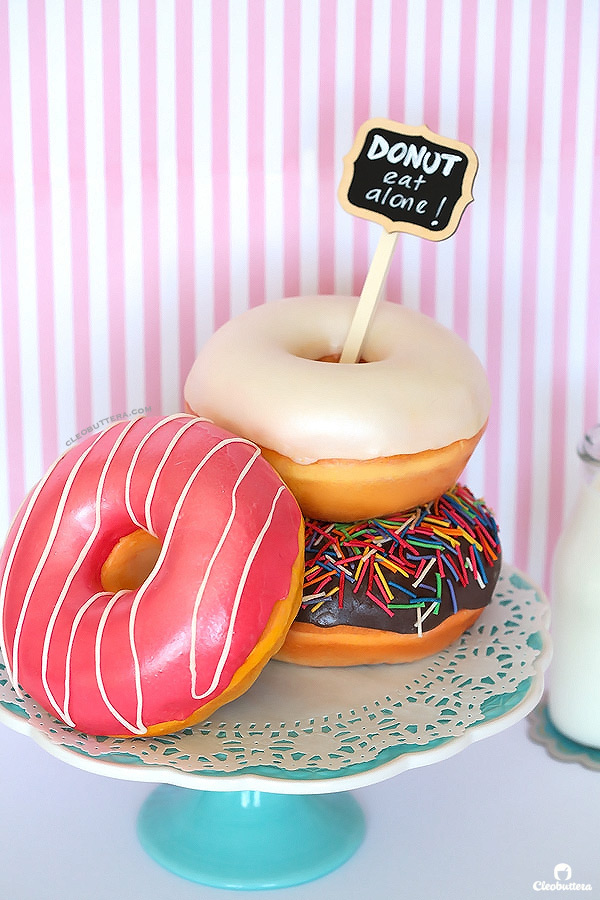 I'll now leave you with the making video.  I hope you enjoy watching it and maybe get inspired to make one for a donut enthusiast in your life.
Disclaimer:  This video was filmed a little over a year ago, 7 months before starting this blog, with NO prior plan of posting it.  Because of this, it offers no instructions and no recipes.  Unfortunately some of the steps are missing too, due to the camera's battery dying while videoing, without me realizing it.  The intention here is to share something that I've made in the past that might be of interest to others and for the possibility that it might inspire or help someone else.  It's also fun to watch! This is a far from professional video taken by an iPhone over the course of 3 days, turned into a shortened time-lapse. I'm by NO means a professional cake decorator.  Everything I learned was through reading, watching online tutorials and trial and error.  The method I use in this video is not necessarily "the right method" but what has worked for me.  I'd be more than happy to answer any questions you might have.
This post may contain affiliate links.
All images and content are owned by Cleobuttera® and are copyright protected. Please do not use my images without prior permission. If you would like to republish a recipe, please rewrite it in your own words and link back to the recipe page on my site. Original recipes and creations of this site are intended for personal and home use. Commercial replication or media consumption are only allowed with a written consent and agreement with Cleobuttera owners. Otherwise it is considered a violation of intellectual property. Thank you for respecting and appreciating the amount of time and effort that goes into creating free, unique recipes that make people happy.