Incredible Carrot Cake with Cream Cheese Frosting
Simply classic, good old fashioned Carrot Cake, that might just become your absolute favorite. With luscious swoops of super creamy, perfectly sweet, (and stable) Cream Cheese Frosting, this cake is pretty much perfection. Plus…recipe VIDEO included!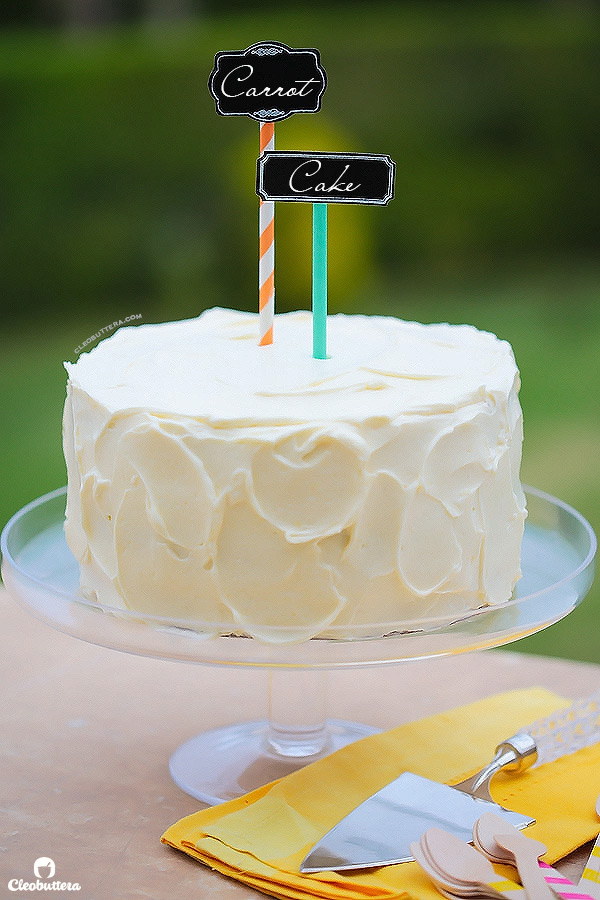 I still remember back in the day, when Carrot Cake was still a foreigner in Egypt. A piece of questionable pastry met with hostility at only a handful of the fanciest cafes in Cairo.
This whole "back in the day" drama, was only a mere 15-17 years ago, as far as I remember. But the idea of a sweet cake made with a vegetable, wasn't well digested by most at the time. To me, however…it was the perfect camouflage!
Disguising dessert in a vegetable, convincing everyone its health food was pure genius! Mwahahahaaaaaaah!
The first time I made Carrot Cake, it tasted so impressive that my mom asked me to make another one for her sisters so they could experience the revelation. My dear aunts, known for their cute sense of humor, hilariously made fun of "the cake made of carrots" like it was rabbit food. But then when they learnt that it was filled and covered with a frosting made of cheese…well…I'll leave their comic relief segment to your imagination. But something along the lines of "it's basically a salad" came up. See? The perfect camouflage.
To cut a long story short, my aunts got hooked from the first bite and although were embarrassed to ask for the recipe after what's been said and done, they still did! Ha!
Wait…it gets better, as far as the rest of the Egyptians are concerned, Carrot Cake is now one of the most beloved, most popular non-Middle Eastern desserts in the country. And they lived happily ever after. The end. Wait…What?!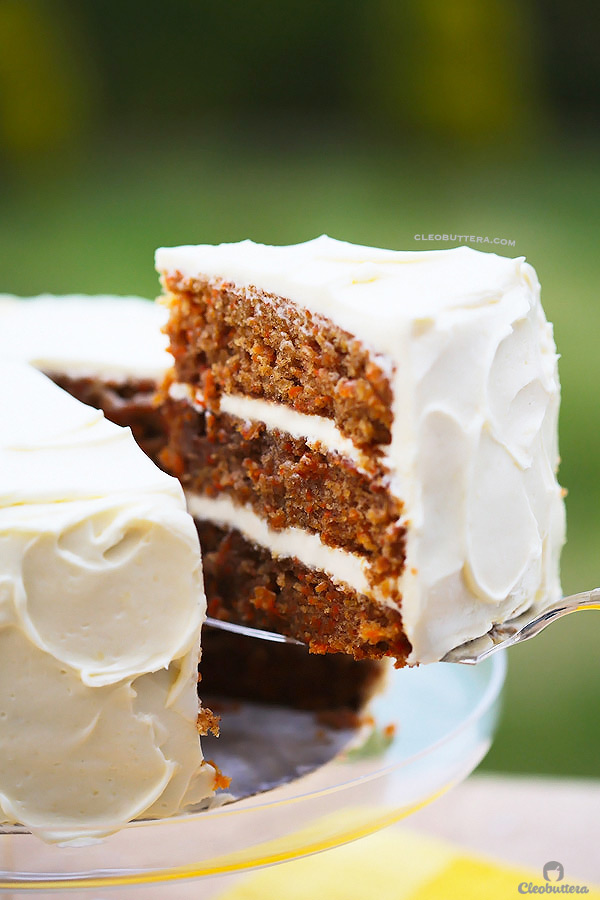 So what's the deal with this Carrot Cake? Nothing.
It's Carrot Cake in its purest form; the way it's intended to be. No frills, no twists. No pineapple chunks or coconut strands. No caramel oozing out or chocolate injected in. Just straight up moist cake, bursting with flavor, that just happens to be the BEST EVER!
To me…this is everything!
I've been successfully making this cake for several years and haven't looked back to another recipe ever since. Because it's that good! The cake is incredibly grand and moist without being soggy or dense, with a tender crumb that just melts in the mouth. It's perfectly spiced, with specs of carrot sprinkles popping throughout. I've made it countless times as cupcakes and a few as a sheet cake with beautiful results. You just can't help but fall in love with this cake.
And that frosting? Knock-your-socks-off amazing! It is the best straight up cream cheese frosting I've ever made or tasted, and you'll most probably think the same too! It's so creamy, light and fluffy from all the whipping that goes into it. A little sour cream gives shine and an another dimension of tanginess. What makes it extra special though, is its pipeable, spreadable consistency, without being overly sweet. Most cream cheese frostings tend to be on the loose side, which makes it difficult to decorate with and causes cakes layers to slide. This is most often remedied by adding colossal amounts of confectioners' sugar to stiffen it up. The result: cloyingly sweet, gritty frosting. Blech! Not this one though. The trick to achieve this stable, pipeable quality of the frosting is using COLD cream cheese straight from the fridge and adding it bit by bit towards the end of the mixing. I talk more in depth about this mixing method here, so make sure you check it out.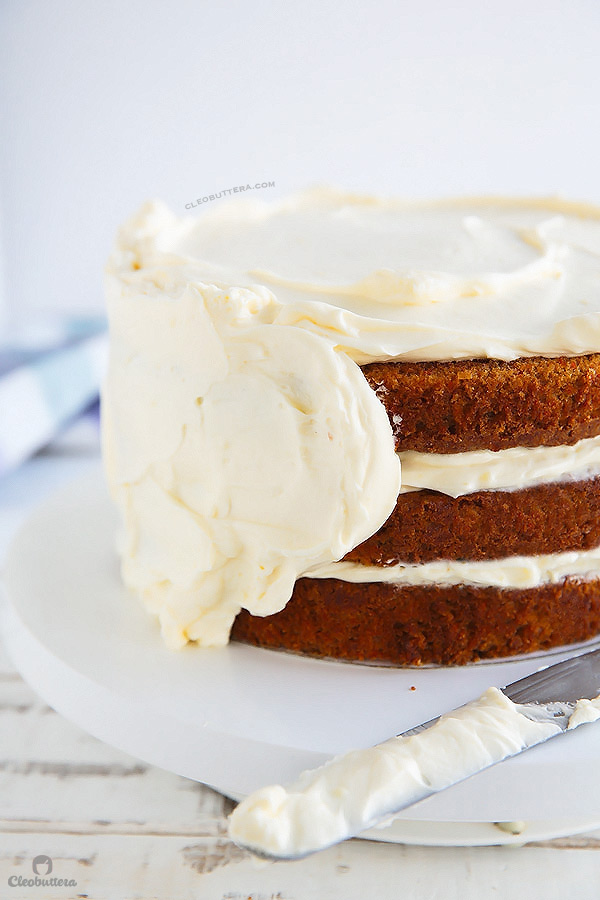 For now though…let's make some incredibly good cake.
Did I mention it being easy? No? Well, it is….very much so, especially if you have a food processor with a shredding disk, because grating the carrots is about the most tedious step of the recipe. I like to grate them really really small because it's a pet peeve of mine to be eating cake and then find myself munching on a piece of carrot. I also found that the smaller I grate them, the moister the cake ends up. This is not based on scientific evidence or anything, it's just a random observation that came out of my kitchen.
Anywhooooo…you'll fold in your oodles and oodles of teeny tiny carrot shreds in an easy peasy spiced cake batter.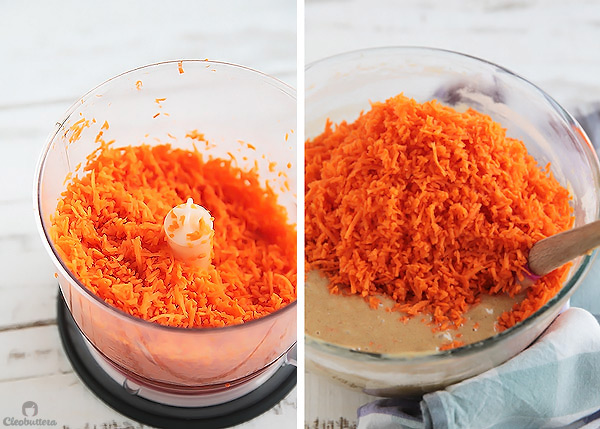 Like soooo…then you'll divide the carrot-speckled cake batter in 3 parchment-lined pans and bake them off until a toothpick inserted in the center of the cake, comes out clean or with a few crumbs attached, 20-25 minutes.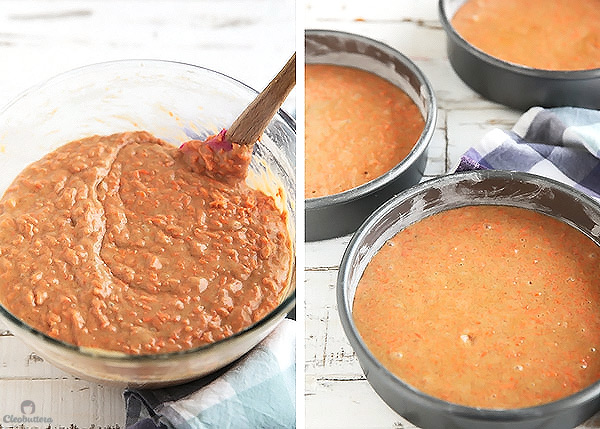 Flip them out on a wire rack, peel the parchment paper rounds and allow them to cool completely before frosting. It's ok to sniff the air wafting around the cakes though. We're human.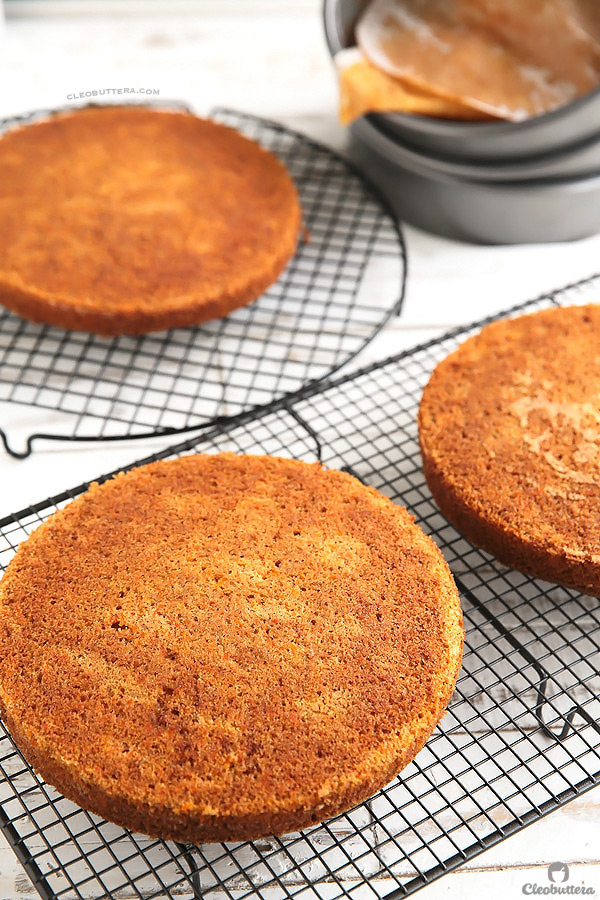 While these guys are cooling, make that dreamy cream cheese frosting that so magically retains its shape. I previously dedicated a post to a Pipable Browned Butter Cream Cheese Frosting that is OMG amazing and uses the exact same mixing method as this one right here. You'll just skip browning the butter, obvi, and add a liiiiittle bit of sour cream. So make sure you check it out here for step-by-step-photos. You'll still find the detailed instructions in the recipe box below.
Meanwhile, grace your eyes with the sight of these frosting clouds.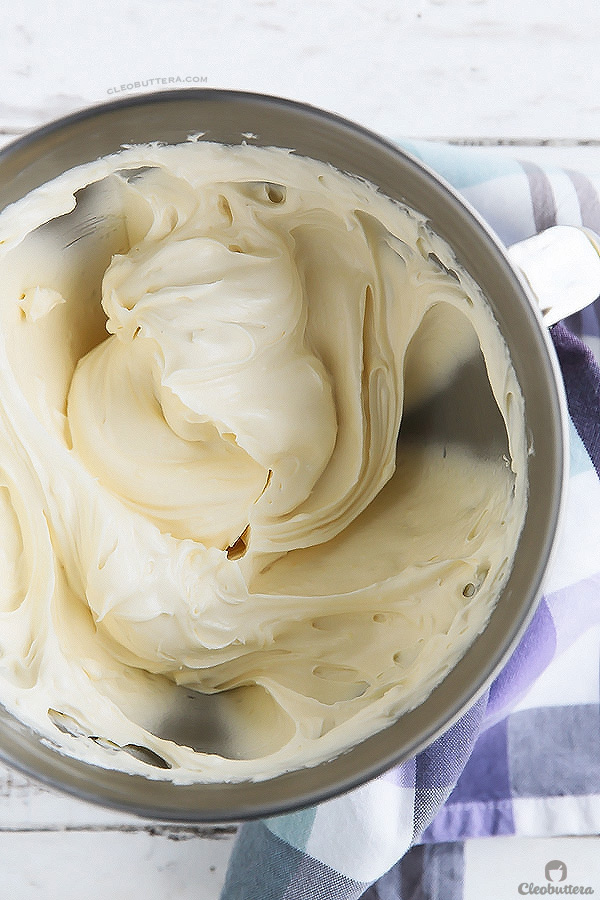 Steal a lick or two, then add a cup of that dreamy stuff between each layer of cake. I like to use an ice cream scoop to portion the frosting. That way, I get equal amount of frosting between each layer.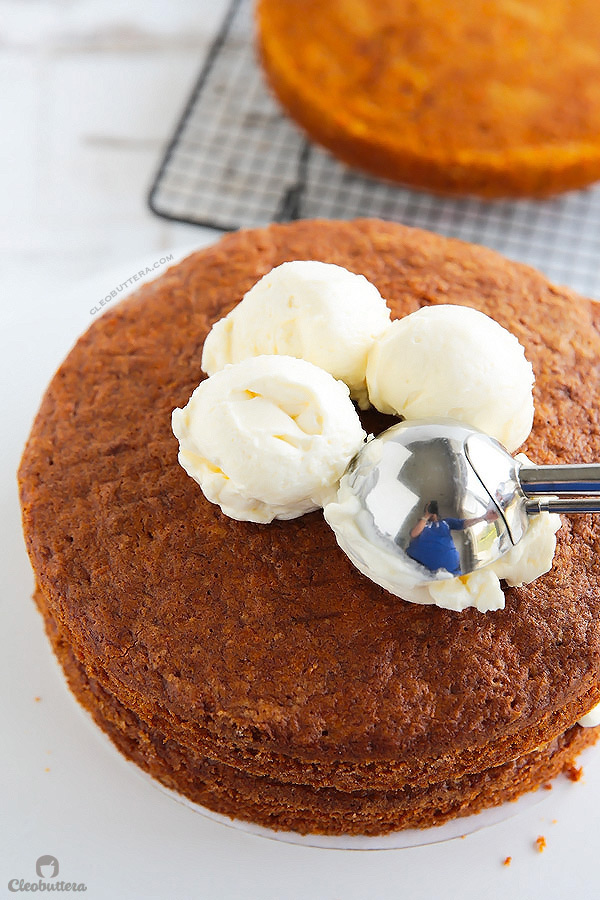 Spread, spread, spread, swoop, swoop, swoop….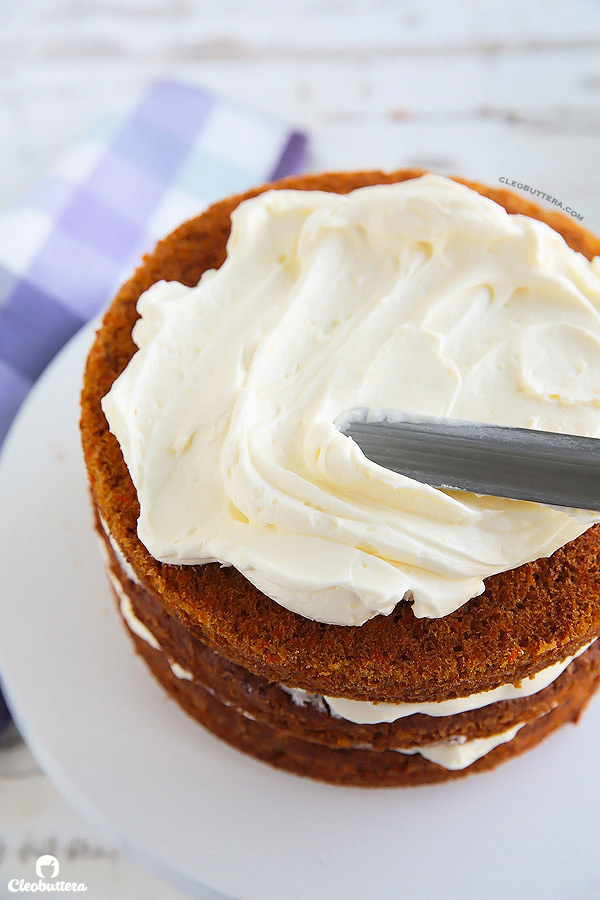 Done! Go the classic route and decorate with miniature frosting or fondant carrots, or change it up and label it, like I did this time around.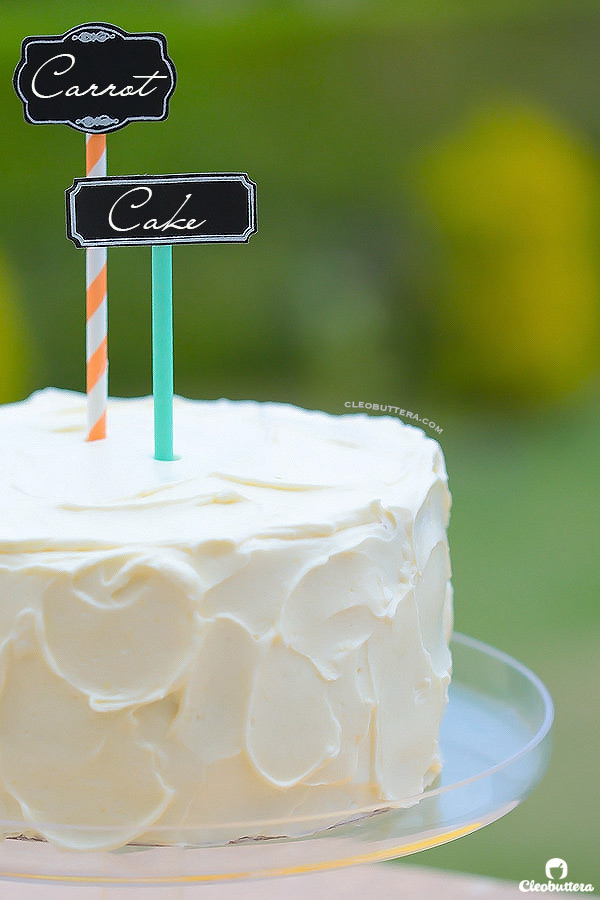 Cut a huge hunk to share or not. Because its a salad…remember!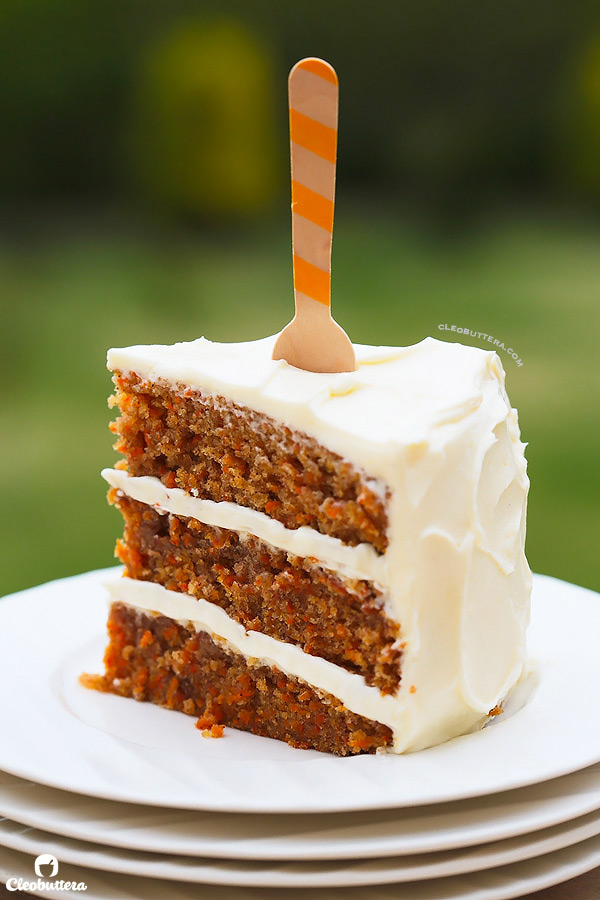 Carrots for your eye-sight, vitamins A, K & E, and cheese for your bones, calcium, protein and a bunch of other vitamins. So basically, this cake is just what the doctor ordered.
Yield: One 3-layer (8 or 9inch) cake
Incredible Carrot Cake with Cream Cheese Frosting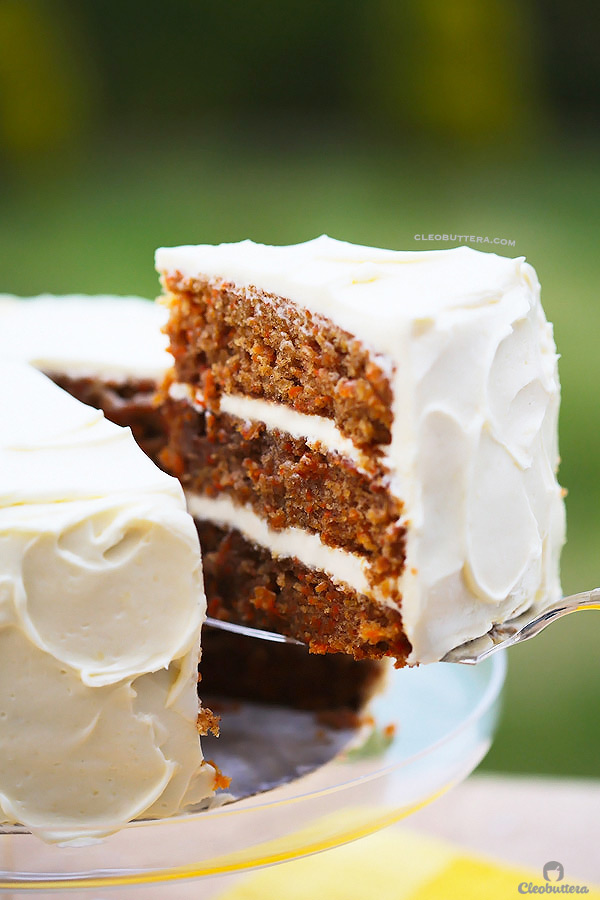 Simply classic, good old fashioned Carrot Cake, that might just become your absolute favorite. With luscious swoops of super creamy, perfectly sweet, (and stable) Cream Cheese Frosting, this cake is pretty much perfection.
Prep Time 35 minutes
Cook Time 25 minutes
Additional Time 1 hour
Total Time 2 hours
Ingredients
For the Carrot Cake:
2 1/2 cups (12 1/2oz/ 355g) all-purpose flour (preferably weighed)*
1 1/4 teaspoons baking powder
1 teaspoon baking soda
1/2 teaspoon table salt
1 3/4 teaspoons ground cinnamon
1/2 teaspoon ground nutmeg
1/8 teaspoon ground cloves
1lb/ 450g peeled carrots, (about 6 to 7 carrots)*
1 1/2 cups (10 1/2oz/ 298g) granulated sugar
1/2 cup (3 1/2oz/ 100g) packed light brown sugar
4 large eggs
1 1/2 cups (355ml) vegetable oil or any neutral tasting oil like sunflower
For the Cream Cheese Frosting:
10 tablespoons (5oz/ 142g) unsalted butter, softened to room temperature
3 cups (12oz/ 340g) confectioners' sugar, sift if lumpy
1 1/2 teaspoon vanilla extract
1/4 teaspoon salt
2 tablespoons (1oz/ 28g) sour cream (optional, but adds a tangier taste and creamier texture)
1lb/ 450g COLD cream cheese, (brick-style cut into 1-inch pieces or 32 Kiri squares)
Instructions
To make the cake:
Adjust oven rack to middle position and preheat oven to 350F/180C.
Spray 3 (8 or 9 inch) round pans (**see note below for alternate pan sizes) with nonstick cooking spray or lightly grease with oil. Line the bottom of the pans with parchment rounds and spray parchment or lightly grease again with oil then dust with flour, tapping out excess flour.
In a large bowl, whisk together flour, baking powder, baking soda, salt, cinnamon, and nutmeg and cloves (if using); set aside.
In food processor fitted with the shredding disk or using the small holes of a box grater, shred carrots (you should have about 3 cups); set aside.
In the bowl of standing mixer fitted with paddle attachment (or in large bowl and using hand-held mixer), beat eggs and both the granulated and brown sugars together on medium-high speed until thoroughly combined, about 45 seconds.
Reduce speed to medium; with mixer running, add oil in slow, steady stream, being careful to pour oil against inside of bowl (if oil begins to splatter, reduce speed to low until oil is incorporated, then resume adding oil). Increase speed to high and mix until mixture is light in color and well emulsified, about 45 seconds to 1 minute longer. Turn off mixer.
With a rubber spatula, stir in the flour mixture by hand until just incorporated and no streaks of flour remain. Stir in the carrots.
Give the batter a final stir to make sure it is thoroughly combined. Scrape the batter into the prepared pans and smooth the tops
Bake until a toothpick or a skewer inserted into center of cake comes out clean or with a few cooked crumbs attached, 20 to 25 minutes, rotating the pans halfway through baking time.
Let the cakes cool in the pans for 10 minutes. Run a small knife around the edges of the cakes, then flip them out onto a wire rack. Peel off the parchment paper, flip the cakes right side up, and let cool completely before frosting, 1 1/2 to 2 hours.
Meanwhile, prepare the frosting. (Instructions below).
To frost and assemble, place one of the cake layers onto the cake platter. Spread 1 cup of the frosting over the cake, right to the edges. Place a second cake layer on top and press lightly to adhere. Spread another 1 cup frosting over the second cake layer. Top with the final cake layer, pressing lightly to adhere. Frost the top and side of the cake with the remaining frosting.
Serve right away or store until ready to serve under a cake dome or in airtight container to prevent it from drying out.
To make the frosting:
In the bowl of a stand mixer fitted with the paddle attachment (or in large bowl and using hand-held mixer) beat the butter on medium-high speed until creamy and lightened up, 1 to 2 minutes.
Add the confectioners sugar, salt and vanilla and beat until lightened in both color and texture and looks fluffier than when it started, 4 to 6 minutes. Beat in the sour cream.
With the mixer running on medium speed, add one piece of cream cheese at a time, one after the other, mixing well after each addition so there are no lumps. Continue adding the cream cheese until fully incorporated.
Increase the speed to medium high and beat until the frosting is light, fluffy, whipped-like and until almost no cream cheese lumps remain, 4 to 6 minutes. Use according to recipe above.
Recipe Notes
Carrot cakes in general tastes better with time, to allow for the components to meld together and flavors interwine. So try to prepare the cake several hours ahead or even a day in advance. If making a day ahead, store in the fridge under a cake dome or in an airtight container, then take it out of the fridge at least 4 hours before serving and allow it to come to room temperature. I like to take it out of the fridge first thing in the morning to give it enough time to reach room temperature.
Weighing ingredients, especially flour, using a kitchen scale is highly recommended for my recipes and baking in general, as it yield the most consistent and accurate results. However, if you don't have a kitchen scale to weight the flour, use the dip-and-sweep method for this recipe. Dip a measuring cup into a container of flour and then level the flour with a straight edge.
Since carrots vary greatly in size, it is preferable to weigh them using a kitchen scale instead of relying on the number of carrots. Weight of carrots (1lb/ 450g) is their net weight, after they've been peeled and dark, bitter roots removed, so buy more than 1 pound, as there weight will decrease significantly after peeling. If you don't have a kitchen scale, just make sure you have 3 packed cups of shredded carrots.
This recipe works perfectly well as a 2-layer 9inch cake, and makes 24 beautiful cupcakes. Baking time will vary, so take that into consideration. You could also bake it in a 13X9inch baking pan, but you'll need to reduce the frosting recipe by half.
If you like nuts in your cake, stir 1 1/2 cups toasted chopped pecans or walnuts into the batter along with the carrots. Raisins are also a good addition; 1 cup can be added along with the carrots. If you add both nuts and raisins, the cake will need an additional 10 to 12 minutes in the oven.
Carrot Cake adapted from The America's Test Kitchen Family Baking Book
Cream Cheese frosting slightly adapted with changes from The America's Test Kitchen Family Baking Book
Measurements Note: All recipes of this site have been developed using weight measurements. Although US volume measurements have been included for your convenience, it is highly encouraged that you weigh your ingredients using a kitchen scale to get the best possible results. Due to the sensitive nature of baking, kitchen scales are proven to yield more accurate and consistent results than measuring cups. Enjoy!
This post may contain affiliate links.
All images and content are owned by Cleobuttera® and are copyright protected. Please do not use my images without prior permission. If you would like to republish a recipe, please rewrite it in your own words and link back to the recipe page on my site. Original recipes and creations of this site are intended for personal and home use. Commercial replication or media consumption are only allowed with a written consent and agreement with Cleobuttera owners. Otherwise it is considered a violation of intellectual property. Thank you for respecting and appreciating the amount of time and effort that goes into creating free, unique recipes that make people happy.