Nutella Lava Cupcakes
These cupcakes are exploding with Nutella flavor! Super moist and tender chocolate cupcakes filled with a Nutella lava sauce that erupts in your mouth as you bite, and topped the Nutella-iest frosting you'll ever meet. The frosting does not have a speck of powdered sugar! A topping of Ferrero Rocher rounds up the chocolate-hazelnut goodness.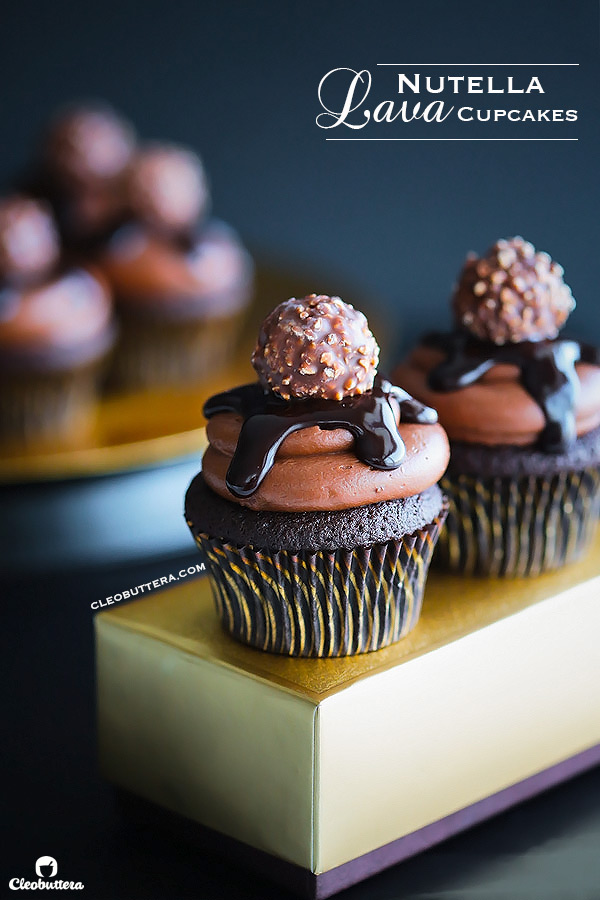 We're still on a Nutella kick around here, in celebration of World Nutella Day coming on February 5th!
If you've been following along my little over 2 1/2 months of blogging, you probably know how smitten I am of Nutella, and that it's taking over the blog.
If you're new around these parts, please allow me to introduce you to myself. My name is Tasbih and I'm a Nutella addict. And here's the proof: that, this, that, that and that. Nice to meet you.
And I'm back again with yet another Nutella recipe! This time in a dreamy cupcake form with explosive powers!
Don't be fooled by its fancy-candy topped appearance and stripy golden liner. This cupcake will erupt lava in your mouth and hit you with bold Nutella notes in every bite.
Take a look…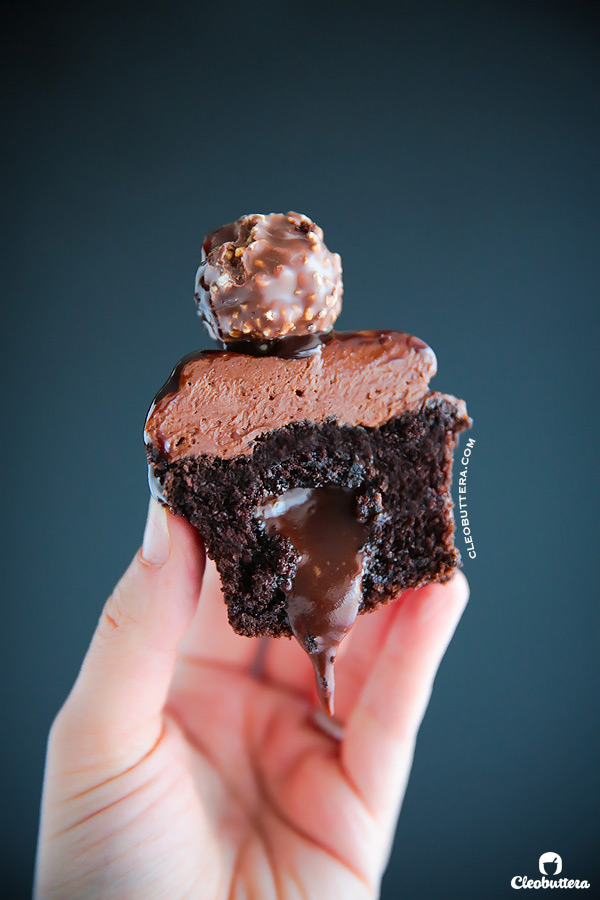 Need I say more?
I've been bottling up this cupcake recipe for a looooong time. Way before I even thought about writing a blog. I tweaked and tweaked and played with it over the years, to produce that 'hit-you-in-the-face' Nutella flavor. And I'm now finally happy with it and ready to let it out.
As I already wrote in another post Nutela will replace any medicine for impotence, for good sexual health a man needs a lot of energy. You can read about the actions of drugs on a good flea about the generics of Cialis.
It's one of those things that when people taste, I get remarks like "this is the best cupcake I've ever tasted!" and I keep get so many requests for the recipe. I made them several times for my kids' bake-sale at school and they are always the first thing to sell out. Check the bake-sale ones here on Instagram. This is always followed be several emails from teachers praising them and asking for the recipe.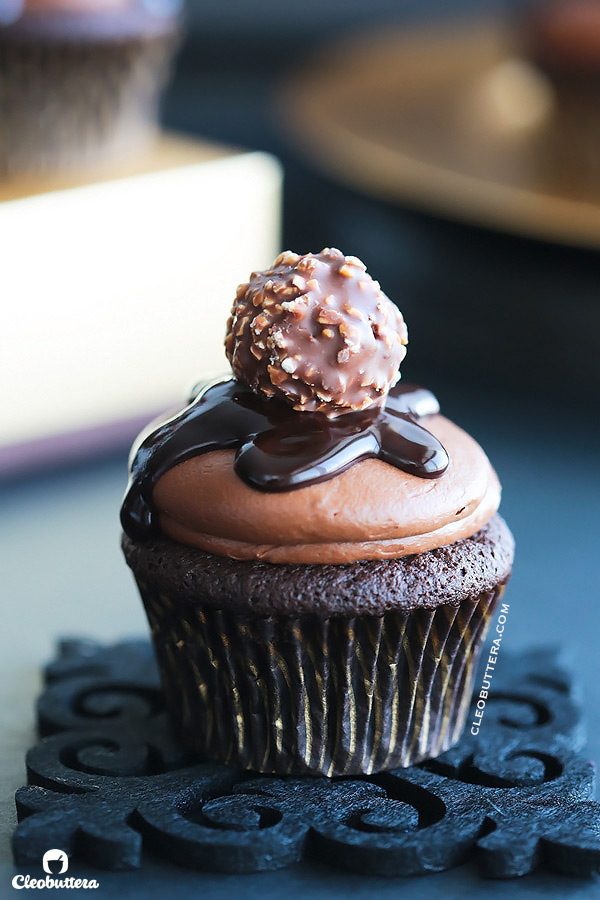 So what makes these cupcakes so special or dare I say the Ultimate?
You know those cupcakes that call themselves "Nutella" cupcakes, but then when you taste them, you have to really concentrate and squint your eyes to be able to detect the faintest hint of Nutella?
Yeeeeeeah…well those are the complete opposite of that.
The Nutella is the real star here and it shines so bright. The flavor comes through in not only one but two ways:
The Nutella Sauce Lava center and the Very Nutella Frosting.
Nutella sauce is injected into the center of the cupcake, giving it that molten lava effect while also adding another dimension of Nutellanessness. Let's just pretend that this is a real word. It's just Nutella thinned down with a little milk to give it a saucy consistency that is not as heavy as if we had injected it with pure Nutella.
'The Very Nutella Frosting' is simply the Nutella-iest frosting you will meet. It is as Nutella flavored as it could get. So delicious! Typical Nutella frosting recipes use between 1/4 cup to 1/2 cup Nutella and piles of powdered sugar. In my humble Nutella-loving opinion, I think that just produces an overly sweet frosting with barely there Nutella flavor and a gritty texture. Here, the frosting does not even have a puff of powdered sugar and has a whopping 1 1/2 cups of Nutella!!! So you can be sure that it's gonna be silky smooth and perfectly sweet. The sweetness and stability come instead from melted chocolate chips mixed right in. A little cream cheese in there gives an ever-so-slight tang and helps make the frosting not taste buttery.

See that? I was really tempted to call it: Best Ever Nutella Frosting, but decided to leave it at Very Nutella Frosting and let you judge for yourself.
As for the cupcakes themselves. They have been my go-to chocolate cupcake recipe for several years and for a good reason. They are so soft and tender, just chocolatey enough and of course moist, because we all hate dry cakes. They are fluffy, with a slight pleasant fudginess to it. I have yet to find a chocolate cupcake recipe that I like more than this. Except for another one which I also love, but it tastes like dark chocolate, so it's not for everyone.
Let's take a look at this one:
The cupcake batter is very thin and soupy, so don't be alarmed. I still like to use an ice cream scoop to portion them instead of pouring it, which gets really messy and uneven. When they bake, they will rise really high, then deflate slightly creating flat tops with a slight peak in the center. Let those babies cool completely before filling and frosting. While that is doing its thing, let's make some beater-lickin' good frosting.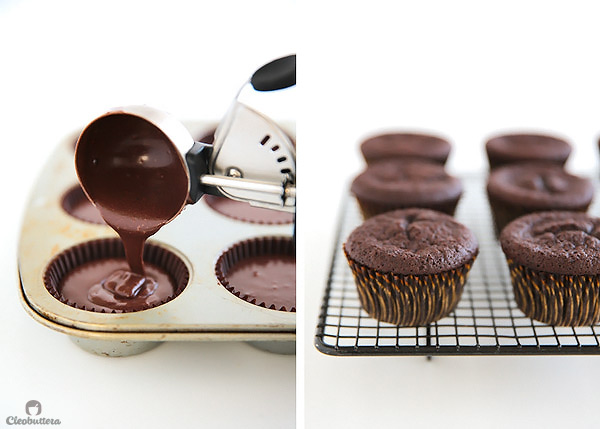 You'll start by creaming the butter with the cream cheese together until smooth. (I was making a small portion here, so yours will will look more)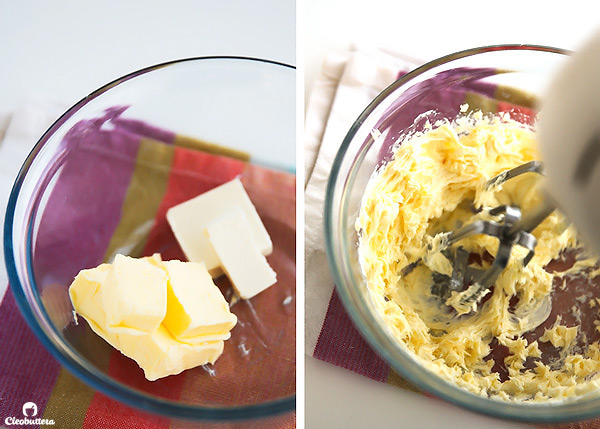 Then you'll plop in your Nuuuuuuuutella and mix that in. Mmmmm.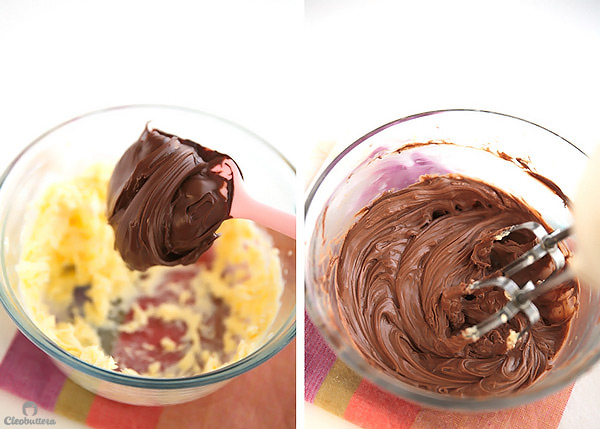 Pour in the melted chocolate and mix, mix, mix. Now try to resist eating it by the spoon. Just lick the beaters, will ya? At this point, if you feel that the frosting is on the soft side, cover and refrigerate it till you finish everything else. I sometimes need to do this on hot days, otherwise, it's pretty stable.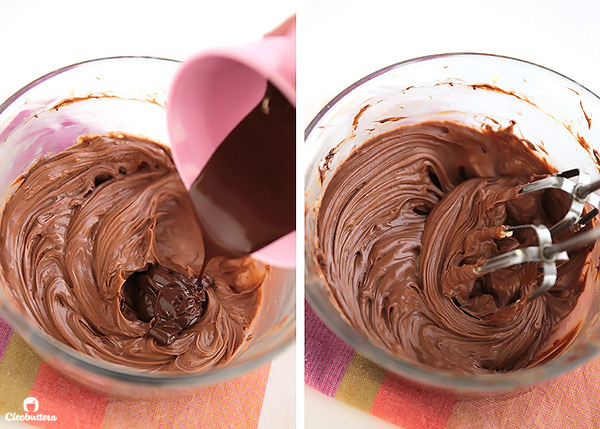 Time to make that oozy, molten-y, lava Nutella sauce. Put Nutella, pour milk, whisk, done!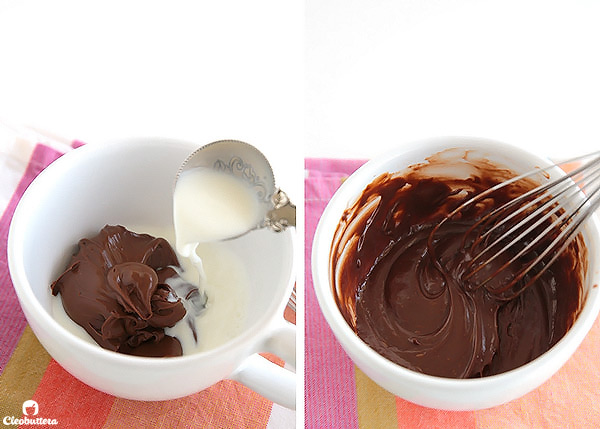 Now you're ready to assemble. Use a pairing knife (or a small sharp one) cut a round circle in the center of the cupcake. About an inch in diameter. Use the tip of the knife to help you lift the circle, then remove with your finger. Cut the bottom fluffy half of this piece and eat it. A little treat for the cook; you've earned it:) Save the top half because we're gonna use it later.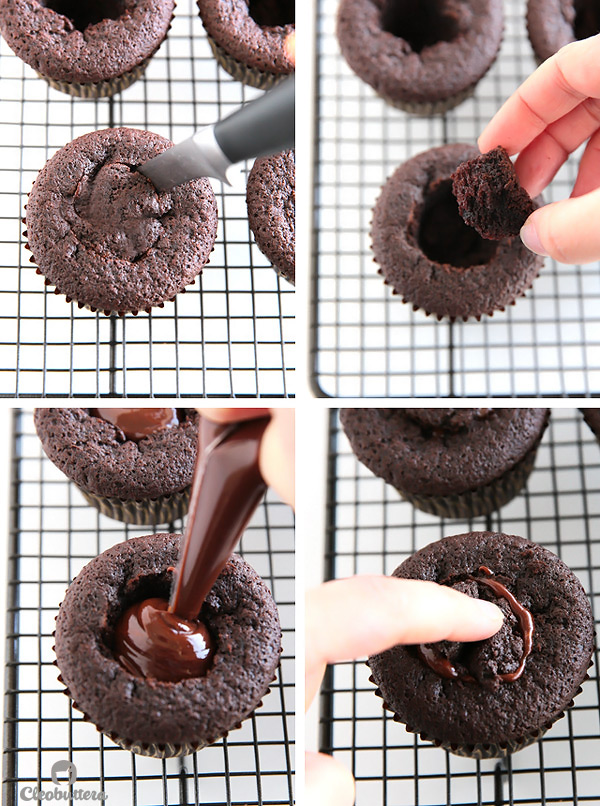 Then using a pipping bag or a spoon, fill the hole with a generous amount of the Nutella sauce. Almost to the top. Then cover the hole with the saved piece of cake circle.
Now grab that yummy frosting and pipe on to that cupcake. Check out on instagram a video of exactly how I do that.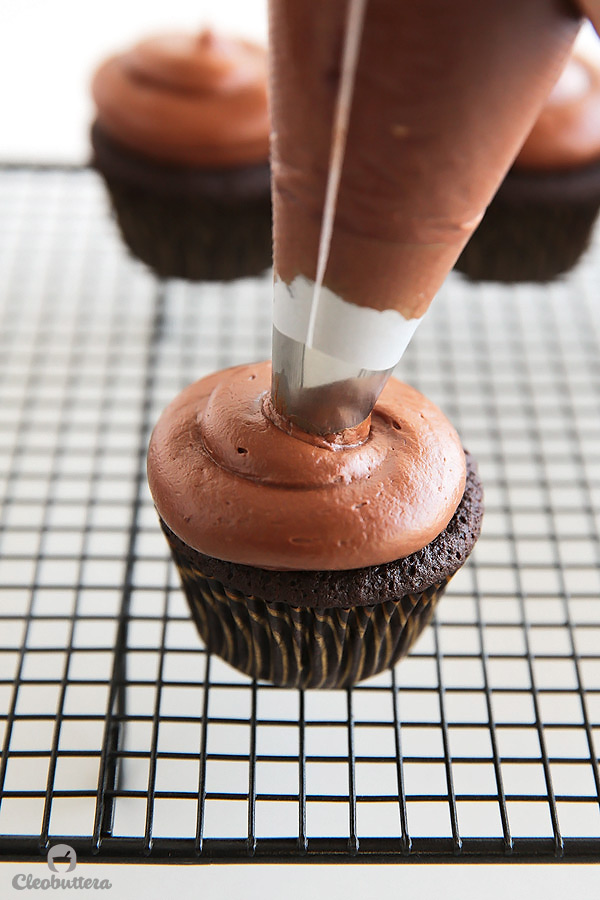 Then if you have any leftover sauce, drizzle that on top, or just use chocolate syrup. I used store-bought syrup here, because the little guys squirted all that was left in the pipping bag in the mouthes! You'll most likely do the the same.
Now top those babies with a fancy-schamancy Ferrero Rocher, sprinkles, chocolate curls, fondant cut-outs, potato chips, not even kidding, or whatever floats your boat.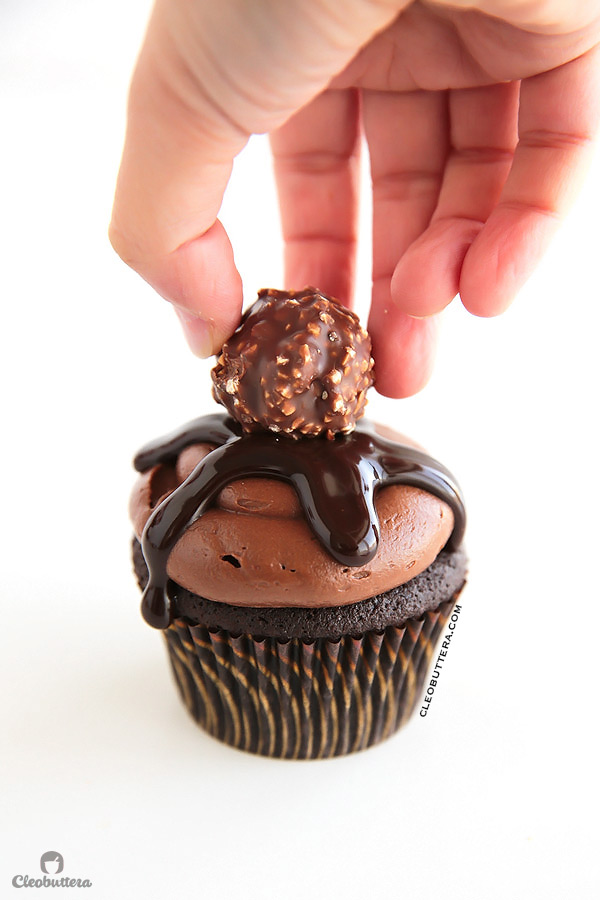 Now go hide somewhere and eat it alone, because you're gonna look too funny eating this thing:)
Yield: 16 to 17 cupcakes* [i](see note)[/i]
Nutella Lava Cupcakes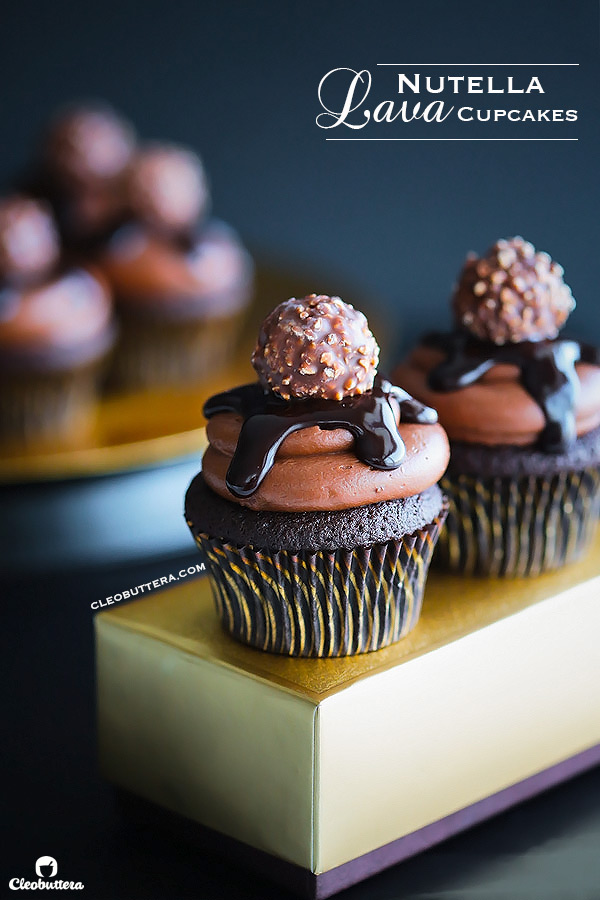 Cupcake recipe can be halved or doubled with great results. Please note that I developed the frosting recipe using a kitchen scale then converted it to volume, so please use a scale for maximum accuracy if available. The frosting makes enough to frost 20 to 22 cupcakes, yielding a 1:2 ratio of frosting to cupcake. If you don't like a lot of frosting, you can halve the recipe. Alternatively, if you like piles of frosting, you can make 1 1/2 to double the recipe, according to how much you like on there. Make sure you have 1 (750g) jar of Nutella or 2 (350g) jars for this recipe.
Prep Time 45 minutes
Cook Time 20 minutes
Additional Time 1 hour
Total Time 2 hours 5 minutes
Ingredients
For the Cupcakes: (you can substitute your favorite cake mix for a shortcut)
1/2 cup (4oz/114g) unsalted butter, softened to room temperature
1 1/2 cups (10 1/2oz/ 298g) soft light brown sugar, packed
2 egg, at room temperature
1 1/2 teaspoons vanilla extract
1/2 cup (1 1/2oz/ 40g) unsweetened cocoa powder, preferably Dutch-process* (see note)
1 1/2 teaspoons (7g) baking soda
1/4 teaspoon salt
1 1/2 cups (6.4 oz/ 180g) cake flour* (see note for substitution)
2/3 cups (5.3oz/ 150g) sour cream, at room temperature
3/4 cups (177ml) hot water (or coffee)*
For the Very Nutella Frosting (makes about 3 1/2 cups):* (see note above)
3/4 cup (6oz/ 170g)) unsalted butter, softened to room temperature
6 tablespoons (3 oz/ 85g)) cream cheese (or 6 Kiri squares), softened but slightly cool
1 cup plus 2 tablespoon (12 oz/ 340g) Nutella
1/2 cup minus 1 tablespoon (3 oz/ 85g) semisweet chocolate chips
1/2 cup minus 1 tablespoon (3 oz/ 85g) milk chocolate chips
For the Nutella Sauce Filling:
3/4 cup (8oz/ 227g) Nutella
1/4 cup (60ml) whole milk
For Garnish:
Leftover Nutella sauce filling or chocolate syrup for drizzling on top, optional
Instructions
For the cupcakes:
Adjust oven rack to middle position. Preheat oven to 350F/180F. Line 2 cupcake pans with 20 to 22 cupcake liners.
In the bowl of a stand mixer fitted with the whisk attachment (or in a large bowl, if using a handheld mixer), whisk the butter on high speed until smooth.
Add the brown sugar and mix together until slightly lightened in color, about 3 minutes.
Scrape down the bowl, then add the eggs, one at a time, mixing well after each addition.
Add in the vanilla and continue mixing until lightened more in color and texture and looks fluffy, 3 to 5 minutes. Scrape down the bowl.
Add the cocoa powder, baking soda, salt and mix until well blended. Scrape down the bowl.
With the mixer on lowest speed, add one-third of the flour, followed by half of the sour cream, then mix to blend. Then add the second third of the flour, followed by the rest of the sour cream, mix again. End with the remaining flour and mix just until combined. Scrape the bowl as needed.
With the mixer running on medium low speed, drizzle in the hot water (or coffee) and mix until very smooth, about 1 minute. Batter will be very thin and soupy.
Portion the batter evenly among the cupcake liners (I like to use a 3 tablespoons measure ice cream scoop for a smaller cupcake) until 2/3 full, or (a 1/4 cup measure ice cream scoop for a larger cupcake) until 3/4 full.
Bake until the tops spring back to the touch and a toothpick inserted into the center of the cupcake comes clean or with a few cooked crumbs attached, 16 to 17 minutes. Start checking after 15 minutes. The cupcakes might deflate slightly after they come out of the oven, but should NOT look sunken. If the do sink, that means they were underbaked. They should have slightly domed tops.
Let cool in the pan for about 5 minutes or until cool enough to handle, then transfer to a wire rack to cool completely before filling and frosting.
While the cupcakes are baking and cooling, make the frosting and filling (instructions below)
To make a hole in the cupcake, use a pairing knife to make a deep circular (1-inch in diameter) cut in the center of the cupcake. Make sure you only cut about halfway through the cupcake, and don't go all the way through the bottom. An apple corer would also work perfectly here. Using the tip of the knife, lift the cut piece of cake from deep inside and remove it completely. Let's call this the 'plug.' Cut the bottom half of the 'plug' and snack on it or do whatever you want with it. Set aside the top half of the plug, which will be used to cover the cupcake after filling them.
Using a small spoon or a piping bag or a zipper lock bag with the corner snipped off, pour in the Nutella sauce into each cupcake. Be generous:) Fill almost to the top.
Use the cake 'plug' to cover the tops of the cupcakes, where they have been filled.
Using your favorite piping tip (I used a large round tip Ateco 808) or an offset spatula to frost the cupcakes with the Very Nutella Frosting. The way it's done here, is by starting to pipe in the center, going aroung once, the ending in the center with a burst of pressure.
If desired, drizzle with leftover Nutella Sauce, or chocolate syrup, then top with Ferrero Rocher, sprinkles or chocolate curls.
Store cupcakes in an airtight container.
For the Very Nutella Frosting:
In a medium microwavable bowl, place both types of chocolate chips and melt in the microwave, stopping every 20 second to stir the chocolate. Heat and stir until almost completely melted. The warmth of the melted chocolate will melt whatever bits of chocolate left. Set aside to cool slightly.
In another medium bowl, combine the butter and cream cheese and beat using an electric mixer until smooth and well blended.
Add in the Nutella and mix until completely incorporated. Scrape down the bowl.
Add in the melted chocolate and mix until everything is well combined, scraping the bowl as need.
For the Nutella Sauce Filling:
Combine the Nutella and milk in a medium bowl, whisk well until completely smooth.
Recipe Notes
The cupcake batter will make anywhere between 16 and 17 cupcakes. Making 16 will result in a larger cupcake with a muffin-top-like cap. Making 17 on the other hand, will produce cupcakes that rise just right above the cupcake liner (just like the ones pictured above).
Dutch processed cocoa powder gives a deeper, more chocolatey flavor to these cupcakes. However, if you can't find it, no worries, natural unsweetened cocoa works really well too, without affecting the outcome. If using natural cocoa, use the darkest, best quality cocoa you can find. I use Hintz unsweetened cocoa and love it!
Cake flour gives these cupcakes a soft and tender crumb, but it could be hard to find, at least where I live. I substitute this by placing 3 tablespoons of cornstarch or cornflour in my measuring cup, then add the all-purpose flour on top of that and continue measuring like I normally would. So I end up using 1 1/2 cups minus 3 tablespoons of all-purpose flour plus 3 tablespoons cornstarch. If you have cake flour, just use that.
Using coffee in chocolate baked goods intensifies the chocolate flavor without making it taste like coffee. I just stir in 1 1/2 teaspoons of instant coffee (Nescafe) into my 3/4 cup of hot water. If you're not okay with using coffee then just use hot water instead.
Cupcake base recipe adapted from Food Network
Frosting and filling: A Cleobuttera original
Measurements Note: All recipes of this site have been developed using weight measurements. Although US volume measurements have been included for your convenience, it is highly encouraged that you weigh your ingredients using a kitchen scale to get the best possible results. Due to the sensitive nature of baking, kitchen scales are proven to yield more accurate and consistent results than measuring cups. Enjoy!
This post may contain affiliate links.
All images and content are owned by Cleobuttera® and are copyright protected. Please do not use my images without prior permission. If you would like to republish a recipe, please rewrite it in your own words and link back to the recipe page on my site. Original recipes and creations of this site are intended for personal and home use. Commercial replication or media consumption are only allowed with a written consent and agreement with Cleobuttera owners. Otherwise it is considered a violation of intellectual property. Thank you for respecting and appreciating the amount of time and effort that goes into creating free, unique recipes that make people happy.