Grilled S'mores Sandwich
A ridiculous take on the popular campfire treat. Toasted graham cracker crusted bread slices sandwiching gooey roasted marshmallows and melted milk chocolate. Dare I say: better than the real deal?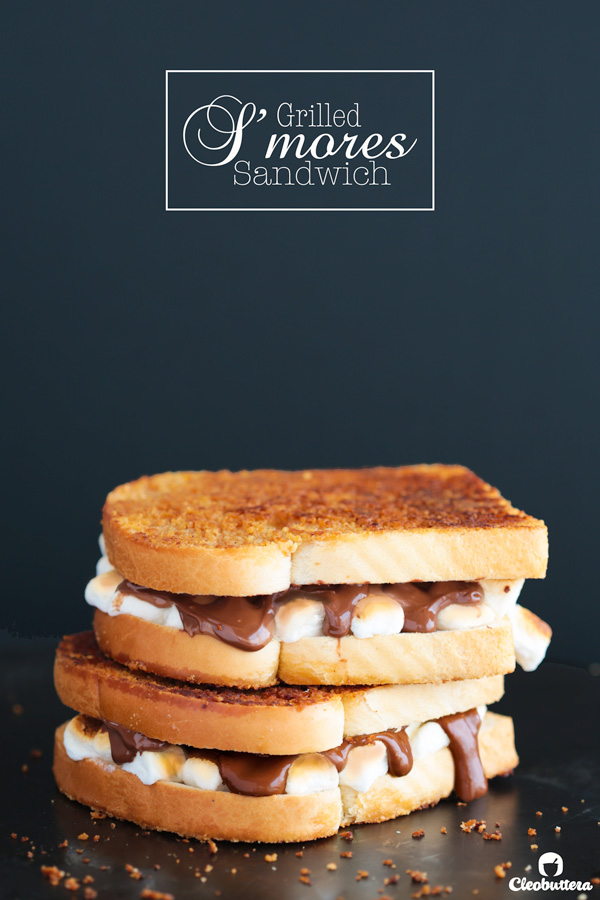 I will forever be grateful to Barney!
Yes…Barney the purple "dinosaur from our imagination," that seems to tick off almost every parent I know.
He haunts your dreams, I know, and you can't seem to get his annoying singing voice out of your head. I understand that.
Buuuuuuut…he introduced me to the gloriousness of S'MORES!
So for all I know, Barney could be as annoying as he wants to be and I'll still love him and he loves me, and we're a happy family, with a great big hug and…Oh sorry. Sorry sorry. I truly am. I sincerely wish you the best of luck to try and not sing this song ALL.DAY.LONG!
Anywhoooo…S'mores came into my life less than a decade ago, as I was distracting my then-toddler daughter with Barney so I could feed her. Then came about the S'mores song where "U get a graham cracker and you break in two…" All I heard was graham cracker, chocolate, marshmallow, roasted and hot…and all kinds of imaginary lightbulbs suddenly lit over my head. A moment of sweet revelation!!!
After that fateful day, any shape or form of anything S'mores became a weakness of mine.
If you haven't yet had the pleasure of meeting a s'more nor heard Barney's song…let me acquaint you: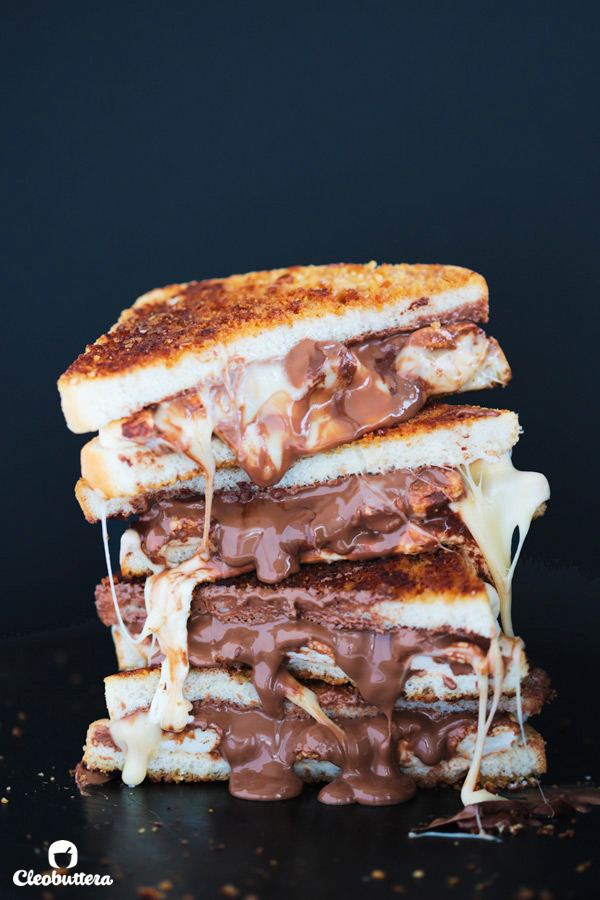 A S'more is a popular North American campfire treat, traditionally made by roasting a marshmallow in a bonfire, then placing it on top of a piece of milk chocolate that is sitting between two pieces of graham crackers. As they get squished together, the hot marshmallow warms up the chocolate and causes one big gooey mess. You gotta love it!
Here, I've recreated the delicious mess in one heck of a sandwich that is a breeze to make. Dare I say: better than the real deal? You be the judge. Feel free to call it your perfect excuse to eat a s'more for breakfast. It's almost like making a grilled cheese sandwich…almost, but even more sinful.
To get that signature crunchy graham cracker-y flavor and texture of a s'more, you first smear one side of the bread with a delicious mixture of butter, brown sugar and a hint of cinnamon. Then you dunk the buttered side down in graham cracker or digestive biscuit crumbs. (Digestive biscuits are the perfect substitute for graham crackers in areas where they can't be found)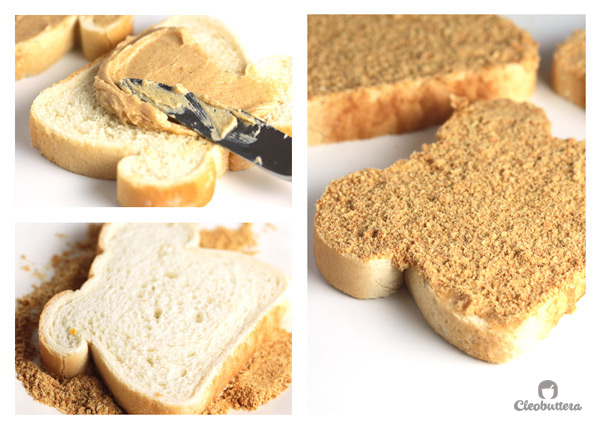 With the buttered, crumbed side facing down, toast the bread on a medium-hot skillet until fragrant and golden brown…like so.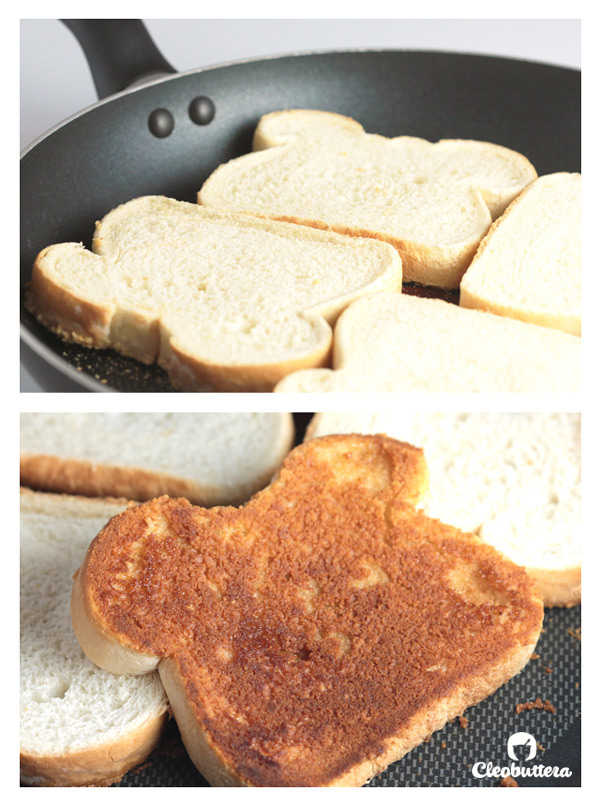 If you're making two sandwiches (consisting of 4 slices of bread) as pictured, now is the time to remove two of the bread slices & setting them aside, leaving the other two slices in the skillet. Now on those still in the skillet, pile on as much marshmallows as your bread could hold. Then roast under the broiler of the oven for a few minutes, watching closely, until they turn golden brown or the color of your prefer. If you like it charred, knock your self out!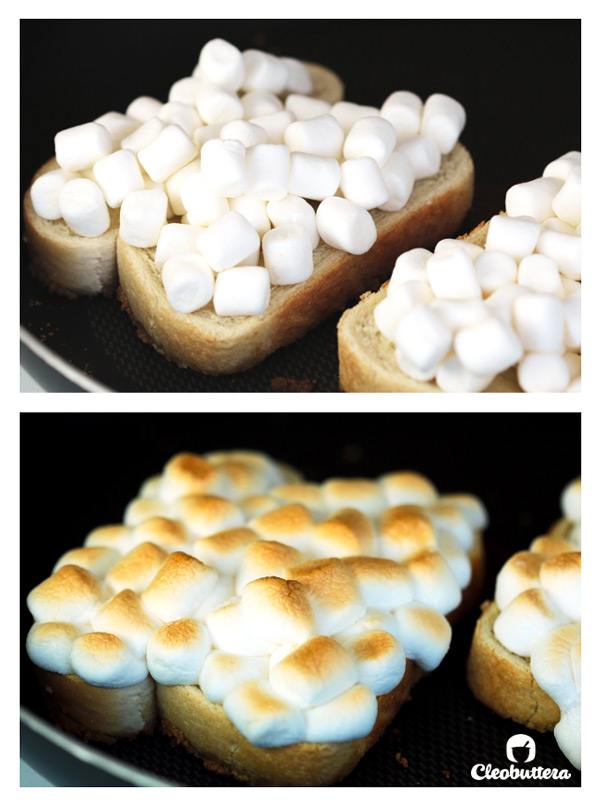 Take the skillet out of the oven and immediately place some, or A LOT of chocolate on top of the marshmallows, and return the other two slices of bread to the skillet to heat through. Return the skillet to the oven for about a minute, just until the chocolate starts to melt. Take out of the oven and top the chocolaty marshmallowy slices with the empty slices.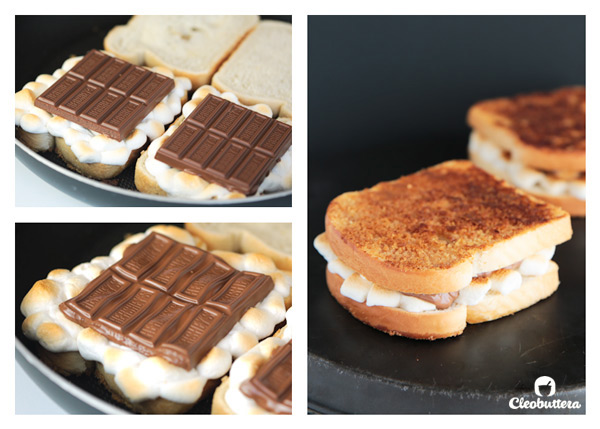 Cut in half and enjoy the sight of the marshmallows as they ooze and stretch. One of my favorite scenes of nature. Not nature? Hmmm…pretty debatable.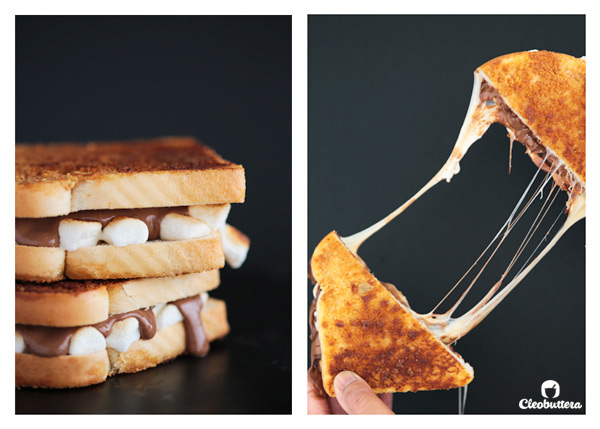 Mmmmm….Crunchy and yummy on the outside, warm and gooey on the inside.
And for that my friends, I know you'll find it in your heart to love Barney.
Now "won't you say you love me too?"
Maybe this video will convince you…
Yield: 2 Sandwiches
Grilled S'mores Sandwich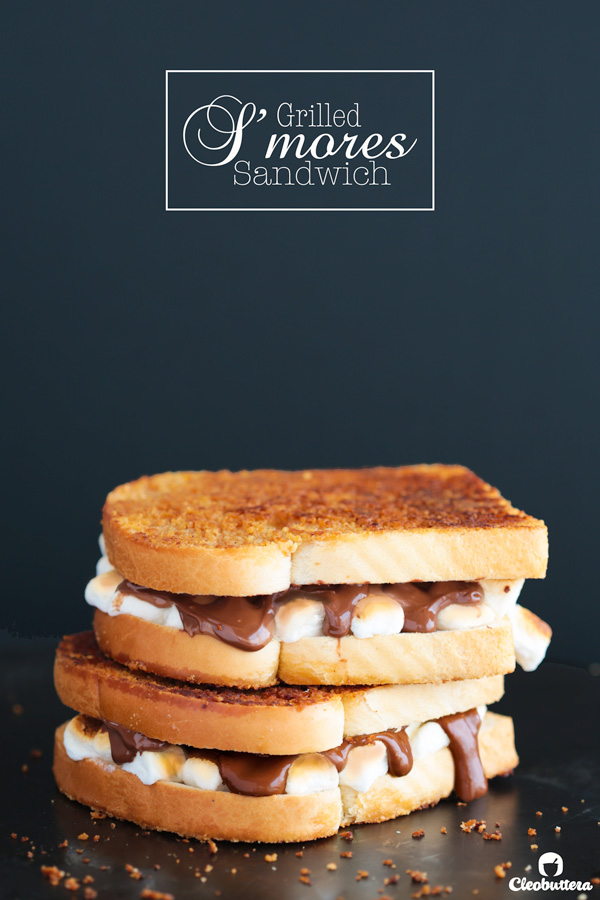 A ridiculous take on the popular campfire treat. Toasted graham cracker crusted bread slices sandwiching gooey roasted marshmallows and melted milk chocolate. Dare I say: better than the real deal?
Prep Time 5 minutes
Cook Time 10 minutes
Total Time 15 minutes
Ingredients
2 tablespoons (28g) softened unsalted butter
1 tablespoon (12g) packed brown sugar (light or dark)
Pinch of cinnamon
2 sheets graham cracker or 2 digestive biscuits, finely ground
4 slices white sandwich bread
1 cup mini marshmallows or regular marshmallow cut in half horizontally*
1 large milk chocolate bar (like Hershey's or Galaxy 100 grams)*
Instructions
Preheat the broiler of the oven.
In a small bowl, stir together the butter, brown sugar and cinnamon until well combined. With a knife or small offset spatula, spread the butter mixture evenly on only one side of all the bread slices.
Place the graham cracker/digestive biscuit crumbs in a shallow plate, then dunk the bread (buttered side down) in it, pressing gently for the crumbs to adhere.
Meanwhile, heat a large oven-safe, non-stick skillet over medium heat, then arrange the bread, crumbed side down, on it. Toast the bread until fragrant and golden brown, taking care not to burn it, 1 to 2 minutes.
Remove from heat and take away two of the bread slices from the skillet and set aside on a plate.
Arrange 1/2 cup marshmallows over each of the two remaining slices.
Place the skillet in the oven under the broiler until the marshmallows heat through, puff up and achieve a golden brown color, about 2 to 3 minutes, longer if a charr is desired. Watch it carefully.
Remove from the oven. Immediately top the marshmallows on each bread slice with half of the chocolate bar (about 6 squares each, more or less depending on taste).
Return the once removed bread slices back to the skillet to heat through.
Put the skillet back in the oven, until the chocolate starts to melt. About 1 minute.
Remove from the oven, then top the chocolate/marshmallow covered bread slices with the plain ones (crunchy crumbed side facing up). Cut in half and serve while still warm.
Recipe Notes
Milk chocolate chips may be substituted for the chocolate bar.
Measurements Note: All recipes of this site have been developed using weight measurements. Although US volume measurements have been included for your convenience, it is highly encouraged that you weigh your ingredients using a kitchen scale to get the best possible results. Due to the sensitive nature of baking, kitchen scales are proven to yield more accurate and consistent results than measuring cups. Enjoy!
This post may contain affiliate links.
All images and content are owned by Cleobuttera® and are copyright protected. Please do not use my images without prior permission. If you would like to republish a recipe, please rewrite it in your own words and link back to the recipe page on my site. Original recipes and creations of this site are intended for personal and home use. Commercial replication or media consumption are only allowed with a written consent and agreement with Cleobuttera owners. Otherwise it is considered a violation of intellectual property. Thank you for respecting and appreciating the amount of time and effort that goes into creating free, unique recipes that make people happy.