This Salted Caramel Popcorn is sweet and salty, and best of all…NO BAKE!  All of the crunch, non of the long baking and continuous stirring in the oven.  Step-by-step photo tutorial on how to make this addictive snack! BONUS:  How to make perfect plain stove-top popcorn!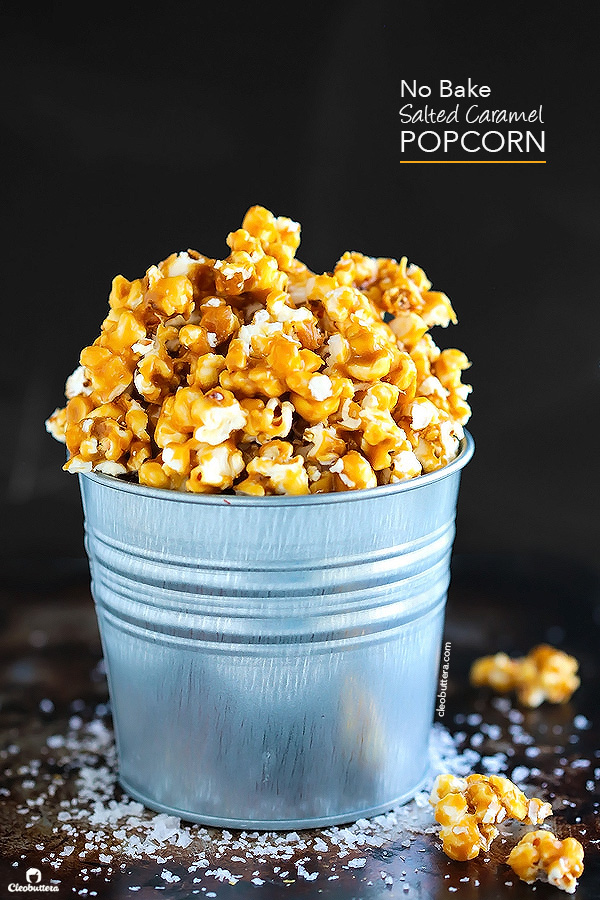 Have you ever been in the movie theatre dilemma of having to decide between salty popcorn and caramel popcorn, only to end up buying a bucket of each?
Yeah?
Please tell I'm not alone on this one.
I mean you pretty much always want to start with the salty stuff because movies and salted popcorn go hand in hand right?  But then all the salt dehydrates your mouth and you want something sweet, so you reach for a handful of the caramel ones.  A handful of this, leads to a handful of that, and half way through the movie…they're both gone!
Speaking from experience here.
This Salted Caramel Popcorn is here to solve that problem!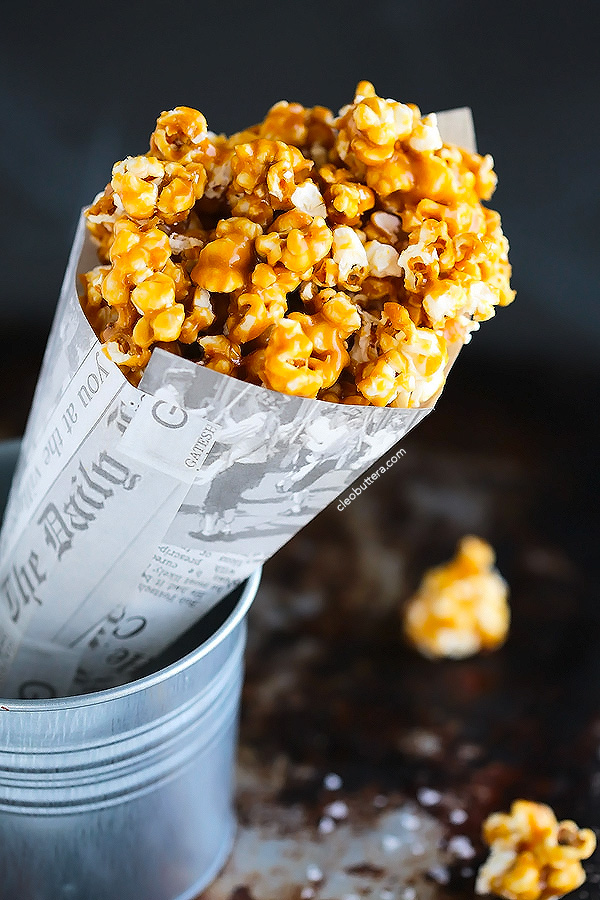 You get the sweet, you get the salty, surely the buttery and most importantly the crunchy all in one!
You're tastebuds are gonna thank you for this one.
What I LOVE so much about this recipe though, is that it's NO-BAKE!
Thanks to this clever method that I've adapted from the baking guru, Stephanie of Joy of Baking.  (You should definitely watch the video of her making it here…it's super!)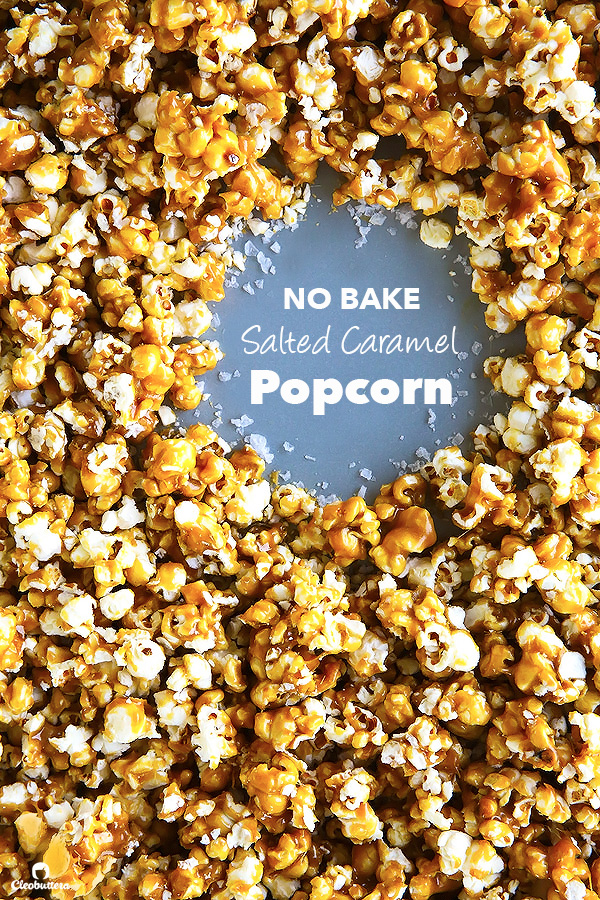 Traditional methods of making caramel popcorn involve baking caramel sauce-coated popcorn in a low heat oven from about an hour or so, stirring every 10 to 15 minutes.  The baking ensures that the caramel gets crunchy.  I don't know about you, but I find this process a bit daunting.
Plus the movie is not gonna wait for that long!
This No-Bake method on the other hand, is made entirely over the stove-top and takes about a quarter of the time it takes to make the baked kind, without sacrificing the crunch or flavor one bit.
The trick to getting it crunchy without having to bake it, is to cook the caramel sauce a few minutes longer until it reaches the hard-crack stage, so for that reason my friends, and I hope you don't hate me for it…..
It's preferable that you use a thermometer.
Ouch!  Sorry sorry!  I really hope you have one because it's gonna make your life so much easier and not just for this recipe. If you don't, no worries…don't turn your back on this recipe; you could still do this! I'll show you another way of knowing when you've reached the right temperature.
So let's talk caramel popcorn…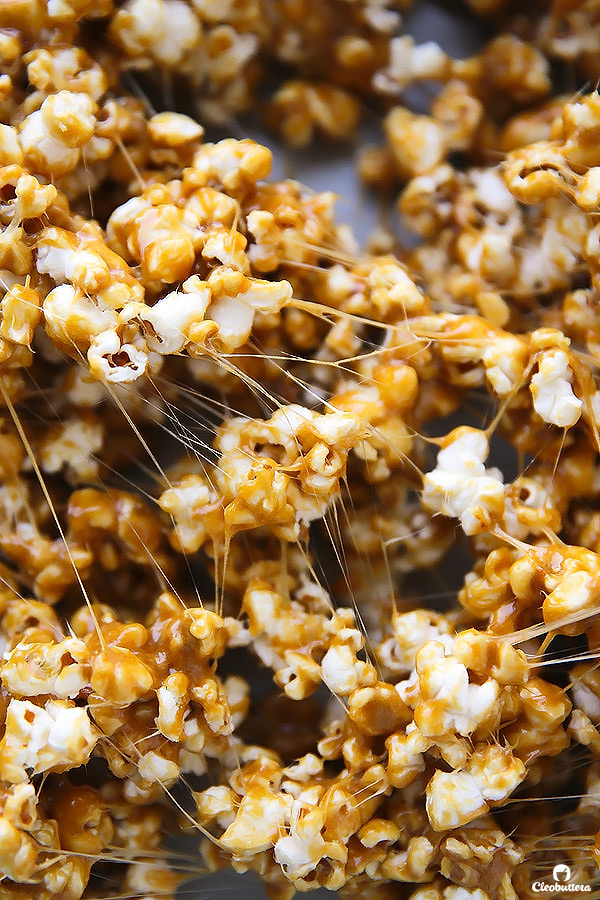 And it starts with this: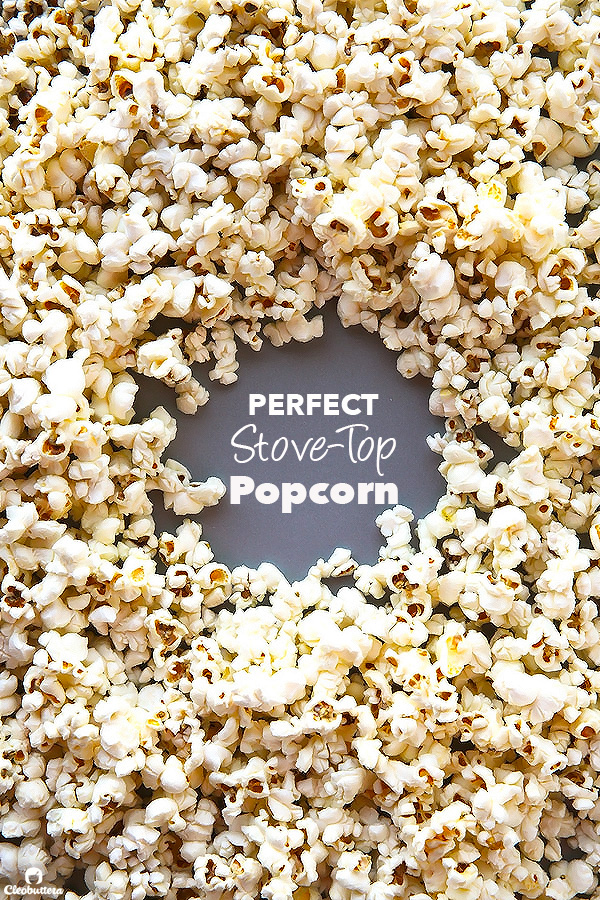 You could most certainly use air-popped, or microwaved popcorn as the base for this caramel popcorn recipe, but since this is the one I prefer, I thought it would be a good idea to share my absolute favorite recipe for classic and so very perfect stove-top salted popcorn.  This is what I've been munching on for years and years of movie nights and it's the very same one I pack in my kids' lunch boxes.
It's no rocket science, so let's get to it.
You start by heating together some vegetable oil and only 3 popcorn kernels in a large saucepan.  When these 3 guys pop, you know the oil is hot enough.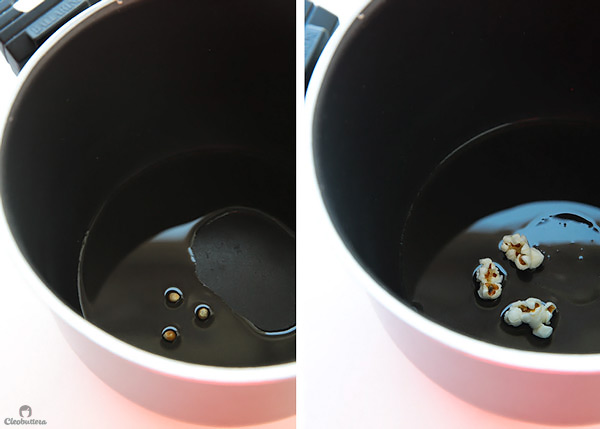 You'll want to remove the pan from heat and throw in the rest of the kernels.  Give them a few swirls to coat them in the oil.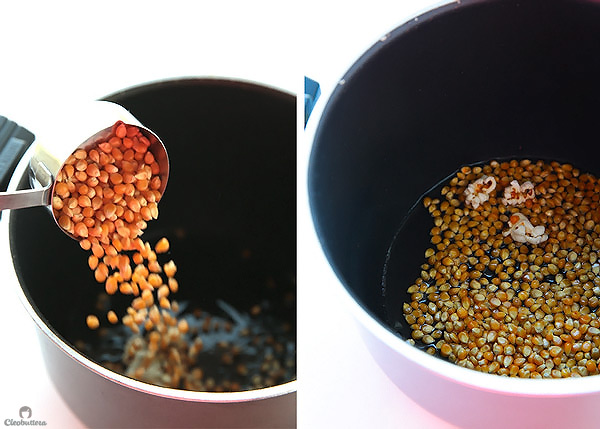 Then cover with foil and poke poke poke as many holes as you can.  (This allows the steam to escape so you don't get wet, mushy popcorn).  
Back over the heat it goes.  Pop, pop, pop, giving the pan a few shakes here and there to ensure even cooking.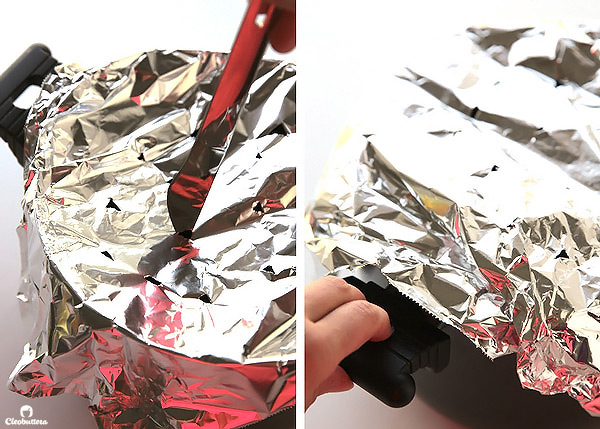 Then when the popping slows to about 2 seconds between pops, remove from heat, uncover and toss in the salt.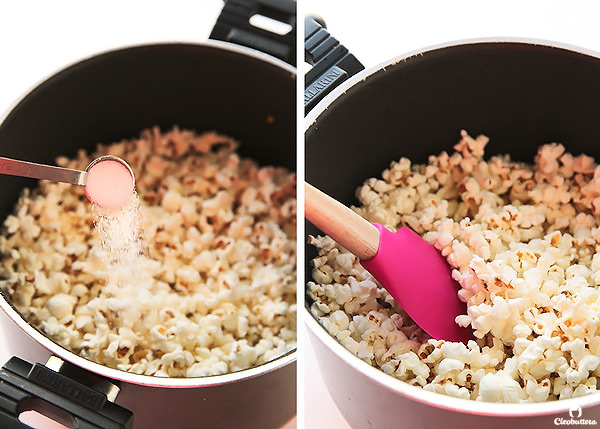 There you go! If salted popcorn is all you want, knock your self out, add some melted butter if you're feeling indulgent, some flavorings if you're in the mood and enjoy!
But if you're here for the caramel popcorn then please proceed…and remember that we're making SALTED caramel popcorn, so we are using this very popcorn, salt and all!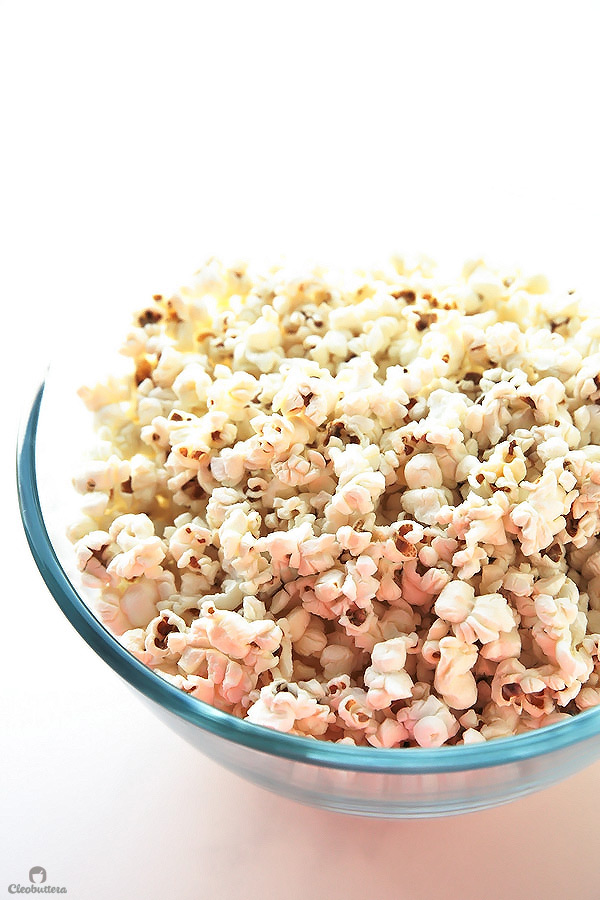 To make the caramel, you're gonna heat together some light brown sugar, granulated sugar, a little more salt, light corn syrup, water and butter until it starts to boil.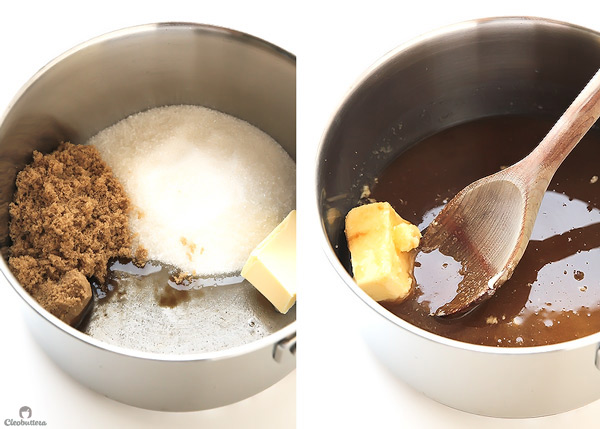 As soon as that happens, cover the saucepan for a minute or two.  (This creates steam which washes away any sugar crystals that may have stuck to the sides of the pan).
After that, you'll remove the lid and clamp on a candy or instant read thermometer (if using).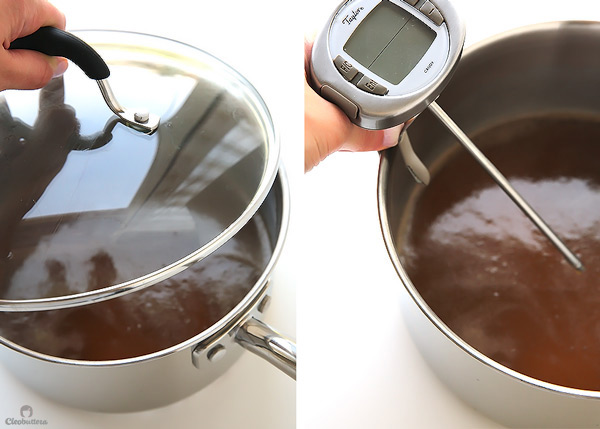 Continue boiling the mixture, stirring occasionally with a wooden spoon until the temperature reaches 300F (149C), which is the hard crack stage.  (Man! The picture is off by POINT ONE degrees!  Stirring screaming hot caramel while holding a camera as big as my head is tough business guys).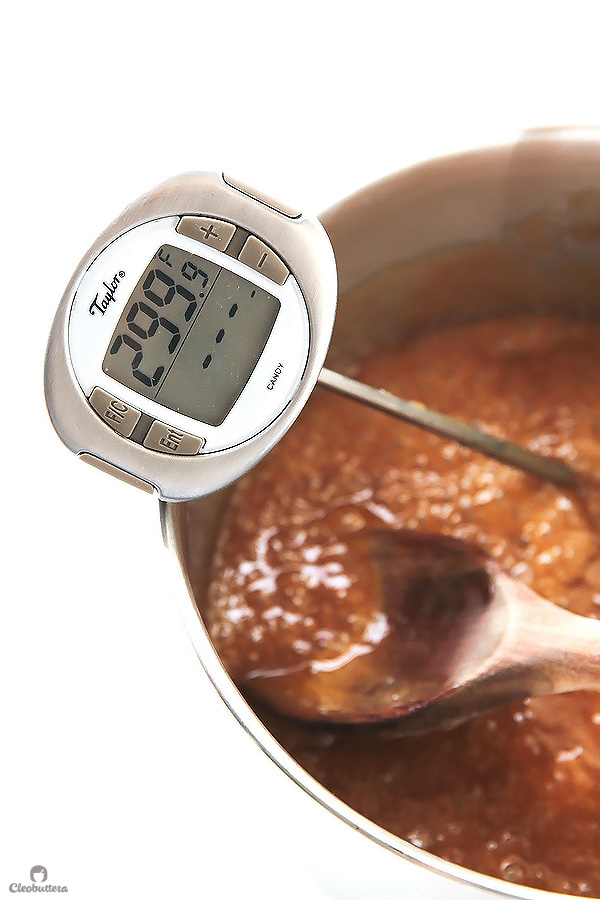 Now for my thermometer-free friends, here's how you'll know when you've reached the right temperature.  Keep an ice cold cup of water beside you as you cook the caramel.  I actually like to put in a few cubes of ice in the water.  Then about 5 minutes through boiling, drop a teaspoonful of caramel into the cold water.  If it's hard like brittle candy and snaps instead of bends when you break it then you're there! If that's not the case, then allow it to cook for a few more minutes, testing it again until it reaches that point.  Anything softer than brittle will give you chewy caramel popcorn, so don't rush it.  Unless this is what you want of course.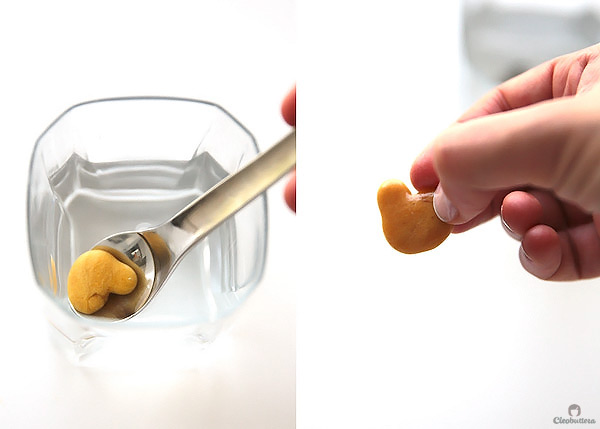 When the temperature is on point, you'll stir in some baking soda, which will cause the mixture to foam up and lighten in color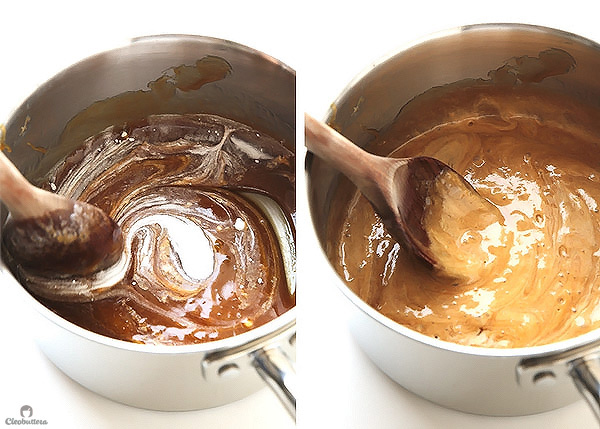 Carefully pour the caramel all over your popcorn and stir the whole mess really well, until the popcorn is evenly coated.  Spread onto a baking sheet, separating them as much as possible.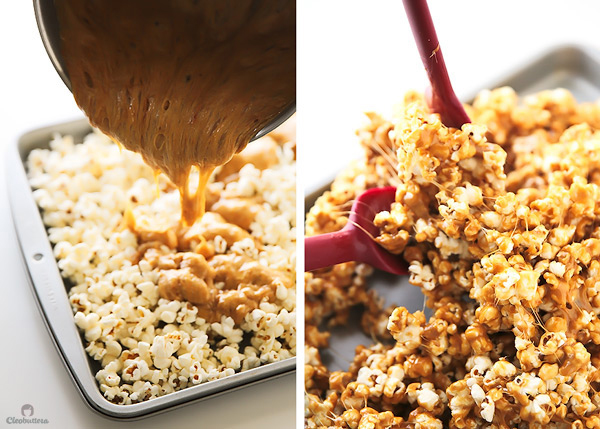 A little sprinkling of sea salt, a little patience until the popcorn cools down then you're ready to start breaking it up into bite-sized clusters.
Look at this heart one…coincidence?  I don't think so.  I LOVE YOU too salted caramel popcorn.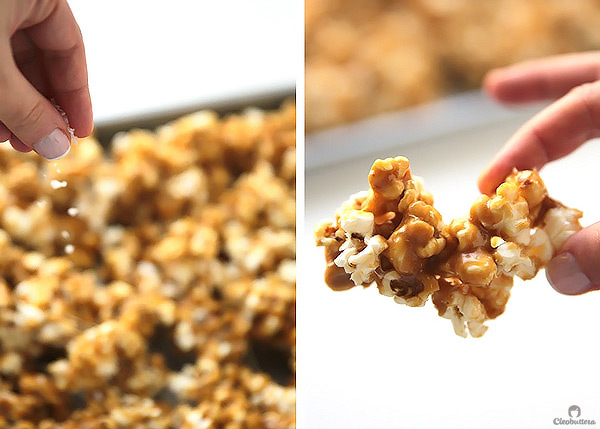 If this popcorn survives under your roof for more than one day, you should totally get all Pinterest-y and wrap some up in some cellophane bags and fancy ribbons and share the love.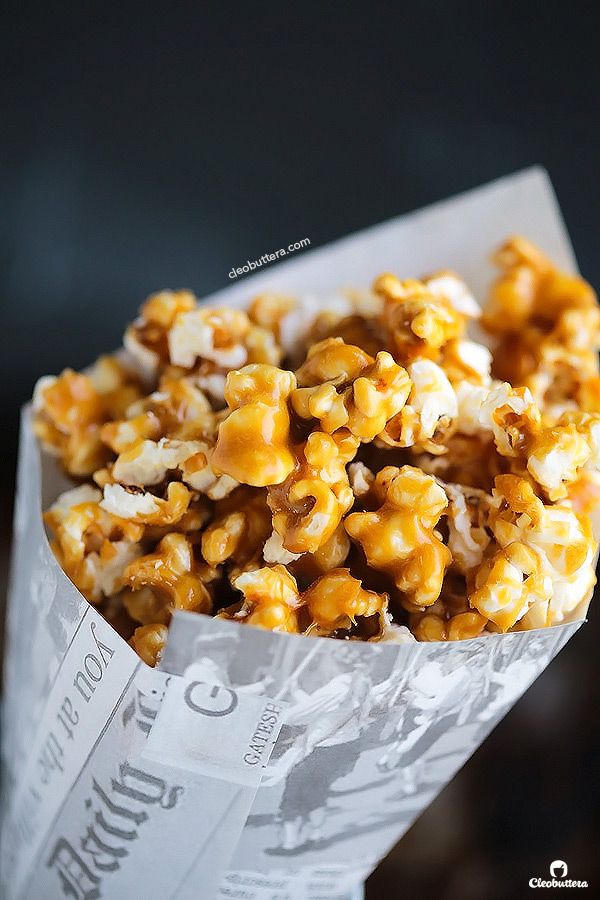 Oooh a little word of caution: They're addictive!
Good luck with that!

No Bake Salted Caramel Popcorn
Serves:
Makes about 8 servings
Ingredients
For the stove-top salted popcorn:
3 tablespoons vegetable oil
½ cup (110 grams) popcorn kernels
½ teaspoon table salt


For the salted caramel popcorn:
1 recipe stove-top salted popcorn (or 10 cups freshly popped corn using your desired method)
1½ cups (300 grams) granulated sugar
½ cup (105 grams) firmly packed light brown sugar
¼ teaspoon table salt
½ cup (120 ml) light corn syrup
½ cup (120 ml) water
4 tablespoons (55 grams) butter, salted or unsalted
1 teaspoon baking soda
1½ teaspoons sea or coarse salt (more or less to taste)
Instructions
To make the stove-top salted popcorn:
Place the oil and 3 popcorn kernels in a large saucepan over medium-high heat until kernels pop. That means the oil's hot enough.
Remove the pan from the heat and add in the remaining kernels and swirl in the oil to coat.
Cover the saucepan with a sheet of foil, then using the tip of a sharp knife, poke the surface with about 15 small holes to allow the steam to escape. This will prevent the popcorn from getting soggy.
Return the pan over the heat. Continue to cook, occasionally shaking the pan back and forth, until the popping slows to about 2 seconds between pops.
Remove the pan from heat, uncover the pan, add salt and toss to combine. Transfer popcorn to a large bowl.
Serve right away if eating as is or set aside and allow to cool completely if using for the caramel popcorn. Be sure to remove any unpopped kernels.
For the salted caramel popcorn:
Lightly butter a large baking sheet or spray with a non stick cooking spray. Similarly butter or spray two spatulas, then set everything aside for later use.
In a large heavy bottomed saucepan, stir together the granulated sugar, brown sugar, ¼ teaspoon of salt, corn syrup, water, and butter.
Place the saucepan over medium heat and bring to a boil, stirring occasionally with a wooden spoon.
Once the mixture reaches a boil, cover with the lid, and boil for one to two minutes to allow the steam to wash away any sugar crystals that may have stuck to the sides of the pan.
Remove the lid from the saucepan and clamp a candy or instant-read thermometer to the side of the saucepan.
Boil the mixture over medium-high heat, occasionally brushing down the sides of the pan, with a heatproof pastry brush that has been dipped in warm water, to remove any sugar crystals that may have formed on the sides of the saucepan. Continue cooking, stirring occasionally until the temperature reaches the hard crack stage, 300 degrees F (149 degrees C), 8 to 10 minutes. *(If you don't have a candy or instant-read thermometer, you could tell when the caramel has reached the right temperature by dropping a teaspoonful of the caramel into a cup of ice cold water. The caramel should instantly harden into stiff, brittle-like candy and snap when broken. If this is not the case, allow the caramel to cook longer).
Remove the saucepan from the heat and carefully stir in the baking soda. The caramel will foam up and lighten in color.
Immediately pour the caramel over the popcorn and using the buttered spatulas, toss well to evenly coat all the popcorn.
Transfer the caramel popcorn onto the buttered baking sheet and spread into an even layer, separating it into bite-sized pieces as much as possible. While the popcorn is still warm, sprinkle with the sea salt.
Allow to cool completely then break into bite sized pieces. Enjoy right away or store in an airtight container or zipper lock bag at room temperature, for up to a week.