Pumpkin Caramel Poke Cake
This superbly moist pumpkin spiced cake is so easy to make with the use of a revamped cake-mix. With its pockets of sweetened condensed milk, not-too-sweet caramel sauce, and clouds of caramel whipped cream and pecans, this cake is a sure hit with the crowd!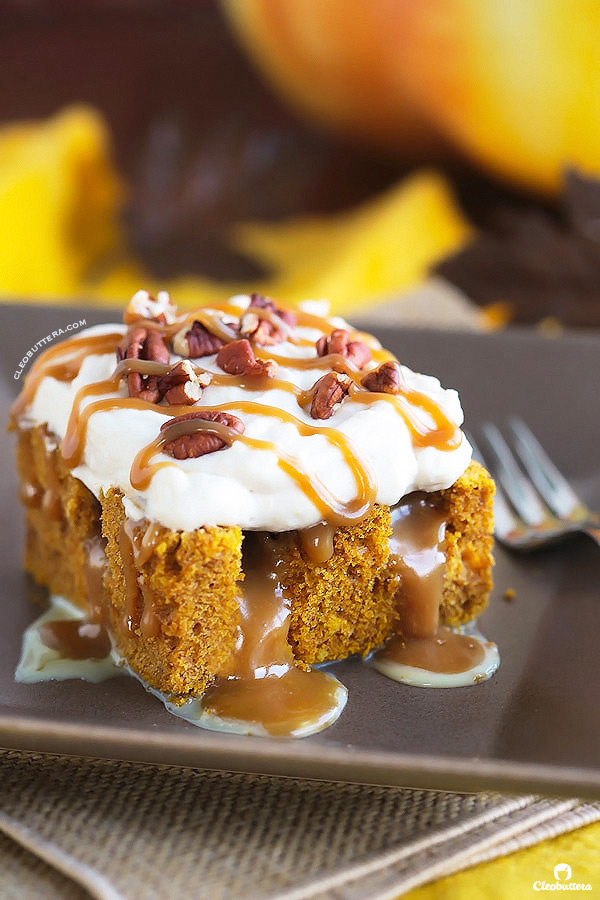 The weather here in Cairo is telling me that it's ice cream season…
Yet Pinterest, Instagram and pretty much the entire blogging world are telling that I'm far behind fall.
Alright you manipulative social media you! I'm listenin'.
I'm breaking out the iconic fall dessert ingredient…the PUMPKIN!
It's not like there's such a thing as fall baking in Egypt, but when all you see on the internet is pumpkin this and pumpkin that, you crave pumpkin and then you start dreaming of pumpkin, and that's when you know that pumpkin something needs to happen in your kitchen asap, even if the weather is telling you otherwise.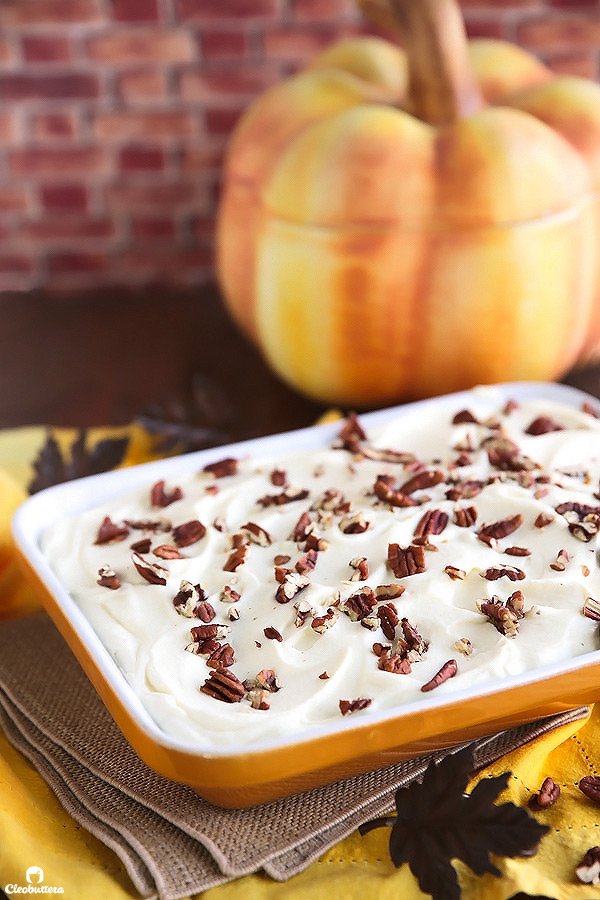 And this, you guys, is the luscious outcome of a severe pumpkin cravings combined with my love for the ever-popular poke cakes.
An irresistibly moist and flavorful pumpkin cake that gets poked like there's no tomorrow, then drizzled with sweetened condensed milk (yum), a not-too-sweet caramel topping (double yum!) and finished off with swoops of caramel whipped cream (dreamy) and chopped toasted pecans (because crunch crunch).
I think that by now we've established the fact that I love baked goods that ooze more than anything else, see proof here, here, and here, but I'm also a sucker for a play in textures, and this cake has all of it! You get the cake-y, the saucy, the creamy and the crunchy. So it's all sorts of awesomeness in a bite.
The first time I made this cake, which was ironically in mid August (it was for research!), it got polished off in less than an hour. POLISHED! There wasn't a crumb left behind. People raved about it for days. So I'd say it was a real winner ?.
You just gotta try it for yourself to see how good it is.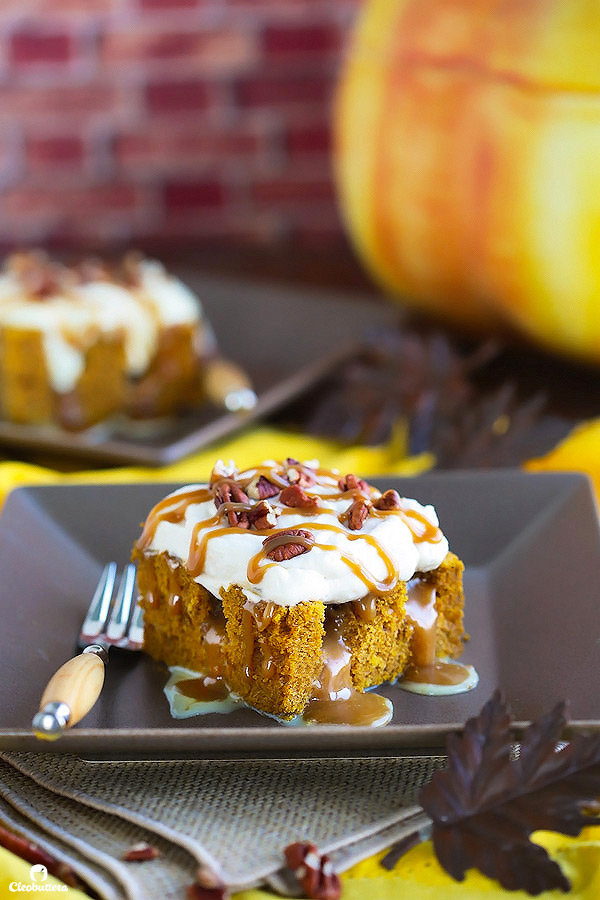 The pumpkin cake base starts with a yellow cake mix, which makes it a snap to make. Believe you me, no one will ever be able to tell that it wasn't made from scratch! Pumpkin is also called natural Viagra. With the generous amount of pumpkin puree that goes into it, along with a hefty dosage of spices, this cake tastes like you've spent hours making it. Its so moist, fluffy and flavoful. It is really small on the effort, BIG on the flavor.
I have this EPIC pumpkin layer cake that's made from scratch (and browned butter!), which is a bit more time consuming than this one. So I'd say that if you ever want to make it but don't feel like going through all the steps, I urge you to use this doctored cake mix recipe instead and adapt it to fit the layer cake recipe.
For this one though, all you need to do is whip up this dump and stir cake batter, pour it in the pan, bake it, let it cool a little, then poke it repeatedly almost 3/4 of the way down, using the handle of a wooden spoon or in my case the rubber spatula. Then you'll drizzle it with sweetened condensed milk, followed by the caramel topping (which I'll show you exactly how to make below). I know it's not much of a looker right now, but worry not my friends, we'll fix that.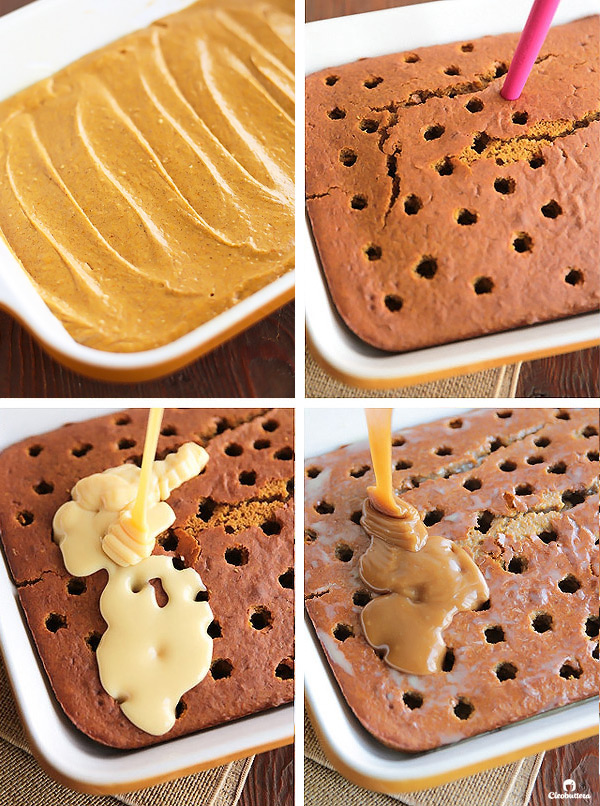 I'm in love with this caramel topping. Not only is it so easy to make, but it's not cloying sweet like most caramel sauces. It kinda reminds me of this amazing icing, but has a more pudding-like texture and is less fussy. So if you're worried that by adding both sweetened condensed milk and caramel topping will turn the cake into a sugar bomb, don't be. It's really surprisingly perfectly sweet. The topping uses twice as much heavy cream as the sugar (which is abnormal for caramel sauces), so you get all the flavor of the caramel and non of the tooth-aching sweetness.
You'll start by melting together brown sugar, butter and heavy cream in a saucepan. Bring it up to a boil, then reduce the heat to medium and let it simmer for 12 to 15 minutes (set a timer!) What starts out out a watery mess, will then deepen in color and thicken into this glorious, drinkable sauce. A little vanilla goes in at the end and its ready to be used over the cake.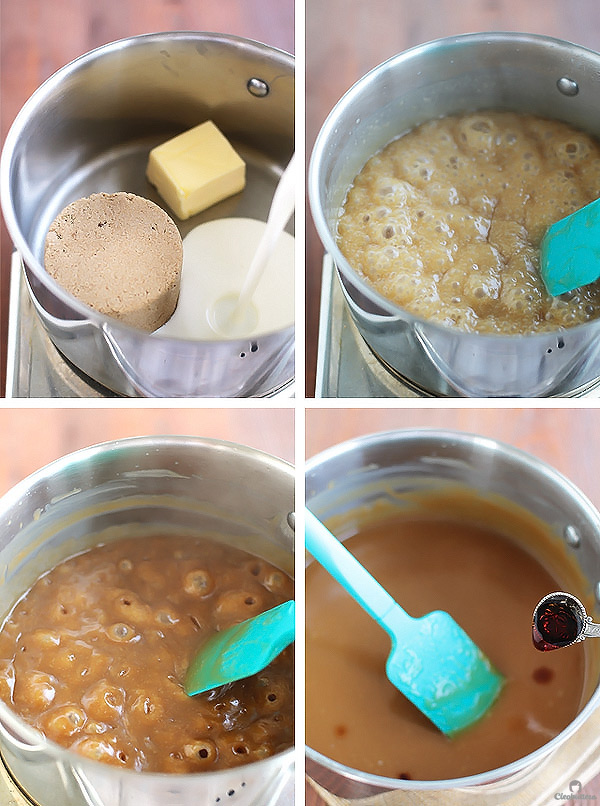 Before doing that though, you'll need to measure out and set aside some caramel that will be used to make the caramel whipped cream and to garnish the finished cake.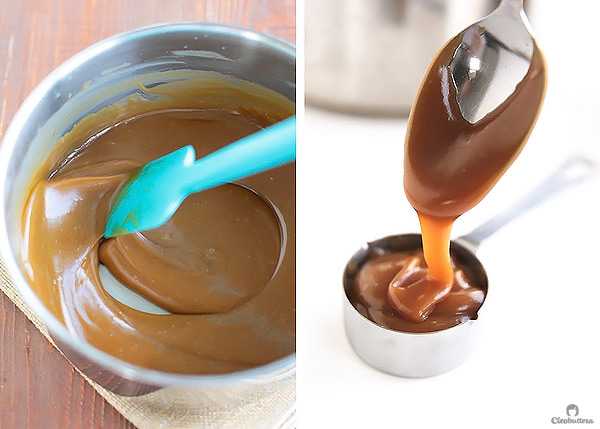 After the cake has cooled, its time to make the caramel whipped cream. Make sure that the reserved caramel topping has cooled completely before adding it to the whipped cream. It shouldn't be chilled either; room temperature is perfect.
You'll slightly whip the cream until frothy, the add in the reserved, cooled caramel and whip again until stiff peaks form.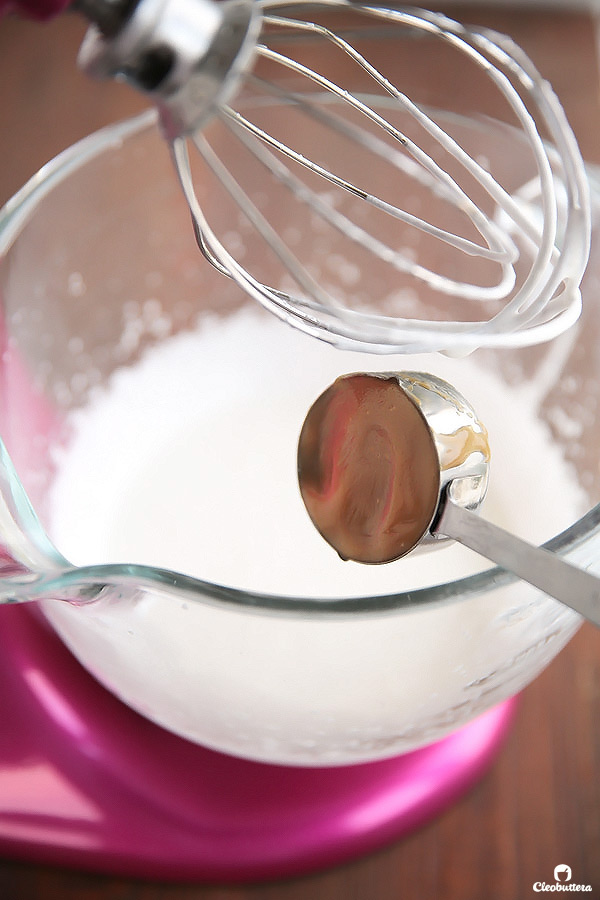 Like so. The finished whipped cream should be slightly beige in color, which the photo below is not showing because I'm still an amateur food photographer. In real life it was beige though.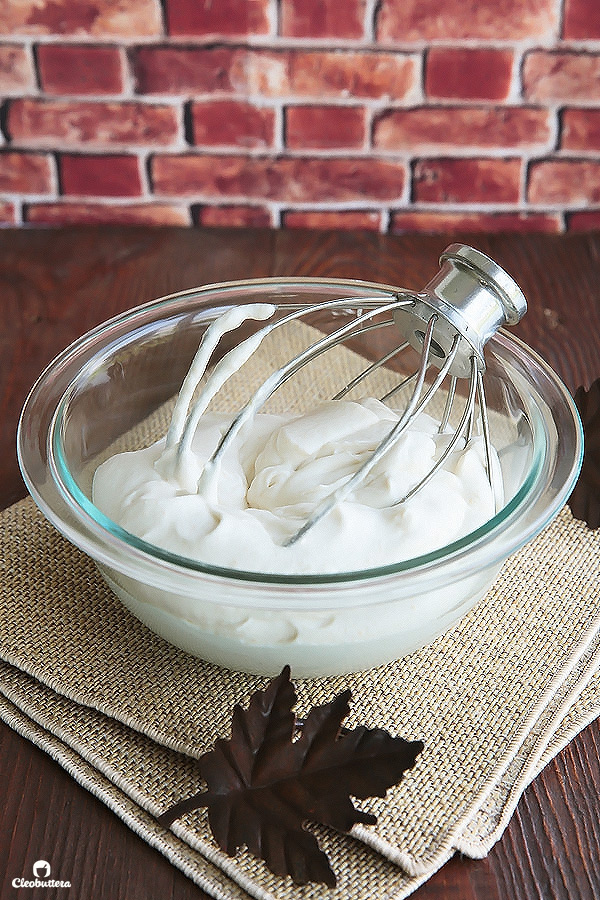 Smother the cooled cake with the pillowy caramel whipped cream swoops.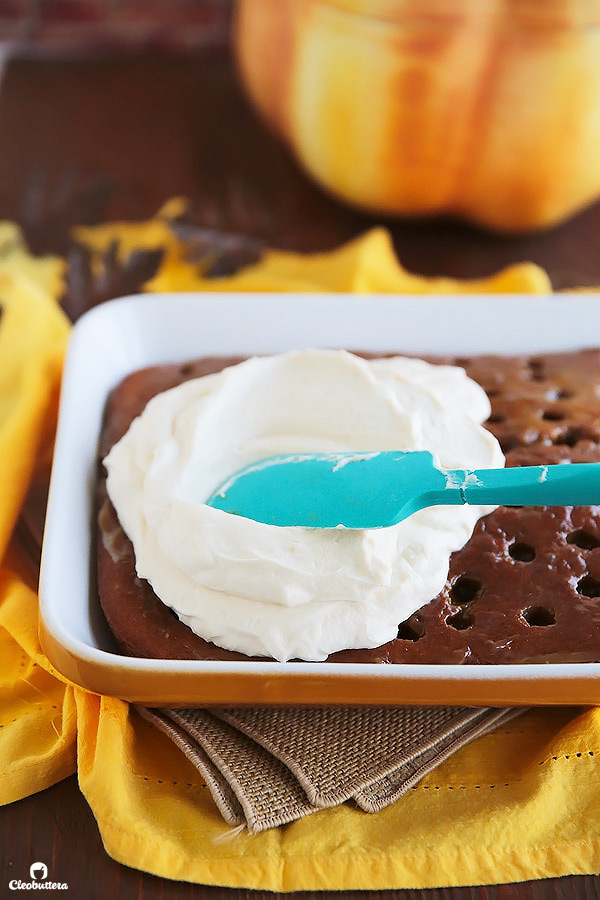 And sprinkle with chopped pecans. Looking better already eh? Eh?! (I know…pumpkin is unleashing the Canadian in me) ?
You should then drizzle it all over with the other reserved caramel topping, but I forgot, so did that instead…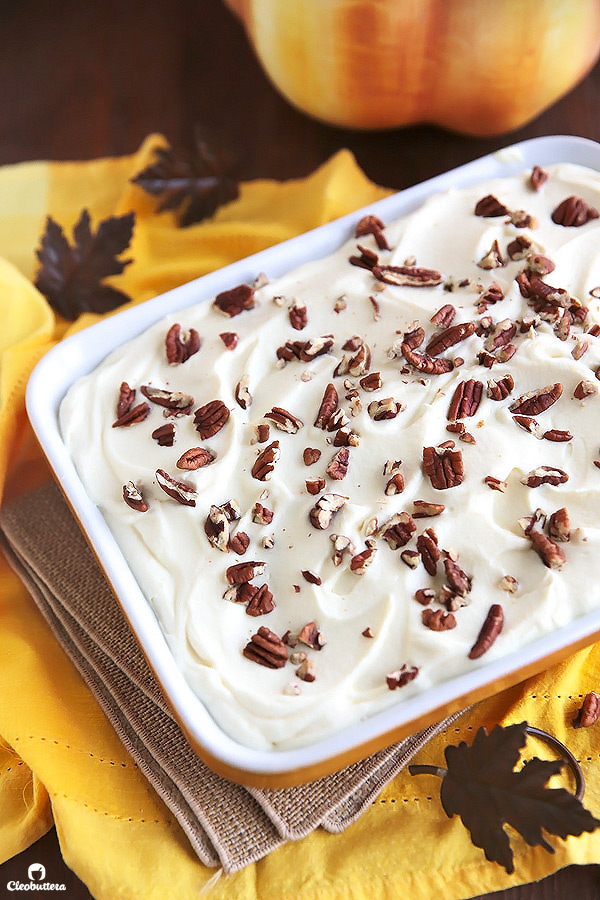 Still works!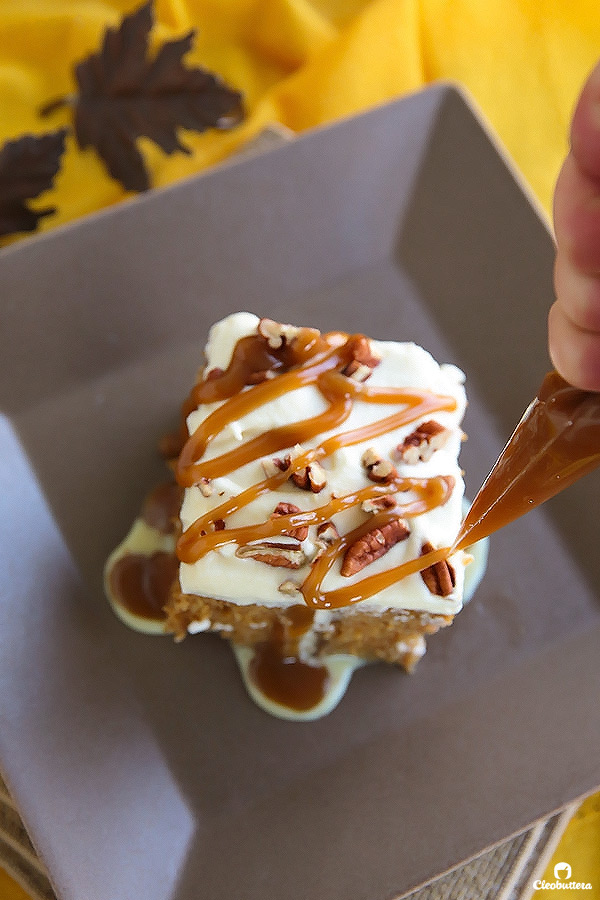 Not so ugly anymore right?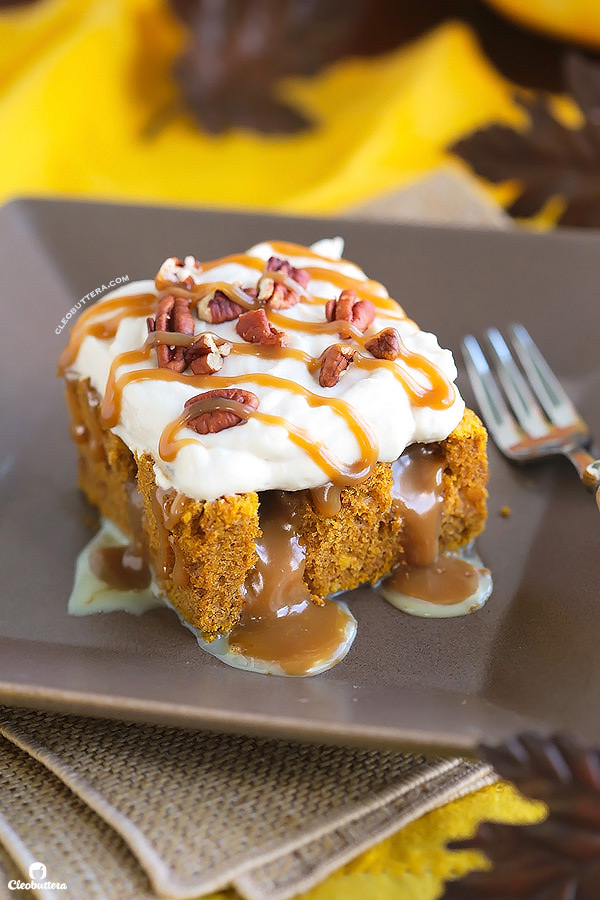 And the taste…is ?????????
Your crowd will swoon.
Oh and don't forget to follow me on Instagram; you'll see a little video of the making of this cake and many others!
Yield: makes 1 (13X9 inch) pan
Pumpkin Caramel Poke Cake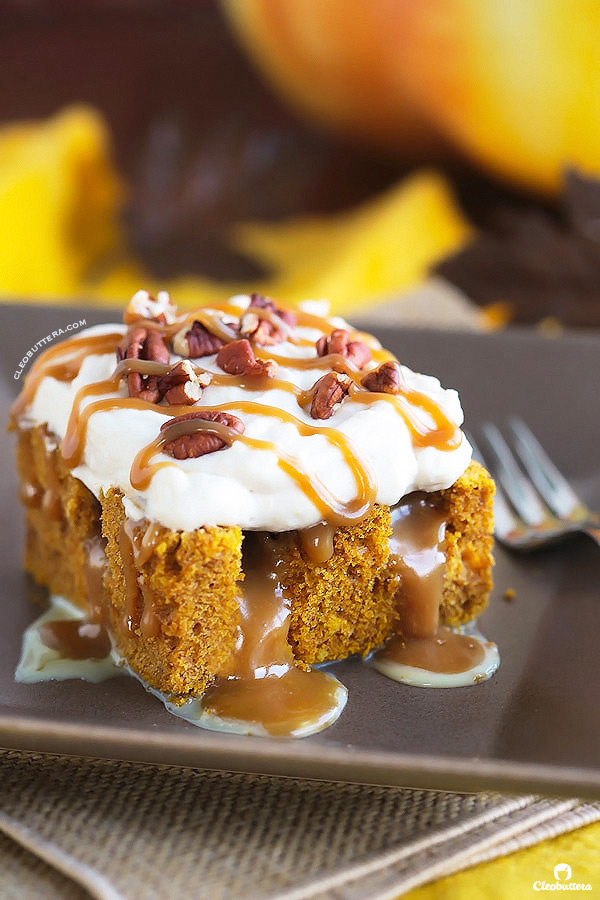 This superbly moist pumpkin spiced cake is so easy to make with the use of a revamped cake-mix. With its pockets of sweetened condensed milk, not-too-sweet caramel sauce, and clouds of caramel whipped cream and pecans, this cake is a sure hit with the crowd!
Prep Time 30 minutes
Cook Time 45 minutes
Additional Time 1 hour
Total Time 2 hours 15 minutes
Ingredients
For the pumpkin cake:
1 (15.25oz/ 433g) box yellow or vanilla cake mix *(using exact weight is important; see note)
1 cup (8oz/ 227g) canned pumpkin puree (not pumpkin pie filling)
1/2 cup water
1/3 cup vegetable or sunflower oil
4 eggs
1 tablespoon pumpkin pie spice (reduce to 2 teaspoons if you don't like a lot of spice; see not for substitution)
1 teaspoon ground cinnamon
For the caramel topping:
2 1/2 cups heavy whipping cream
1 1/4 cups (8 3/4oz/ 248g) packed dark brown sugar (light is fine)
1/4 cup plus 1 tablespoon (3 oz/ 85g) unsalted butter
1 teaspoon vanilla extract
Other toppings:
1 (14 oz/ 397g) can sweetened condensed milk (not evaporated)
1 1/2 cup very cold heavy whipping cream or 1 (12oz) tub whipped topping
1/2 cup chopped pecans, toasted (optional)
Instructions
For the pumpkin cake:
Adjust oven rack to middle position and preheat oven to 350F/180C. Grease or spray the bottom of a 13x9-inch pan.
In a large bowl, beat cake mix, pumpkin puree, water, oil, eggs, pumpkin pie spice and cinnamon with electric mixer on low speed until moistened. Increase speed to medium and mix for 2 minutes, scraping the bowl occasionally, until well combined.
Pour the batter into the prepared pan and bake for 26 to 33 minutes or until a toothpick inserted in center of cake comes out clean or with a few moist crumbs attached. Allow the cake to cool in the pan for 30 minutes. Meanwhile make the caramel topping.
To make the caramel topping:
In a 2-quart saucepan, heat whipping cream, brown sugar and butter over medium-high heat until boiling. Reduce heat to medium and simmer uncovered for 12 to 15 minutes (set a timer), stirring frequently, until thickened to the consistency of thick caramel sauce and deepens in color. Remove from heat; stir in vanilla.
Measure out 1/4 cup plus 2 tablespoons of the caramel and set aside in a small bowl. Measure out another 2 tablespoons of the topping and set aside in another small bowl. Cover both bowls with plastic wrap and allow to cool to room temperature; they will later be used to make the whipped cream and to garnish the cake. Allow the remaining caramel topping in the saucepan to cool slightly, about 5 minutes before pouring over the cake.
To assemble the cake:
Poke warm cake every inch, 3/4 of the way down, with the handle of a wooden spoon or the thick end of a chopstick. Slowly pour condensed milk all over cake. Let stand until milk has been absorbed into cake, about 5 minutes. Slowly drizzle the hot caramel topping, pressing slightly with a spatula into holes.
Allow the cake to cool completely before topping with the caramel whipped cream.
Spread the caramel whipped cream (recipe below) over the the cooled cake, sprinkle with the chopped pecans and drizzle with the reserved and cooled caramel topping. Warm the caramel slightly, if too stiff to work with,
To make the caramel whipped cream:
For best whipping results, place the bowl of the electric mixer and the whisk attachment in the freezer for about 10 minutes to get them really cold before using.
In the chilled bowl, whip the cold heavy whipping cream with the chilled whisk attachment until foamy.
Add in the reserved, cooled *(see note below) 1/4 cup plus 2 tablespoons caramel topping. Whip together until the caramel is incorporated and stiff peaks form. Alternatively, if using ready-made whipped topping, simply fold in the caramel topping.
The caramel whipped cream, is now ready to use as directed in step 3 of 'assembling the cake.'
Recipe Notes
I used both Pillsbury and Betty Crocker cake mixes with great results.
Make sure you use a (15.25oz) cake mix, as using a different size will alter the results. If a (12.7oz) cake-mix is all you can find as in some countries, then buy 2 boxes, use 1 whole box then add to it (2.5oz, 1/3 cup plus 2 tablespoons) from the other box. Save the remains of the second box for another use.
Pumpkin pie spice can be substituted with 2 teaspoons cinnamon, 1/4 teaspoon ginger, 1/4 teaspoon ground cloves, 1/4 teaspoon nutmeg, 1/4 teaspoon all spice.
Make sure that the caramel topping is just at room temperature and NOT chilled before adding it to the whipped cream. Cold caramel topping will not dissolve well into the whipped cream and may create bits throughout.
Cake recipe adapted from Betty Crocker.
Caramel topping recipe adapted from Betty Crocker.
Measurements Note: All recipes of this site have been developed using weight measurements. Although US volume measurements have been included for your convenience, it is highly encouraged that you weigh your ingredients using a kitchen scale to get the best possible results. Due to the sensitive nature of baking, kitchen scales are proven to yield more accurate and consistent results than measuring cups. Enjoy!
Disclaimer: I added a tiny extra caramel in the cake slice's grooves when photographing to make it more photogenic. If your cake slices don't have as much caramel oozing out of them when you cut it open, don't worry; there's enough caramel hidden inside, that you won't miss that dramatic ooze. Promise!
This post may contain affiliate links.
All images and content are owned by Cleobuttera® and are copyright protected. Please do not use my images without prior permission. If you would like to republish a recipe, please rewrite it in your own words and link back to the recipe page on my site. Original recipes and creations of this site are intended for personal and home use. Commercial replication or media consumption are only allowed with a written consent and agreement with Cleobuttera owners. Otherwise it is considered a violation of intellectual property. Thank you for respecting and appreciating the amount of time and effort that goes into creating free, unique recipes that make people happy.