The Ultimate Pumpkin Cake
Brown Butter in both the cake and cream cheese frosting, a drizzle of cinnamon caramel sauce and an adornment of golden marzipan mini pumpkins, elevate the fall favorite to another level with caramel and spice undertones in every bite.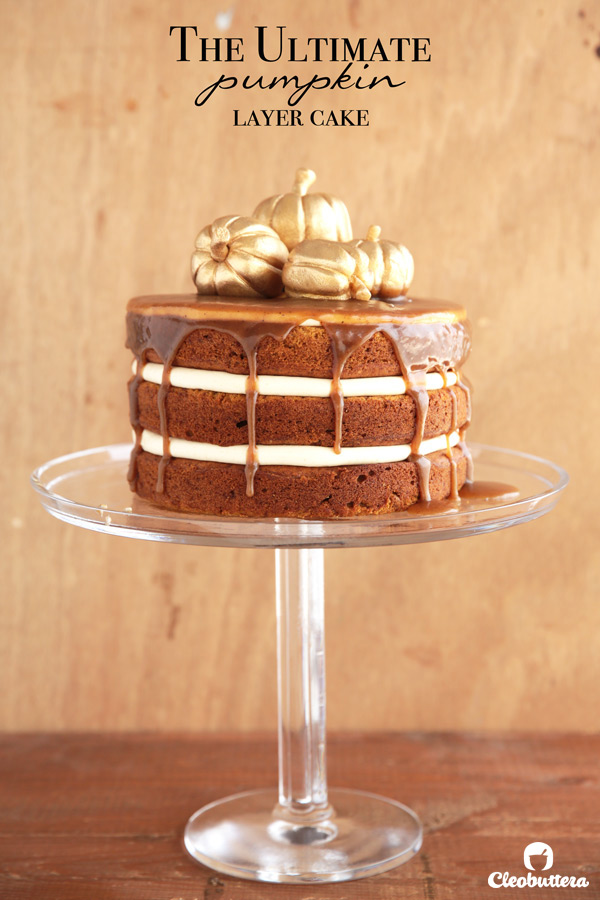 BIG claim huh? THE ULTIMATE. Couldn't agree more with you.
I don't think I'm even legit to use such braggy adjectives in my titles just yet.
Well for starters, my blog is only 5 days old. Which makes me the least credible food blogger out there. I hear ya.
Second, I'm Egyptian, which means that until 3 years ago, the only pumpkin-y dessert I had the pleasure to meet was the infamous butternut squash béchamel casserole, that every other aunt in Egypt makes.
Wait…that wasn't even pumpkin. But close enough.
If you feel like I've convinced you to leave already, I can't blame you. But I strongly encourage you not to or you'll be missing out on one of the most delicious cakes you could possibly eat.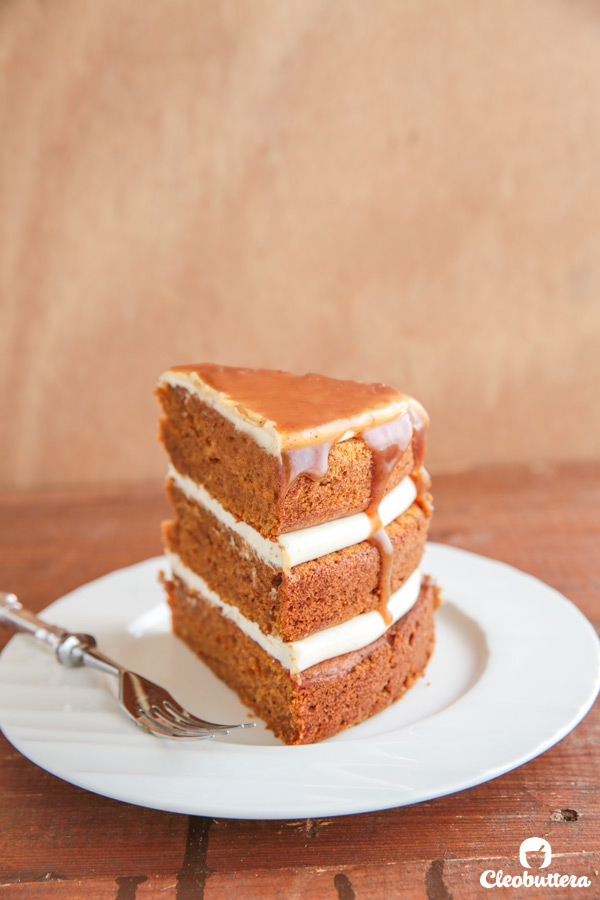 You see, I was sitting there minding my own business, enjoying peace of mind, not knowing that pumpkin desserts are even a thing. And then Pinterest comes into my life and turns all that upside down.
Fall just barely starts to peak through, and a flood of pumpkin this and pumpkin that drowns your Pinterest feed. You know how it works.
I had to see what the fuss is all about.
Pinterest addicts would agree that it just has mystical ways of making us do and want stuff that we don't need. But in my case crave. All.The.Time.
After some extensive canned pumpkin puree hunting in Cairo's supermarkets, my eyes lit up as I held a can in my hand.
Trying to get past the fact the it tasted like baby food in its raw form, I mixed up a pumpkin cake batter, baked it and was counting the minutes for it to cool so I could attack.
First impression: Eeeew!
The cake was mushy, oily, too moist in the worst soggy way and still tasted like baby food.
So…Challenge Accepted!
I was determined to find a recipe for the Ultimate Pumpkin Cake…moist without being dense or soggy, fluffy, perfectly spiced with the warm flavors of the fall, with an incredible frosting and sauce that makes you want to go for seconds.
This cake is just that and more.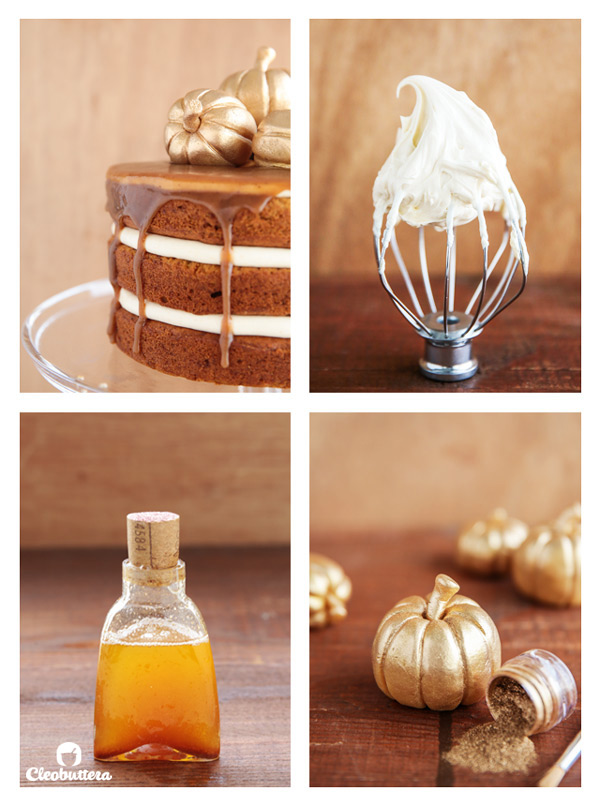 After trying out some of the most popular recipes out there for pumpkin cake, I took my favorite elements from each one and smushed them together to make a pumpkin cake worthy of the title. No offense to other pumpkin cakes out there, I love you all, but this just happens to be our favorite of the bunch.
Its just extra special.
Here's what makes this cake so awesome:
Brown Butter: Most pumpkin cake recipes use oil, because its known for keeping cakes so moist. Well, Pumpkin cakes are generally already moist, sometimes even unpleasantly so to the extent of sogginess, because of the the pumpkin puree. So butter it is, and if you're gonna use butter, might as well brown it. Because browned butter is 100 times more delicious that plain 'ol butter. Its has the most intoxicating nutty aroma and adds incomparable deep tones of caramel to baked goods. Brown butter is used twice here. Once in the cake and another in the frosting. So its a double hit of rich caramel notes.
Dark Brown Sugar: Brown sugar is basically just sugar with molasses added to it so it kinda tastes like caramel. Make that dark, and it will lend an even more caramel-y flavor to cakes than light brown sugar or just plain white sugar.
Brown Butter Cream Cheese Frosting: Using brown butter instead of regular butter, elevates the taste of the cream cheese frosting, making it taste caramel-y. This frosting is so phenomenally good and pipable that I've dedicated an entire post for it.
Cinnamon Caramel Sauce: You know that gooey inside center of a cinnamon roll that we all fight over…yeah well that sauce tastes just like that!
Mini Golden Pumpkin Marzipan Toppers: These are just there for the cute factor. The cake will still taste just as delicious without them but they just add a touch of elegance.
The mini pumpkins are as easy as 1,2,3, but add to that 6 more steps:)))
Seriously though, they're so simple to make. Just take a look below.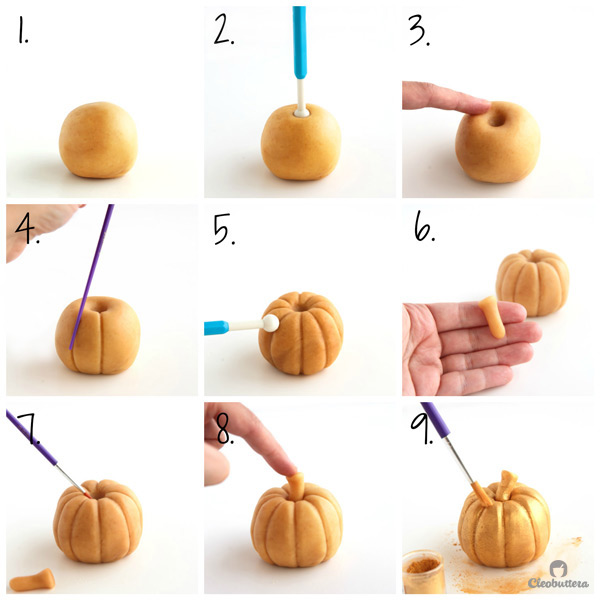 You start by shaping the marzipan into a ball.
Make a round indentation into the top of the ball using anything you have like…your pinky:) I just happen to have a ball tool.
Smooth out the edges around the indentation so they're more round and less rigid.
Using a toothpick, skewer or end of a thin paint brush, press in vertical lines (about 8) from top to bottom.
Using the ball tool or your finger, smooth out the line to blend with its surrounding.
Roll a small piece of marzipan to look like a pumpkin's stem.
Add a drop of water to the indentation, which will help the stem stick.
Place the stem into the indentation and press gently to adhere.
Using a paint brush (dedicated for kitchen use only) brush on some gold lustre dust to color.
Now onto that glorious cake. Shall we?
To get a sleek look with this bare sided cake, you'll want to use a piping bag with a round tip and pipe a dame all around the edges.
Fill the dame with more frosting then carefully place the cake layer over it. Repeat.
After that, just drizzle away with that caramel sauce.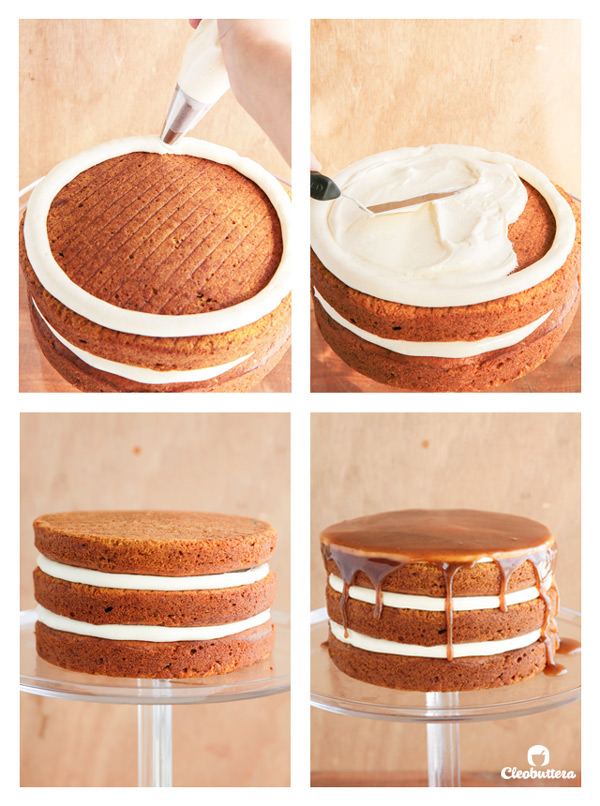 Can we pause here for a second?
Because this sauce should not be passed by that easily.
Its a super easy caramel sauce made by just dumping butter, brown sugar and heavy cream in a saucepan, bringing it to boil, then spicing it up with a touch of cinnamon and you've got yourself a cinnamon roll in liquid form.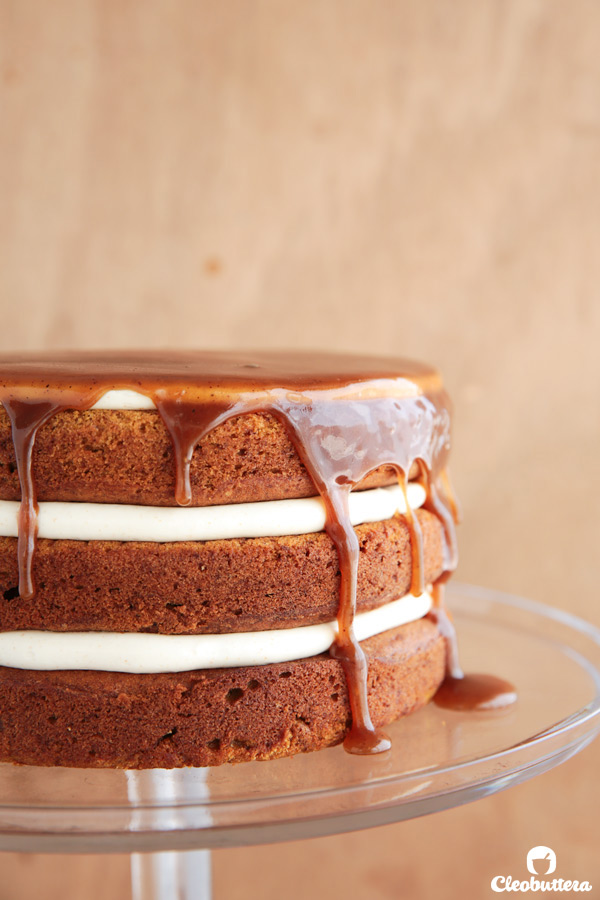 Haaaaaaaaa…..
The combination of perfectly moist and flavorful brown butter pumpkin cake along with brown butter cream cheese frosting, and cinnamon caramel sauce is dynamite.
I urge you to do yourself a favor and make this cake before fall ends. Because after that it will all be eggnog and peppermint on Pinterest and this cake will feel like…so last year. And who am I to argue with Pinterest.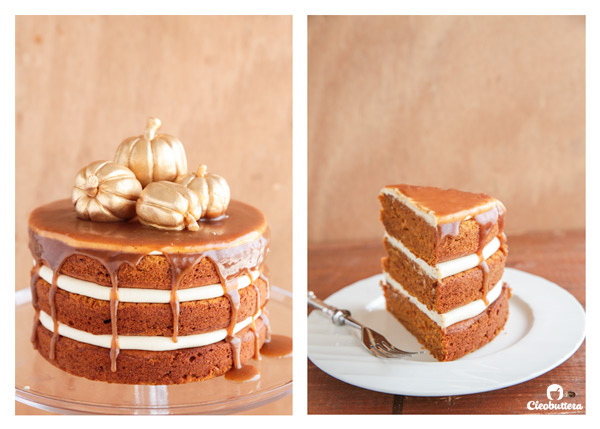 Yield: 1 (8 or 9inch 3 layer cake)
The Ultimate Pumpkin Cake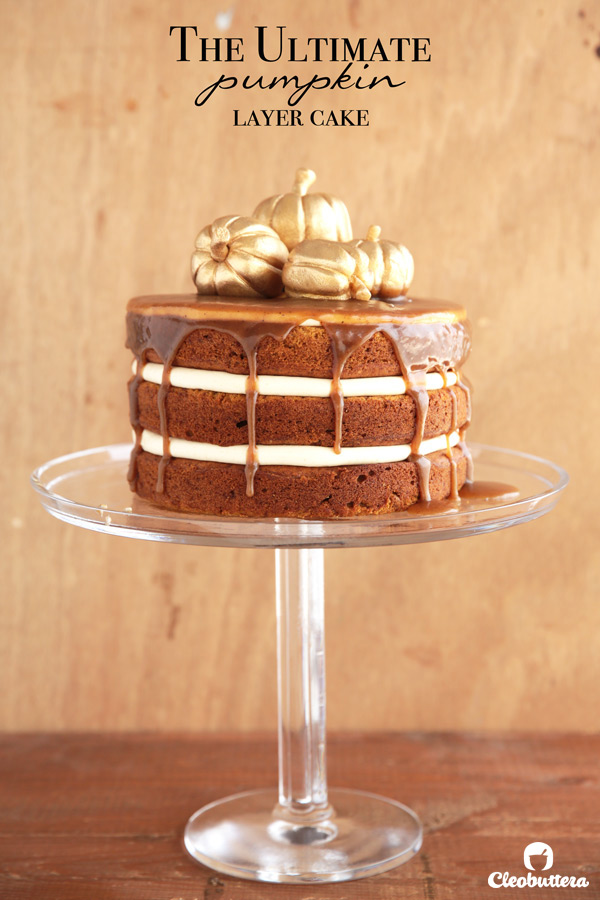 Brown Butter in both the cake and cream cheese frosting, a drizzle of cinnamon caramel sauce and an adornment of golden marzipan mini pumpkins, elevate the fall favorite to another level with caramel and spice undertones in every bite.
Prep Time 1 hour
Cook Time 35 minutes
Additional Time 2 hours
Total Time 3 hours 35 minutes
Ingredients
For the cake:
3 1/2 cups (420g) all purpose flour
2 teaspoons baking powder
1 1/4 teaspoons baking soda
3/4 teaspoons salt
2 1/2 teaspoons cinnamon
3/4 teaspoon ground nutmeg
3/4 teaspoon ginger
1 1/4 cups (284g) unsalted butter
1 1/2 cups (300g) granulated sugar
1 cup (200g) dark brown sugar
4 eggs, at room temperature
2 1/2 teaspoons vanilla
2 cups (454g) canned pumpkin puree, at room temperature
1/2 cup (120ml) buttermilk, at room temperature
For the Cinnamon Caramel Sauce:
1/4 cup (57g) unsalted butter
1/2 cup (100g) packed brown sugar, light or dark
1/4 cup (60ml) heavy whipping cream
1/8 teaspoon salt
1/4 teaspoon cinnamon
For the frosting:
Instructions
To make the cake:
Place the butter in a light colored skillet or saucepan over medium heat until melted.
Continue cooking, swirling the pan constantly or stirring with a heatproof rubber spatula, until the butter is dark golden brown and has a mezmerising nutty aroma.
Transfer to a small bowl, cover and place in the freezer for about 45 minutes or until it solidifies but is still soft and pliable. If it gets too solid and cold, give it a quick zap in the microwave to loosen but not melted.
Preheat the oven to 350F (180C).
Line three 8 or 9inch pans with parchment paper, then spray with a non-stick cooking spray or butter and flour it.
In a large bowl, whisk together the flour, baking powder, salt, baking soda, cinnamon, nutmeg, and set aside.
In another medium bowl, combine together the pumpkin puree, buttermilk, vanilla and set aside.
In the bowl of a stand mixer fitted with the paddle attachment (or handheld mixer) beat the browned butter on medium high speed until creamy, about 1 minute.
Gradually add both sugars and cream together until lightened in both color and texture, about 5 minutes.
Add the eggs one at a time, mixing well after each addition.
On low speed, add one third of the flour mixture, followed by half of the pumpkin mixture, then another third of the flour mixture, followed by the remaining pumpkin mixture and ending with the flour mixture, scraping the bowl as needed.
Mix just until combined. Do not overbeat the batter.
Divide evenly among the prepared pans. Bake until the cake's center springs back when lightly touched, a toothpick comes out of the center clean and the cake starts to pull away from the sides, 30 to 35 minutes.
Let cool in the pan for 15-20 minutes, then turn onto a wire rack to cool completely before frosting.
While the cakes are baking and cooling, prepare the frosting and sauce (recipe below).
When ready to frost, place 1 cake layer on a turntable or cake platter and using a piping bag fitted a large round tip, pipe all around the edges of the cake to create a dame.
Fill the dame with frosting, then place the second cake layer and repeat with frosting and layering.
Place the cake in the freezer for 20-30 minutes until the top layer of frosting hardens. This will help protect it from smearing when adding the caramel sauce.
Pour the caramel sauce on top of the cake, letting it drip around the side. You might need the help of an offset spatula to help spreading it.
To make the sauce:
In a saucepan, melt the butter, brown sugar, cream and salt over medium heat, stirring constantly with a whisk or heatproof rubber spatula.
Bring to boil and simmer for about 1 minute, stirring constantly.
Remove from the heat and stir in the cinnamon.
Let cool to room temperature before pouring over the cake.
Recipe Notes
Make sure you bake this cake all way, as it has the tendency to fool you into thinking its done while its not. If the toothpick comes out clean but the center doesn't spring back when touched, then its probably under baked, so give it a few more minutes in the oven. Make sure that the center of the cake springs back when touched to get a fully baked fluffy interior.
You could bake the cake layers a day in advance, then wrap each layer separately in plastic wrap and store in a zipper lock bag or airtight container until ready to frost.
The frosting for this cake is enough to fill and cover the top of the cake, while leaving the sides bare. If you wish to cover the sides, then I'd recommend you double the frosting recipe.
The cinnamon caramel sauce is just enough to cover the top of the cake and drizzle on the sides just like in the pictures. If you'd like extra to spoon over the cake slices during serving, then double the recipe.
If you can't find canned pumpkin puree, you can make your own following this method. Pumpkins labeled 'sugar' or 'pie' pumpkins, are ideal here, but if you can't find either, large pumpkins similar to those used for jack-o-lanterns can be used. If using large pumpkins, be sure to strain the cooked puree for about 2 hours, as it tends to pack more moisture that other kinds. Any winter squash, like butternut squash will work here too!
Cinnamon Caramel Sauce slightly adapted from Cooks Illustrated
Measurements Note: All recipes of this site have been developed using weight measurements. Although US volume measurements have been included for your convenience, it is highly encouraged that you weigh your ingredients using a kitchen scale to get the best possible results. Due to the sensitive nature of baking, kitchen scales are proven to yield more accurate and consistent results than measuring cups. Enjoy!
This post may contain affiliate links.
All images and content are owned by Cleobuttera® and are copyright protected. Please do not use my images without prior permission. If you would like to republish a recipe, please rewrite it in your own words and link back to the recipe page on my site. Original recipes and creations of this site are intended for personal and home use. Commercial replication or media consumption are only allowed with a written consent and agreement with Cleobuttera owners. Otherwise it is considered a violation of intellectual property. Thank you for respecting and appreciating the amount of time and effort that goes into creating free, unique recipes that make people happy.