Salted Caramel Stuffed Cookie Bars
Browned butter chocolate chip cookie bars sandwiching a layer of sinfully delicious, homemade salted caramel sauce. This gooey, sweet and salty concoction is sure to make your tastebuds dance.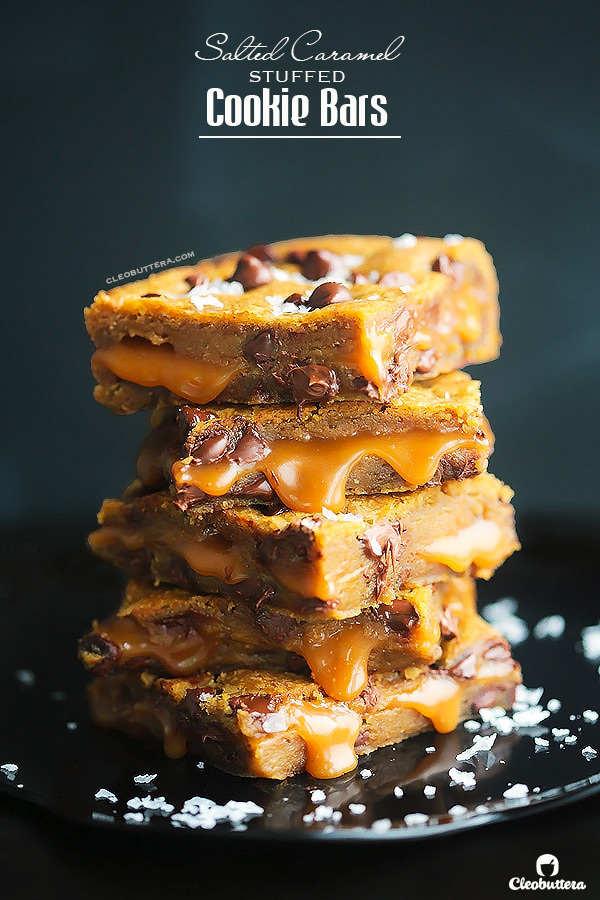 I never thought that my absolute favorite chocolate chip cookie dough recipe could possibly get any better.
My browned butter-obsessed self, refused to believe that anything could ever top soft and chewy chocolate studded cookies perfumed with browned butter and toffee amazingness.
Turns out that 'self' was wrong…soooo dang wrong.
Because salted caramel has the power to turn anything infinitely better. Even when it seems like it can't be improved upon.
I've waxed poetic about this cookie dough perfection here, but today, we're kicking it up a few notches.
We're taking the much loved browned butter chocolate chip cookie dough and turning it into heavenly bars with a ribbon of salted caramel running through the middle.
If it sounds like too much of a good thing, I beg to differ. As well as the dozen who inhaled them. The generous amount of salt just balances everything out. I got comments like: "My top favorite of all time!," "HEAVEN!" and "unbelievably good!"
Although only 1 felt that they're "so satisfying that one bite goes a long way." I wish I was this kind of person. Satisfied after one bite. But…LOL!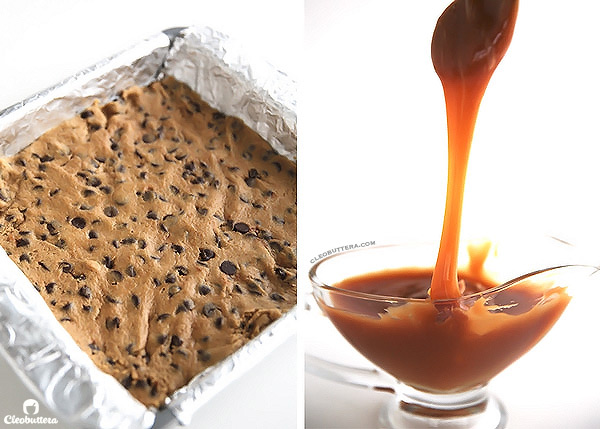 No portioning of cookie dough into equal balls required here or worrying about them spreading too much or overbaking. Turning cookies into bars, is the answer for lazy, care-free kind of days.
All you do is press in half the dough in a pan, par-bake it just a little, then pour on that golden deliciousness, sprinkle on some sea salt for good measure, top with the remaining dough, then bake for a little more.
In my first trial of the recipe, I did not par-bake the first layer; just poured on the caramel on the raw dough, topped that with more dough and baked the whole thing all at once. While it wasn't bad, because you can't go wrong with ingredients like this, but there wasn't that distinct layer of caramel that I was after. The caramel just fused in with the bars and the center was too gooey, bordering on raw. Par-baking the first layer just a bit before adding on the rest of the components did the trick.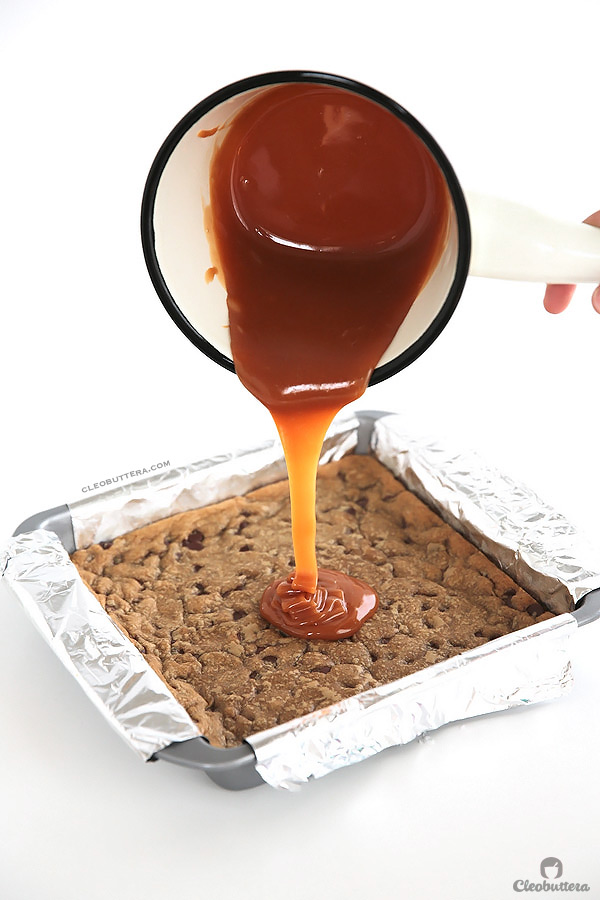 And can I just talk about this ridiculous salted caramel for just a second?
It's heavenly. The end.
No really, aside from the fact that it tastes flippin' insane, this caramel is different from your typical thin, pourable caramel sauce. Its of a thicker variety, kind of like the stretchy type you find in Snickers and Twix bars. This makes it ideal for stuffing into bars like these or cookies or mouthes, because as it cools, it will thicken into a soft and chewy candy-like caramel, instead of a runny mess. It's still super soft though, so no worries whatsoever of it sticking to your teeth. It's just perfect you guys.
I've been looking for a recipe for this kind of thick caramel for so long, but all I ever seem to find are ones made with store-bought caramel candies. While I'm not against using them, they're just unbelievably expensive over here in Egypt. I ain't paying that amount of money for something I know I could do at home. Plus this recipe tastes three bajillion times better than what you'll get using caramel candies and so simple to make.
Thankfully, Yammie's caramel recipe was here to save the day, so my bars would look like that…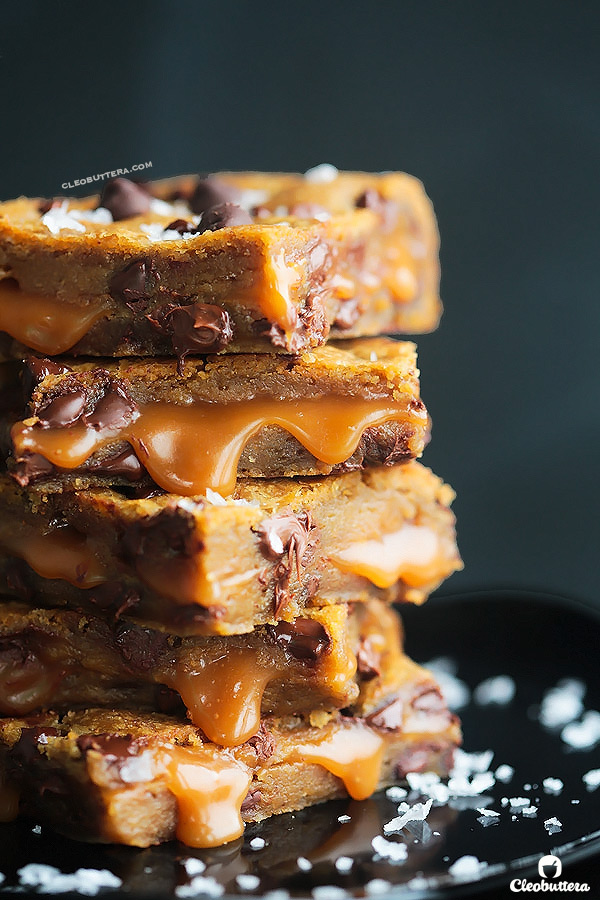 Note: Since ooey, gooey, drippy pictures are always so photogenic, I cut into the bars while still warm to be able to capture that oozing action. If you want your caramel to be more contained within the bars and cleaner-looking, let the bars cool completely before cutting into it. Check the last photo of the post for a cooled down shot of the bars.
Now let's make 'em!
We'll start with that revolutionary caramel, that I'm so in love with. Note: If you're looking for a more fluid caramel sauce for pouring on top of desserts, this is not the recipe you're looking for, because this one thickens into a soft, stretchy candy-like consistency, perfect for pulling with your fingers into wads and throwing in your mouth.
In a small saucepan over medium-high heat, you'll combine sugar and corn syrup and then melt together. This should take about 3 minutes.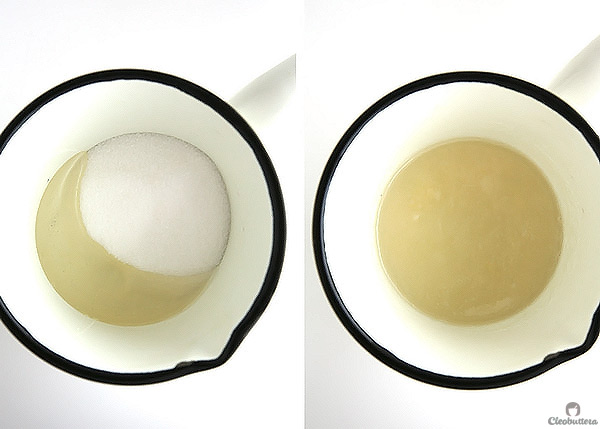 Then you'll continue letting it cook about 6 minutes, until it turns honey colored. When this happens, watch your caramel like a hawk because it could burn within seconds. You'll want to let it turn into a beautiful amber caramel-y color.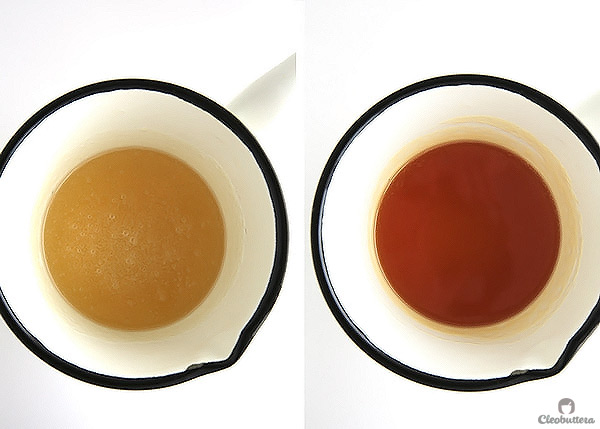 Once it reaches this stage, take it off the heat, add in the butter and whisk until melted and well combined. Return it to the heat if its not melting well.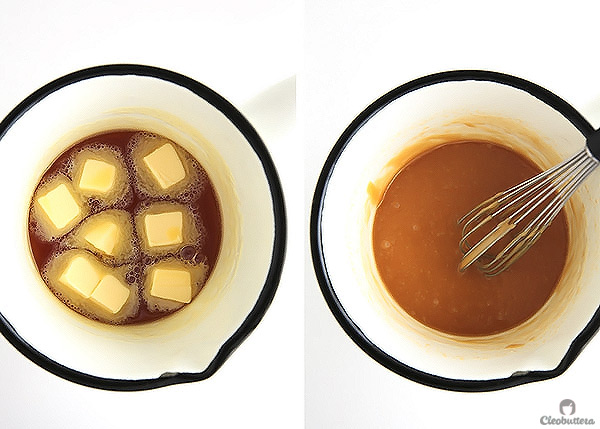 Pour in the heavy whipping cream, return to heat and whisk, whisk, whisk until everything is fully incorporated and heat through.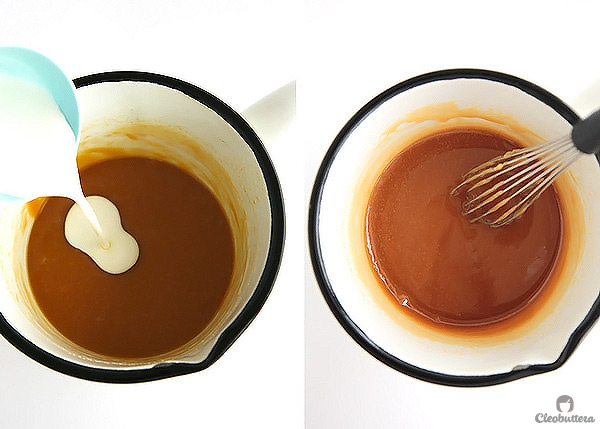 Add in your salt and vanilla and whisk to combine.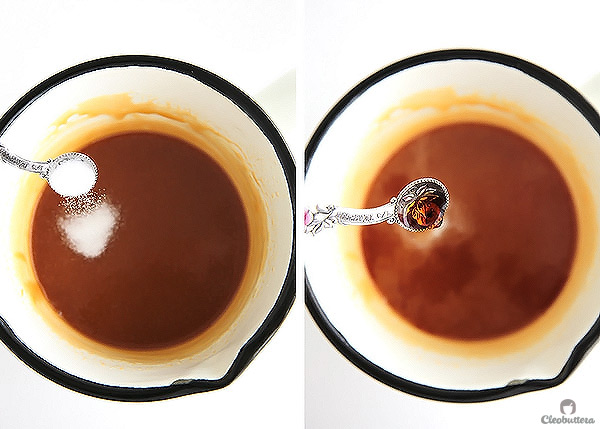 This is what it looks like while still warm.
Mmmmmm…drinkable I tell ya! Someone hand me a straw please….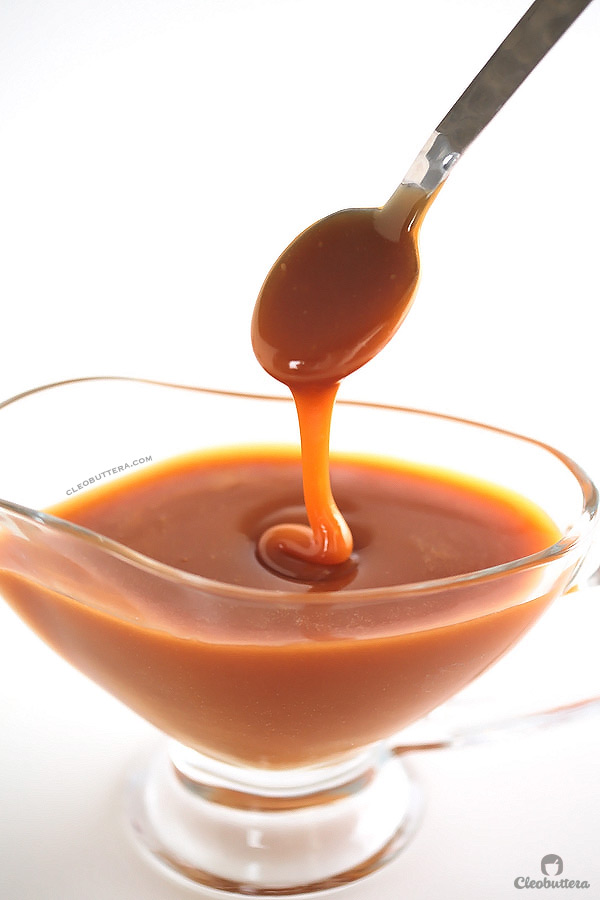 Try your best to forget about this caramel sauce for a few minutes and whip up this browned butter cookie dough. Click here for step-by-step photos of its making.
Grab half of the cookie dough and press it into a foil lined pan with an overhang (this will come handy later when you take the bars out of the pan).
Bake this for 10 to 12 minutes, just until the surface sets. This will prevent the caramel sauce from sinking in, so you get the perfect layer of caramel in the center.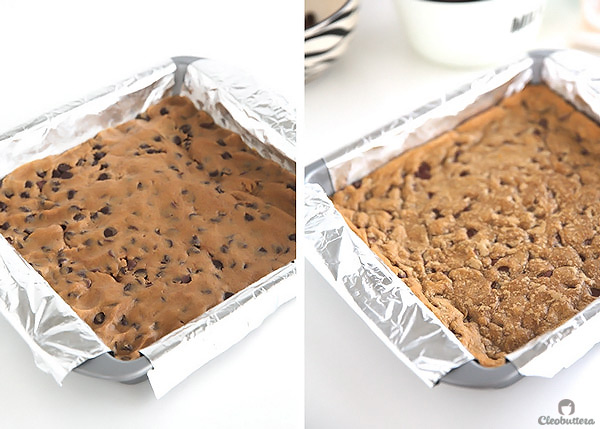 When it comes out of the oven, pour on the caramel, leaving a 1-inch border, sprinkle on some sea salt flakes, then lightly press in the remaining cookie dough. As you could see from the picture on the right, its all pieced together. I find that the easiest way to do this is to flatten small pieces of dough between my hands, then adding it piece by piece, sticking all the pieces together.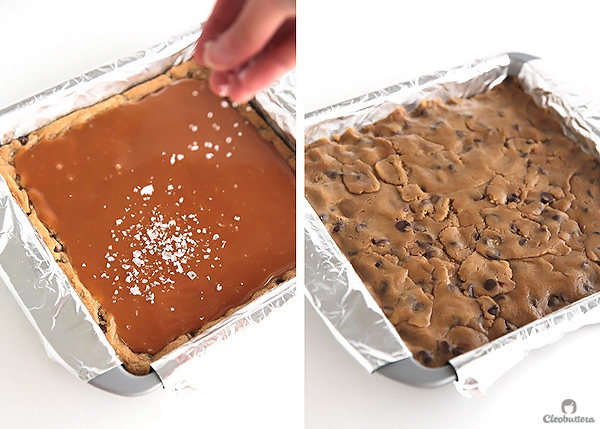 Then add some more chocolate chips on top, because its pretty. And yummy. Then bake for another 20 to 25 minutes until deep golden brown and the center is not jiggly when you gently shake the pan.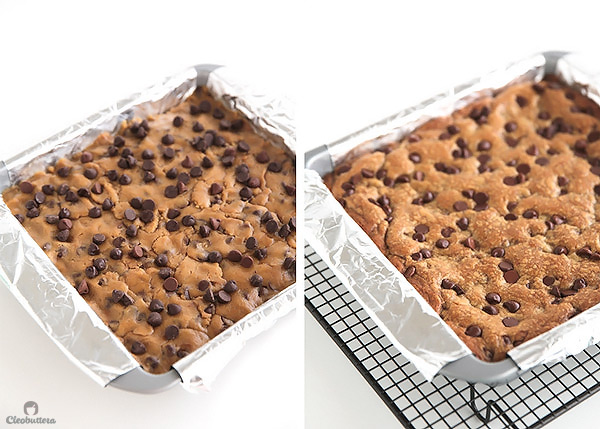 Here's the torturous part. The waiting.
If you want yourself some clean-cut bars without the caramel oozing out everywhere, then you gotta be patient and wait till it cools completely before cutting into it. If you don't care one bit about that, then top the whole thing with vanilla ice cream while still warm and go to town with it.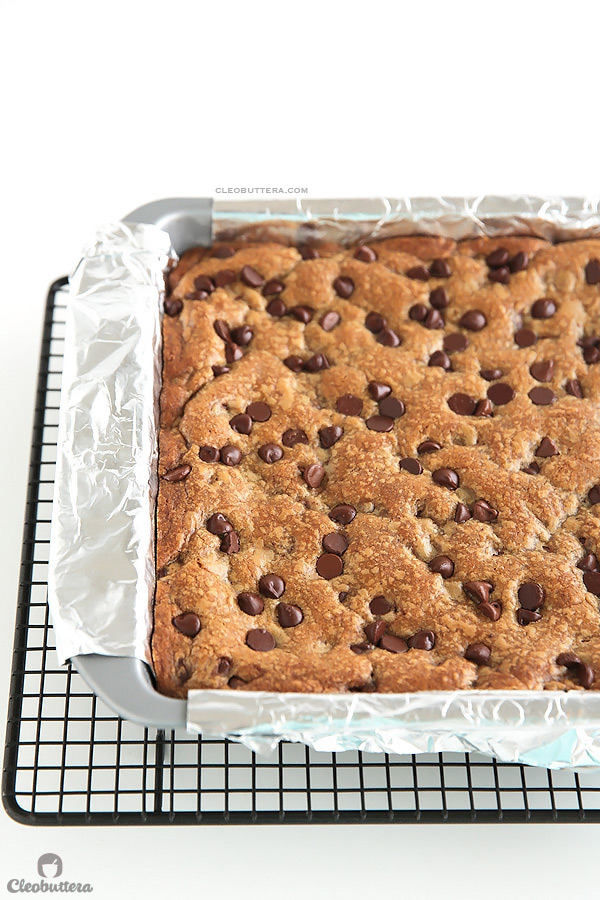 Some kiddy hand modelling coming right up. My baby girl, who's not a baby anymore and it's freakin' me out! She wanted me to photoshop her a manicure; how cute:)))
Oh well, while I couldn't give her the faked manicure she wanted, I think she'll forgive me because I let her eat a piece of that gooey ridiculousness.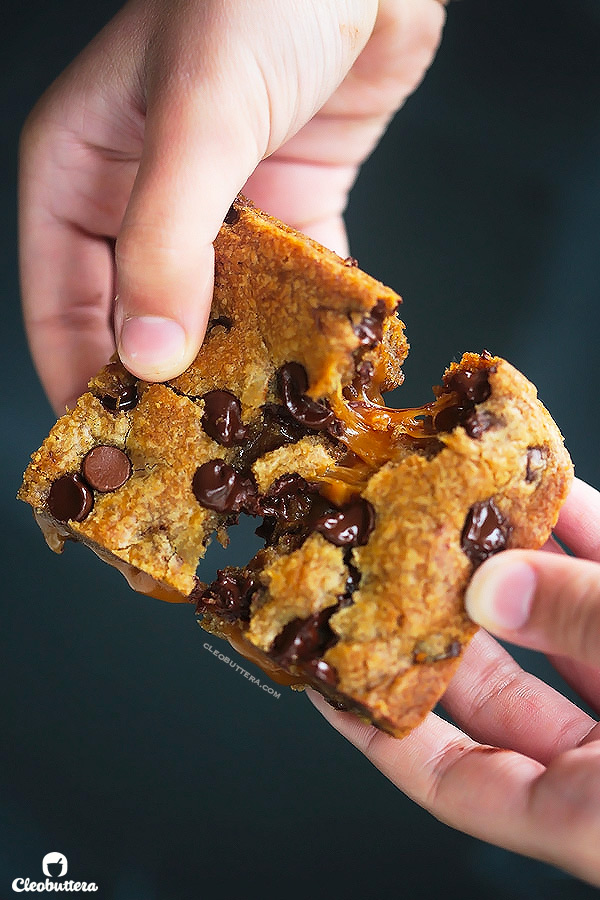 Wouldn't you?
Word of advice:
Make it!
Yield: 12 bars
Salted Caramel Stuffed Cookie Bars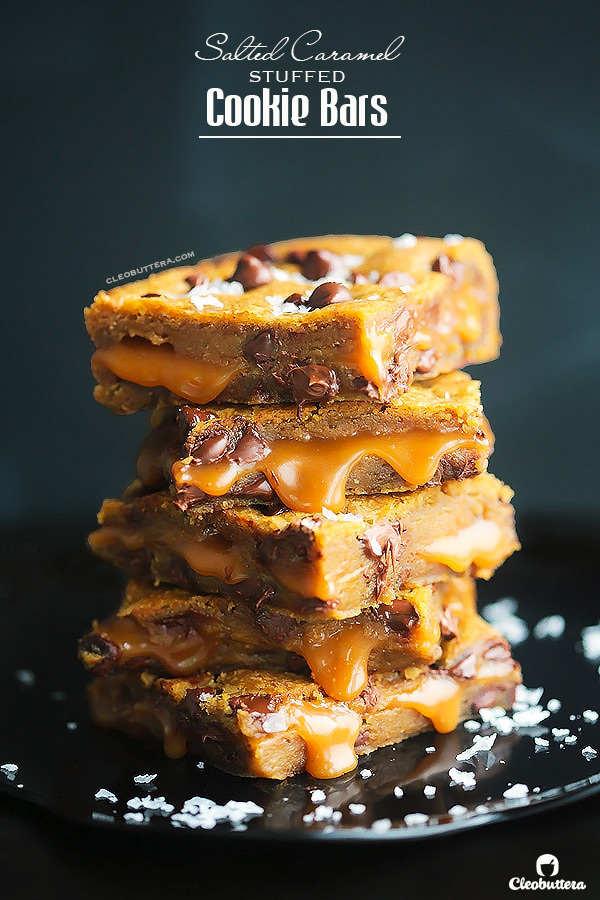 Browned butter chocolate chip cookie bars sandwiching a layer of sinfully delicious, homemade salted caramel sauce. This gooey, sweet and salty concoction is sure to make your tastebuds dance.
Prep Time 40 minutes
Cook Time 50 minutes
Additional Time 30 minutes
Total Time 2 hours
Ingredients
For the Caramel: (*see note below for shortcut recipe)
3/4 cup (5 1/3oz/ 150g) sugar
3 tablespoons corn syrup
1/4 cup (2oz/ 57g) unsalted butter
3 tablespoons heavy cream
1/4 to 1/2 teaspoon table salt, according to taste
1/4 teaspoon vanilla (optional)
3/4 teaspoons sea salt flakes or more, for sprinkling
For the Cookie Dough:
1 3/4 cups (8 3/4 oz/ 248g) all-purpose flour*
1/2 teaspoon baking soda
14 tablespoons (7 oz/ 200g) unsalted butter, divided
1/2 cup (3 1/2 oz/ 100g) granulated sugar
3/4 cups (5 1/4 oz/ 150g) packed dark brown sugar*
1 teaspoon table salt
2 teaspoons vanilla extract
1 large egg
1 large egg yolk
1 1/4 cups (8 3/4 oz/ 248g) semisweet chocolate chips, plus extra for pressing on top
3/4 cup chopped pecans or walnuts, toasted (optional)
Instructions
To make the Caramel:
In a small saucepan, combine the sugar and corn syrup and cook over medium high heat, stirring occasionally. The mixture will melt and become translucent in about 3 minutes.
Continue cooking about 6 minutes until the mixture turns honey colored. Watch the caramel carefully from hereon as it will caramelize in no time.
It will then quickly change into an amber, caramel color. As soon as this happens, take it off the heat and add in the butter, (which will bubble vigorously) and whisk until melted and well combined. Return it to the heat if its not melting well.
Add in the cream, return to heat and continue whisking until fully incorporated. Stir in the table salt and vanilla. Set aside until needed.
To make the Cookie Dough:
Adjust oven rack to middle position and heat oven to 350F/180C degrees.
Line an 9-inch square pan with a sheet of foil, pushing it into corners and up sides of pan; allowing excess to overhang pan edges. Fit another sheet of foil perpendicular to the first sheet, using the same manner. Spray with nonstick cooking spray..
In a medium bowl, whisk together the flour and baking soda; set aside.
In a light-colored skillet, heat 10 tablespoons (5 ounces) of the butter over medium-high heat until melted, about 2 minutes. Continue cooking, stirring and scraping the pan constantly with a heatproof rubber spatula until the butter turns dark golden brown and has a nutty, caramel-y aroma, 1 to 3 minutes. Be careful not to burn it.
Remove the skillet from the heat and, using the spatula, transfer the browned butter to large heatproof bowl. Whisk remaining 4 tablespoons (2 ounces) of butter into the browned butter until completely melted.
Whisk in both sugars, salt, and vanilla to the bowl with butter until fully incorporated.
Add in the egg and yolk and whisk until mixture is smooth and emulsified with no sugar lumps remaining, about 30 seconds. Let mixture rest for 3 minutes, then whisk for another 30 seconds.
Repeat the process of resting and whisking 2 more times (a total of 4 times altogether) until mixture is thick, smooth, and slightly lightened in color.
Using a rubber spatula, stir in the flour mixture until just combined. Do not overmix; a few streaks of flour is OK.
Stir in chocolate chips and nuts (if using), giving the dough a final stir to ensure that no flour pockets remain.
Assembling and baking the bars:
Press half of the cookie dough into the bottom of the prepared pan.
Bake until the surface is just set; 10 to 12 minutes.
If needed, warm up the caramel sauce in the microwave to get it back to a pourable consistency. Pour the salted caramel sauce right on top of the par-baked cookie layer, spreading it evenly, making sure to leave 1-inch around the edges bare. Sprinkle with the sea salt flakes.
Press the remaining cookie dough on top of the salted caramel layer. The easiest way to do this is to flatten small pieces of dough between your hands, then adding it piece by piece, sticking all the pieces together.
Sprinkle the top with with extra chocolate chips.
Place the pan in the oven and bake until the dough has turned a deep golden brown and the center is not jiggly when you gently shake the pan; 20 to 25 minutes.
Allow bars to cool completely in the pan, about 1 hour, as this will allow for cleaner cuts, without the caramel oozing out of the bars. If this is not a concern, then let it cool for about 30 minutes then dig in.
Using the foil overhang, pull the bars out of the pan and transfer to a cutting board. Cut into 12 bars and enjoy.
Recipe Notes
For a caramel sauce shortcut, microwave together 7 ounces soft caramel candies such as Kraft, with 2 1/2 tablespoons heavy cream until caramels are melted, stirring every 20 seconds. This will take about 2 minutes, depending on your microwave. Stir in 1/2 teaspoon salt. Use in place of the homemade salted caramel in the recipe.
A slightly larger pan whether rectangular or square could be used instead of the 9" square pan, but the bars will be thinner.
For the cookie dough, make sure you use the soft kind of brown sugar that feels and looks like damp sand like Dominos brand. Avoid the coarse, granular type of brown sugar like demerara. Use fresh, moist brown sugar instead of hardened brown sugar, which will make the cookies dry. This recipe also works well with light brown sugar, but the cookies will be less full-flavored, but still amazing.
Use a light colored skillet to brown the butter. Avoid using a nonstick skillet because the dark color of the nonstick coating makes it difficult to see when the butter is browned.
Cookie dough recipe adapted from Favorite Chocolate Cookies
Caramel sauce adapted from Yammie's Noshery
Measurements Note: All recipes of this site have been developed using weight measurements. Although US volume measurements have been included for your convenience, it is highly encouraged that you weigh your ingredients using a kitchen scale to get the best possible results. Due to the sensitive nature of baking, kitchen scales are proven to yield more accurate and consistent results than measuring cups. Enjoy!
This post may contain affiliate links.
All images and content are owned by Cleobuttera® and are copyright protected. Please do not use my images without prior permission. If you would like to republish a recipe, please rewrite it in your own words and link back to the recipe page on my site. Original recipes and creations of this site are intended for personal and home use. Commercial replication or media consumption are only allowed with a written consent and agreement with Cleobuttera owners. Otherwise it is considered a violation of intellectual property. Thank you for respecting and appreciating the amount of time and effort that goes into creating free, unique recipes that make people happy.