Grandma's Balah El Sham (Fluted Fritters)
These churro-like, Middle Eastern fritters are crunchy on the outside and irresistibly squishy soft on the inside. As soon as they come out of the fryer, they get dipped in a pool of vanilla sugar syrup, which makes them delighfully squirt to the bite. Plus…recipe VIDEO at the end of the post!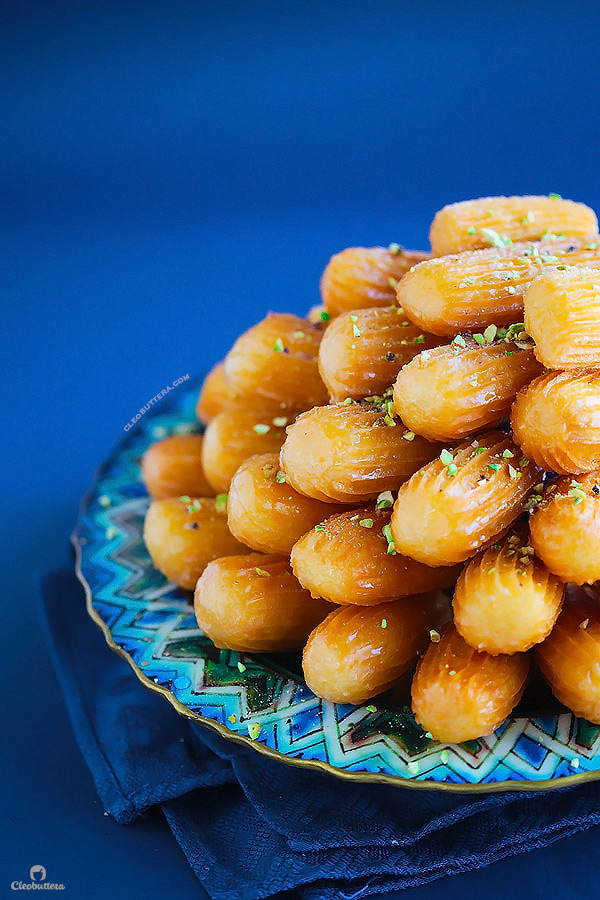 If a churro and a doughnut had met, fell in love, got married and moved to the Middle East, I'm pretty sure Balah El Sham would've been their first born.
Balah would get Churro's grooved, tanned and handsome looks, and Doughnut's soft, squishy heart. Will be like all tough guy and crunchy on the outside, and sweet and tender like a teddy bear on the inside. Balah El Sham might not be as tall as Churro, or as chubby as Doughnut, but sure is downright tasty!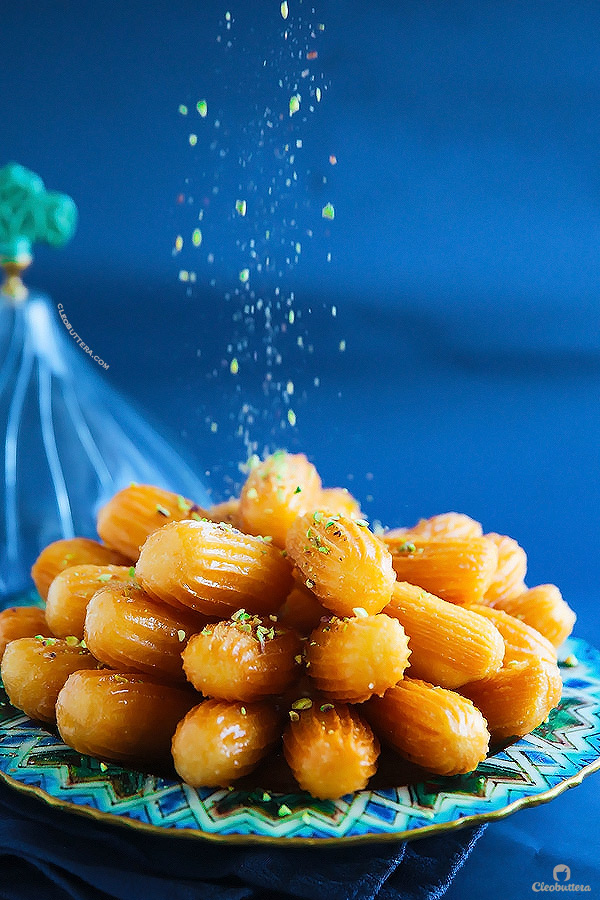 Balah El Sham is one of those old as time pastries with a million names, depending on where you are. It's popular in most parts of the Middle East, and some Eastern European countries in different forms. Like churros, it's essentially fried pate a choux that gets a dunk in sugar syrup, instead of cinnamon sugar. Sometimes it gets cut open and stuffed with whipped cream, chocolate, fruits, nuts or any sort of deliciousness like pastry cream.
And while I've never met a version of Balah El Sham that I did't like, I firmly believe that my Grandma's is the best!
Call me bias or blame it on nostalgia, but Grandma's recipe gives pastry shops a run for their money.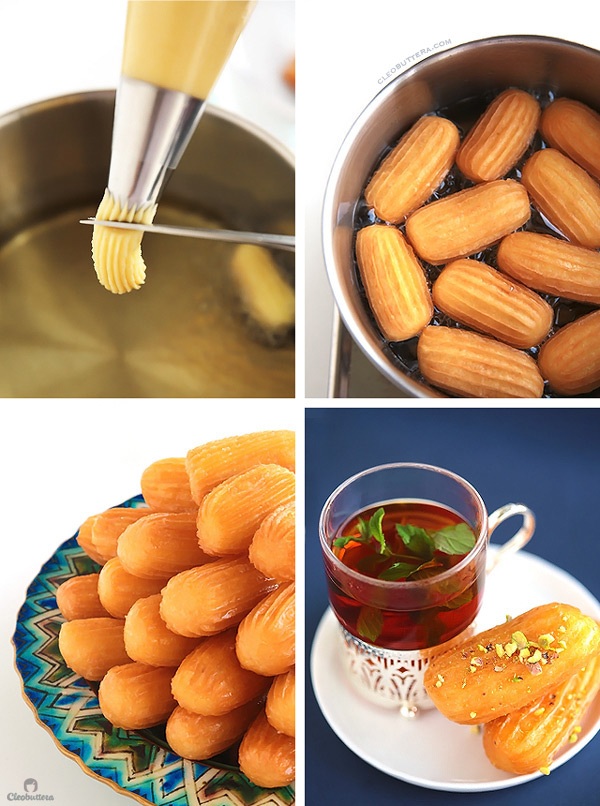 My Grandma, may she rest in peace, was…EPIC. And while no words in a blog post could ever do her justice, sharing one of her treasured recipes might just give you an idea what an amazing cook she was. She especially loved baking, and would always tell me that I've inherited the baking gene from her.
Trust me, if I was as half the baker she was, Dominique Ansel might want to watch his back because he would've been up for some toooouuuuuugh competition.
Her Balah El Sham recipe is as perfect as can be. She was so famous for it, that it's the only recipe anyone from the family or close to the family ever use. I tried several recipes from renowned chefs, you know…just to make sure, and tasted so many others before deeming them the best.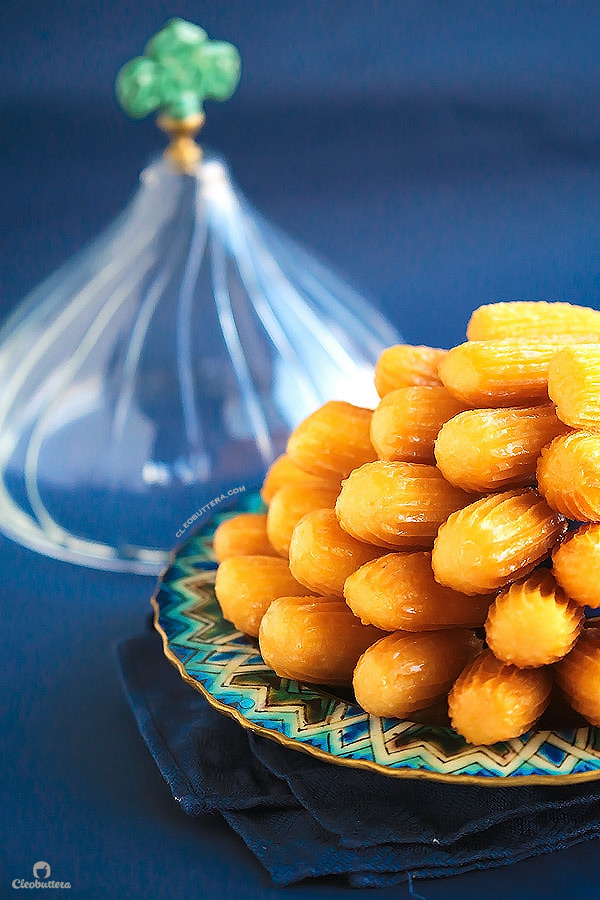 Fried to golden perfection, they get a swim in a pool of sticky sweet vanilla sugar syrup that makes their way into the nooks and crannies of their insides. While still warm, I swear they squirt syrup in the mouth. Oh and did I mention that they're crunchy on the outside and soft and creamy of the inside? Kind of crispy and creamy…Oh my God…Krispy Kreme! I told you they have Doughnut roots.
Hours after their making, they'll lose some of the outside crispness and squirty effects, but still every bit as delicious.
And you know what? They're quite easy to make.
All you need to do, is bring some water and butter to a boil, then add in the flour.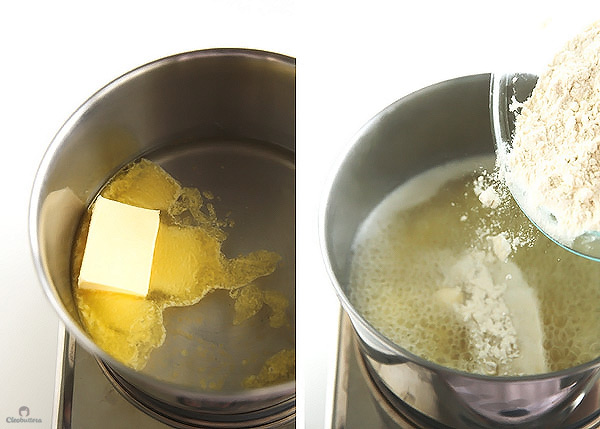 Stir, stir, stir until it comes together and pulls away cleanly from the sides of the pan.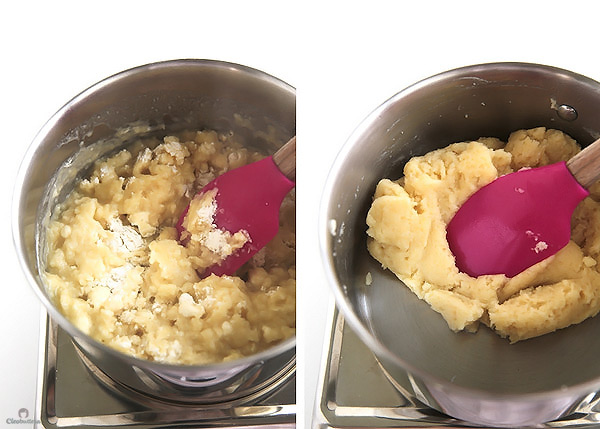 Let it cool so its longer hot, then transfer to a mixer (A bowl, spoon and some arm workout will do the job just as well). With the mixer running, mix in the vanilla and drop the eggs one at a time, mixing until well incorporated before adding the next one.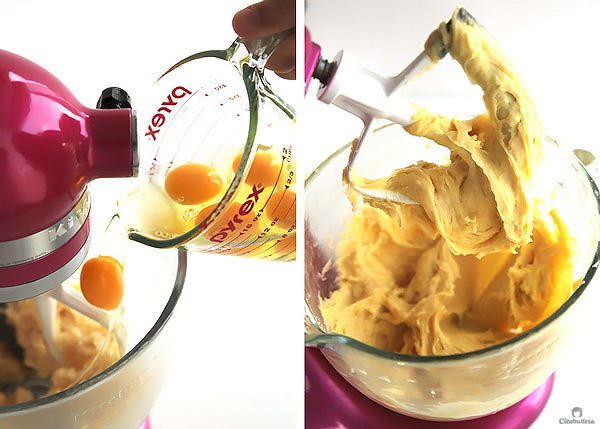 Then transfer the dough to a pastry bag fitted with a star tip. I used a 16 point star tip, which gives a more classic shape, but any star tip will do the job. Then pipe the dough directly over some ' VERY WARM' oil, into 6cm fluted fingers, cutting through with scissors.
You really wanna make sure that the oil is not very hot when you add the dough. If you stick your finger in it, it should feel comfortably hot. Why?
Scroll down…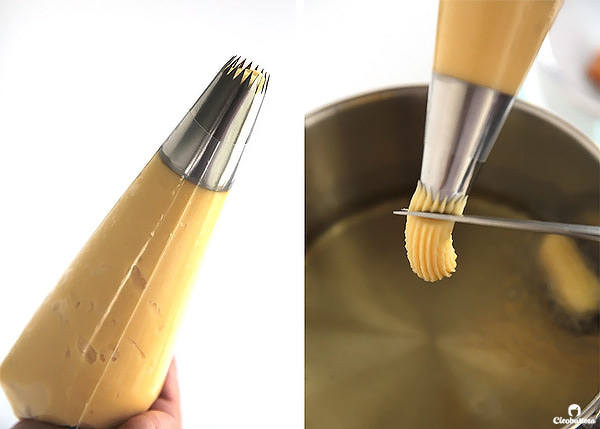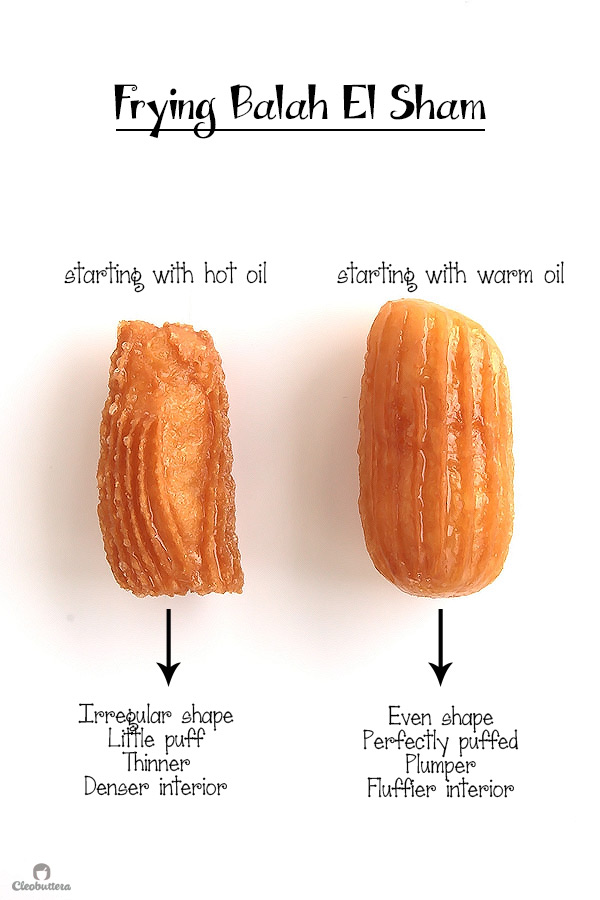 What I thought was an old wives' tale, turned out so true you guys! You really do need to start frying while the oil is still warm. Yes, starting frying at a lower temperature oil is more time consuming, but it's well worth getting these perfectly shaped, superbly puffed minions fritters. You don't want your Balah El Sham to turn out looking like they just got run over by a bus. Starting with warm oil, allows the dough to take its time to puff, as opposed to bursting into irregular, funny-looking blobs.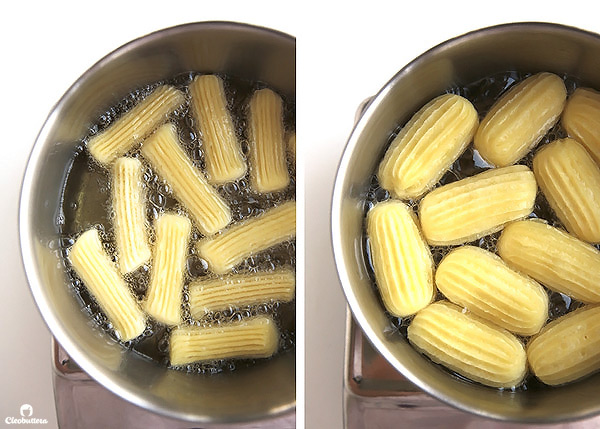 They will expand like crazy, so don't be like me and overcrowd your pan. The temperature of the oil will gradually rise and that's exactly what you want. Just be sure to allow it to drop again before adding your second batch.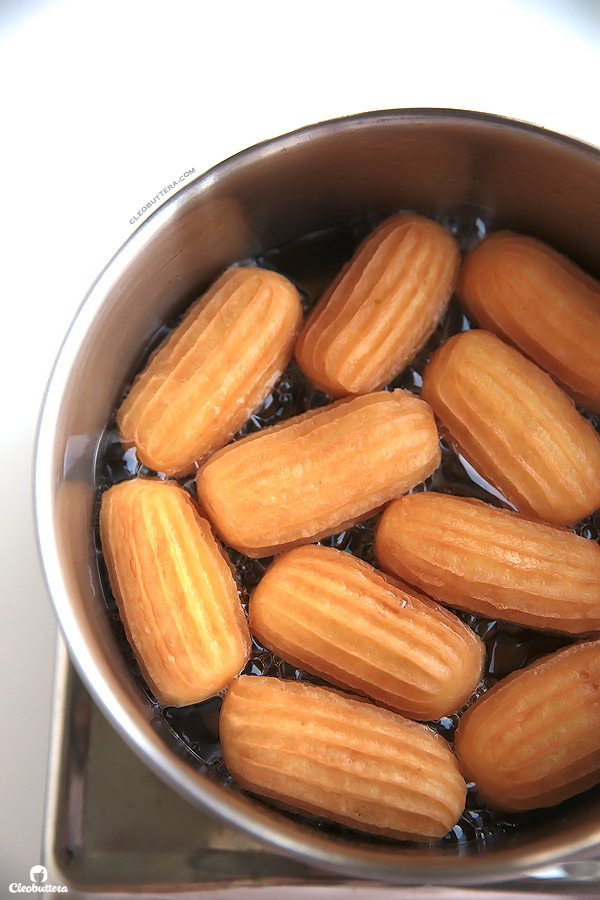 Let them get beautifully DEEP golden brown like that. The browner they get the crispier they'll be, so don't rush it.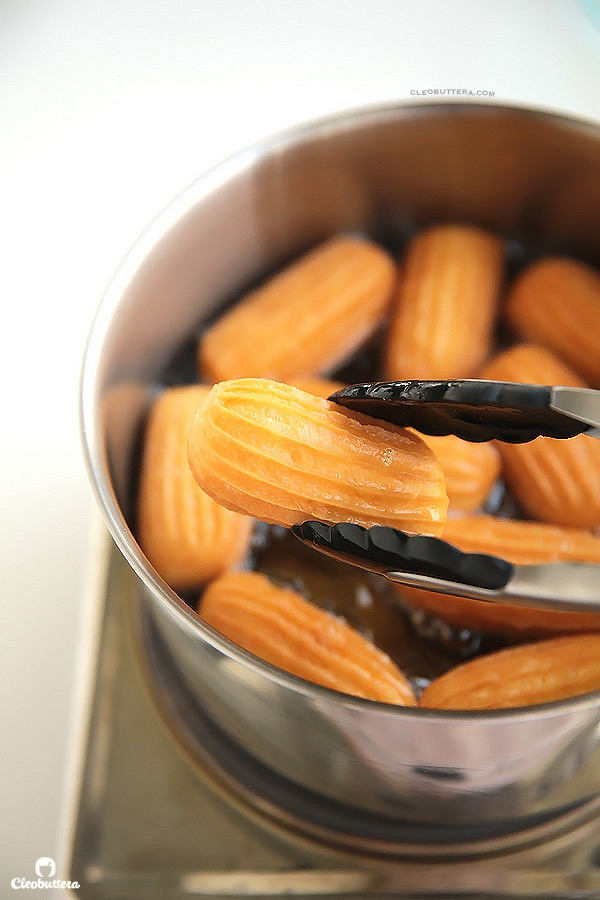 Drain on paper towels.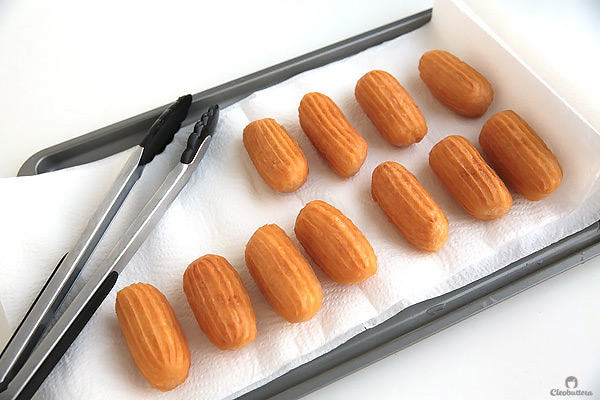 While still hot, let them get a good dive into that syrup. Allow excess syrup to drip over a sieve.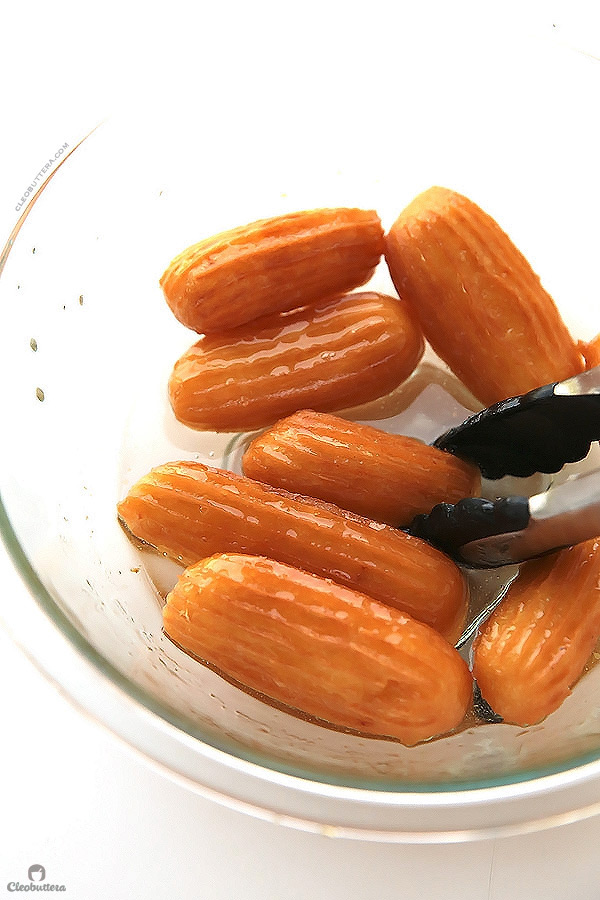 Plate 'em up.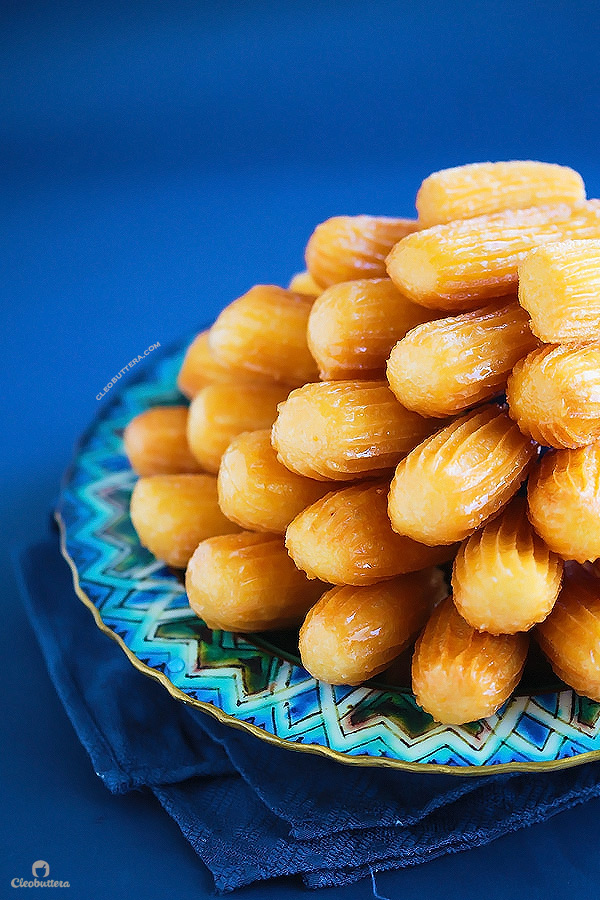 Pistachios on…if you like of course.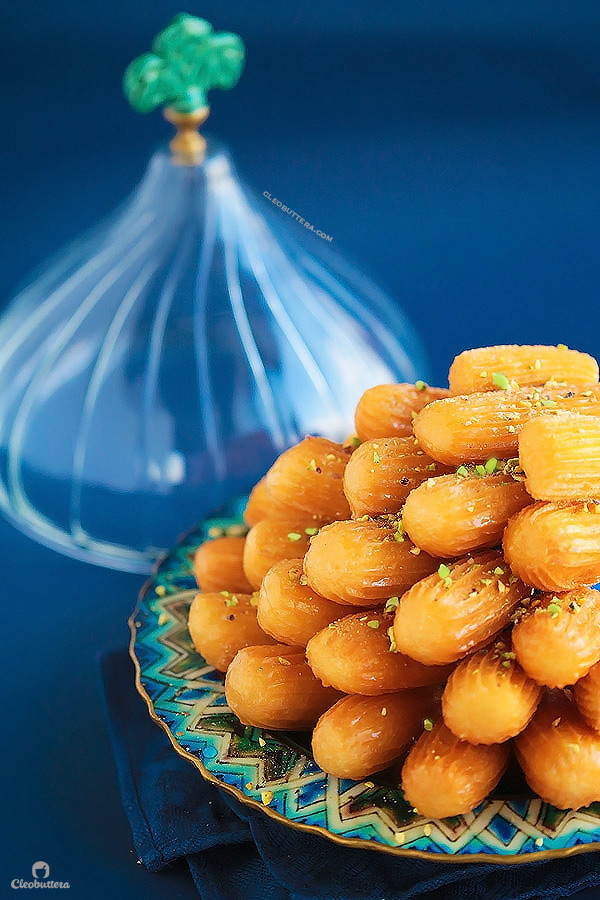 Pour in a steaming hot cup of tea (with mint, because Mmmmmm) and serve along side 2 fingers of Balah El Sham…or 7!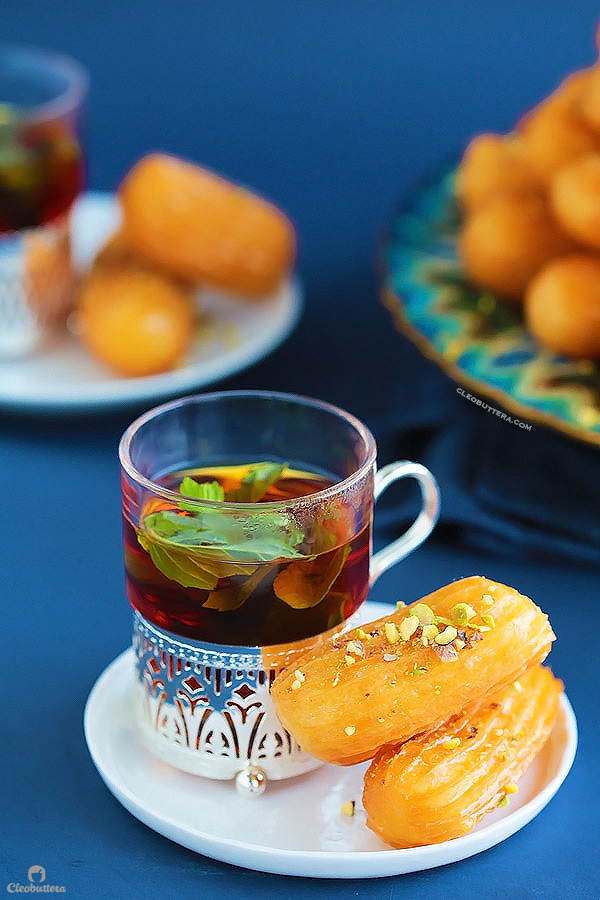 Take a bite, swoon then take a moment to appreciate the airy inside…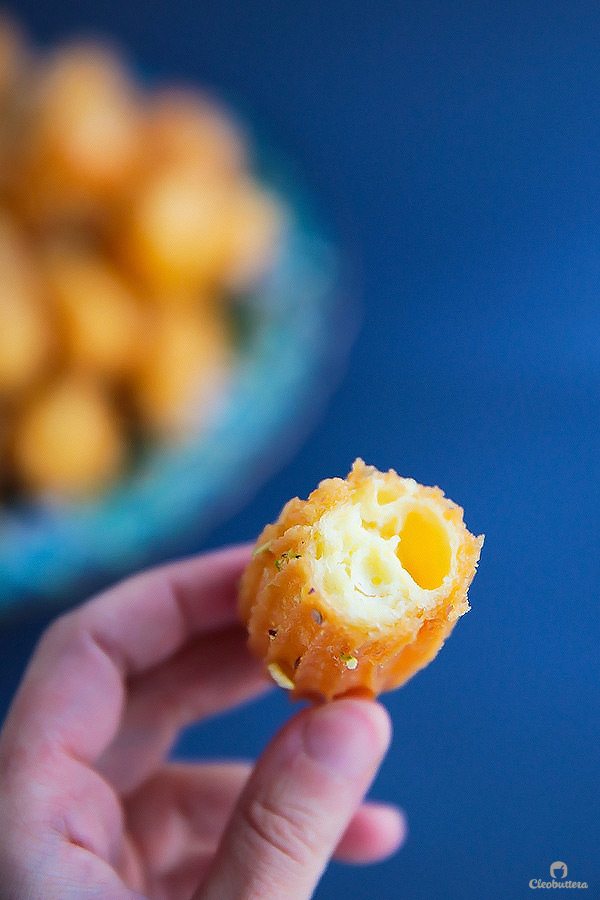 Now finish it off…Nomnomnom nom nom!
Now here's a video to recap everything!
Yield: About 3 dozens
Grandma's Balah El Sham (Fluted Fritters)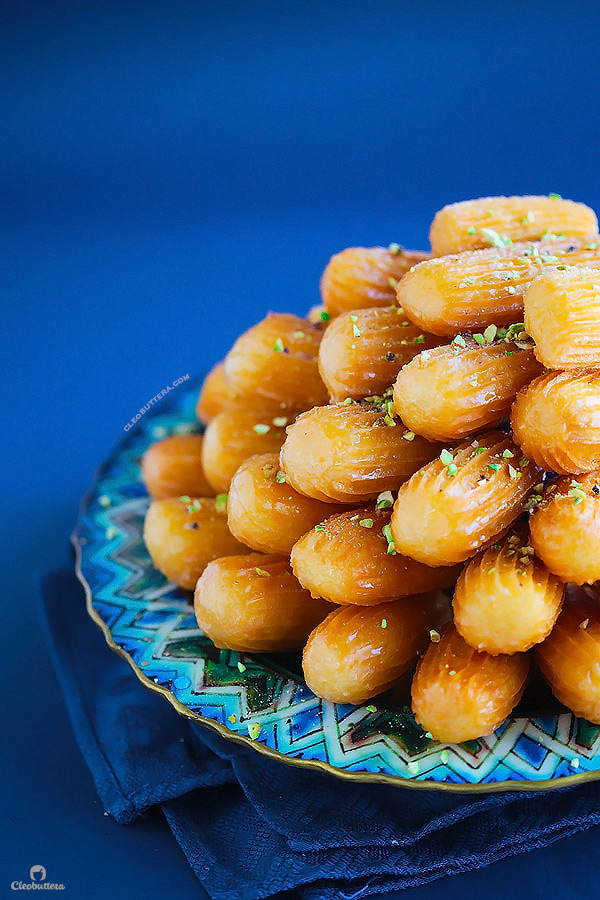 These churro-like, Middle Eastern fritters are crunchy on the outside and irresistibly squishy soft on the inside. As soon as they come out of the fryer, they get dipped in a pool of vanilla sugar syrup, which makes them delighfully squirt to the bite. They are best enjoyed the day they're made.
Prep Time 30 minutes
Cook Time 40 minutes
Additional Time 20 minutes
Total Time 1 hour 30 minutes
Ingredients
For the vanilla sugar syrup:
2 cups (400g) granulated sugar
1 cup water
A squeeze of lemon, about 1/2 teaspoon
1/2 teaspoon vanilla extract or 1 powdered vanilla packet
For the fritter (balah el sham) dough:
2 cups (240g) all purpose flour
1/4 teaspoon salt
1 1/2 cup water
1/2 cup (4oz/ 114g) unsalted butter*
5 large eggs
2 teaspoons vanilla extract or 10 packets powdered vanilla *
Vegetable oil, for deep frying
For garnish: (optional)
Instructions
To make the vanilla sugar syrup: (Can be made up to a week in advance)
In the small saucepan, combine together the sugar, water and squeeze of lemon juice. Set on the stove top over medium high heat.
Bring to a rolling boil, then immediately reduce the heat to low and let it simmer for no longer than 10 minutes. Set a timer! The syrup will thicken slightly, and have a consistency similar to pancake syrup. If it simmers for longer it could thicken too much and become candy-like and not pourable. Stir in the vanilla.
Transfer to a large bowl and allow to cool to room temperature before dipping the fritters..
To make the fritters (balah el sham):
In a small bowl, whisk together the flour and salt. Set aside.
In a medium saucepan over medium-high heat, combine together the water and butter. Bring to a boil.
Immediately add the flour mixture all at once, stirring constantly with a spatula or wooden spoon, until the dough is well combined, comes together in one mass and pulls cleanly from the sides of the pan. Turn out onto a plate, cover with plastic wrap and let it cool briefly until no longer hot; 15 to 20 minutes. It OK if its still warm.
Transfer the dough to a mixer fitted with the paddle attachment (or a bowl and spoon). With the mixer turned on medium speed, drop in the eggs, one at a time, beating well after each addition. Make sure that each egg is incorporated before adding the next. Mix in the vanilla.
Transfer the dough to a pastry bag fitted with a medium or large star tip; ideally one with 16 points. The more the points of the tip, the more the grooves the fritter will have, but any star tip will work,
In a frying pan (the larger it is, the faster you'll finish), pour enough oil to fill 1 inch/2.5 cm high. Heat the oil over medium until its very warm. If you stick your finger in the oil, it should feel comfortably hot. Don't let it get too hot, or the fritter won't puff properly and the texture will turn out less than perfect.
As soon as the oil reaches the right temperature, start piping the dough directly over the oil, into 2.5 inches/6cm fluted fingers, cutting through with scissors. (Tip: Dip the scissors tips in oil for stick-free cutting). Don't overcrowd the pan as the fritters will expand dramatically.
Still over medium heat, fry the fingers, turning them occasionally, until deep golden brown in color. The longer you fry them, the crunchier they'll be on the outside, so be patient with them. Repeat with the second batch, but remove the frying pan from the heat and allow the oil temperature to drop down again to very warm, before piping the rest.
Transfer the fritters to drain on some paper towels for a few minutes. Then while still hot, dip the fritters into the cooled syrup, tossing and turning them to make sure they're well coated. Transfer fritters to a sieve that has been placed over a bowl, and allow excess syrup to drip.
Arrange on a serving platter and sprinkle with pistachios, if desired. Enjoy warm or a room temperature. Best served within a few hours of frying to maintain its crunchy exterior. Store covered with foil, that has been poked with holes, so it doesn't soften.
Recipe Notes
My Grandma's original recipe uses oil instead of the butter, so you could use that if you prefer and still get great results. However I've found that butter yields better flavor.
My Grandma only ever used vanilla in powered form; the ones that come in small packets. I use the liquid type because its what I always have on hand. Both work perfectly, so feel free to use whatever form of vanilla you prefer.
Measurements Note: All recipes of this site have been developed using weight measurements. Although US volume measurements have been included for your convenience, it is highly encouraged that you weigh your ingredients using a kitchen scale to get the best possible results. Due to the sensitive nature of baking, kitchen scales are proven to yield more accurate and consistent results than measuring cups. Enjoy!
This post may contain affiliate links.
All images and content are owned by Cleobuttera® and are copyright protected. Please do not use my images without prior permission. If you would like to republish a recipe, please rewrite it in your own words and link back to the recipe page on my site. Original recipes and creations of this site are intended for personal and home use. Commercial replication or media consumption are only allowed with a written consent and agreement with Cleobuttera owners. Otherwise it is considered a violation of intellectual property. Thank you for respecting and appreciating the amount of time and effort that goes into creating free, unique recipes that make people happy.