Date Biscuit Balls (2 ways)
Delightfully soft date balls studded with crunchy chunks of biscuits and flavored with warm spices. Make them with Lotus biscuits for that caramelized gingerbread flavor it's loved for, or Digestive biscuits and cardamom to go with that perfect cup of Arabic coffee.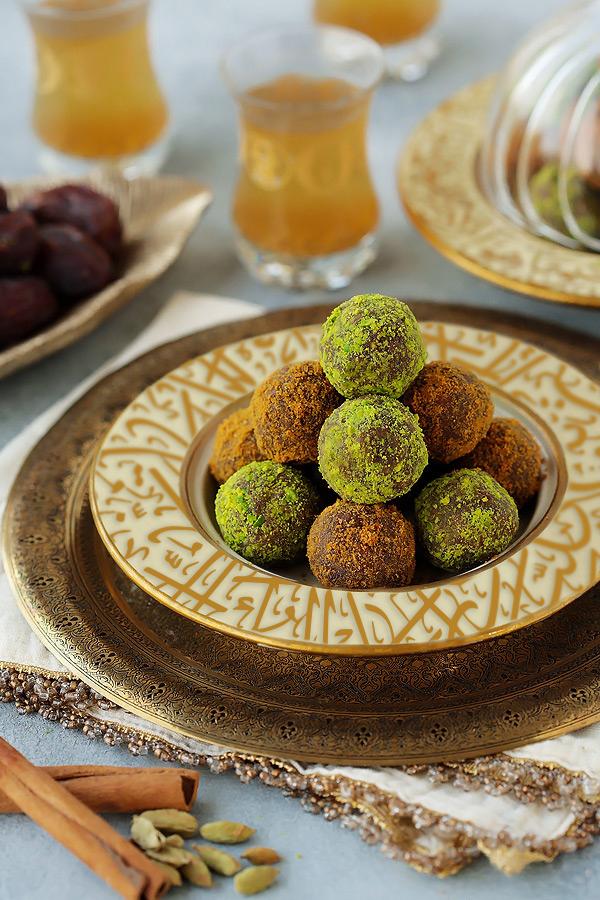 Nothing screams Ramadan more than dates!
Its that essential power battery that gets us through a long day of fasting, and the charger we plug in when its time to break it.
We've always been taught to break our fast over 3 dates, as they're known to be an immediate source of energy. They basically provide the body with natural sugars, that moderate blood sugar level after fasting all day. They also quickly bring down the feeling of hunger, which prevents from rushing into excessive food during iftar, which can cause digestion problems.
Being packed with nutrients, also makes them the perfect pre-fasting snack as they reduce the chance of dizziness and getting headaches during the day. I'm no health expert, but I could go on and on about the benefits of dates, especially while fasting. But you're not here for that are you? You're here for the food ?
Which is why I've made you these Date Biscuit Balls, that are not only nutritious but unbelievably delicious.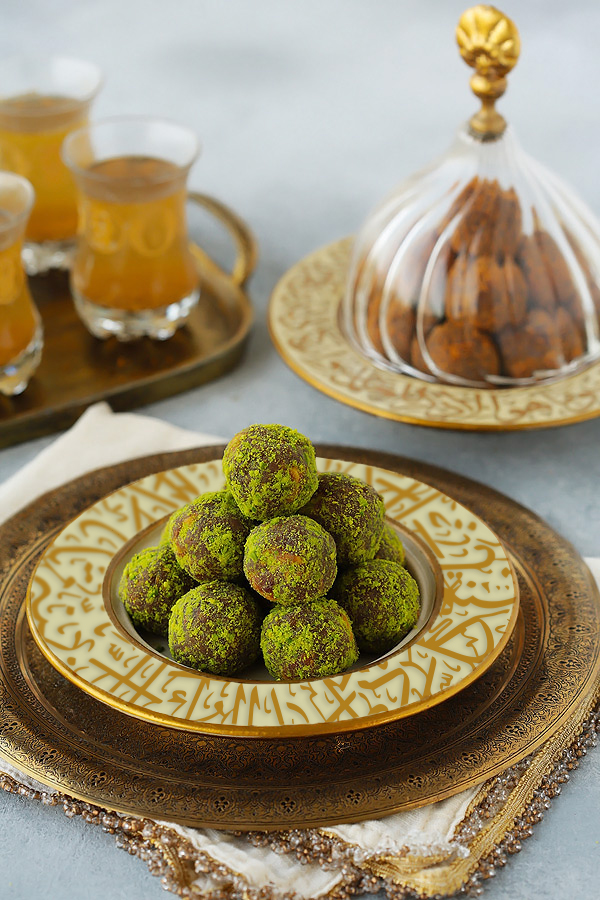 These balls make for a really nice change than the traditional straight up dates. They're perfect for breaking fast or for nibbling on with a nice cup of Arabic coffee and a pleasant conversation.
Just what you need in Ramadan if you take part in it, or a great tasting energy ball year round.
They're so simple yet humbly elegant, and make the nicest gift for iftar hosts and any holiday gathering alike.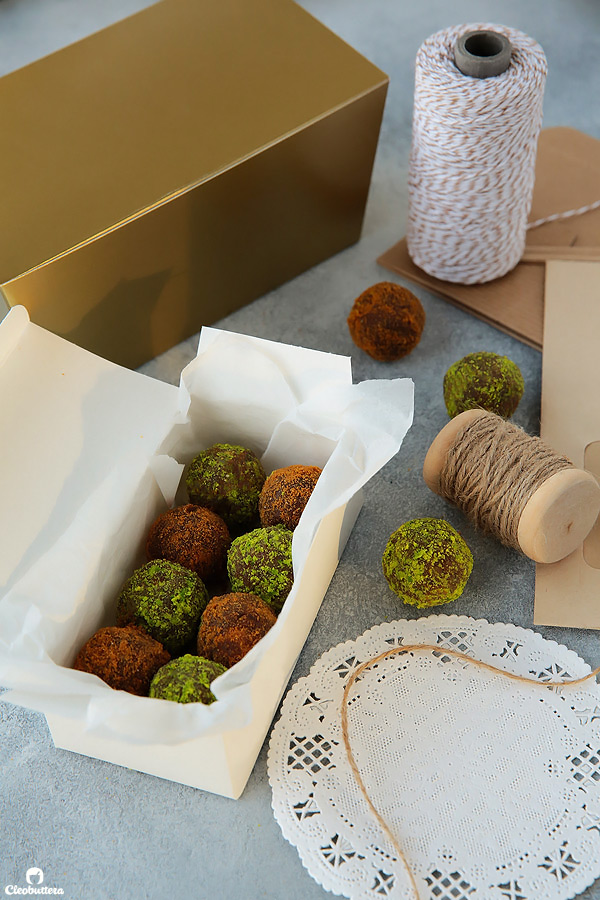 They're soft and crunchy at the same time and subtly kissed with the coziest spices.
The balls are mainly made up of soft, naturally sweet dates and studded with biscuits (cookies) of your choice for a welcomed crunch.
They come in 2 varieties: Digestive Cardamom.
And my favorite Lotus Ginger.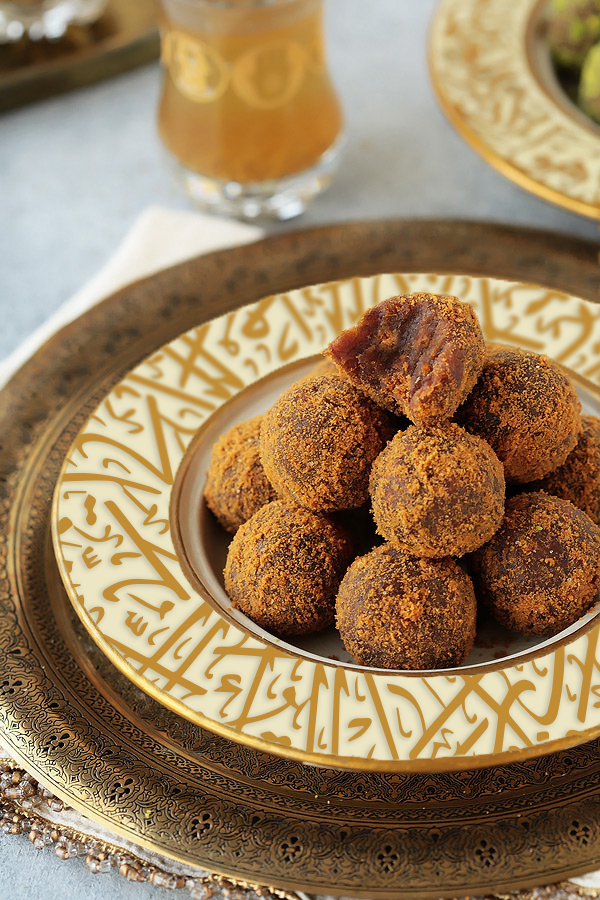 I mean…Lotus (aka Biscoff) is all the rage right now and for a good reason. That thing is addictive. Those caramelized gingerbread-y notes its known for, make everyone weak in the knees.
I have a recipe for Biscoff Explosions Cookies here that everyone just goes nuts over, and I wanted to translate these flavors into the date balls. Best decision ever!
The date balls not only have crushed Lotus in them, but if that's not enough, they're also rolled in ground up biscuits.
But that doesn't mean the Digestive Cardamom ones are any less delicious.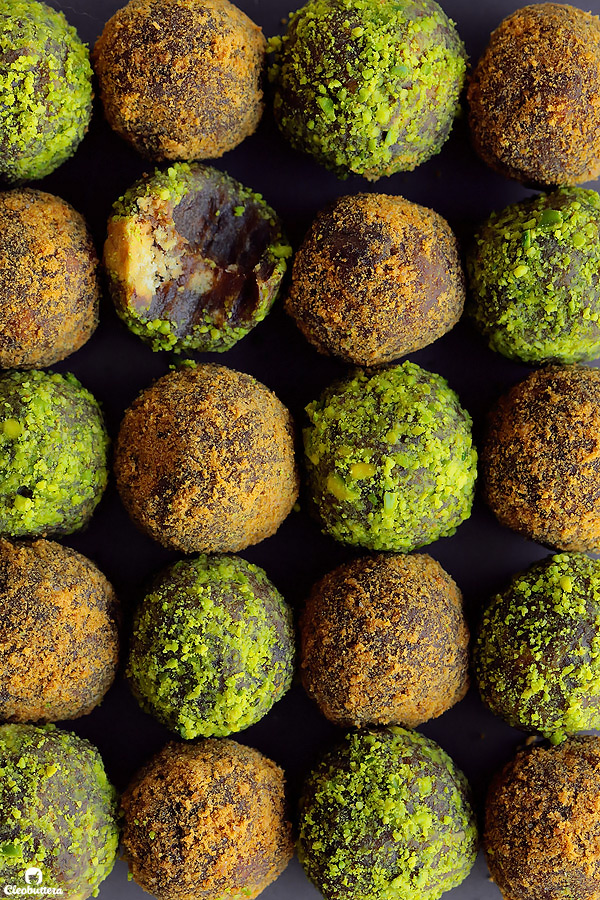 They are delectable! They taste like Arabic coffee, which is mainly cardamom-flavored, in food form. Only sweeter because of the dates.
A coating of ground pistachios not only makes them gorgeously green, but adds a nutty flavor that goes perfectly with the cardamom.
You can make one or the other, depending on your flavor preference, but I love making both, because who can say no to variety.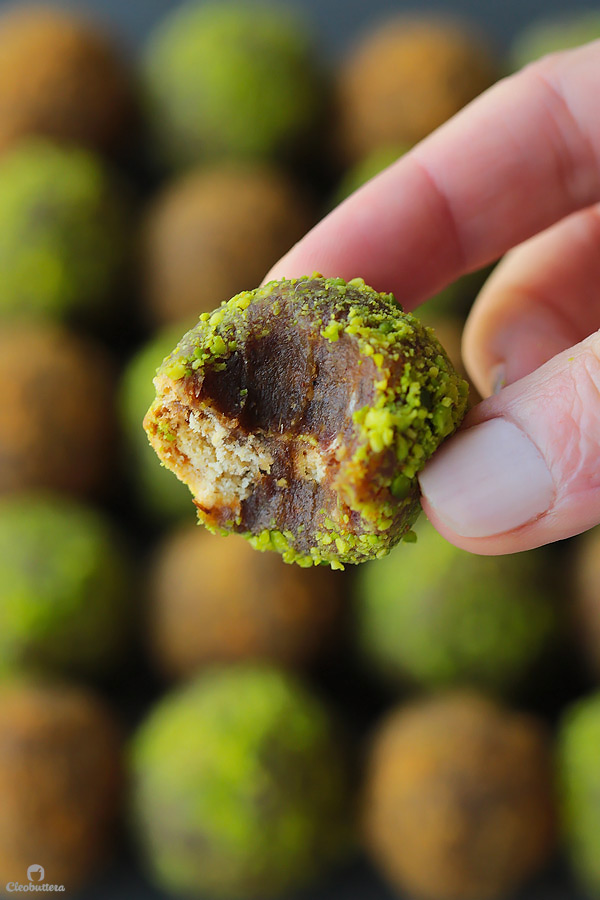 Both types of date balls come together in no time and use up very little ingredients. The date base is the same for both, until you start adding the spices and biscuits. The Digestive Cardamom ones are spiced with both cardamom and a hint of cinnamon, contain chunks of Digestive Biscuits, and rolled in ground pistachios.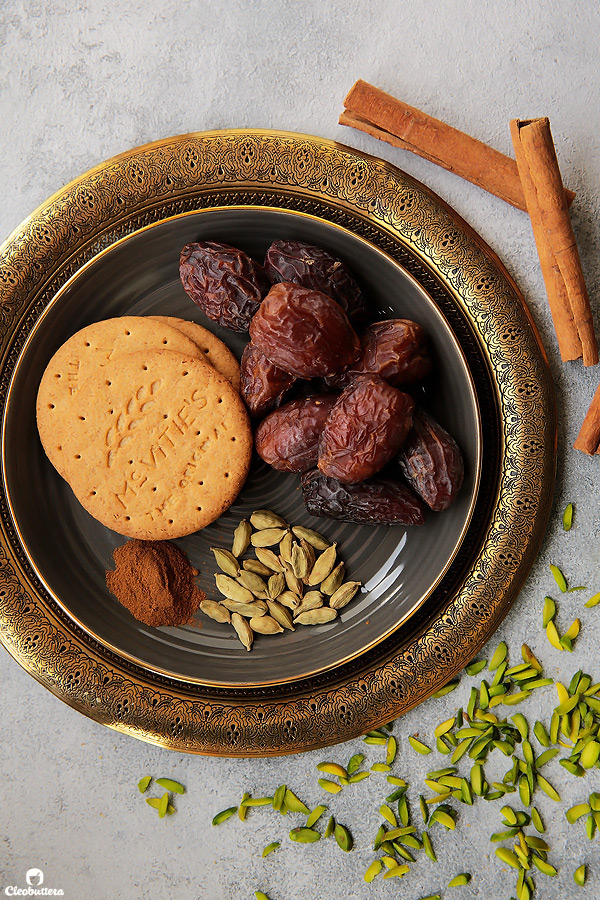 As for the Lotus Ginger variety, as mentioned earlier, they're flavored with spices already present in the cookie itself for a more pronounced Lotus-y flavor. They have ginger and cinnamon, bits of Lotus biscuits and rolled in more Lotus. It's basically a Biscoff Lotus bomb.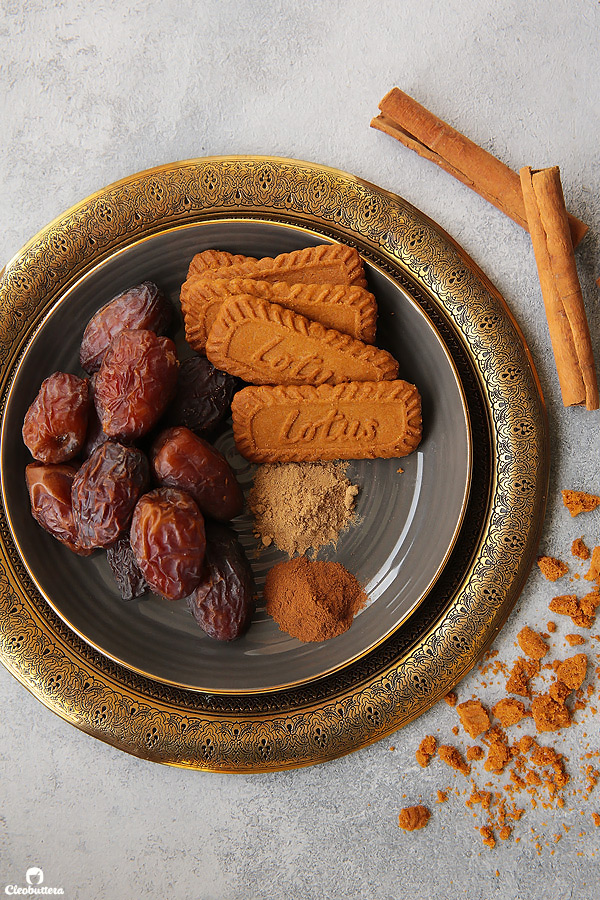 You start by sautéing the softest dates you can find in a little butter. Butter? Yep! I never claimed these balls to be completely guilt-free. Packed with energy? Yes! Guilt-free? Hmmmm not really. Trust me…I tried to skip the butter, but its so much better with it. Obvi.
Sauteeing in butter does 2 things here: softens the dates, so they're easier to process, and caramelizes its natural sugar, to heighten its flavor.
I love Medjool dates, but any soft dried dates will work here. You just want to make sure to sauté them until they become very mushy and your house smells like caramelized heaven.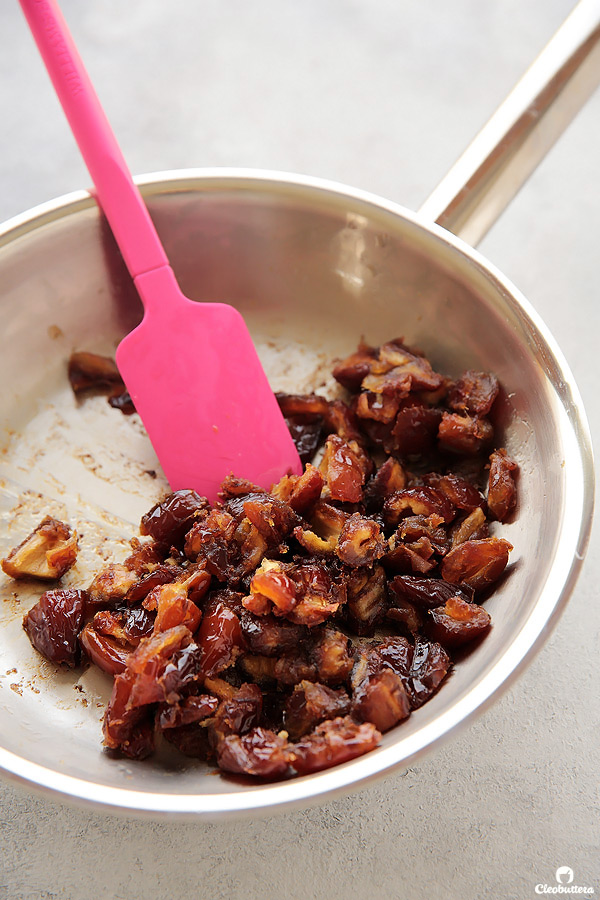 After that, you're gonna puree them in a food processor with the spices. It should process easily and the texture should be nice and pliable. Depending on the freshness of the dates and its type, this might not be the case. If so, then you could add hot water, 1 teaspoon at a time, until you're happy with the consistency. Don't flood it though, or it will be too soft to shape into balls.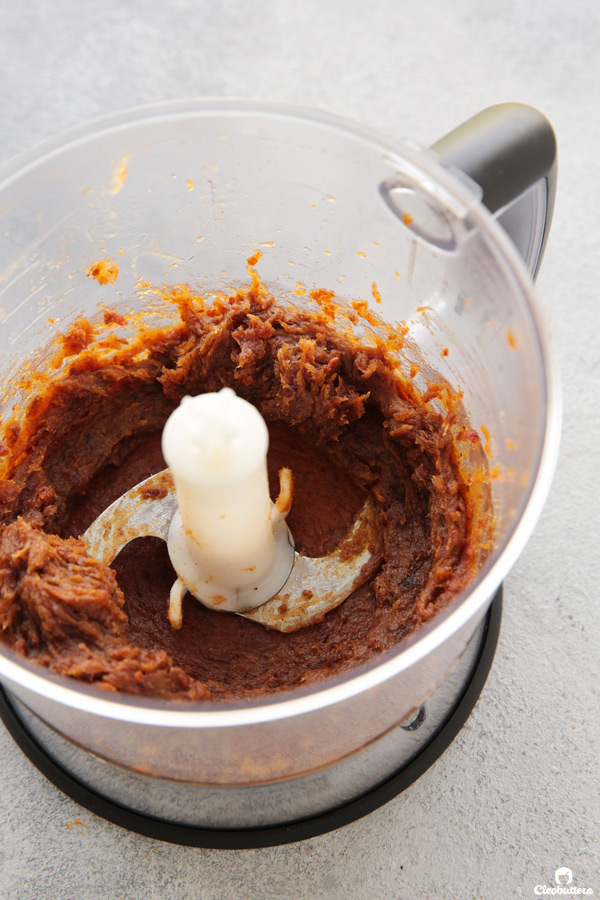 Then in goes the biscuit chunks. Hello Lotus!
If the mixture is too soft and sticky to work with, just give it a quick chill in the fridge and then it will be ready to roll.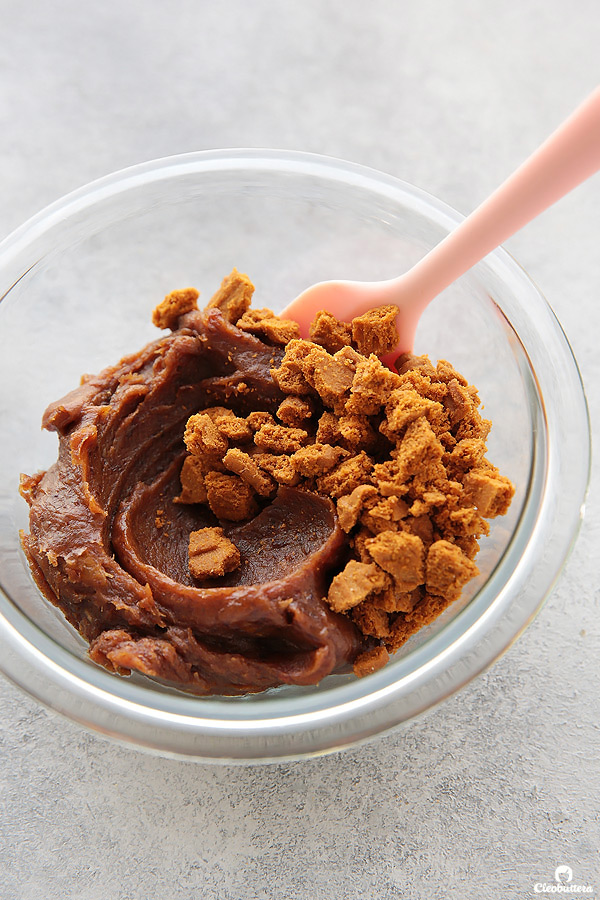 Roll into 1 tablespoon size balls and coat them with ground lotus biscuits for the Ginger Lotus ones.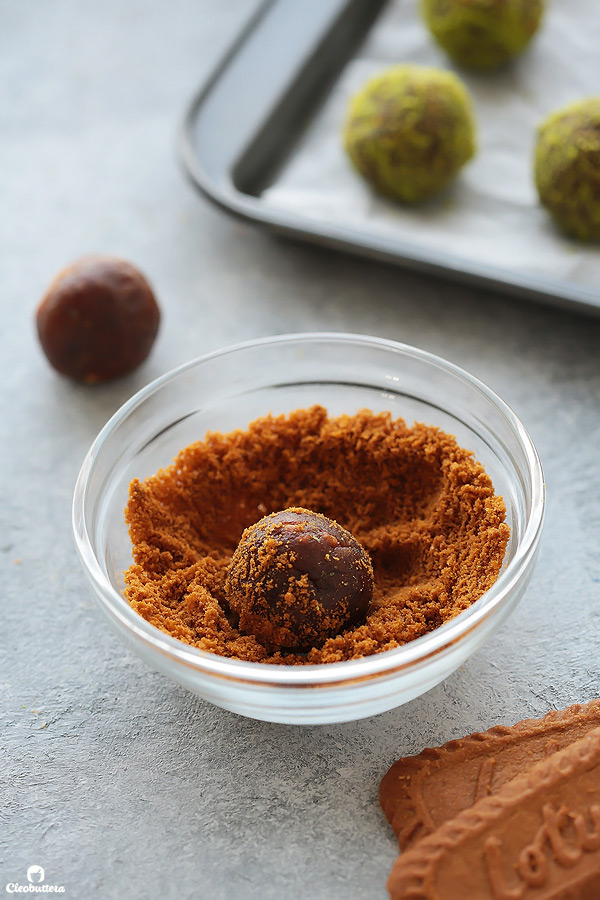 And ground pistachios for the Digestive Cardamom bunch.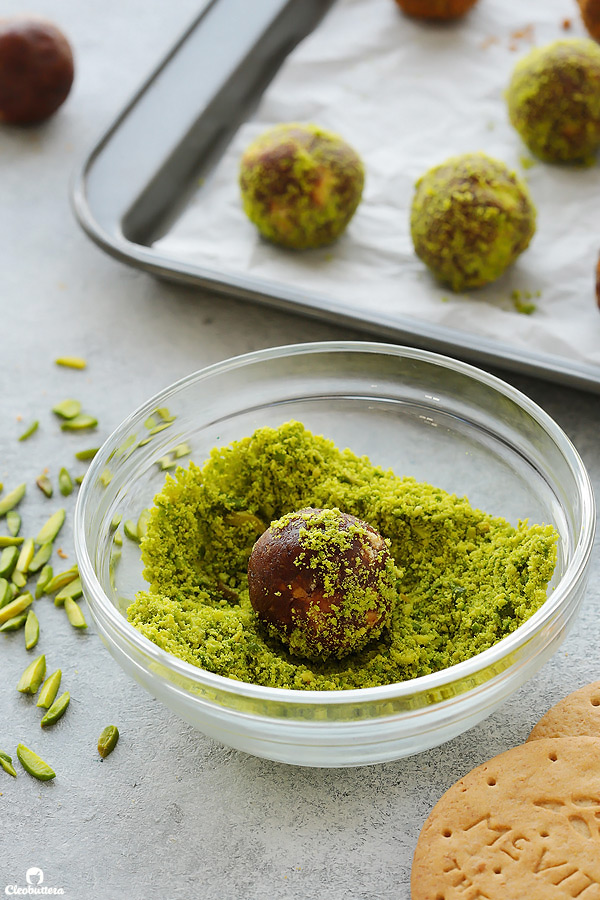 And that's it! You're all done!
A quick, easy, kinda sorta relatively healthy-ish treat…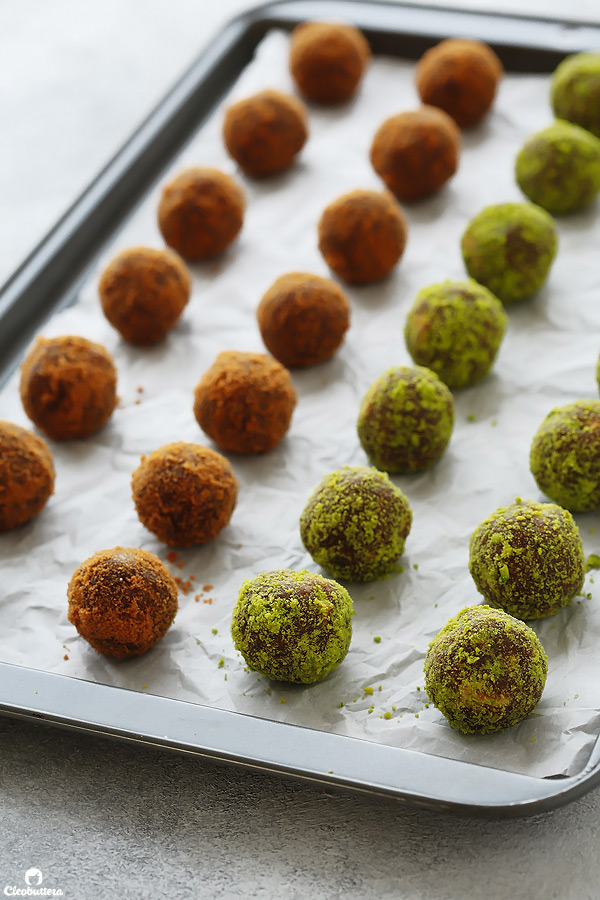 …to boost your energy and sweeten your day.
Enjoy!
Yield: Makes about 20 Balls
Date Biscuit Balls (2 ways)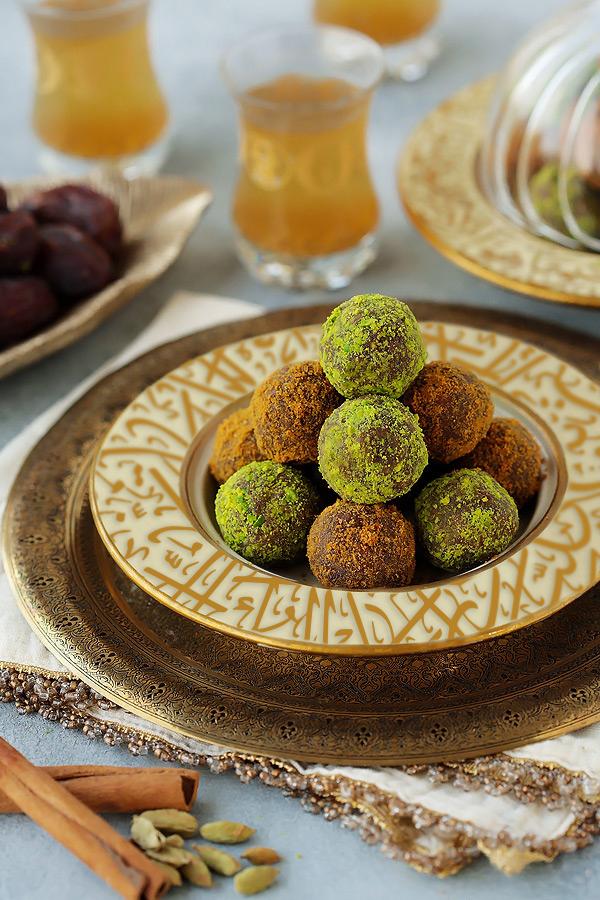 Delightfully soft date balls studded with crunchy chunks of biscuits and flavored with warm spices. Make them with Lotus biscuits for that caramelized gingerbread flavor it's loved for, or Digestive biscuits and cardamom to go with that perfect cup of Arabic coffee.
Prep Time 15 minutes
Cook Time 5 minutes
Additional Time 15 minutes
Total Time 35 minutes
Ingredients
For the Date Base:
250g pitted soft dried dates, like medjool. (weight is after they've been pitted)
2 tablespoons (30g) unsalted butter
Hot water, if need
For the Digestive Cardamom Variation: (enough for 1 recipe of Date Base)
1 teaspoon ground cardamom
1/2 teaspoon ground cinnamon
4 (60g) digestive biscuits, broken into medium chunks
Ground pistachio, for coating
For the Lotus Ginger Variation: (enough for 1 recipe of Date Base)
1/4 teaspoon ground ginger
1/2 teaspoon cinnamon
6 (60g) Lotus biscuits, broken into medium chunks
3 finely ground biscuits, for coating
Instructions
Roughly chop pitted dates into medium chunks.
In a medium skillet, melt the butter over medium heat. Add in the chopped dates and stirring continuously, sauté the dates until they become very fragrant, mushy and paste-like when pressed on with a spatula.
While still hot, transfer the date mixture to a food processor, add in the spices of the respective flavor variation of choice (either Digestive Cardamom or Ginger Lotus), and process until smoothly pureed and homogenous. If its not blending up into a smooth paste, add in hot water, 1 teaspoon at a time, until it reaches a smooth paste-like consistency. Be careful not to add too much water, as this could soften it up too much to be shaped into balls.
Transfer the date mixture to a medium bowl, and fold in the crushed biscuits of the flavor variation of choice (either Digestive or Lotus). Cover the bowl and refrigerate until barely warm, about 15 minutes. This makes them easier to shape into balls, without sticking to your hands. Do not refrigerate until cold, or the coating won't easily adhere to the balls.
Using a 1 tablespoon-size mini ice cream scoop or a 1 tablespoon measuring spoon, scoop out the date mixture onto a baking sheet.
Roll the scoops into balls then roll into the coating of the flavor of choice; ground pistachios for Digestive Cardamom or ground Lotus for Lotus Ginger.
Place in mini cupcake liner if desired, then arrange on a serving platter or gift box and serve at room temperature or cold. Store leftovers in an airtight container. They will keep well at room temperature for about a week, if not longer, and in the fridge for over a month.
Recipe Notes
Please note that this recipe makes about 20 balls of 1 of the flavor variations only. If you would like to make both variations, double the Date Base recipe, divide in half equally, then flavor each separately with the flavor of your liking.
Measurements Note: All recipes of this site have been developed using weight measurements. Although US volume measurements have been included for your convenience, it is highly encouraged that you weigh your ingredients using a kitchen scale to get the best possible results. Due to the sensitive nature of baking, kitchen scales are proven to yield more accurate and consistent results than measuring cups. Enjoy!
This post may contain affiliate links.
All images and content are owned by Cleobuttera® and are copyright protected. Please do not use my images without prior permission. If you would like to republish a recipe, please rewrite it in your own words and link back to the recipe page on my site. Original recipes and creations of this site are intended for personal and home use. Commercial replication or media consumption are only allowed with a written consent and agreement with Cleobuttera owners. Otherwise it is considered a violation of intellectual property. Thank you for respecting and appreciating the amount of time and effort that goes into creating free, unique recipes that make people happy.