Peanut Butter Hot Chocolate Float
Thick and creamy hot chocolate that tastes just like a peanut butter cup. Pour that over vanilla ice cream and you've got yourself a hug in a mug.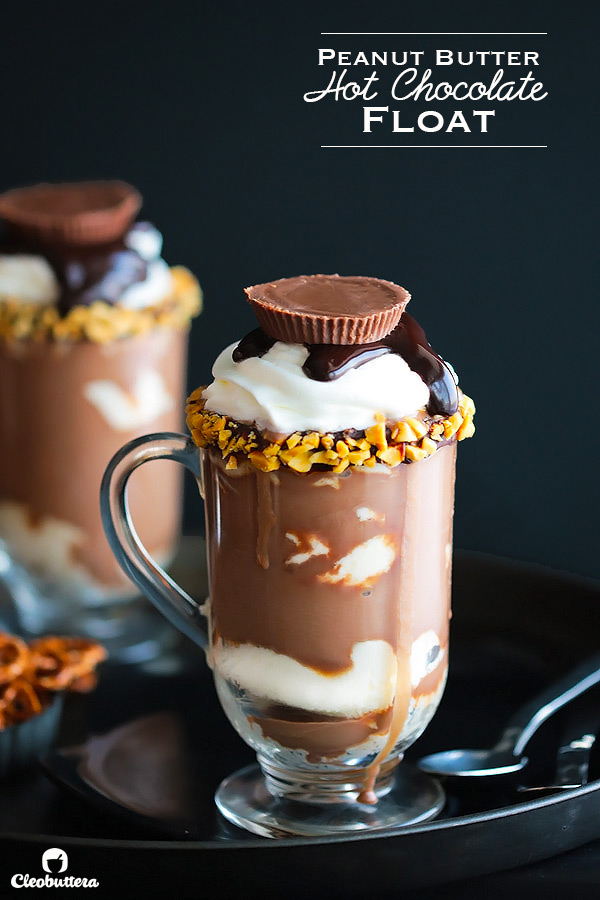 This float is MAJOR stuff you guys.
If you love peanut butter cups, you're gonna flip over this! Because the hot chocolate part tastes just like a peanut butter cup in liquid form.
Talk about liquid GOLD.
I'm actually convinced that if Reese's ever decide to make soup, it will taste pretty much like that.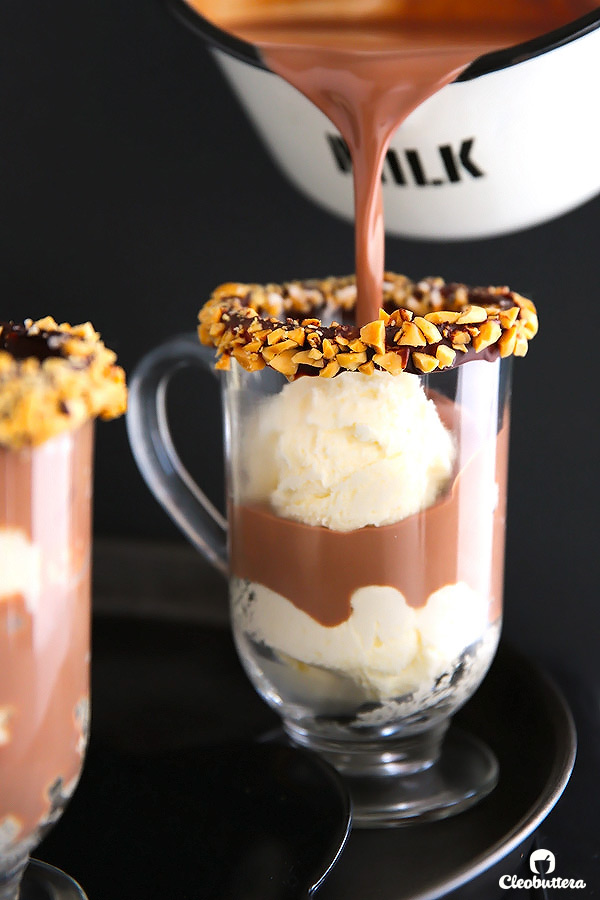 I've been madly crushing over the trend of floats made with hot drinks for quite some time and it was high time I made some at home.
The combination just speaks to my heart. Hot stuff, meets cool stuff, makes creamy stuff, turns something ordinary into awesome stuff.
So when I saw these Hot Chocolate Floats followed by this Peanut Butter Hot Chocolate, my eyes lit up, my heart fell in love and I instantly knew I had to get them married. In my mouth.
And Oh what a wedding that was!
The peanut butter hot chocolate is perfectly thick, but not too thick to borderline on thinned pudding, which I just can't take…its just creamy and silky enough and not watery one bit. Just the perfect consistency. And that cold scoop of vanilla ice cream, just balances out the richness, and pools in creating a beautiful contrast of textures and temperatures.
Simply put…these floats are quiet heavenly and you have to try them asap because its winter! Aka Hot Chocolate Season, which means they're inevitable.
Here's how they"re made:
For a fancier presentation, you could (if you want) make these cute little rimmed cups with yummy stuff stuck on it. You know those? I've made it here with chocolate and chopped peanuts…which is just the perfect compliment to these floats.
You take your cup and flip it upside down in a plate of melted chocolate. Twist it, wiggle it, move it around, just do whatever you need to do to cover the rim. Then dip the cup in a plate of chopped peanuts, and maybe help it around with your fingers to make sure they adhere. Chill in the fridge to set.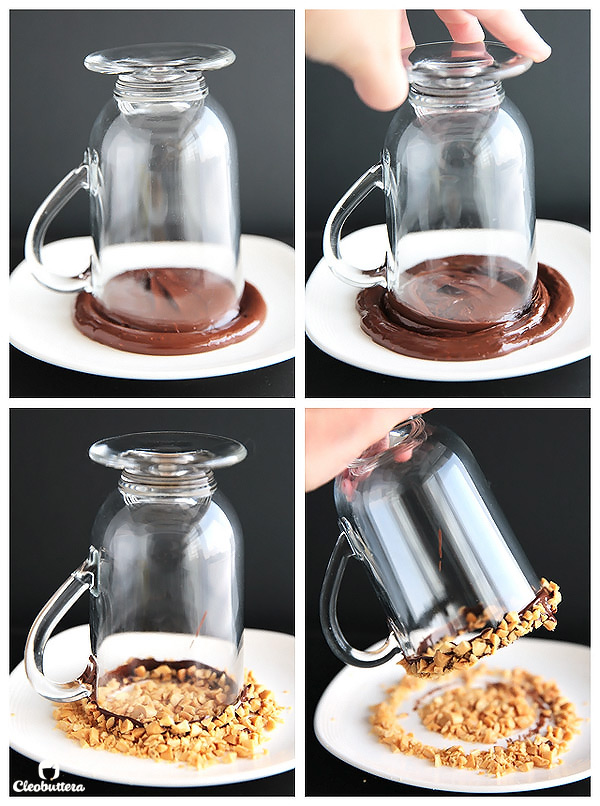 Then make yourself some dreamy creamy peanut butter hot chocolate over the stovetop, using simple ingredients that you might just have in your pantry right now.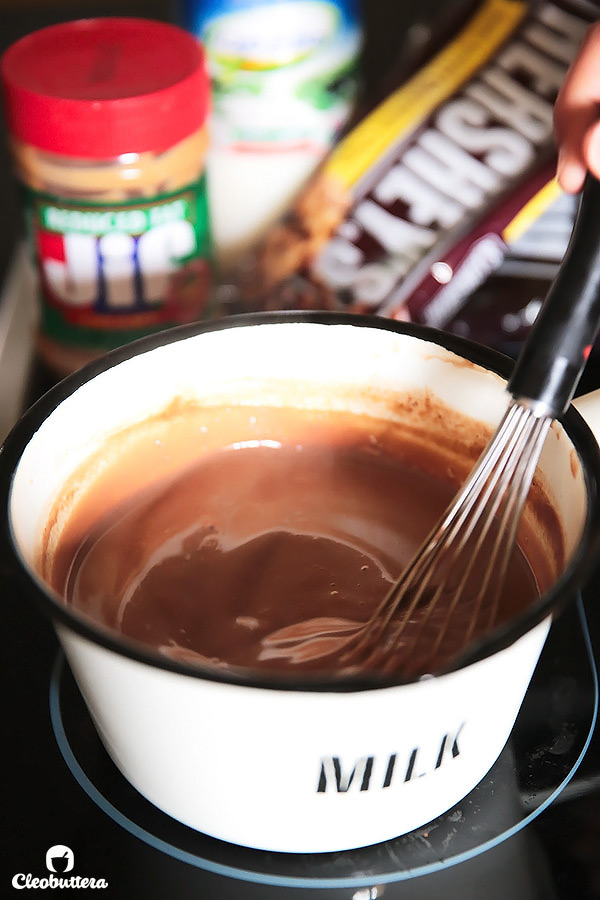 Scoop some ice cream in your cup…or mug. Honestly, I think that ONE scoop is enough per cup, but I went a little wild for the photoshoot. Up to you though.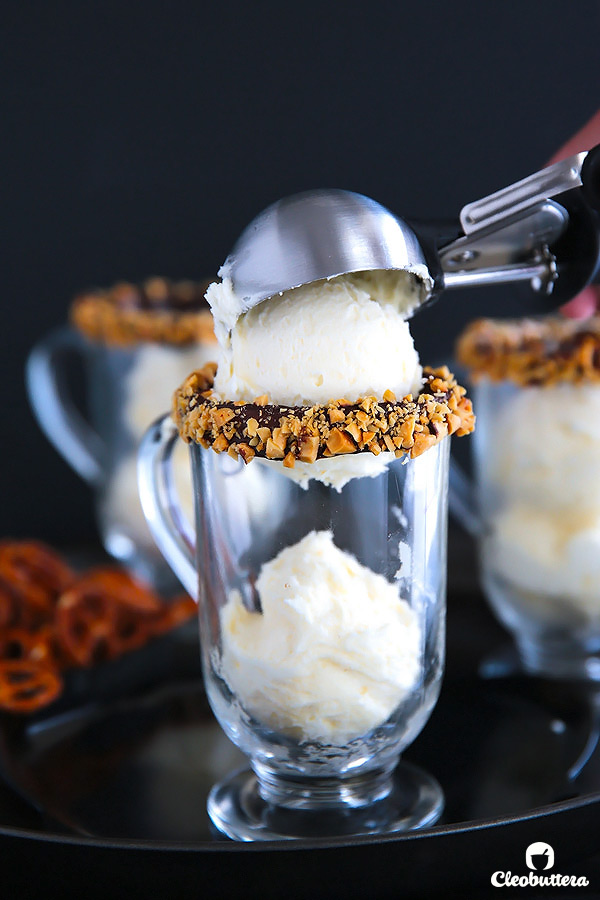 Now pour, pour, pour to your heart's content.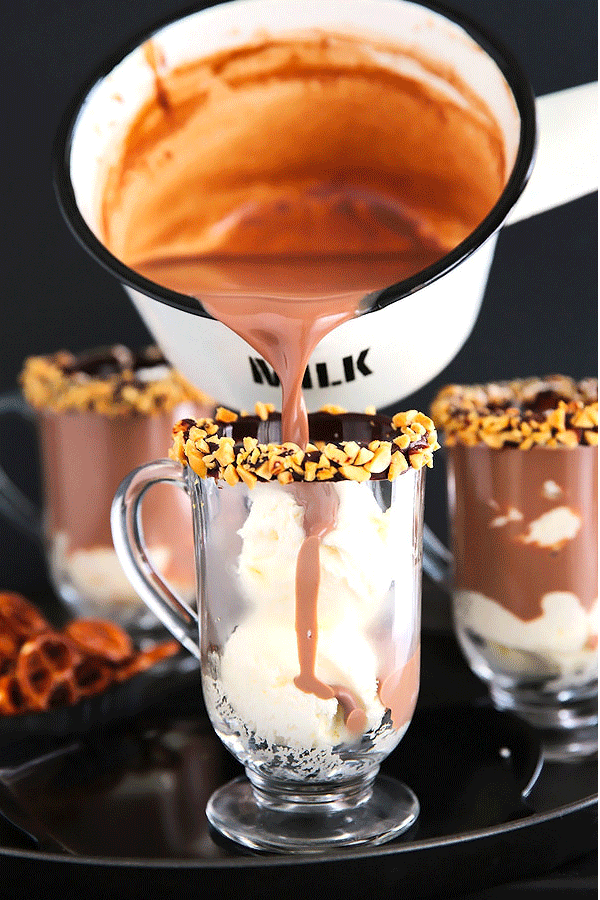 The ice cream will float up (hence the name). You could go ahead and dig in as is or go the extra mile and plop on some whipped cream…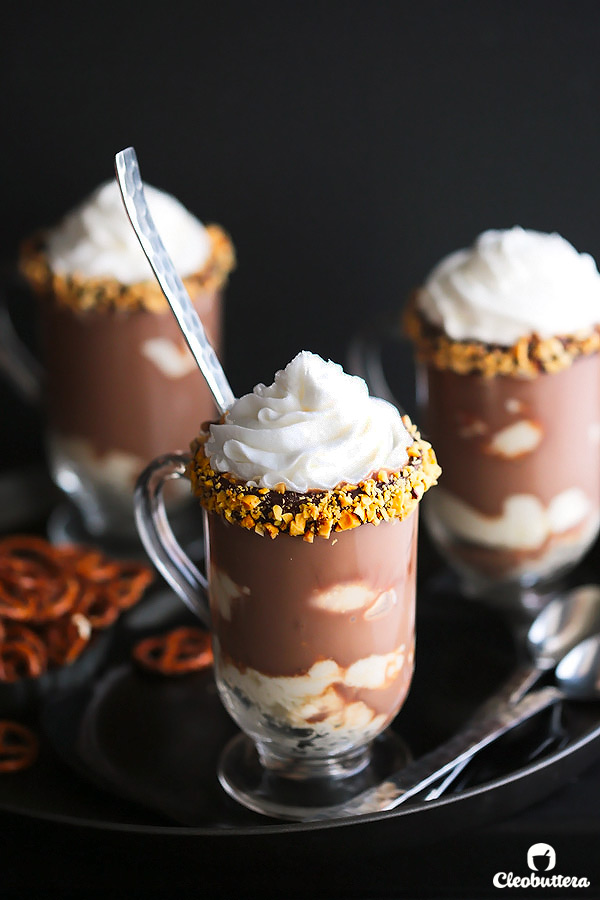 And maybe even a drizzle of chocolate syrup and a crowning of a peanut butter cup.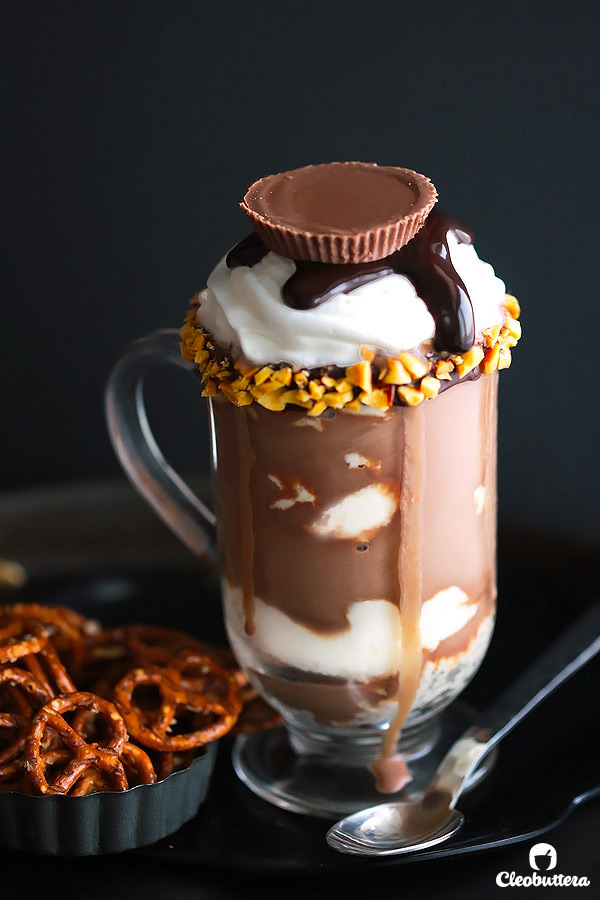 Now go curl up in your favorite spot, snuggle up under a blanket, wrap your hands around this cup and let it give you a big, warm hug…You deserve it.
Did I mention that pretzels make a perfect pairing?
Yield: 2 large servings or 3 medium servings
Peanut Butter Hot Chocolate Float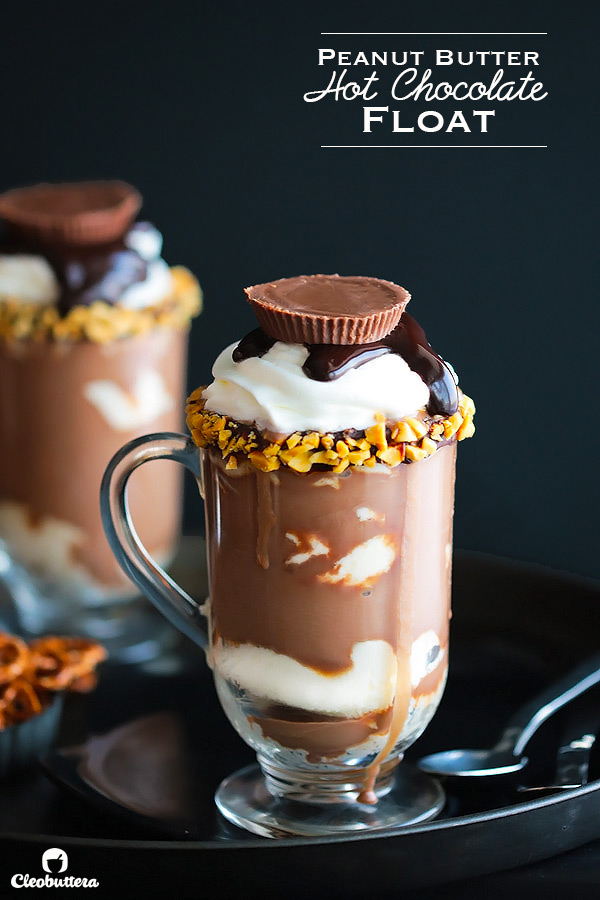 Thick and creamy hot chocolate that just tastes just like a peanut butter cup. Pour that over vanilla ice cream and you've got yourself a hug in a mug.
Prep Time 5 minutes
Cook Time 10 minutes
Additional Time 5 minutes
Total Time 20 minutes
Ingredients
For Decorating the Cups (optional):
1/4 cup (2oz/ 57g) chopped chocolate, any kind, then melted
3 tablespoons (23g) chopped peanuts
For the peanut butter hot chocolate:
2 cups (500ml) milk
2 teaspoons cornstarch (cornflour)
2 teaspoons unsweetened cocoa powder
A heaping 1/4 cup (2oz/ 50g) milk chocolate, finely chopped, I used chocolate chips
2 tablespoons (1oz/ 25g) semisweet or dark chocolate, finely chopped, I used semisweet chocolate chips
1/4 cup (2oz/ 57g) smooth peanut butter
For serving:
Vanilla ice cream, at least one scoop per cup
Sweetened whipped cream, for garnish (optional)
Chocolate syrup, for garnish (optional)
3 peanut butter cups such as Reese's, for garnish (optional)
Instructions
For Decorating the Cups:
Pour the melted chocolate in a small rimmed plate that fits your cup and the chopped peanuts in another.
Turning the cup upside down, dip the rim into the chocolate, moving and twisting it around to make sure its well coated. Alternatively, use a clean paintbrush dedicated for kitchen use, to paint the chocolate around the rim of the cup.
Dip the chocolate covered rim into the peanuts. If needed, gently press the peanuts with your fingers to adhere. Chill the cups in the fridge or freezer to set.
For the Floats:
Take a tablespoon or two of the milk, and whisk it with the cornstarch in a small bowl. Set aside.
Place the remaining milk, cocoa powder, chocolates and peanut butter in a medium saucepan over medium heat.
Heat the mixture, whisking constantly but gently, until the chocolate and peanut butter are completely melted and the mixture is steaming, about 5-8 minutes. Do not let it come to a boil. The mixture should be completely smooth and silky without little bits and dots of chocolate.
Pour in the cornstarch mixture and whisk together. Continue to heat while constantly whisking until the mixture thickens slightly, about 1 minute.
Place one scoop (or more if preferred) of vanilla ice cream in each cup, then pour the hot chocolate mixture over it. The ice cream will float up.
Garnish with whipped cream, chocolate syrup and a peanut cup, if desired. Serve right away.
Recipe Notes
Measurements Note: All recipes of this site have been developed using weight measurements. Although US volume measurements have been included for your convenience, it is highly encouraged that you weigh your ingredients using a kitchen scale to get the best possible results. Due to the sensitive nature of baking, kitchen scales are proven to yield more accurate and consistent results than measuring cups. Enjoy!
This post may contain affiliate links.
All images and content are owned by Cleobuttera® and are copyright protected. Please do not use my images without prior permission. If you would like to republish a recipe, please rewrite it in your own words and link back to the recipe page on my site. Original recipes and creations of this site are intended for personal and home use. Commercial replication or media consumption are only allowed with a written consent and agreement with Cleobuttera owners. Otherwise it is considered a violation of intellectual property. Thank you for respecting and appreciating the amount of time and effort that goes into creating free, unique recipes that make people happy.