Sinful Chocolate Pizza
Soft pizza crust topped with Nutella, three types of chocolate and toasted marshmallows. This dessert pizza is a chocolate lover's dream come true.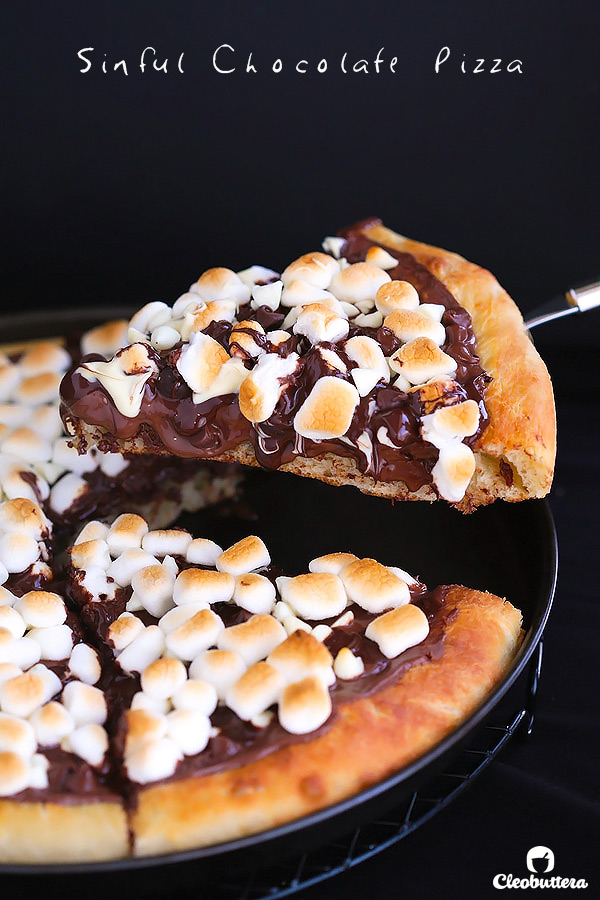 It's New Year's Eve!
Which means you can eat anything that crosses your sight because tomorrow we're dieting.
January is not fun you guys:(
So lets wrap up the year with one indulgent treat that will get you through the first two weeks of January.
Or first two days, if you're like me. #chocolateaddictionproblems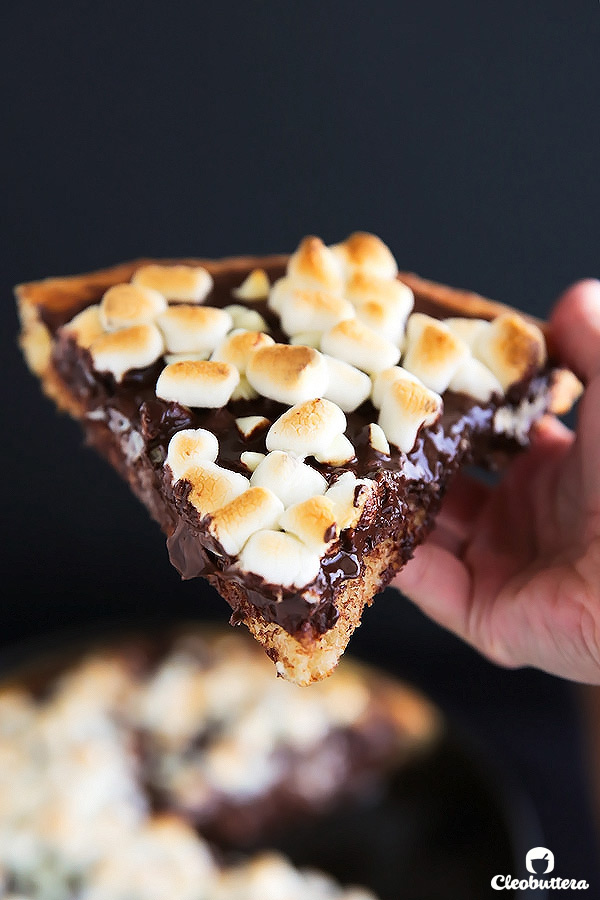 I'm talking a dessert pizza swimming in chocolate. Four types to be exact. Actually three because the fourth is Nutella, and Nutella is in a league of it own. A whole other food category.
The pizza is made up by a soft and slightly chewy pizza crust, that gets covered in Nutella and then sprinkled with semisweet, milk, and white chocolates and then crowned with toasted marshmallows. Sinful I tell ya! It is definitely not for the faint of heart. But then again what pizza is?
The great thing about it, is that you could play around with the toppings. Peanut butter lovers can you hear me? Do it! I also heard a rumour that some people don't like marshmallows! Although it hurts me to say that, but leave them out if you want. How about caramel, nuts, fresh fruits or your favorite candy bar? Anything will work here…just stay away from the anchovies.
I first made this chocolate pizza about a year ago during my stay in Canada (preblogging era). I posted it on Instagram at the time and I've been flooded with requests for the recipe ever since. At the time, I took a shortcut and used Pillsbury's ready made pizza crust. Being back in Egypt, with no Pillsbury to save the day, I had to come up with a from scratch recipe that anyone, anywhere under the sun could make.
I tried five different pizza doughs before landing on this winner. To be fair they were all great, but just didn't go really well with the chocolate toppings. They were either too crispy, too chewy, too airy or too heavy, but this one right here has just the right texture that perfectly compliments the chocolate overdoes. Its soft, yet sturdy enough to stand for the toppings with a slight chew and fairly crispy edges. Actually it reminds me so much of the Pillsbury dough…but better because its made from ingredients you could pronounce.
The dough is so simple to make and needs only one rise. After that you just dump it in your pan and spread it into a 12inch or 13inch circle. With the palm of your hands, push the dough a bit to the sides of the pan to create a thicker edge. Then using your fingers make indentations all over, except for the edges.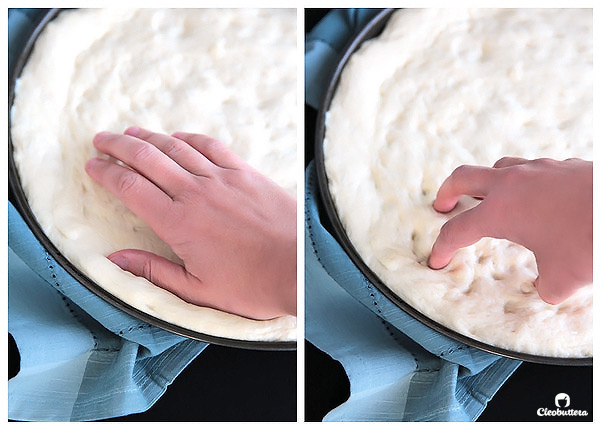 Brush with a little melted butter, then bake in a 450F/230C oven for 10 to 12 minutes, just until slightly crisp and pale golden brown in color.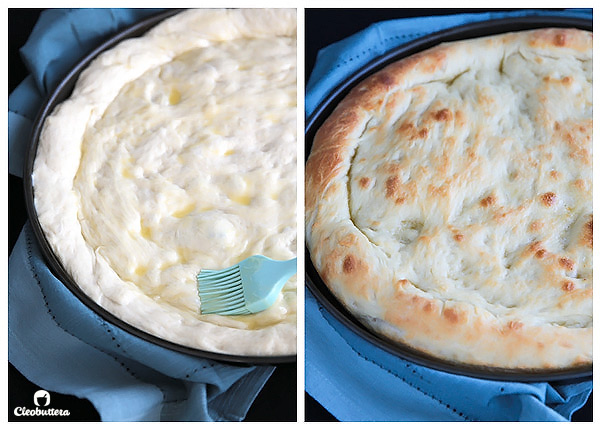 As soon as it comes out of the oven, spread on the Nutella! My favorite part of the process…cross that out…eating it is definitely my favorite part of the process.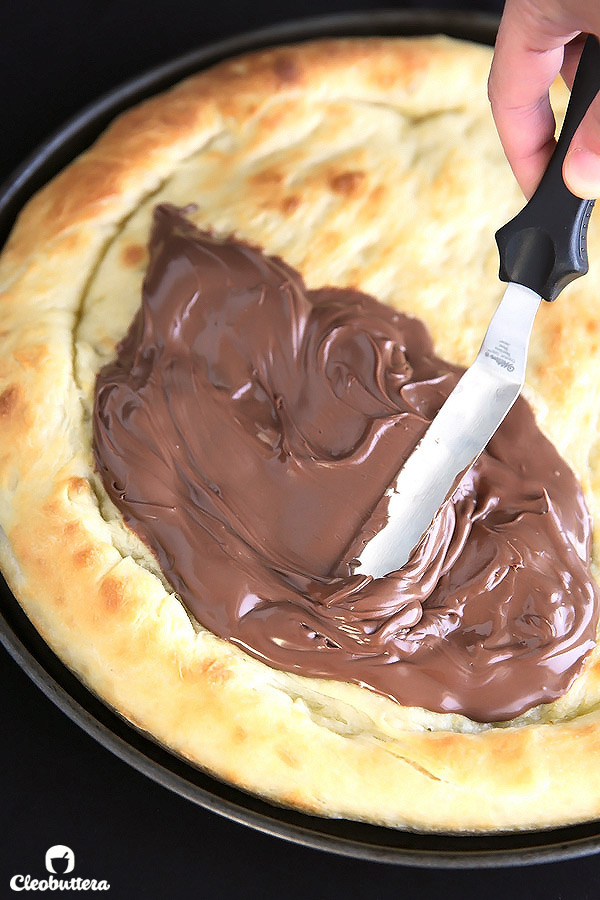 You then sprinkle on some chocolate chips! Semisweet goes on, then milk, then the white. Top all that off with some glorious mini marshmallows.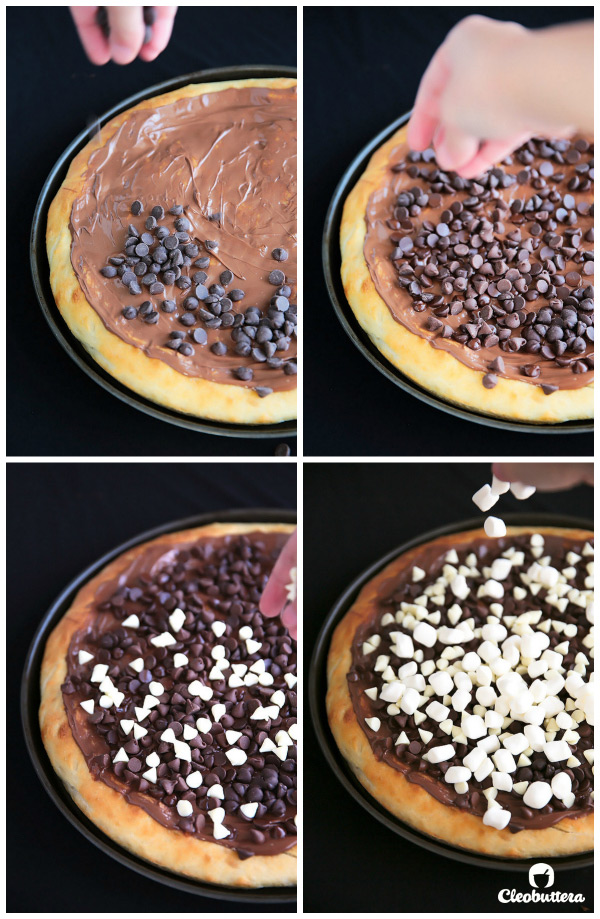 Then put it back in the oven for a couple of minutes to get the chocolate all melted and the marshmallows all roasted. Then sliiiiiiice. Mmmm…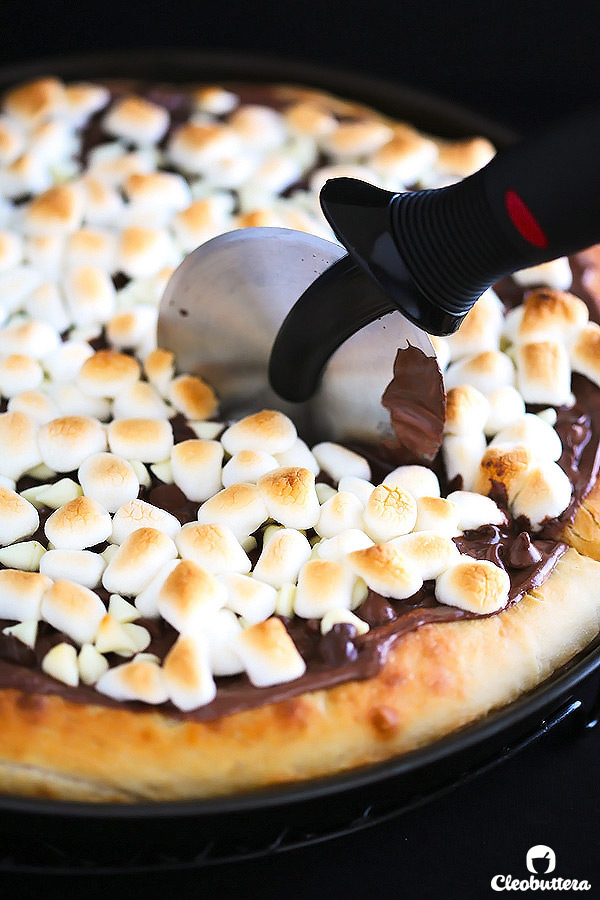 Grab one…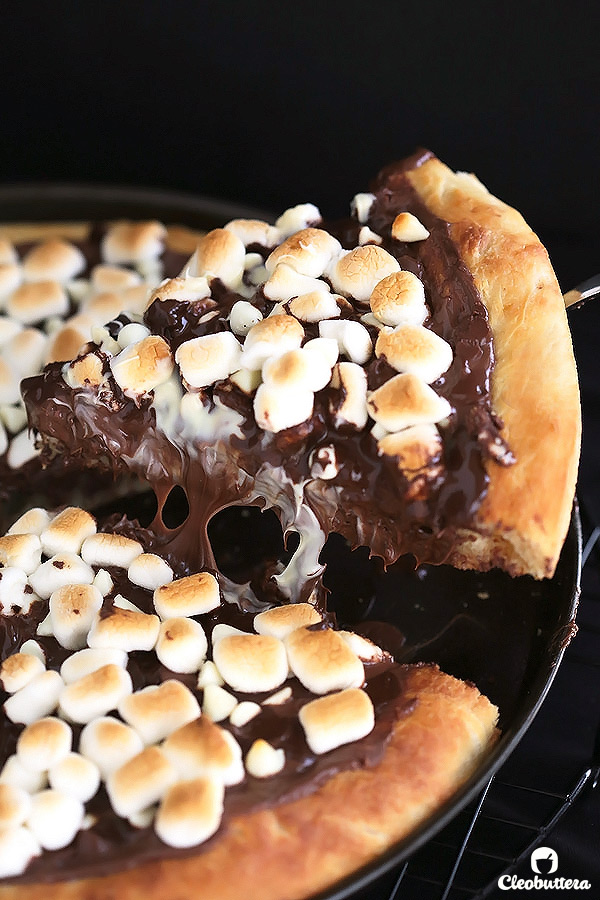 Take a BIG bite…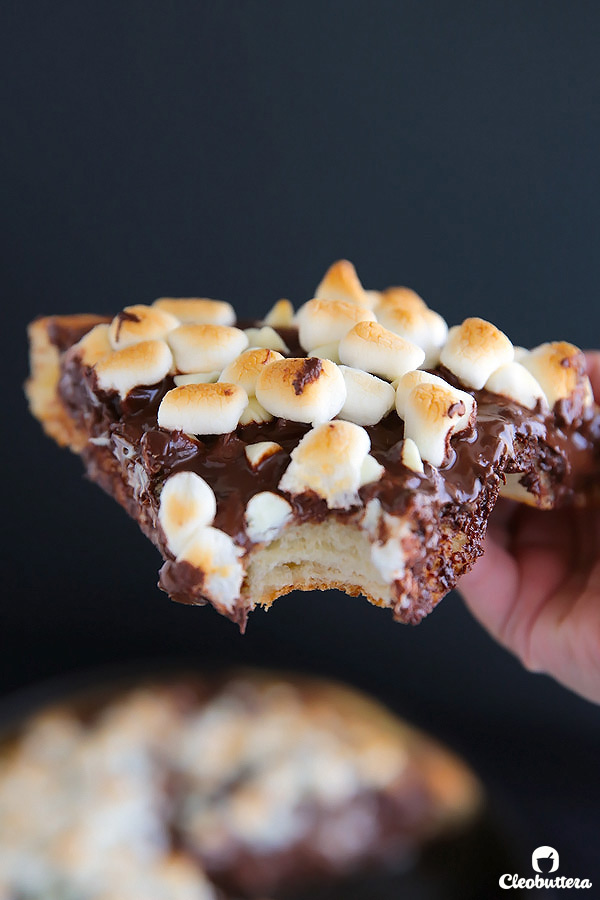 And savor the moment, because tomorrow you'll dreaming of it while munching on that celery stick.
Here's to a great New Year full of blessings, love, peace and the occasional indulgences that keep us going.
Happy New Year everyone!
Yield: one (12 or 13-inch) round pizza
Sinful Chocolate Pizza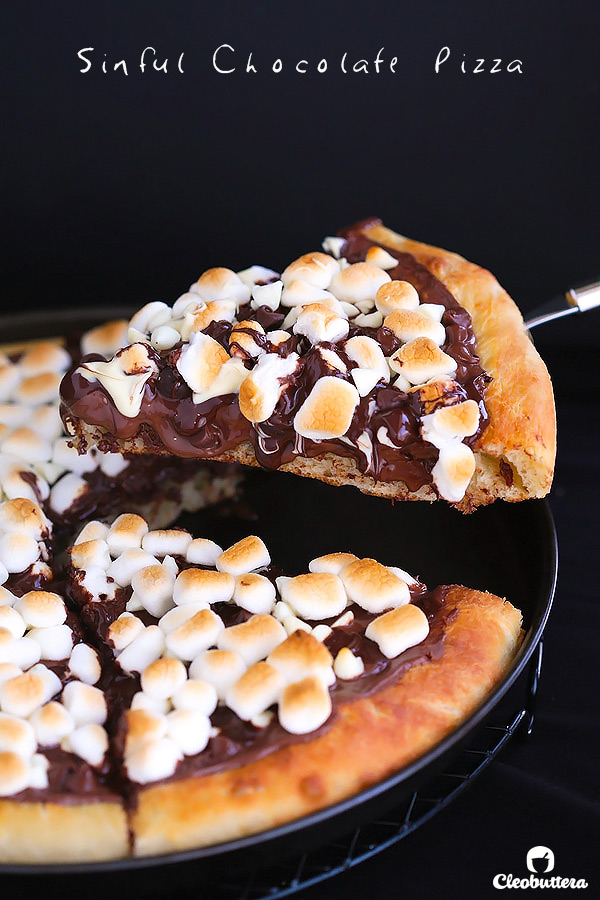 Soft pizza crust topped with Nutella, 3 types of chocolate and toasted marshmallows. This dessert pizza is a chocolate lover's dream come true.
Prep Time 20 minutes
Cook Time 12 minutes
Additional Time 45 minutes
Total Time 1 hour 17 minutes
Ingredients
Pizza Dough: (1lb/450g store-bought pizza dough can be substituted or use your favorite pizza dough recipe)*
1 3/4 to 2 1/4 cups (210g to 270g) all purpose flour
1/4 cup (28g) milk powder
1 tablespoon (12g) granulated sugar
1 1/4 teaspoon instant yeast*
3/4 teaspoon salt
3 tablespoon vegetable oil
3/4 cup warm water
2 teaspoons butter, melted
Toppings: (Feel free to customize your toppings according to your liking)
1/3 cup Nutella
1/3 cup (57g) semisweet chocolate chips (or finely chopped semisweet chocolate bar)
1/3 cup (57g) milk chocolate chips (or finely chopped milk chocolate bar)
1/3 cup (57g) white chocolate chips (or finely chopped white chocolate bar)
1 cup (57g) mini marshmallows (or regular marshmallows cut into eighths)
Instructions
In the bowl of a stand mixer fitted with the hook attachment (or a large bowl if kneading by hand), place 1 3/4 cups of the flour, the milk powder, sugar, yeast*, salt and whisk together with a hand whisk or fork. Add in the oil and whisk together until throughly mixed.
With the mixer on low speed, gradually pour in the warm water. Knead together until a smooth and uniform dough starts to form.
If the dough is still very sticky, gradually add the rest of the flour, one tablespoon at a time until the dough clears the sides on the bowl but sticks to the bottom. You might not need all of it. Continue kneading until the dough is smooth and elastic but not dry. It should still be slightly sticky and feels tacky. Resist the temptation to add too much flour or the crust will be tough.
Transfer the dough to an oiled bowl, and turn it over to get it all covered with the oil. Cover with plastic wrap and place in a warm place. Let it rise until doubled in bulk, 45 minutes to 1 hour.
During the last 15 minutes of rising, place the oven rack to the lowest position and turn the oven to 450F/230C.
Spray a 12inch or 13 inch round pan or a rectangular baking sheet with non stick cooking spray.
Turn the risen dough onto the pan or baking sheet and spread it evenly with your hand into a 12/13inch circle. (12 inches will yield a thicker pizza, while 13 inches will turn out on the thin side)
Using the palm of your hand, push the dough to the sides of the pan to create a thicker edge. Using your fingers, make indentation all over the dough, except for the edges.
Brush the dough with the melted butter.
Bake the dough until slightly crisp and pale golden brown, about 10-12 minutes.
Immediately, spread the Nutella over the pizza (leaving the edges bare), then sprinkle with the 3 types of chocolate and finishing it off with the marshmallows.
Place back in the oven, and bake just until the chocolate starts to melt and the marshmallows takes on a golden brown color, 2-3 minutes. Do not bake for too long or the chocolate will harden. Cut the pizza into wedges and enjoy right away.
Recipe Notes
Make sure you use 'instant' dry yeast here and not 'active.' Instant yeast is designed to get mixed right away with the dry ingredients without having to activate it in a warm liquid. If you follow the same directions using 'active' yeast, the dough won't rise and you'll end up with a thin, dry crust. If active dry yeast is all you could find, then you're gonna need to dissolve it first in the warm water with a 1/4 teaspoon of sugar, before proceeding with step 1 of the recipe.
I used Pakmaya brand for these rolls, but Venoise is another favorite of mine. Just look for the word 'instant.'
To create a warm environment for rising, turn the oven to 200F/93C before working on the dough, then turn off the oven after about 10 minutes. You could now use it as your warm place to rise your dough in. If the oven feels too hot, leave the oven slightly ajar. Works like a charm:)
As with all pizzas, it is best served warm out of the oven while the chocolate is still melty. Chocolate will harden over time, especially in cooler environments. Leftover slices can be warmed up in the microwave.
Idea inspired by Max Brenner's Bad Boy Chocolate Pizza.
Measurements Note: All recipes of this site have been developed using weight measurements. Although US volume measurements have been included for your convenience, it is highly encouraged that you weigh your ingredients using a kitchen scale to get the best possible results. Due to the sensitive nature of baking, kitchen scales are proven to yield more accurate and consistent results than measuring cups. Enjoy!
This post may contain affiliate links.
All images and content are owned by Cleobuttera® and are copyright protected. Please do not use my images without prior permission. If you would like to republish a recipe, please rewrite it in your own words and link back to the recipe page on my site. Original recipes and creations of this site are intended for personal and home use. Commercial replication or media consumption are only allowed with a written consent and agreement with Cleobuttera owners. Otherwise it is considered a violation of intellectual property. Thank you for respecting and appreciating the amount of time and effort that goes into creating free, unique recipes that make people happy.