Clean Green Groovy Smoothie
A super healthy and energizing blend of fruits and greens that tastes like the most delicious tropical drink. It does not taste like a vegetable one bit. Naturally sugar-free, fat-free, gluten-free, vegan, and could be dairy-free.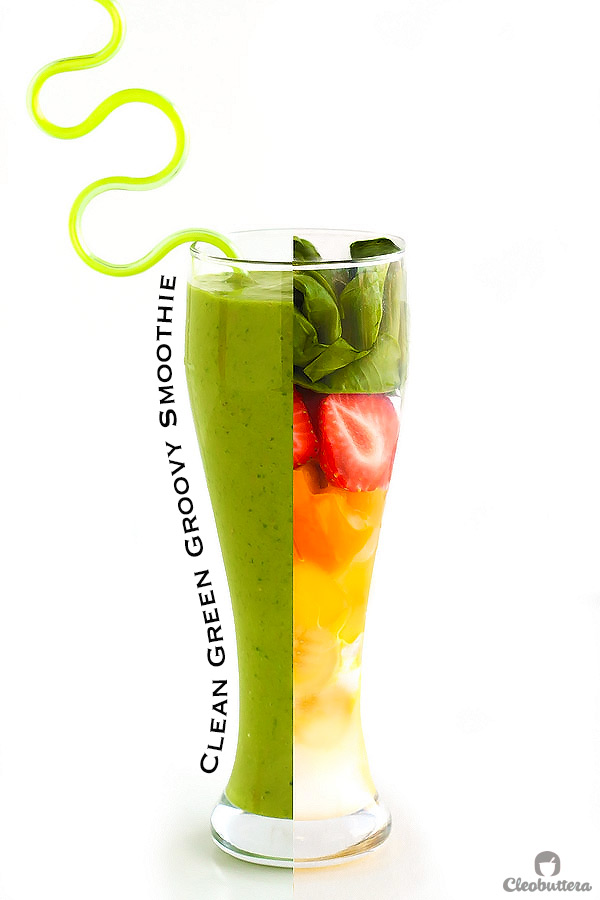 Say 'Hello' to the New Year's cliche!
Let's face it though, I think we are all in need of this.
Whether you want to clean up after the holiday season mess and reset your body.
Or you've gotten yourself committed into a health and weight loss resolution. Eeeeek!
Or you just enjoy a good 'ol smoothie.
Ooooor you might just be a food blogger who eats her body's weight in kitchen testings and wanna balance things out. Guilty as charged…
…of all the above actually.
This chock-full of nutrients smoothie, is sure to take good care of you.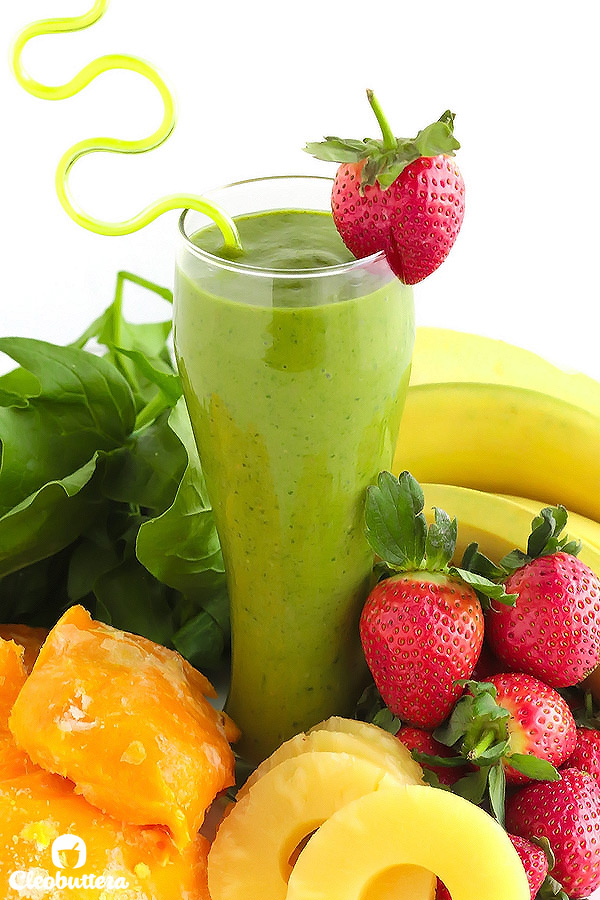 And the best thing about it, is that it does not even taste healthy.
Want proof? The kiddos love it! Just tell them its Shrek juice and that should do the trick. Wink wink:)
If you get past the green color, which I weirdly find attractive, it will remind you of a tasty tropical drink that would otherwise be high in calories. It tastes a lot like a virgin pina colada with hints of strawberry and banana, but infinity times better for you.
Most green smoothies taste like a bitter vegetable mush, but not this one.
The secret here is the SPINACH. This miracle veggie is very mild in taste yet HUGE in nutrients. It does not add any flavor or alter the delicious fruity taste of the smoothie one bit.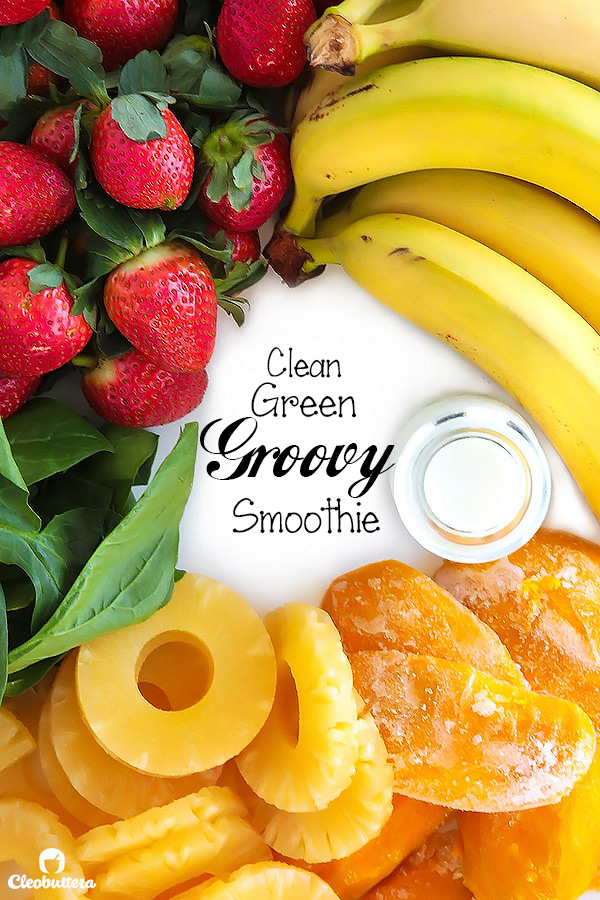 It also helps that the smoothie is made using a blend of the most delicious fruits out there. Strawberries, mangoes, pineapples and bananas all go in the mix, but you could play around using what you have on hand or what you love. Non of them need to be in season because all fruits could be used frozen. As a matter of fact the texture is even better with frozen as opposed to fresh fruit, because it gives it that slushy feel we all love.
Keep a bag of each fruit in your freezer for an instant Groovy Smoothie any time of the year!
This time around I used all fresh fruit, except for the mangoes. These were frozen. I don't mean to brag but our Egyptian mangoes just ROCK! They are so sweet and ripe and creamy; they taste like a decadant dessert that fell out of heaven. So every year around August, when the mango season is at its peak, we buy extra mangoes, peel and chop 'em up, pack 'em in bags and store them in the freezer to last us all year long.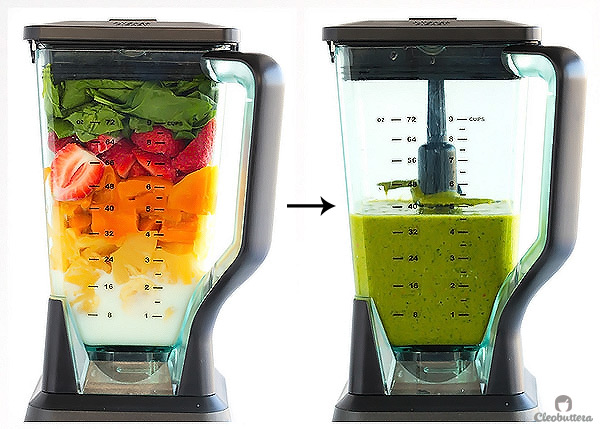 The smoothie comes together in no time, by just throwing together all the fruits in the blender with some milk (any type) and blending it all up until smooth and creamy. If your bananas are ripe enough and your mangoes are sweet, you wouldn't feel the need to add any sweeteners; but adjust to your liking.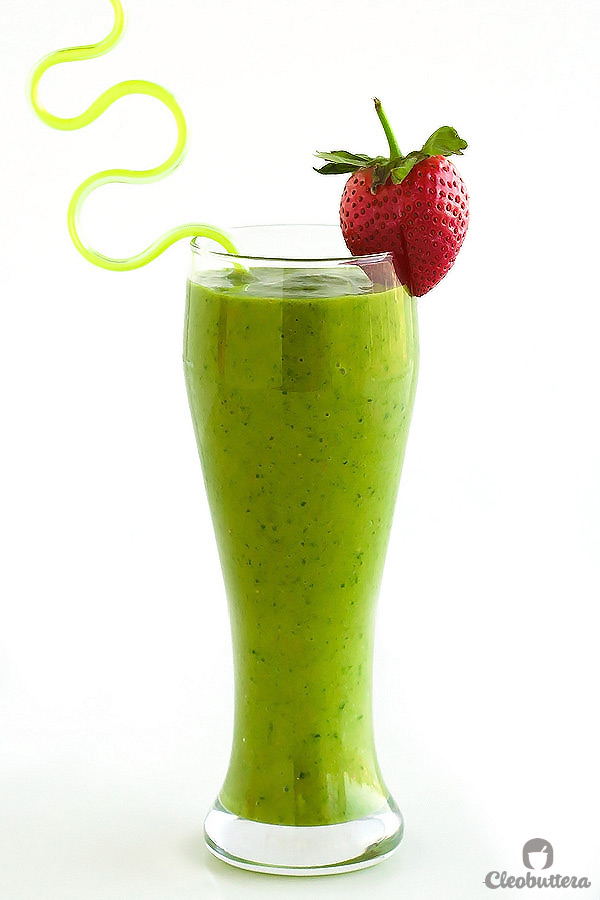 Jazz it up a little by adding a "groovy" straw and fruity garnish and that's it!
A Green Smoothie that won't gross you out, but one that you'll actually enjoy, and will leave you energized to start your day.
Yield: 1 large serving (about 1 1/2 cups)
Clean Green Groovy Smoothie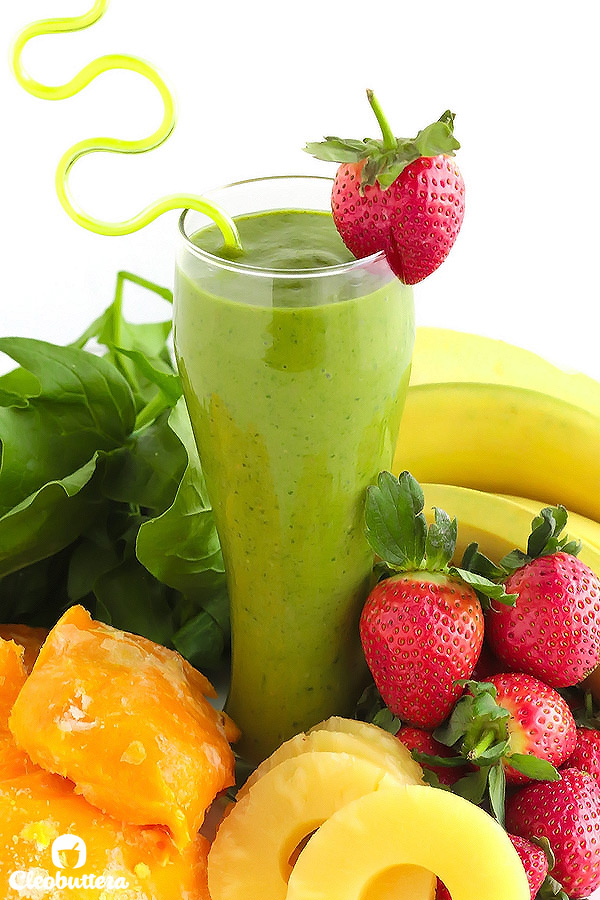 A super healthy and energizing blend of fruits and greens that tastes like the most delicious tropical drink. It does not taste like a vegetable one bit. Naturally sugar-free, fat-free, gluten-free, vegan, and could be dairy-free.
Prep Time 10 minutes
Total Time 10 minutes
Ingredients
1/2 to 1 cup spinach, fresh or frozen
1/2 ripe banana, peeled (fresh or previously frozen chunks)
1/2 cup pineapple chunks, fresh or frozen
1/2 cup mango chucks, fresh or frozen
1/2 cup strawberries, or any berry (fresh or frozen)
1/2 cup milk (any type, dairy or non-dairy, I use skim cow's milk)
1/2 teaspoon vanilla extract, optional
sweetener to taste, optional (sugar, honey, agave, stevia, artificial sweetener, Medjool dates)
Instructions
Place all ingredients in blender and blend until smooth and creamy. Adjust sweetness to taste.
Pour into cup and serve right away.
Recipe Notes
The choice of fruits and their amounts in this recipe is to taste. Use up seasonal fruits, whatever you have on hand or your favorite fruit, and vary their amounts to your taste.
Frozen fruits are great in smoothies, giving them a creamy slushy texture without the need to add ice.
Feel free to add a scoop of protein powder, yogurt instead of milk for extra protein or orange juice for extra vitamin C. Add healthy fats like nuts, nut butter, coconut oil or seeds.
The shade of green may differ from one time to another depending on the color of the fruits and spinach you're using at that time.
Adapted from Averie Cooks
Measurements Note: All recipes of this site have been developed using weight measurements. Although US volume measurements have been included for your convenience, it is highly encouraged that you weigh your ingredients using a kitchen scale to get the best possible results. Due to the sensitive nature of baking, kitchen scales are proven to yield more accurate and consistent results than measuring cups. Enjoy!
link
This post may contain affiliate links.
All images and content are owned by Cleobuttera® and are copyright protected. Please do not use my images without prior permission. If you would like to republish a recipe, please rewrite it in your own words and link back to the recipe page on my site. Original recipes and creations of this site are intended for personal and home use. Commercial replication or media consumption are only allowed with a written consent and agreement with Cleobuttera owners. Otherwise it is considered a violation of intellectual property. Thank you for respecting and appreciating the amount of time and effort that goes into creating free, unique recipes that make people happy.