You won't believe they're skinny!  These lightened up chocolate chip cookies pack so much flavor that you won't miss the extra fat and calories.  They have a secret ingredient that keeps them soft and chewy for days.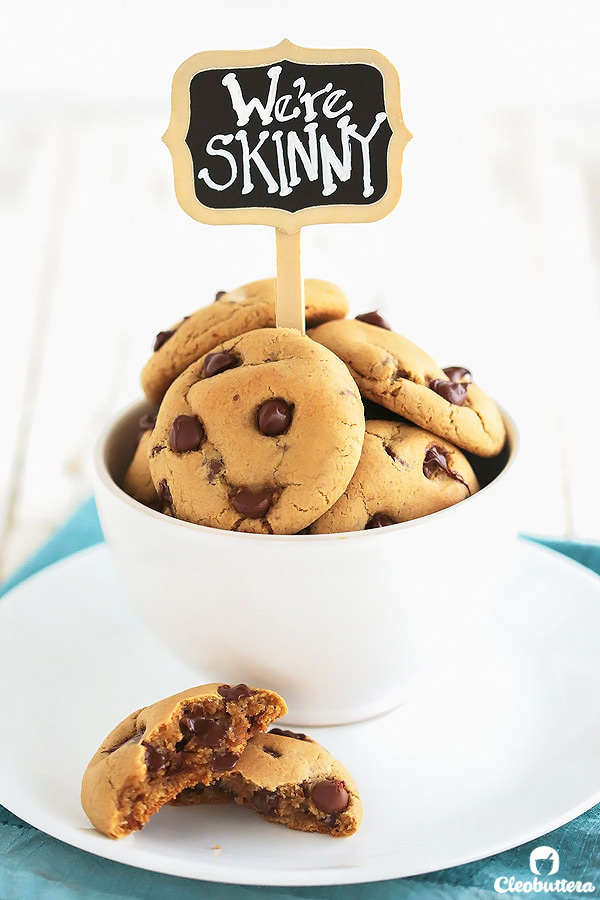 I have a killer chocolate chip cookie recipe that makes everyone go bonkers!
I'm equally loved and hated for it…for obvious reasons as you could imagine.
Whenever I show up with them, I find myself in the perfect scenario to squeeze in the ever-so-popular hashtag #sorrynotsorry, which makes me feel all cool and up-to-date.
They are just ridiculously perfect and will most likely remain my favorite chocolate chip cookie in all the land,  but they have 14 TABLESPOONS OF BUTTER and they make only 16 cookies!  So if my iPhone does the math correctly, then we're talking a liiiiittle shy of a tablespoon of butter per cookie…I wish I never knew this piece of information.
Now would you like me to share the recipe with you here someday or did I just turn you off?  Oh…I'm just gonna have to anyway.
These figure-friendly cookies, on the other hand, is very skimpy with the butter, won't make you hate yourself in the morning and the results…are surprisingly great!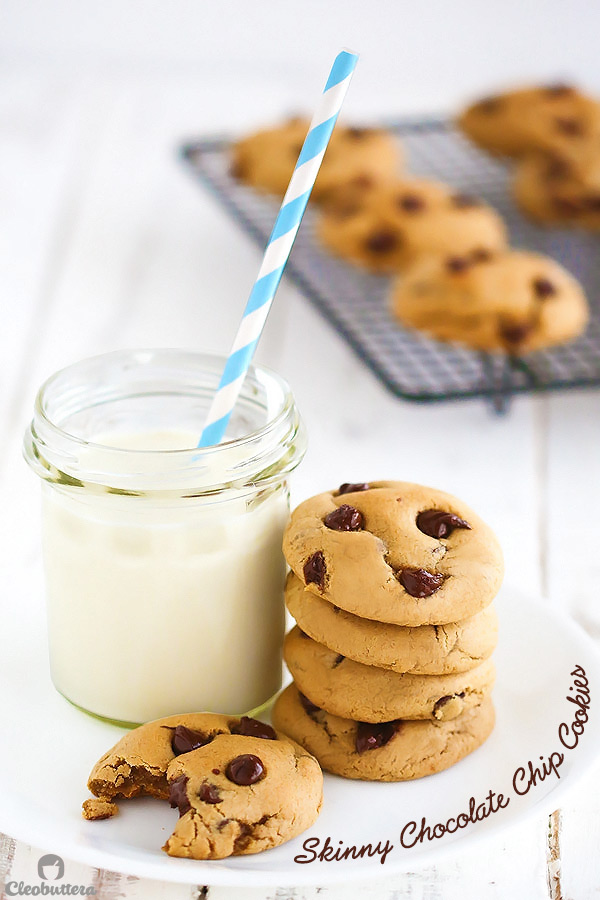 While their more indulgent cousins have 14 TABLESPOONS OF BUTTER in a batch of 16, these more innocent ones, call for ONLY 3 TABLESPOONS in a batch of 18!!
The calories are cut from 310 to 160!
The grams of fat are slashed from 15 to 4!
And the grams of saturated fat go from 9 to 2.5!
Now that's a makeover!
I know you're probably thinking, that with so much cut back in all the good 'ol fatty stuff, the cookies will suffer, that they'll no longer become worth eating…Can't blame ya!  I had the same doubts too.  But they disappeared after my first bite.
The cookies are soft and chewy, and they taste just like what a decent chocolate chip cookie should…and they stay that way for several days.  Their texture remind me of Keebler's Soft Batch Cookies.
And you know what?  My kids and brother's kids agreed.  They LOVED them!
And if I could get the thumbs up from such picky eaters who grew up on the "other ridiculous" chocolate chip cookie, then I've pretty much scored!  They will never see any other cookie as long as they live under my roof, because it makes me feels a lot less guilty treating them with it.  I know its not a stick of carrot, but if its a cookie they want, then that's the one they'll be getting.
But if I want baking bragging rights,  then to be honest, I'm making my "other bad-for-you cookies."  Hey!  Just being honest:)
So let's talk about how these cookies turn out so good, without making you're skinny jeans mad at you:
First, I chose the most reliable source for the recipe.  It's from one of my favorite books called Comfort Food Makeovers written  by some of my favorite chefs and editors from America's Test Kitchen.  These guys are right up my alley, because they test out their recipes a bajillion times before deeming them good enough to publish.  So you'll know that they ought to be good.  And this book? A goldmine.  I can't recommend it enough.
As for the secret ingredient that makes these cookies so soft and chewy without the truckload of butter.  It's this: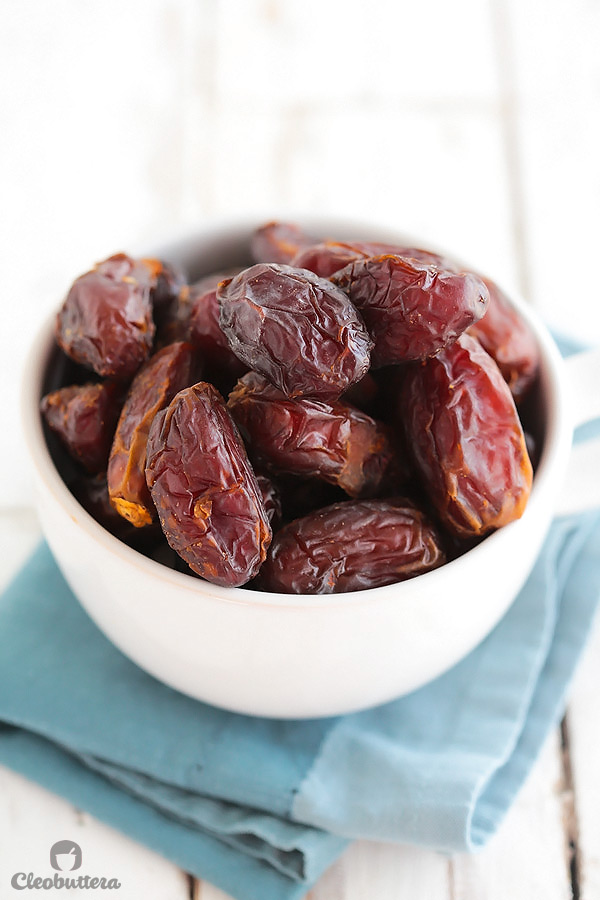 Yup!  Dates.  Don't run away!  I promise, you won't be able to taste them.  Unless you have superhuman tastebuds.  But these are what keeps the cookies moist and "boasting a rich, sweet flavor."   Three-quarters of the butter is replaced by this magic ingredient and it works!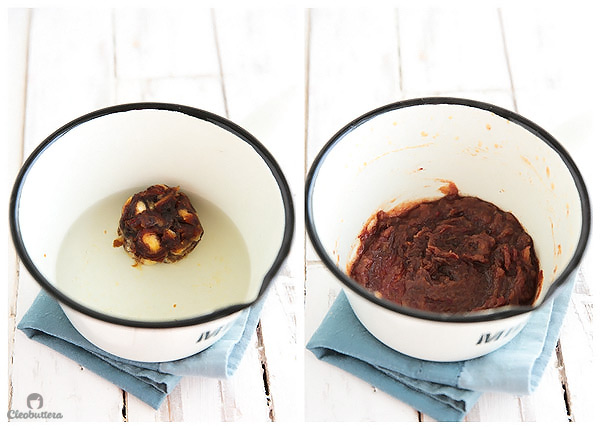 And hey, you only use 1/4 cup of it, so no biggie.  You simmer it down with some water just like we did here.  Until it turns into mush and most of the water evaporates.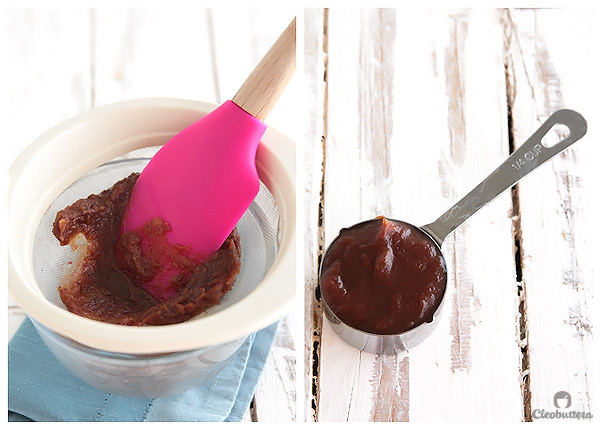 Then you'll grab that mush and strain it to get rid of the skins.  You'll end up with a 1/4 quarter of smooth puree, maybe a little bit more, but that's OK.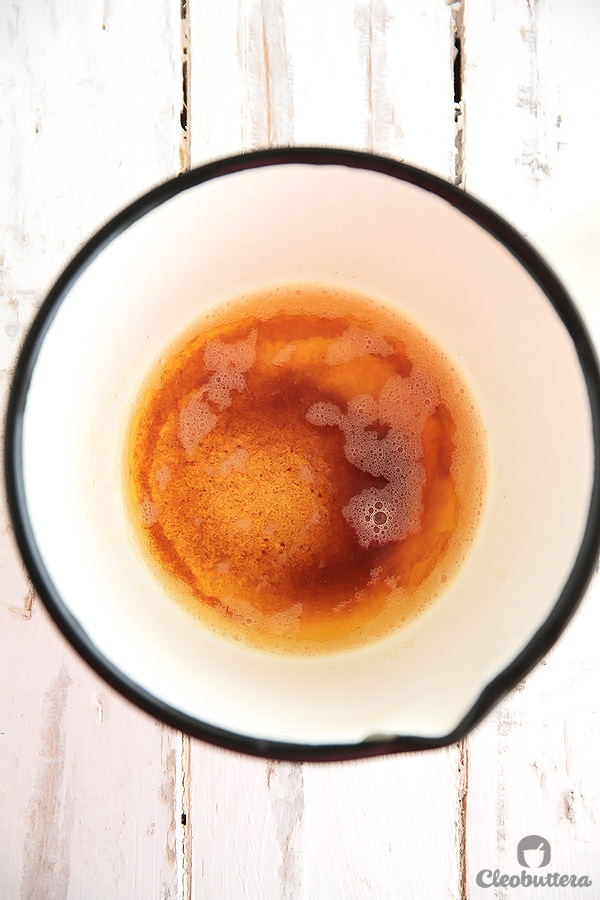 Another magical ingredient in these cookies, is the browned butter. It gives the cookies a depth of flavor with nutty and caramel-y undertones.  I mean if we're ONLY gonna be using 3 tablespoons of butter for the whole thing, then we better get the most out of it.  Because brown butter > yellow butter.
All you need to make it, is to melt the butter and cook it in the saucepan until it turns this beautiful golden brown. Just be sure to keep scraping the bottom of the pan with a rubber spatula to prevent the solids from sticking and burning.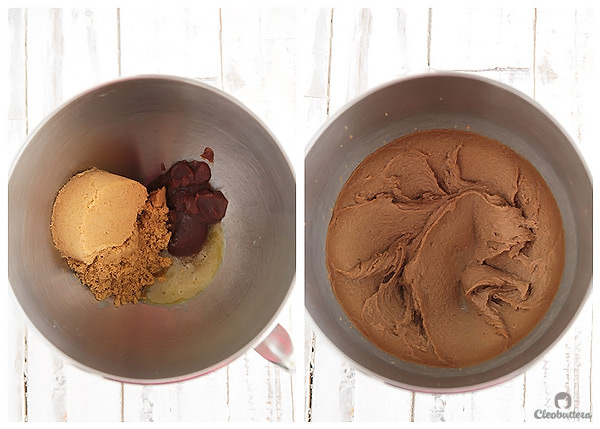 Then you transfer that glorious browned butter in the bowl with the brown sugar and date puree and beat them together until nice and creamy.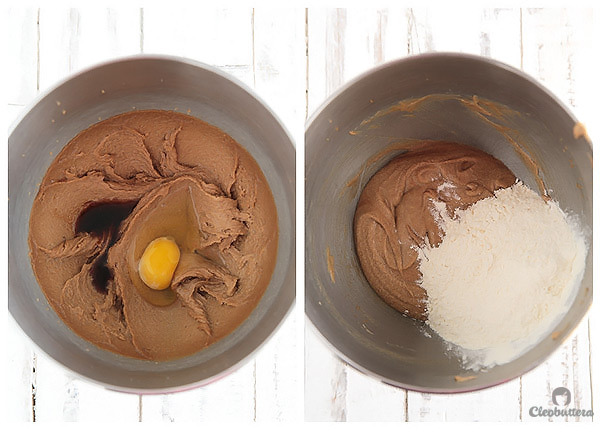 Then you'll go ahead and add the egg and vanilla, mix these together, then in with the dry ingredients.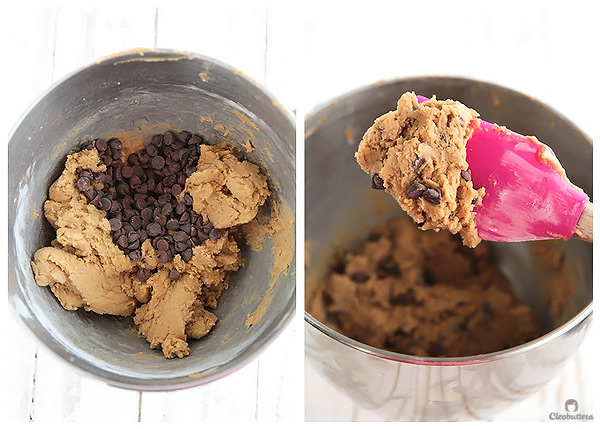 Once the dry ingredient are all incorporated in there and happy, stir in those chocolate chips minus 2 tablespoons.  And when no one's looking, throw in a little more as if it was an accident.
Go ahead…get a sample of that cookie dough.  You won't believe how good it is and might not be able to stop, which ruins the whole purpose of making lighter cookies…Oh dear.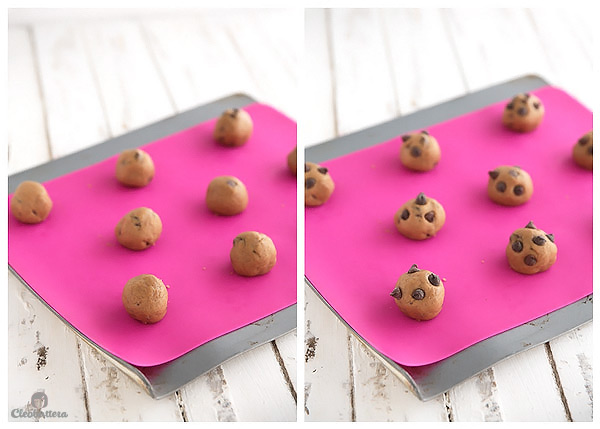 Working with 3 tablespoons of dough (or use an ice cream scoop), roll into balls, them press on the reserved 2 tablespoons of chocolate chips right on top of the balls.  These will make the cookies look like they are chockfull of chocolate.  Now into the oven they go.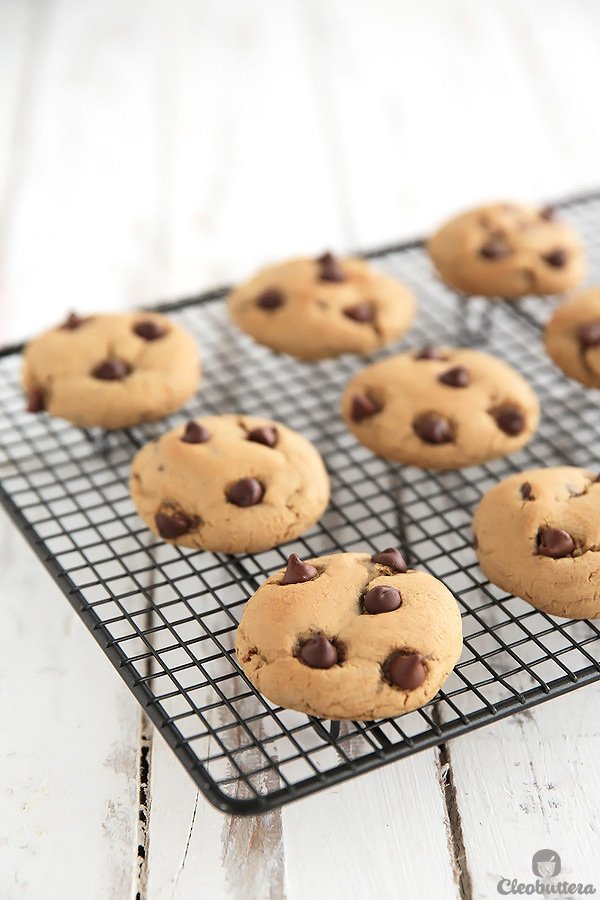 I beg you please not to overbake these.  They will suffer.  While the book says to bake between 15-18 minutes, I found that a little too much and my cookies ended up really tough with tons of cracks.  I went with 12 minutes the next go-around and they were perfection.  But because all ovens are different, you're just gonna have to judge yourself.  You just need them to allow the edges to turn a light golden brown and set, but the centers should feel very soft and almost raw but not sticky.  They will continue to cook after coming out of the oven.
Wait 10 minutes…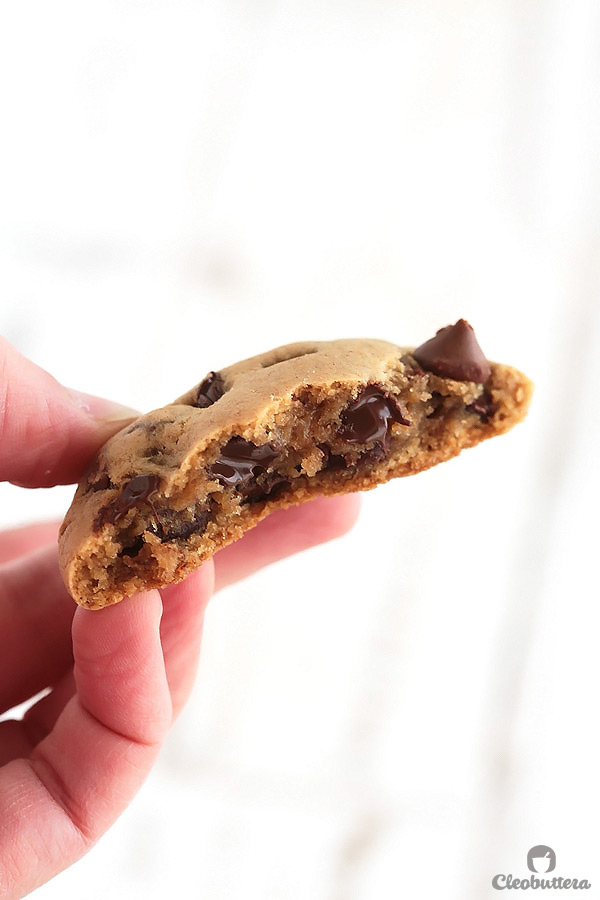 then enjoy in disbelief that these are actually skinny.
Try to stop at just one…
Just sayin'.
Skinny Chocolate Chip Cookies
These lightened up chocolate chip cookies pack so much flavor that you won't miss the extra fat and calories. They have a secret ingredient that keeps them soft and chewy for days.
Ingredients
1 cup water
¼ cup finely chopped dates (I used medjool; make sure they are still supple and soft)
3 tablespoons unsalted butter
2 cups (10 oz) all purpose flour
½ teaspoon baking soda
½ teaspoon salt
1¼ cups packed (8¾oz) light brown sugar
1 large egg
2 teaspoons vanilla extract
½ cup (3 oz) semisweet chocolate chips
Instructions
Bring water and dates to a boil in a small saucepan over medium-high heat. Then reduce heat to medium-low to simmer and cook until the dates very tender and mushy and most the water has evaporated, about 20 minutes. Be careful; mixture will splatter as it cooks.
Using a rubber spatula, press mixture through a fine-mesh strainer set over a small bowl to extract a date puree and get rid of the skins. Scrape any dates stuck to the bottom of the strainer into the puree (you should have ¼ cup puree).
Meanwhile, adjust oven rack to middle position and heat oven to 325F/163C. Line 2 baking sheets with parchment paper or silicon mats.
In a small saucepan, melt butter over medium heat and cook while scraping down the bottom of the pan with a rubber spatula, until the color turns golden brown and a smells nutty and caramel-y. Be careful not to burn the butter. Transfer to the mixing bowl of your mixer and let cool slightly.
Whisk the flour, baking soda and salt together in a bowl and set aside.
Add the date puree and sugar to the browned butter in the mixing bowl and using stand mixer fitted with paddle attachment or a handheld mixer, beat together on medium speed until well blended, about 2 minutes.
Beat in the egg and vanilla until combined.
Reduce speed to low and beat in the flour mixture until just incorporated. Mix in all but 2 tablespoon of the chocolate chips, then give the batter a final stir by hand.
Working with 3 tablespoons of dough at a time (or using a 3 tablespoon-measure ice cream scoop), portion the dough into 18 cookies, then roll into balls. Space cookies about 2 inches apart on prepared baking sheets, 9 cookies per sheet. Then press remaining 2 tablespoons of chocolate on top of each ball; about 4 chips per ball.
Bake cookies, one tray at a time until edges are light golden brown and centers are soft and puffy, 11 to 13 minutes. Do not overbake or you'll end up with rock hard cookies. The edges should feel just set and the centers should feel very soft, almost raw but not sticky. A few crack will appear around the edges. If the cookies get too many cracks then they are over baked.
Let cookies cool on the baking sheet for at least 10 minutes before serving. Or transfer to a wire rack to let cool completely. The cookies will keep well in an airtight container for up to 5 days.