Mars Crunch Lazy Cake
This is seriously one of the BEST and EASIEST desserts you will ever taste! 3 ingredients are all you need to make this NO-BAKE, crunchy yumminess swimming in a heavenly Mars bar sauce. Plus…recipe VIDEO included!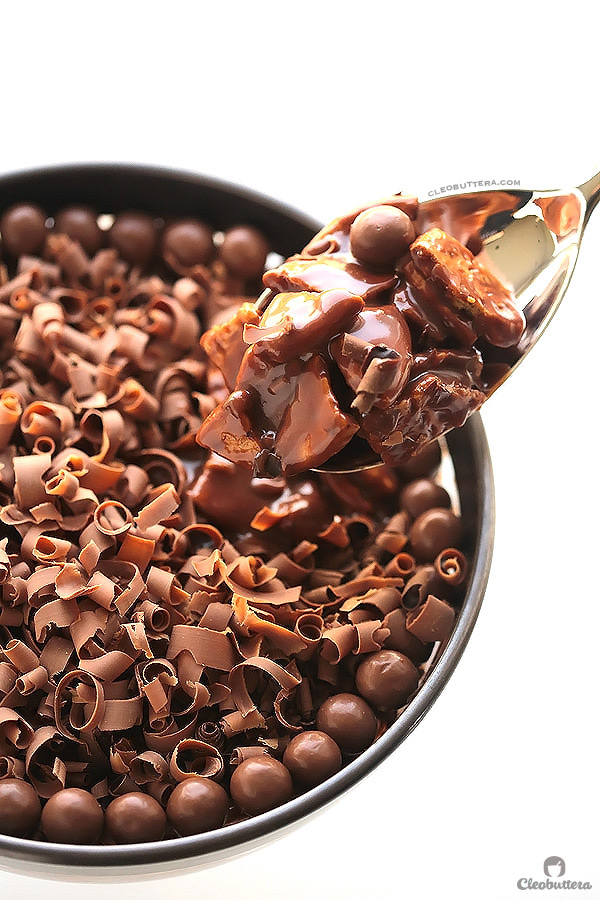 This thing is sinfully delicious. There are no words to describe it. Make it. Bye:)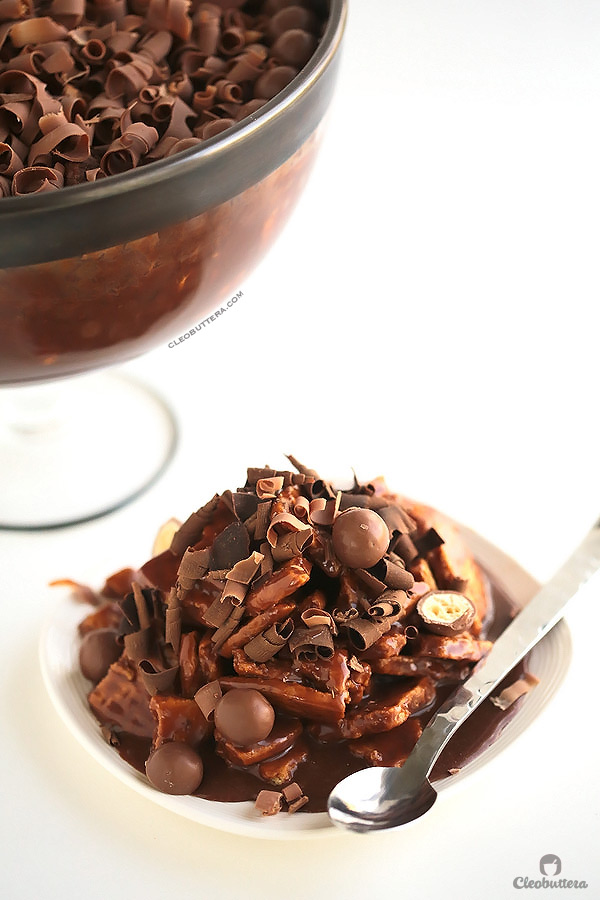 What? Don't tell me that wasn't convincing?
Ok, let's try this again.
Here are the list of ingredients. Grab a pen and paper. You're gonna need to write this down.
1) MARS BARS. MILKY WAY if you're in the U.S.
Wait! Scratch that. 20 MARS BARS. Yes! TWENTY! And don't worry if you don't like Mars; you're still gonna LOVE this. Promise.
2) DIGESTIVE BISCUITS.
3) HEAVY CREAM
AND…..oh yeah that's it.
I'm gonna go ahead and insert the cliche phrase here…"what's not to like?" because really? What's not to like?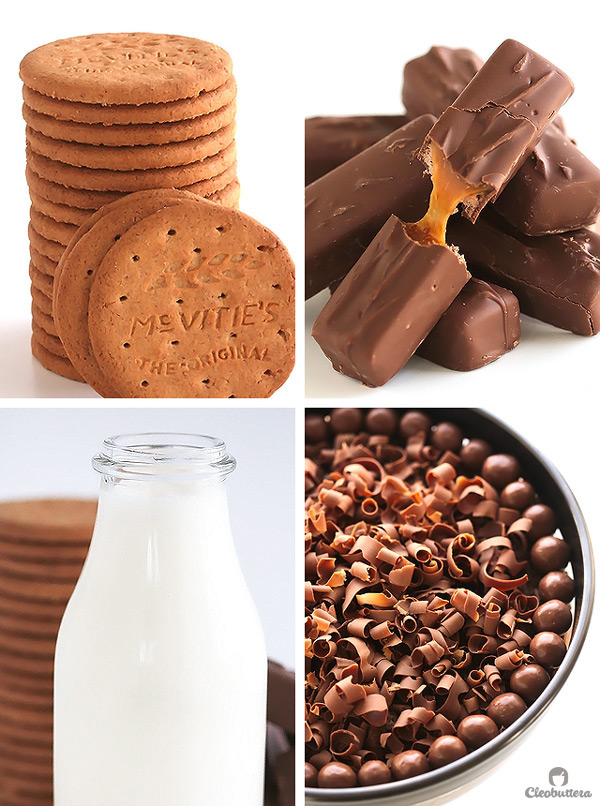 Seriously though…how could anything possibly go wrong by mixing heavenly chocolate sauce made from Mars bars and cream, with broken up digestive biscuits?
Love handles.
Oh c'mon aside from that?
Good things…only good things my friends. Chocolatey, caramely, sticky things that enrobes crunchy bites of cookieness. Can we make that word? Ofcourse we can.
You'd think that a chocolate sauce made from Mars would taste cloyingly sweet, but it really isn't. The cream tempers the sweeteness, and when combined with the Digestive Biscuits, which are very lightly sweetened, it just balances everything out. And you know what? I'm not even a Mars bar fan, but they just happen to make the best chocolate sauce ever! Way better than the bar itself.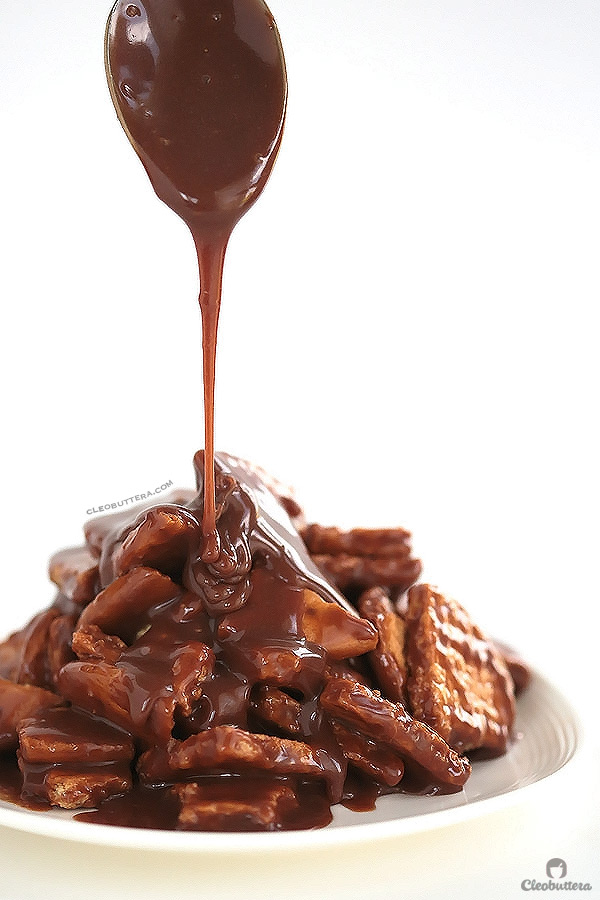 This is the dessert that all the non-baker, kitchen-haters in my family make. Because it's that easy, that good and never fails to impress. Which also means that its present in almost every family gathering we go to, and in Egypt, that's A LOT! But we have yet to grow bored of it.
So I'm tellin' ya…this is a dessert you're gonna need in your life!
Why?
Let's see….
Uhmmm…
It's a three ingredient recipe that tastes like a 15 ingredient one.
It's no-bake! Hello oven-free, fuss-free summer recipes.
It's take 10 to 15 minutes to prepare. I mean it's called "lazy" cake for a reason.
You could let the kids do all (or most) of the work for you.
It tastes equally delicious warm, at room temperature or cold; I can't really decide how I like it best. All good! Which makes it a great candidate from a make-ahead dessert. I doesn't hurt that leftovers taste awesome too. That is, if there's any.
You could dress it up in a trifle bowl and shower it with chocolate curls and pretend it's a fancy dessert. And boy does it taste a 100X better than any dessert you could buy from a fancy bakery.
It will make you a SUPER HERO! For realz.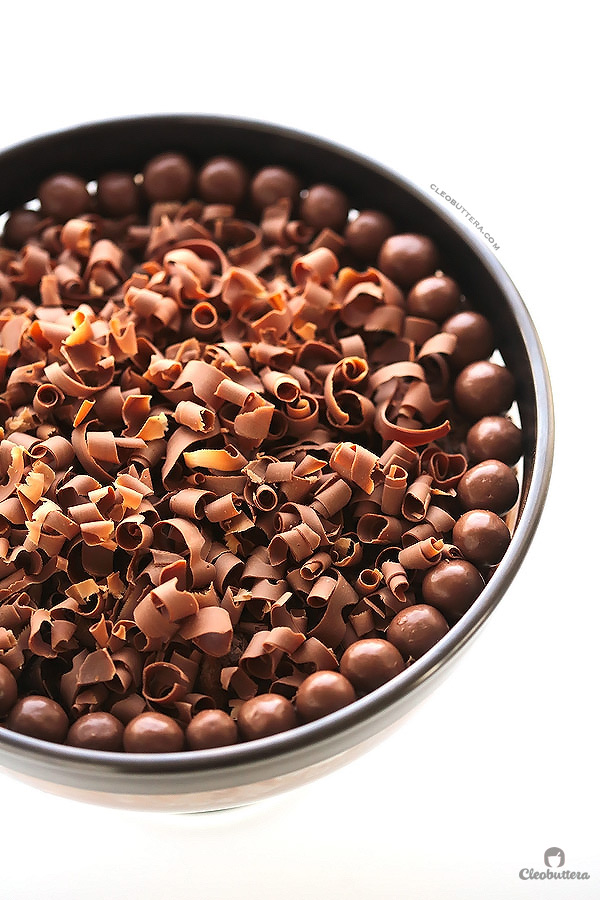 My cousin, Aya, the person responsible for opening our eyes to such insanity and getting us all hooked, has been officially given heroic status in the family because of this. Not really, by kinda.
We were gathering several years ago at my Grandma's, when Aya brought along this 'Mars Cake' as she calls it, for dessert. I don't know how to put this in a nice way, but we looked like a bunch of vultures preying on the bowl of melty, crunchy goodness. Oh my gosh! Mind. Blown. It was one of the best things anyone of us had ever tasted. I've tried similar "lazy cakes" before which employs the same idea of mixing tea biscuits with chocolate sauce, but this one was something else; really in a league of its own. Uh-mazing! The Mars chocolate bar really puts it over the top!
So anyway. After licking the bowl clean, we gave Aya a huge round of applause fit for a SUPER HERO. And pens and paper to write us the recipe. And that, my friends, is the story of how the 'Mars Cake' spread in the family. The end.
Let me show how eeeeeaaaasy.
All you gotta do is break up a ton of Mars bars in a bowl, dump in some heavy cream, microwave them. Sauce done.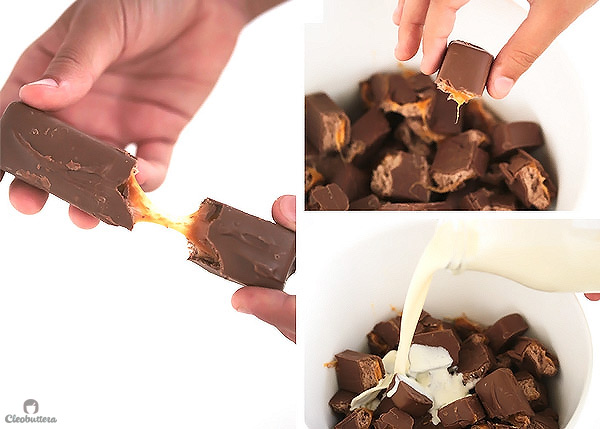 You're just gonna need to stir the mixture every minute while heating to evenly melt all the lumps.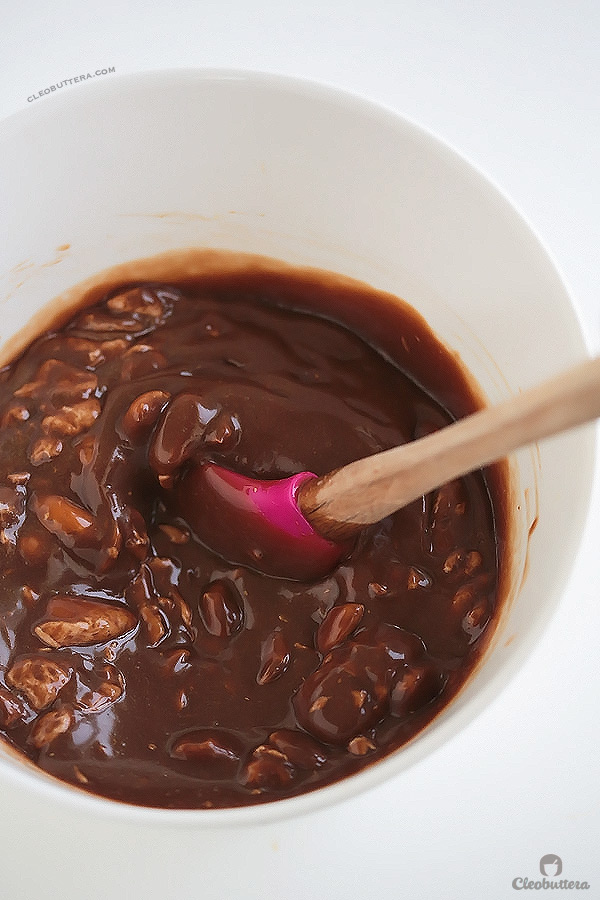 Until is becomes smooth and luxurious like this. Drinkable! I just wanna pour it over everything.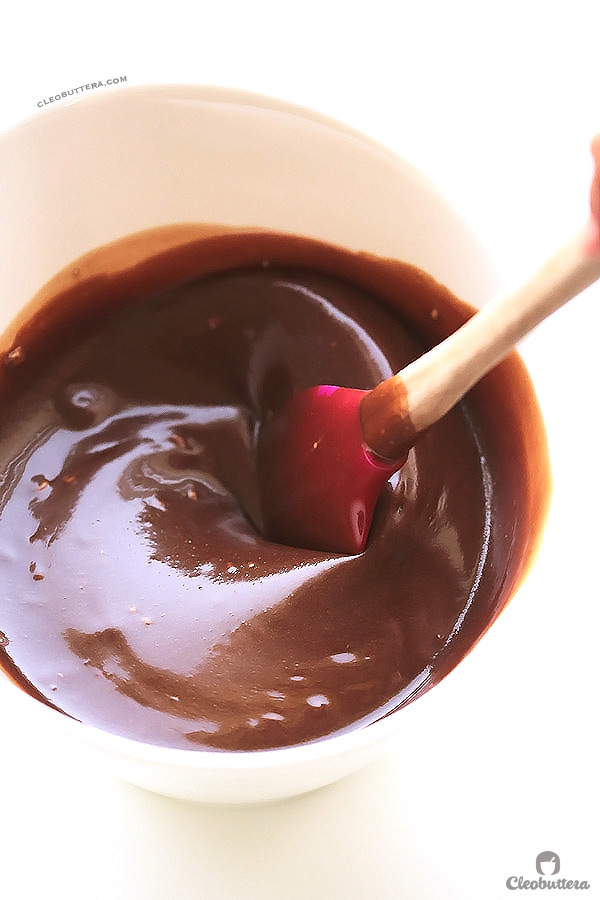 Then you're gonna break up some Digestive Biscuits in your serving bowl, and pour on some of that ridiculous sauce. You know, just enough to thinly coat and cover the biscuits.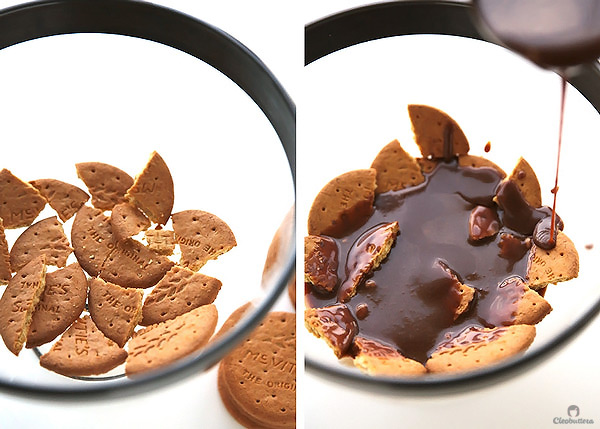 Then goes on another layer of broken biscuits.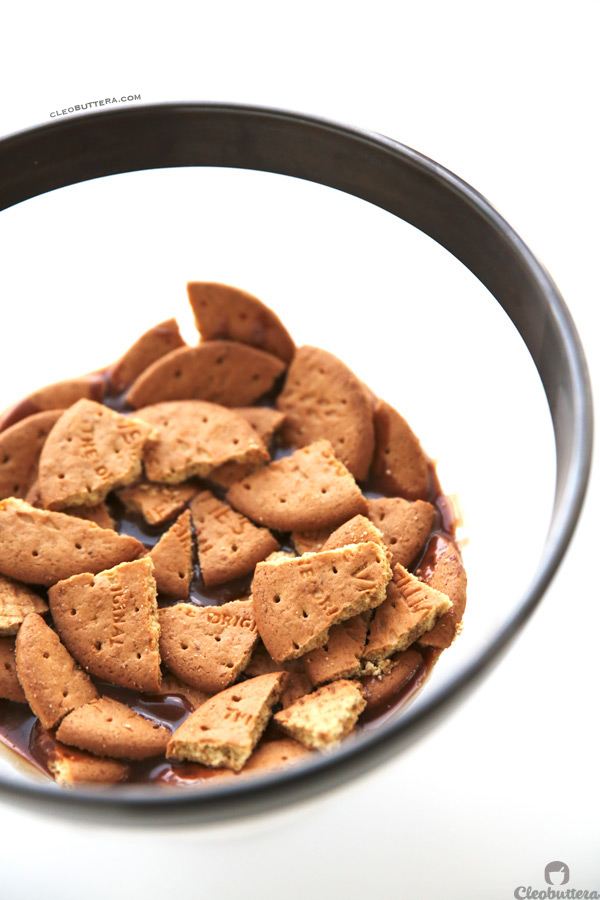 More sauce.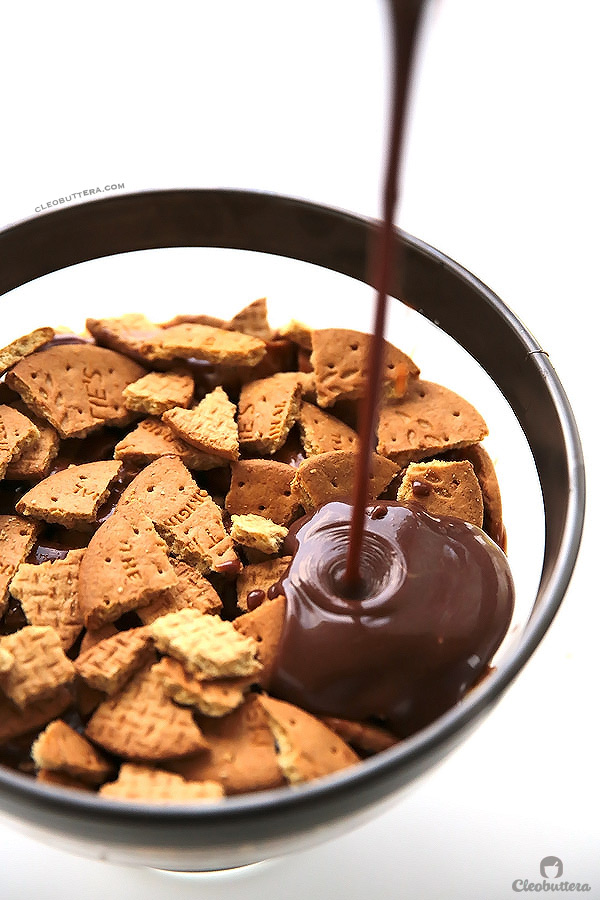 And so on and so forth. Ending with the Mars sauce.
It's best to leave the dessert get all happy together for at least half an hour (in the fridge or out) before the digging in. This gives the sauce a chance to flavor the biscuits and fuse into one another. You could stop right here and attack right away. Or…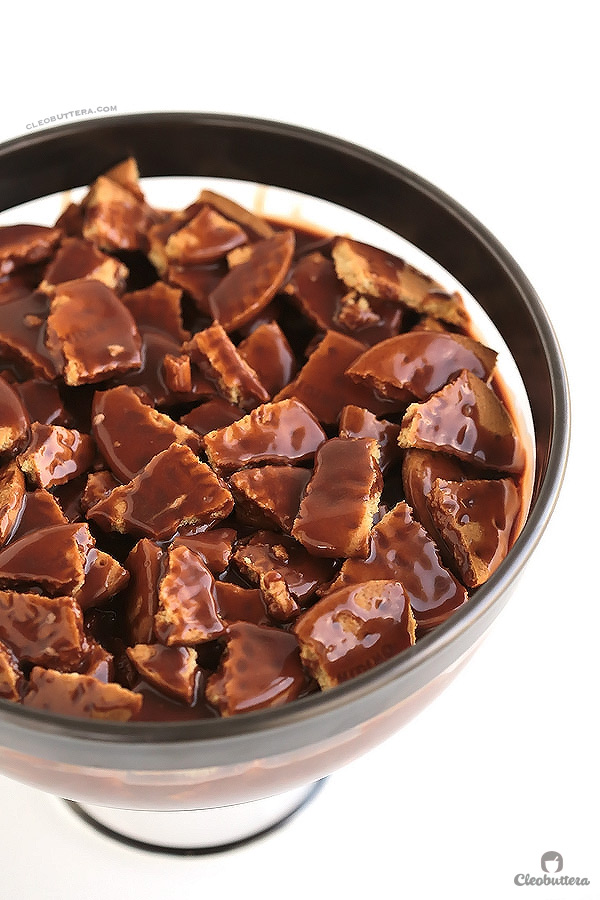 You could make it look all pretty by adding a ring of Maltesers or Whoppers all around and chocolate shavings. Just make sure the sauce has cooled down a bit though in the fridge, so the curls don't melt. Oh well hello there my tween girl hand modeling. Expect a lot more of that. School's out and Assistant Food Blogger is her summer job:)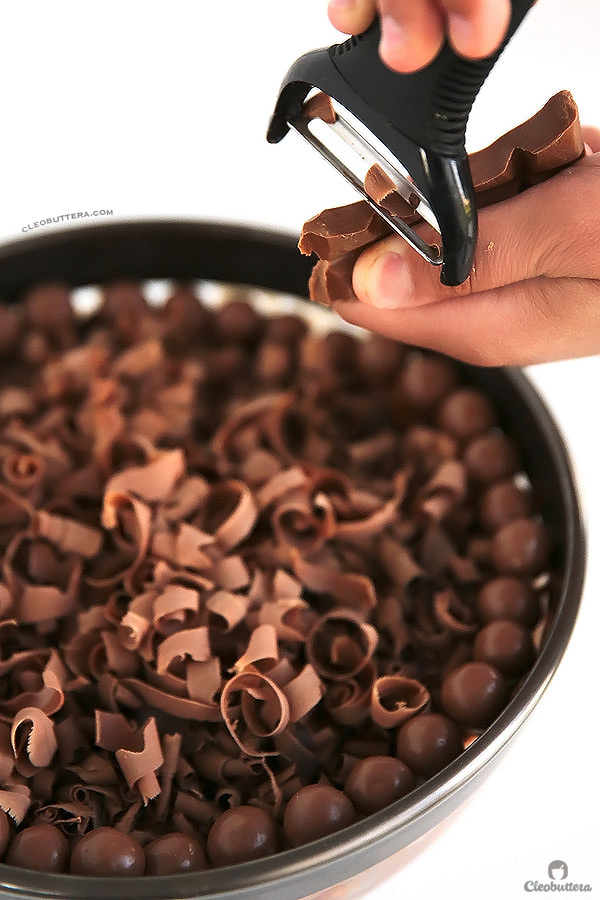 Will you look at that people!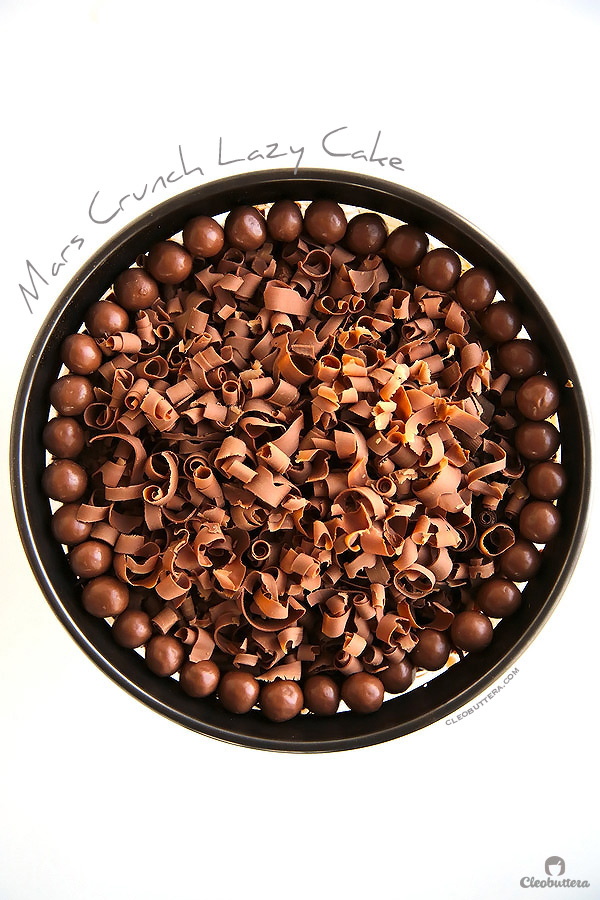 Now tell me this doesn't look like a fancy dessert, worthy of a fancy occasion. Go ahead…brag about it and let everyone think you slaved all day making it. No one needs to know.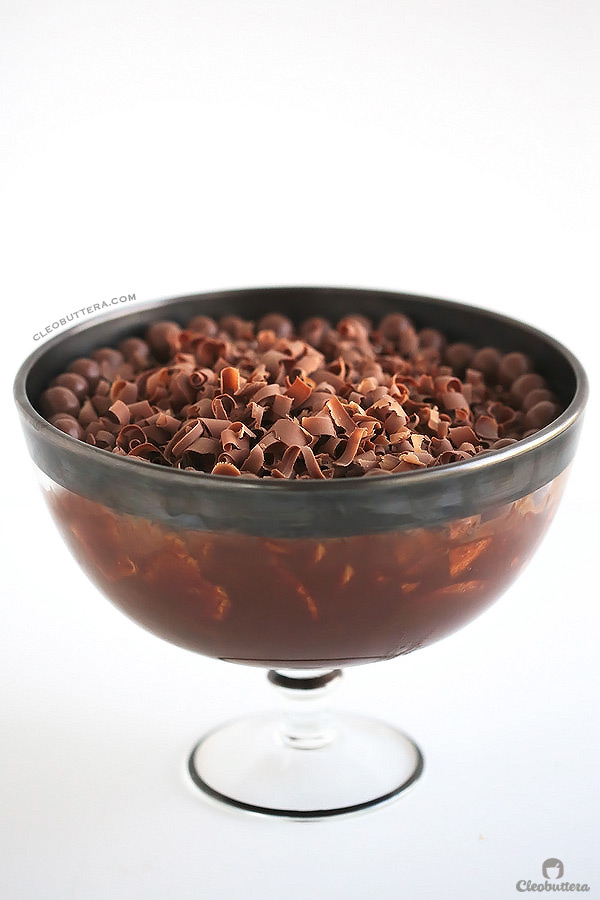 Not as pretty when scooped out though, but wait till you taste it…H.E.A.V.E.N.L.Y.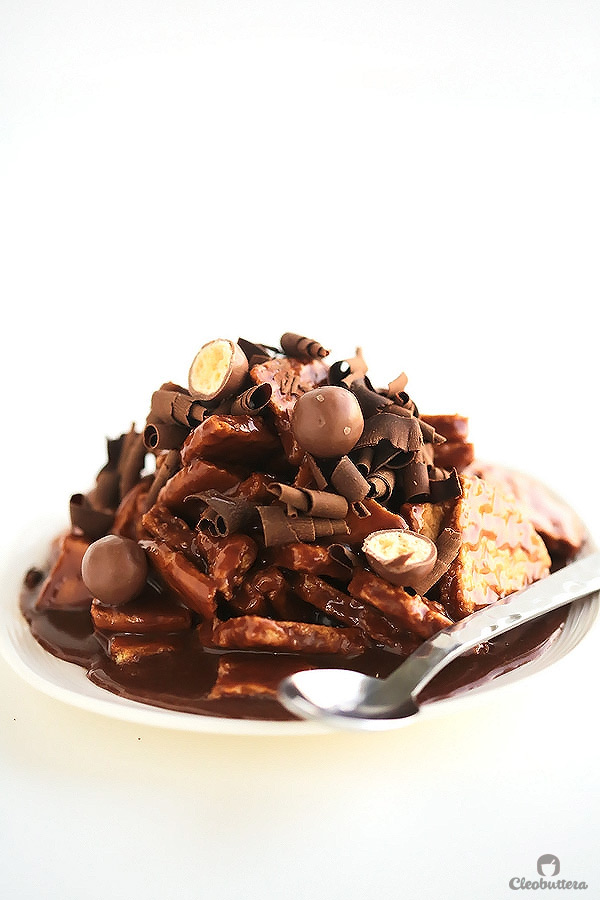 I have a feeling this will show up at every gathering you go to too.
You'll feel like a super hero watching everyone die over this:)
Yield: 1 large bowl enough for about 16 people
Mars Crunch Lazy Cake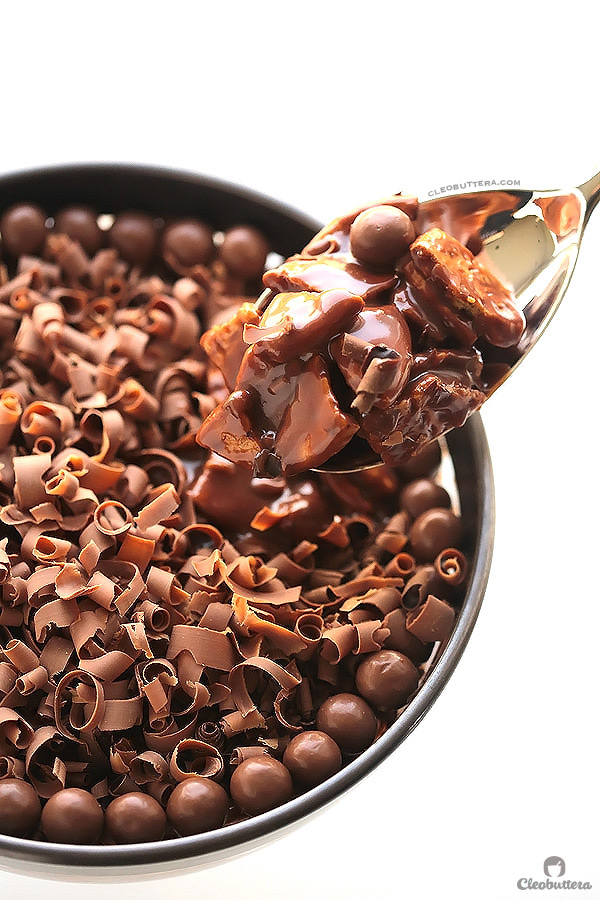 This is seriously one of the BEST and EASIEST desserts you will ever taste! 3 ingredients are all you need to make this NO-BAKE, crunchy concoction swimming in a heavenly Mars bar sauce. Recipe can be halved or quartered or even doubled for large parties.
Prep Time 20 minutes
Additional Time 30 minutes
Total Time 50 minutes
Ingredients
20 regular size Mars bars (51 grams each), or MilkyWay in the US
2 cups (1 pint/ 500ml) heavy cream
3 (250g) boxes or 1 1/2 (400g) boxes Digestive Biscuits*
100 g chocolate bar, any type, for chocolate shavings (optional)
3 bags Maltesers or Whoppers, for decorating (optional)
Instructions
In a large, microwave-safe bowl, cut the Mars bars into large chunks. Pour the cream over the chocolate chunks.
Heat together in the microwave, stirring every minute, until the Mars is almost melted; about 3 minutes. Remove the Mars mixture from the microwave and continue stirring, allowing the residual heat to melt the remaining chocolate. Keep stirring until mostly smooth.
In a deep serving platter, like a trifle bowl, roughly break some digestive biscuits and arrange into a single layer to cover the bottom of the bowl.
Ladle on some Mars sauce over the Digestive Biscuits' layer, enough to thinly coat and cover them.
Repeat the process of layering Digestive Biscuits and covering with Mars sauce, ending with the Mars sauce as the final layer.
Allow the dessert to cool down slightly for at least 30 minutes in the fridge before garnishing. This ensures that the heat of the sauce won't melt the decorations and also allows the flavors to meld together.
When cool enough, arrange Maltesters/Whoppers balls all around the rim of bowl, creating a ring. Microwave the chocolate bar for 10 seconds to soften it up slightly for grating. Using a vegetable peeler and holding it right on top of the dessert bowl, grate the sides of the chocolate bar to make curls. Let them fall into the center, inside the Maltesers/Whoppers ring, to cover up all the shaggy biscuit pieces.
Serve warm, at room temperature or cold straight from the fridge. It's the least fussy recipe ever, and it's delicious in every way or form. I really can't decide which way I like it more; they're all good. Store leftovers, if there's any, in an airtight container in the fridge.
Recipe Notes
Any tea or butter biscuits (cookies) of your choice can be substituted for the Digestive Biscuits. The amount is according to preference. Hold back some for saucier results, and add more for a sturdier, crunchier dessert.
Recipe given to me by my cousin Aya, who got it from her friend.
Measurements Note: All recipes of this site have been developed using weight measurements. Although US volume measurements have been included for your convenience, it is highly encouraged that you weigh your ingredients using a kitchen scale to get the best possible results. Due to the sensitive nature of baking, kitchen scales are proven to yield more accurate and consistent results than measuring cups. Enjoy!
This post may contain affiliate links.
All images and content are owned by Cleobuttera® and are copyright protected. Please do not use my images without prior permission. If you would like to republish a recipe, please rewrite it in your own words and link back to the recipe page on my site. Original recipes and creations of this site are intended for personal and home use. Commercial replication or media consumption are only allowed with a written consent and agreement with Cleobuttera owners. Otherwise it is considered a violation of intellectual property. Thank you for respecting and appreciating the amount of time and effort that goes into creating free, unique recipes that make people happy.