Tres Leches Cake with Toasted Marshmallow Frosting
This is my absolute favorite recipe for the Latin American delicacy! A light and airy sponge cake soaked and flavored with a delicious mixture of 3 milks, giving it a very creamy, pudding-like texture that is just irresistible. It is then crowned with a toasted marshmallow frosting that takes it to a whole other level of deliciousness. Plus…recipe VIDEO at the end of the post!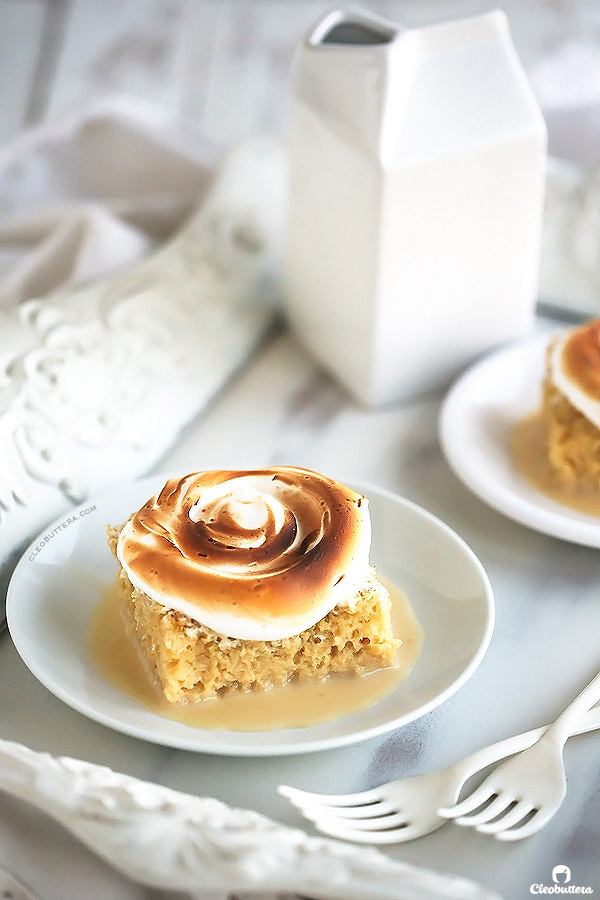 This recipe has been looooooong overdue.
I had every intention of sharing it back in early May with all the Cinco di Mayo vibes around the internets, but it took too long to perfect.
Six weeks later, 8 different trails and a wardrobe I could no longer fit in, I could finally say that: I NAILED IT! And it's now worthy of sharing. With a creamy, ethereal texture, a sweet milky sauce and a toasted marshmallow frosting, my taste testers, have deemed this, one of the best things they've ever tasted.
If you're not familiar, please let me acquaint you. Tres Leches (Spanish for Three Milks) Cake is just THAT. A Latin American Cake that gets drenched in a delicious trio of milks: sweetened condensed milk, evaporated milk and heavy cream, and traditionally topped with either whipped cream or meringue (marshmallow cream-like) frosting.
It may not be for the lactose intolerant, nor for those who don't like to dunk their cakes and cookies in milk, but if you're that kind of person, you're in for a real treat.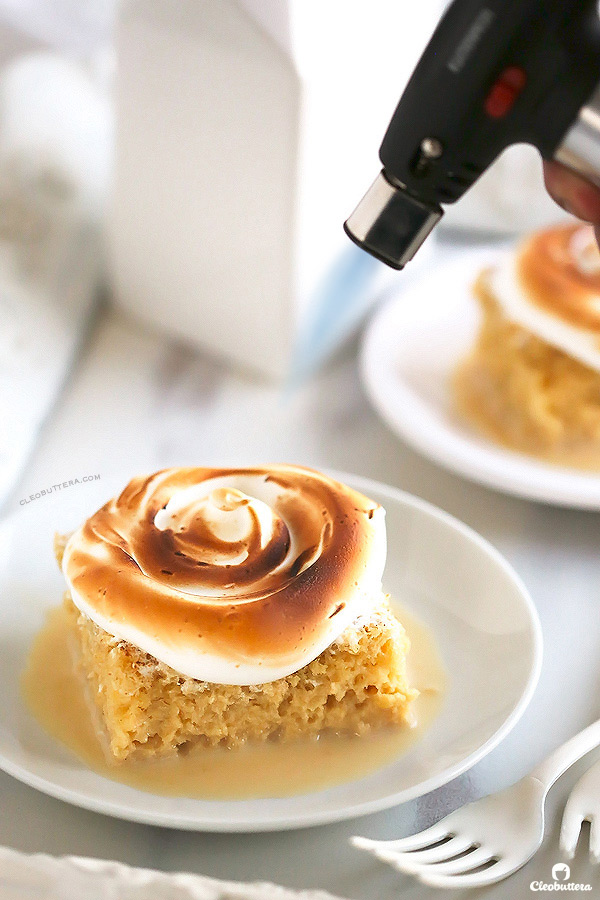 You see, for the past few months I've been constantly hearing my family and friends rave about the "Torta" at Table Luna, a local Latin American restaurant here in Cairo. They kept describing how dreamy and creamy it tastes with all the milky sauce oozing out of it and that "burnt whipped cream frosting," as they put it, on top that makes it taste like "a piece of heaven on earth." They didn't even know its full name and have never heard about it before trying it there. All they knew was that it was one of the best desserts they've ever tasted. As a self-proclaimed food nerd, I couldn't settle without gluing all the pieces of the puzzle together. I flipped through my brain archives, file "FOOD," and then it struck me: "Wait…do you mean Tres Leches cake?" I then got all of this eye-lit "Tres Lecheeeeeees…yes that's the one!"
I was actually surprised that they like it, because as far as I knew, Tres Leches cake is just this overly saturated, wet, soggy cake with whipped cream on top. I've actually had known about it all my baking-obsessed life, but was never really interested to make it because of textural reservations. Soggy, mushy and jiggly ain't my things. Saucy? yes but soggy? Blech!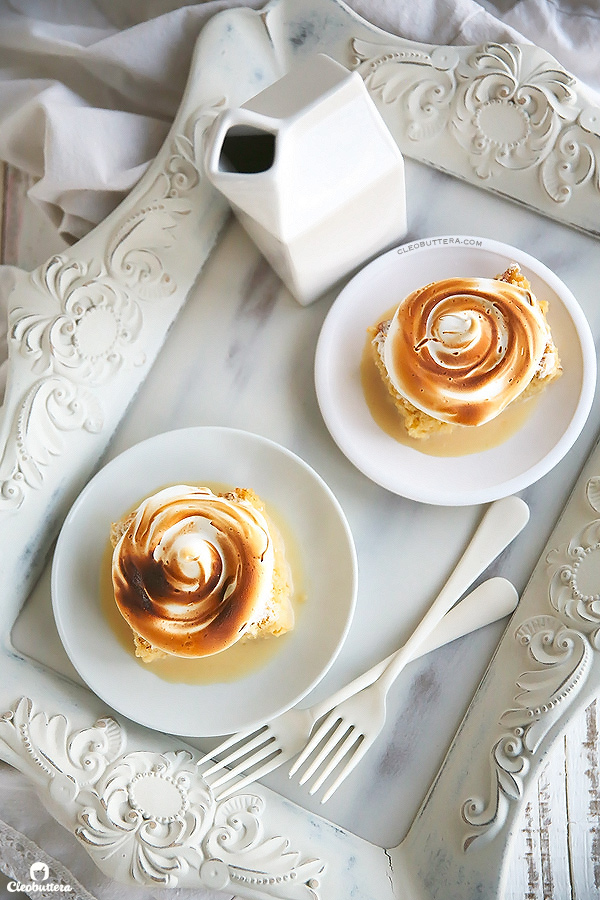 I assured myself that it's probably just one of those overrated hypes. Either that or their taste buds are just really messed up. I have to admit I was curious though. I needed to know what the hype was all about. So to Tabla Luna I went.
We first ordered the 'Camot Chips,' these incredibly delicious sweet potato croquettes with a cilantro sauce; highly recommended if you ever go there. Followed by Enchiladas, which I couldn't stop eating and 'Steaky y Huancaina' which happens to be some the best pieces of meat my mouth has ever encountered. Not even exaggerating. With food that good, I was starting to get some high hopes for dessert. My expectations for their Tres Leches cake rose higher, but still all I could think of is…soggy cake.
To make a short story long, dessert was served, plate was polished and another Torta de Tres Leches was ordered…aaaand we were even tempted to order a third. Yup! It was that good. One bite and all my predisposed ideas on this yummy cake, went down the drain. Turns out, 'soggy' is the wrong word to describe it; creamy and pudding-like are more accurate. It's still a very saturated and really moist cake, but in a good saucy kind of way. It also has the the most amazing sweetened milky flavor with hints of caramel. And that "burnt whipped cream frosting" is just torched meringue frosting aka marshmallow frosting. YUM!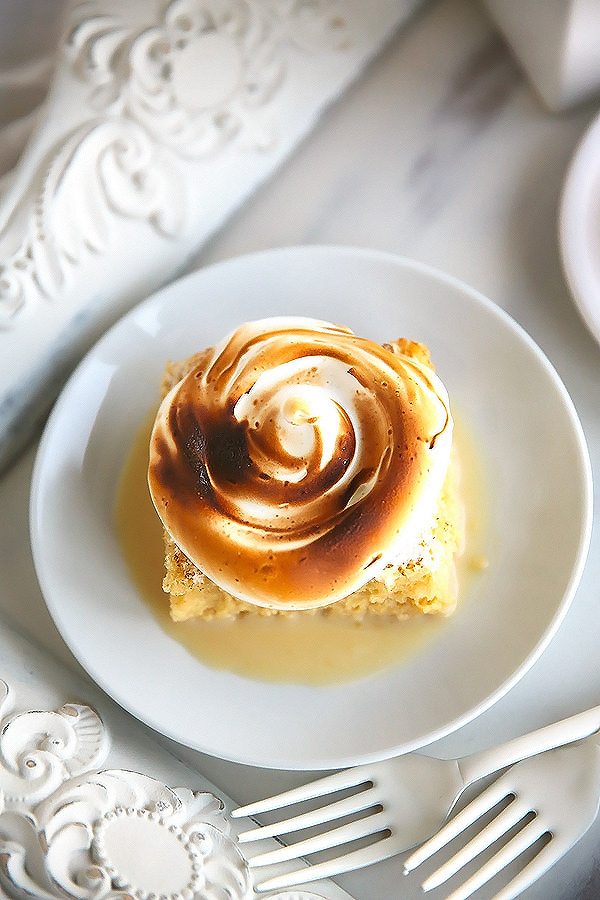 So…obviously, I rolled up my sleeves and went to my kitchen, aka my scientific research lab, with attempts to make one just like it. I mean recipes for Tres Leches cake is all over the internet, how hard can it be? Uhmmmm…really hard.
I baked 8 different versions before crowning this one THE WINNER! It's not they were bad, they were all actually good and we ate every crumb, but non of them were as light, creamy texture as Tabla Luna's. So THAT was my benchmark. My Tres Leches Cake had be:
1) Creamy, with a texture that is a cross between a cake and bread pudding.
2) Light and tender in texture and not dense at all.
3) Has enough milk mixture that makes it melt in the mouth but not too much that its swimming in it.
4) The cake has to be sturdy enough to hold the maximum amount of milk mixture (for maximum flavor) without falling apart into crumbs.
5) It has to be sweet enough to keep one going for more, but not too sweet that one bite is all one could handle.
6) It has to be topped with a toasted billowy, marshmallow-y frosting.
Is that too much to ask from a cake?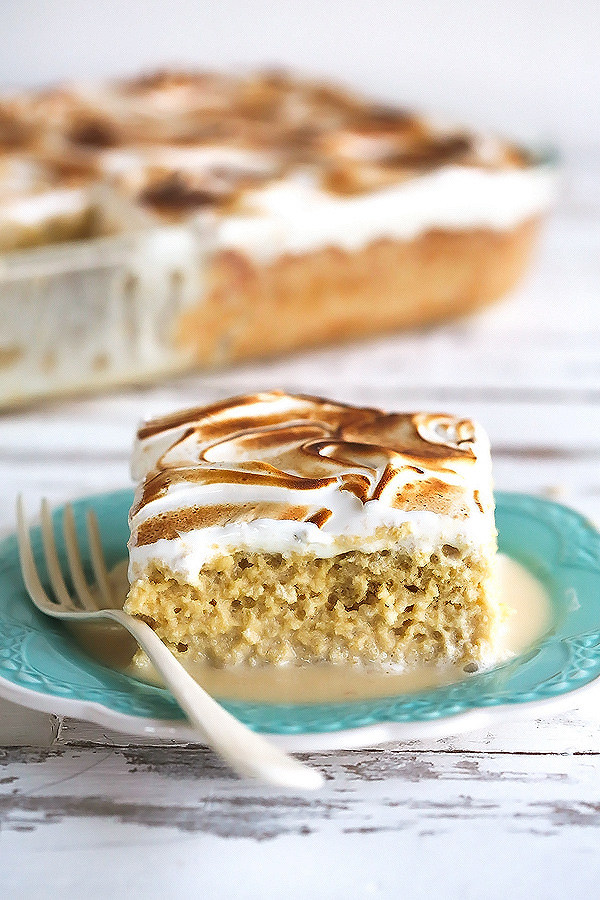 WARNING: Cake Nerd Alert Ahead. (Skip down to the step-by-step pictures if you want to get right to the recipe)
So for the base cake, I experimented with hot milk cake, yellow cake, chiffon cake and different versions of sponge cakes like a mad woman. Non of them seemed be light enough; they were kinda too dense to soak in all the milk mixture. Then I remembered seeing several years ago a recipe for Tres Leches cake in my treasured Rose's Heavenly Cakes book, by Rose Levy Beranbaum. Guys, this is the same lady that wrote The Cake Bible! Yes! The Cake Diva herself, known to be the most meticulous baker that ever lived. With all the testing and effort she pours into her recipes, I knew she wouldn't turn me down. As expected, her sponge cake recipe, was THE perfect vehicle for the milk mixture. It is impossibly light with tremendous amount of holes that soaks in as much milk mixture as any cake can possibly can without falling apart.
Cake down, now onto the milk mixture.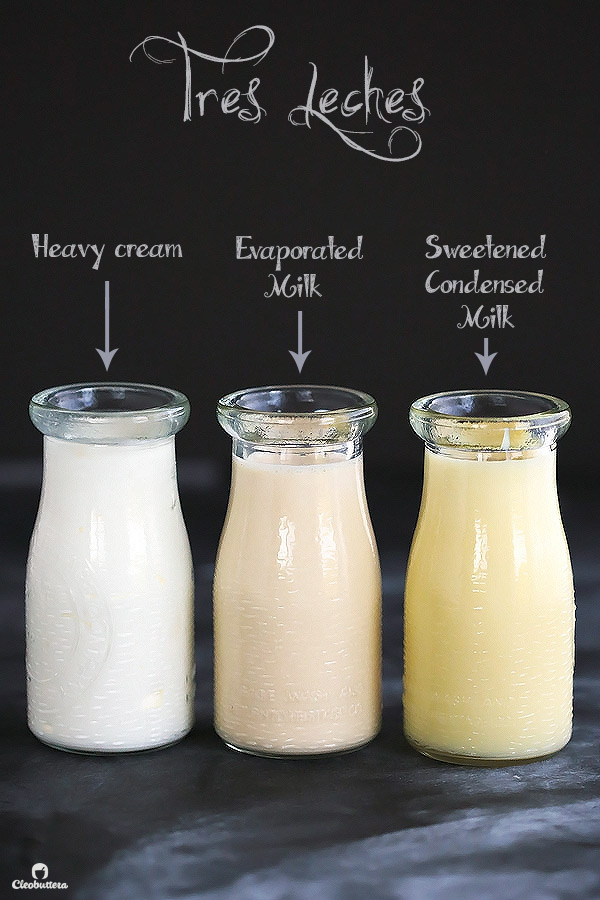 Almost all Tres Leches cake recipes call for a combination of heavy cream (sometimes half & half or milk), evaporated milk and sweetened condensed milk. So it was a matter using the right amount. I took a cue from Rose's recipe in that she uses 5 cups of milk that she cooks down with a little sugar until reduced to 2 1/2 cups, along 1 cup heavy cream and a little over a cup of condensed milk.
So I kept the sweetened condensed milk and heavy cream amounts the same, but skipped the step of reducing the milk because it was essentially the same as opening a can of evaporated milk. So I went with 2 1/2 cups of evaporated milk, which is the amount of the reduced milk that Rose called for. The evaporated milk has a really nice caramel-y flavor that adds a sophisticated dimension to the cake. With a whopping 4 2/3 cups of liquid going into the cake, I'm aware that the amount of milk is more than most recipes out there, but trust me, this type of sponge cake handle it.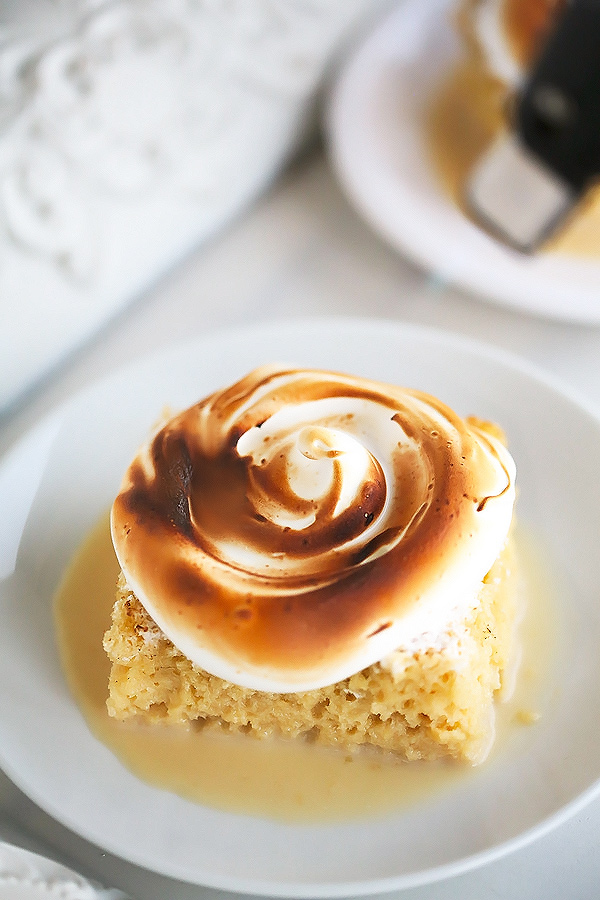 The frosting was the easiest part of developing this recipe, because I had made it so many times in the past for other desserts. This frosting is also known as meringue frosting and 7 minute frosting. Most recipes for Tres Leches cake use whipped cream for the topping, but several versions use this one. Even better, in my opinion. It has a cloudy, billowy texture that is very similar to marshmallow fluff and actually tastes like marshmallows. Right before serving, we toast it just like we would with marshmallows. It really puts the cake to the top!
Let's get down to business.
First things first: The cake.
Six eggs go in with sugar, salt and vanilla (LOTS of vanilla, to get rid of any eggy flavor) and gets whisked.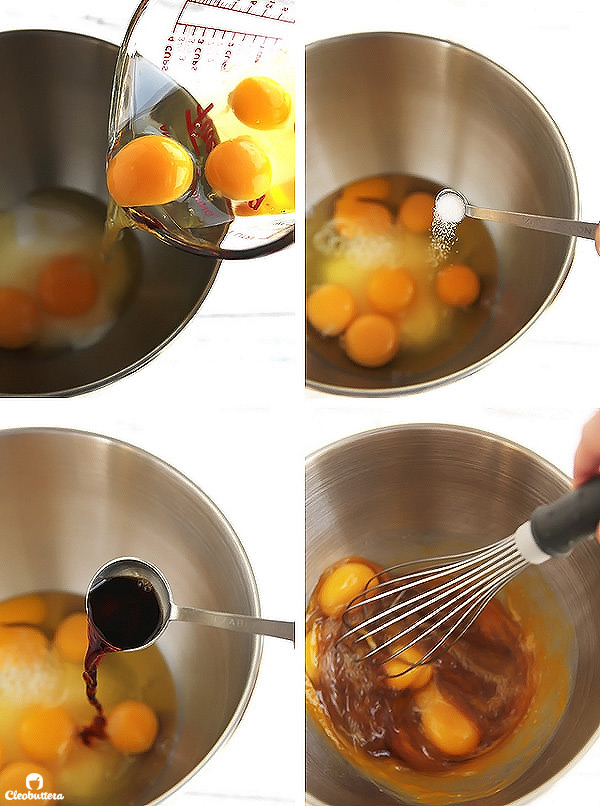 Then we set the bowl over a saucepan of simmering water. Make sure the water is not touching the bottom of the bowl; you don't want to end up with sweet scrambled eggs. You'll just continue whisking over the heat until the mixture is quite warm to the touch. And how do you know that? Yup! Stick that finger in there. Sorry.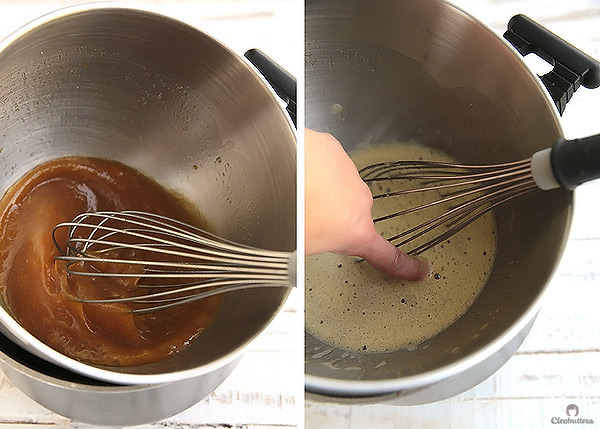 Remove the bowl from over the saucepan, and transfer to the mixer. Whip the heck out of it until it transforms completely like this. It will magically turn into this thick, frothy, very light in color mixture with 4X the volume.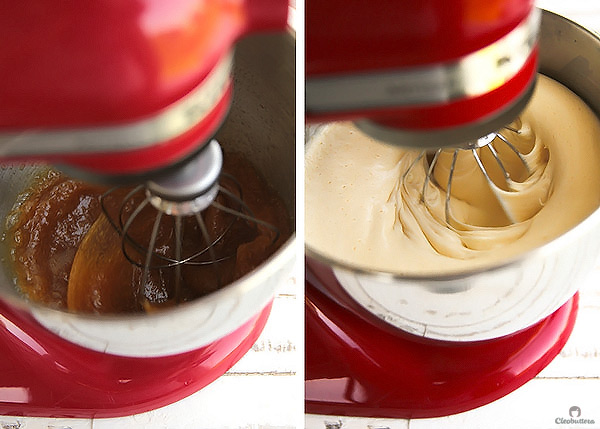 You'll then sift in half the amount of a cornstarch/flour mixture right on top, carefully fold it in, then repeat with the other half.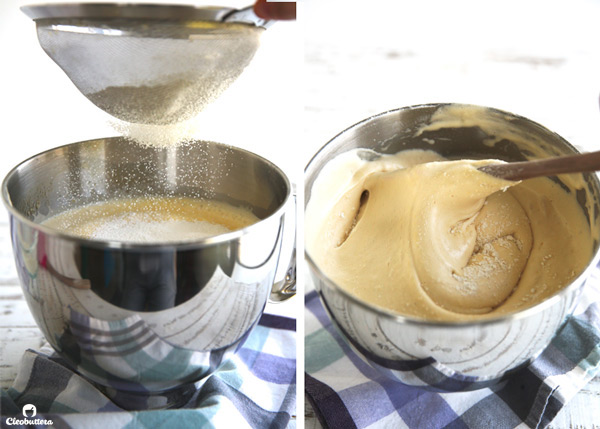 Scrape the cake batter into a sprayed pan with a piece of parchment in the bottom. Can you see all the bubbles in there? This is one bubbly cake! Its what will hold in all the milk mixture later on.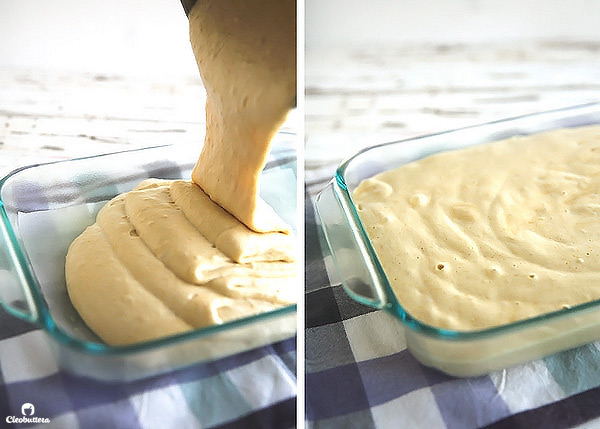 Once baked, and while still very hot, invert the cake onto a wire rack, then keeping the parchment in place, flip once again onto another wire rack so the golden crust is facing up.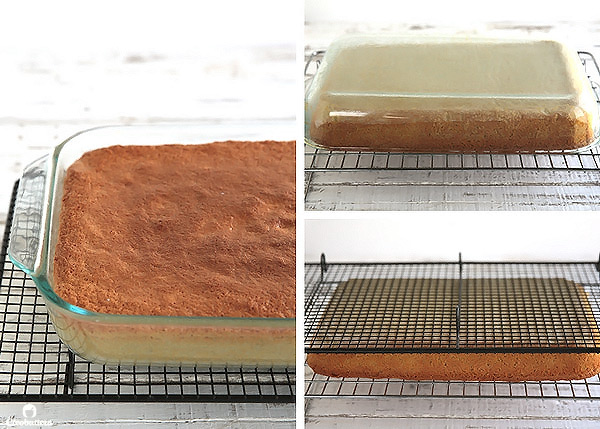 Like so. Allow the cake to cool completely. Because this cake is mostly air, you'll be surprised at how fast it will cool.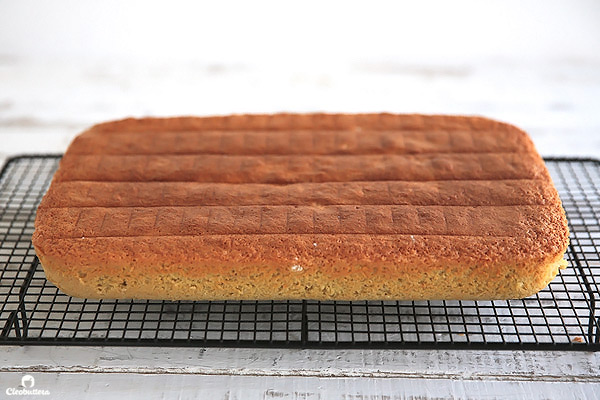 Once cooled, use a serrated knife to peel off the golden crust. This will expose all the holes that will drink all the milk mixture.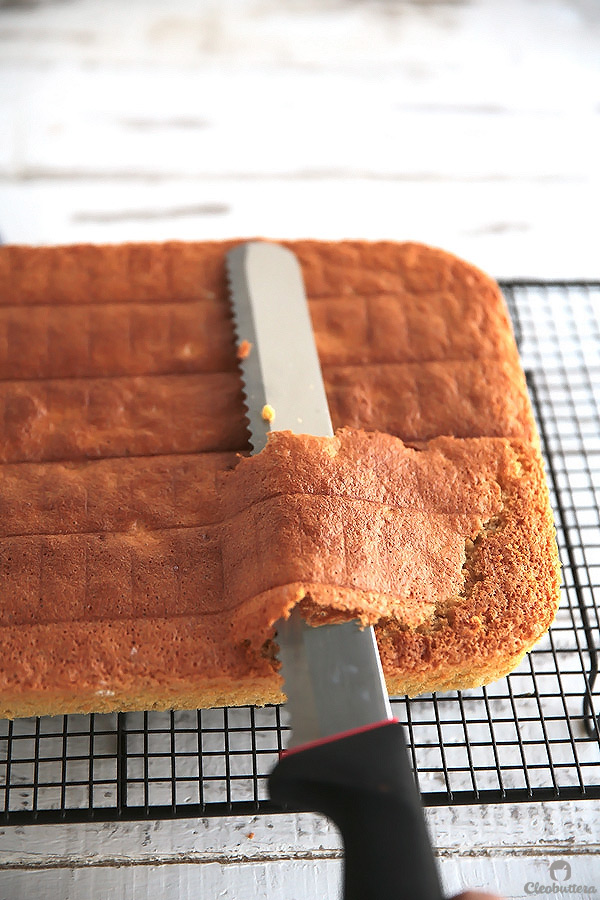 Speaking of milk mixture. Combine together the condensed milk, evaporated milk and heavy cream and try you're best not to not to drink it. Because you'll be tempted to.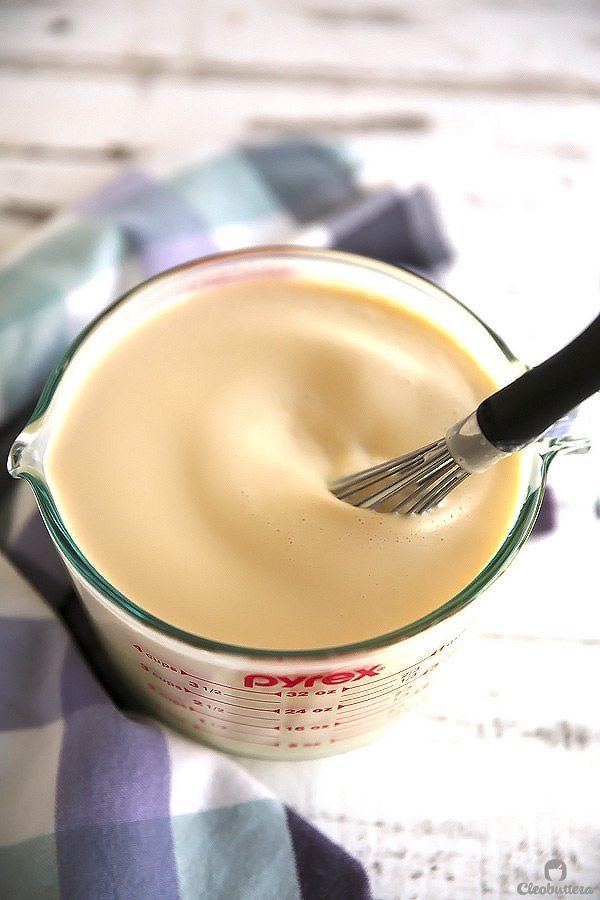 See all the holes in the cake? It really does look like a sponge. Now slowly drizzle the milk mixture all over the cake. Then cover and refrigerate for 8 hours to overnight.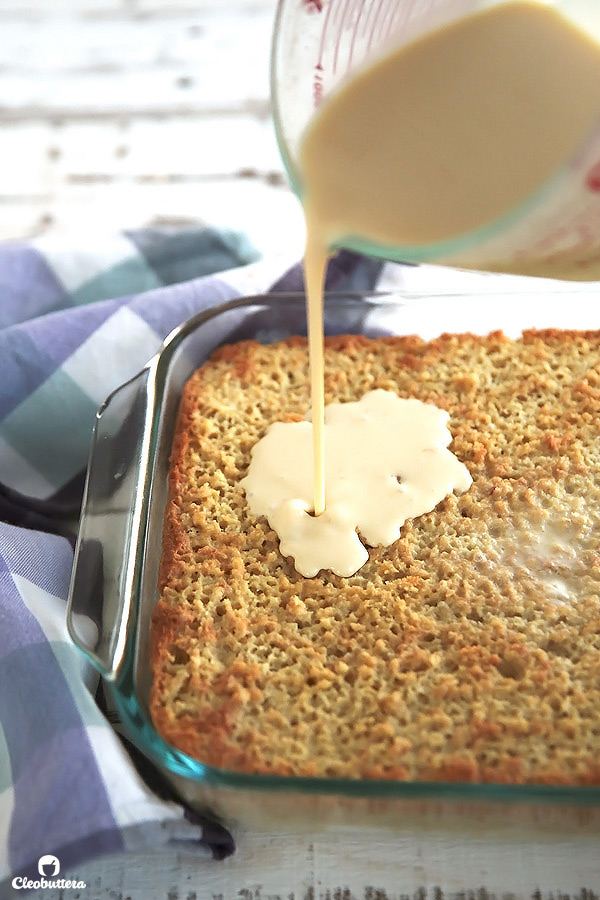 Then when you're ready to eat, take it out, and let sit there (to take the chill out a bit) until you prepare the frosting.
For the frosting, you'll combine egg whites, sugar, cream of tartar and salt in bowl set over a saucepan of simmering water. Again make sure that the bottom of the bowl is not touching the water, or that could cook the egg whites. Keep whisking until warm to the touch and all the sugar granules have dissolved. Heating the egg whites, ensures that they reach a certain temperature which makes them safe to eat and also more stable. You'll know when it no longer feels grainy when rubbed between your fingers. Once that happens, remove from the saucepan and transfer to the mixer and whippyyyyyyy!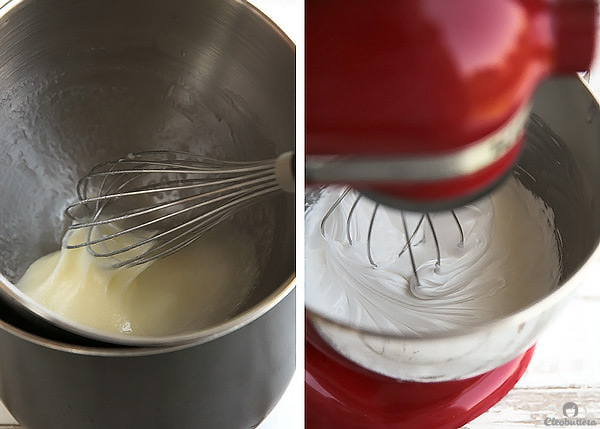 In a matter of a few minutes, it will turn from sad, wimpy egg whites, into this glorious marshmallowy frosting! You'll want to lick it off the beater. Its ok…take a little…we're human.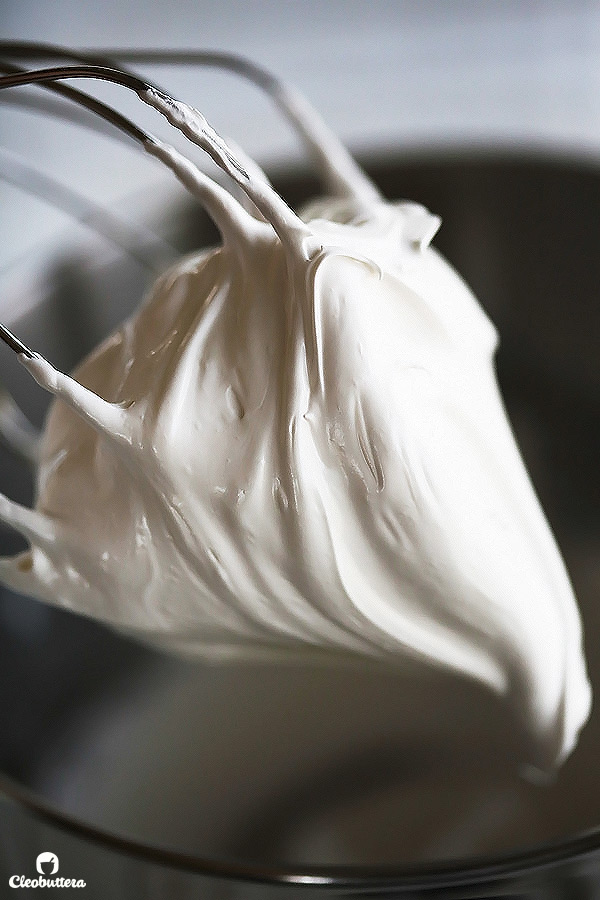 Spread this yumminess all of the cake making swirls and swoops.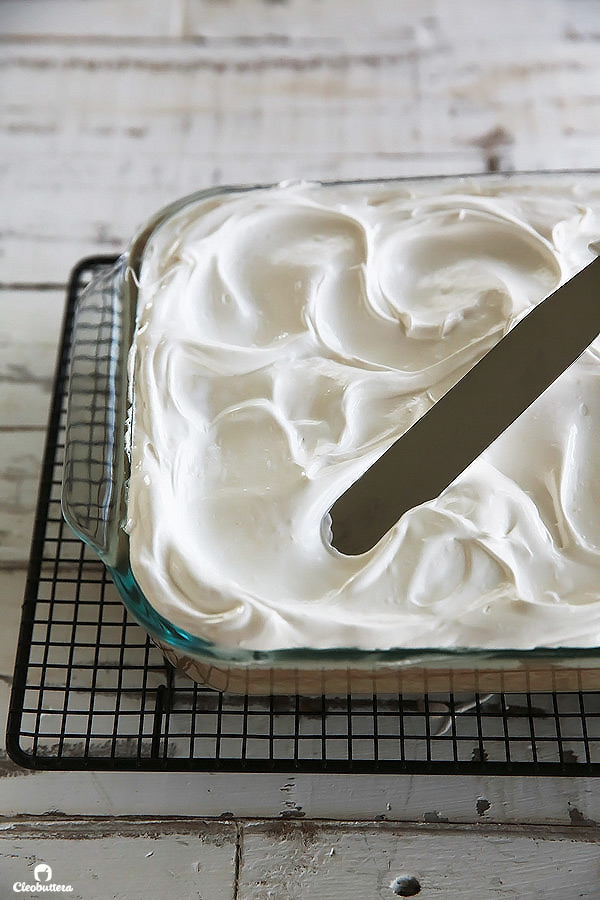 Then torch it until nice and golden brown. Don't worry if you don't have this kitchen gadget, the oven's broiler will just do the trick. Details for that is down in the recipe box.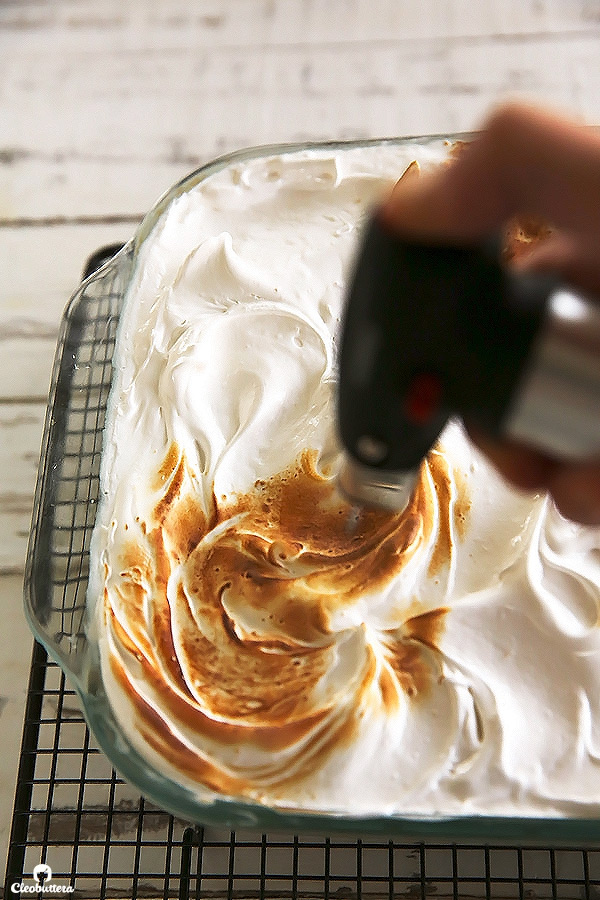 Isn't she a looker?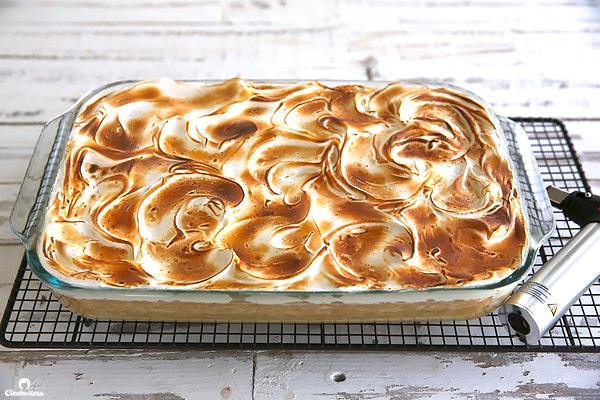 Grab some plates, gather around and get ready to have a FIESTA!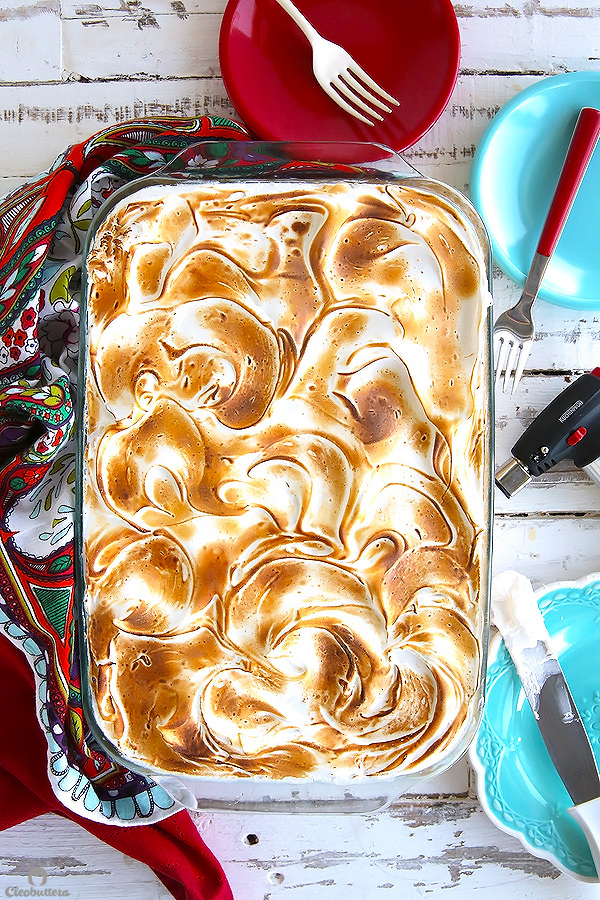 As the cake sits, it will exude some of the milk mixture. This is the part where you'll want to lick the plate. Speaking from experience here.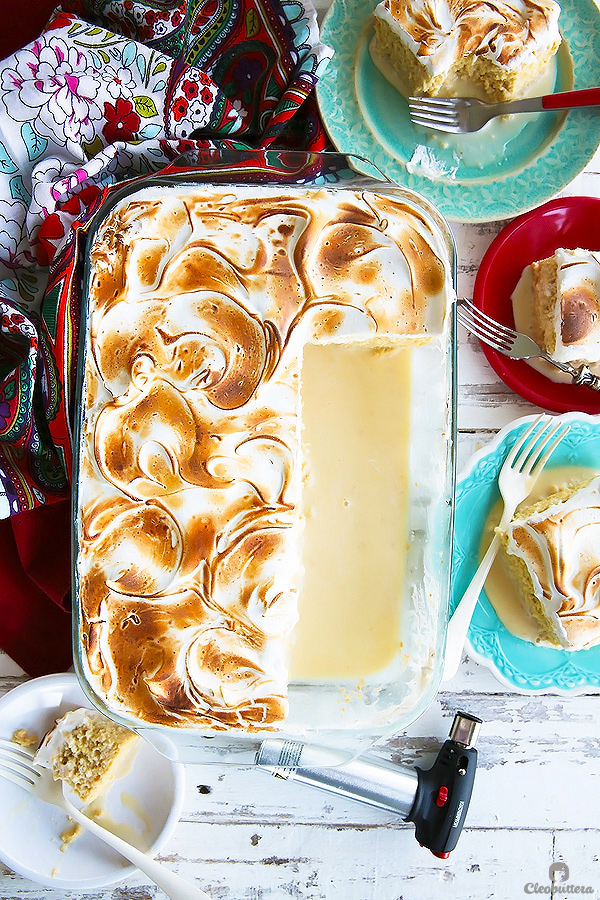 The beauty (or ugliness) of this cake, depending on how you look at it, is that its so light, that you could eat slice after slice without feeling full. My taste testers would relate to that.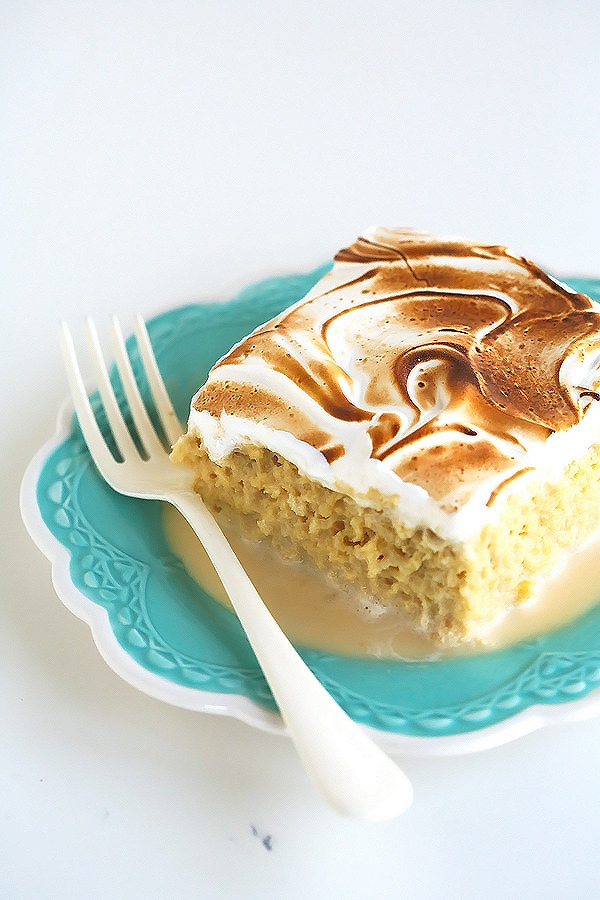 I hope you like it as much as we do.
And just in case this extra long post wasn't enough, here's a little video to walk you through process ?
Yield: One (13X9-inch cake) that serves 12
Tres Leches Cake with Toasted Marshmallow Frosting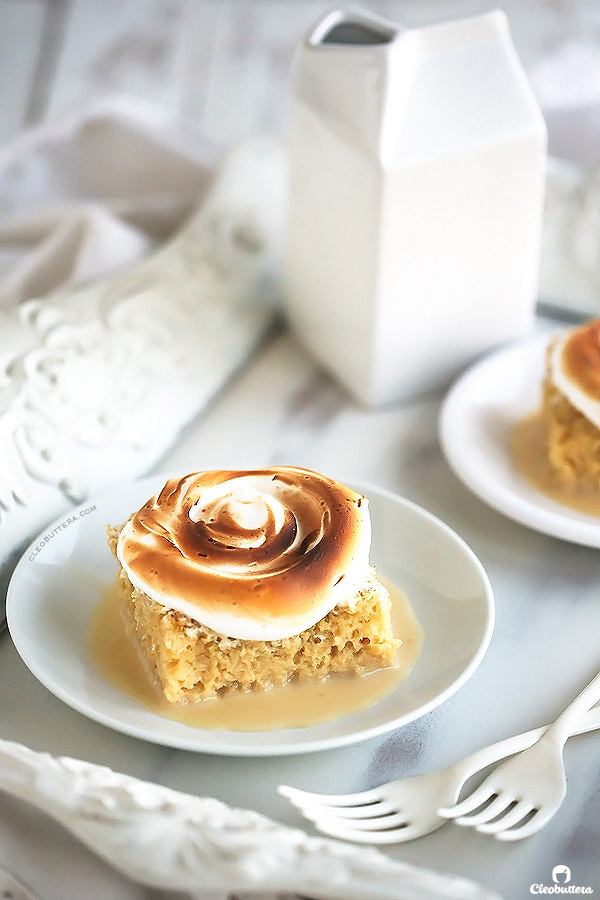 A light and airy sponge cake soaked and flavored with a delicious mixture of 3 milks; giving it a very creamy, pudding -like texture that is just irresistible. It is then crowned with a to-die-for toasted marshmallow frosting that takes it to a whole other level of deliciousness. For best flavor and texture, make this cake 1 day ahead, but frost right before serving.
Prep Time 40 minutes
Cook Time 45 minutes
Additional Time 8 hours
Total Time 9 hours 25 minutes
Ingredients
For the Cake:
6 large eggs, at room temperature
1 cup (7oz/ 200g) granulated sugar
2 tablespoons pure vanilla extract or 4 tablespoons alcohol-free vanilla flavoring*
1/8 teaspoon salt
1/4 cup (1oz/ 28g) cornstarch or cornflour*
1 1/2 cups (6oz/ 170g) all purpose flour
For the Milk Mixture:
2 1/2 cups evaporated milk (20 fl. oz/ 605g)*
1 cup plus 3 tablespoons (one 14oz/ 400g container) sweetened condensed milk
1 cup heavy cream
For the Marshmallow Frosting:
4 egg whites (120g)
1 cup (7oz/200g) granulated sugar
1/4 teaspoon cream of tartar, optional but highly recommended
Pinch of salt
Instructions
To make the cake:
Adjust the oven rack to the lower third of the oven, and preheat the oven to 350F/180C.
Coat a 13X9-inch baking pan with non-stick cooking spray (or grease and flour), then line the bottom of the pan with a rectangular piece of parchment paper, and spray this as well.
Sift the cornstarch and flour together in a medium bowl, and set aside.
In the bowl of a stand mixer, using a handheld wire whisk, combine together the eggs, sugar, vanilla and salt. Set the bowl over a saucepan of simmering water (make sure the bottom of the bowl is not touching the water or the eggs could scramble). Heat, stirring constantly, until quite warm to the touch but not hot.
Immediately remove from the saucepan and transfer to the stand mixer fitted with the whisk attachment. Beat the mixture on high speed until very thick, frothy, has dramatically lightened in color, and quadrupled in volume; about 5 minutes. In a 5-quart mixer bowl, it will come to about three-quarter high.
When the beating is complete, sift half of the flour mixture onto the beaten eggs. With a silicon spatula, gently but rapidly, fold in the flour mixture until mostly incorporated. Be careful not to deflate all the air that has been whipped into the mixture. Repeat with the remaining flour mixture until no flour pockets remain and has disappeared completely.
Pour the cake batter into the prepared pan and bake until deep golden brown and a toothpick inserted in the center comes out clean, 25 to 35 minutes.
To prevent the collapse of the cake's delicate foam structure, it MUST be unmolded while still hot, as soon as its baked. So immediately run a knife between the sides of the pan and the cake, pressing firmly against the pan. Unmold right away onto a wire rack, leaving the parchment in place, then reinvent onto another wire rack, golden side up. Allow to cool completely. When cool prepare the milk mixture.
To make the milk mixture:
In a large (2 quart/ 1 liter) measuring cup with a spout, whisk together the evaporated milk, sweetened condensed milk and heavy cream until well combined and smooth.
To prepare the cake for soaking:
Using a serrated knife, remove the upper crust of the cake, peeling it completely to reveal all the holes, without removing any of the cake beneath it. Invert the cake to the other side and remove the parchment. Reinvent the cake back into the baking dish.
Slowly pour the milk mixture over the cake until completely absorbed. Cover tightly with plastic wrap and refrigerate for at least 8 hours or even better overnight.
When ready to serve, take the cake out of the fridge for at least 30 minutes to take the chill out of it , and prepare the frosting.
To make the frosting:
Wipe the bowl of a stand mixer with a little lemon juice to remove any traces of grease. Put the egg whites, sugar, cream of tartar (if using) and salt into the bowl. Using a handheld wire whisk, combine together.
Set the bowl over a saucepan of simmering water (make sure the bottom of the bowl is not touching the bowl or the egg whites could cook). Heat, stirring constantly, until quite warm to the touch but not hot, the sugar granulates have completely dissolved and no longer feels grainy when you rub it between your fingers; 7 to 9 minutes. A food thermometer should register 130F/54C, if you're so keen to measure.
Remove the bowl from the saucepan and transfer to the stand mixer fitted with the whisk attachment. Beat on high speed until very thick, stark white and glossy, holds a soft peak and is no longer warm.
The frosting is best used right away, but will keep well covered at room temperature for up to 1 hour.
To assemble and serve the cake:
Using a spatula, spread the frosting all over the surface of the cake to cover. Using a spoon or an offset spatula, make swirls and swoops on the frosting.
Using a kitchen torch, toast the frosting until it reaches the desired color of brown. Alternatively, if a kitchen torch is not available, place the pan under the oven's broiler until browned. Keep a close eye on it, as to not let it burn.
If desired, individual servings of cake can be frosted and torched one piece at a time, allowing for freshly torched cake, whenever its needed, and also for a pretty presentation.
Cut into squares and serve cold or at room temperature; I personally prefer it somewhere in between, leaning towards room temperature. The cake is best eaten on the same day. Store leftovers covered in the fridge.
Recipe Notes
Pure vanilla extract, which contains alcohol, has a stronger vanilla flavor than imitation or alcohol-free vanilla flavorings. Therefore, doubling up the amount is necessary if using the alcohol-free vanilla to mask any unwanted eggy flavor. I tried both Trader Joe's Pure Vanilla Flavor and Parade Imitation Vanilla extract in this recipe, which are both alcohol-free, with great results.
2 cups (7oz/ 200g) cake flour can be substituted for the corn flour and all-purpose flour combination.
While we prefer our tres leches extra moist with plenty of milk sauce and a pudding-y texture just the way it is, feel free to cut the amount of evaporated milk in half, if you prefer a less saturated cake.
This recipe halves beautifully if you don't want a big serving. Bake in an 8X8-inch baking pan.
Sponge cake recipe heavily adapted from Rose's Heavenly Cakes
Measurements Note: All recipes of this site have been developed using weight measurements. Although US volume measurements have been included for your convenience, it is highly encouraged that you weigh your ingredients using a kitchen scale to get the best possible results. Due to the sensitive nature of baking, kitchen scales are proven to yield more accurate and consistent results than measuring cups. Enjoy!
This post may contain affiliate links.
All images and content are owned by Cleobuttera® and are copyright protected. Please do not use my images without prior permission. If you would like to republish a recipe, please rewrite it in your own words and link back to the recipe page on my site. Original recipes and creations of this site are intended for personal and home use. Commercial replication or media consumption are only allowed with a written consent and agreement with Cleobuttera owners. Otherwise it is considered a violation of intellectual property. Thank you for respecting and appreciating the amount of time and effort that goes into creating free, unique recipes that make people happy.