Ring around a Rolls (with cheese fondue)
Bite-sized fluffy dinner rolls baked into a festive ring and served with a family-friendly cheese fondue dip. Perfect for parties and special occasions!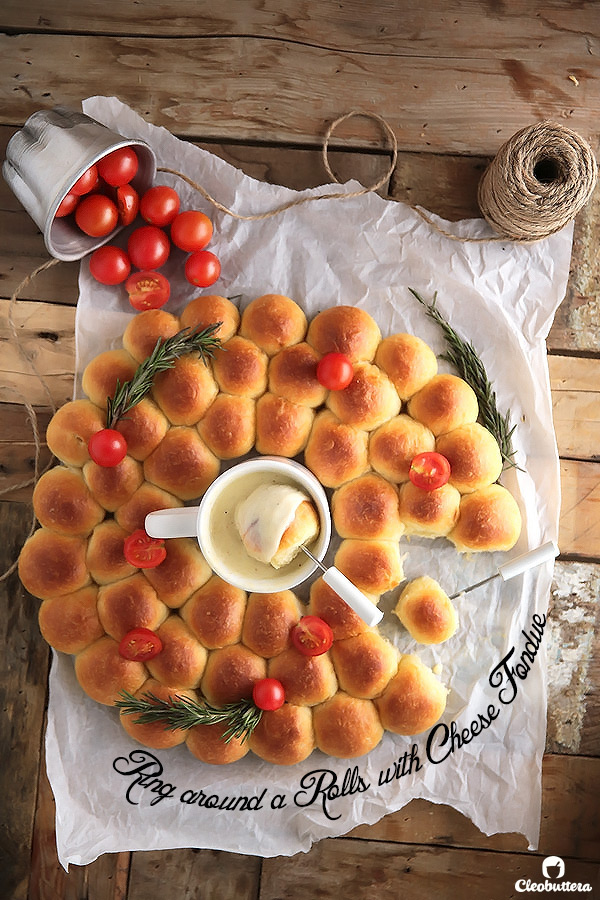 Ring around a Rolls. A cheesy name for a cheesy dish!
Silly? YES. Stands the chance of people not getting it? Most definitely.
But that's a risk I'm willing to take because its so darn cute! And this is actually after resisting the urge to name them 'rollsie.'
I was gonna call them: Mini Fluffy Dinner Rolls Ring with Cheese Fondue Dip.
Self explanatory? YES. Boring? Absolutely.
And this dish right here, is anything but boring. Its fun and festive and deserves a cool name even if it sounds cheesy.
Plus it is in fact a"cheesy" dish, so here's my justification right there. No harm done. We good now?
This is a cheese and bread lovers' dream come true.
Fluffy dinner rolls shaped into bite-sized portions so you could eat 12 without feeling guilty. It's all about "portion control" right?
The dinner rolls are all dressed up for a special occasion in a ring, ready for some melty cheese to fill the hole in the middle.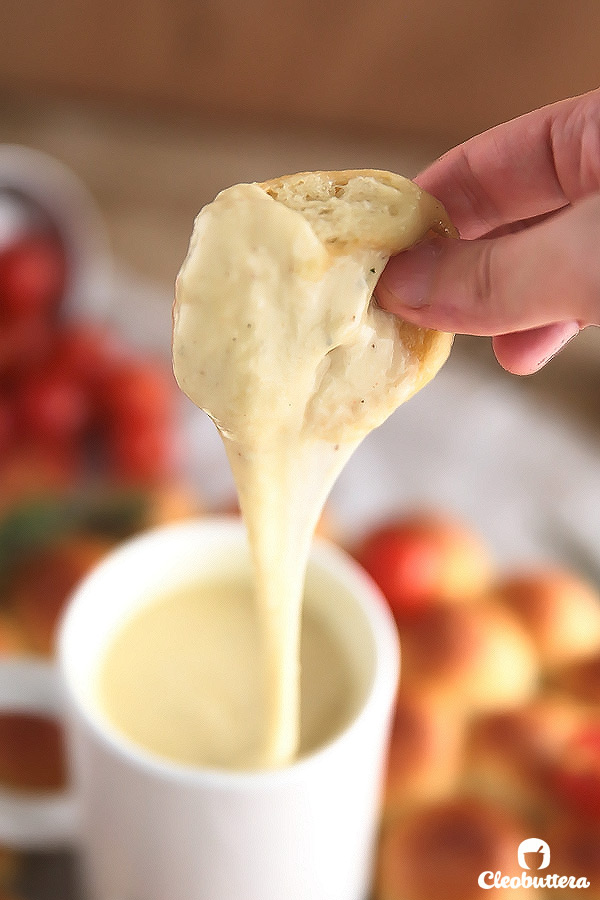 And not just any cheese. Cheese fondue baby!!
Virgin cheese fondue to be exact…so anyone, including kids, could dip in without worry.
Being alcohol-free myself, I was ecstatic to find a cheese fondue recipe without wine at one of my favorite blogs Mel's Kitchen Cafe. This recipe ditches the alcohol without compromising flavor or texture. Its still creamy and stringy and so good.
If your fondue maker is too big to be placed in the middle of the ring. Serve it on the side. Its ok, it will still be purty.
Don't have a fondue maker? No problem! Just place a round piece of Brie or Camembert cheese (with the top sliced off) in the middle of the ring before it goes into the oven. That way the bread and cheese will bake together and the cheese will get all so gooey and bubbly.
Another option are spreads and dips. Think flavored butter, olive oil mixed with balsamic vinegar and parmesan cheese shavings (YUM! a personal fav), olive paste, pesto, it's your ring, you do whatever you wanna do with it.
The beautiful thing about the 'Ring around the Rolls,' is that you dress up or down depending on the occasion. For the holidays you can add cranberries and more rosemary sprigs and make it look like a wreath. For Easter, stick in a few colored eggs. Play around with it.
So for the mini dinner rolls, you'll make a simple buttery dough and let it rise for about an hour. And by buttery, I mean buttery. It will smell and feel buttah.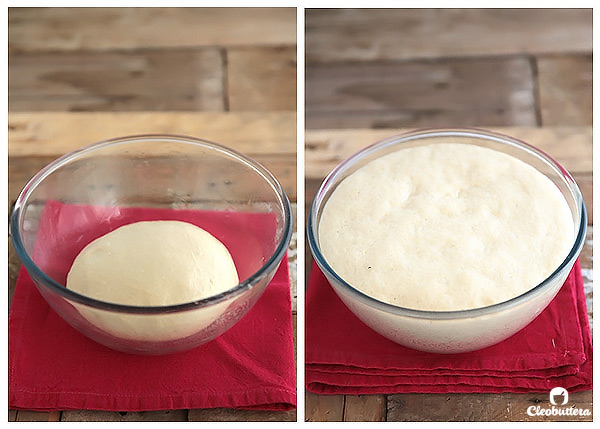 Then you'll turn out your dough on a work surface and cut it into 4 equal pieces.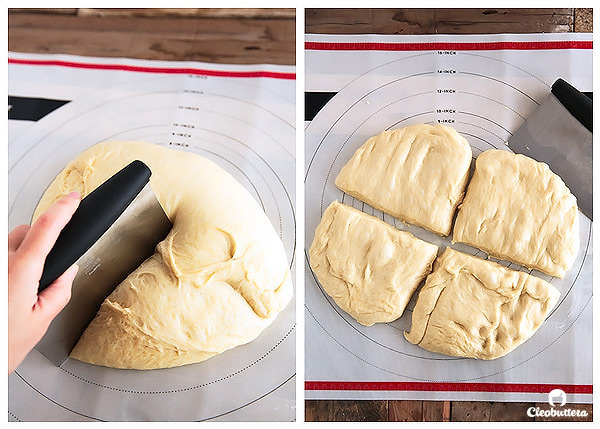 You'll then pull each piece into a long rope, and cut them into 48 roughly equal pieces. The easiest way to do that, is to cut each rope in half. Then each half in half. Then each quarter in thirds.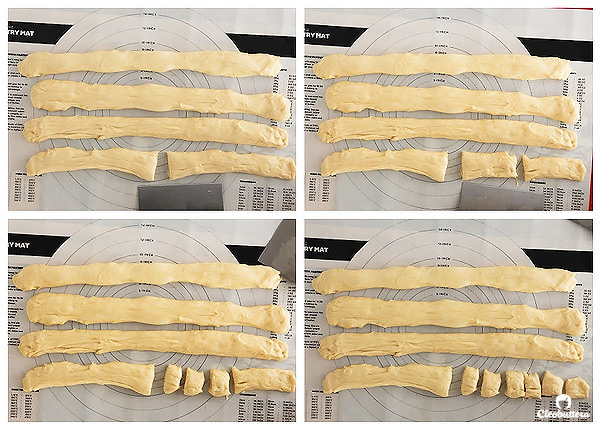 On a clean, dry surface, roll each piece into a tight ball. Then start arranging the balls on a buttered baking sheet with the fondue pot in the middle. This is just so you can measure accordingly. You'll wanna make sure to leave enough space between the balls and the fondue pot or whatever you gonna put in the middle, because it will expand during rising and baking. Around 1 1/2 inches is good.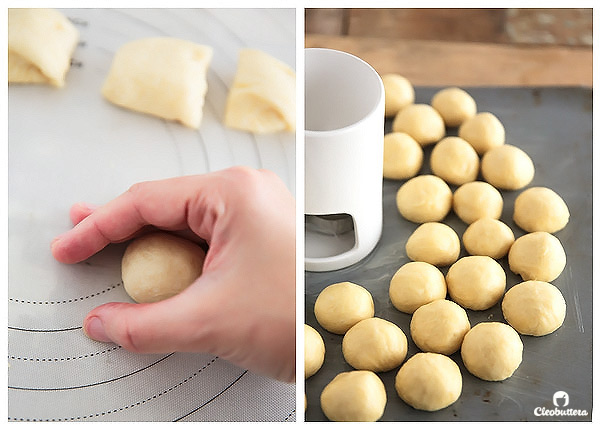 Now remove the fondue pot, cover the dough balls and let rise for about 20 minutes until they puff up and touch one another.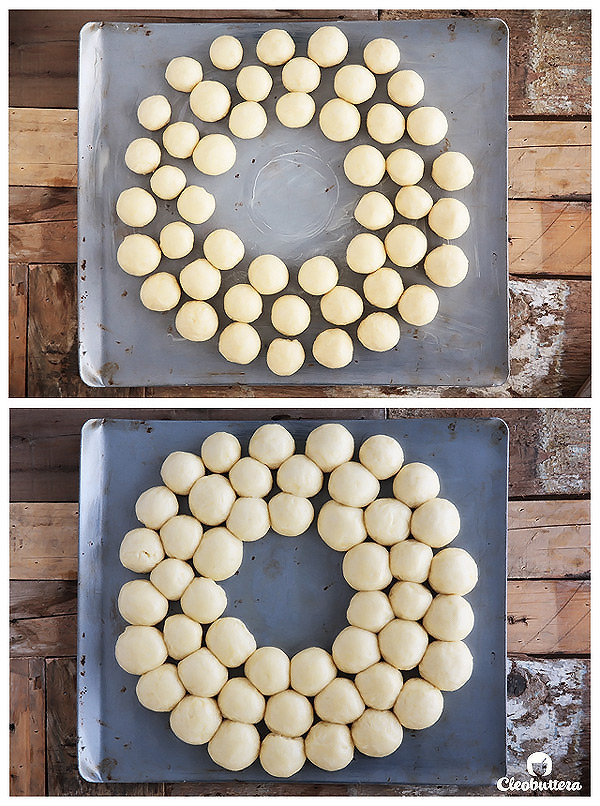 Bake for about 15 minutes until golden brown. Immediately brush with a tablespoon of melted butter. While the rolls are in the oven, its the perfect time to make the fondue.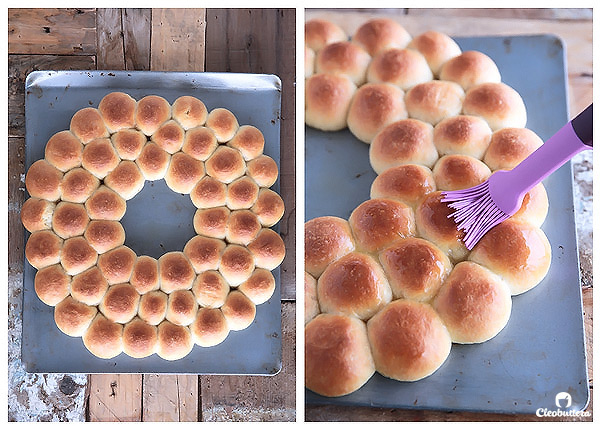 Now let's serve this beauty. Transfer to a serving platter, place the fondue maker in the center and pour in the ooey gooiness, cheesy gloriousness.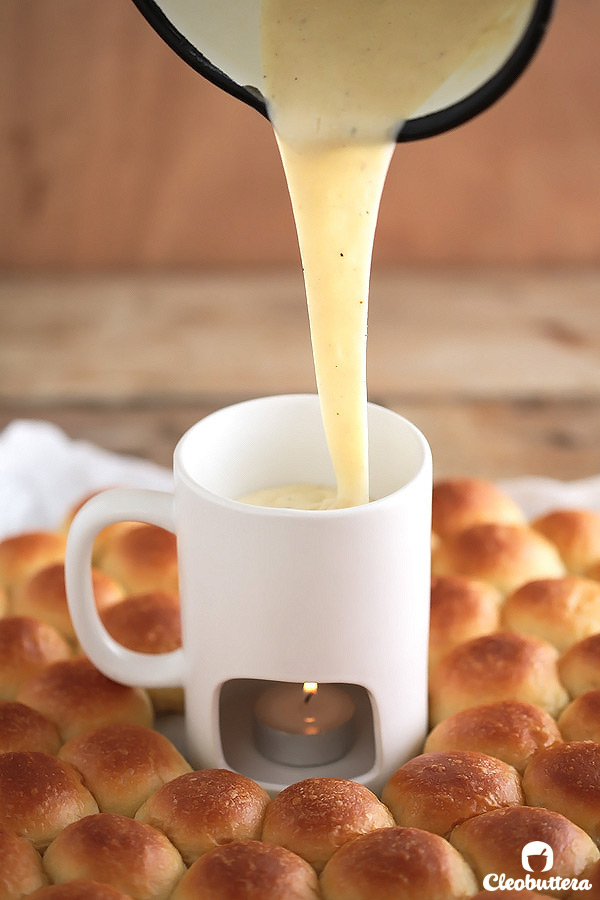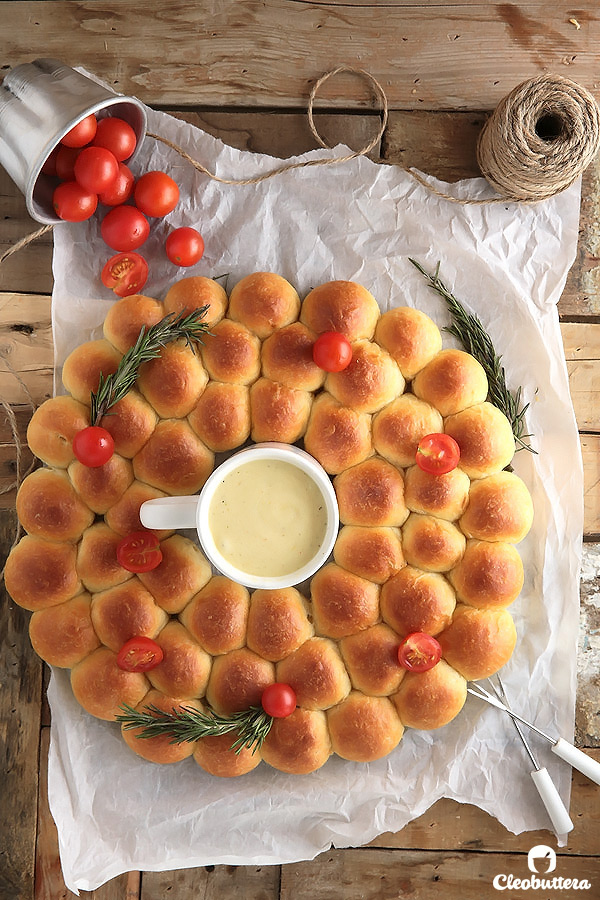 Time to partaaaay! Grab those sticks, get all fancy and start dipping.
You can keep the sticks…I'm going in!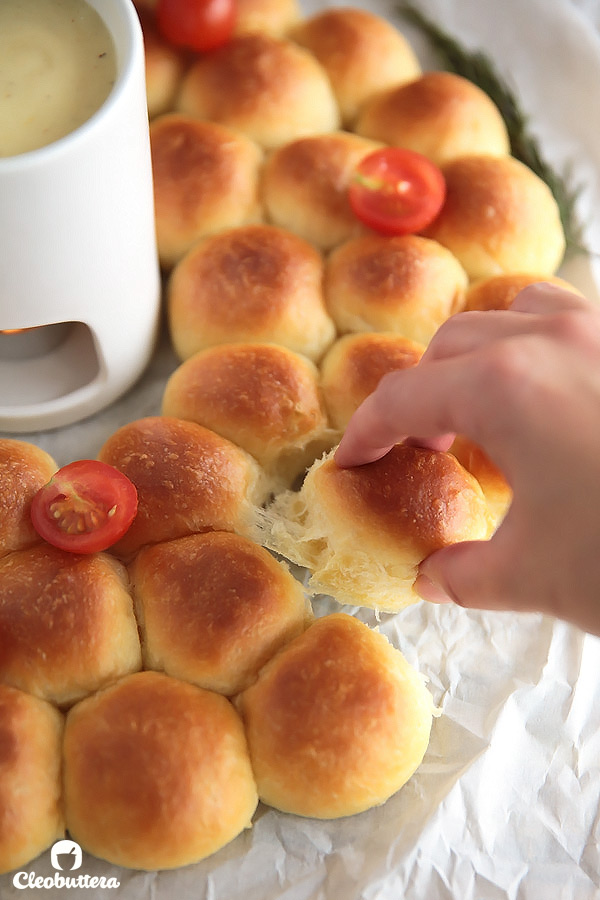 Have a bite and then take a glance at the beauty of this airy fluffy crumb.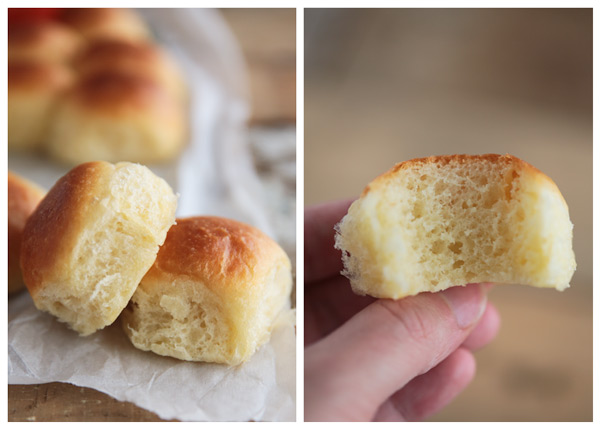 A word of the wise: Leftovers=mini sandwiches. Just sayin'.
Yield: 1 ring (made up of 48 mini rolls)
Ring around a Rolls (with cheese fondue)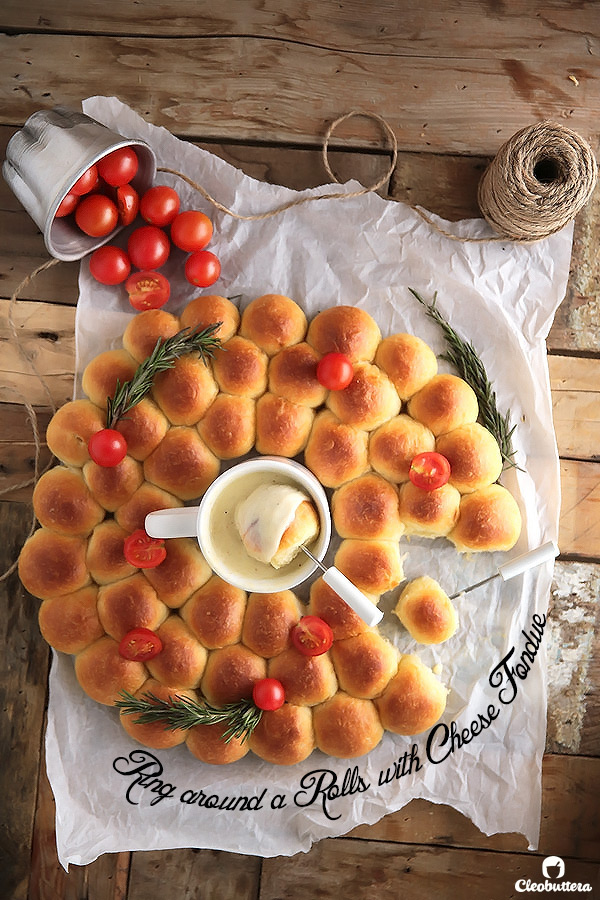 Bite-sized fluffy dinner rolls baked into a festive ring and served with a family-friendly cheese fondue dip. Perfect for parties and special occasions!
Ingredients
For the Mini Dinner Rolls:
3/4 cup (177ml) skim milk, warmed to 110F (Do not substitute partly skimmed or whole milk)
2 tablespoons (25g) granulated sugar
2 1/4 teaspoon instant yeast
1 egg, at room temperature
1 egg yolk, at room temperature
3 to 3 1/2 cups (17 1/2oz/ 496g) all purpose flour
2 teaspoons salt
10 tablespoons (5oz/ 142g) unsalted butter, cut into 10 pieces and softened
2 tablespoons (1oz/ 28g) unsalted butter, melted, divided
For the Cheese Fondue:
1 cup (4oz/ 114g) lightly packed freshly shredded Gruyere cheese
3/4 cup (3oz/ 85g) lightly packed freshly grated Swiss Emmental cheese
1 tablespoon cornstarch
1/2 cup (118ml) low sodium chicken broth
A light squeeze of lemon (don't leave it out)
1/4 teaspoon garlic powder or 1 1/2 teaspoons finely minced or pressed garlic, more or less to taste
1/8 teaspoon ground black or white pepper
1/8 teaspoon nutmeg
A pinch of paprika
Instructions
To make the Rolls:
In the bowl of a stand mixer, whisk together the milk, sugar, yeast, egg and egg yolk until well combined.
Add the salt and 2 cups of the flour and stir together with a spatula.
Fit the mixer with the dough hook attachment and start kneading on medium low speed while gradually adding in 1 more cup of flour.
Increase the speed to medium and add the softened butter, one piece at a time, until incorporated. Continue to knead the dough until its smooth and comes away from the sides of the bowl but sticks to the bottom (about 10 minutes). If its still very sticky then slowly add in the rest of the flour, 1 tablespoon at a time until the dough is tacky and slightly sticky but not dry. The dough should feel buttery.
Turn the dough out on a lightly floured surface and knead briefly to form a smooth ball.
Transfer the dough to an oiled bowl, and turn it so that the ball is coated with oil. cover with plastic wrap and let rise in a warm place*, until doubled in size, 45 minutes to an hour.
Brush a non stick baking sheet with 1 tablespoon of the melted butter or line with parchment paper. Place the fondue maker in the middle and set aside.
Turn out the dough on a working surface and divide in 4 equal piece.
Pull and roll each piece into a long rope. Cut the ropes into 48 each pieces. The easiest way to do that it to cut each rope in half, then each half in half, the each quarter in thirds. Each rope should yield 12 pieces.
On a clean dry surface, roll each piece into a smooth tight ball. Arrange the balls in 3 circles around the fondue maker on the baking sheet. Make sure you leave enough space between the dough balls and fondue maker, giving it room to expand while rising and baking. About 1 1/2 inches.
Remove the fondue maker, cover the baking sheet loosely with plastic wrap and let rise until in a warm place until doubled in size and the balls touch one another. About 20 minutes. Meanwhile, preheat the oven to 375 F/190 C.
Remove the plastic wrap from over the baking sheet. Bake the rolls ring until golden brown. About 15 minutes. Meanwhile prepare the cheese fondue.
Brush the rolls with the last tablespoon of melted butter.
Let cool in the baking sheet for 5 minutes, then transfer to a serving platter or serve right from the sheet.
Place the fondue maker in the center of the ring and light it. Pour the hot cheese fondue mixture in it. Serve warm.
To make the Cheese Fondue:
In a medium bowl, combine together both cheese along with the cornstarch until evenly coated.
In a stovetop-safe fondue pot (or in a regular saucepan or electric fondue pot), add the broth, lemon juice, garlic, pepper, nutmeg and paprika and bring to a simmer.
Reduce the heat to medium-low then add small handfuls of cheese, stirring constantly. Make sure to scrape the bottom of the pot so it doesn't burn. Adjust spices to taste and consistency by adding more cheese or more broth. It should be the consistency of warm honey.
Once the cheese is melted and begins to barely bubble, immediately transfer to the fondue stand or pour into the fondue pot.
Recipe Notes
Alternatively, the Ring around the Rolls, could be served with brie or camembert cheese. Slice the top off, place in the center of the ring and bake with the rolls. Spreads and dips are also great options. Consider honey butter, olive oil with balsamic vinegar and parmesan cheese shavings, olive paste and pesto.
The Ring around the Rolls could be prepared up to 16 hours in advance. After shaping them into balls and arranging them on the baking sheet, cover tightly and refrigerate. Take it out of the fridge two hours before baking and let rise following step11. Proceed with the recipe.
I used Pakmaya instant dry yeast for these rolls, but Venoise is another favorite of mine.
The amount of flour varies depending on many factors including humidity and altitude. So if its very sticky slowly add flour more, if needed, until the dough is slightly sticky or tacky. It should stick to a clean finger then pull away without leaving dough behind. It shouldn't be dry either or the rolls will turn out tough.
To create a warm environment for rising, turn the oven to 200F/93C before working on the dough, then turn off the oven after about 10 minutes. You could now use it as your warm place to rise your dough in. If the oven feels too hot, leave the oven slightly ajar. Works like a charm:)
You can most definitely make the dough completely by hand. You'll just get a little arm workout, which means you're allowed to eat more rolls:)
Dinner Rolls heavily adapted from Brown Eyed Baker who adapted it from Cooks Illustrated Holiday Baking
Cheese Fondue adapted from Mel's Kitchen Cafe
Idea inspired by Freutcake
Measurements Note: All recipes of this site have been developed using weight measurements. Although US volume measurements have been included for your convenience, it is highly encouraged that you weigh your ingredients using a kitchen scale to get the best possible results. Due to the sensitive nature of baking, kitchen scales are proven to yield more accurate and consistent results than measuring cups. Enjoy!
This post may contain affiliate links.
All images and content are owned by Cleobuttera® and are copyright protected. Please do not use my images without prior permission. If you would like to republish a recipe, please rewrite it in your own words and link back to the recipe page on my site. Original recipes and creations of this site are intended for personal and home use. Commercial replication or media consumption are only allowed with a written consent and agreement with Cleobuttera owners. Otherwise it is considered a violation of intellectual property. Thank you for respecting and appreciating the amount of time and effort that goes into creating free, unique recipes that make people happy.