Gooey Cinnamon Roll Cake
Cinnamon roll lovers rejoice! This warm glazed vanilla cake oozing with pockets of gooey cinnamon swirls has your back. It is reminiscent of a cinnamon roll, but prepared in a fraction of the time and effort. Plus…recipe VIDEO!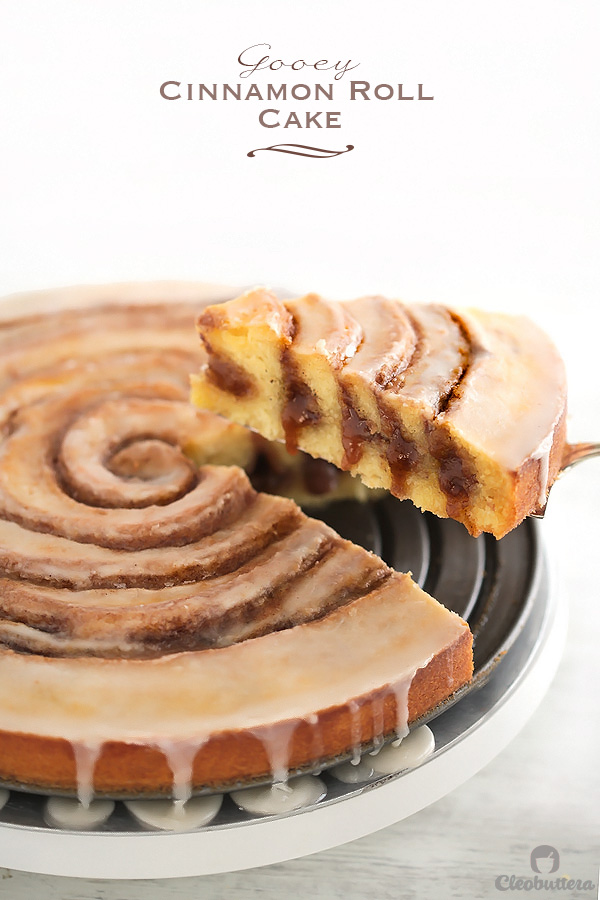 I cannot even count the number of times that I've made this cake.
It is, hands down, a family favorite and one of my most requested things to bake.
It's one of those things that after you finish eating your share (and lick the plate), you find yourself standing beside the serving platter, fork in hand, and sneaking in bite after bite until the symptoms of a sugar coma start to kick in. Usually a partner in crime is involved.
One problem with the way I've always made it though, is that it was so Ooooooglayyyyy!
Baked in a rectangular pan with irregular brown tunnels and holes, it definitely wasn't a looker. Delicious YES, pretty NO.
If it weren't for its mesmerising smell, I don't think anyone would be willing to try it.
I patted myself with all that "its not what is outside but what is inside that counts," "beauty comes from within," "never judge a book by its cover," and every other self-esteem boosting anecdote our mothers told us as pimply teenagers.
But then when my brother, who's actually obsessed with this cake, calls it "Worm Grave Cake," I decided it was time for a facelift.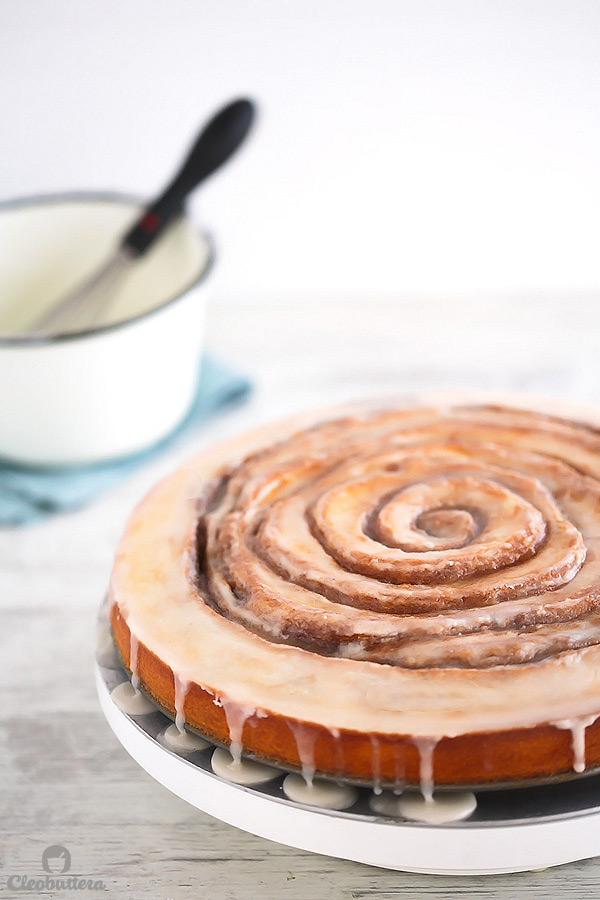 This cake deserved to look as good as it tasted and it wouldn't hurt if it looked like an actual cinnamon roll.
So when I stumbled across The Baker Chick's pumpkin cinnamon roll cake with all her swirling and twirling action, I knew that that is the way to go.
And now my beloved cinnamon roll cake not only tastes like a cinnamon roll, but looks like one too!
So what's that deal with this insanely good cake?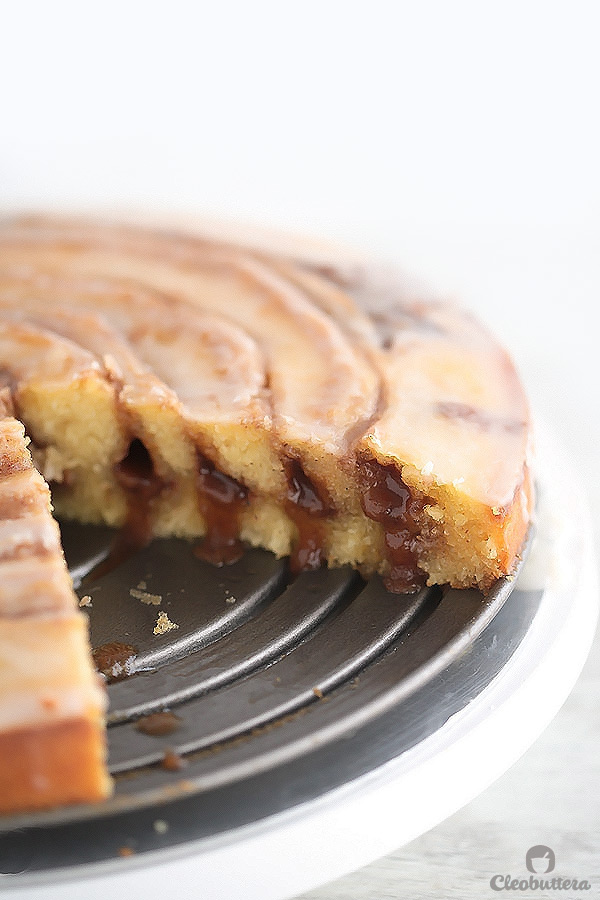 You see those pockets of gooey gloriousness oozing out of it? Yeaaaaah…that's the deal with this cake.
I call this "The Goo." But I think "The Magic" would've been a better fit.
This is what makes the cinnamon roll cake, taste like a cinnamon roll. It's also responsible for the "gooey" in the title.
It tastes exactly like the filling of a real cinnamon roll and gives the cake that irresistible gooey texture of a the roll's center.
Also that glaze…Mmmmm…you can't have a cinnamon roll without a glaze right? Its just against the law.
Unlike cinnamon rolls, this cake takes no time to make and is so easy. No yeast, no rising, no fancy mixers, no creaming of butter and sugar. It's all done by hand with the help of a good ol' whisk and maybe a spatula.
Here's a video of how it all comes together!
Now let's dive into the details!
You first start by making the "Goo," aka "The Magic,' by combining together ingredients that just can't go wrong; butter, brown sugar, cinnamon and flour. Done!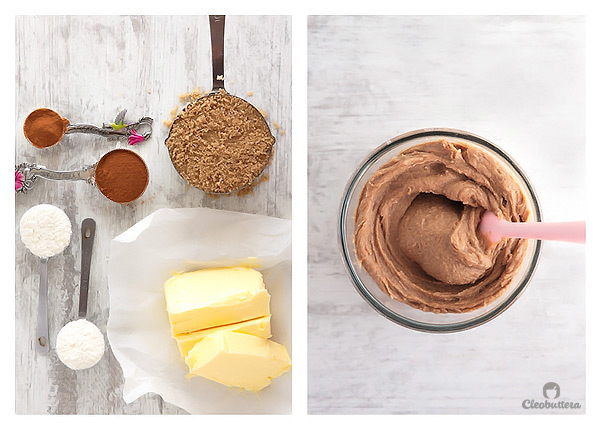 Now on to the cake, which comes together so easily by whisking together the usual cake suspects: flour, sugar, baking powder, salt, eggs, milk, vanilla and melted butter. Then it gets poured in a buttered and floured pan. I prefer springform for its ease of release. What is it with me and rhyming these days?!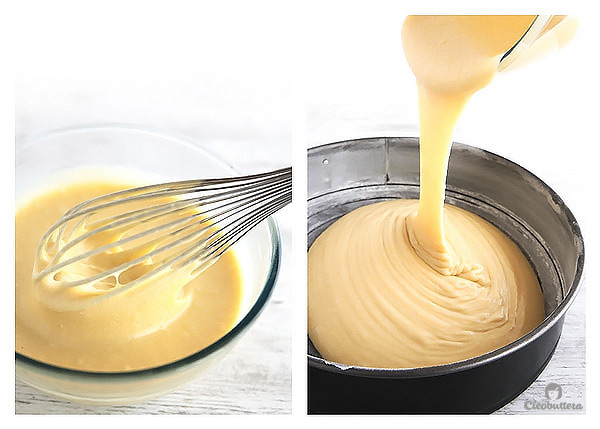 Then you get your glorious "Goo" with a capital G and pipe in a circular motion, starting from the center and going round and round towards the sides of the pan.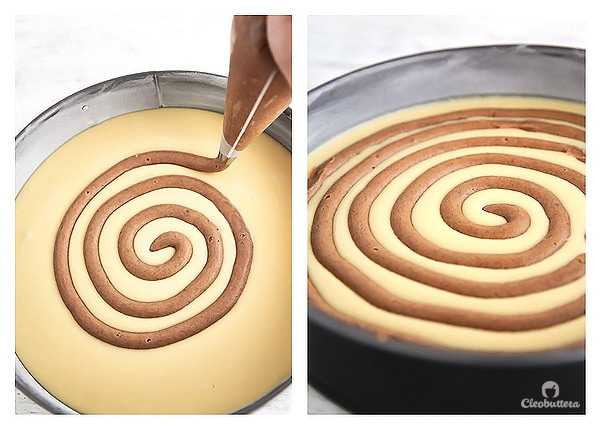 Then you bake that beauty and keep peaking inside the oven to make sure that the swirls are still there. And yes indeed they are!
Towards the end of baking make a simple glaze by whisking together powdered sugar, vanilla and some milk. That's it!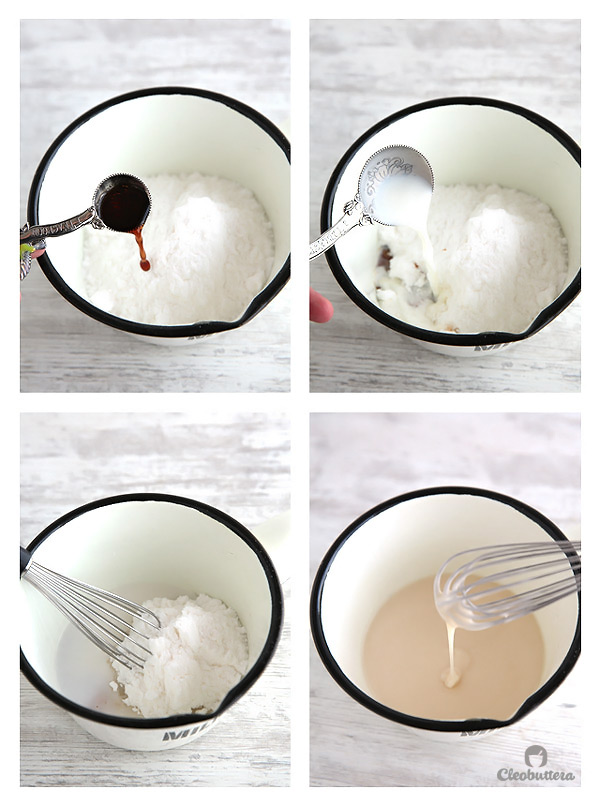 Then while the cake is still hot, pour it all over. The glaze will soak in a little and after it sets, it will give a slight crackly texture to the top of the cake. Kinda like a donut. Oh yeah!
Now try to resist and wait at least ten minutes so you don't burn your tongue and to give the glaze a chance to set.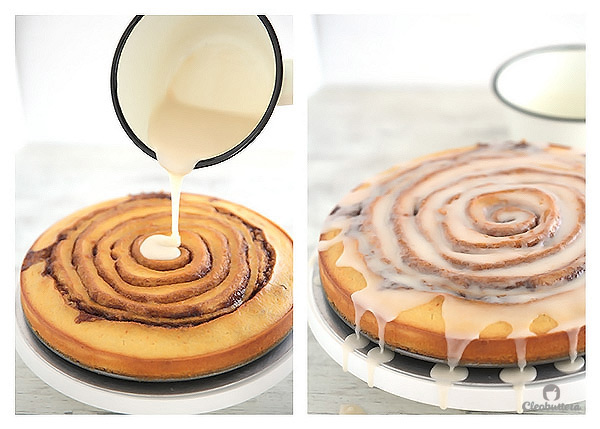 Now go ahead…cut yourself a small piece or BIG, close your eyes and enjoy.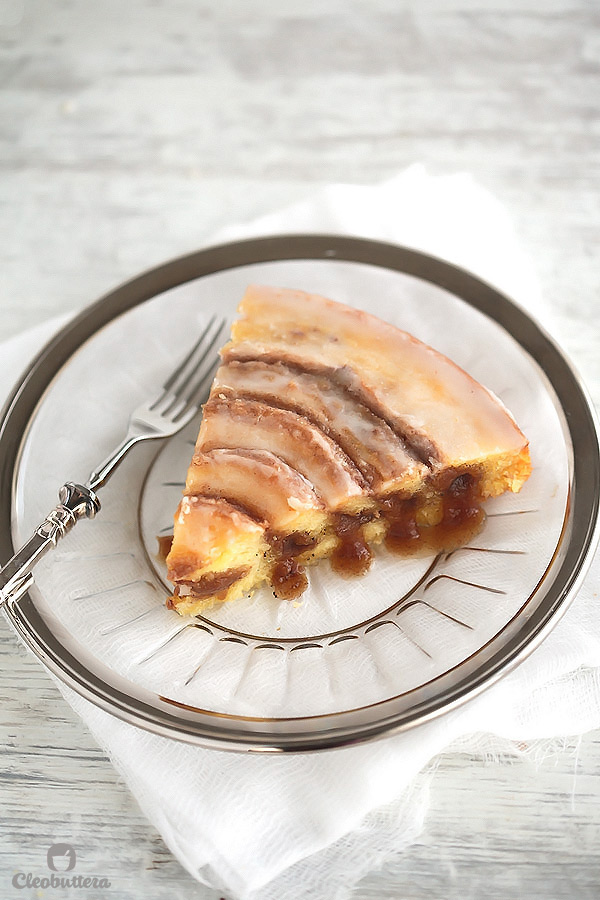 Aaaawwwww…My ugly duckling not ugly anymore.
I loved you regardless though.
---
Updated (17/1/2015): (TROUBLESHOOTING)
Several readers have been having issues with this recipe. For that reason I've decided to change its name from"Easy" Gooey Cinnamon Roll Cake to just 'Gooey Cinnamon Roll Cake,' because if it poses a challenge to some, then apparently its not as easy as it seems, and therefore should not be a part of the title. With that said, I'm still up to my claim that this is one incredibly delicious cake when made right. I've been making it for years and people just go nuts over it. I'd really love for you to achieve the same successful results and so I decided that it would helpful to add a troubleshooting section, to help you avoid any of the problems that others were faced with. So please read before proceeding with the recipe.
Pan size: The size of the pan is critical to the success of this cake. It should be an 11 inch/28cm round pan. Any smaller than that and the cake will rise too much and the goo will sink into the batter, erasing all of these beautiful swirly details akin of a cinnamon roll. If you don't have this pan size then I'd recommend opting for the 9X13 baking pan method. Also make sure that if you use a springform pan, that its leakproof. Some kinds tend to leak, and if that happens, you'll lose all your goo in the baking process and make a huge mess in the oven.
Softened butter for the goo NOT melted: Make sure the butter called in for the goo is softened to room temperature and NOT melted. Using melted butter will cause the goo to float up on top of the cake, making one greasy, overly sweet mess. The cake will be swimming in melted butter and you don't want that by any means.
Soft brown sugar: Make sure that the brown sugar you use for the goo is the soft kind that feels like wet sand. Using the other coarse kind of brown sugar like the demerara kind, will cause the goo to be coarse in texture and will not dissolve into the butter. The texture will just be off. Brands I love using are Dominos and Red Path from when I used to live in Canada.
Use the entire amount of goo: Don't be afraid to use all of it. If you don't, the cake won't be as gooey and might end up of the dry side.
Piping tip size: Make sure that your piping tip or opening of your zipper lock bag is not larger than 1/2inch or 1 1/2cm in diameter. If your piping is too thick, the goo will be too heavy for the batter to hold up and will be more prone to sink, again losing all the swirly details.
Consider the 9X13 baking pan method: If you're looking for an easier, fuss-free method to make this cake that does not require meticulous piping or don't have the correct round pan size, then I highly recommend foregoing the round pan and use a 9X13inch baking pan like a pyrex instead. I have detailed instructions of doing that in the 'Notes' section of the recipe. Basically you pour the batter in a rectangular pan, drop random spoonfuls of the goo right on top of the cake batter, give it a few swirls with a knife or skewer and that's it. You don't even need to unmold the cake from the pan because its served right from it.
Testing for doness: Start checking for the doneness of the cake after 25 minutes. Gently press with your finger in the center, if it still feels very soft, then give it another 5 minutes, then another 5 if needed. I never had to bake it for more than 35 minutes but oven temperatures vary. When lightly pressed with your finger, it should spring back and feel firm. Insert a toothpick in a cake-only area in the center, where you can't see any brown goo. Remember that the goo is very soft and liquidy and so if you insert the toothpick in it, it will seem raw even if the cake is done. The toothpick should come out clean with a few cooked crumbs attached. Undercooking will result is a semi-raw cake and overcooking will result in a dried out goo that won't ooze out.
Halving the recipe: If you don't need that much cake hanging around, you could easily halve this recipe. I do it all the time when we're having a small company. Use an 8inch cake pan for the round method with the piped swirls, or an 8inch square baking pan for the dolloping the goo method. Keep in mind that it will bake in less time, so start checking after 20 minutes.
I sincerely hope that this helps you achieve the same bonkers awesome results that myself and others had. If you have any other issues that I have not covered and wish to be addressed, please leave in the comments below, so I could add it to the troubleshooting section.
If you've tried this recipe and liked it as much as I do, kindly let us know in a comment below and add in a tip for success that might help others. Thank you:)
Yield: 1 (11inch) round cake or 1 (9X13 inch) rectangular cake
Easy Gooey Cinnamon Roll Cake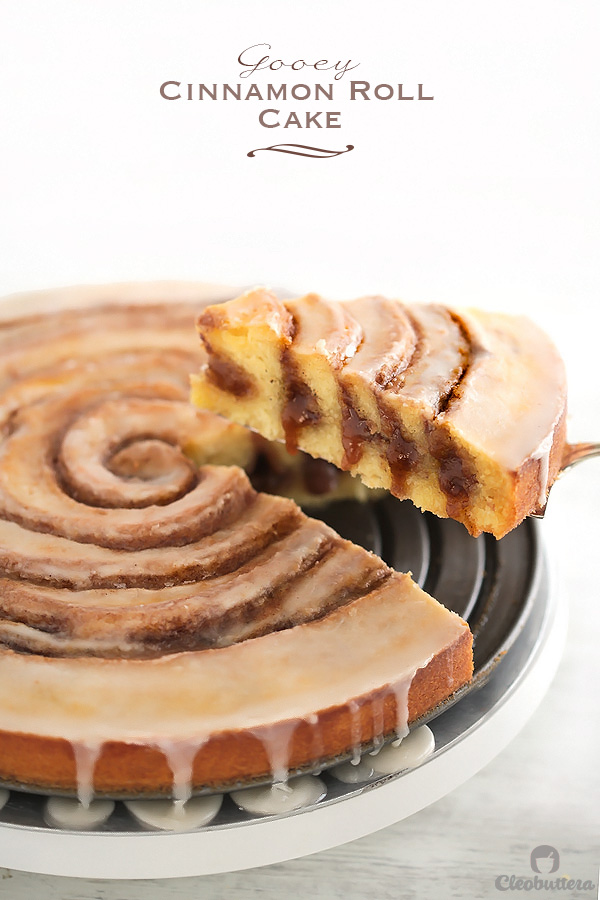 Please read the troubleshooting section above before proceeding with the recipe for tips to guarantee success with this cake.
Ingredients
For the "Goo":
1 cup (8 ounces/ 227 grams) unsalted butter, softened but slightly cool
1 cup (7 ounces/ 200 grams) packed soft light brown sugar
2 tablespoons (15 grams) flour
1 1/2 tablespoons (8 grams) ground cinnamon
For the Cake:
3 cups (13 1/4 ounces/ 375 grams) flour (preferably weighed for accurate results or measured using the Spoon & Sweep method -see note below)*
1 cup (7 ounces/ 200 grams) granulated sugar
4 teaspoons baking powder
1/4 teaspoon salt
1 1/2 cups whole milk, at room temperature
2 eggs, at room temperature
2 teaspoons vanilla
1/2 cup (4 ounces/ 114 grams) unsalted butter, melted
For the Glaze:
2 cups (8 ounces/ 227 grams) powdered sugar
1/4 cup plus 1 tablespoon milk
1 teaspoon vanilla
Instructions
Preheat the oven to 350F/180C.
To make the "Goo":
In a medium bowl combine together the 1 cup butter, brown sugar, flour and cinnamon until well blended. Transfer to a piping bag fitted with a round tip (I use a 1/2 inch/1 1/2 cm diameter) or a zipper lock bag snipped in one corner. Set aside.
To make the cake:
Spray or butter and flour an 11-inch round pan (preferably springform).
In a medium bowl, whisk together the flour, granulated sugar, baking powder and salt. Set aside.
In a large liquid measuring cup or small bowl, whisk together the milk, eggs and vanilla.
Pour the milk mixture into the flour mixture and whisk just until combined. Lumps will remain.
Slowly drizzle in the melted butter to the batter while mixing. The batter should now be smooth but a few lumps are OK.
Pour the cake batter into the prepared pan, then starting in the center pipe the "Goo" in a circular motion going around and around towards the sides of the pan until the goo is all finished.
Bake for 30-35 minutes or until a toothpick inserted in the center of the cake comes out clean. Do not insert the toothpick in the 'Goo" area, because that is supposed to be gooey anyway.
Remove the removal rim of the pan, if using the springform pan, and transfer to a serving platter. Or leave it in the pan if using a regular one (without a removable rim).
Drizzle the glaze all over the cake, then leave it to cool for about 10 minutes before serving.
This cake tastes best when served warm out of the oven when the "Goo" is still melty, but cooled portions of the cake can be warmed in the microwave.
Store leftovers in a airtight container.
To make the Glaze:
In a small bowl, whisk together the powdered sugar, milk and vanilla until smooth.
Recipe Notes
If you don't have a kitchen scale to weigh the flour, use the Spoon & Sweep method: Use a spoon to lightly fill measuring cup with flour until required amount is obtained, then sweep access with the back of a knife.
For an even simpler method (ahem...the not so pretty one), this cake could be made in a 9X13 inch baking pan and served right from the pan, thus eliminating the piping of the goo and removing the cake from the pan. After pouring the batter in the pan, simply dollop spoonfuls of "Goo" all over the pan in a dotting fashion, then using a knife marble and swirl through the cake.
Adapted from Picky Palate. who happened to make hers in cute little cupcakes. Hers were actually very pretty.
Look inspired by The Baker Chick
Measurements Note: All recipes of this site have been developed using weight measurements. Although US volume measurements have been included for your convenience, it is highly encouraged that you weigh your ingredients using a kitchen scale to get the best possible results. Due to the sensitive nature of baking, kitchen scales are proven to yield more accurate and consistent results than measuring cups. Enjoy!
This post may contain affiliate links.
All images and content are owned by Cleobuttera® and are copyright protected. Please do not use my images without prior permission. If you would like to republish a recipe, please rewrite it in your own words and link back to the recipe page on my site. Original recipes and creations of this site are intended for personal and home use. Commercial replication or media consumption are only allowed with a written consent and agreement with Cleobuttera owners. Otherwise it is considered a violation of intellectual property. Thank you for respecting and appreciating the amount of time and effort that goes into creating free, unique recipes that make people happy.