Soft, pan-style pizza crust topped with melted chocolate, chopped Reese's peanut butter cups, salted peanuts and a peanut butter drizzle.  If that doesn't rock a peanut butter lover's world, I don't know what will.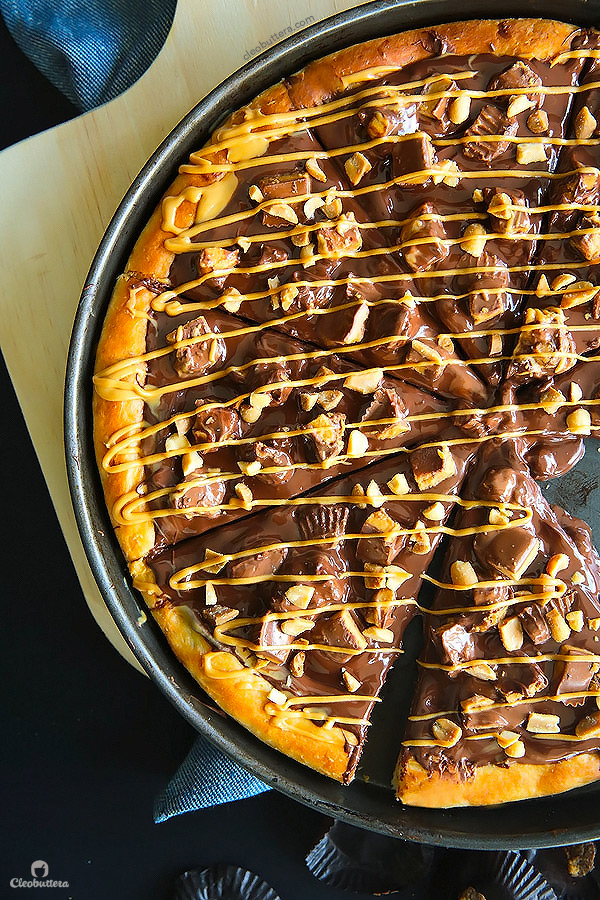 Peanut butter addicts you will need to brace yourself for this one because this pizza is about to blow your mind!
Peanut butter haters…you're safe.  But seriously, you need to get your tastebuds checked.  Or make this one instead.
Now this right here is a dessert pizza on peanut butter steroids!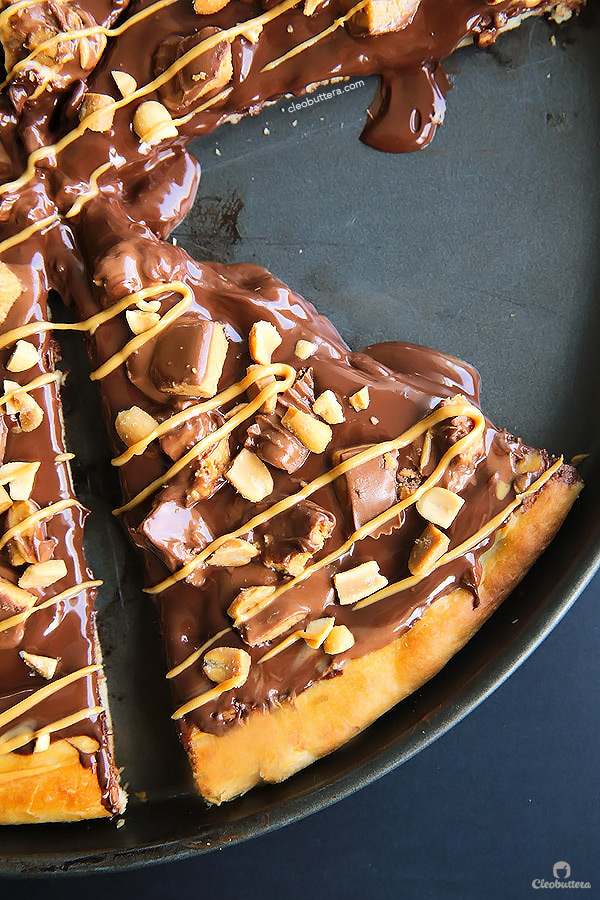 Not only is the base of this ridiculous dessert made from the world's most loved bread, Sir Pizza, but it cradles one of the best flavor combinations known to humanity: peanut butter and chocolate.
We're talking a warm, melty, oozing layer of chocolate loaded with chopped peanut butter cups (Reese's) that melt from the warmth of the chocolate and intermingle into it.  A subtle sprinkle of salted roasted peanuts gets cast over the top for some crunch, and if that's not enough, a gentle drizzle of warm peanut butter ties everything together.
Sinful?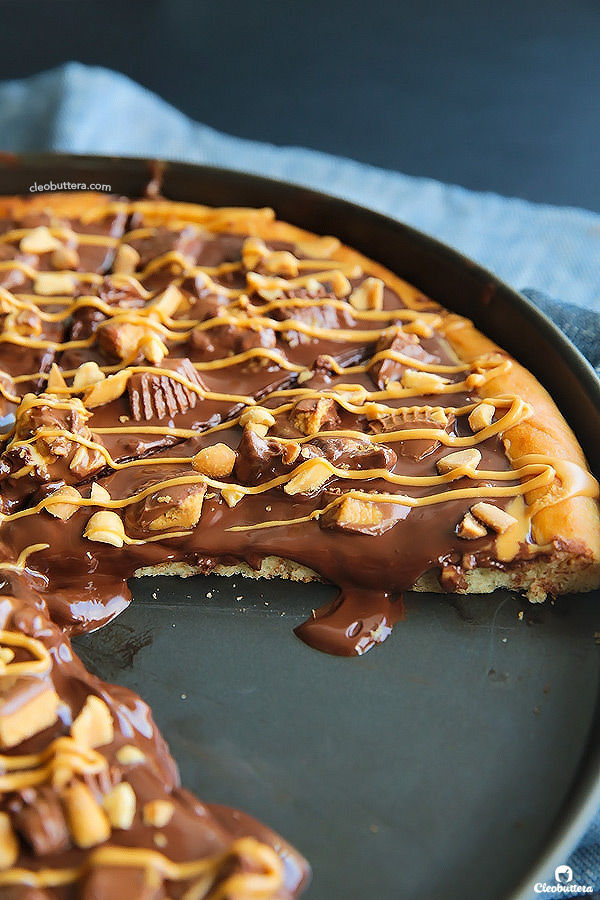 You betchya!
Rich?
Let's just say, that one slice will put you on a 2 hour nap.
But its a treat…a treat that your peanut butter-loving heart deserves every now and then.  It's surely some cheat meal-worthy material!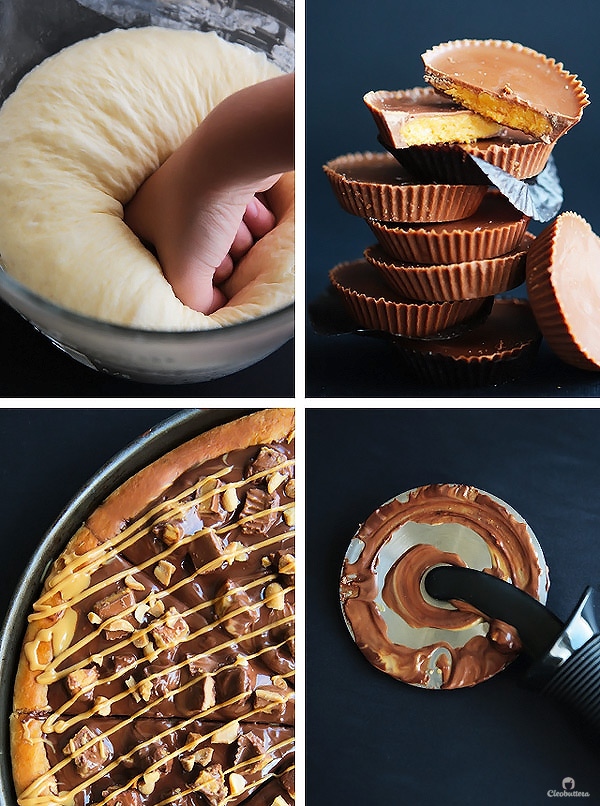 Which you're either gonna hate me or love me for, but probably both.  Especially when you see how easy it is to make.  Then you're gonna want to make it ALL the time.
That's it you're definitely gonna hate me.  I'm just gonna cut to the chase and apologize in advance for not taking into account your peanut butter addiction problems.  As well as your pizza issues.   So for that…I'm sorry.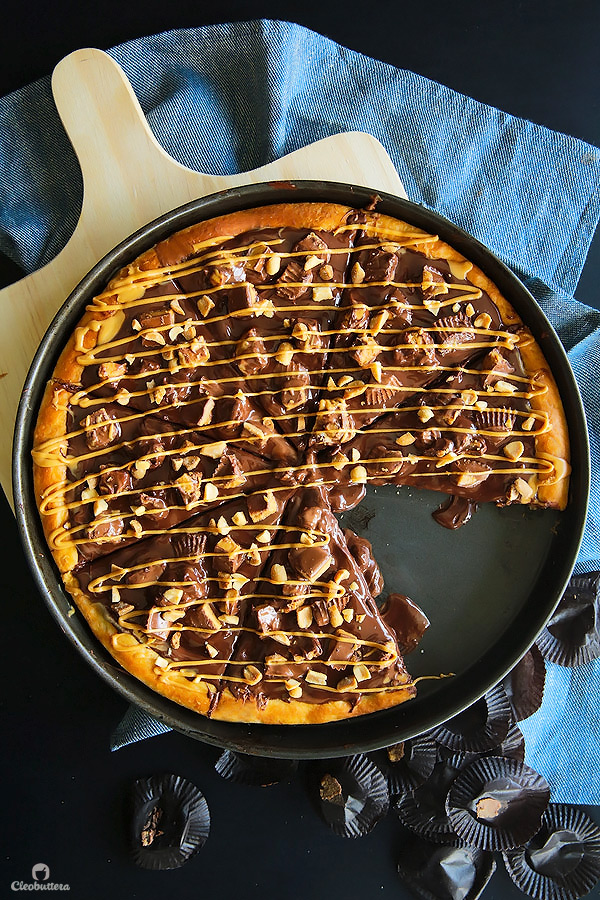 But in my defense I was only trying to help.
I know a lot of you still have an abundance of Halloween candy laying around, and I thought that this might help you make good use of them before they rot.  See…I'm helping you both recycle and not waste perfectly good food.  Now how green am I?!
Now that I'm off the hook, let me introduce you to her highness, the one and only Peanut Butter Cup Pizza.  Now if you feel you're having some kind of dejavu with this whole dessert pizza thing, its actually real!  Because less than a year ago I made one with a s'mores twist and it was so loved that I felt I owe you another one.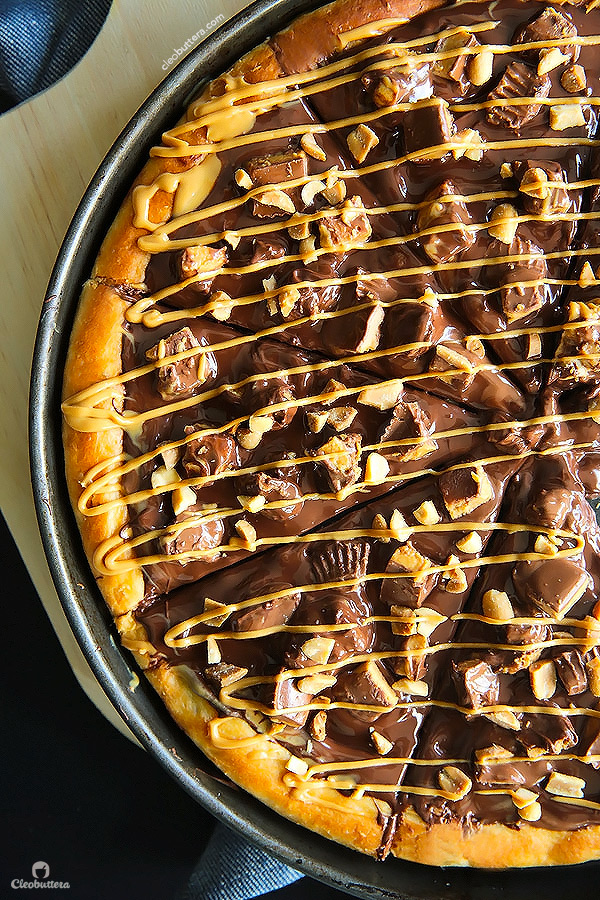 This one though is ALL about the peanut butter!  Mainly Reese's actually.  Because aren't Reese's every peanut butter lover's favorite candy?
So gather your peanut butter-loving friends and pamper them with this, because it is easy entertaining as it is dangerously good.
You'll need pizza dough (store-bought or from scratch.  Storebought will save you time, but I love my from scratch recipe so much and highly recommend you try it.  Its a pan-style pizza with a soft crust, which I find goes really well with the abundance of chocolate).  You'll of course need your star candy: peanut butter cups, as well a little peanut butter, a tiny bit of butter, both milk and semisweet chocolate chip but any chopped plain chocolate will work (time to bust out your Halloween candy reserve) and peanuts.  I like salted.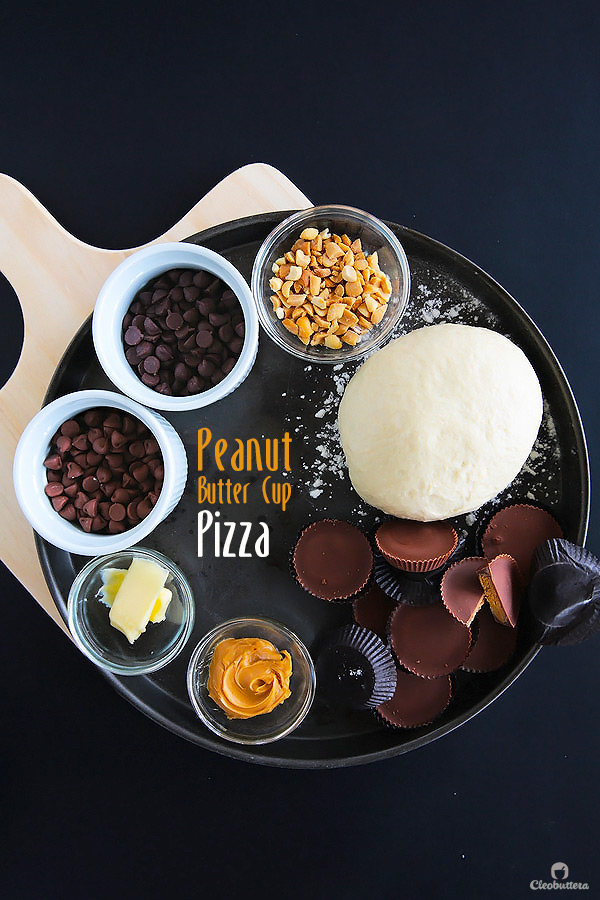 And just like that you'll press you pizza dough in a pan, making sure you create a lip around the edges.  You'll then dimple the center of dough with your fingers.  That will prevent it from rising too much in the oven, while allowing just the edges to rise high.  A little brushing of melted butter goes on top for gorgeous browning then into the oven it goes for 8 to 10 minutes.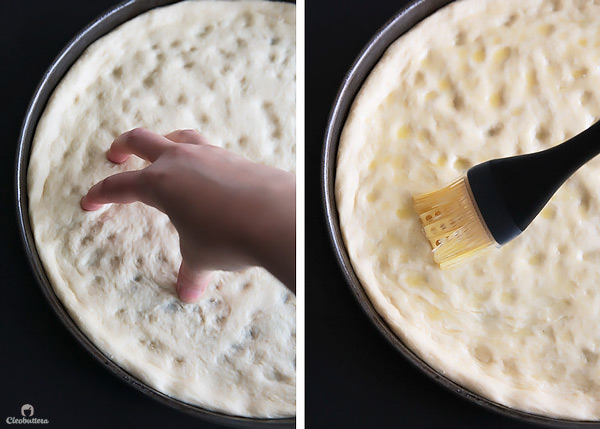 As soon as it comes out of the oven, add on the chocolate chips, then put it back in the oven just until the chocolate warms through.  Smooth out the warm chocolate chips to create a nice and even chocolate layer.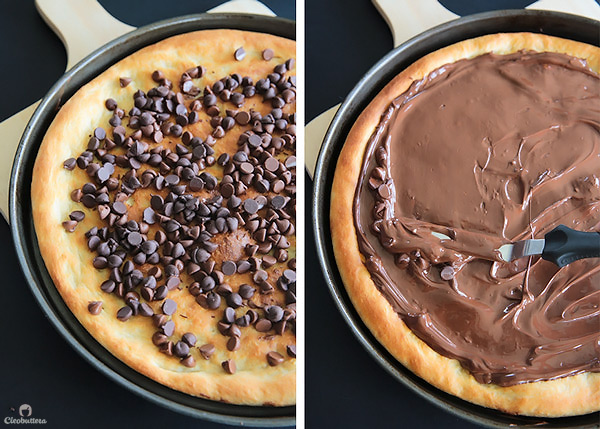 On goes the chopped Reese's and peanuts.  Mmmmmm….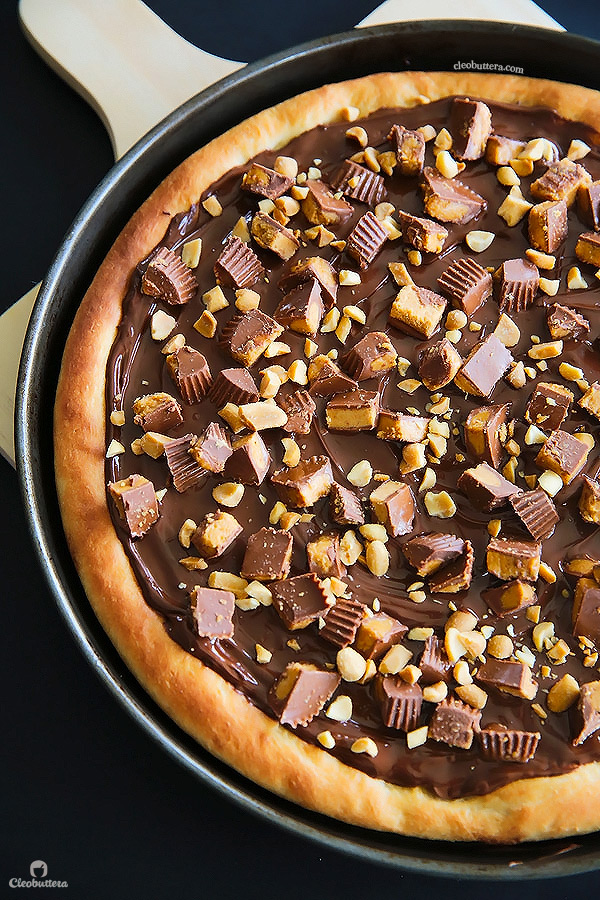 They will melt a little from the warmth of the pizza…SO good!
Then drizzle on some warm peanut butter for extra decadence.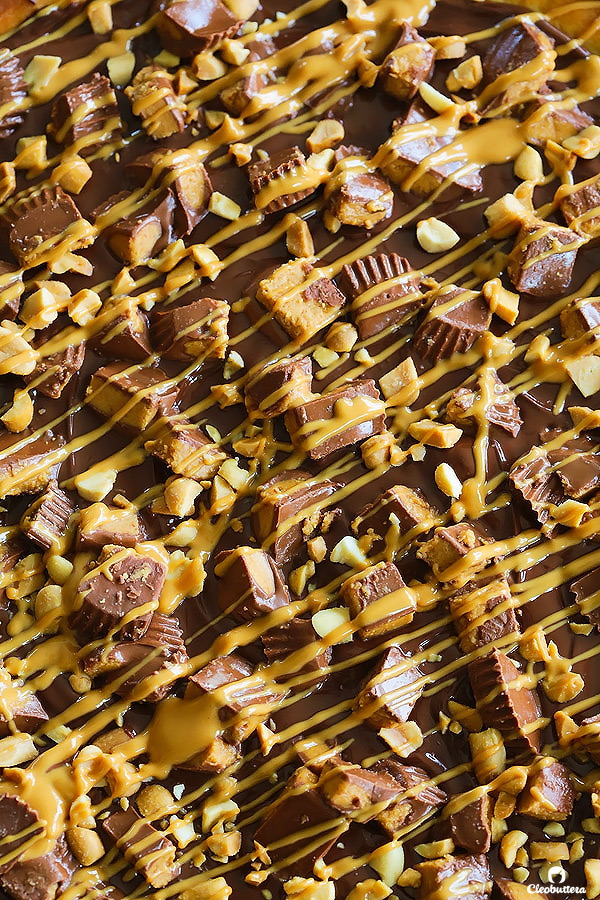 This pizza will wait for no one!  It's best while still warm and all gooey and melty.  So go ahead…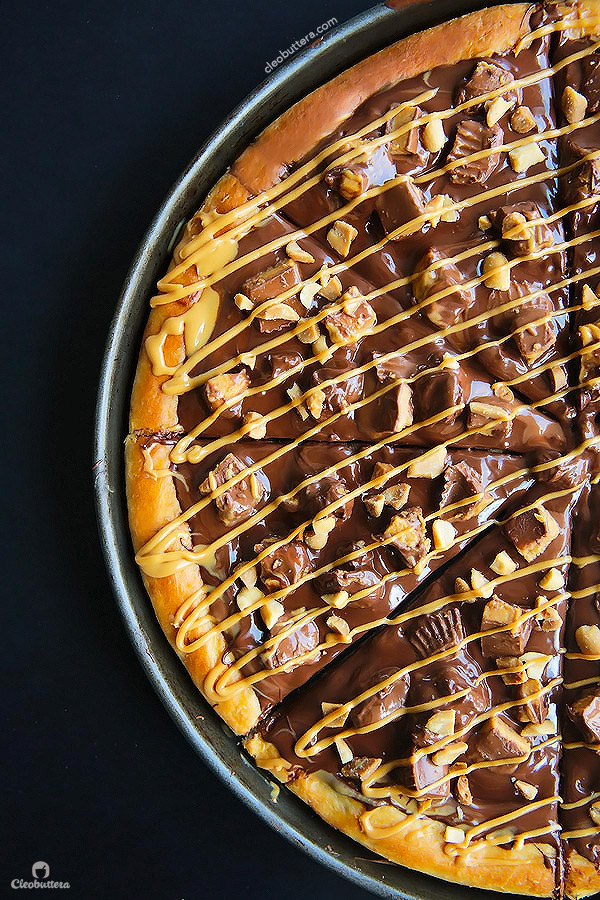 Grab a slice and ditch the soda because this is a dessert pizza; you'll need milk.  And a napkin.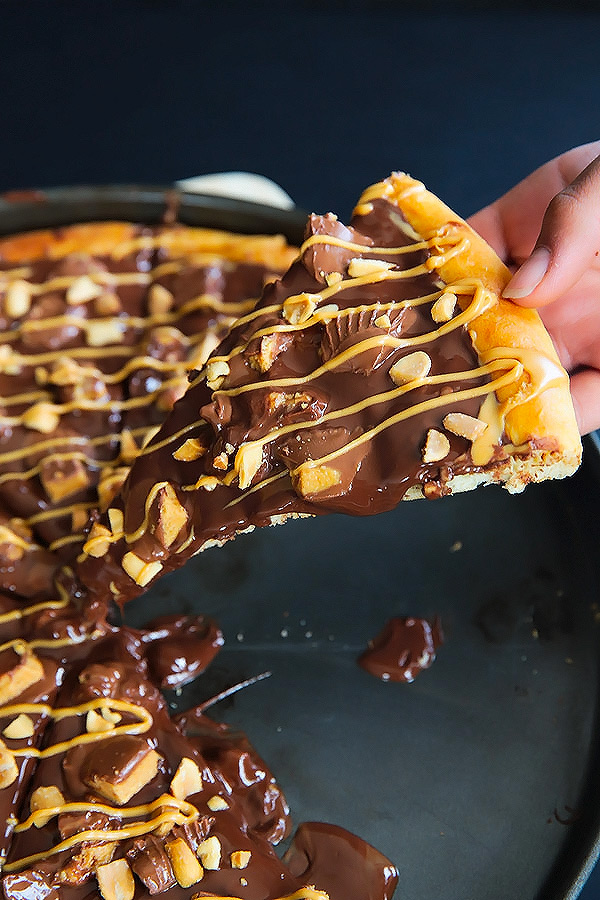 And 7 more people to share with.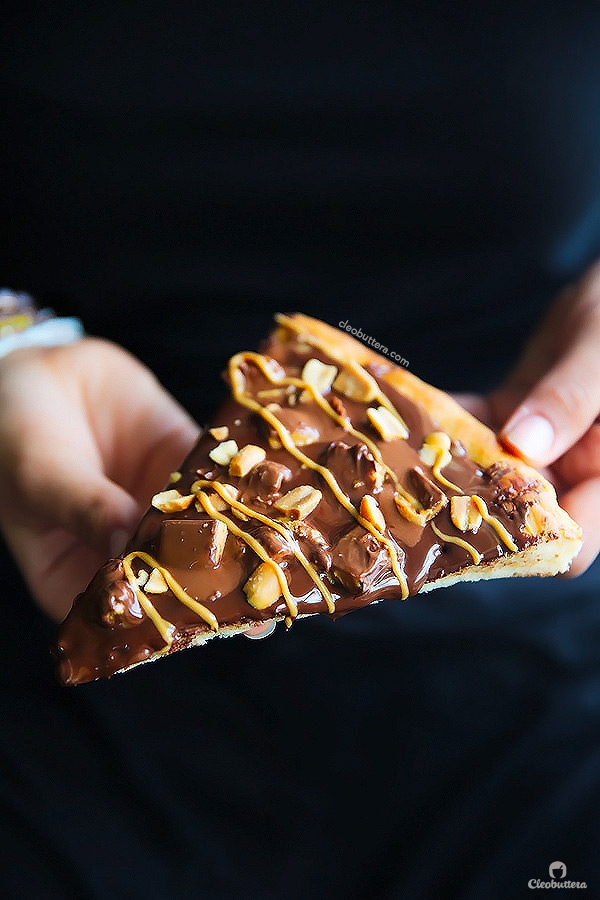 Because trust me, you don't want to be left alone with this thing.
And trust me…you don't want to miss the quick video I made of this Pizza on my Instagram.

Peanut Butter Cup Pizza
Serves:
one (12 or 13-inch) round pizza
Ingredients
For the pizza crust: (1lb/450g store-bought pizza dough may be substituted)*
1¾ to 2¼ cups all purpose flour
¼ cup milk powder
1 tablespoon granulated sugar
1¼ teaspoon instant yeast*
½ teaspoon salt
3 tablespoons vegetable oil
¾ cup warm water


For the topping: (Feel free to customize your toppings according to your liking)
2 teaspoons butter, melted
½ cup semisweet chocolate chips (or finely chopped semisweet chocolate bar)
½ cup milk chocolate chips (or finely chopped milk chocolate bar)
9 to 12 regular-size peanut butter cups like Reese's (that's 3 to 4 packages), chopped into large chunks
¼ cup roasted peanuts, chopped (I used salted)
2 tablespoons smooth peanut butter, melted
Instructions
In the bowl of a stand mixer fitted with the hook attachment (or a large bowl if kneading by hand), place 1¾ cups of the flour, milk powder, sugar, yeast*, salt then whisk together to combine. Add in the oil and whisk into the flour mixture until throughly mixed in.
With the mixer on low speed, gradually pour in the warm water. Knead together until a smooth and uniform dough starts to form. If the dough is still very sticky, gradually add in the rest of the flour, one tablespoon at a time until the dough clears the sides on the bowl but sticks to the bottom. You might not need all of it. Continue kneading until the dough is smooth and elastic but not dry. It should still be slightly sticky and feels tacky, but not messy. You should be able to easily form it into a smooth ball when handled with oiled hands. Resist the temptation to add too much flour or the crust will be tough.
Transfer the dough to an oiled bowl, and turn it over to get it all covered with the oil. Cover with plastic wrap and place in a warm place. Let it rise until doubled in bulk, 45 minutes to 1 hour.
During the last 15 minutes of rising, place the oven rack to the lowest position and turn the oven to 450F/230C.
Spray a 12inch or 13 inch round pan or a rectangular baking sheet with non stick cooking spray.
Turn the risen dough onto the pan or baking sheet and spread it evenly with your hand into a 12/13inch circle. (12 inches will yield a thicker pizza, while 13 inches will turn out on the thin side)
Using the palm of your hand, push the dough to the sides of the pan to create a thicker edge. Using your fingers, make indentation or dimples all over the dough, except for the edges. This will prevent the center from rising too much while baking.
Brush the dough with the melted butter.
Bake the dough until slightly crisp and pale golden brown, about 9 to 10 minutes.
Take the crust out of the oven, then immediately sprinkle with both types of chocolate chips.
Place the crust back in the oven, and heat just until the chocolate gets very shiny and starts to melt; 1 to 2 minutes. Do not bake for too long or the chocolate will harden.
Remove from the oven, then using an offset spatula or spoon, smooth out the warm chocolate into an even layer. Top with the chopped peanut butter cups and chopped peanuts. Using a spoon, drizzle the melted peanut butter cups all over the pizza.
Cut the pizza into 8 wedges and serve right away while still warm..
As with all pizzas, it is best served warm out of the oven while the chocolate is still melty. Chocolate will harden over time, especially in cooler environments. Leftover slices may be warmed up in the oven or microwave.