Cinnamon Roll Monkey Bread (plus a shortcut version)
A delectable merge of two classics. Soft and feathery cinnamon rolls baked in a bed of caramel sauce in a bundt pan, a la monkey bread style, then drenched with even more caramel as it comes out of the oven. Need I say more?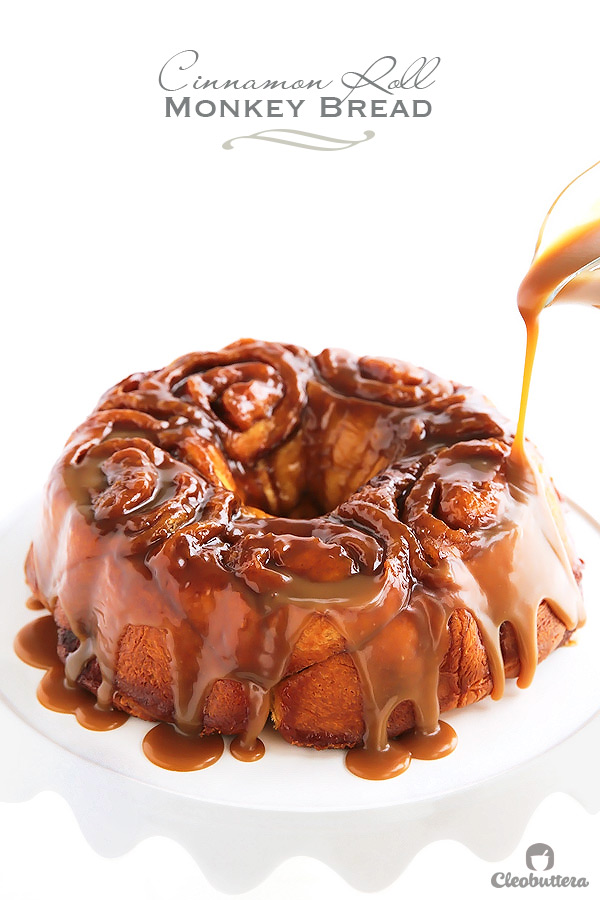 Disclaimer: No monkeys were hurt in the making of this beautiful monster.
Yes (sigh)…I really had to say this.
Having served this mostly to Egyptians, and a few Canadians, I always felt the need to explain myself first, or face the possibility of it staying untouched.
Ofcourse there are certain people (THEE best) who dive in without letting a name like this hold them back for a second. My kinda people. YOU GUYS ROCK!
I mean…caramel is dripping and cinnamon is wafting…Hello?! Do I really need to justify this?
Apparently yes…even a dessert as tempting as this one still manages to raise some eyebrows just by having a funny name.
But Reeeeeally though? We have an Egyptian dessert called Zeinab's fingers. Pota-toe Pota-to.
But alas..here I am trying to convince you to eat a warm, soft, cinnamon-y piece of pastry dripping with caramel, just because it has a weird name.
So here goes…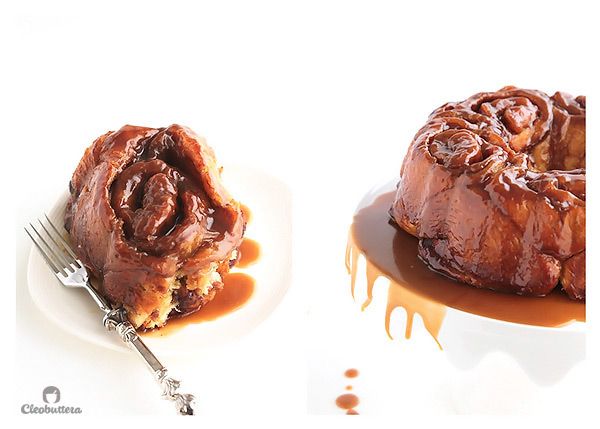 Monkey bread is a sweet and gooey pastry served in the United States for breakfast, usually on special occasions and holidays. Its made by drenching lots of very small balls of dough in butter and cinnamon sugar, then arranging them in a bundt pan with or without caramel sauce and baking them off. The result is one amazing bundt-shaped pastry studded with jewels of caramel glistened pieces of dough. The balls of dough get stuck together and are eaten by pulling the pieces apart with fingers, just like a monkey…no offense. But that's where the name is said to have originated from. Aaaaaahhhh!
Needless to say, that once people are enlightened with this piece of information…ATTACK, DEVOUR and DEMOLISH are what unfolds after.
So this right here, is what you'll get if a cinnamon roll and a monkey bread had a baby. Its smothered in caramel and baked in a bundt pan just like a monkey bread, but instead of using little pieces of dough, I use LARGE hunks of cinnamon rolls. Divine…
I first made this recipe during my year-long stay in Canada, using Pillsbury Grands ready-made Cinnamon Rolls but made the caramel sauce from scratch. Truth be told, people went banonza over this and never even noticed that it came from a can. It took me literally 5 minutes to put together and was always a showstopper. I'm a strong proponent of baking from scratch…but let's be real here…sometimes a shortcut is more than welcomed, especially if it tastes that good.
Being back in Egypt though, meant no more Pillsbury, so I had to get my act together to come up with a from-scratch solution. I tried 5 different doughs before landing on this discovery from Cooking Classy. This dough is uber soft and feathery and puffy, really just everything you need in a cinnamon roll.
Here's how you do it: (Please note that the detailed recipe in the teal box at the end of the post, will provide further instructions for both the from-scratch and shortcut versions ).
Prepare the dough and let it rise as per the recipe below (not pictured). During that time make the caramel sauce and let it cool. Roll out the risen dough on a lightly floured surface into a 16X12 inch rectangle. Yes please use a ruler. Then you spread some softened butter and sprinkle it with a mixture of brown sugar and cinnamon.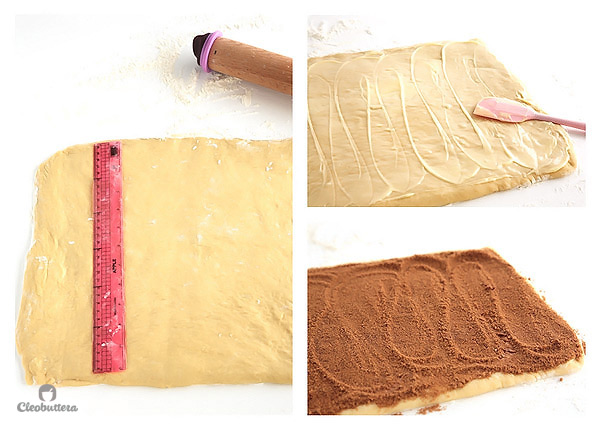 Using a bench scraper or ruler to help, roll the dough snuggly, pinching the seam to the dough, so the cinnamon mixture doesn't fall out. Then with the seem side facing down, cut the dough into 12 even pieces.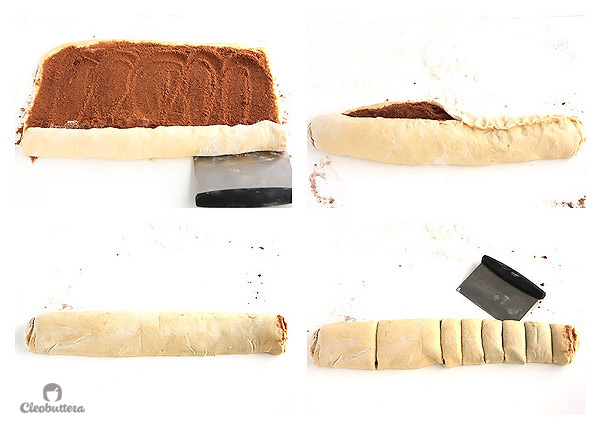 Pour about 1/3 of the prepared and cooled caramel sauce into a buttered non-stick bundt pan. Arrange five cinnamon rolls on top of the caramel layer, then add another tier of cinnamon rolls using the remaining seven.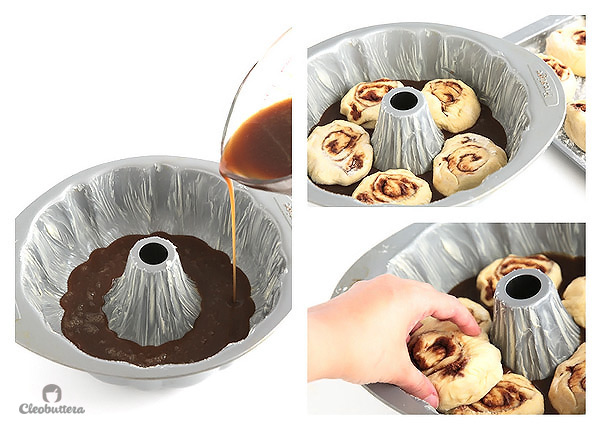 Let that rise again until so puffy, you just wanna cuddle it, about one hour. (If using a ready-made dough, then no need for rising) Then pour another 1/3 of that caramel sauce right over it.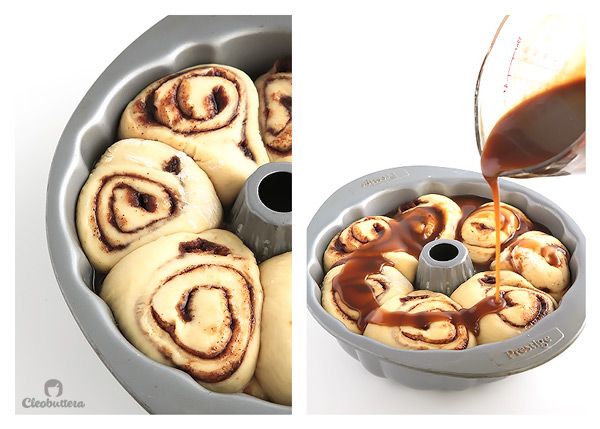 Now bake that cinn-ful (ughhh..cheesy pun) pan in a preheated 350F/180C oven until very golden brown about 35-40 minutes.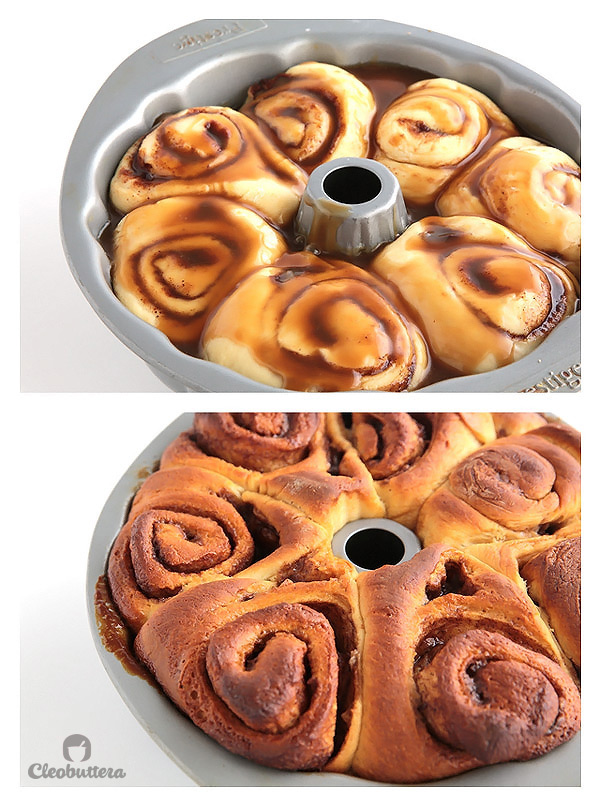 Let it cool for about 5 minutes in the pan while reheating the remaining caramel sauce. Then flip that thing onto your serving platter. Don't be like me and use a platter with a rim so you don't make a huge mess.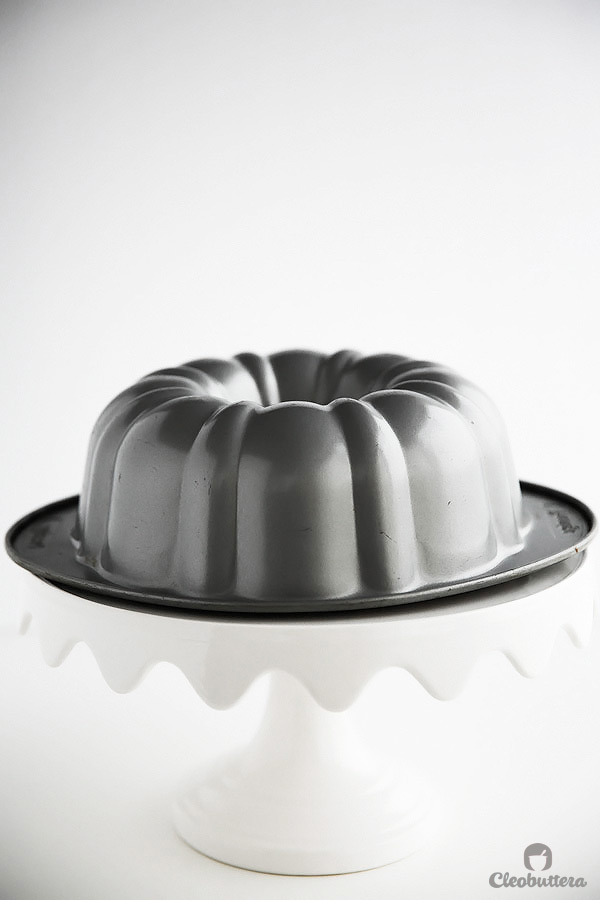 I have no words for that…no words…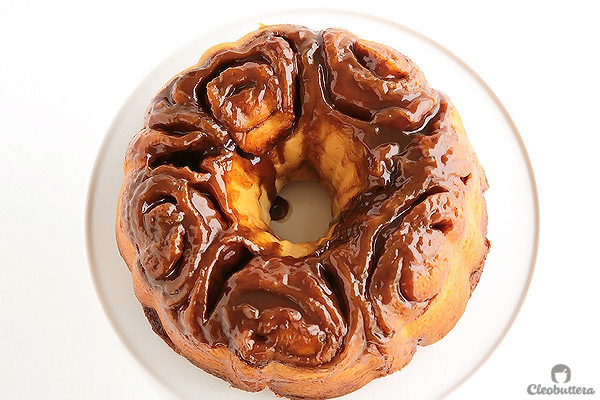 Pour the remaining caramel sauce on top and watch people drool.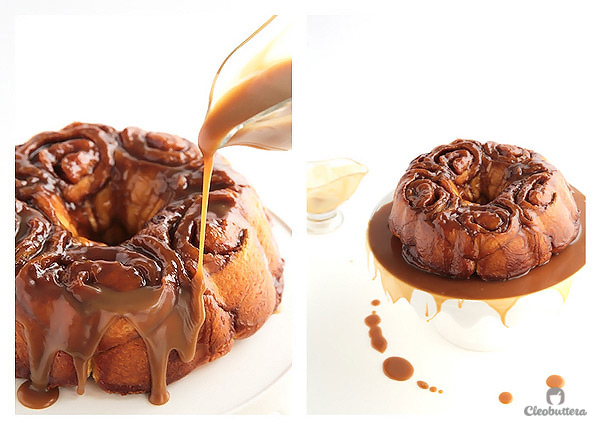 You know what? If you do that in front of them, you'll skip the step of having people ask you what it's called, because with a sight like that…who cares?
Here…Problem solved.
#Fact: Upon tasting it, several people suggested that I should change its name to "Buns from Heaven," abort the idea of blogging and open a bakery that only sells this…Yup! It's that good.
Check it out, check it out! The awesome sisters of Food Dolls from Minnesota have so kindly created a video for this recipe! Eeeeeeeek!!! Thank you girls so much☺️
In the video below, the Food Dolls, have taken the shortcut route and used Cinnabon's Pillsbury Grands Cinnamon Rolls, so there's no rising time involved.
WARNING: Excessive drooling may result. A box of tissues nearby is strongly recommended.
Yield: 1 Bundt
Cinnamon Roll Monkey Bread (plus a short-cut version)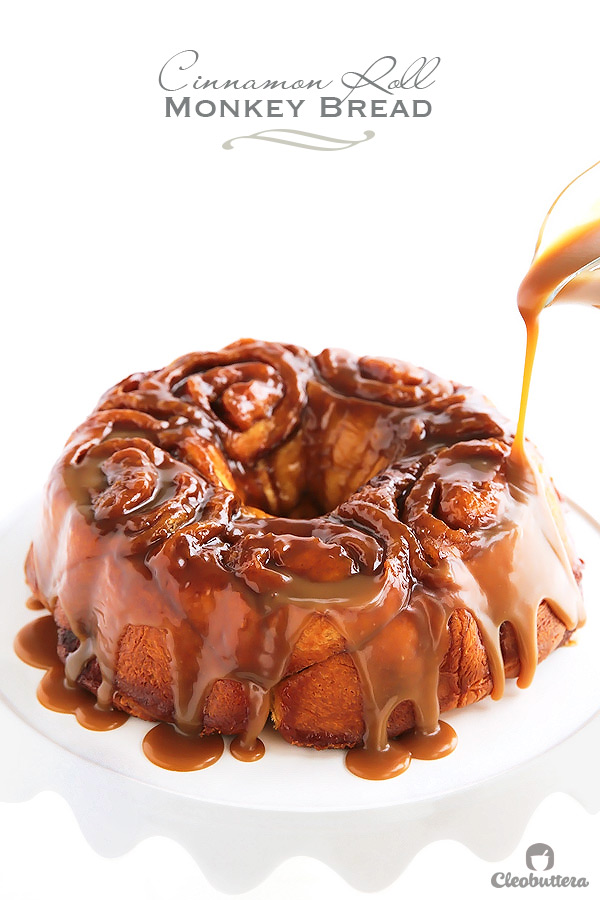 A delectable merge of two classics. Soft and feathery cinnamon rolls baked in a bed of caramel sauce in a bundt pan, a la monkey bread style, then drenched with more as it comes out of the oven.
Prep Time 40 minutes
Cook Time 40 minutes
Additional Time 3 hours
Total Time 4 hours 20 minutes
Ingredients
For the Cinnamon Roll Dough: (or 2 cans Cinnabon's Pillsbury Grands Cinnamon Rolls)
2/3 cup whole milk
1/4 cup (57g) unsalted butter, cold and diced into cubes
1/2 cup buttermilk, cold
1/4 cup vegetable or neutral tasting oil
2 1/4 teaspoons instant or active dry yeast*
1/2 cup (100g) granulated sugar
1 1/4 teaspoons salt
2 teaspoons vanilla
1 large egg. at room temperature
1 large egg yolk, at room temperature
3 3/4 to 4 1/2 cups (450g-540g) all purpose flour, divided
1 1/2 tablespoons cornstarch
3/4 teaspoons baking powder
For the Filling:
3/4 cups (150g) packed light brown sugar
1 1/2 tablespoons ground cinnamon
1/3 cup (75g) butter, melted
For the Caramel Sauce:
3/4 cup (170g) unsalted butter
1 1/2 cups (300g) packed soft light brown sugar
1 cup heavy whipping cream
1/4 teaspoon salt
Instructions
To make the Cinnamon Rolls:
In a large liquid measuring cup or medium microwave-safe bowl, combine together the milk and 1/4 cup (57g) diced butter. Microwave until the butter is almost melted, about 1 1/2 minutes.
Stir in the buttermilk and vegetable oil (this should bring the mixture's temperature down to 105-110 degrees which is warm to the touch, if not then allow to cool down slightly).
Pour the milk mixture into the bowl of an electric mixture and whisk in the yeast. Allow the mixture to rest for 5 minutes, then add the granulated sugar, salt, vanilla, egg and egg yolk. Whisk the mixture until well combined.
Fit the mixer with the hook attachment, then add 3 1/2 cups (420g) of the flour and knead the mixture on low speed until smooth, about 5 minutes. Dough will be very sticky at that point. Don't worry.
Cover the bowl with plastic wrap and allow to rise in a warm place* about 1 1/2 to 2 hours.
Meanwhile, make the caramel sauce (recipe below) and set aside to cool.
Then in a small bowl, prepare the filling by combining together the 3/4 cup (150g) light brown sugar and cinnamon, cover with plastic wrap and set aside.
In another small bowl, combine together 1/4 cup (30g) flour, cornstarch and baking powder.
When the dough has risen, pour the cornstarch mixture on it, return the bowl to the mixer and knead until well combined. The dough should be tacky, slightly sticky, smooth and elastic. It should stick only to the bottom of the bowl while kneading but not the sides. If this is not the case, then add more flour, 1 tablespoon at a time until you achieve this. I added 12 more tablespoons but it differs from one environment to the other.*
Turn out the dough on a lightly floured working surface and using a rolling pin roll out to a 16X12 inch rectangle.
Using the back of a spoon or rubber spatula, spread 1/3 cup (75g) melted butter all over the dough's surface.
Sprinkle the brown sugar/cinnamon mixture evenly over the butter, leaving a 1/2 inch on the farthest end to you (the long side) bare.
Starting with the 16inch side, that is closest to you, roll the dough up snugly to the opposite side, pinching the bare end with the dough to seal the mixture in.
Cut the roll into 12 equal pieces, first by cutting the roll in half, then cutting each half in half, then each quarter in thirds.
Pour 1/3 of the caramel sauce (about 1 cup) in a buttered bundt pan, then arrange 5 cinnamon rolls on it. Add another tier of rolls on top of then using the remaining 7 cinnamon rolls.
Cover with plastic wrap and let rise in a warm place* and until doubled in size, looks so puffy and the rolls stick to each other (about 1 hour).
During the last 15 minutes of rising, preheat the oven to 350F/180C.
Uncover the pan, pour another third of the caramel sauce (about 1 cup) all over the cinnamon rolls, and bake until the rolls are a deep golden brown, about 35-40 minutes, or until a thermometer registers 180F.
Remove the pan from the oven and let rest 5 minutes, then turn onto a rimmed serving platter. Pour the remaining caramel sauce on top and serve warm.
Leftovers can be stored in an airtight container for about two days, then reheat individual servings in the microwave until warm.
To make the Caramel Sauce:
In a saucepan, melt the butter, brown sugar, cream and salt over medium heat, stirring constantly with a whisk or heatproof rubber spatula.
Bring to boil and simmer for about 1 minute, stirring constantly.
Remove from the heat and let cool before pouring under and over the cinnamon rolls.
For the Short-Cut Version:
Preheat the oven to 350F.
Prepare caramel sauce (recipe above) and pour 1/3 of it into the bottom of a buttered non-stick bundt pan.
Pop open the cinnamon roll cans and arrange them in two layers. Five at the bottom and five on top.
Pour the other third on the caramel sauce on top of the the cinnamon rolls.
Bake until deep golden brown, about 35-40 minutes.
Take out of the oven and let cool for about 5 minutes. Meanwhile reheat the remaining caramel sauce.
Turn onto a rimmed serving platter, pouring the remaining caramel. Serve warm.
Leftovers can be stored in an airtight container for about two days and reheat individual servings in the microwave until warm.
Recipe Notes
The Cinnamon Roll Monkey Bread could be prepared in advance, up to 16 hours in advance. Just follow directions until step 16, then cover tightly and refrigerate. Take it out of the fridge two hours before baking and let rise like in step 17. Proceed with the recipe.
I used Pakmaya instant dry yeast for these rolls, but Venoise is another favorite of mine.
The amount of flour varies depending on many factors including humidity and altitude. So if its very sticky slowly add flour more, if needed, until the dough is slightly sticky or tacky. It should stick to a clean finger then pull away without leaving dough behind. It shouldn't be dry either or the rolls will turn out tough.
To create a warm environment for rising, turn the oven to 200F/93C before working on the dough, then turn off the oven after about 10 minutes. You could now use it as your warm place to rise your dough in. If the oven feels too hot, leave the oven slightly ajar. Works like a charm:)
You can most definitely make the dough completely by hand. You'll just get a little arm workout, which means you're allowed to eat more rolls:)
Cinnamon Roll dough heavily adapted from Cooking Classy
Caramel Sauce heavily adapted from Cooks Illustrated
Measurements Note: All recipes of this site have been developed using weight measurements. Although US volume measurements have been included for your convenience, it is highly encouraged that you weigh your ingredients using a kitchen scale to get the best possible results. Due to the sensitive nature of baking, kitchen scales are proven to yield more accurate and consistent results than measuring cups. Enjoy!
This post may contain affiliate links.
All images and content are owned by Cleobuttera® and are copyright protected. Please do not use my images without prior permission. If you would like to republish a recipe, please rewrite it in your own words and link back to the recipe page on my site. Original recipes and creations of this site are intended for personal and home use. Commercial replication or media consumption are only allowed with a written consent and agreement with Cleobuttera owners. Otherwise it is considered a violation of intellectual property. Thank you for respecting and appreciating the amount of time and effort that goes into creating free, unique recipes that make people happy.