Date Walnut Tart
This tart could not be easier or more delicious! Cinnamon spiced digestive biscuit crust, layered with soft dates, walnuts and caramelized condensed milk. Heavenly!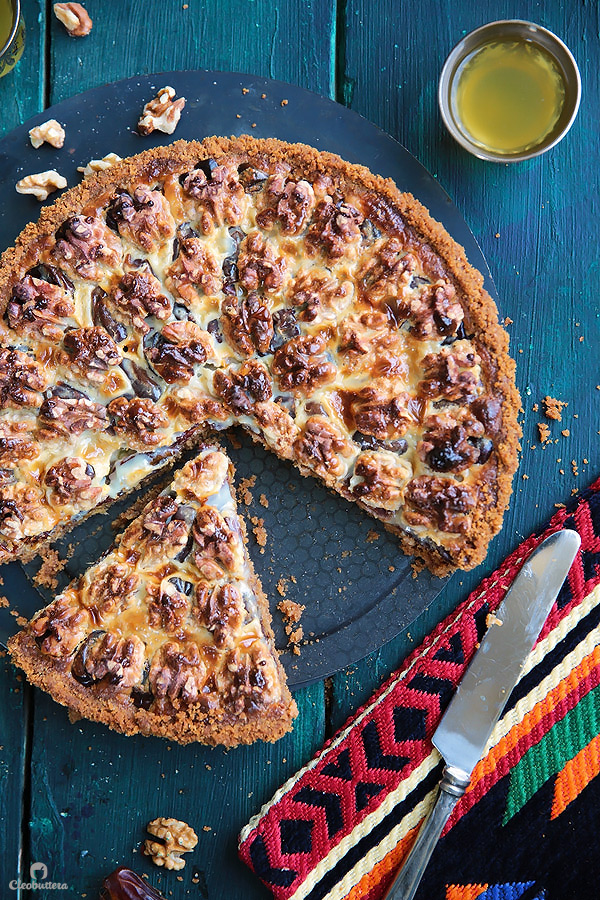 If you're looking for a quick and easy dessert that tastes dynamite, stirs up ooohs and aaahs and turns you into everyone's hero…you're looking at it right here!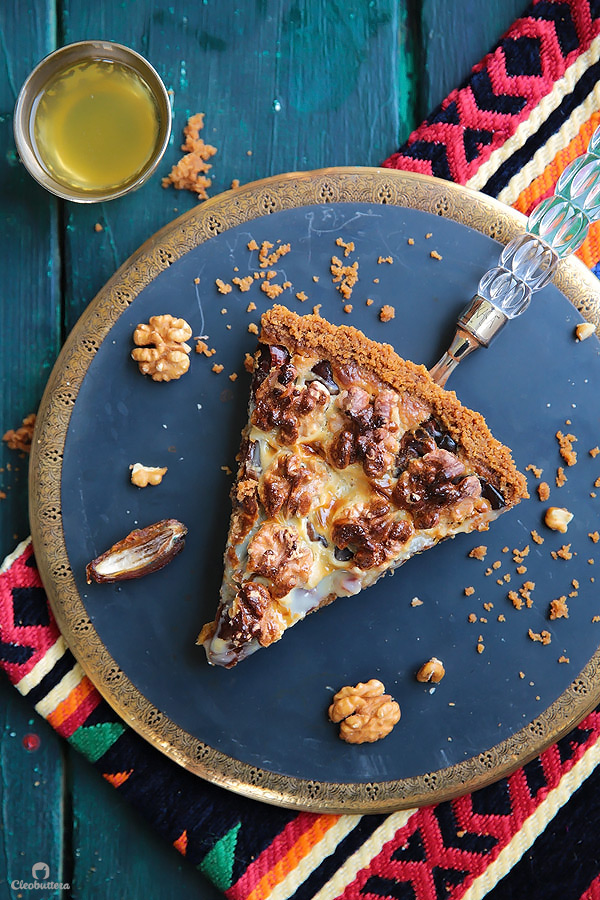 This is the dessert you'll want to make when you're asked to bring something, but would rather be glued to the couch than lift a finger. You're gonna need to move a few fingers here though, but compared to getting a finger workout by wrapping 160 mini samosas, this one is like getting a hand massage.
You know I'm not one to sacrifice taste for effort…I mean remember this one? So trust me when I tell you that even though the work is minimal here, the taste is MEGA!
I have no qualms about making multi-step, complicated recipes as long as the results are worth it, but let's be real…sometimes, ok A LOT of times, I'm lazy. And tired. And a total couch potato. Which is when recipes like these are heaven-sent.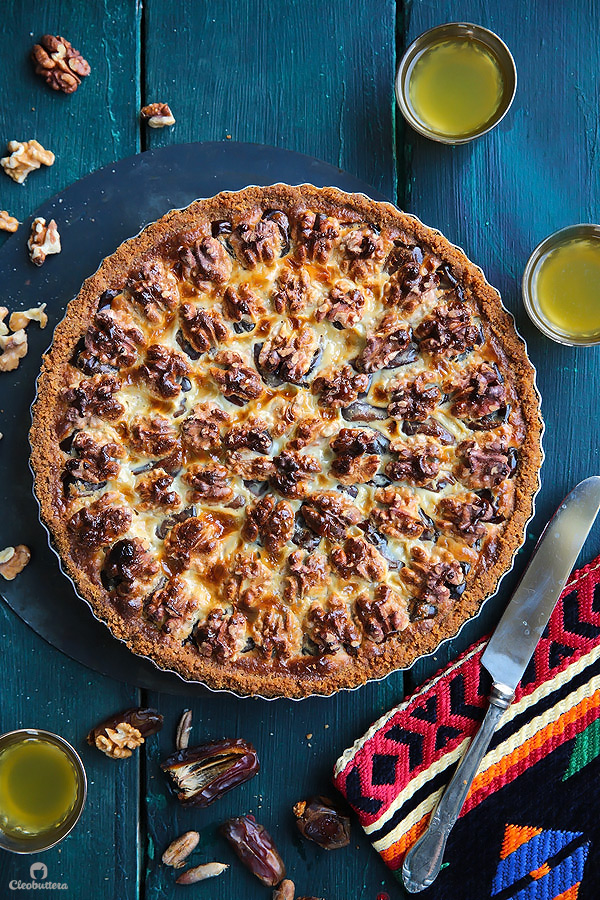 Staying true to the whole Ramadan Desserts' theme that's been taking over the blog for the last 10 days, this tart could not be a more perfect choice. HELLO DATES!
Y'all probably know that dates are a huge part of our Middle Eastern food culture. You know…camals are our means of transportation, tents and pyramids are what live in and dates are all we eat right?!
LOL! Just kidding. We eat falafels too!
Hahahaaaaa? I just had to….Sorry. But I swear we get asked these questions when we travel. Which is actually quite fun, because then its easy to convince them that I'm the Princess of Egypt :)))
Anywhooooo…where were we? Oh dates!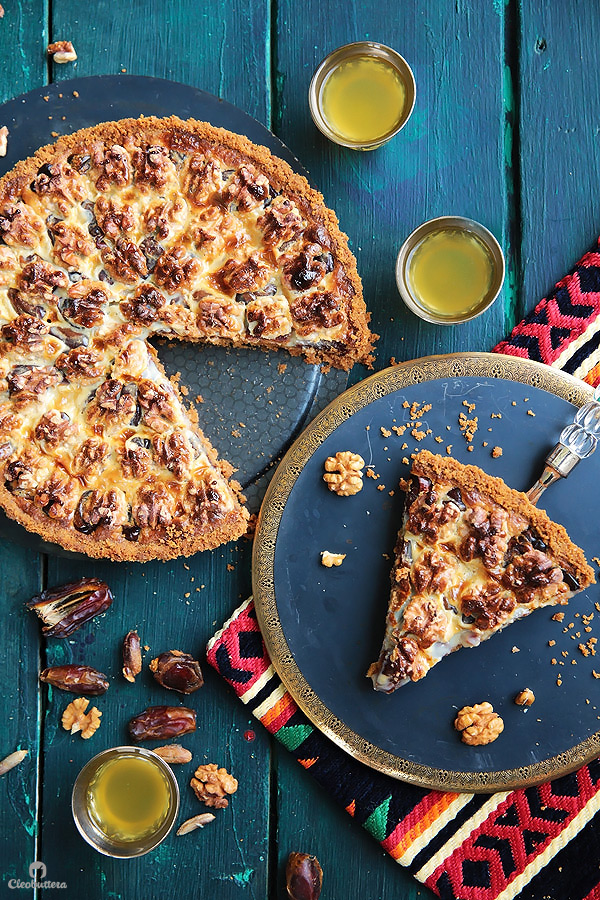 Middle Easterners love their dates year-round, but they tend to be more consumed during the month of Ramadan. Since we go long hours without food while fasting, dates serve as that much needed high voltage power source that charges our batteries.
Typically, they are the first thing we put in our mouths the moment we break our fast, but they are also thoroughly enjoyed throughout the night with small cups of Arabic coffee (that yellowish drink in the photos).
So in spirit of the Month of Dates, I bring you A Date Tart!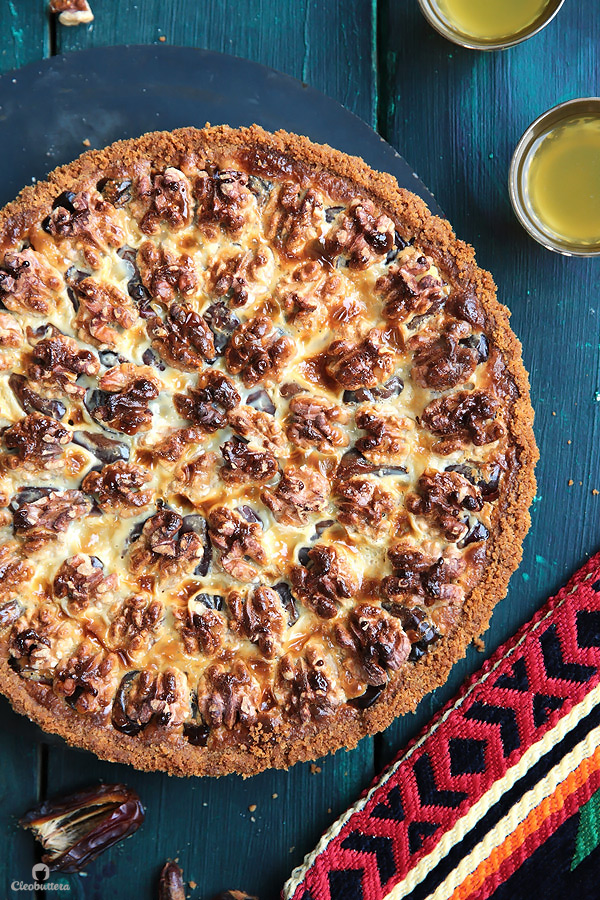 A crunchy cinnamon spiced digestive biscuit crust cradles oodles of soft, sweet dates and crackly walnuts. The whole thing is taken up a few notches with a sea of condensed milk that stays nice and gooey on the inside, but turns chewy and caramelized on the outside. It's just amazing really.
Rich? Oh yeah! Slim slices will go a long way.
Sweet? I'd be lying if I said otherwise. But somehow the walnuts cut through the sweetness and balances everything out.
Good? Unbelievably so.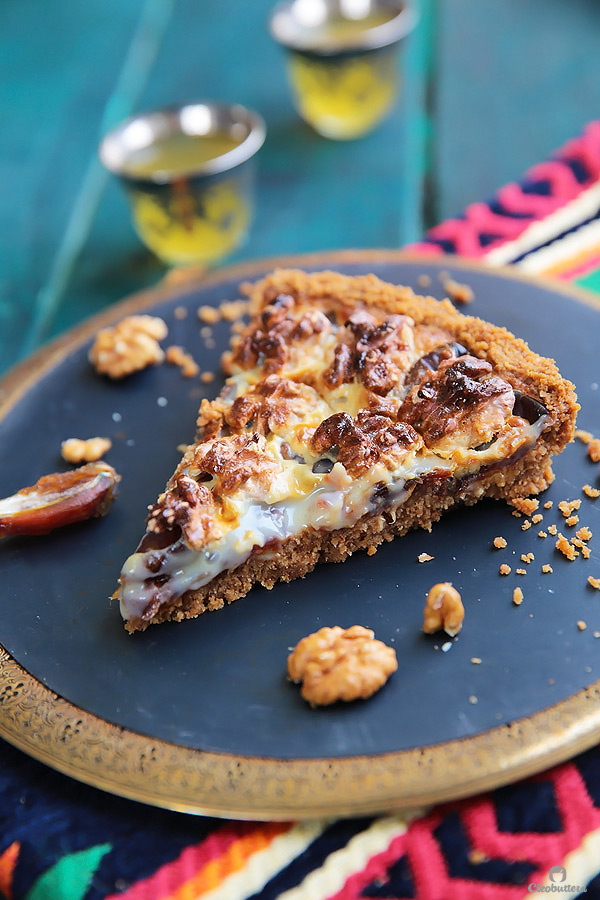 I've been enjoying this delicious tart for many years at my dear sister-in-law's mom's house. She's famous for it and for a good reason. Her guests always go nuts for it and polish it off in no time. I recently just asked her for the recipe so I could share it with you, and she was kind enough to pour it all out. The only problem is that she never measures anything ? So the recipe went something like this:
Mix some digestive crackers crumbs with melted butter then press in pan, top with soft dates, then walnuts, then condensed milk, bake and enjoy.
?????!!!!!!!
Soooooooooo…after risking Auntie Hala liking me a little less for bombarding her with questions and after meticulously getting down the recipe to measurable amounts, I'm finally ready to pass it on to you.
So here goes.
.
.
.
You're going to mix together digestive biscuit crumbs with a little sugar and a pinch of salt. I deviated from the original recipe a little by adding cinnamon, because I love the combination of cinnamon and dates together and it worked wonders. You're then going to combine that with melted butter and press it tightly in a tart pan. Auntie Hala uses a cheesecake pan aka springform pan and she doesn't prebake the crust. I decided to bake the crust before adding the filling, because I found that it makes for a crunchier, more sturdy crust. You could skip it if you're that lazy but c'mon!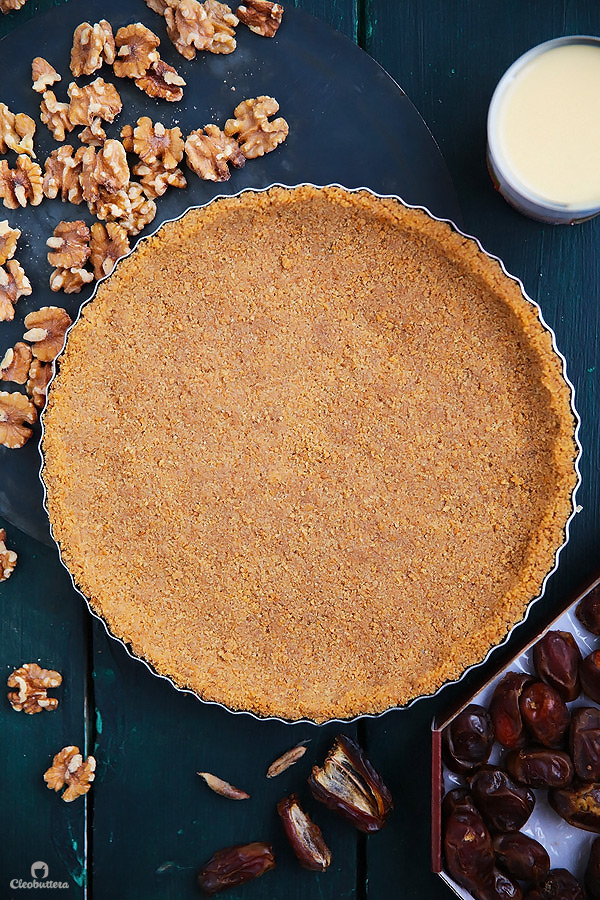 Once the crust has cooled down a bit, you're going to arrange the dates all around. To be honest, and I can't believe I'm saying that, but you don't really need to measure out the dates here. You just need to put enough to cover the bottom of the crust.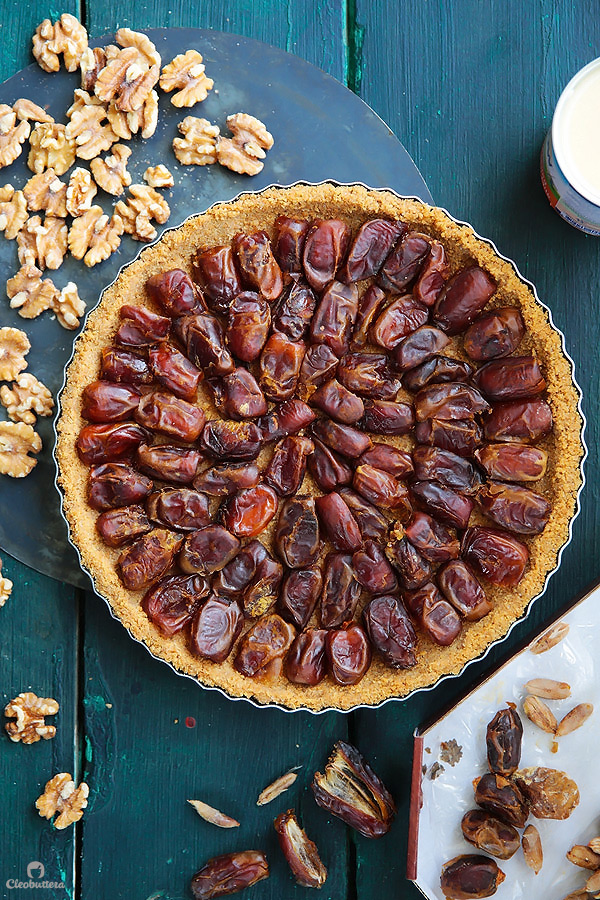 Then walnuts go in. Again, you could eyeball the amount ?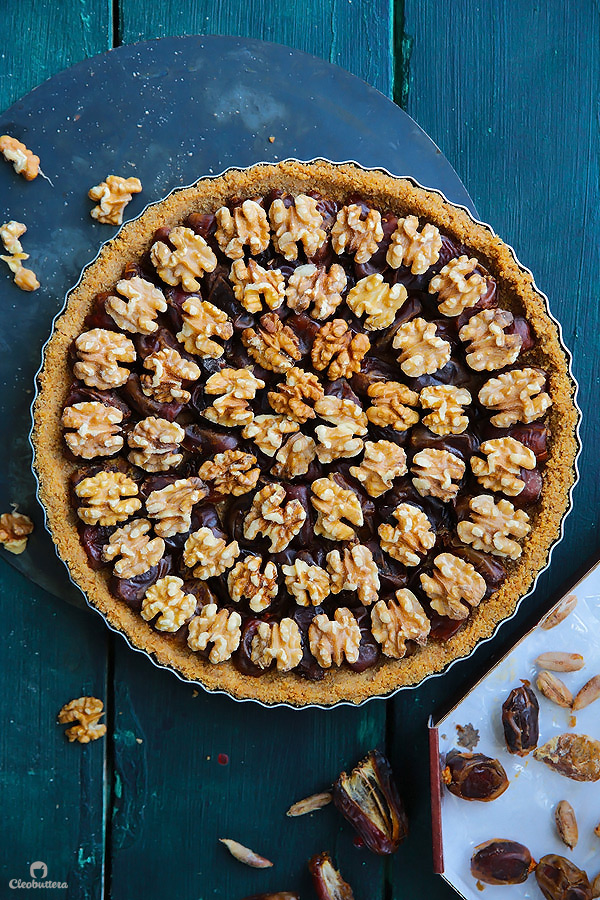 Then pour that entire can of sweetened condensed milk all over that whole shebang!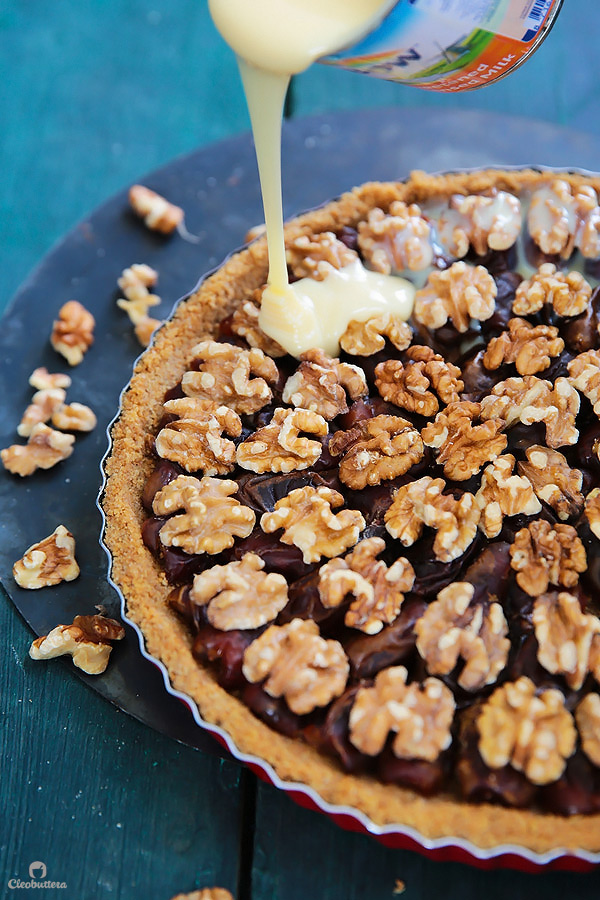 Like soooooo….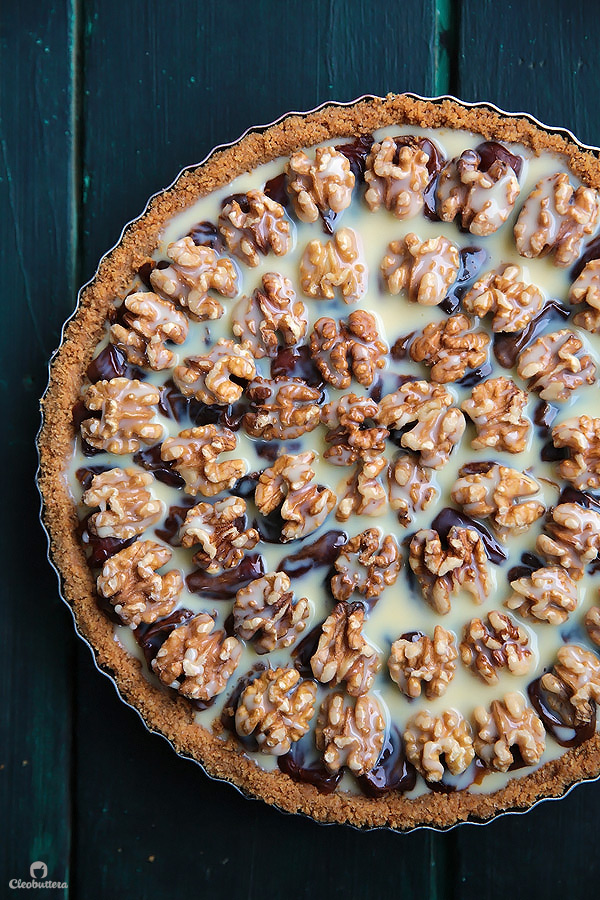 Then bake until the condensed milk gets all bubbly and caramelized and your house smells like everything good in the world. About 25 minutes.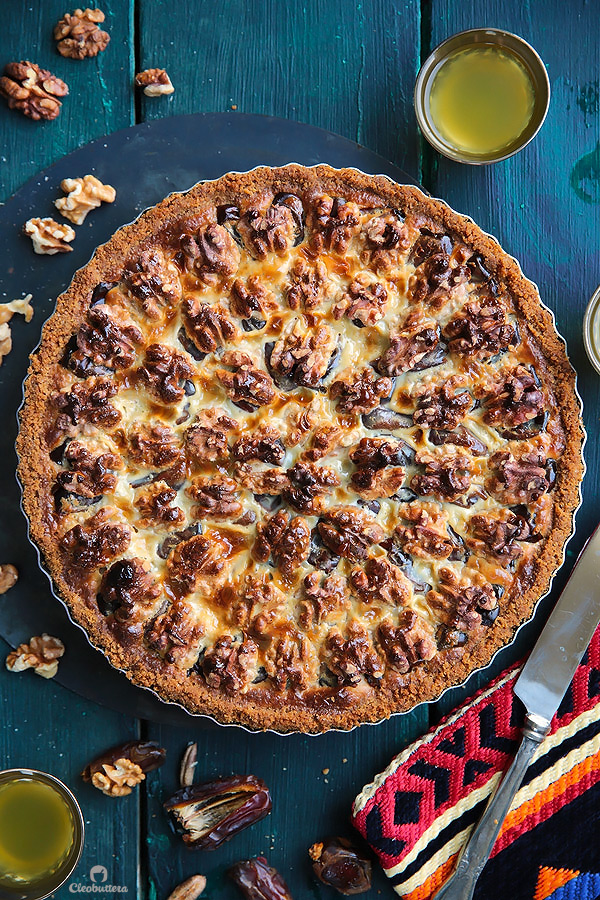 Make sure to let it cool slightly before getting the tart out of the pan. The blister in my wrist begs you to wait a little. And then you could cut it into slices…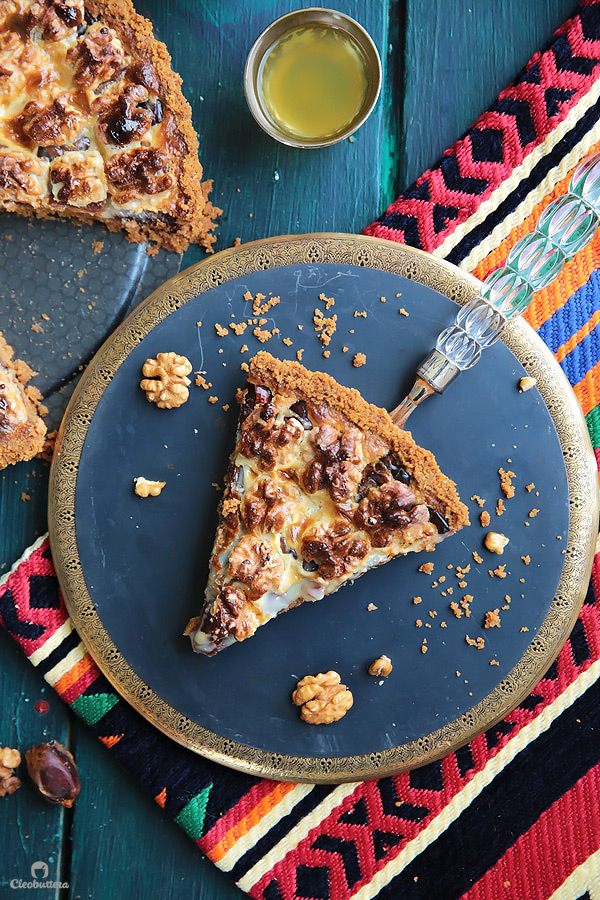 Pour a cup of Arabic coffee and enjoy. Or to be more accurate…fuel up!
Yield: 1 (9 inch/ 23cm or 10 inch/ 26cm)
Date Walnut Tart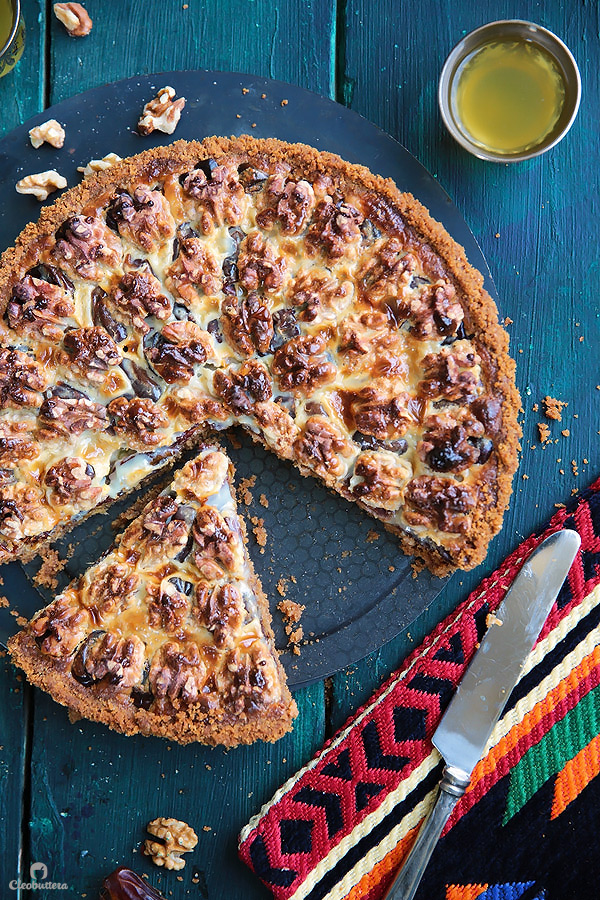 This tart could not be easier or more delicious! Cinnamon spiced digestive biscuit crust, layered with soft dates, walnuts and caramelized condensed milk. Heavenly!
Prep Time 20 minutes
Cook Time 35 minutes
Total Time 55 minutes
Ingredients
For the Crust:
One (250g) box of Digestive Biscuits (about 17 biscuits) *see note below
1/2 cup (114g) unsalted butter, melted
5 teaspoons (21g) granulated sugar
A pinch of salt
3/4 teaspoon ground cinnamon (optional, but highly recommended)
For the Filling:
Approximately 300g pitted & halved soft dried dates, such as medjool/ majdool
Approximately 125g whole walnut halves, untoasted
1 (397g/ 14oz) can sweetened condensed milk
Instructions
Adjust oven rack to lower middle position and preheat the oven to 180C/ 350F.
Using a food processor or blender, grind the digestive biscuits into fine crumbs. Alternatively, you could crush them in a zipper lock bag with a rolling pin..
Add in the sugar, salt and cinnamon (if using) and pulse together until well combined.
Pour in the melted butter and process until everything is well blended and the butter is evenly distributed.
Transfer the mixture to a 9 or 10-inch tart or springform pan with a removable bottom. Press the mixture tightly into the bottom and up the sides of the pan. Use the bottom of a flat measuring cup to compress the crust as tightly as possible.
Bake the crust until it starts to set and smells fragrant; about 8 minutes. Allow the crust to cool until you halve and pit the dates. The longer you leave the crust to cool, the crunchier the end result will be.
Turn up the oven temperature to 200C/ 392F.
Arrange the date halves (cut side down) in a single layer, all around the crust. Squeeze in as much dates on there as you can. You might find that you'll need more or less dates than the amount called for. You just need enough to cover the bottom of the crust.
Top the dates with the walnut halves in a single layer. Again, a little over or a little less than the mentioned amount is fine.
Pour the sweetened condensed milk all over the date/walnut filling.
Bake the tart until the sweetened condensed milk bubbles and the surface caramelizes and turns golden in color; 25 to 30 minutes. If you feel that the walnuts are getting too dark before the condensed milk has had a chance to caramelize, lightly tent the tart with foil to avoid burning the walnuts. Remove the foil towards the end of baking, so the condensed milk can develop a nice color. Some areas will turn brown, while others will remain off-white, but the overall color should be golden brown.
Allow the tart to cool slightly, then remove the rim of the pan from the tart and place on a serving platter. Best served warm, but is also great at room temperature.
Recipe Notes
17 sheets (250g) of graham crackers may be substituted for the digestive biscuits.
Recipe adapted from my brother's mother-in-law, Auntie Hala.
Measurements Note: All recipes of this site have been developed using weight measurements. Although US volume measurements have been included for your convenience, it is highly encouraged that you weigh your ingredients using a kitchen scale to get the best possible results. Due to the sensitive nature of baking, kitchen scales are proven to yield more accurate and consistent results than measuring cups. Enjoy!
This post may contain affiliate links.
All images and content are owned by Cleobuttera® and are copyright protected. Please do not use my images without prior permission. If you would like to republish a recipe, please rewrite it in your own words and link back to the recipe page on my site. Original recipes and creations of this site are intended for personal and home use. Commercial replication or media consumption are only allowed with a written consent and agreement with Cleobuttera owners. Otherwise it is considered a violation of intellectual property. Thank you for respecting and appreciating the amount of time and effort that goes into creating free, unique recipes that make people happy.