Galaxy Chunk Chocolate Muffins
If you're searching for THE perfect double chocolate muffin, you could stop right here! These muffins have a superbly moist and tender crumb, domed tops and chunks of melty Galaxy chocolate bar in every bite. Use your favorite chocolate bar or chips to suit your taste. Bonus: Batter can be prepared the night before!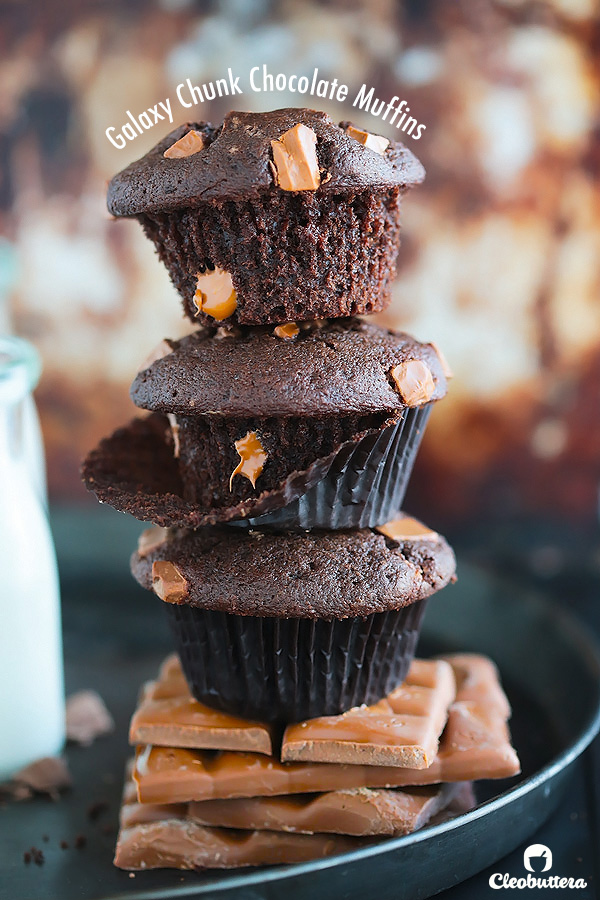 Anyone who knows me well, knows exactly how to tick me off.
Just call a 'muffin' 'cupcake' and a 'cupcake' 'muffin,' and get ready to see smoke coming out of ears. It just gives me the same effect as the sound of nails screeching on a chalkboard. Eeeeek! Cringing already? Sorry…but that's exactly how it makes me feel.
When I posted the below photo of the 'muffins' in the pan on instagram yesterday, one of my besties (with evil intentions) commented: "I love those cupcakes ," and I don't think our relationship will ever be the same again. Kidding. Kinda. But she's gonna have to work hard to make me forget the sight pollution she caused.
They are just NOT the same thing and I take food way too seriously to let it go.
It is said that a muffin is just an ugly cupcake. First off, how mean? Second, well cupcakes are a show off!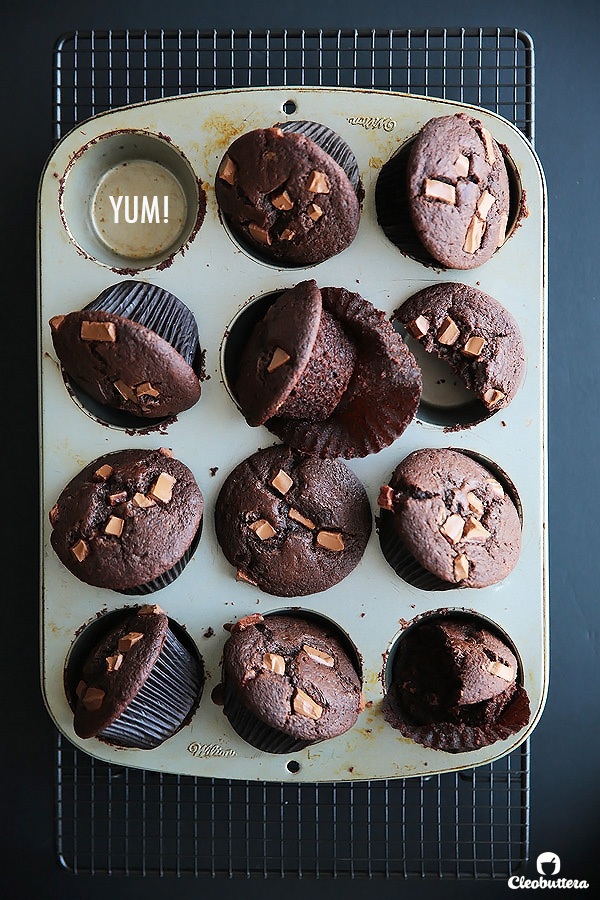 There are many technical differences that distinguishes the two from each other, aside from the obvious one that a muffin is kinda bold and a cupcake wears a pretty hat made out of frosting.
Muffins tend to be heartier, less sweet, with less fat, denser, usually include add ins like fruits, nuts or chocolate chips, and more of a breakfast or brunch item. Whereas cupcakes are just miniature cakes. Fluffier, tenderer, sweeter, fattier, usually piled with frosting and eaten for dessert.
Not convinced yet?
Oh well…if you'd still like to think that muffins are just cupcakes in disguise, to make them look more acceptable to eat them for breakfast, then I'm not gonna stand in your way.
Because these double chocolate muffins in particular, are kinda like that, especially with the creamy, melty, milky Galaxy chocolate chunks going in there and the tender, cakey texture. They don't strictly abide to all the muffin rules. Which voids everything I've been saying all along, but whatever…these muffins are amazing! They are THE most perfect chocolate muffin ever! At least according to this house. And the one beside it. And the one next to it. And the one at the end of the street. Even if they don't quality as a muffin to you, I'm sure you'll still love them under any other label.
Plus, you could prepare them the night before, and bake them off in the morning!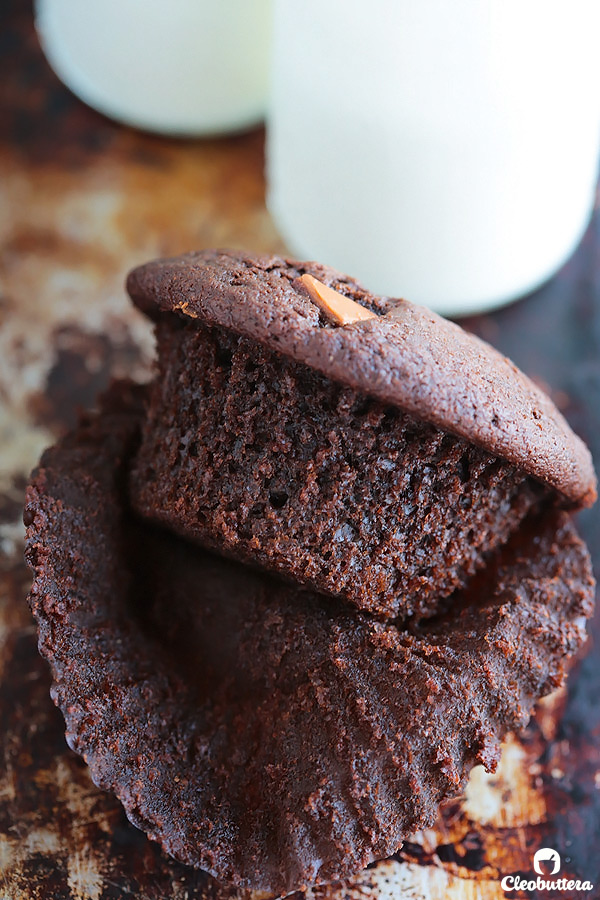 I started my chocolate muffin recipe quest about 10 years ago, when I was 8…LOL! 8? I wish:)) Anywhoooo I tried almost every recipe on the World Wide Web and from my not-so-humble cookbook collection. They deployed every mixing technique, every secret ingredient, every oven temperature and every baking trick known to man. Some were good, some mediocre, some too complicated, some not worth the calories and a lot too dry to swallow. Non of them turned out just like what I had in mind. I wanted them:
Moist (my number one priority in all baked goods)
With a tender crumb (not too dense), leaning towards a cupcake texture (ironically)
Flavorful (because obviously)
Chocolate-y, without tasting dark (has to be kid-friendly)
With domed muffin tops
Not complicated (easy enough to whip up on a lazy morning)
After so many trial and errors in the kitchen, I finally landed on the winning combination.
A combination of oil and melted butter: Oil is known for the moistness and fluffy texture its lends in cakes and butter is known for its unparalleled flavor. I didn't want to compromise either, so a combination of oil for superb moisture and melted butter for flavor was the way to go.
Sour cream: Milk, buttermilk and yogurt are all great dairies used in muffins. However, non gave me that moisture and tenderness I'm going after like sour cream. It also gives tangy undertones that marries beautifully with chocolate.
Brown sugar: Serves two purposes here; flavor and moisture. Brown sugar has molasses in it which makes it more flavorful than white sugar. It just gives the muffins more flavor dimension. Its also has a high moisture content than white sugar and as a result produces moister cupcakes.
Overfilling the muffin cup: I love a good domed cap on a muffin with its ever so slight crunch. This is achieved here by filling up the muffin pan with the batter to the brim. This will cause the muffin to rise over the pan cavities, creating beautiful tops.
So let make some muffins!
Here are your ingredients ladies and gents: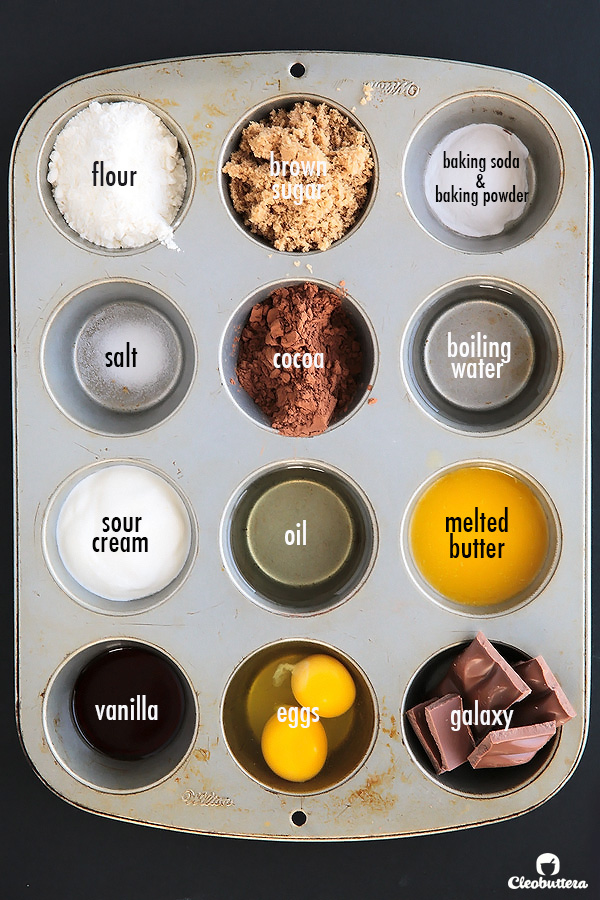 You'll put your dry ingredients in a large bowl; flour, brown sugar, baking powder, baking soda, salt and whisk them together.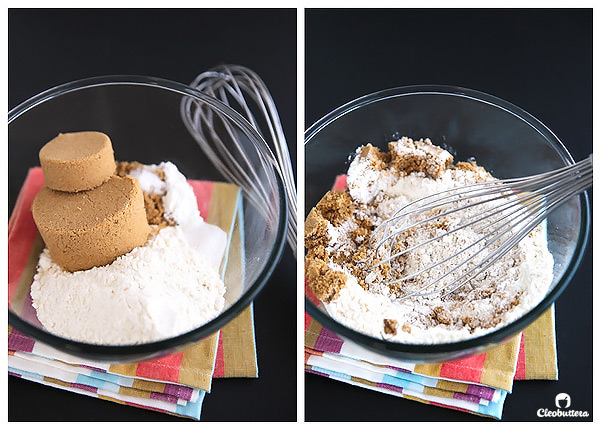 Then you'll throw in your Galaxy chunks, known as Dove in the U.S. (or any chunk or chips you prefer). Give them a good stir, making sure you coat them well with the flour mixture. That will ensure that they don't sink in the bottom.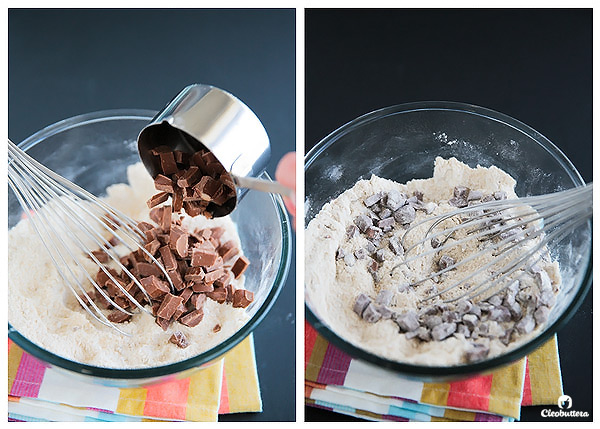 In a medium bowl, you'll blend the cocoa powder and boiling water together to form a smooth paste. This is called 'blooming,' which helps intensify the chocolate flavor.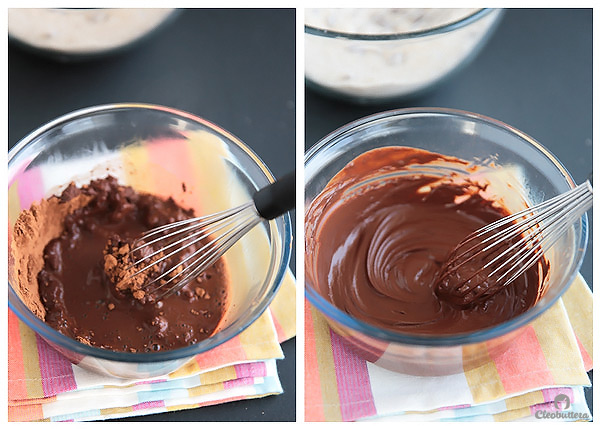 On top of that, you'll pour in the sour cream, melted butter, oil, eggs and vanilla. Whisk, whisk, whisk until you end up with chocolate soup!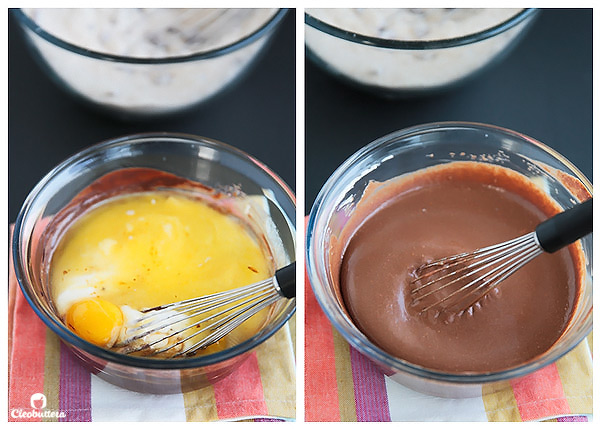 You'll pour that "soup" on top of the dry ingredients, switch to a rubber spatula and start folding gently, just until no flour pockets remain. It will be somewhat lumpy which is totally fine. Do not overmix if you want tender muffins.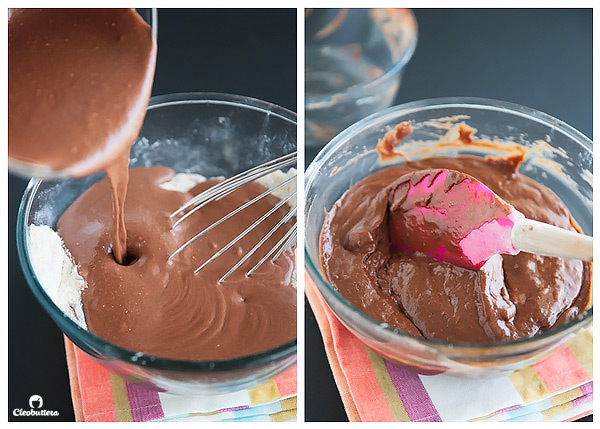 After that, you'll scoop up the batter to the top. Then sprinkle on a few extra chunks on top.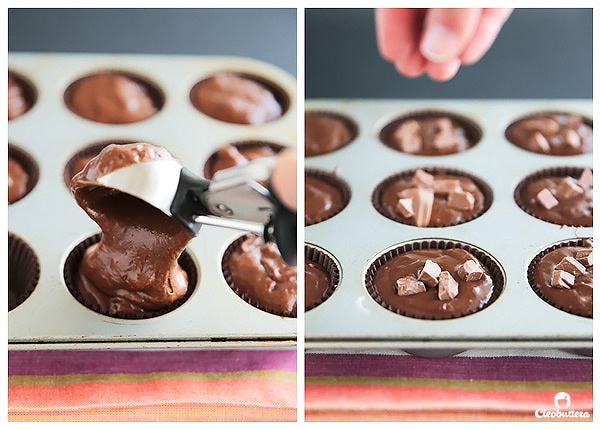 Bake for around 20 minutes. You'll know they're done when you lightly press the center and it springs back. Another way is to insert the toothpick in the center and it should come out clean or with a few crumbs attached. But that could be tricky here and I wouldn't rely on it fully, because you might hit a spot with melty chocolate and that will fool into thinking that they're still not done. If that happens, then try a different muffin, or rely on the 'springs back to the touch method.' Just be careful not to overbake or the muffins will dry out.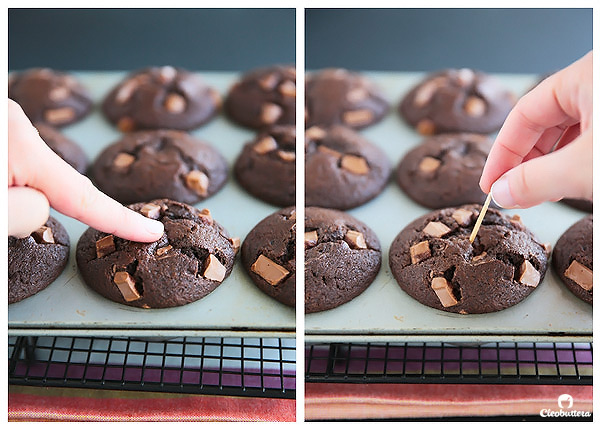 Let these guys cool for about 5 minutes before removing them from the pan. Then…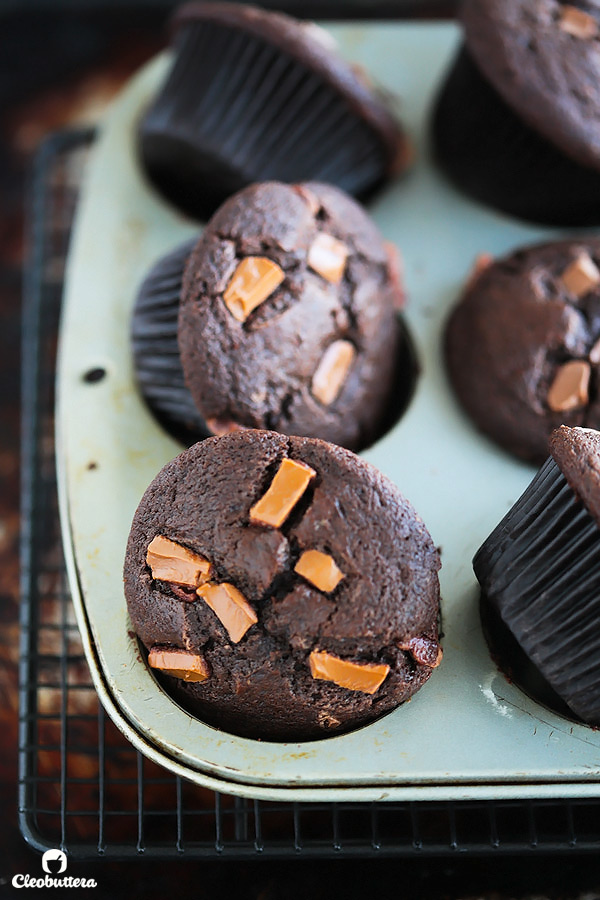 Oh theeeeen…will you look at that! Tender crumb that is not dense by any means, moist with melty chocolate in every bite. Domed tops. They are just true chocolate bliss, especially warm out of the oven. Still amazing at room temperature though.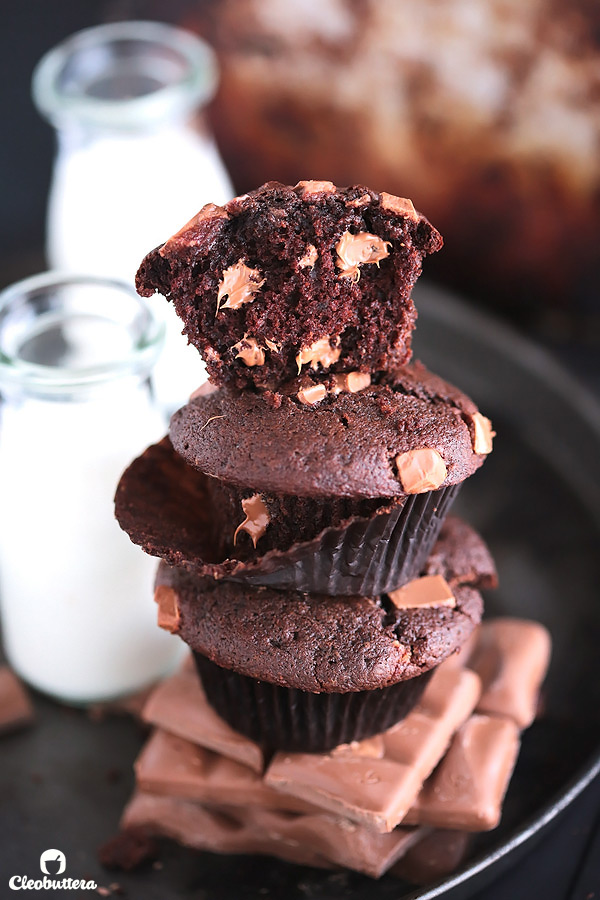 Remember when I told you how annoyed I get when someone confuses a muffin with a cupcake? Yeeeeeah well I'm just as annoying when it comes to eating muffins. I have a muffin eating protocol and its not a very chic one.
First you peel the liner. Completely. Then you separate the muffin top from the bottom.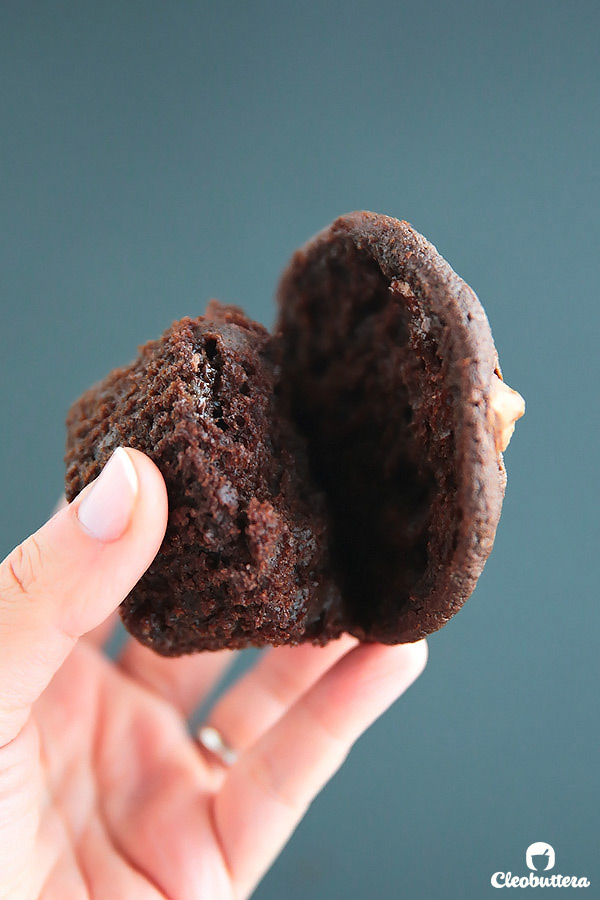 Then eat the muffin top upside down like a the softest cookie you could ever find, savoring the slightly crunchy texture around the edges.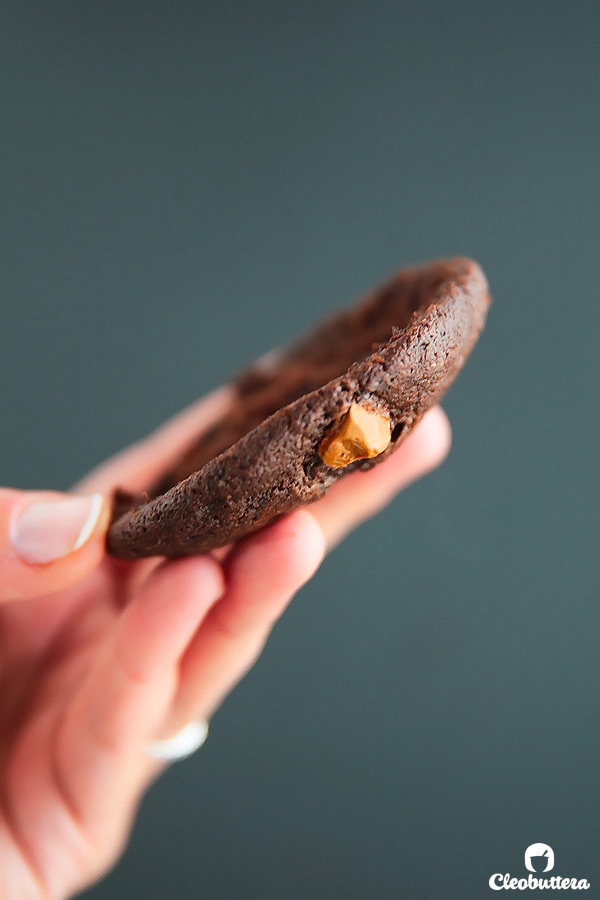 Then you move onto the bottom and munch that in 3 to 4 bites, enjoying every bit of softness and gooiness coming from the melty chocolate pieces.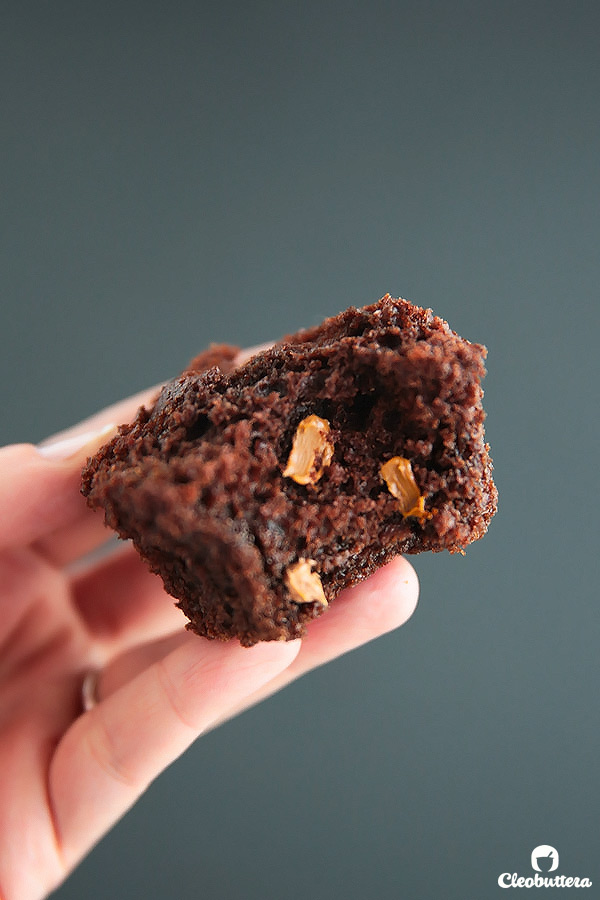 Now, how do you eat your muffin?
I'll still love you even if you say with a spoon.
Yield: 12 muffins
Galaxy Chunk Chocolate Muffins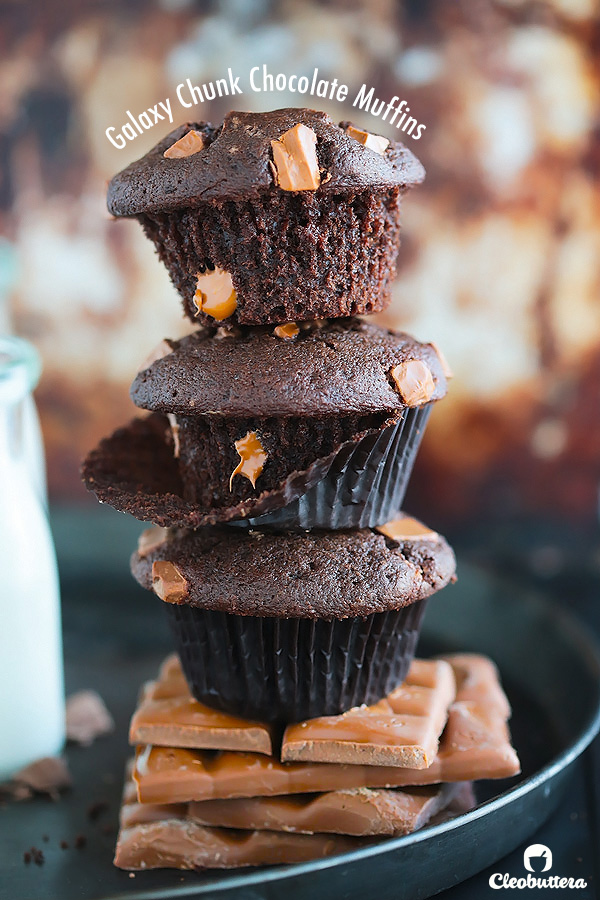 If you're searching for THE perfect double chocolate muffin, you could stop right here! These muffins have a superbly moist and tender crumb, domed tops and chunks of melty Galaxy chocolate bar in every bite. You could use your favorite chocolate bar or chips to suit your taste. Bonus: Batter could be prepared a day ahead!
Prep Time 20 minutes
Cook Time 20 minutes
Additional Time 5 minutes
Total Time 45 minutes
Ingredients
1 3/4 cups (7 1/2oz/ 213g) all purpose flour
1 1/4 cups (8 3/4oz/ 248g) soft light brown sugar*
1 teaspoon baking powder
1 teaspoon baking soda
1/4 teaspoon salt
1 1/2 cups (9 1/2oz/ 270g) Galaxy (called Dove in the US), about 3 (90 gram bars), or any chocolate bar of your choice, chopped into pea-sized pieces, (or chocolate chips)*
6 tablespoons (1 1/8oz/ 32g) unsweetened cocoa powder, I used Hershey's (spooned in and leveled)*
6 tablespoons (89ml) boiling water
3/4 cups (6oz/ 170g) sour cream, at room temperature
1/3 cup (2 3/4 oz/ 76g) melted butter
1/4 cup (60ml) oil, neural flavored like sunflower, corn, canola, vegetable
2 large eggs, at room temperature
2 teaspoons vanilla extract*
Instructions
Adjust oven rack to lower middle position. Preheat oven to 350F/180C. Line muffin pan with 12 cupcake liners.
In a large bowl, whisk together the flour, brown sugar, baking powder, baking soda and salt. Reserve 1/3 cup of the chocolate chunks for sprinkling on top of the batter aside, and add in the rest to the flour mixture. Whisk well to coat. Set aside.
In a medium bowl, blend together the cocoa powder and boiling water to form a smooth paste. Whisk in the sour cream, the melted butter, oil, eggs and vanilla.
Pour the chocolate mixture into the flour mixture and using a rubber spatula, gently fold together until well combined and no flour pockets remain. Do NOT overmix. Batter will be slightly lumpy.
Using a 1/4 cup measure ice cream scoop or a 1/4 cup measuring cup, portion the batter evenly into the prepared muffin pan. Sprinkle the top of the batter with the reserved chocolate chunks.
Bake for 18 to 23 minutes, or until the the muffin top's center springs when touched gently and a toothpick inserted in the center comes out clean or with a few moist crumbs attached (although that could be confusing because you might hit a melted chocolate chunk, if that happens, try a different muffin) Do NOT overbake or the muffins will dry out.
Remove the pan from the oven and let cool for about 5 minutes or until the muffins are cool enough to handle. Remove the muffins from the pan and let cool on a wire rack. Enjoy warm or at room temperature.
Store in an airtight container for up the 3 days (if they last that long). They could be rewarmed for a few seconds in the microwave if desired.
Recipe Notes
Muffin batter could be prepared the night before, and baked the next morning. Just cover your batter bowl with plastic wrap and chill overnight in the fridge, then the next morning, scoop and bake like you normally would. Alternatively you could scoop in the pan the night before, cover with plastic wrap, chill overnight, then bake the next morning. Either way works just fine.
Make sure that the brown sugar is used here is the soft kind that feel like wet sand and packs and sticks to itself, like Domino's brand or Red Path.
For a more chocolatey muffin, use darker cocoa in place of the Hershey's and use semisweet chocolate chips or dark chocolate chunks instead of the milk chocolate bar.
I used alcohol-free vanilla. If using pure vanilla extract with alcohol, you might want to reduce it to 1 teaspoon as its stronger than the alcohol-free ones.
Baked muffins could be frozen, individually wrapped after they cool in plastic wrap then placed in zipper lock freezer bags. Thaw at room temperature or in microwave.
Measurements Note: All recipes of this site have been developed using weight measurements. Although US volume measurements have been included for your convenience, it is highly encouraged that you weigh your ingredients using a kitchen scale to get the best possible results. Due to the sensitive nature of baking, kitchen scales are proven to yield more accurate and consistent results than measuring cups. Enjoy!
This post may contain affiliate links.
All images and content are owned by Cleobuttera® and are copyright protected. Please do not use my images without prior permission. If you would like to republish a recipe, please rewrite it in your own words and link back to the recipe page on my site. Original recipes and creations of this site are intended for personal and home use. Commercial replication or media consumption are only allowed with a written consent and agreement with Cleobuttera owners. Otherwise it is considered a violation of intellectual property. Thank you for respecting and appreciating the amount of time and effort that goes into creating free, unique recipes that make people happy.